Getting so close to St. Patrick's Day. Can you believe that? Already? Are you even ready? I'm almost there. This year I made this cute Lucky Hat St. Patrick's Day Favor Box for my girl to celebrate it with lots of gold chocolate coins.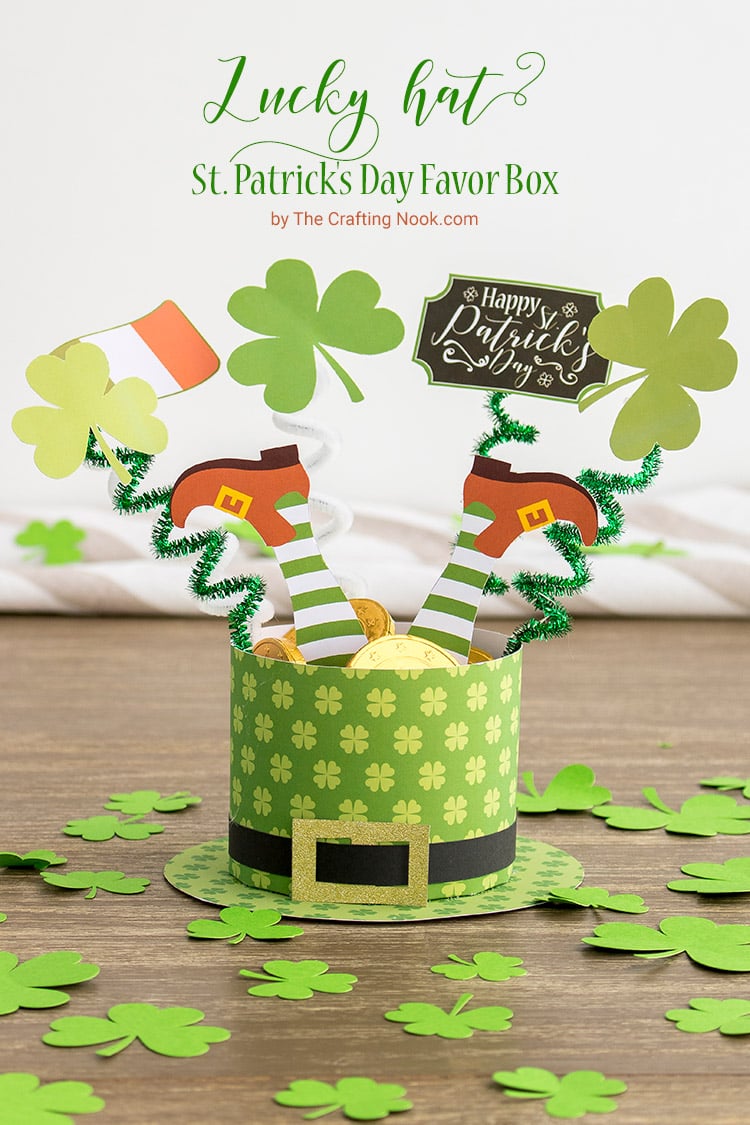 Lucky Hat St. Patrick's Day Favor Box (with free Printables)
This craft can be made in two ways. The first is just printing the free printable and cut them the items yourself which is not hard at all. It's all ready to cut and assemble.
The second is a cutting file so you can cut the hat pieces and the clovers on your favorite cardstock. Since not everyone has a cutting machine I decided to for the manual way to make this cute St. Patrick's Day Favor Box so anyone can make it too.
It took me about an hour or so to make it. If I had help I would have made it in a lot less. Unless it's weekends It's hard for me to get my girl's help since she's at school the whole day and when she gets home there's not enough light to take photos.
As a confession I need to get more organized so I can make crafts with her on weekends, she's so fun to work with.
Anyway, if you get those cute little helpers you will have tons of fun making this St. Patrick's Day Favor Box.
Get ready to have lots of fun making this St. Patrick's Day Favor Box.
Supplies: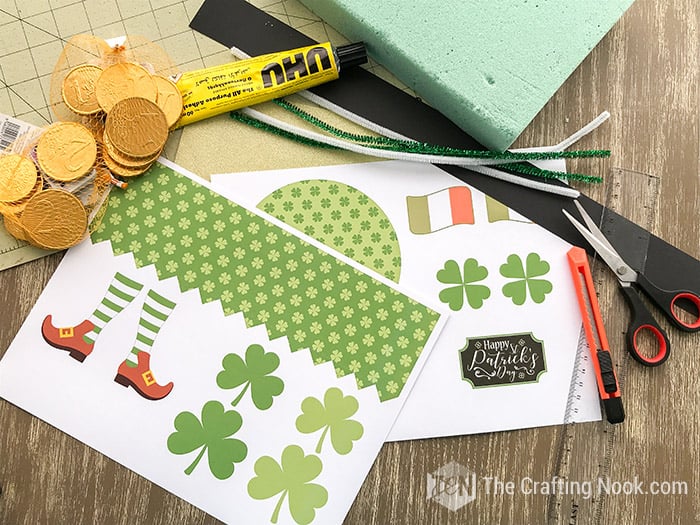 A small piece of Floral Foam Block.
White thick cardstock
Glue
Hot glue gun
A strip of black cardstock
White and green Pipe Cleaners
Lots and lots of Gold Chocolate Coins!
Scissors, ruler, cutter, and pencil.
Grab your cute free printables HERE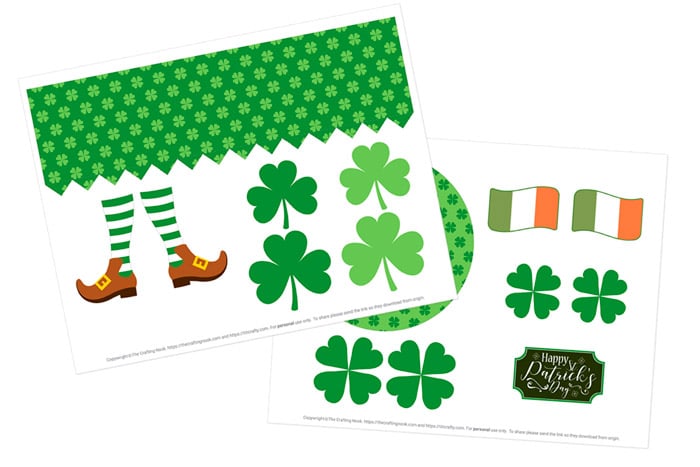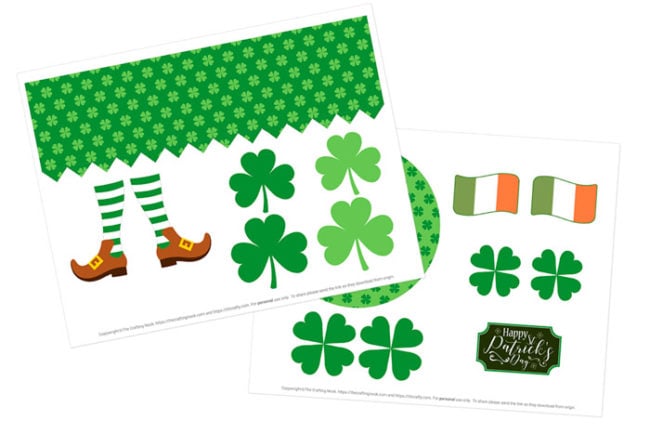 Grab your free cut Files + Printable items HERE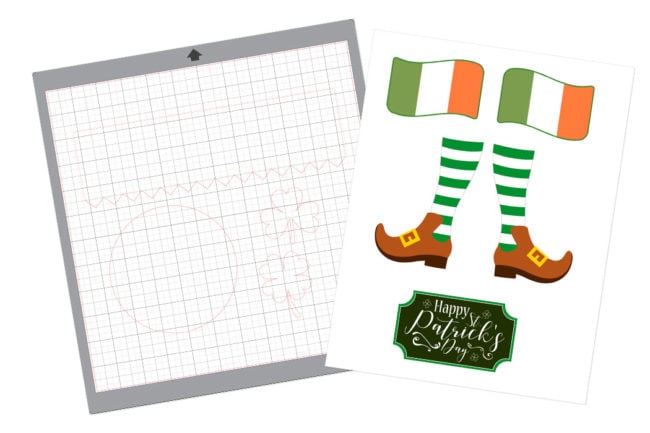 I made a video tutorial for you if it makes it easier for you. But if you are of a read and see photos kind of persona just scroll down and keep reading.
Of course, the first step is printing your cute printable, I recommend printing in high quality so it looks really bright and pretty.
Start by cutting the hat body. If you want a clean cut on the top edge then use a roller and a cutter (over a cutting mat) and cut the top edge. Don cut the sides just yet.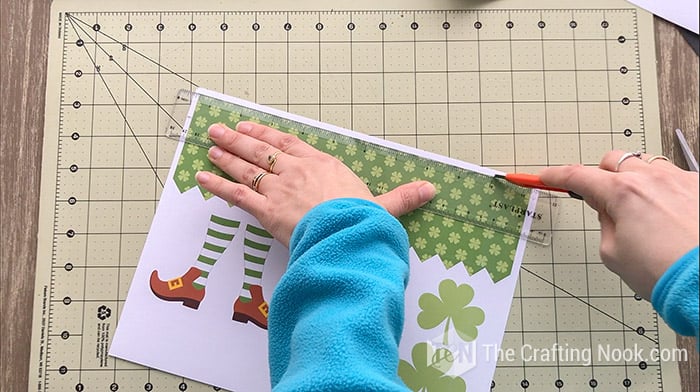 Cut the base flaps with the either scissors or cutter.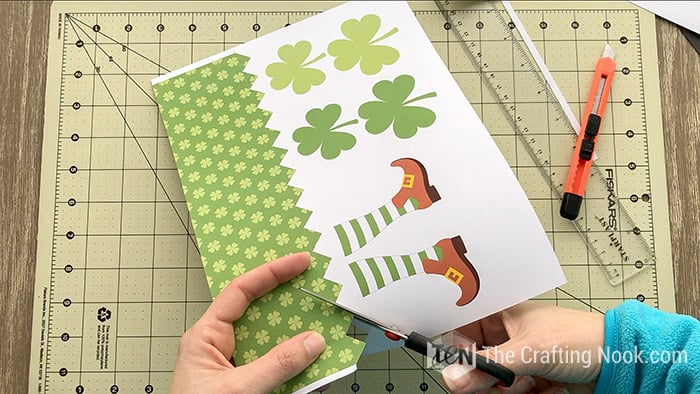 Then cut just one of the sides. The other one will work as gluing flap.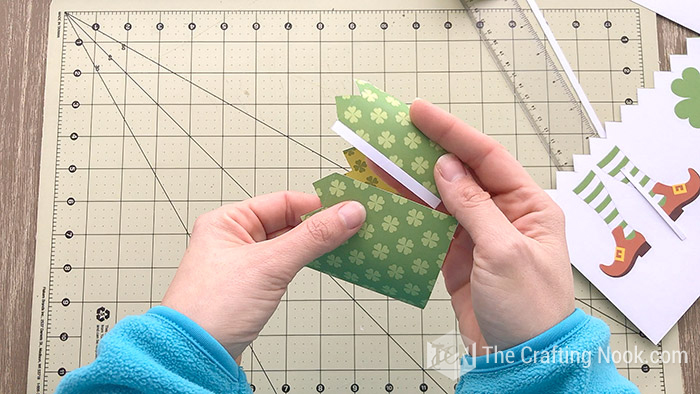 Using your ruller as a guide, fold the base flaps inwards. (please forgive my paper, I recycled my cardstock after a failed printing attempt). Set aside.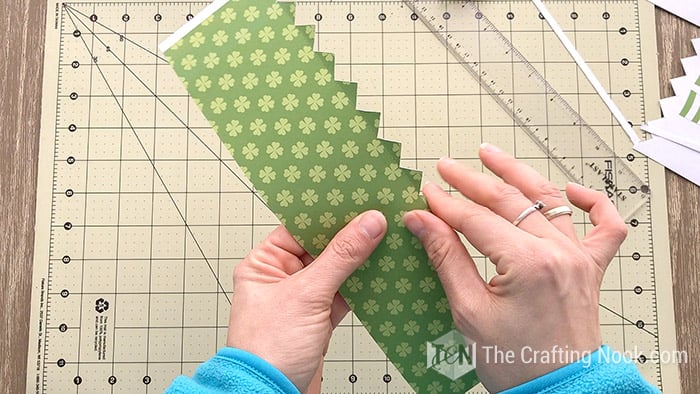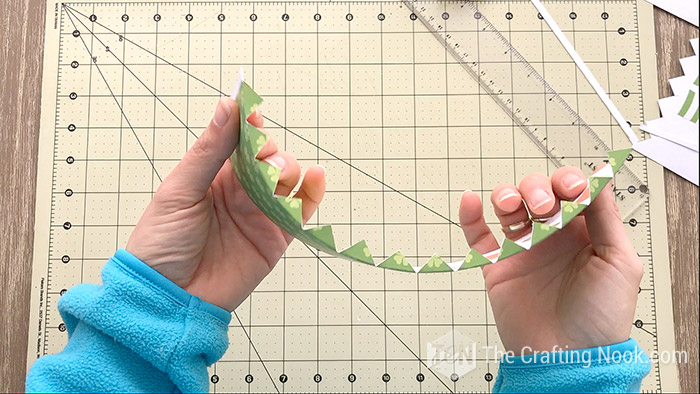 Cut all the items you want to use. I added a few extra ones.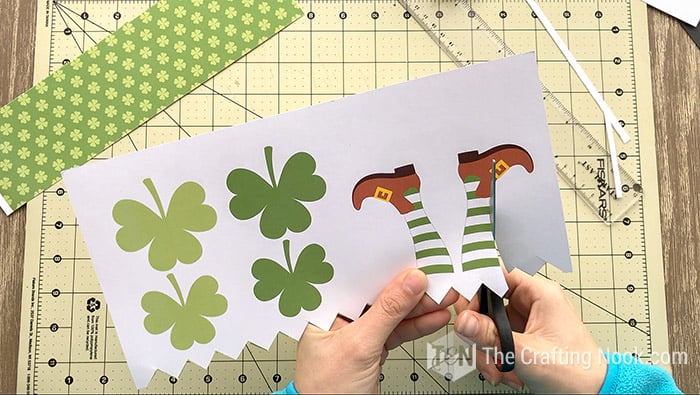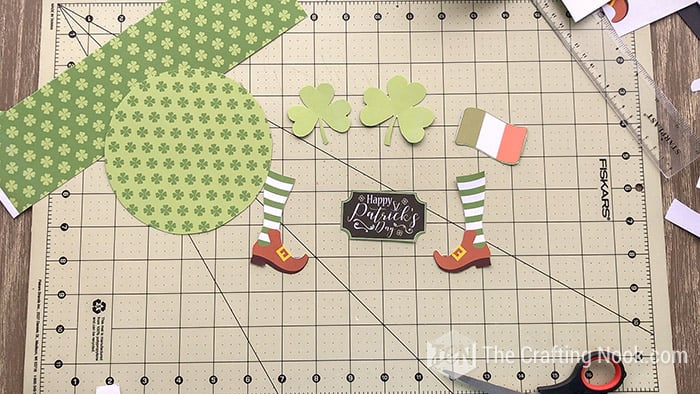 Then turn your gold cardstock right side facing table, and draw a belt buckle. Nothing fancy.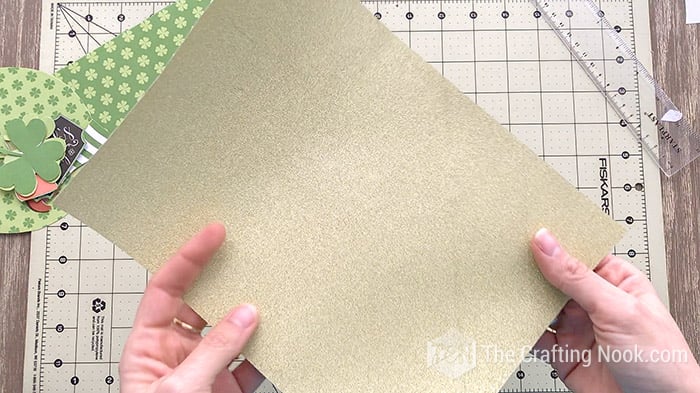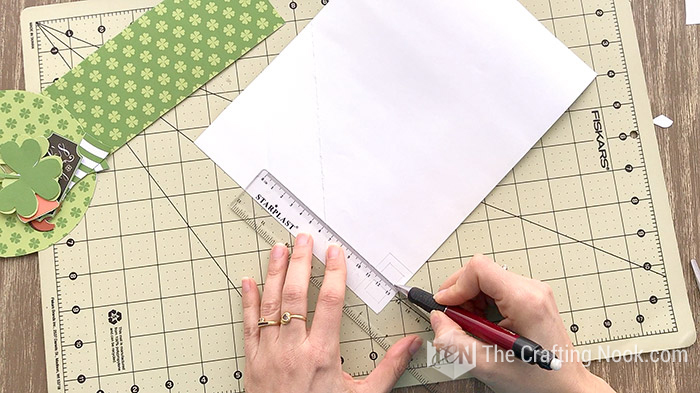 Cut and set aside.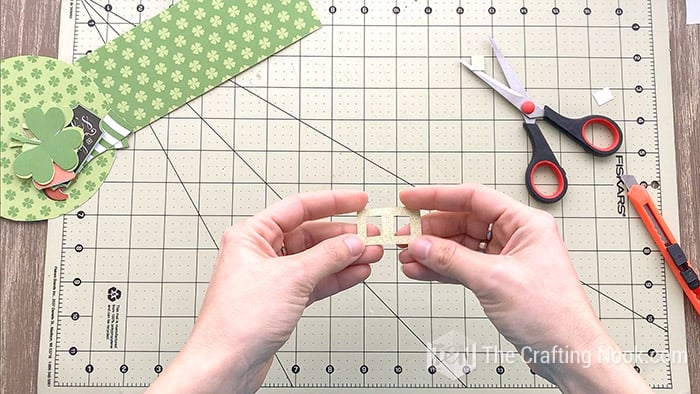 Then cut a strip of black cardstock, make sure it fits inside your belt buckle. Set aside.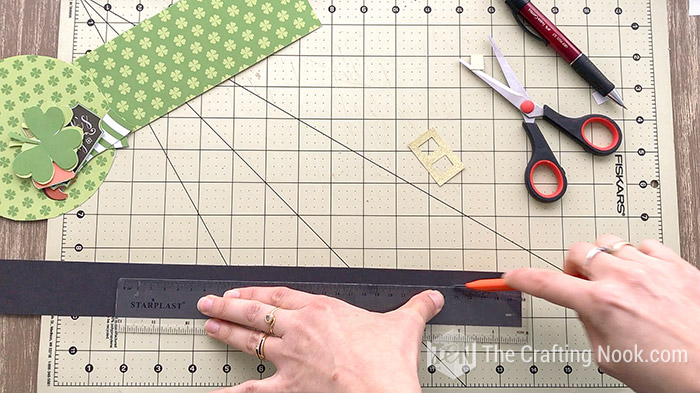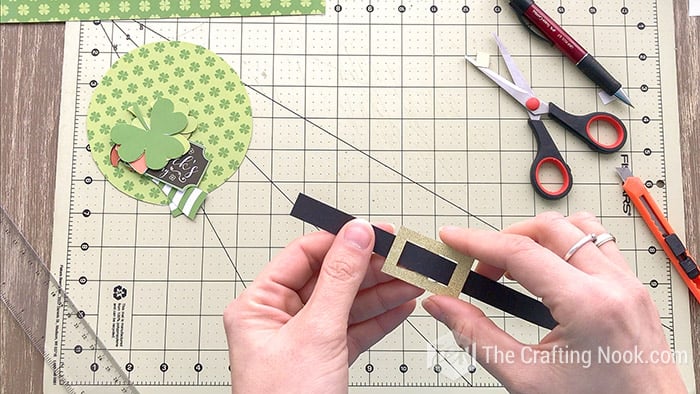 Time to glue and assemble.
Apply a small line of glue on the white flap of your hat's body. Glue both ends together making sure no white part shows up.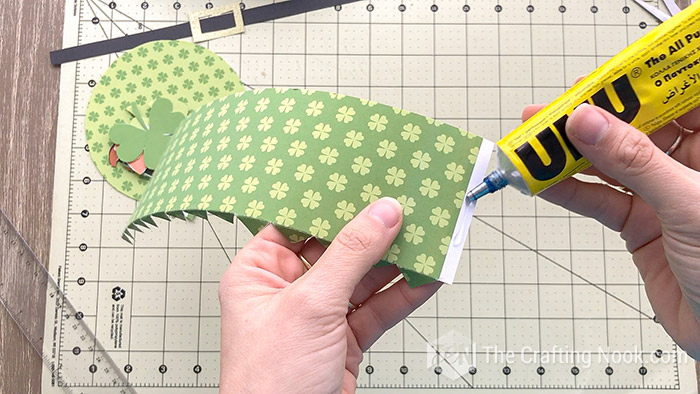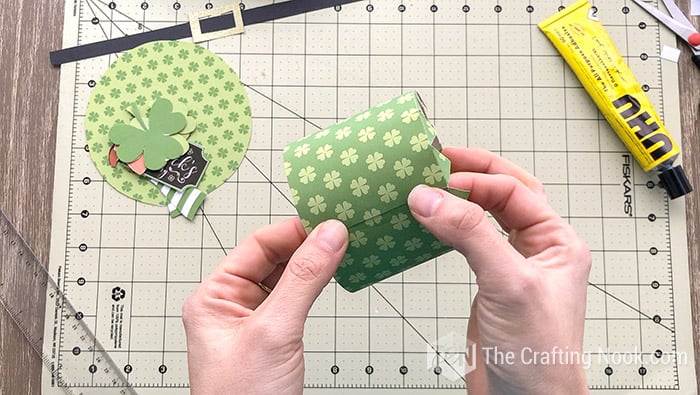 Put in pace your hat's belt making sure the closing ends match the hat's body end. Glue them both together.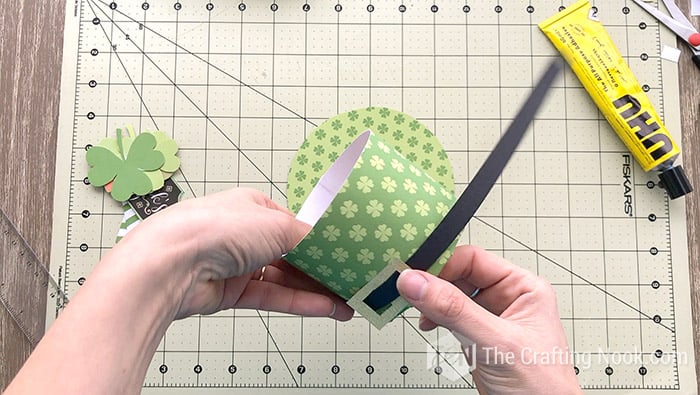 Then apply glue to the base flaps of the hat and glue it to the hat's base.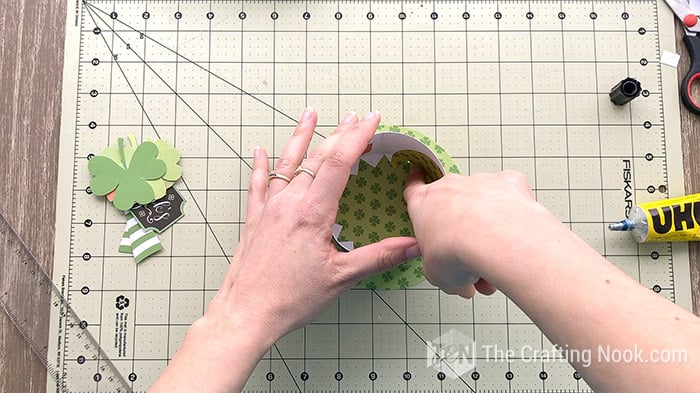 Let it dry and you get this: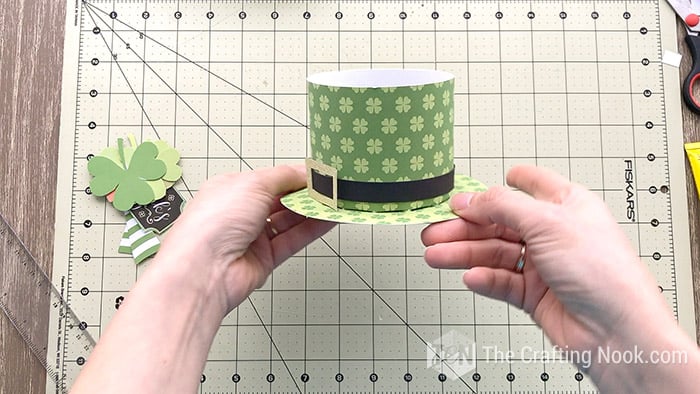 Set aside.
Cut a piece of Floral Foam Block that will fit perfectly inside the hat.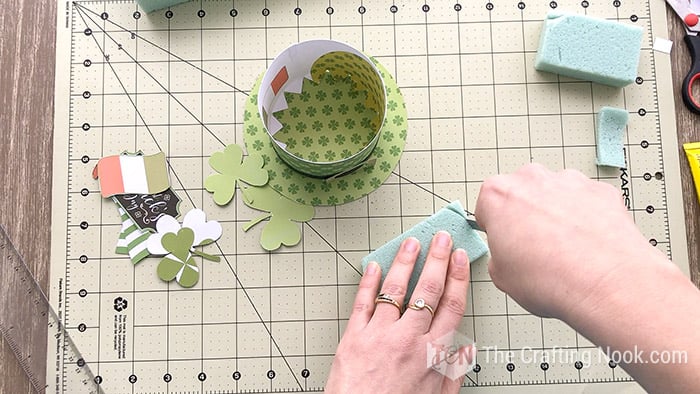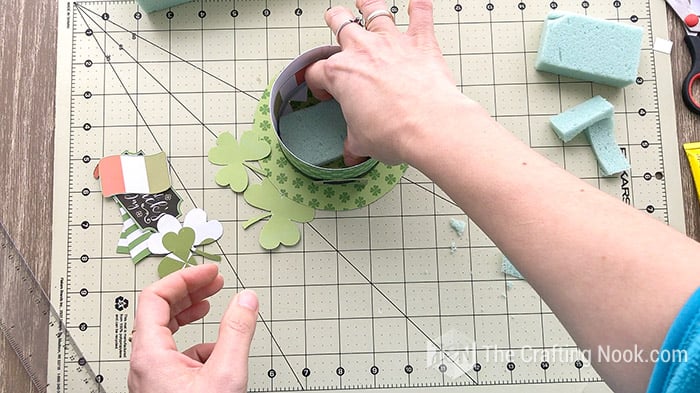 With your pipe cleaners, measure the hat's height and bend it 90º.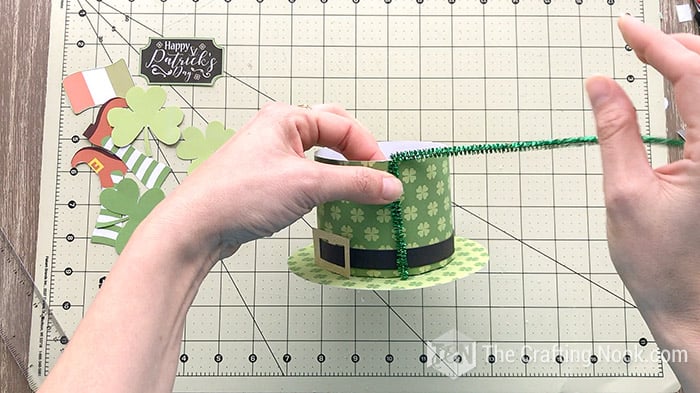 Then using a marker or any thick round element you have handy, wrap the pipe cleaner around a few times until you have only about 1/8 inch.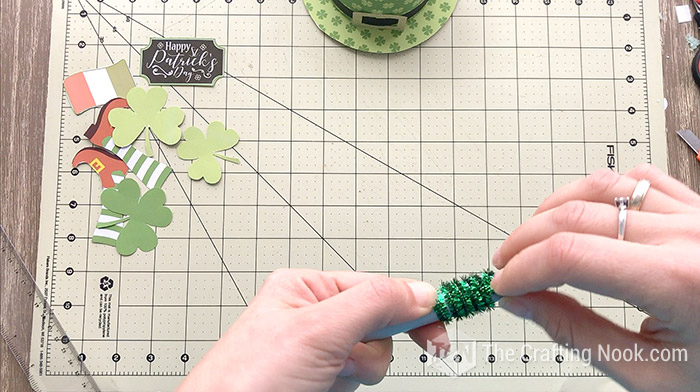 Release the pipe cleaner and stretch it a bit. Repeat with as many pipe Cleaners as items you want to add.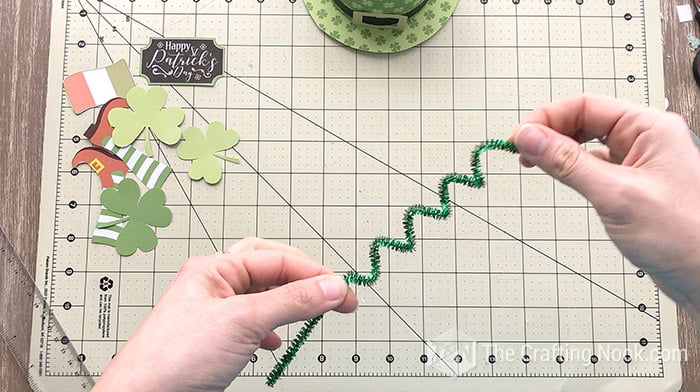 Glue the tip to the clovers and the sign and any other item.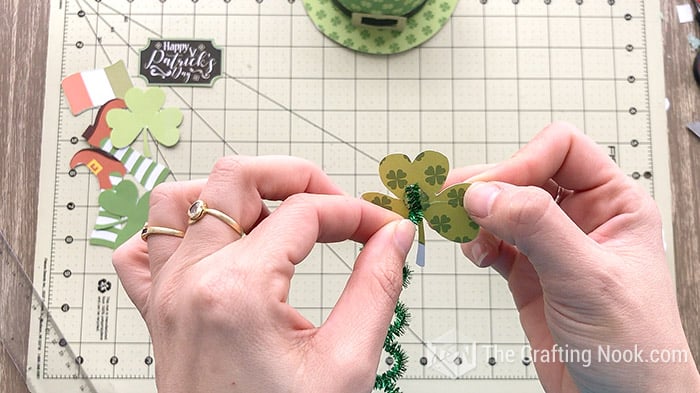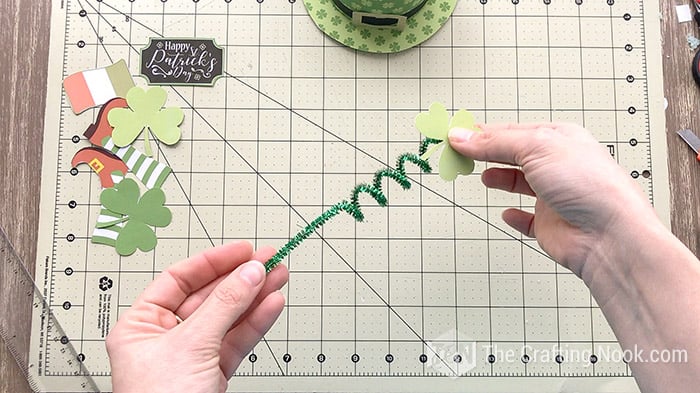 Cut a couple of strips of straight pipe cleaner about the same hight of the hat. Glue the legs upside down.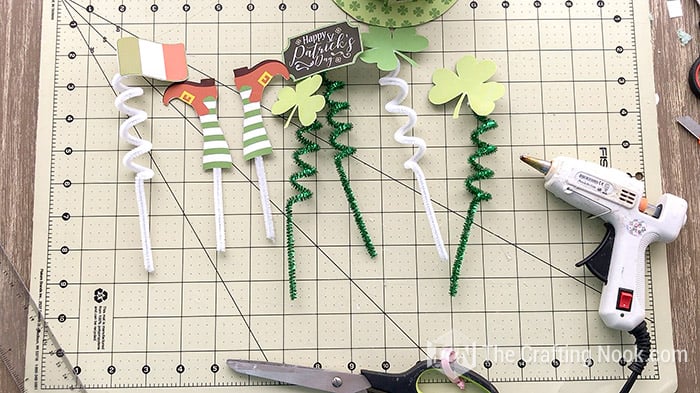 Then pinch the floral foam with the free end of the pipe cleaners. I tried to pinch around the floral foam block so I would have enough space for the chocolate coins.
Insert the floral foam block back to the hat and finally put all your chocolate coins in your hat!
Woot! You got a super cute Lucky Hat St. Patrick's Day Favor Box.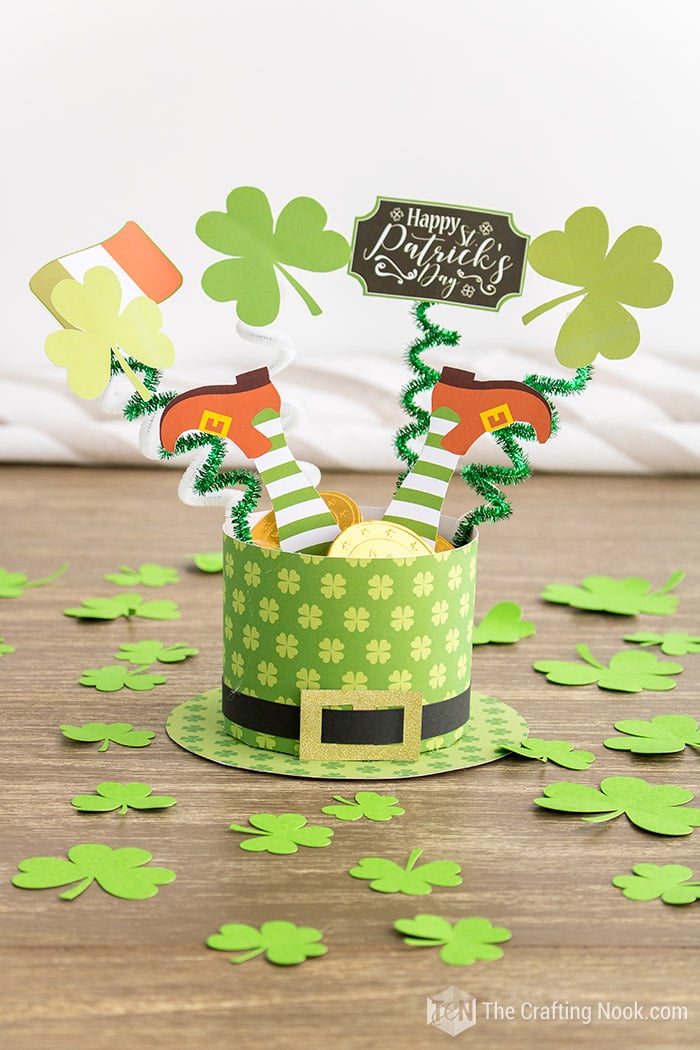 Kids will love this! Make as many as you like and use them as gifts too!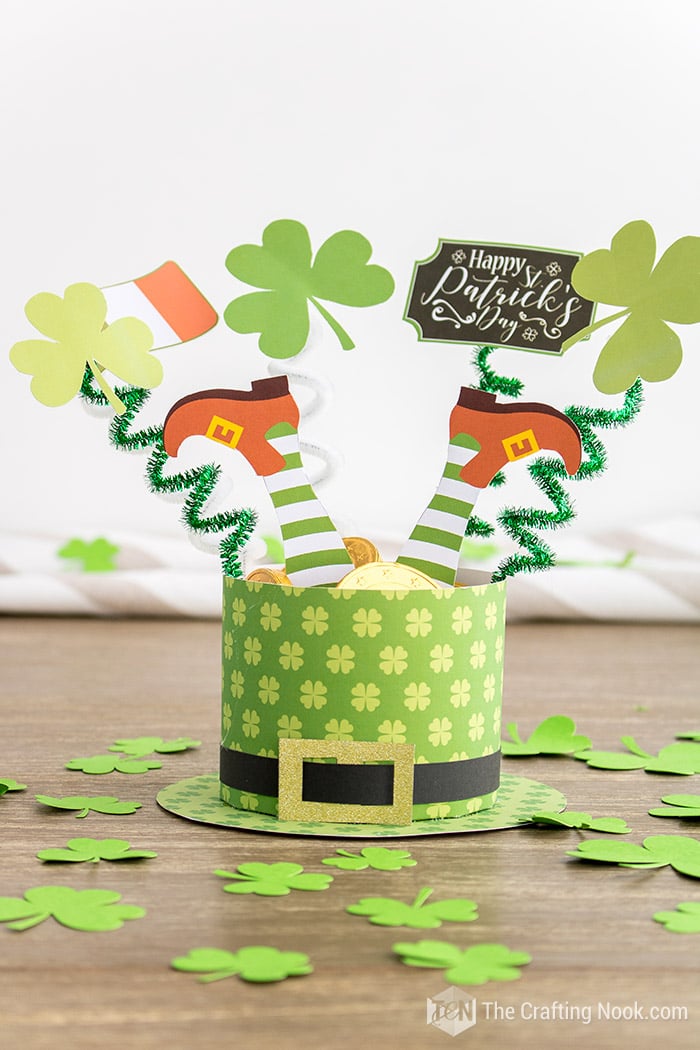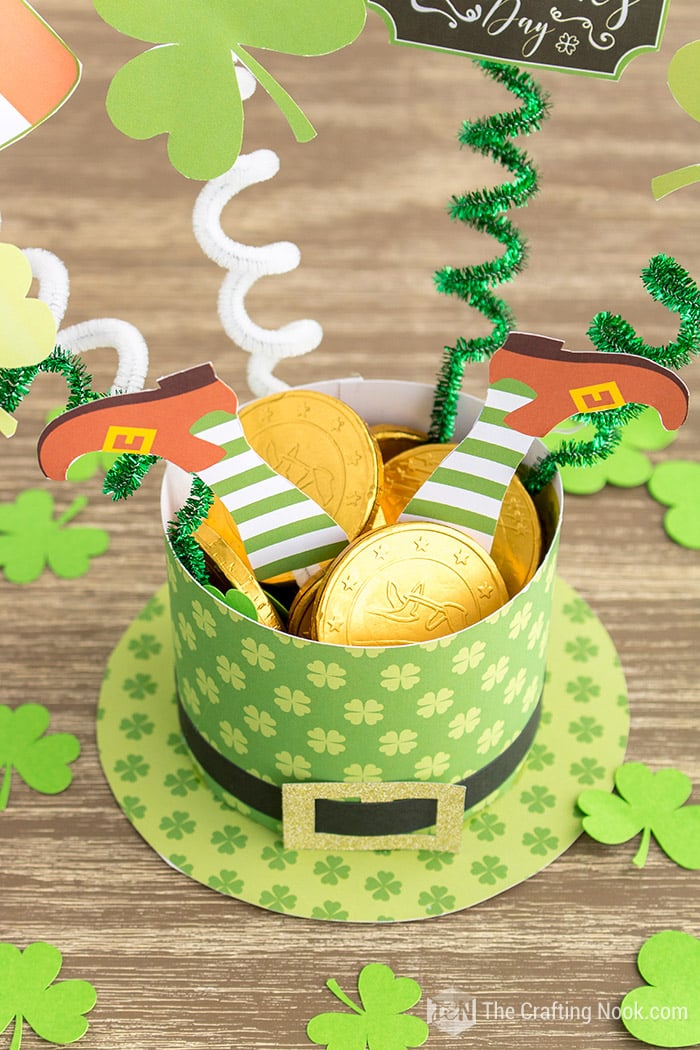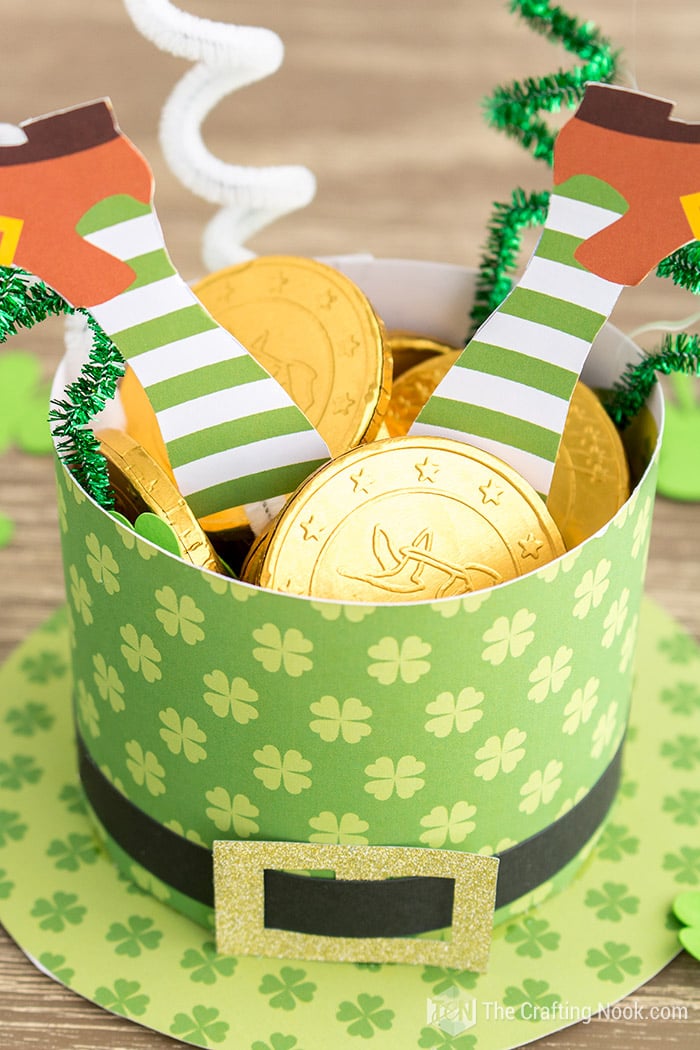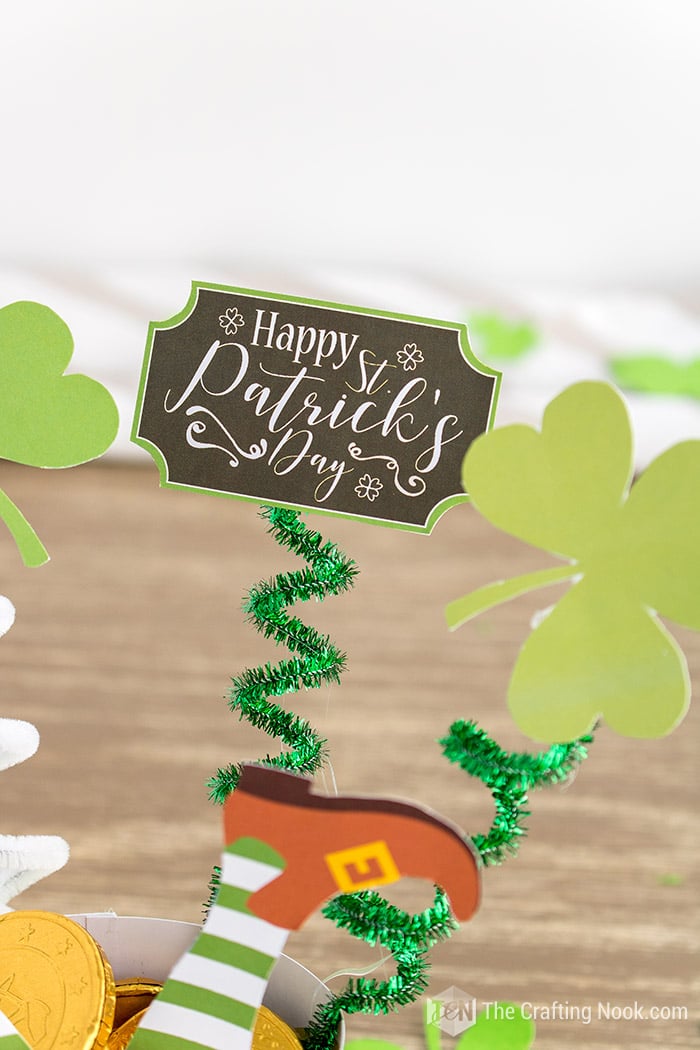 If you enjoyed this cute and fun Lucky Hat St. Patrick's Day Favor Box, don't forget to share with friends.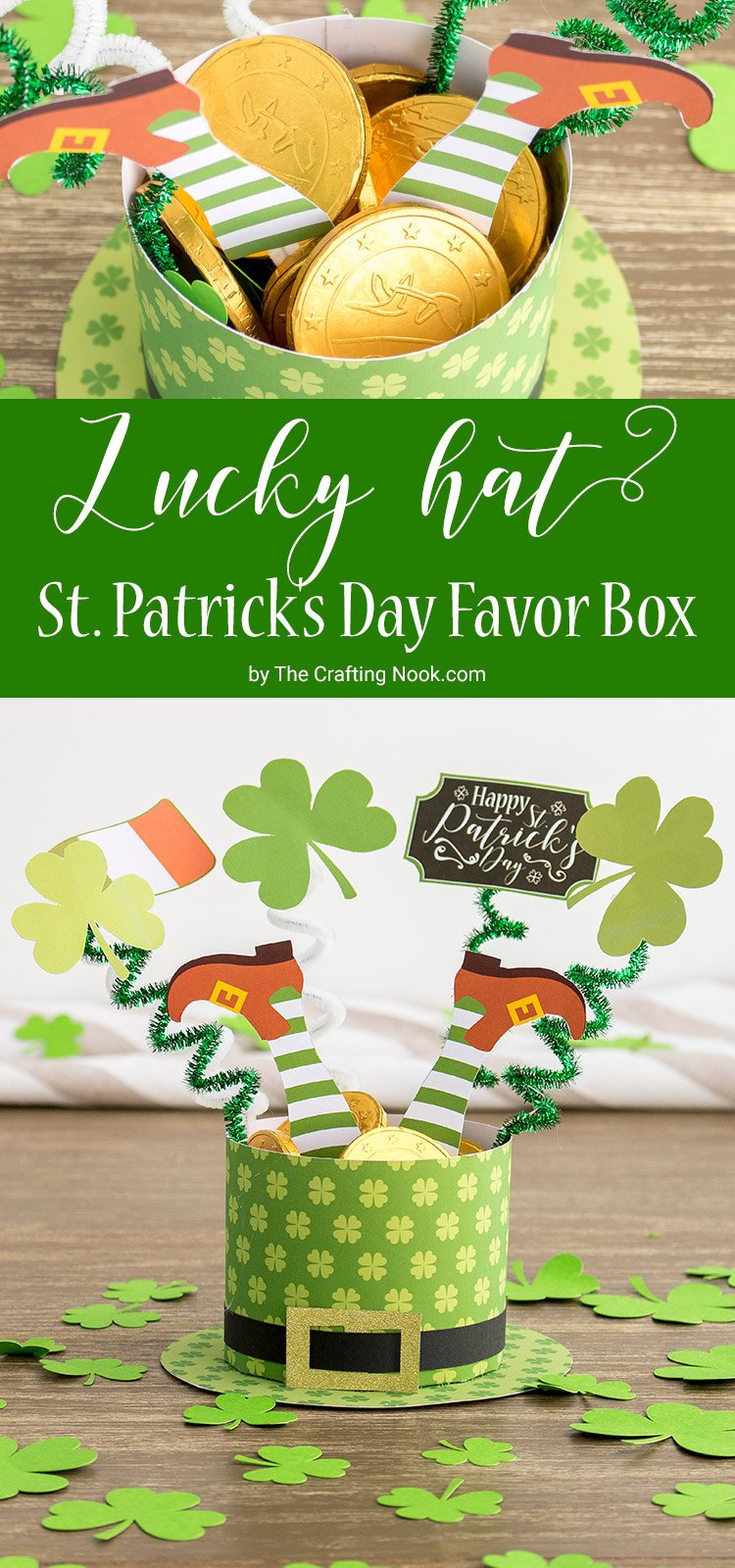 Let me know your thoughts about this in comments. And… If you want another cute Favor box idea check my friend Karina's Blog for a super cute Pot of Gold St. Patrick's Day Favor Box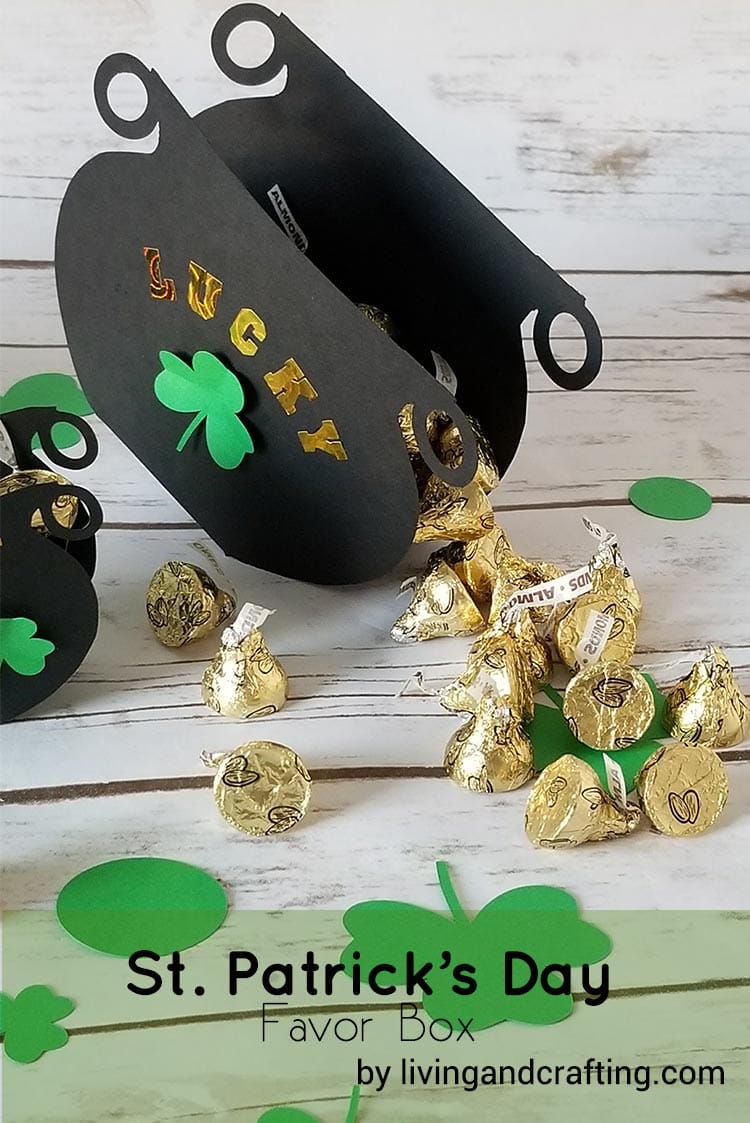 If you enjoy this project you might also Love these too: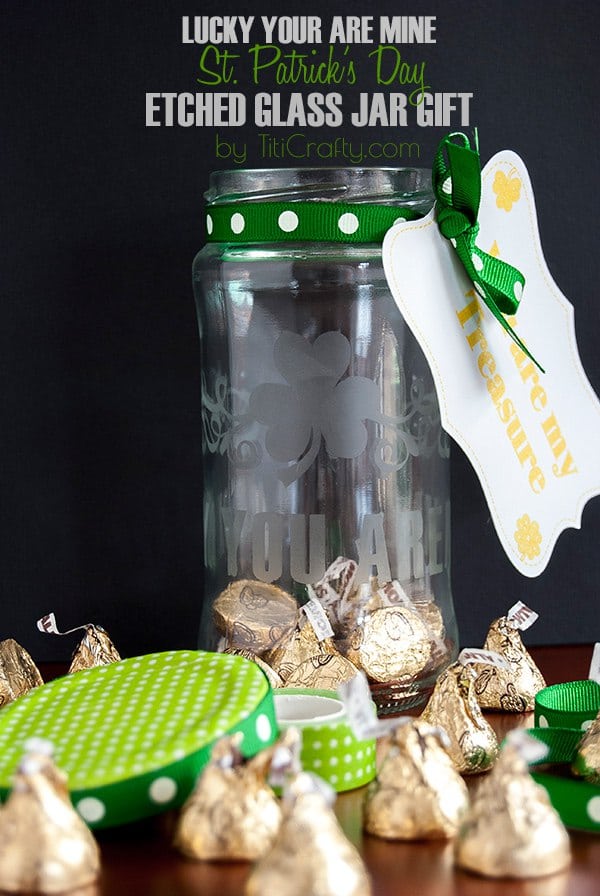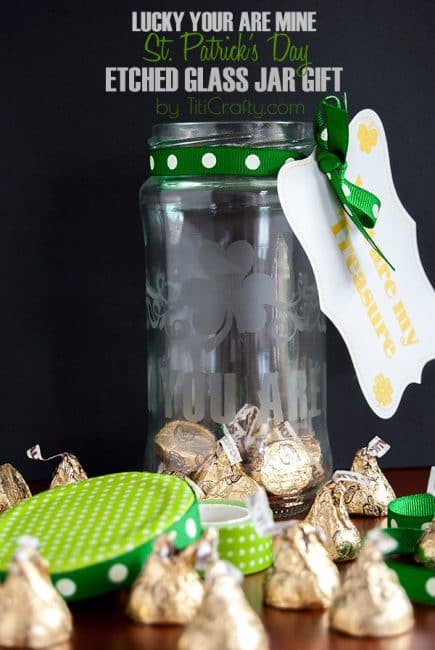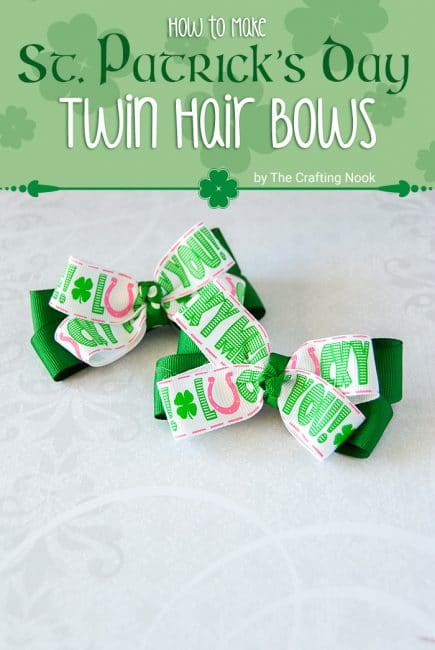 Till Next time!