Don't you enjoy a fun craft? how about if it's super easy? I love when I can make crafts that I can finish in just a few minutes. This Hidden Pot of Gold St. Patrick's Day Shadow Box is crazy easy and so fun to make.
All the paper clovers cover the pot of gold and a golden shamrock. You shake it and shake it until you discover either of them. Kids love this kind of games.
Hidden Pot of Gold St. Patrick's Day Shadow Box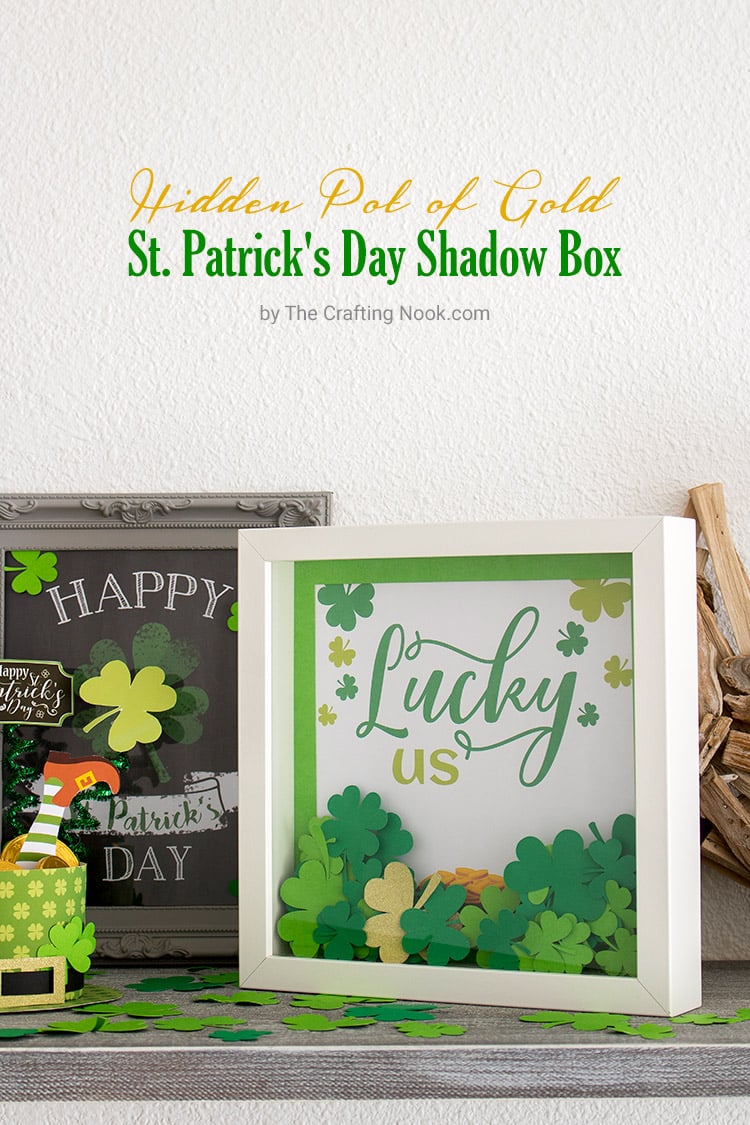 This super easy craft took me about 15-20 minutes to get done. I put it on our Mantel next to our St. Patrick's Day Favor Box and spread around some shamrocks. The whole thing turned out so cute and my girl loved it! She can't wait for the 17th to arrive so she can eat the chocolate coins!!!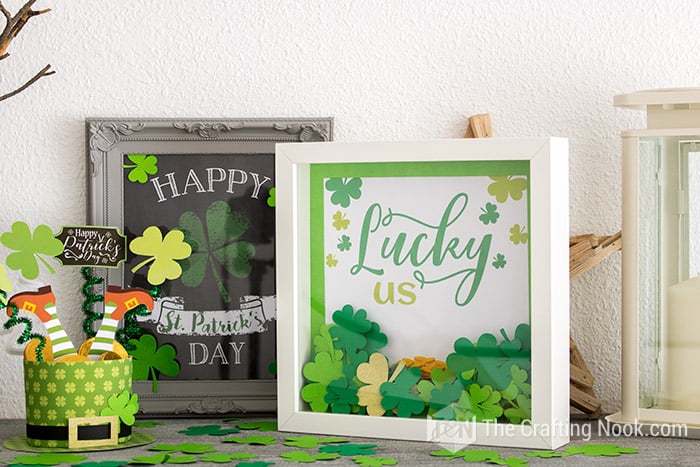 You can download the free printable and the shamrock cutting file in case you have a cutting machine. So, are you ready to start making this cute Hidden Pot of Gold St. Patrick's Day Shadow Box? Let's go!
Supplies:
A bunch of cut out shamrocks (different sizes and shades are best if you have a silhouette
1 Gold shamrock
Cameo you can download the cutting file HERE)
Green cardstock
A shadow box frame
Ruler, cutter, pencil, and adhesive tape.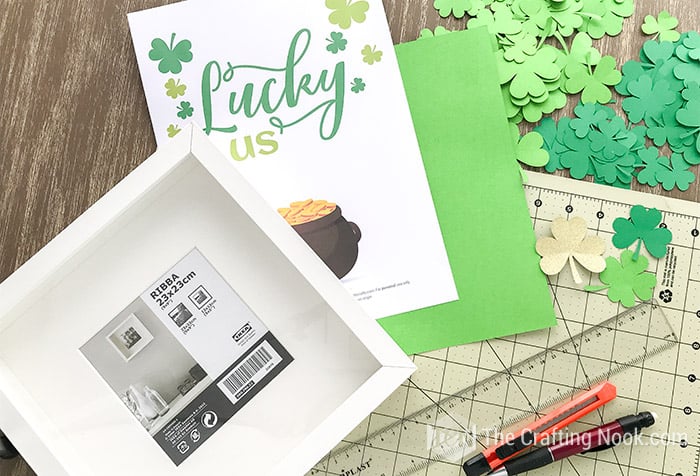 Here is a video tutorial for the process to assemble the Hidden Pot of Gold St. Patrick's Day Shadow Box but if you prefer reading and seeing the photos then just scroll down and keep reading!
Firstly, if you have a cutting machine and will use the cutting file, then just send it to cut on your green cardstock and using the settings suggested.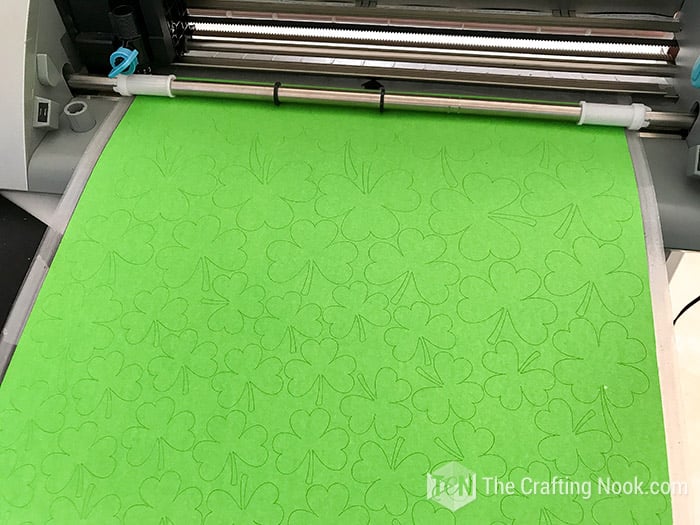 I made 2 batches on 2 different shades of green and then I cut with scissors the gold clover.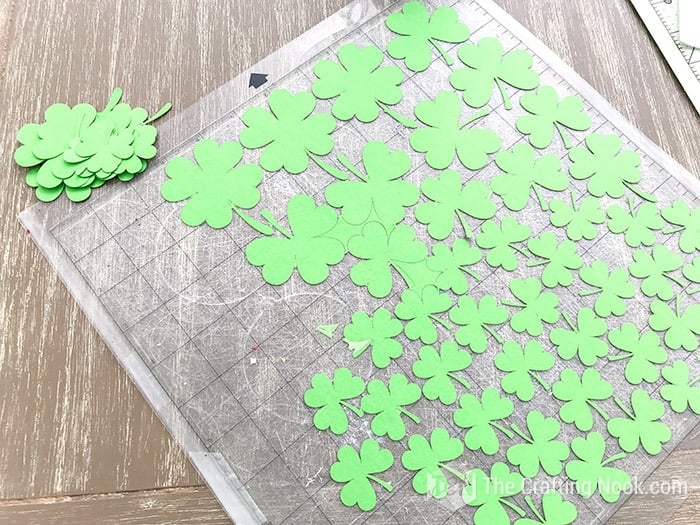 Open your frame on the back.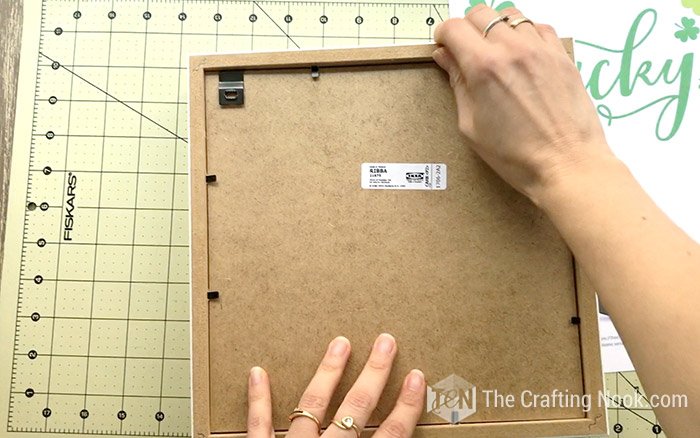 If it has passe-partout use it as your guide to cut your printable. If not use as your guide the page that comes in your frame.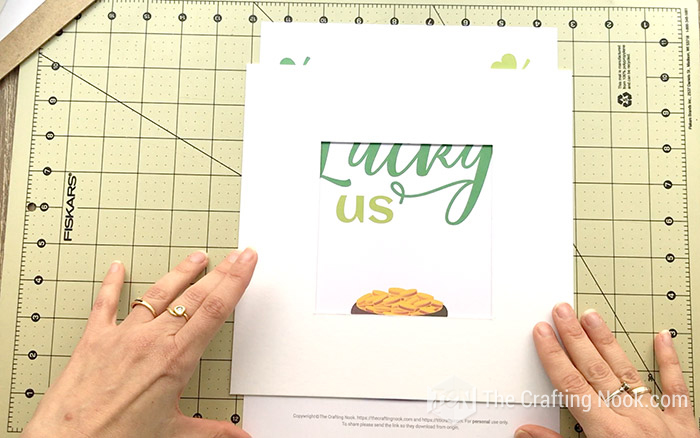 Then Cut leftover if any.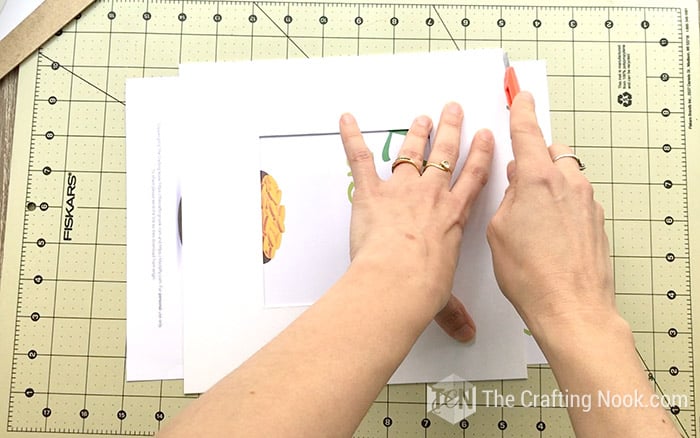 The use the same guide on your green cardstock.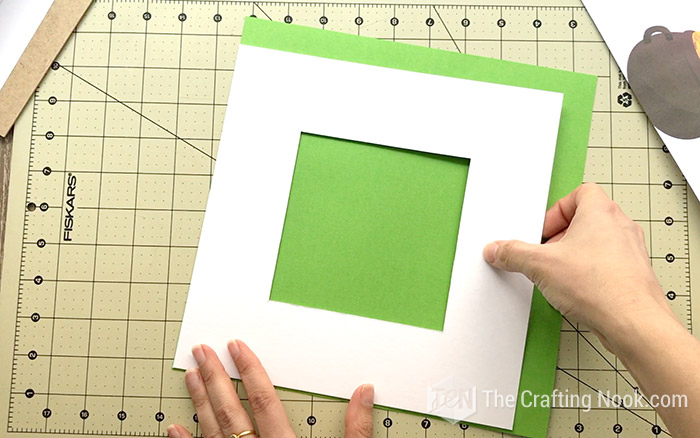 Now, cut it the same size.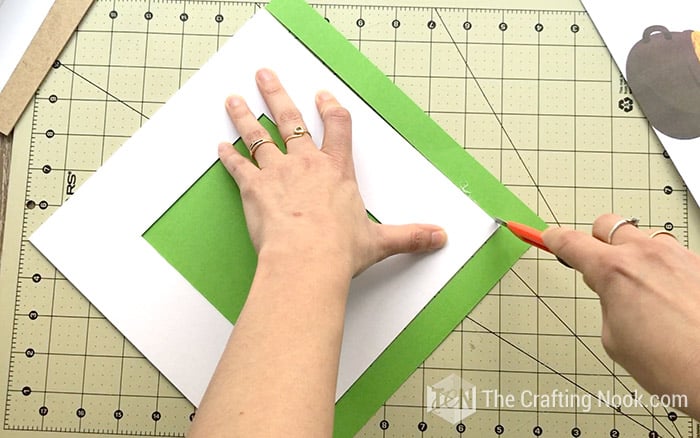 Then using your ruler measure a bit less than an inch (this will be your new passe-partout and it shouldn't be thick) Measure and trace a line on each side.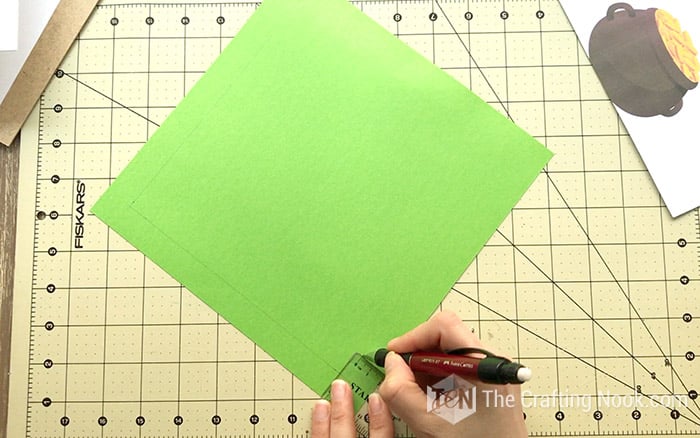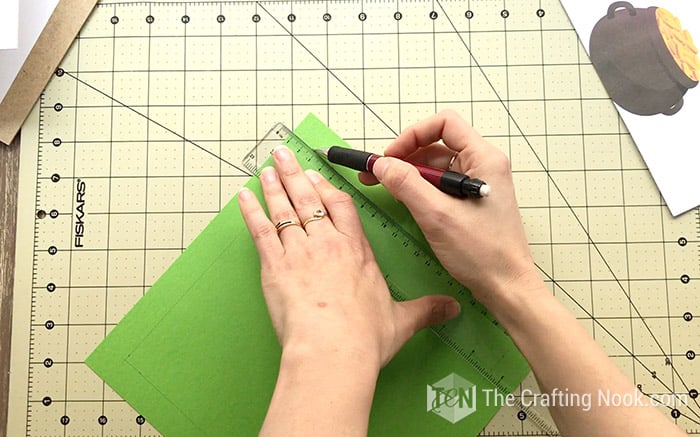 Then cut along your guidelines.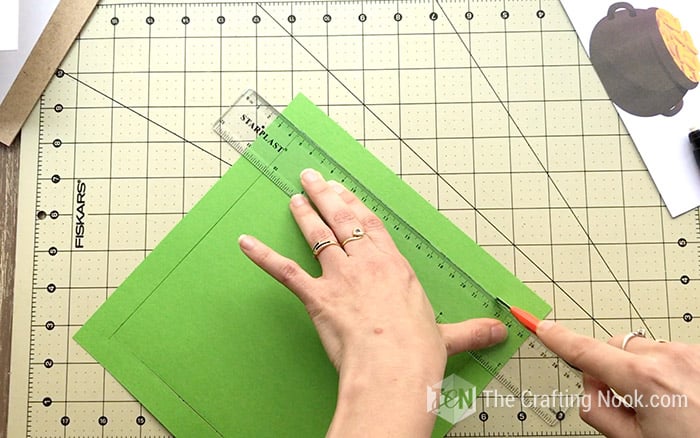 When you have your frame ready place it over your printable and adjust as necessary. I had to cut some extra paper to make the working fit.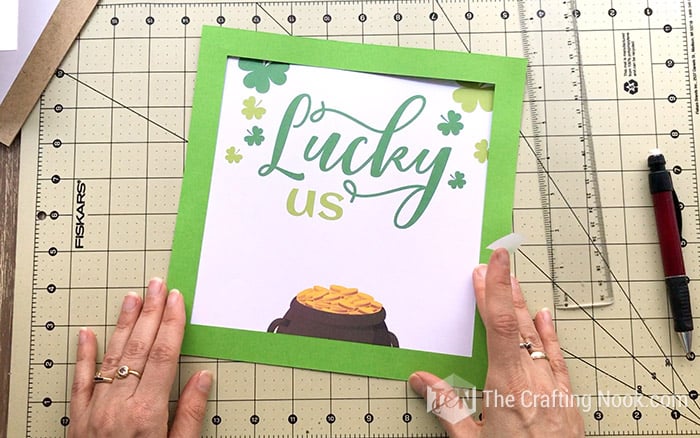 Turn it over and using adhesive take secure the printable to the frame in place.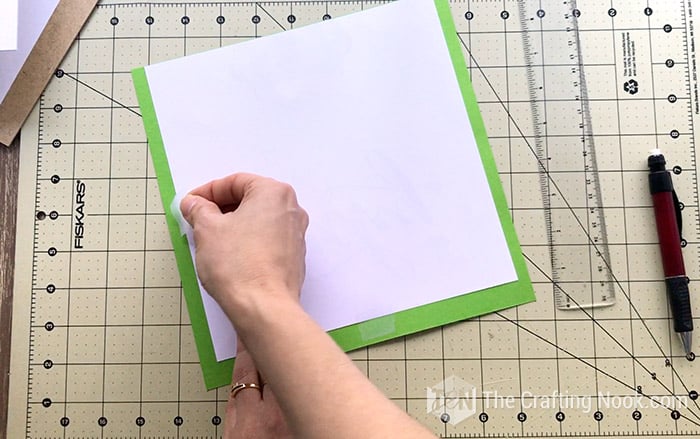 Now take your shadow box frame and fill it with the shamrocks, including the golden one. Make sure it's facing the glass.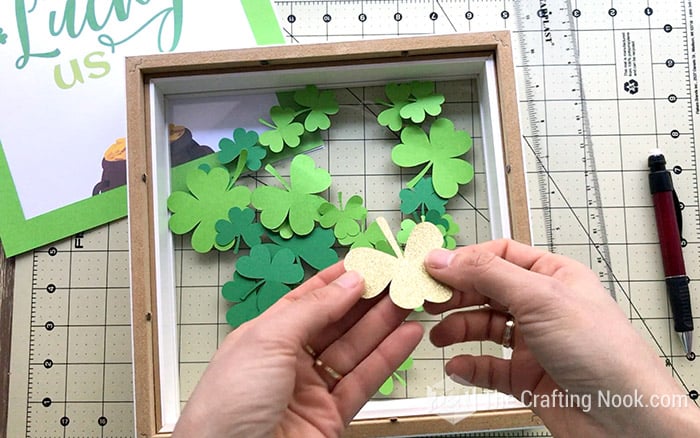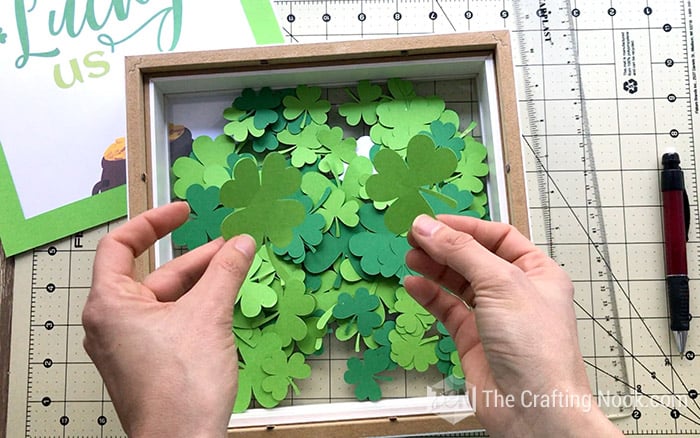 Finally, put the printable in the frame facing down and close it. You are done!!!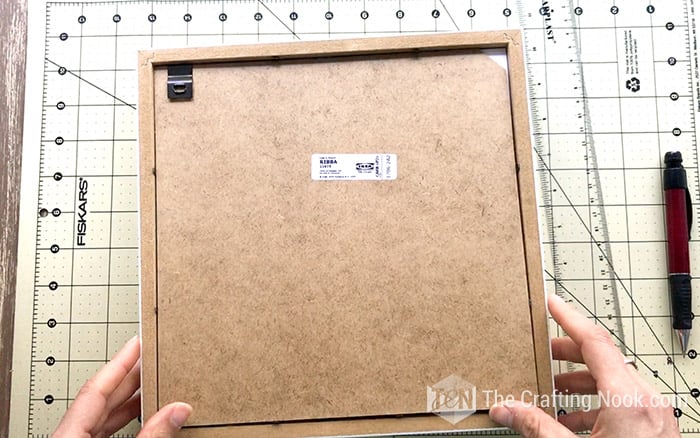 Woot… It looks so cute!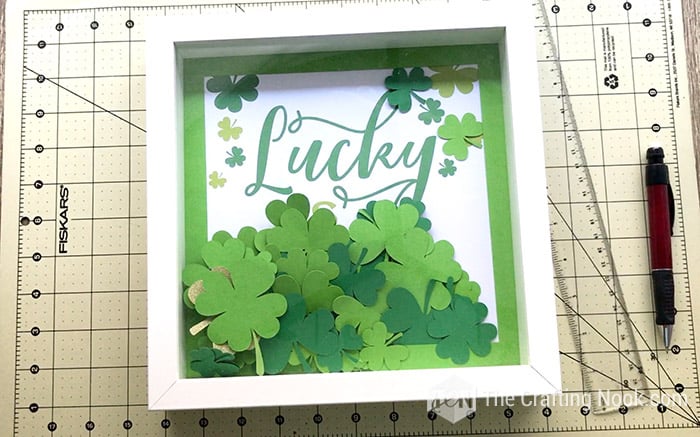 Then I put it on the mantel and voila! Sooo pretty and fun!!!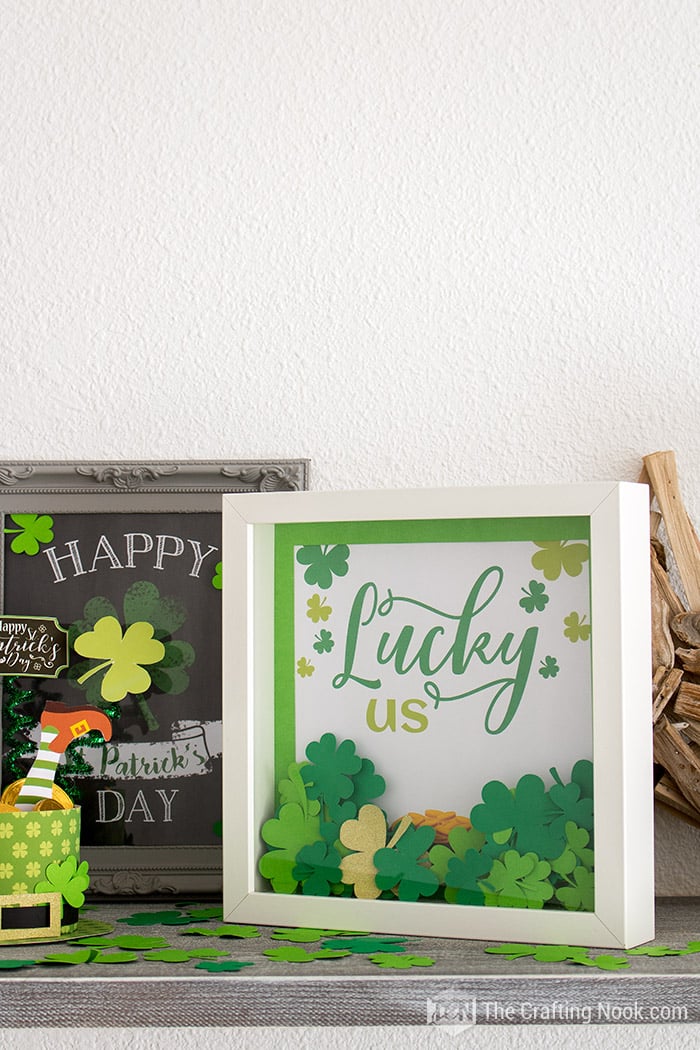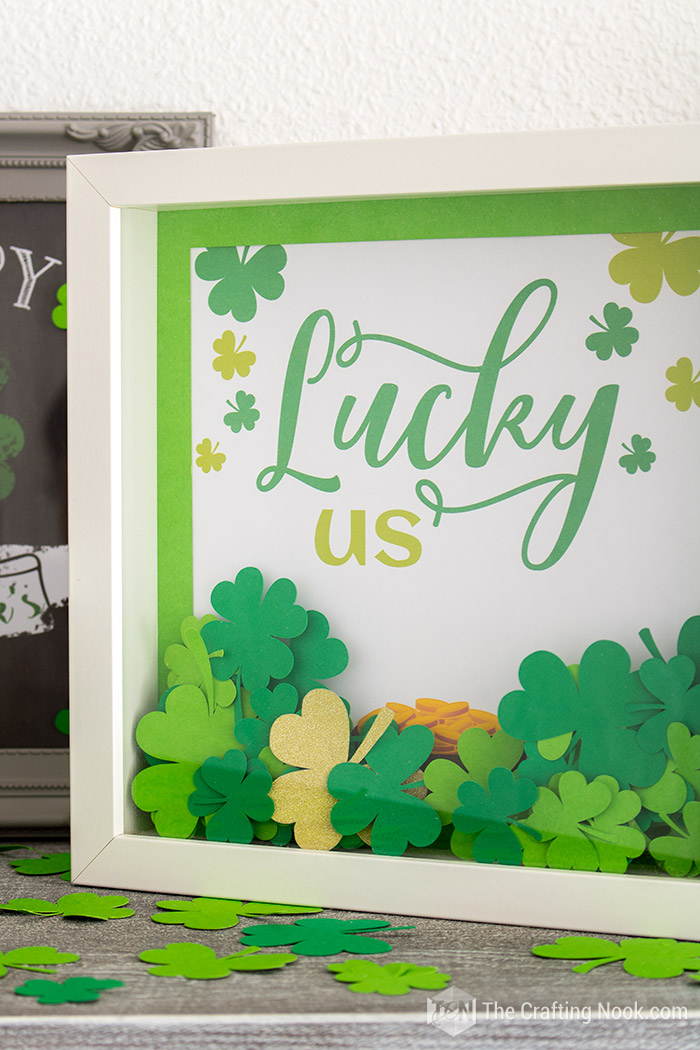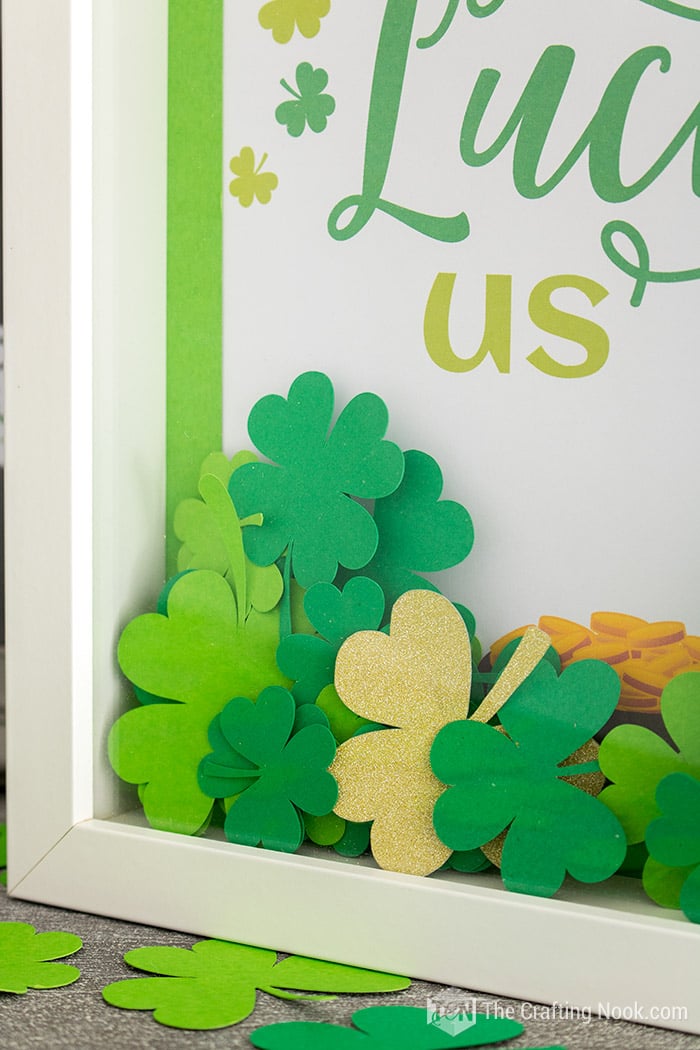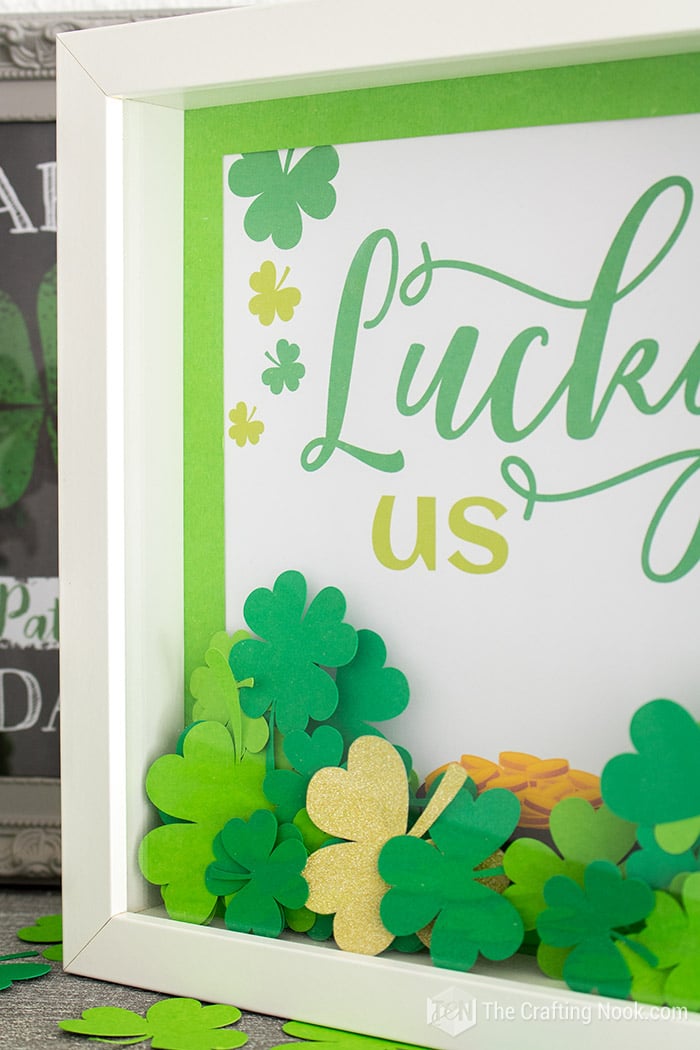 If you enjoyed this cute and easy Hidden Pot of Gold St. Patrick's Day Shadow Box, don't forget to share with friends.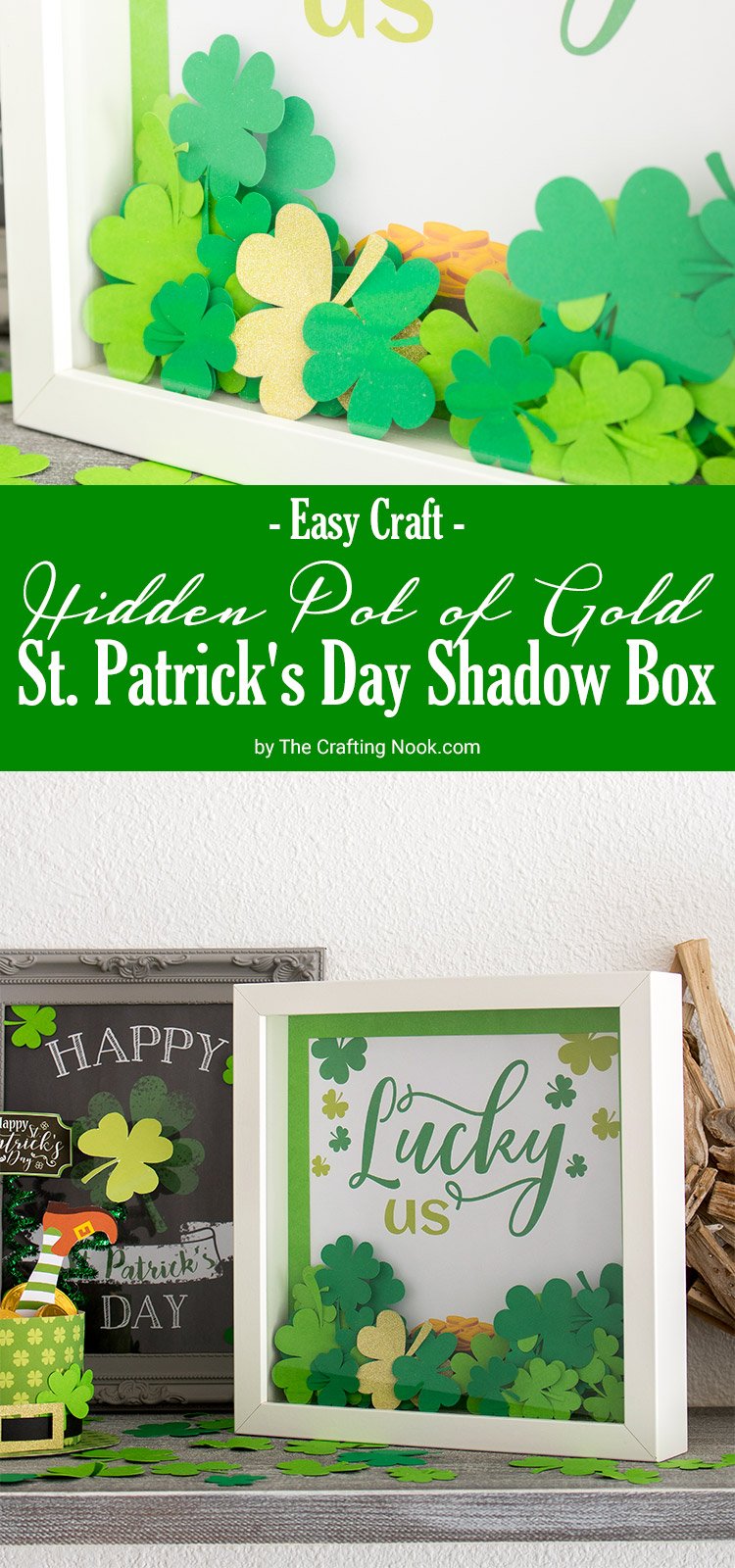 What do you think? I would like to know your thoughts in comments!
If you like this project you might also love these too: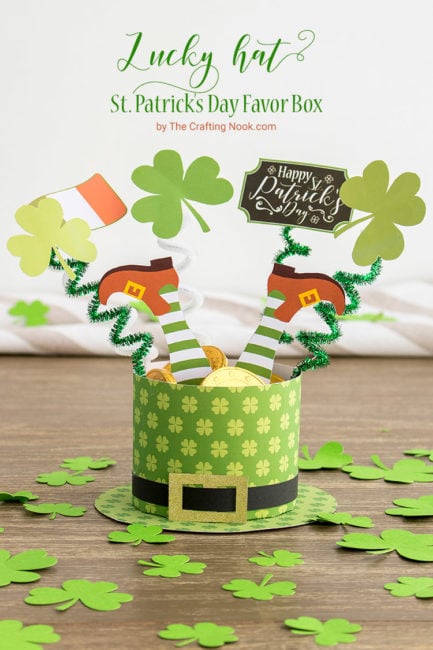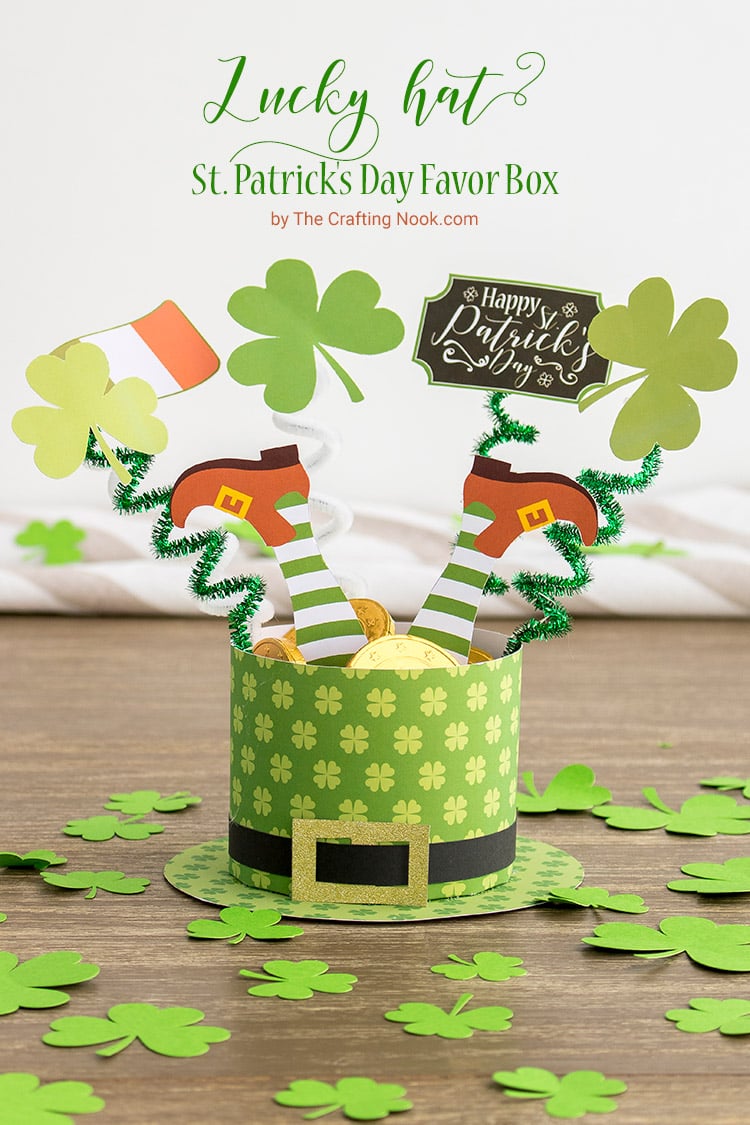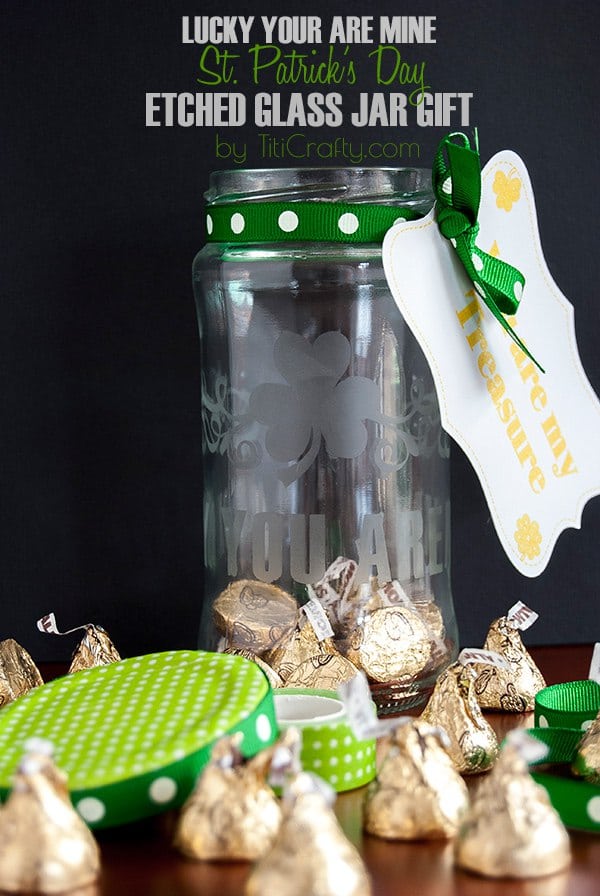 Till Next time!