Mixing Fall and Halloween decor makes it easier to put it together at once and have more time to enjoy both. Check out what we did.
Fall is one of my favorite seasons of the year. Probably because the summer heat is getting cooler and the opportunity to start enjoying cozy sweaters and playing with pumpkins.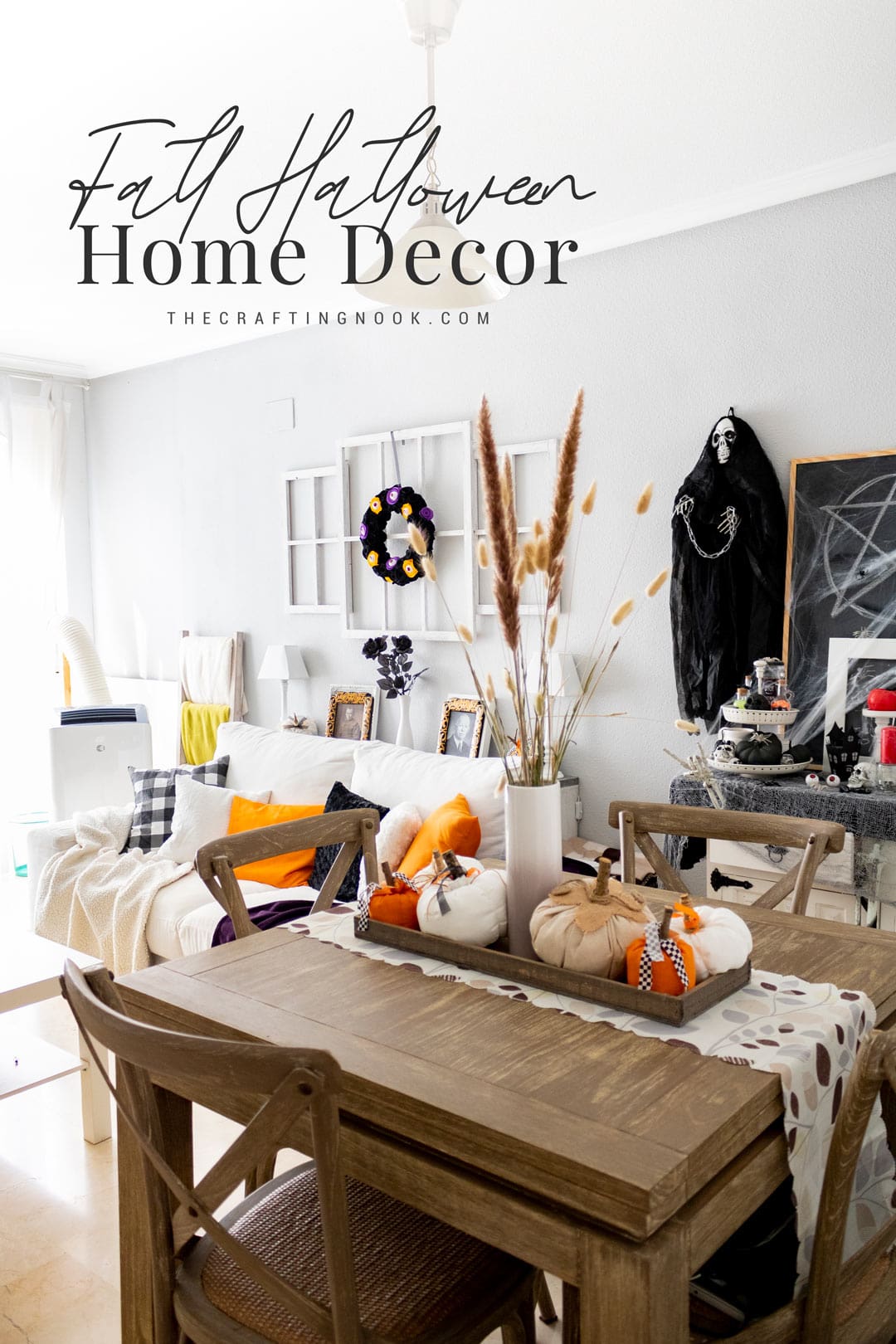 Fall Halloween Home Decor
This is the first year that I really decorate Halloween inside the house.
Usually, I just decorate the front door and put some details on the entryway table where I put the trick-or-treat candies!
For this reason, I decided to make a mix of fall and Halloween decor to enjoy a bit of both world bit longer.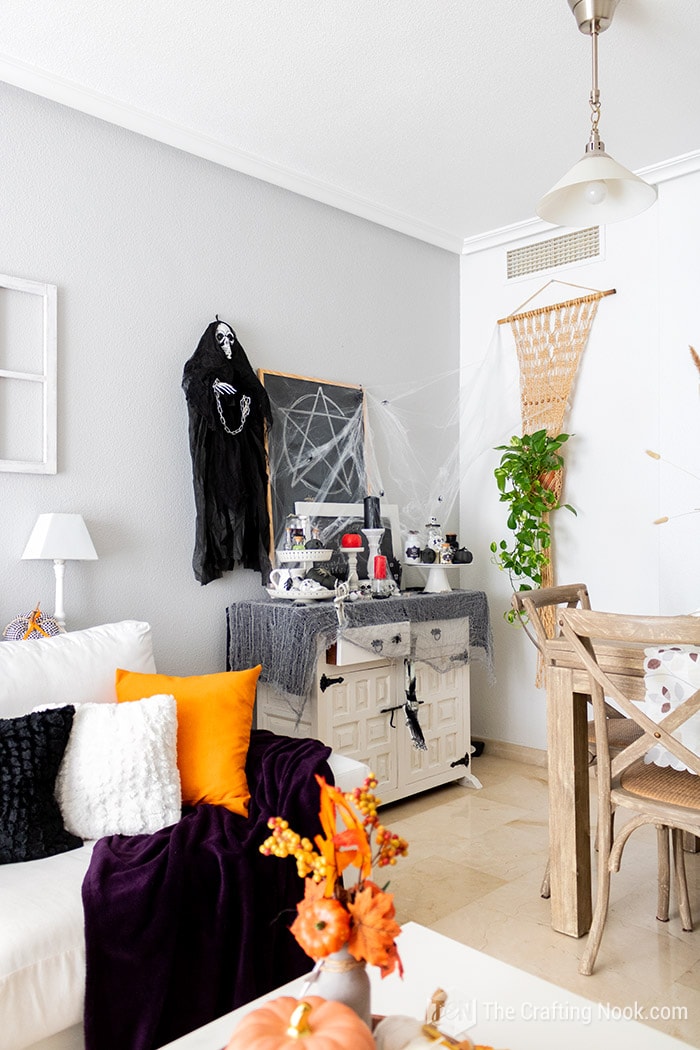 For this year's decoration, I didn't spend much.
I used a lot of what I already had from previous years and just bought a few little things for Halloween decorations.
Halloween Decor
I got some tiny pumpkins and skulls on sale and thought they might be a fun part of the decor.
Some of them I painted black with spray paint. As they are simple Halloween decorations, I simply painted them without primer or anything like that.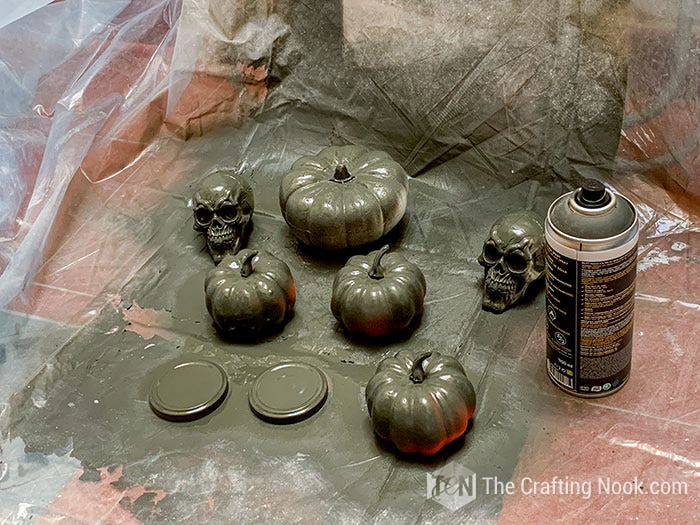 Then I thought it would be fun to make a potion table so I used my buffet table to put it together. I bought a few small bottles and made them look like different potion ingredients, like dragon scales, alien blood, troll nails, ghost breath, and so on.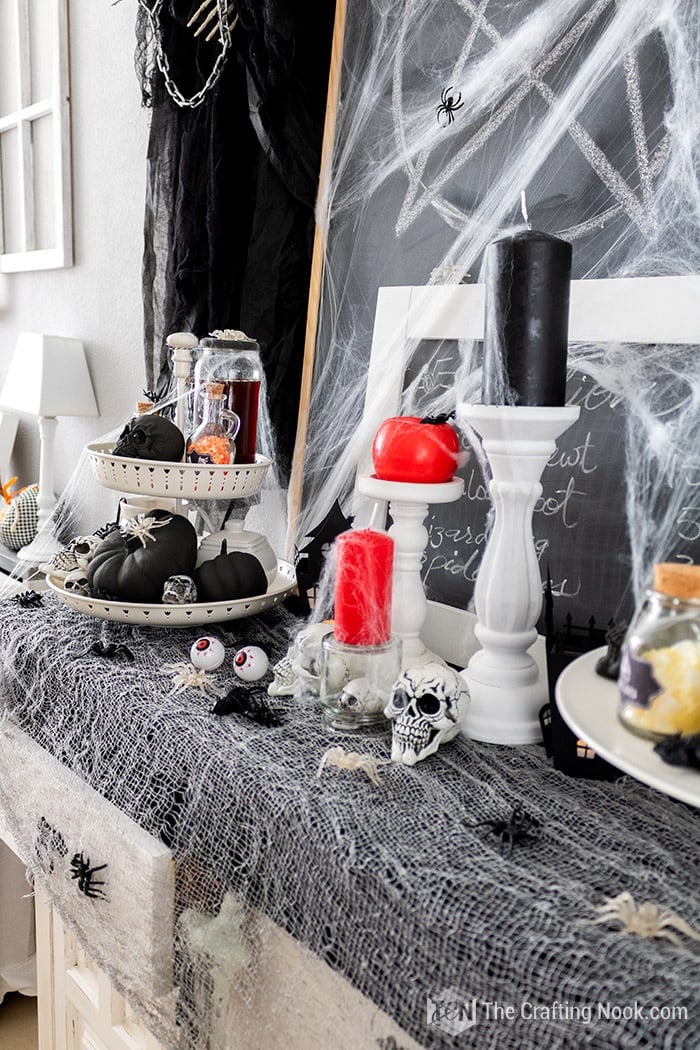 I'm sharing the free printable sticker for the potion ingredients for you to snag!!!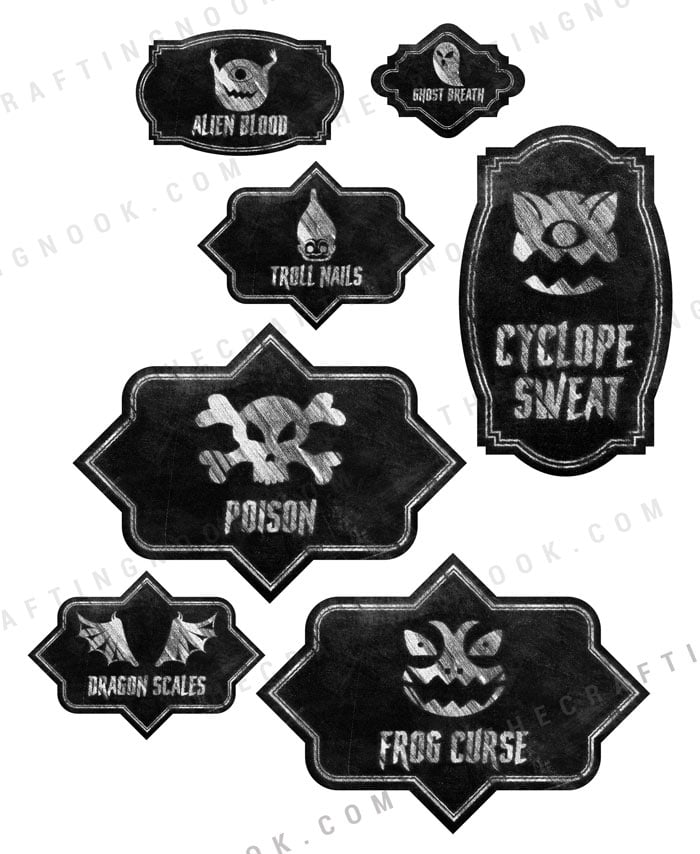 Halloween potion ingredient bottles:
This is what I did:
Ghost breath:
I got a long narrow bottle and filled it with white organza ribbon to give the look of breath LOL.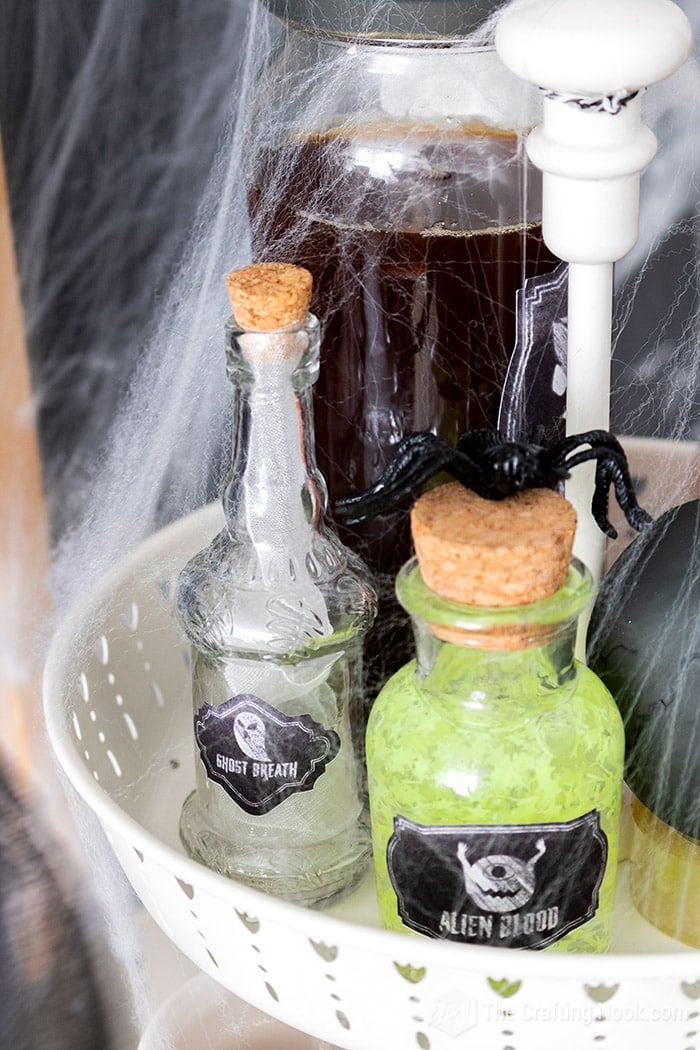 Dragon Scales:
I got some really tiny pearly orange confetti/glitter.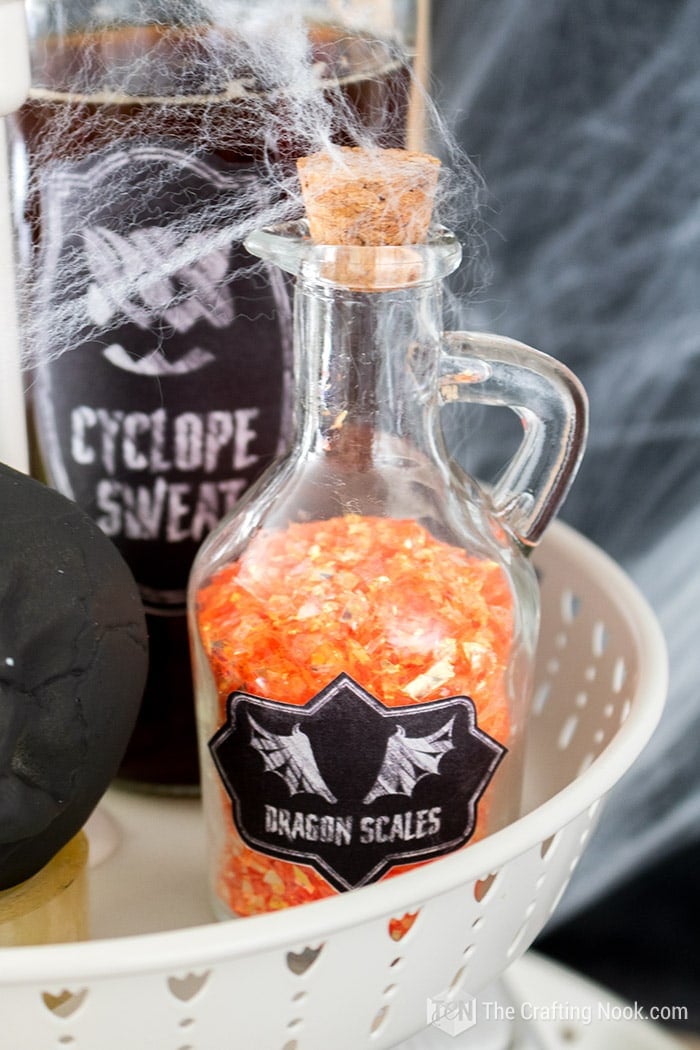 Cyclops sweat:
Coffee mixed with cola and black tea. I know I got carried away but I wanted it really dark.
Alien blood:
Got some glow-in-the-dark neon green glue filled with stars.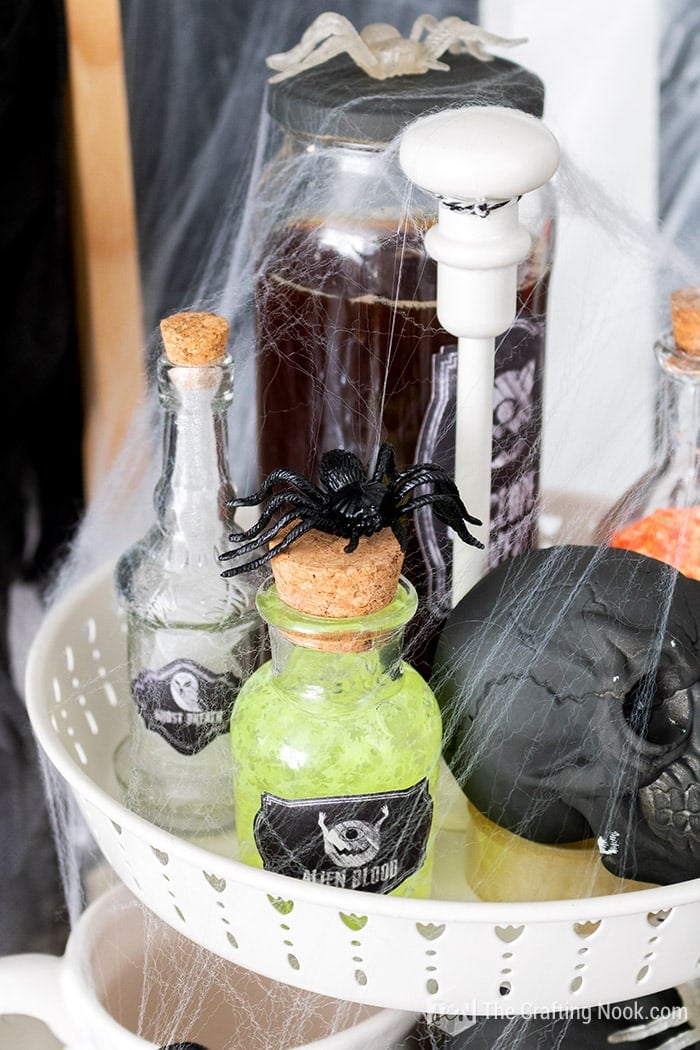 Troll nails:
I got a box of 100 faux nails that luckily were like, old, damaged, and cracked (totally on sale) and then I broke them and cut them into pieces so they would look like very damaged and awful nails.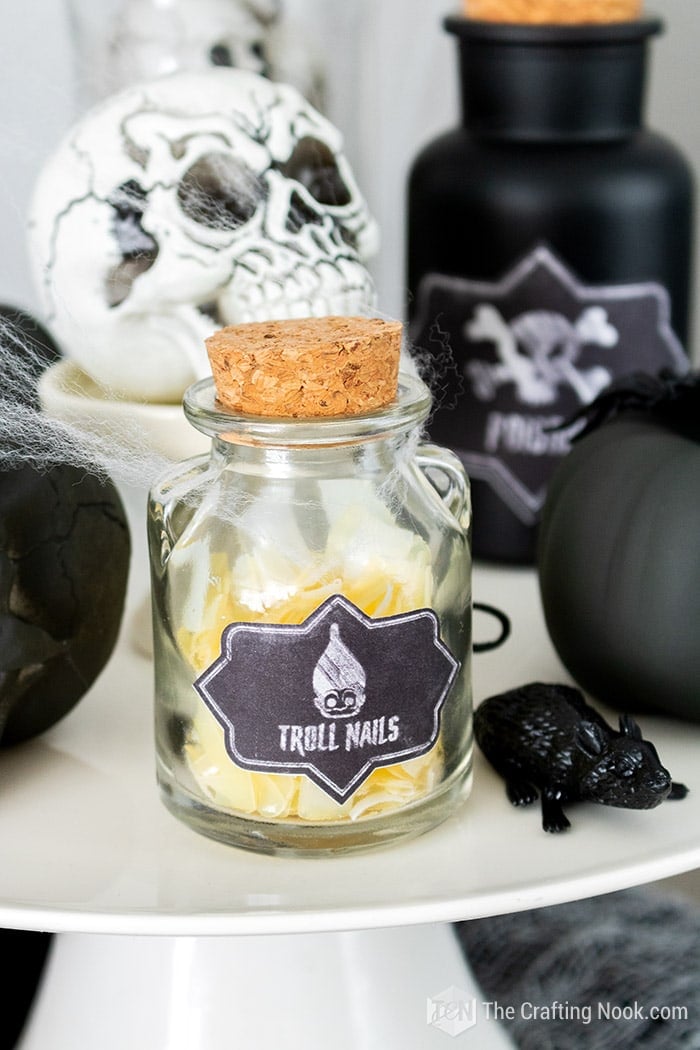 Lastly, for the poison and frog course, I used solid bottles one white and one black.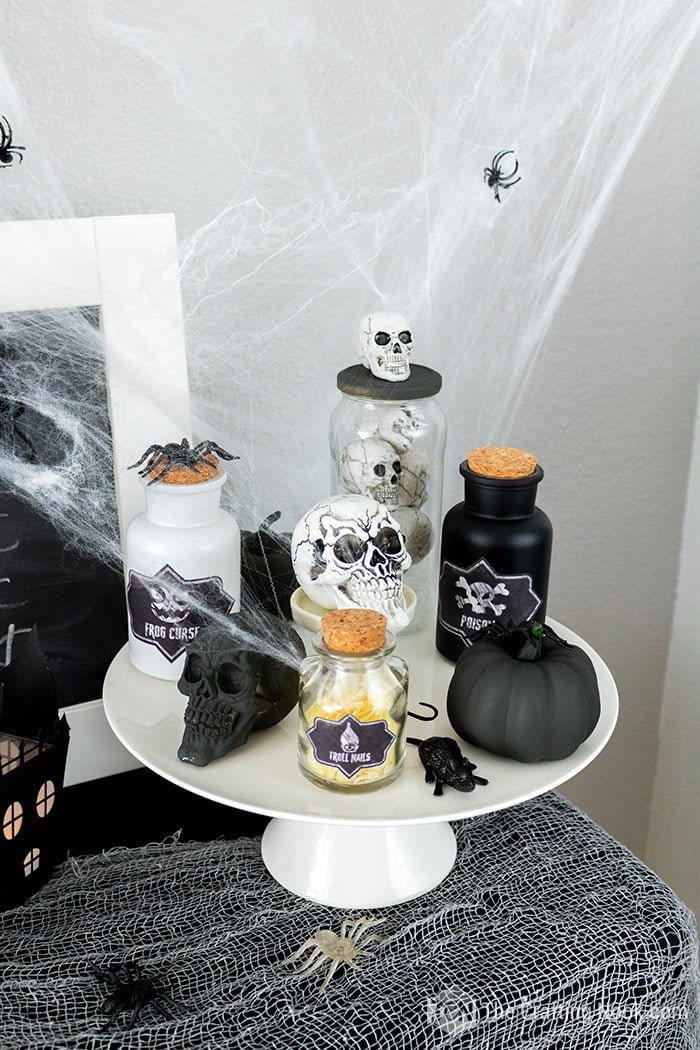 Mostly I tried to use simple items I could find so I would keep all the decor on a budget.
Firstly, I covered the whole buffet with black fabric and rags then just put all the bottles, pumpkins, skulls, spiders, and rats around.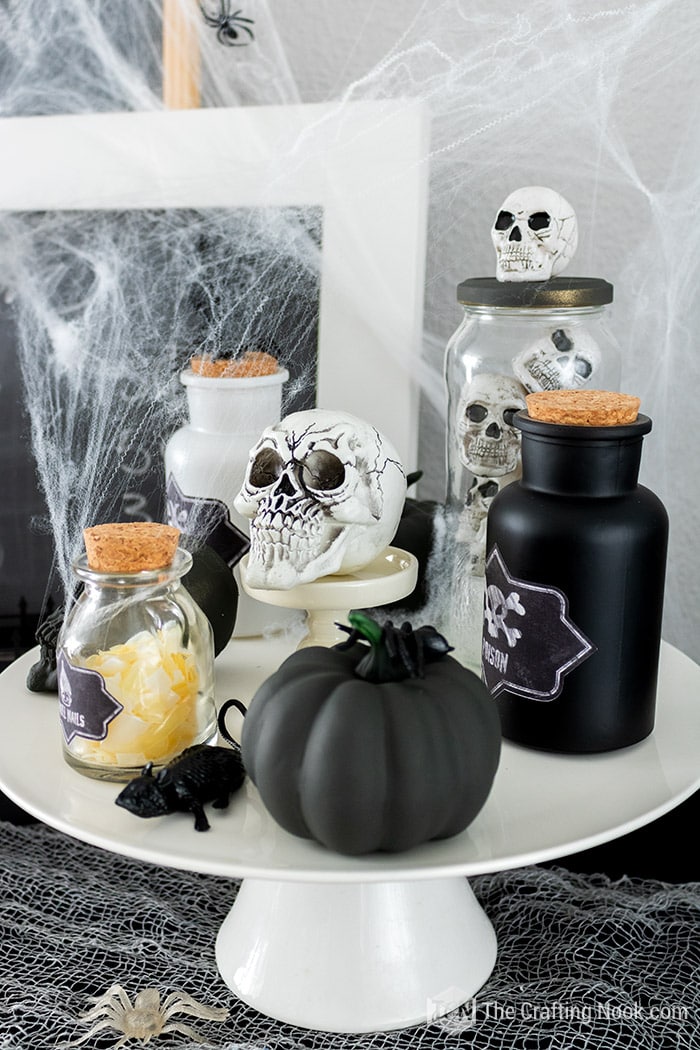 Then I draw a witch pentagram on my large chalkboard and potion ingredients price list on the other one.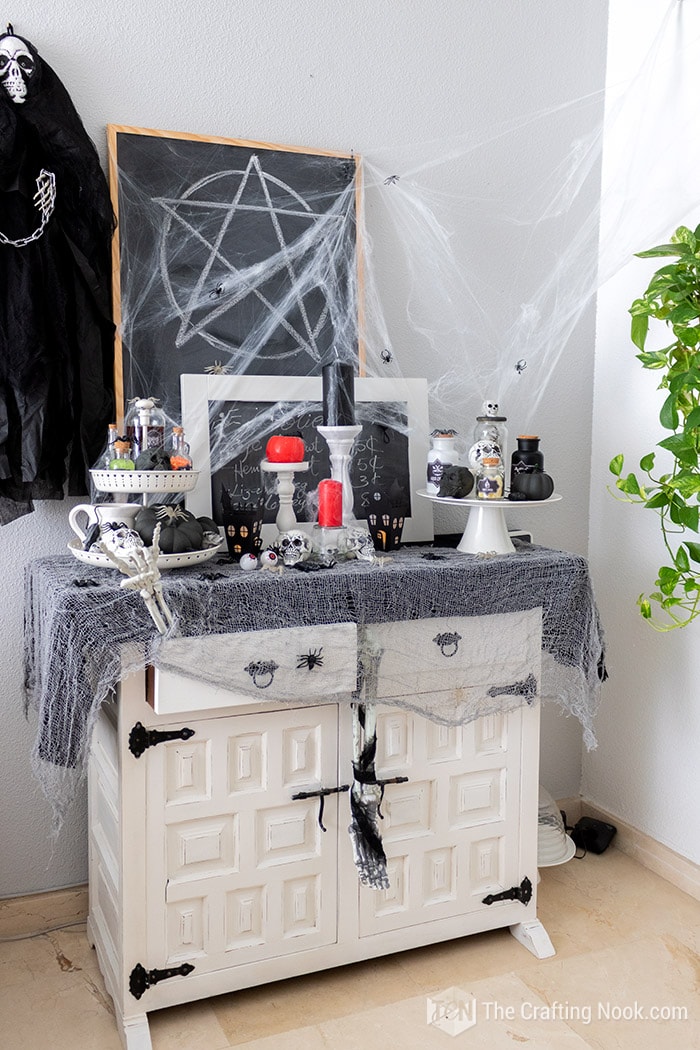 I bought some spiders, spiderwebs, black, and red candles and just put together a table using cake stands candle holders, bottles I had from canned food, etc.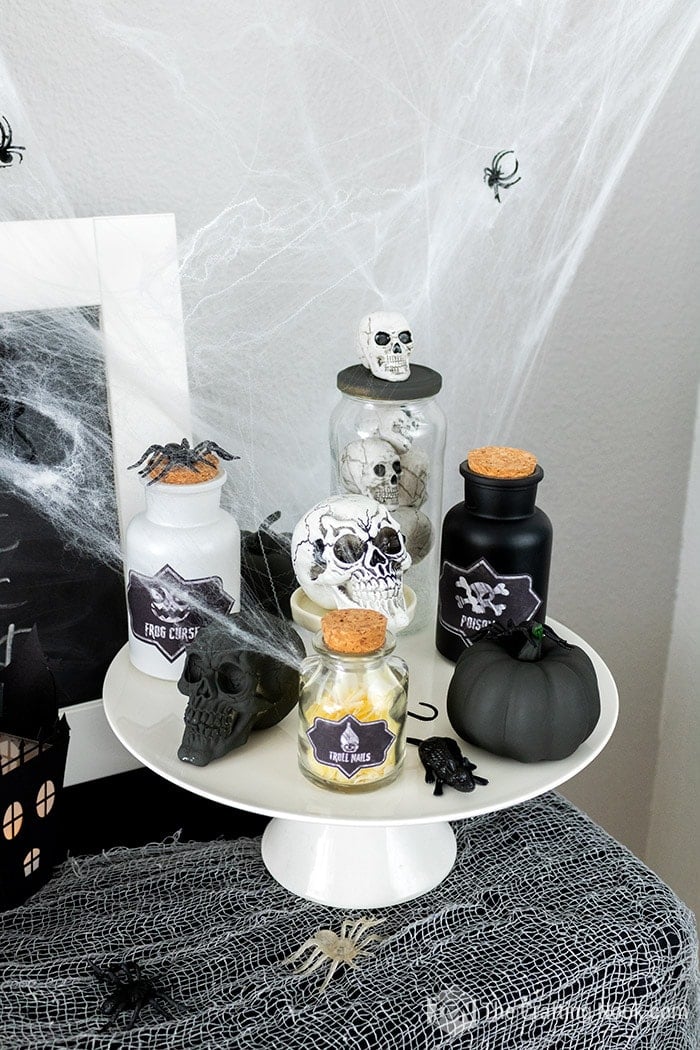 I also got these super cute and adorable haunted houses from Living and Crafting's shop.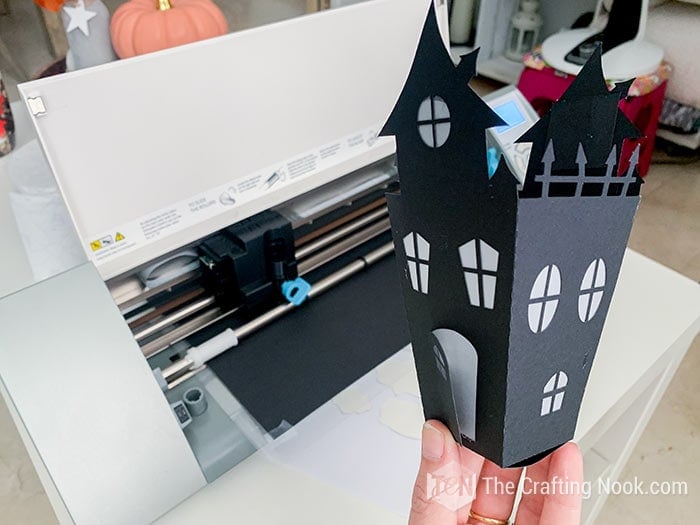 They are such cute lanterns so they would look like houses with the lights on.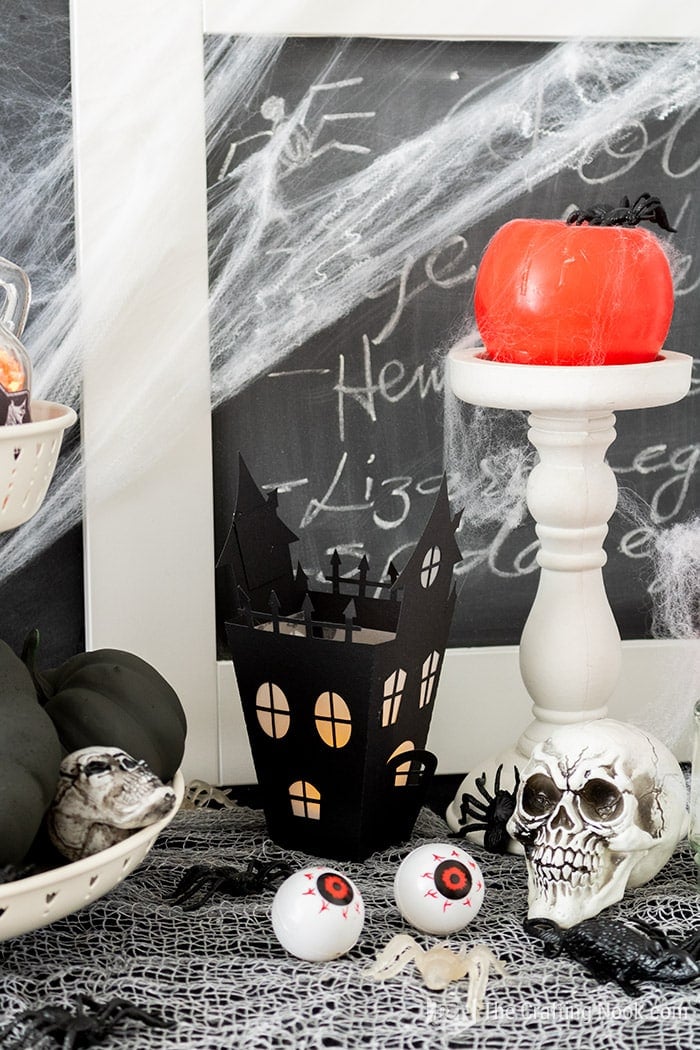 I put one on each side of the candle holders. I absolutely love them!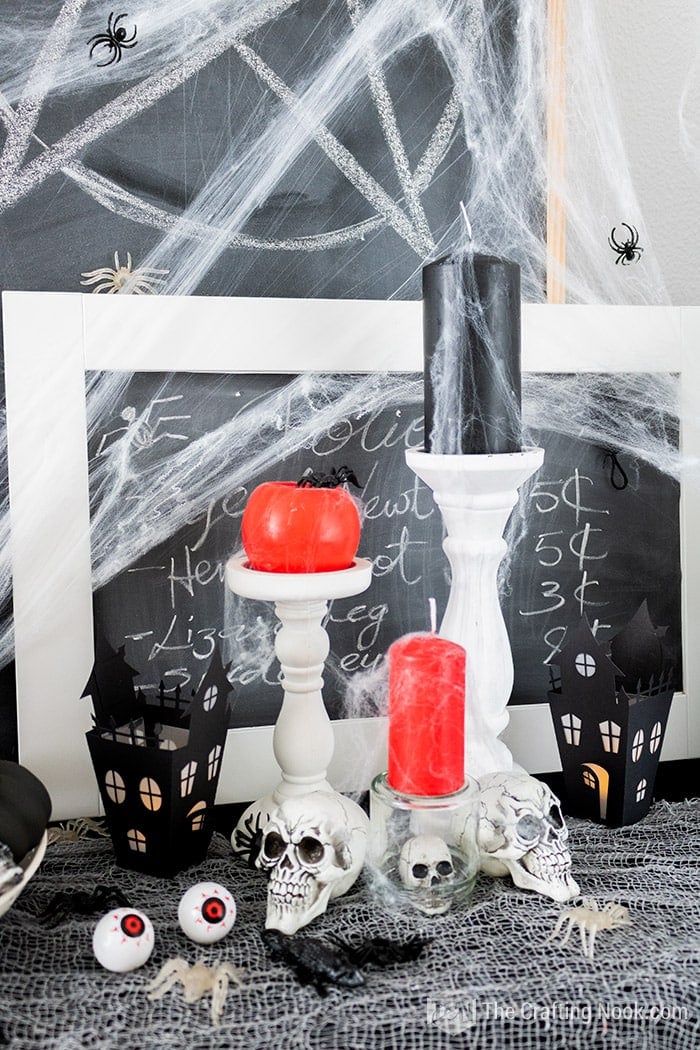 If you like them, Karina has them as a digital purchase (what I got) or you can order them physically. Use the code TCNFRIEND for a 10% discount.
Finally, just put some spiderwebs over everything.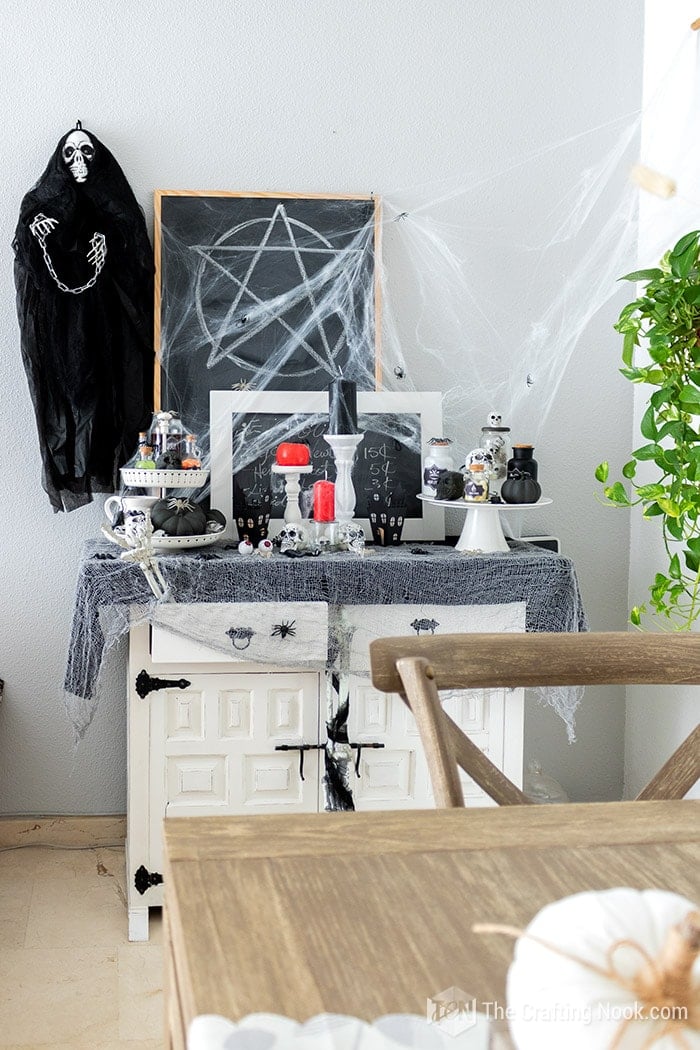 The final touch was some skeleton parts coming from the drawers.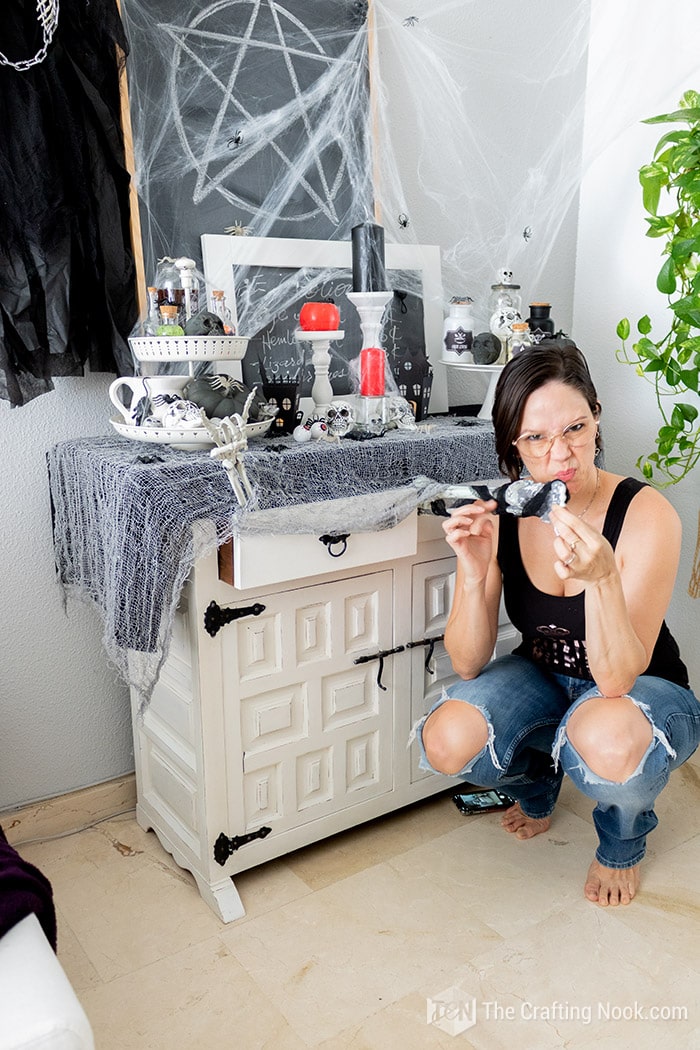 Then in the living room area, I hung my felt flowers spooky wreath from the window frame and put some fabric pumpkins, creepy photo frames, and black roses on the table behind the sofa.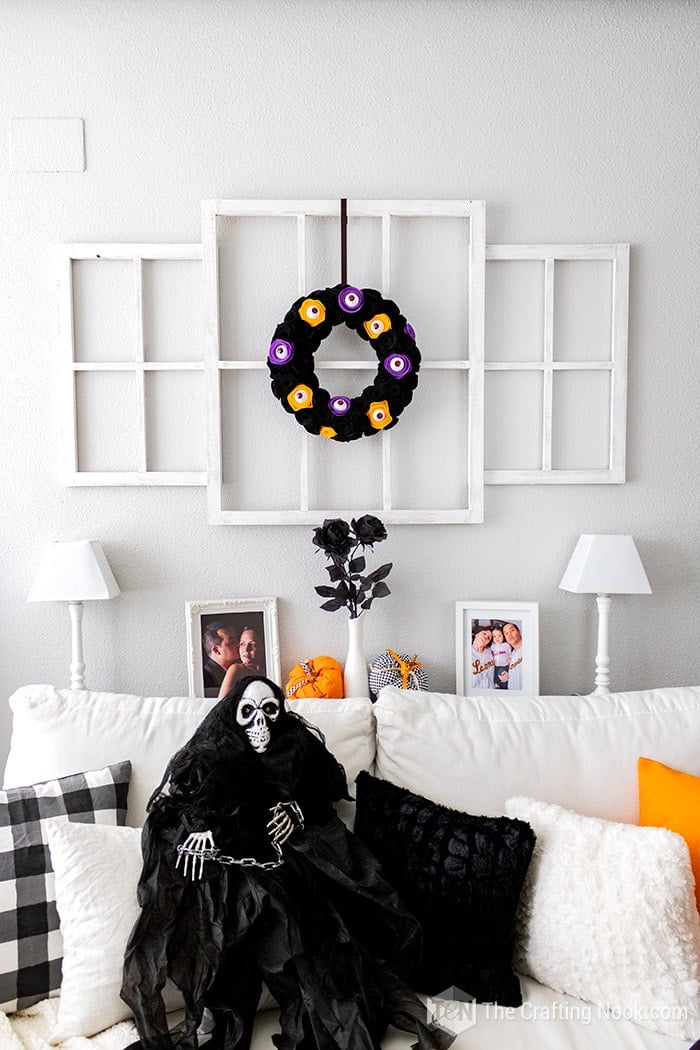 On the sofa, I put some throw pillows and blankets, mostly white, black, purple, and orange color scheme.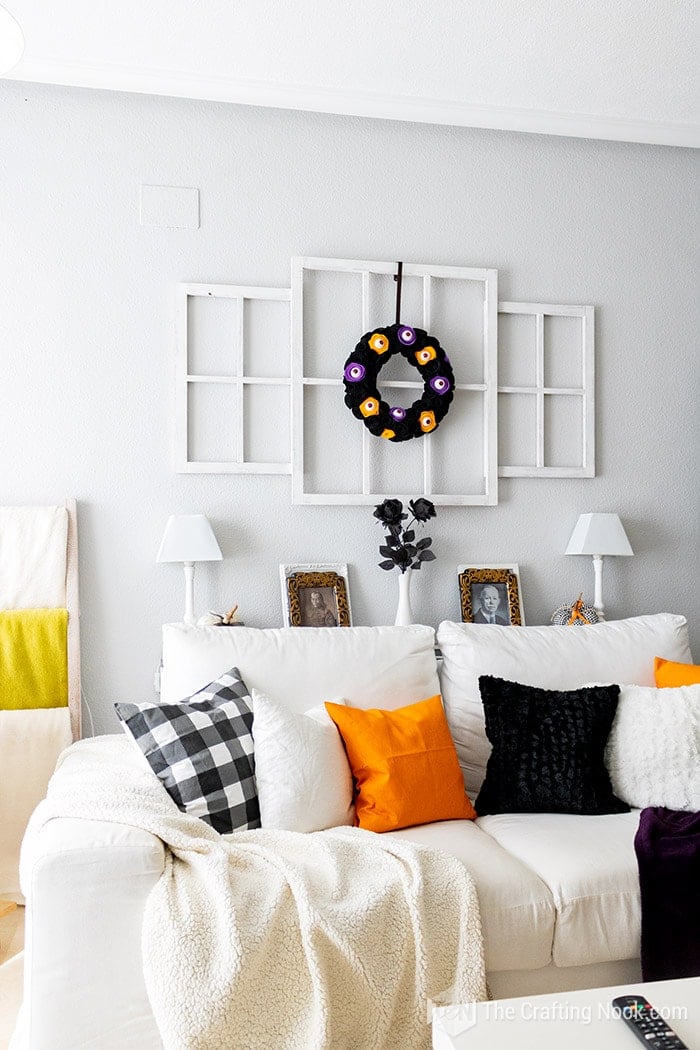 The rest of the room was decorated with fall.
Fall Decor
On my dining table, I set a tray on a cute fall table runner with a flower holder filled with faux Pampas Grass and Bunny Tails surrounded by my DIY fabric pumpkins.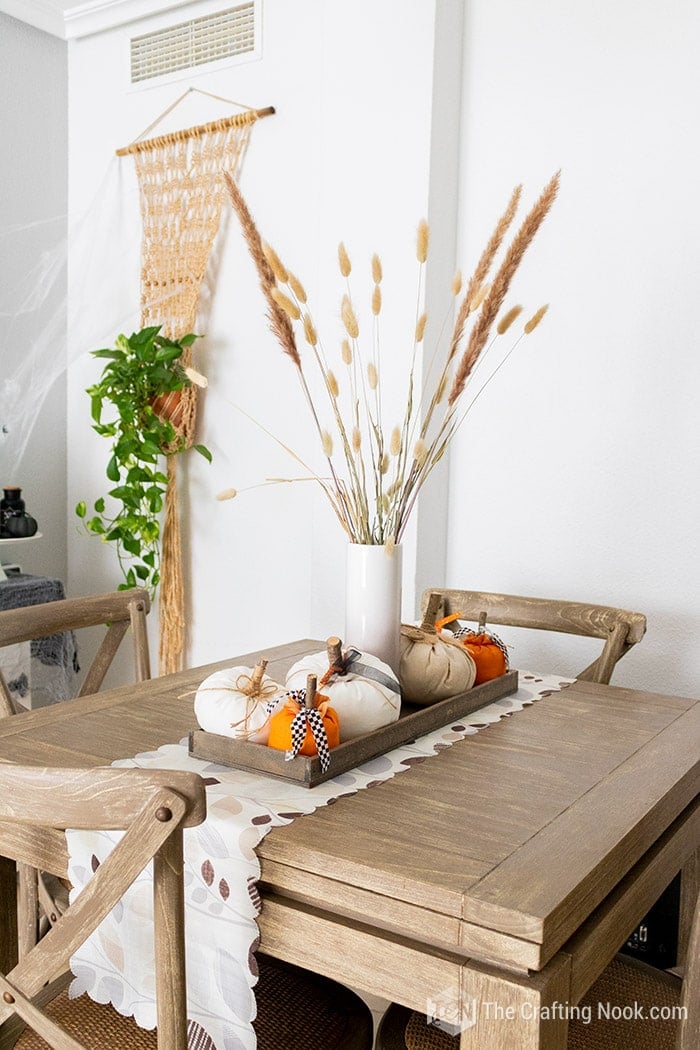 On my coffee table, I kept it simple just a couple of cute pumpkins, old books, and maple leaf arrangements.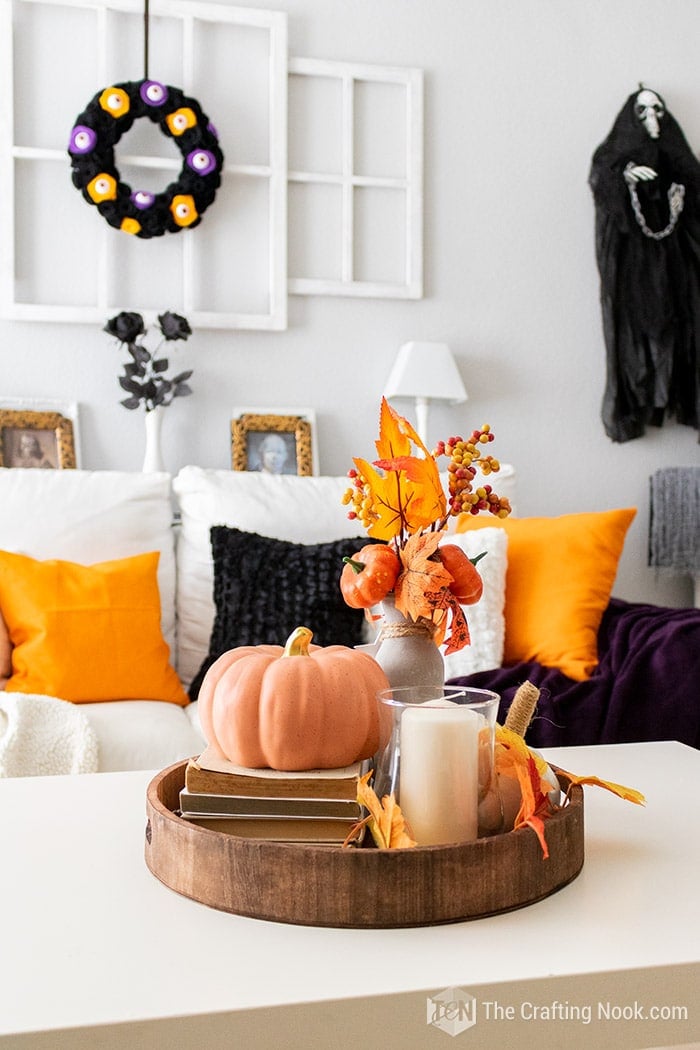 Finally, what I love to call my mantel, which is just a shelf above my TV, I made simple arrangements with fall maple leaf stems and pumpkins (some fabric some ceramic) arranged around the candle holder.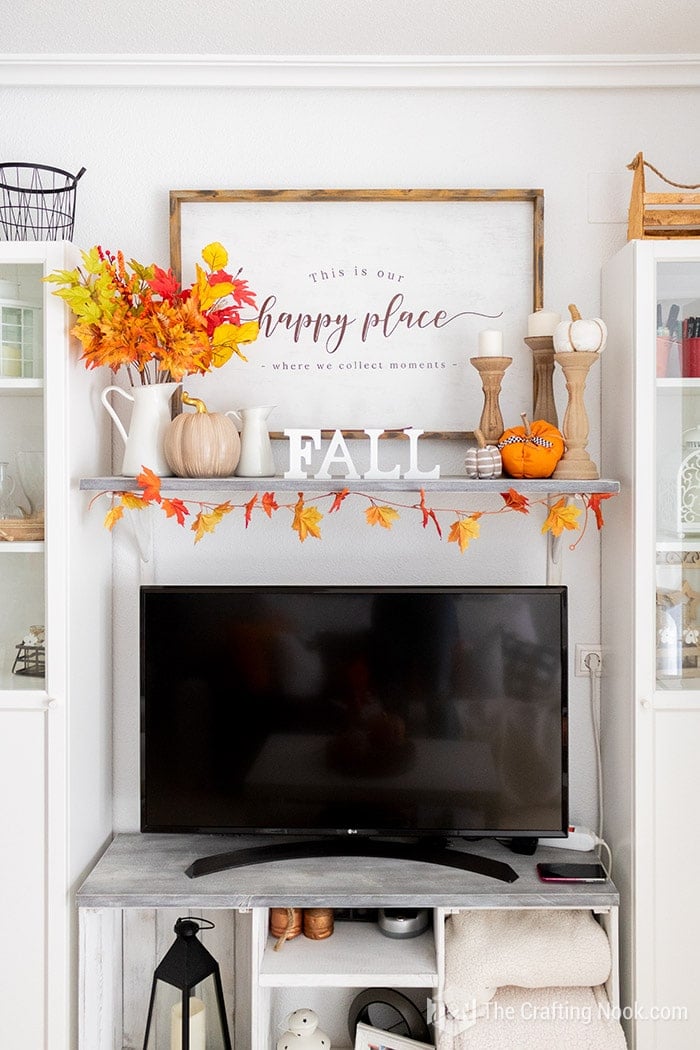 The final tour was my FALL wood letters!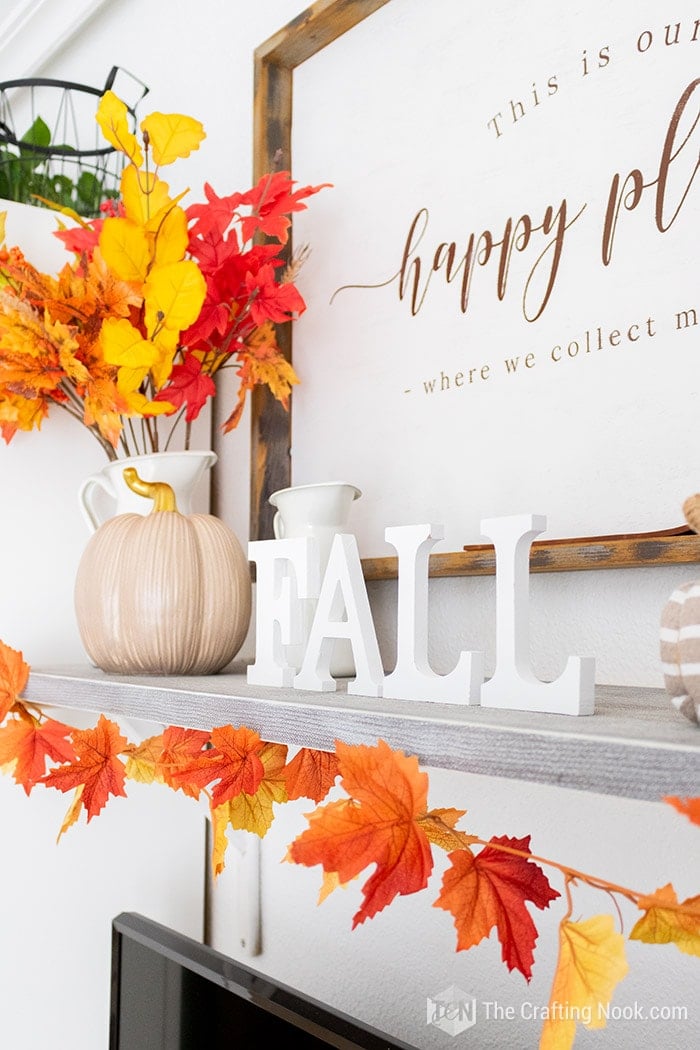 I kept the fall decor quite simple this year. Just touches here and there, mostly reusing what I already had.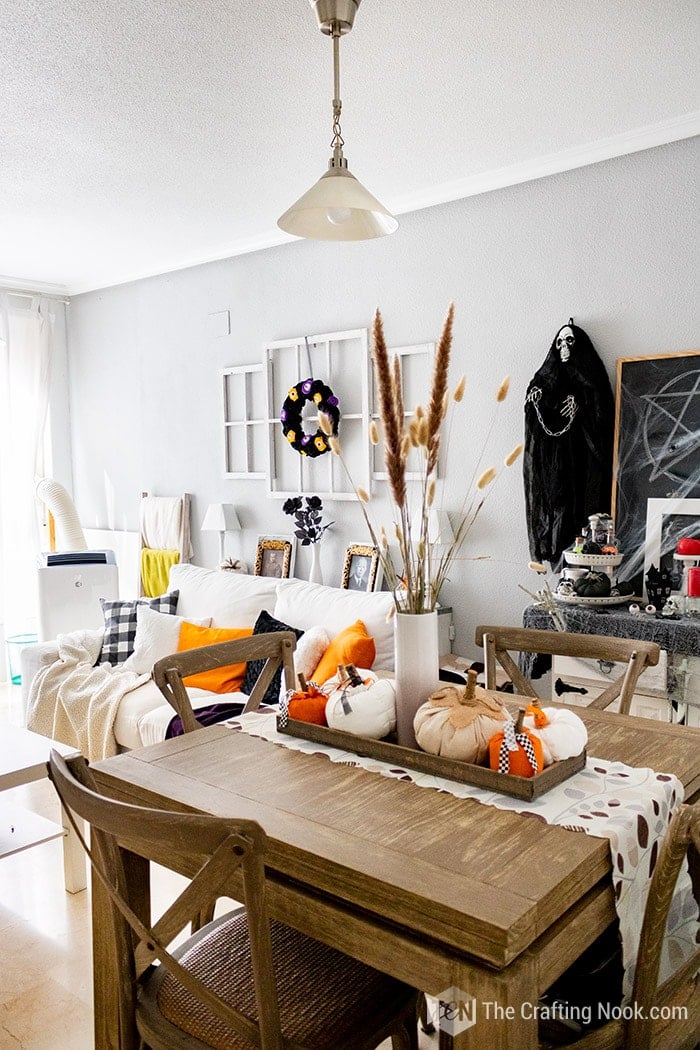 Hope you enjoyed our small fall Halloween decor this year!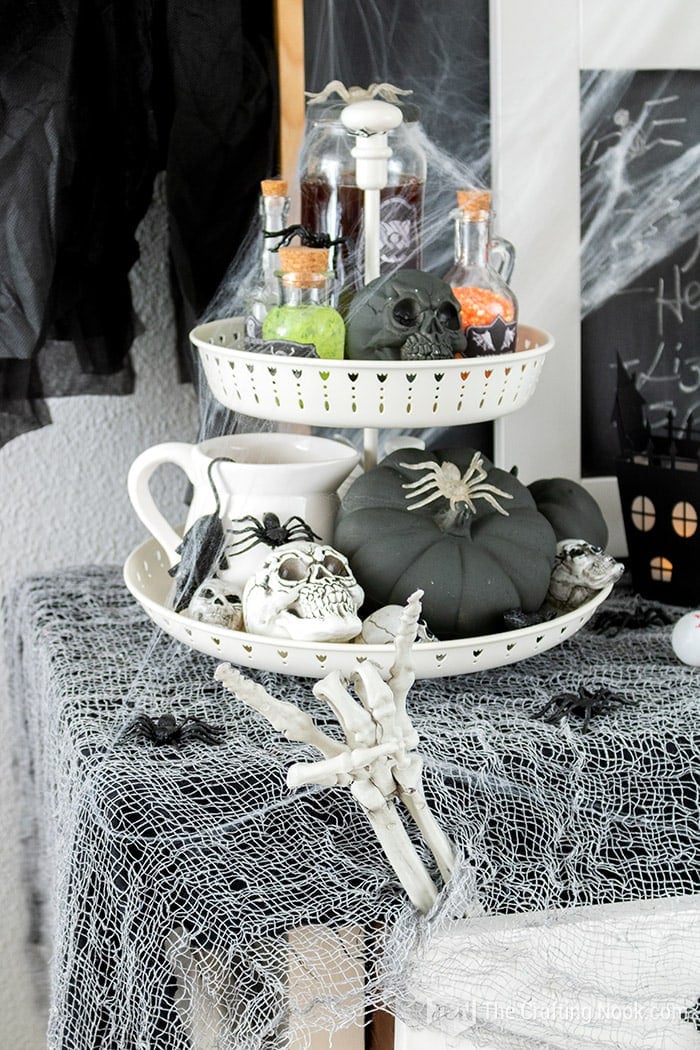 As I've mentioned before our apartment is really small, with almost no storage space so I really need to keep things simple and reuse as much as I can so I don't get way too much to store.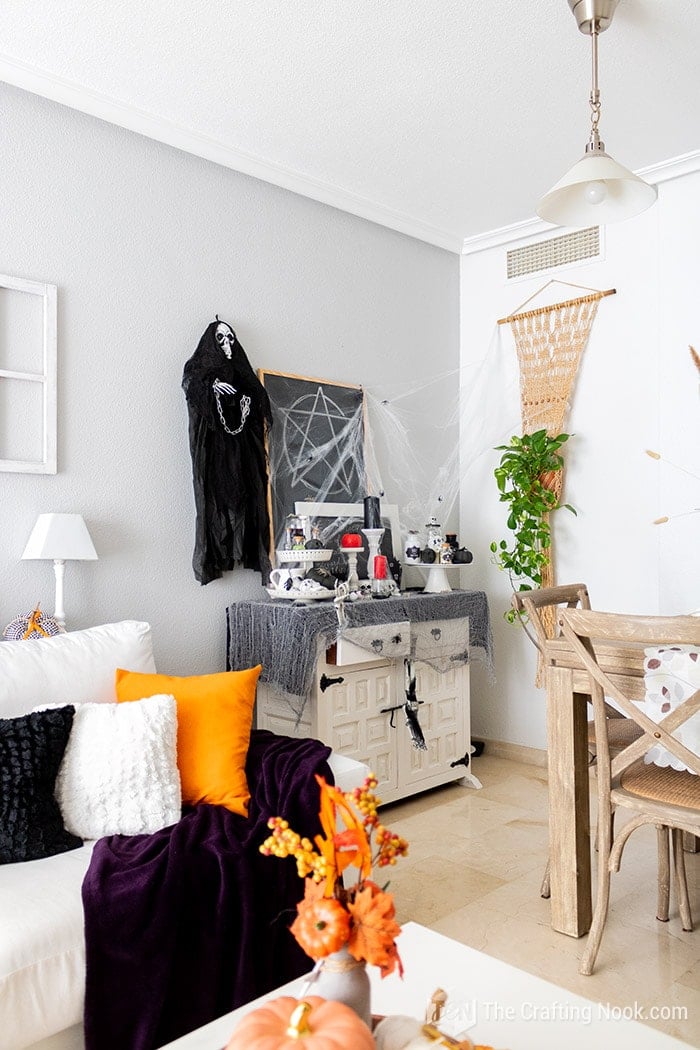 This year I had so much fun tutting our decor together!
Let me know what you think in the comments.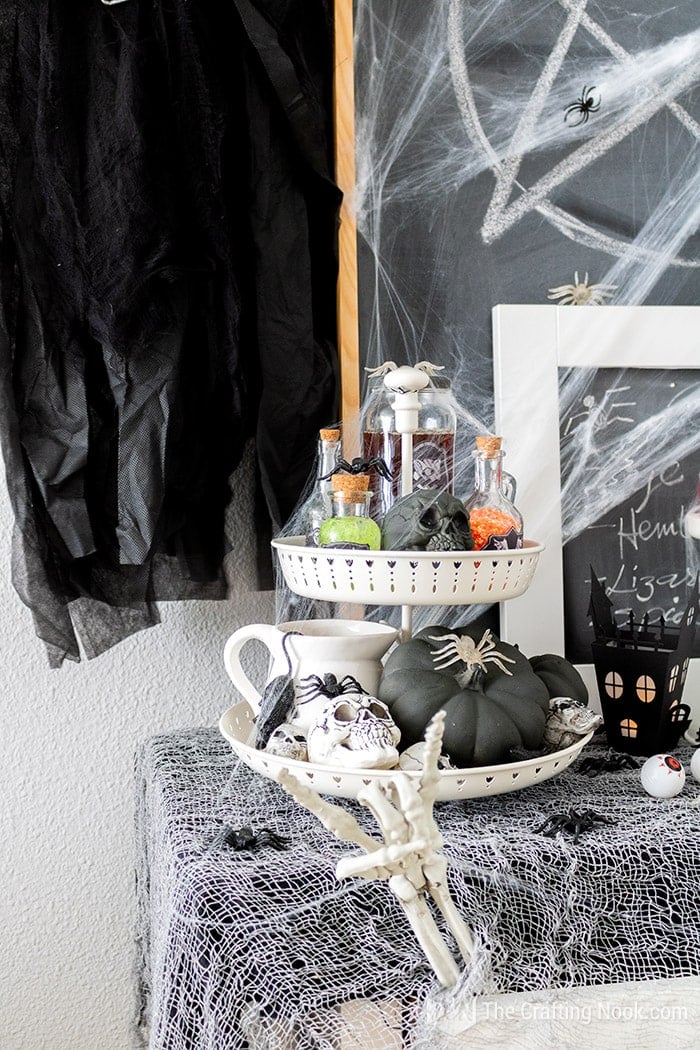 More Halloween Decor Ideas
If you found this Fall Halloween Home Decor tutorial spooky enough, you might also love these other Halloween project ideas too.
Some Spooky decor I love from my favorite bloggers:
Share and PIN ME!!!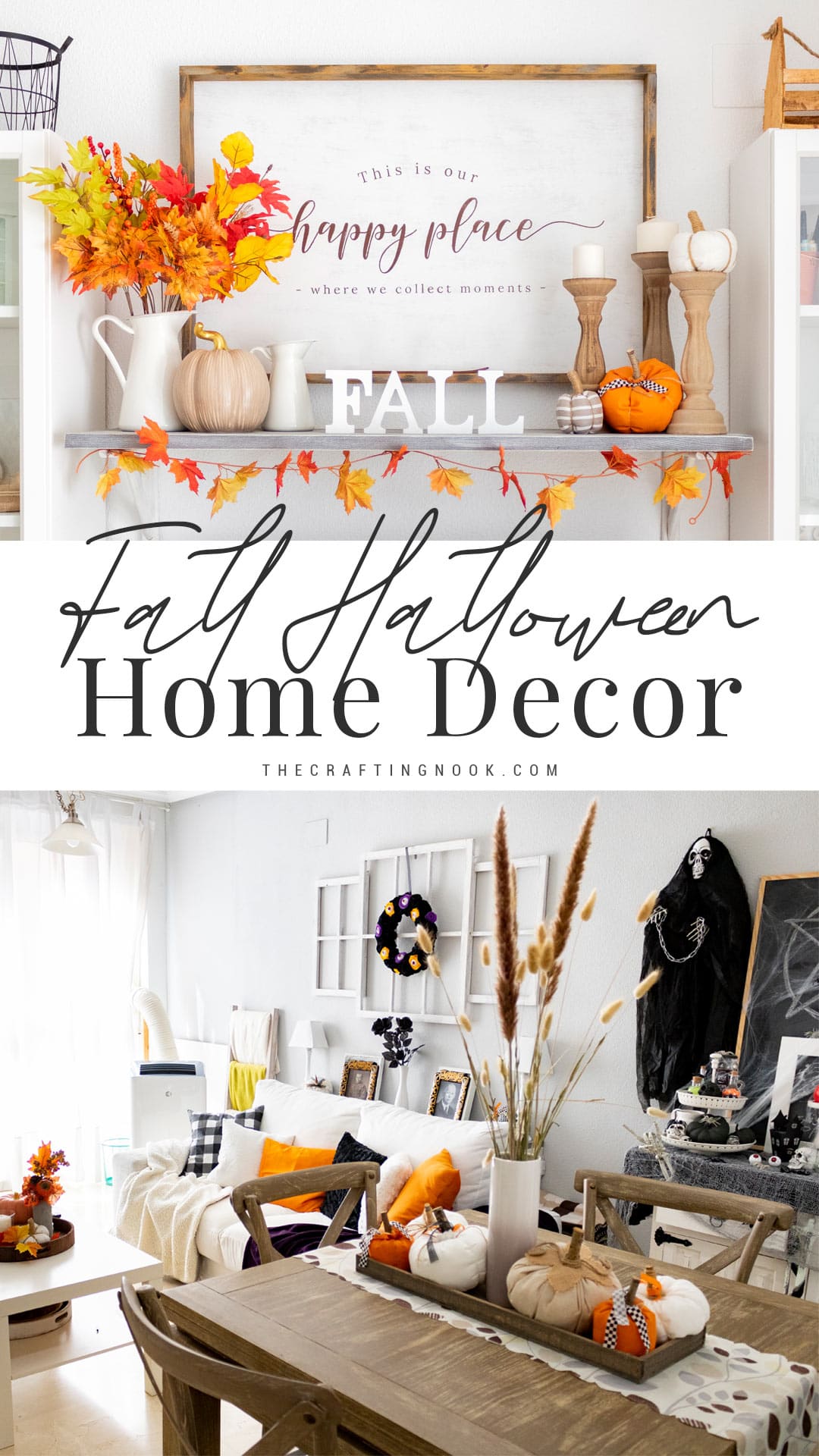 Til' next time...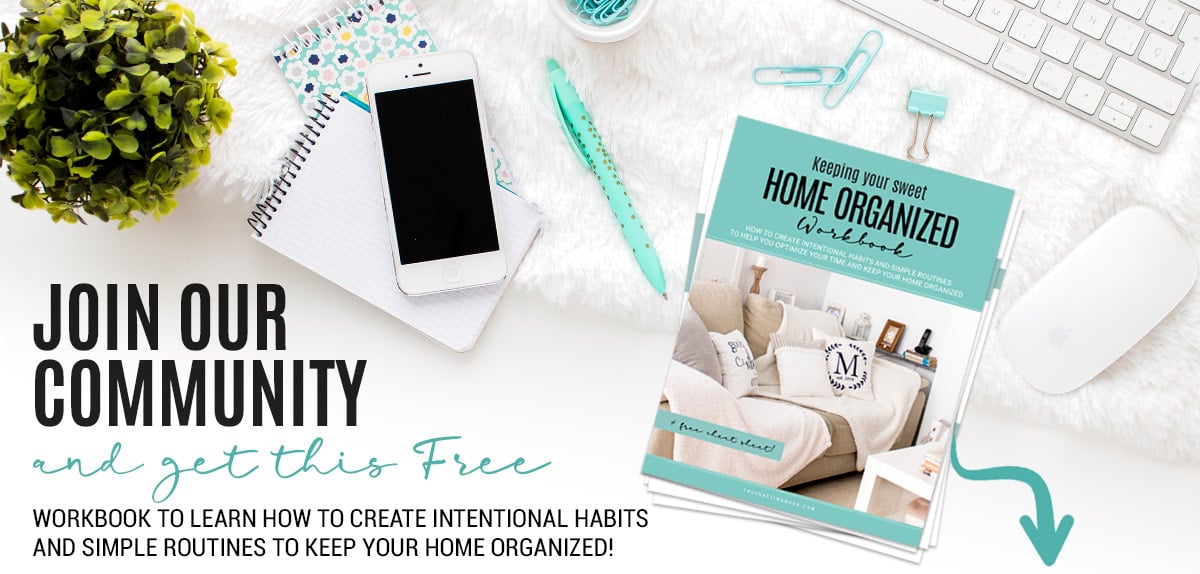 GET INSTANT ACCESS TO THE HOME ORGANIZED WORKBOOK
Plus freebies, printables, exclusive content, tips, stay connected, be the first to know great offers and Product Launches!
Disclaimer: By clicking on the "Yes, I want it" button above you are giving me your consent to collect and use your information according to the law and My Policy Privacy and The Cookie Policy. Zero Spam I promise!