67+ Delicious Pineapple Recipe Ideas for Summer
Welcome to a pineapple lover's paradise! Get ready to indulge in the sunny flavors of summer with our collection of over 67 irresistible pineapple recipe ideas. From refreshing drinks to tropical desserts, we've got you covered. So grab a piña colada, kick back, and let the pineapple party begin!
In summer all we can think of are ways of having fun and staying fresh right?… One of my favorite fruits for that is Pineapple and there are so many delicious things we can make with it. That's why today I brought a collection of over 67 delicious pineapple recipe ideas for you!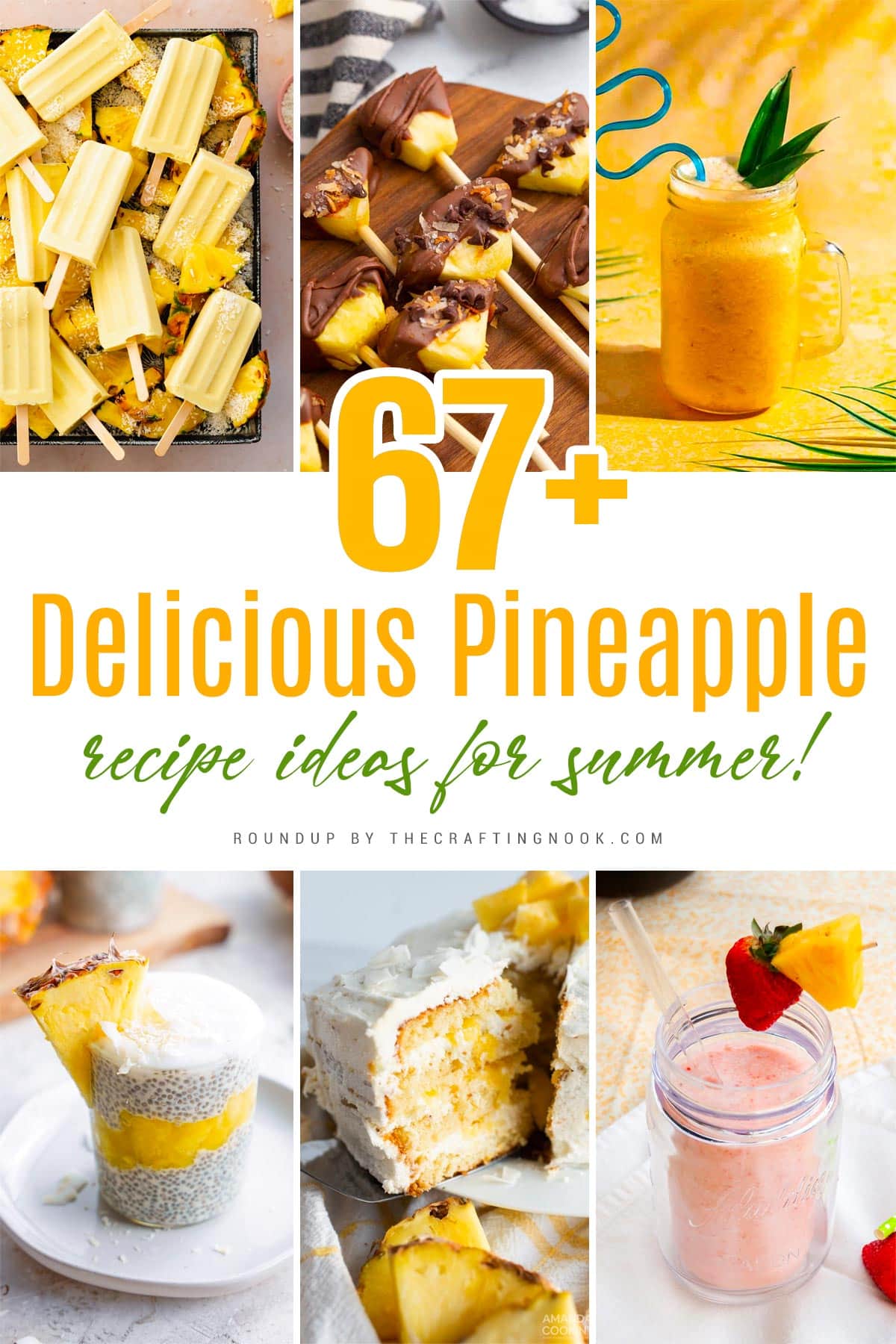 Pineapple is one of the most versatile fruits I've ever seen. From salty delicious dishes to refreshing desserts and treats. Possibilities are endless and I LOVE it. I recently shared a really delicious smoothie made with strawberry, banana, and of course pineapple, and let me tell you it's TOO delicious!
Summer Pineapple Recipe Ideas to Try
Common ingredients:
Pineapple
Cream Cheese
Chocolate
walnuts
Cherries
Whipped cream
Coconut
Strawberries
Sugar
Brown Sugar
Bananas
Disclaimer: *Just like I do for all my round-ups, I get a lot of inspiration from Pinterest. If you are at all familiar with that platform you know there are tons of pictures with no direct links to the original source. Some pictures featured here I found no source for or directed to the wrong one but if you know the source, contact me and I will update this post immediately, thank you so much!
1. Strawberry Pina Colada
Strawberry Pina Colada, is a delicious, tropical, and refreshing drink recipe that brings the best of tropical flavors! You will love it!
2. Blueberry Pineapple Fruit Salsa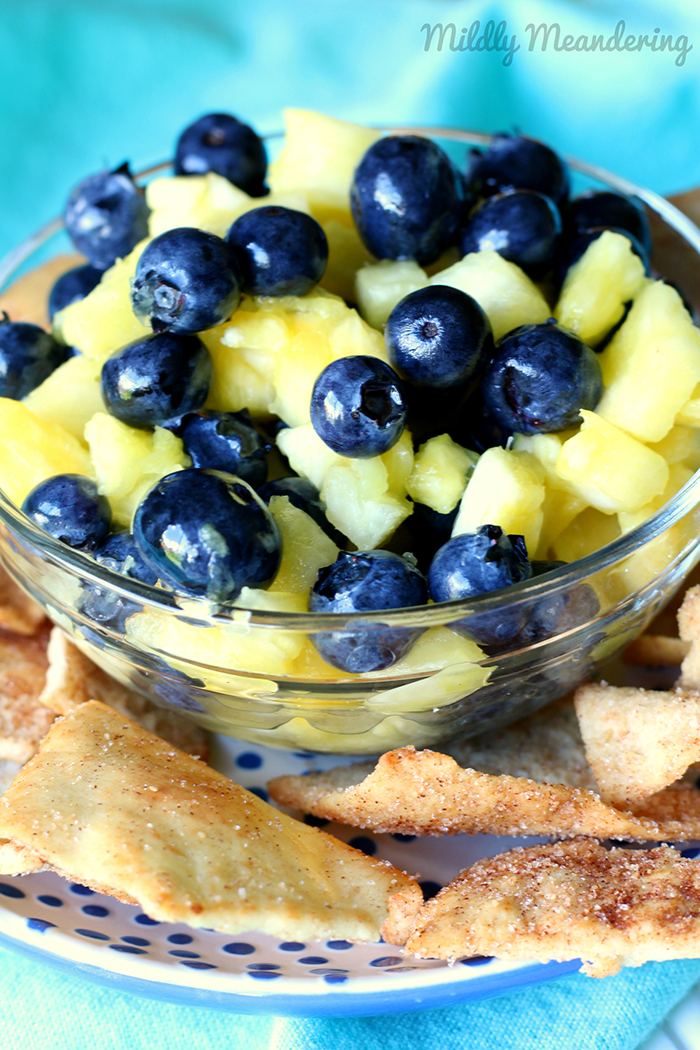 Try this tangy Blueberry Pineapple Fruit Salsa recipe bursting with flavors of summer. Perfect for BBQs or a refreshing snack!
by Mildly Meandering at The Crafting Nook
3. Piña Colada Popsicles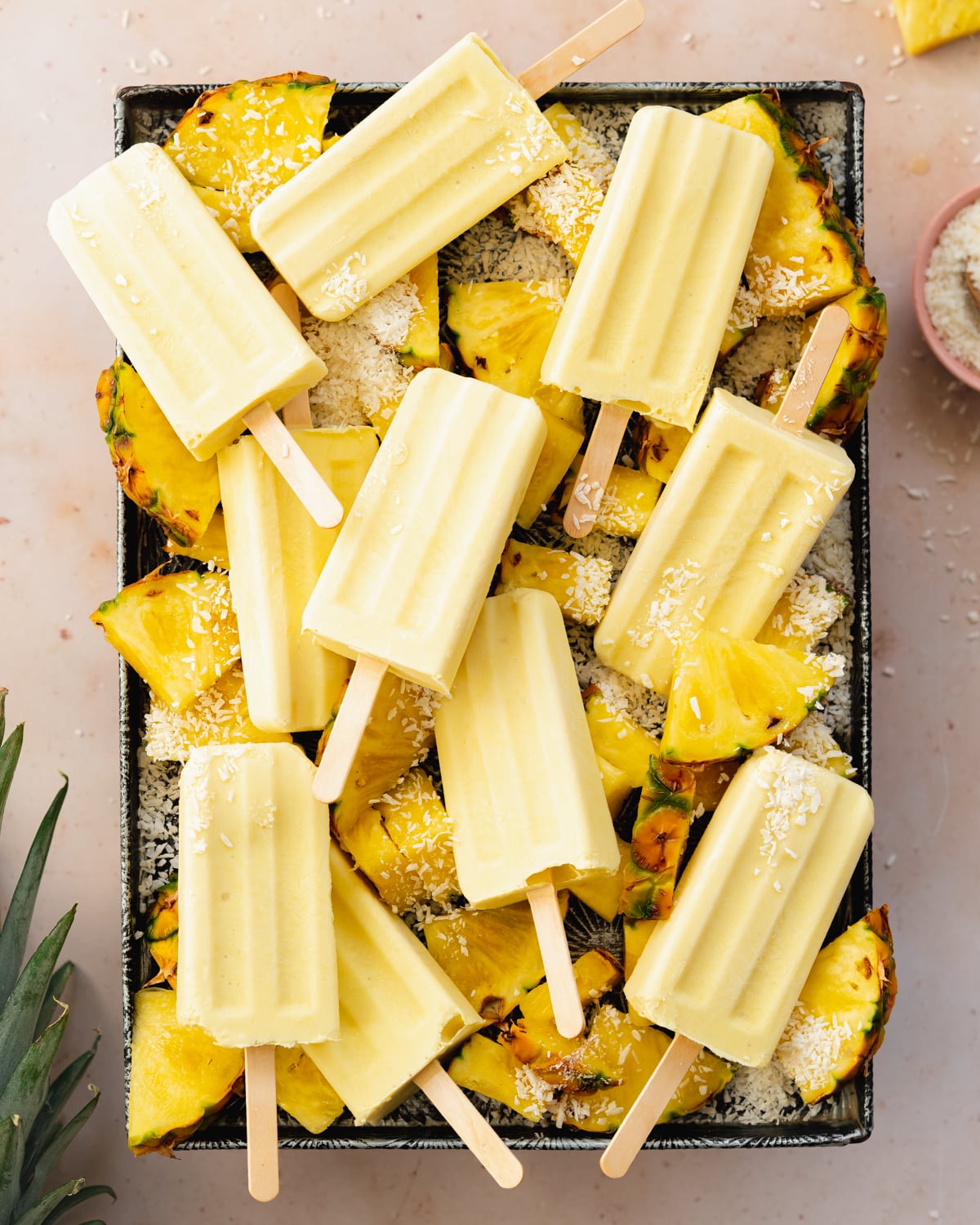 These easy 4-ingredient piña colada popsicles are fuss-free dessert perfect for summer. Super quick to make with a kid-friendly option too!
4. PINEAPPLE WHIP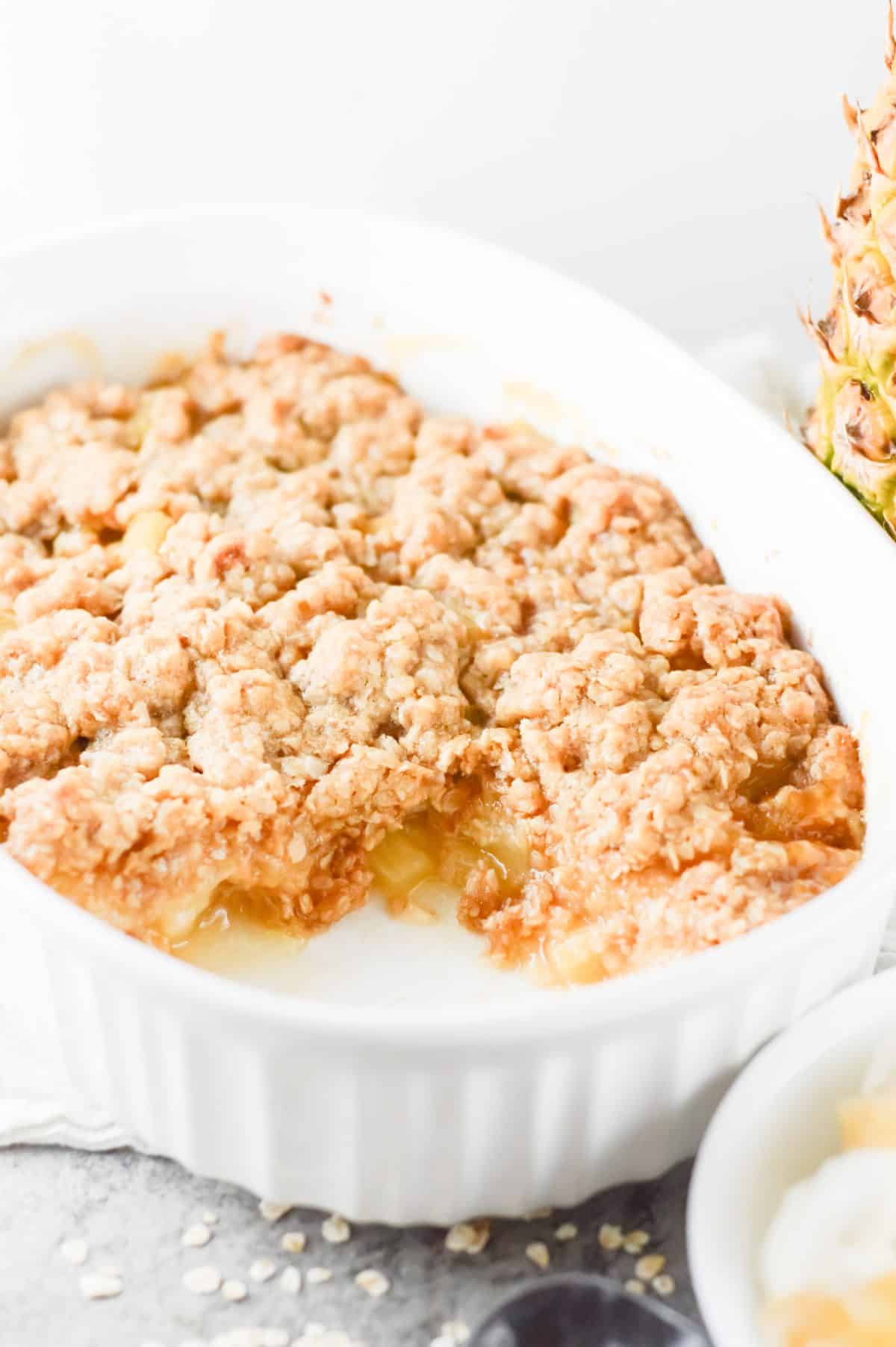 This yummy Pineapple Whip recipe is basically a "Dole Whip" copycat made with just two healthy ingredients. It tastes like pineapple soft serve ice cream for an improved copycat of the Disney classic!
5. Elvis Presley Cake
Love pineapples and pecans? Then you might like this Elvis Presley Cake! It starts with a basic white cake mix, but add the pineapple topping and cream cheese frosting…you won't be able to say no!
6. Chocolate-Covered Pineapple Recipes (Pineapple Rings, more!)
Chocolate covered pineapple is an easy and delicious dessert. You can use dried or fresh pineapple for this one!
7. 2-Ingredient Pineapple Cake
If you are needing a super easy dessert idea, this 2 Ingredient Pineapple Cake will be perfect for you to make. Yup… Just two ingredients and you can have an awesome perfect for summer time picnic dessert.
8. PINEAPPLE CUPCAKES WITH CHERRY FROSTING
A refreshing treat and so simple to make, these easy Pineapple Cupcakes with Cherry Frosting are a delicious dessert that will make any occasion all the more festive. Pineapple cupcakes with maraschino cherries hidden right inside and a cherry on top–can't beat this goodness!
9. Pineapple Sorbet with 1 Ingredient (Vegan & Sugar Free)
Cool off this summer with a refreshing and healthy treat – 1-ingredient pineapple sorbet! The texture is incredibly smooth and solid, making it pliable just like the real thing. Plus the natural tropical sweetness of the pineapple gives this sorbet a delightful flavor that's perfect for any time of day.
10 Pineapple Dump Cake
Pineapple Dump Cake is a quick and easy dessert. Sweet and tangy pineapples are topped with a buttery, moist yellow cake crumb mixture and bits of caramelized brown sugar, resulting in a delightfully crunchy and fruity dessert.
11. Pineapple Upside-Down Cake
A pineapple upside-down cake is a cake turned upside down to reveal a gorgeous presentation. It's a soft buttermilk cake baked on top of sweet-juicy caramelized pineapples.
12. Easy Pina Colada Cake Recipe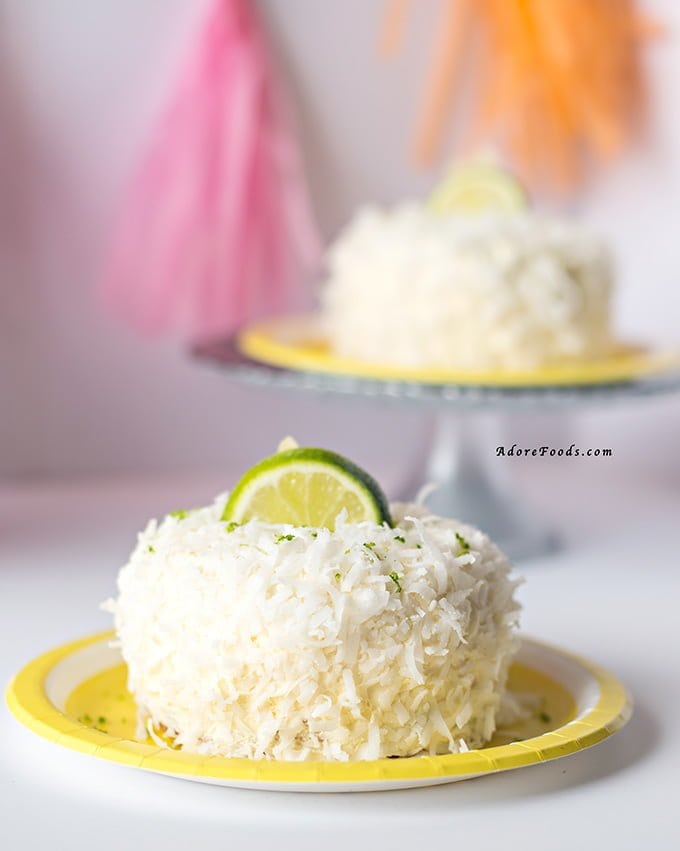 Delicious and easy Pina Colada cake recipe. Moist coconut cake layers, crushed pineapple and lime curd filling, pineapple buttercream frosting and shredded coconut flakes.
13. CHOCOLATE COVERED PINEAPPLE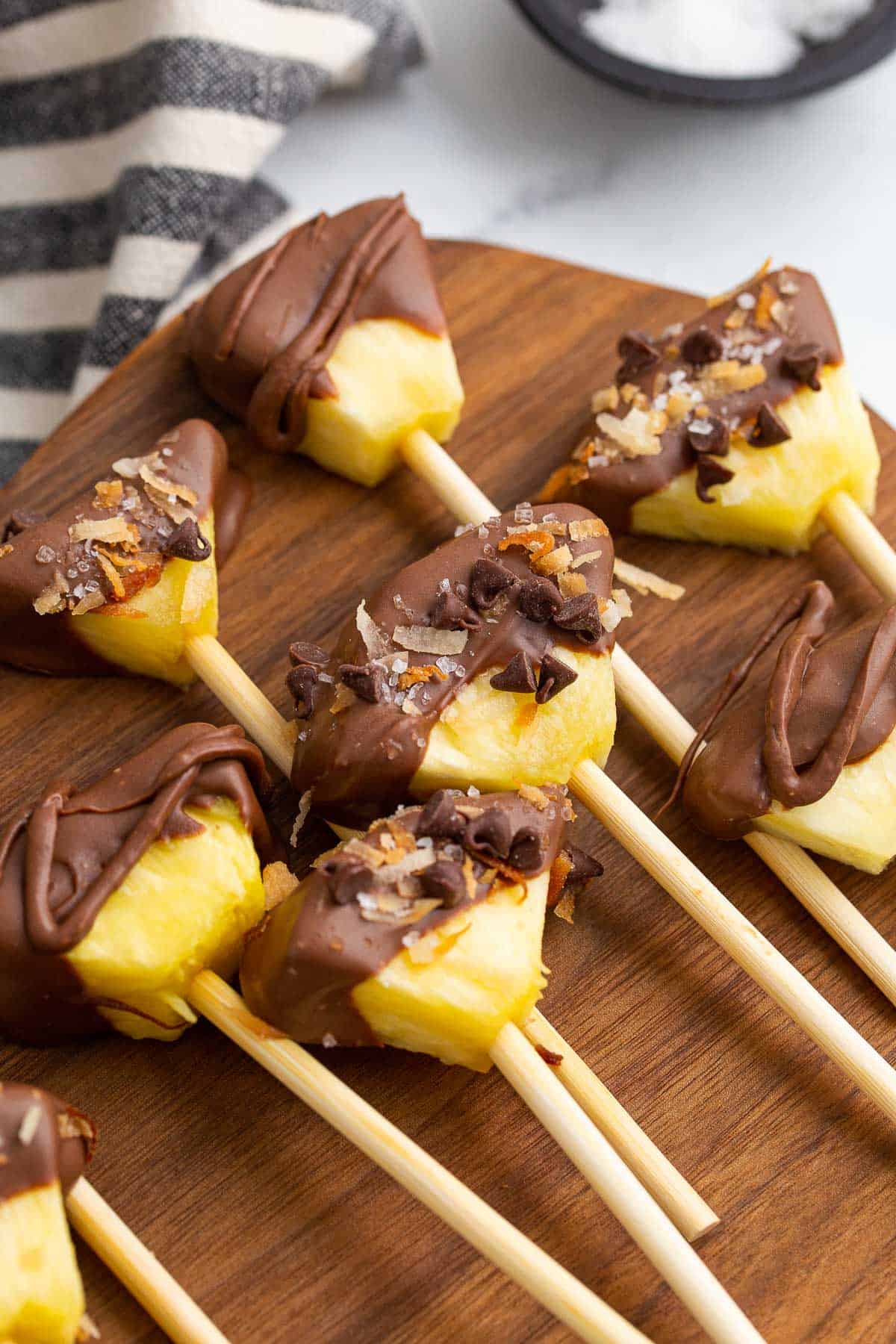 Chocolate covered pineapple is the easiest dessert or sweet snack you can make this summer! All you need is chocolate, pineapple and some toppings for added crunch and flavor. It's healthy and loved by kids and adults.
14. REFRESHING PINEAPPLE SLUSHIE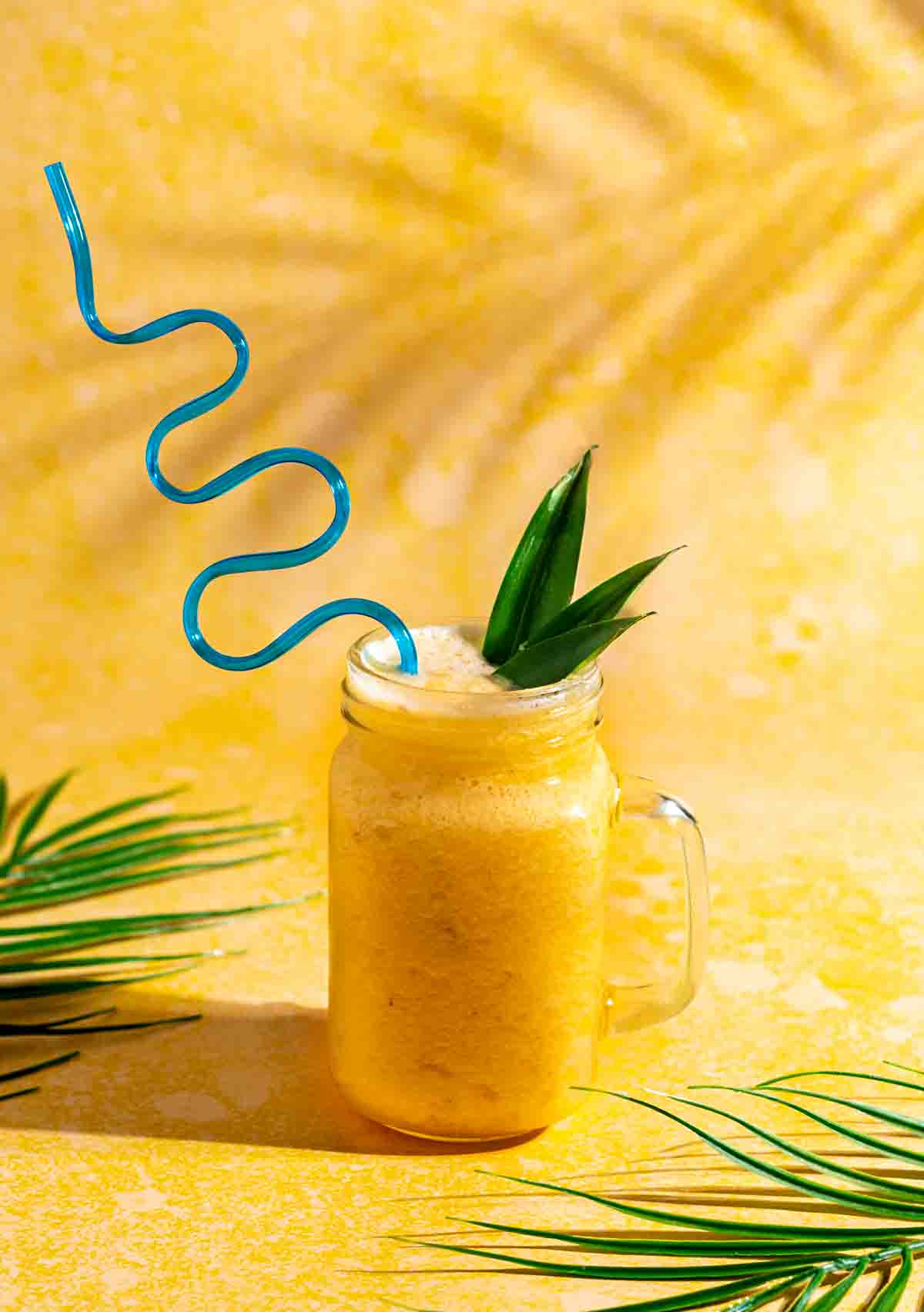 Summertime is almost here, and as the sun starts to sizzle, there's no better way to cool off than with a deliciously refreshing drink! Say hello to the pineapple slushie – a tropical treat that'll have you mentally lounging on a beautiful island in no time!
15. Carrot Pineapple Cake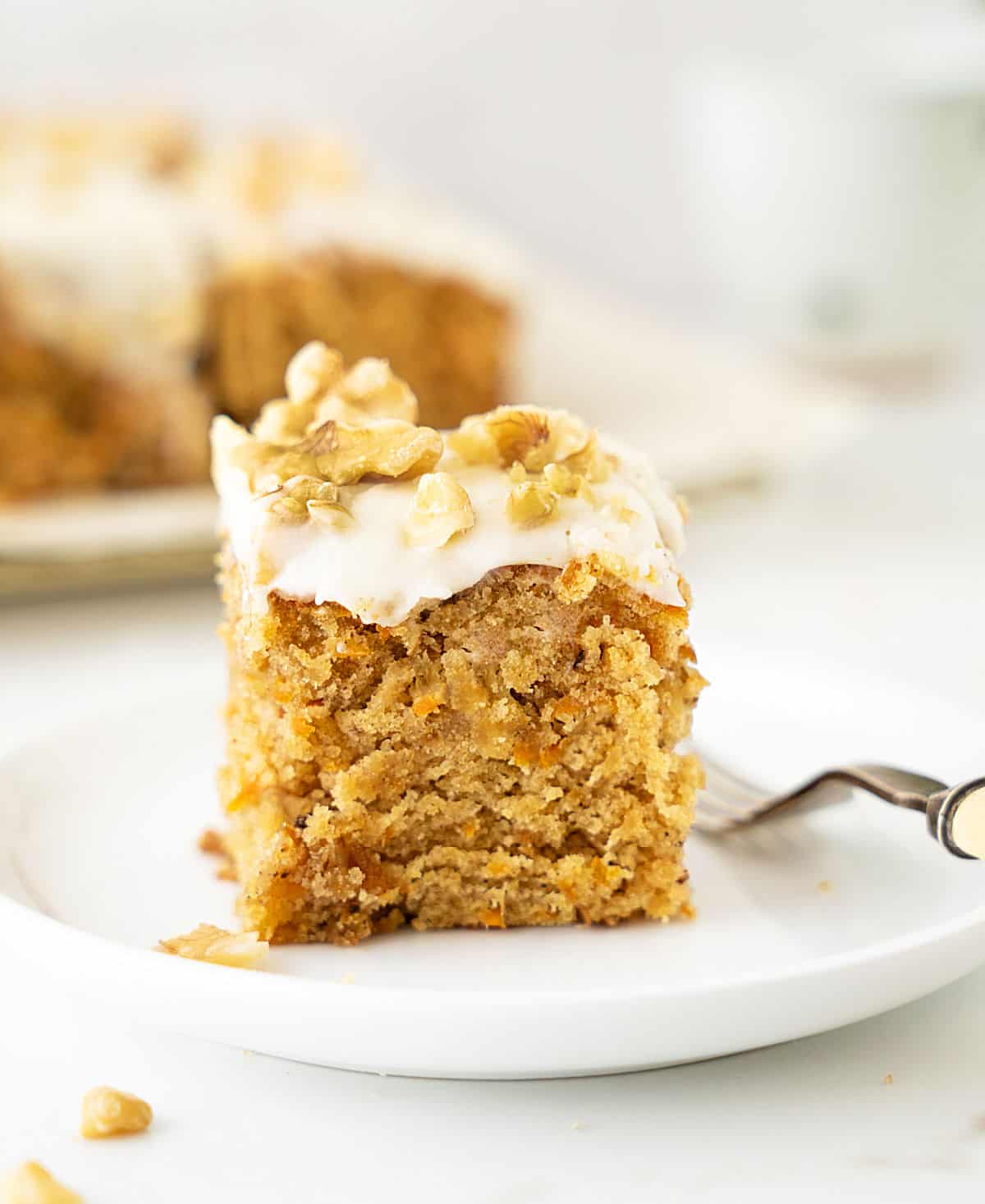 A sweet, very moist, and flavorful cake with cream cheese frosting. It can be made ahead and freezes well.
16. PINEAPPLE ICE CREAM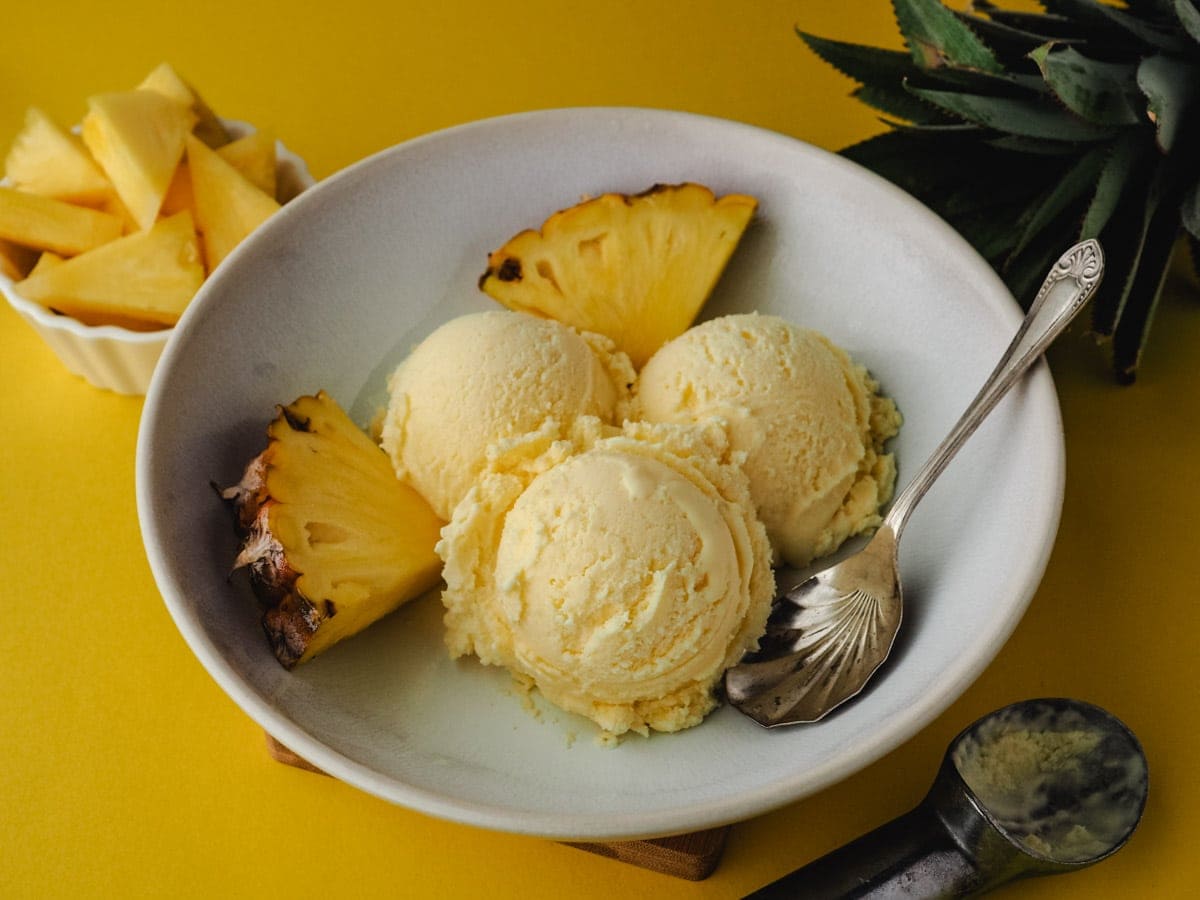 This homemade pineapple ice cream is full of sweet juicy pineapple flavor that sings of sunshine and summer days. Make mine a double scoop!
By Keep Calm and Eat Ice Cream
17. MINI PINEAPPLE GRANITA WITH RUM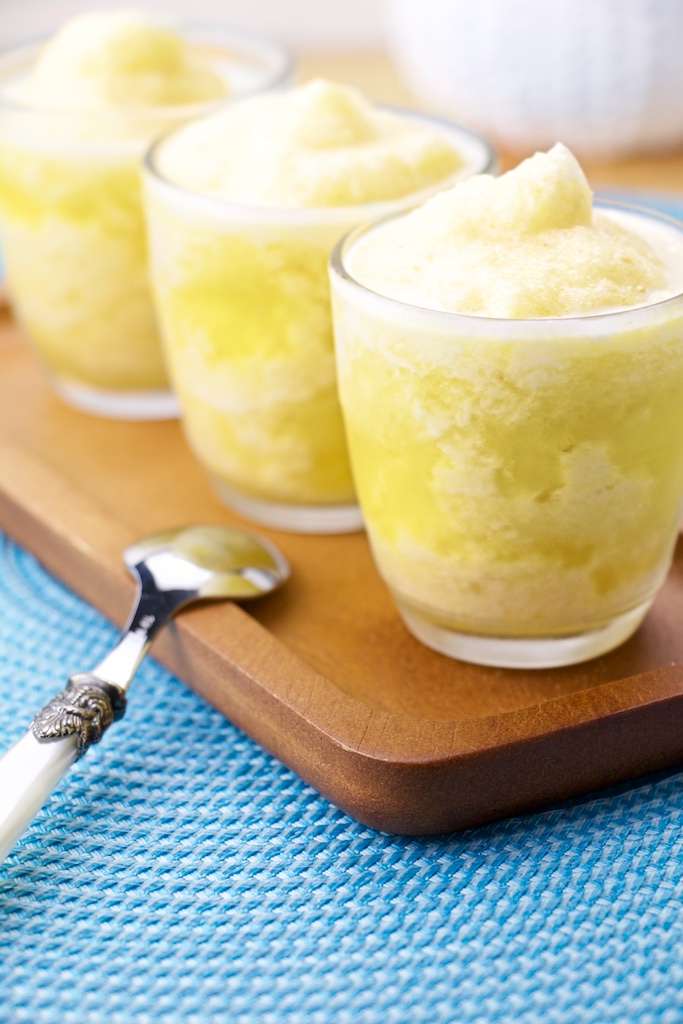 A nice boozy Pineapple Granita to freshen up the palate after or before lunch/dinner. Perfect for a hot summer night to keep your guest in party mode.
18. 3-INGREDIENT PINEAPPLE SORBET
A refreshing, light, and super easy pineapple sorbet, anyone? This is the easiest recipe ever, embarrassingly easy, and has only 3 ingredients: pineapple, a little bit of sugar and water.
19. CLASSIC PINEAPPLE JELLO SALAD
With a pineapple-Jello base, creamy middle layer, and pineapple curd topping, layered Pineapple Jello Salad is a delicious old-fashioned classic. It's a perfect dessert for summer cookouts, potlucks, Thanksgiving, or any everyday meal.
By The Kitchen is My Playground
20. GRILLED PINEAPPLE WITH PRALINE CARAMEL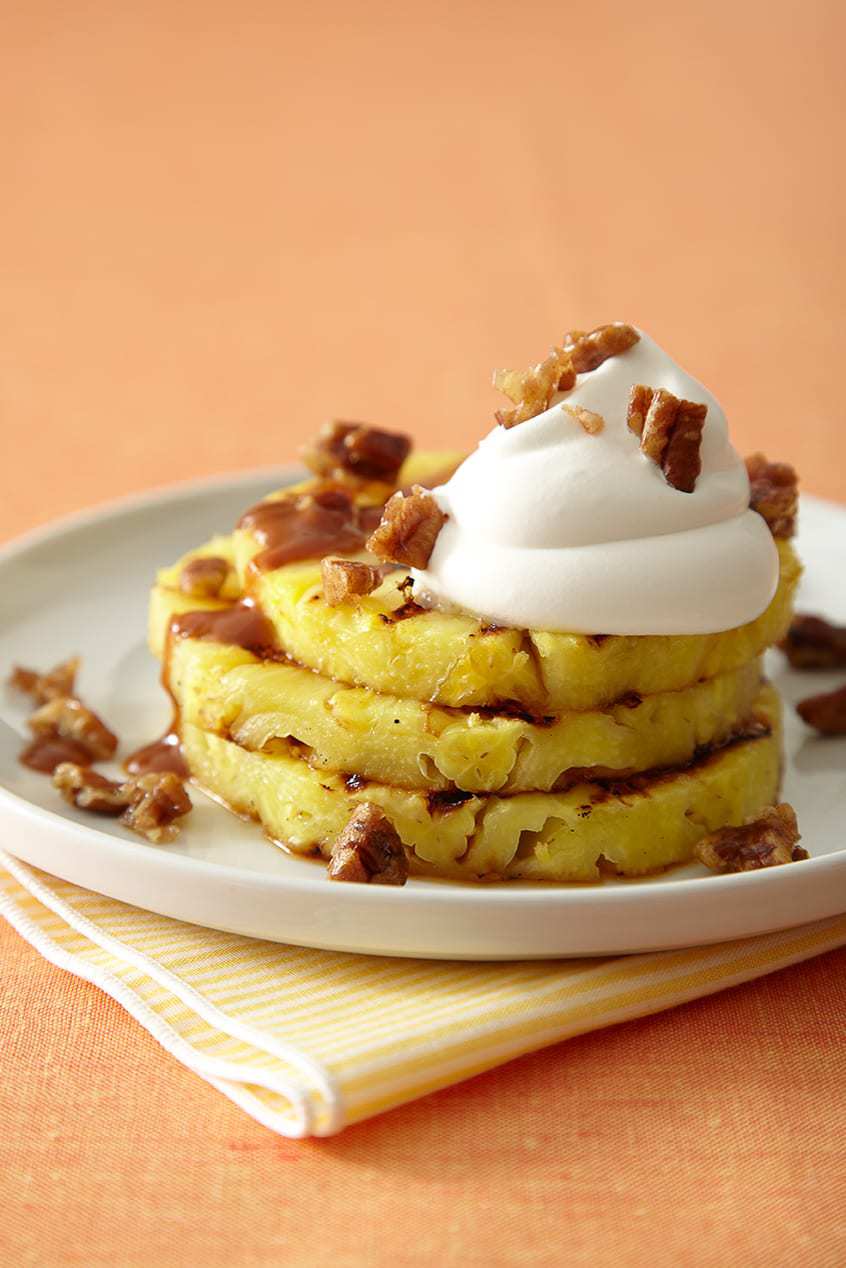 Perfect for entertaining, Grilled Pineapple with Praline Caramel is a cinch to make, and even easier to devour. Heat up the grill for dessert!
21. Chocolate Covered Pineapple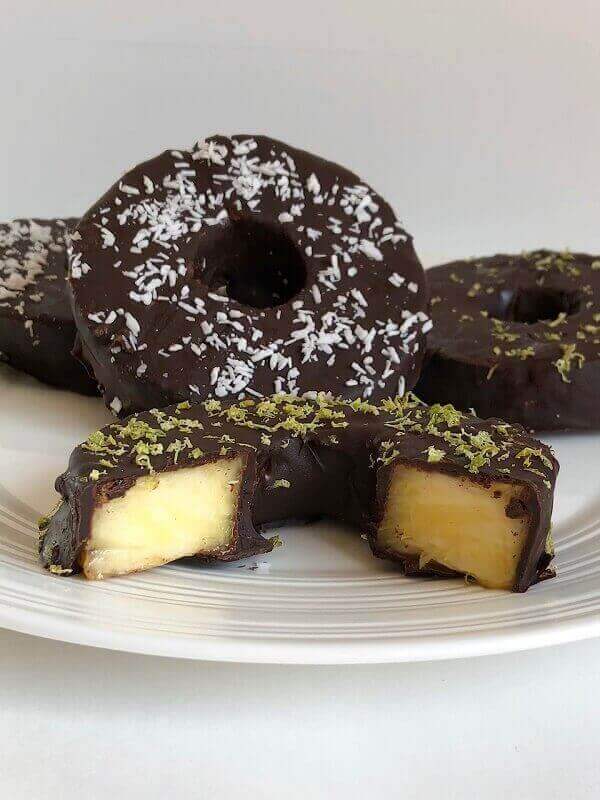 These chocolate covered pineapple rings are easy to make but impressive looking. You can make an assortment with different toppings to choose from. They're juicy and delicious, light yet totally satisfying.
22. Pineapple Upside-Down Cake (with rum)
Is there anything better than a from-scratch pineapple upside down cake? I'm sure there is…maybe… however, I'm not able to focus on the next thing, until I share this outrageous pineapple rum cake with you.
23. PIÑA COLADA CHIA SEED PUDDING
This tropical inspired Piña Colada Chia Seed Pudding is guaranteed to satisfy all your summer cravings. This healthy chia seed pudding recipe is made with whole foods plant based ingredients, and is super simple to make! This recipe is: Vegan, Oil-free, Gluten-free, Refined sugar-free, and High fiber!
24. PINEAPPLE BUTTER CAKE RECIPE – CHEF DENNIS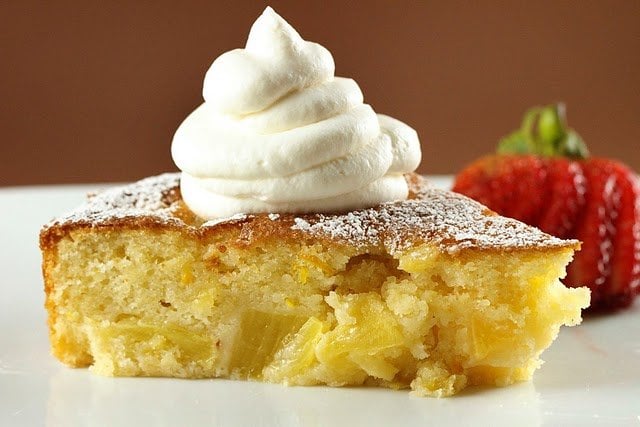 MY Pineapple Butter Cake is easy to make and incredibly buttery and delicious. With pineapple in every bite, this delicious pineapple cake only uses 2/3 cup of flour and can easily be made gluten-free.
25. Mini Piña Colada Cheesecakes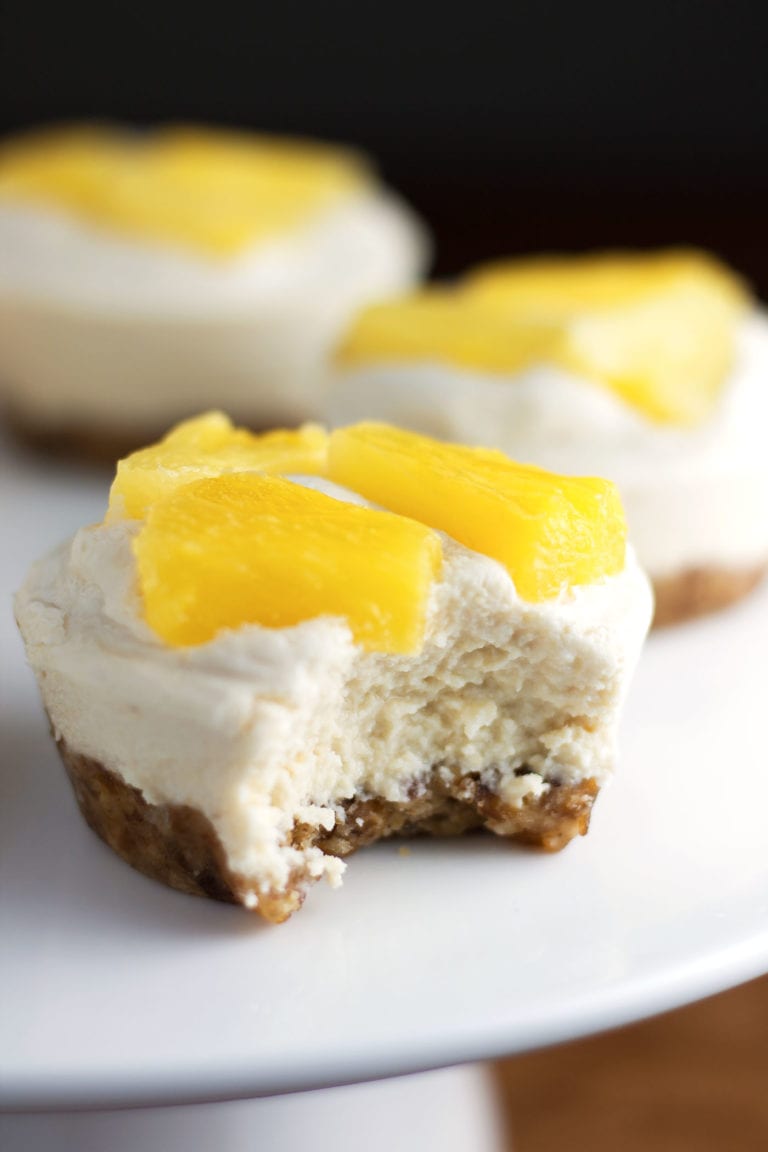 These cute little piña colada cheesecakes are the perfect summer dessert! They are no-bake, dairy free, and vegan!
26. Pineapple Orange Whip Dessert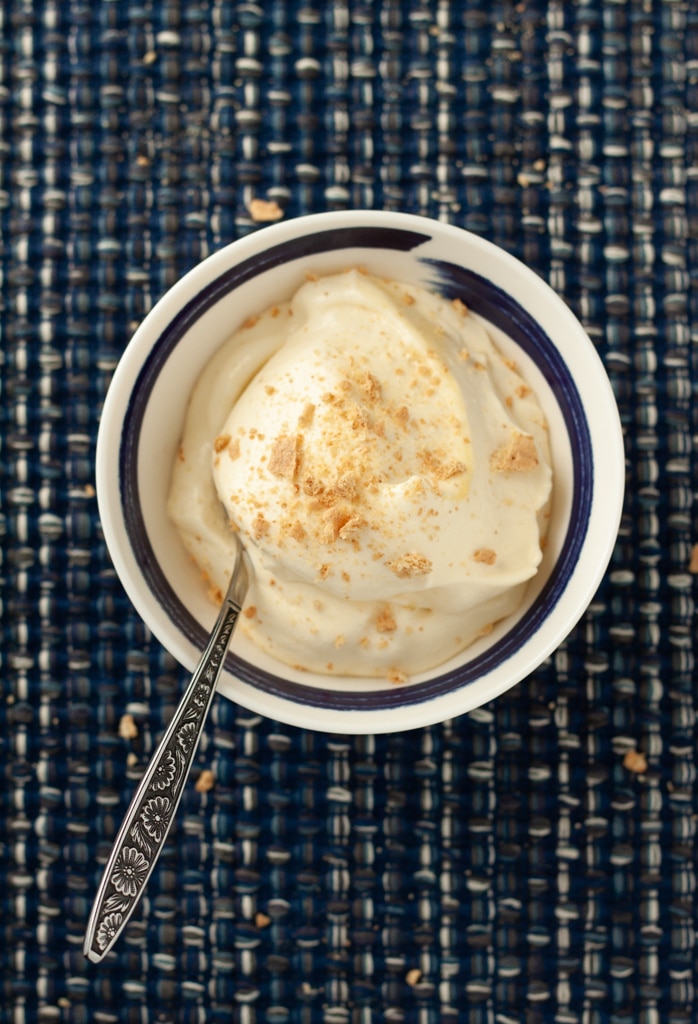 Pineapple Orange Whip Dessert is one dreamy tropical-tasting dessert made with just three simple ingredients, including Cool Whip, Pineapple Orange Concentrate, and Marshmallows.
27. Pina Colada Cake
With coconut, pineapple, and rum, this Pina Colada Cake is an easy poke cake that comes together in no time and is the perfect summertime cake
28. Creamy Pineapple Dole Whip Freezies Recipe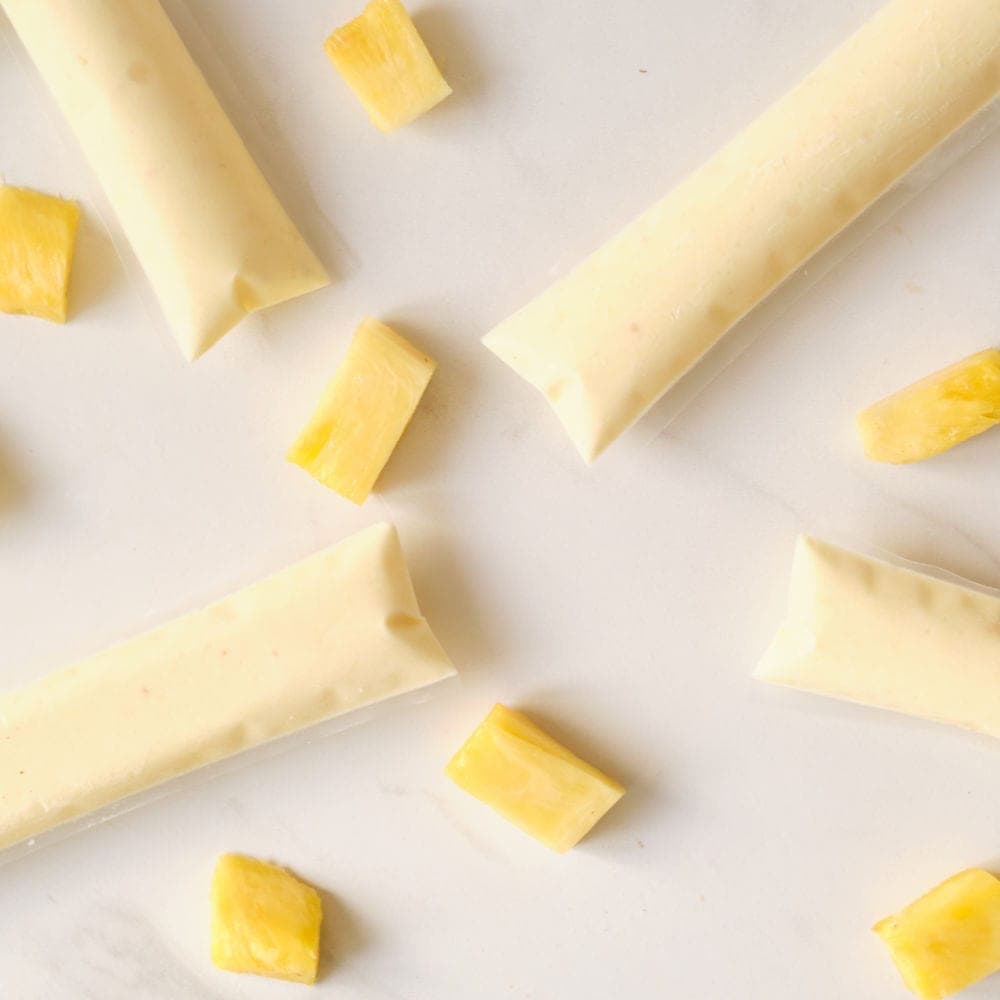 Make these fun and refreshing Dole whip freezies, when you want a pineapple treat that reminds you of Disney and Hawaii. They are easy to make and, of course, fun and delicious to eat.
29. Pineapple Pie
Pineapple pie is a delicious dessert that is made with a flaky crust, a sweet and tangy pineapple filling, and a dollop of whipped cream on top. It is the perfect summer treat!
30. Pineapple Squares Recipe
This is a delicious, distinctive pineapple squares recipe, that is easy to make. It combines the flavor of freshly crushed pineapple with a flaky, soft crust and a sweet, creamy frosting your whole family will enjoy.
31. Pineapple Dream Dessert Recipe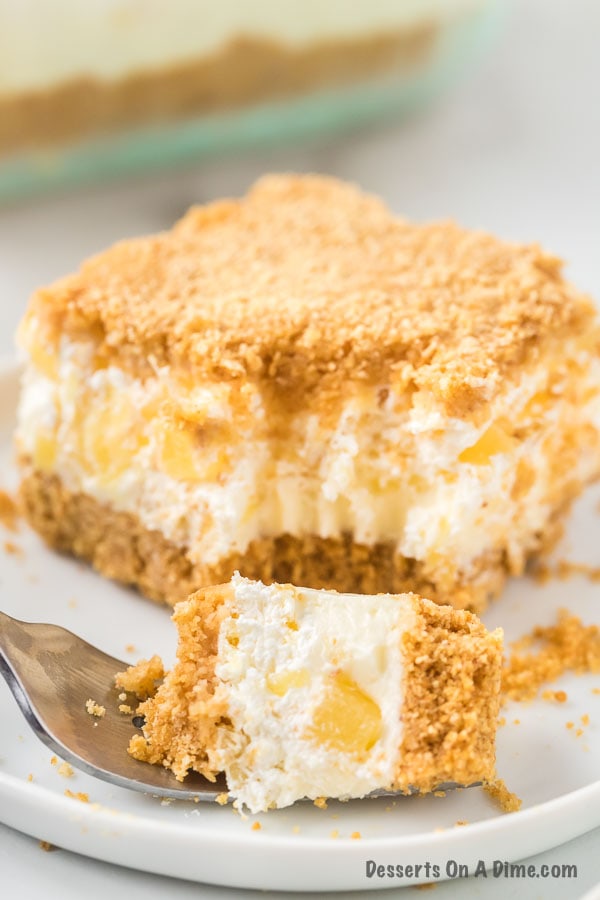 Enjoy this light and fluffy Pineapple dream dessert anytime you are craving something sweet. The cream cheese layer with pineapple is the perfect dessert without being too heavy. You will love it combined with graham cracker crust.
32. Pineapple Cupcakes Perfect For Luau
These pineapple themed cupcakes are super cute and easy to make. If your attending a luau, looking for a fun summer cupcake treat or simple want a pineapple cupcake topper then your in the right place!
33. PINEAPPLE ZUCCHINI BREAD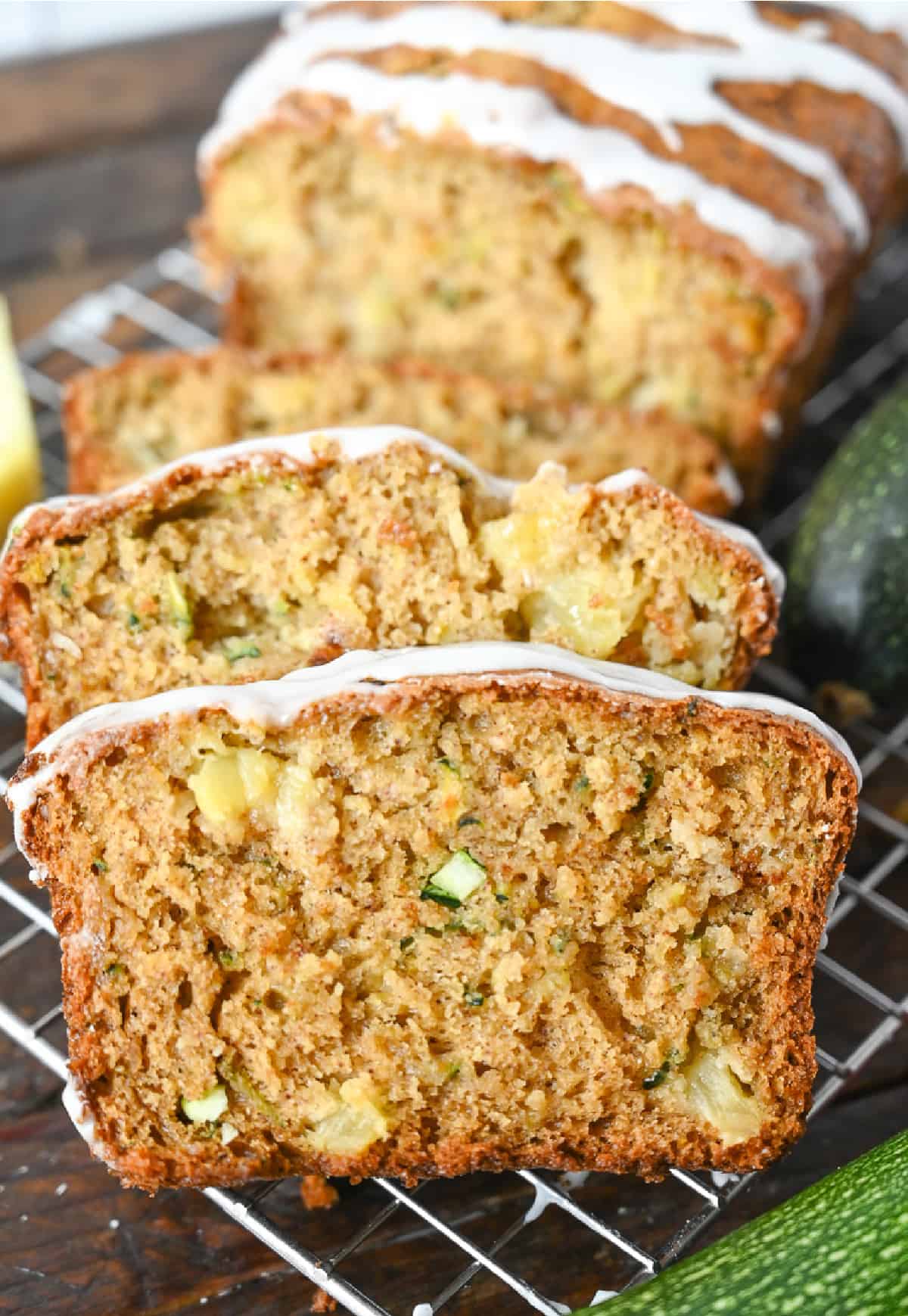 Pineapple zucchini bread is moist and flavorful, with a tropical twist on a classic favorite. The combination of juicy pineapple and fresh zucchini creates a deliciously sweet and tangy bread that will tantalize your taste buds.
34. NO-CHURN HOMEMADE PINEAPPLE ICE CREAM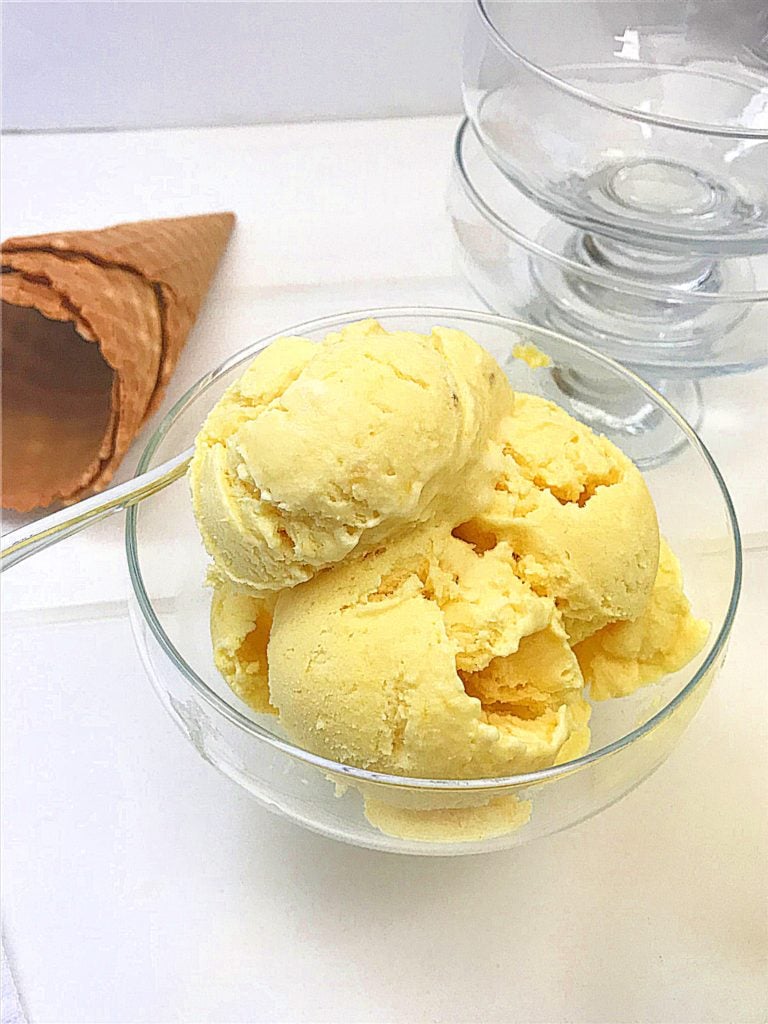 No churn pineapple ice cream recipe that's perfect for every season. Requires just 5 ingredients with no ice cream machine needed.
35. Awesome Way to Cut a Pineapple
Beautifully cut a pineapple and arrange additional fruit around for a pretty and tasty display.
36. Pineapple Cake (with dried Pineapple flowers)
This Pineapple Cake is the perfect tropical dessert for summer! Dried pineapple flowers adorn this pineapple infused cake with fresh pineapple and pineapple buttercream.
37. Pineapple Dump Cake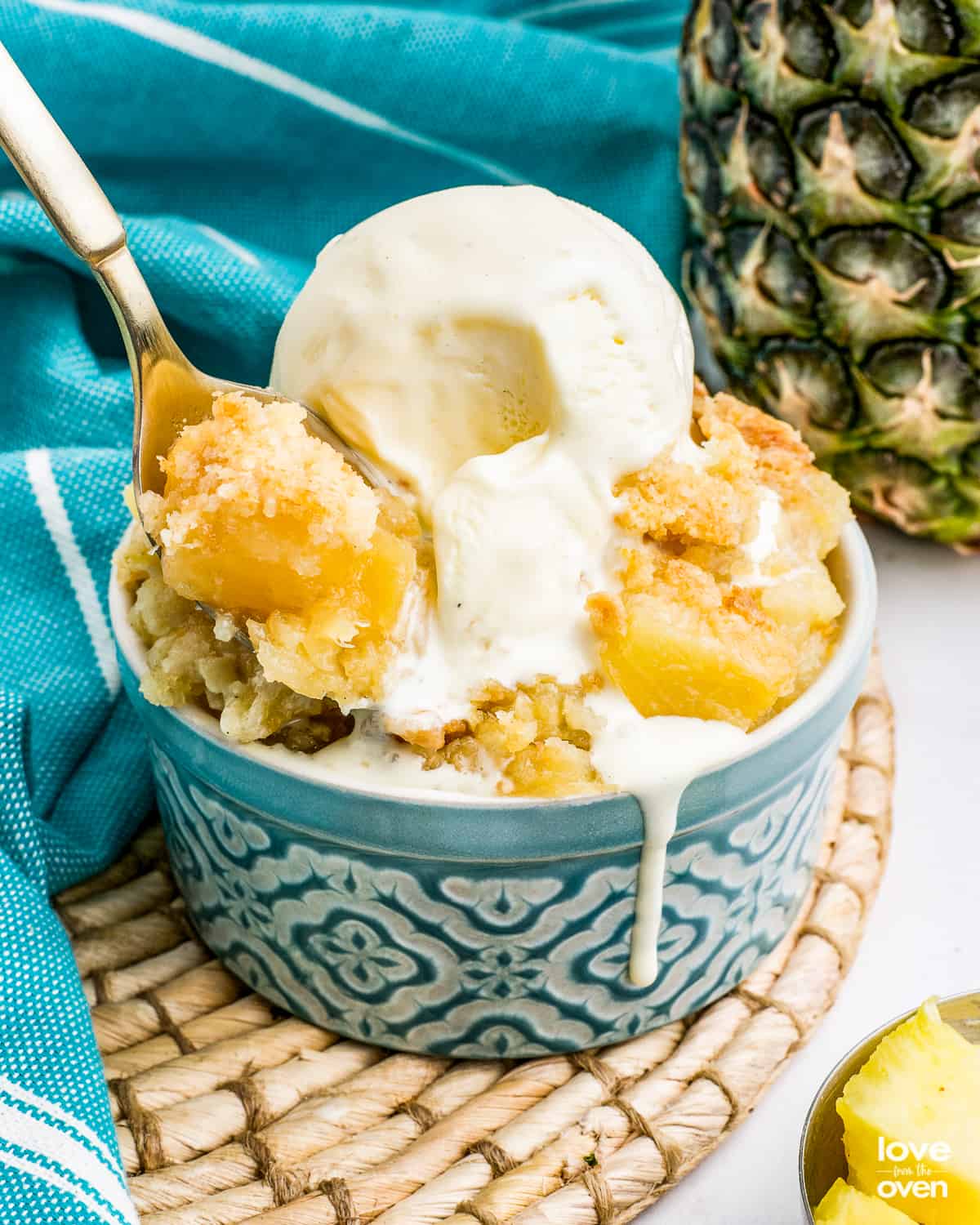 Pineapple Dump Cake is a sweet and tropical dessert that might just be the easiest cake you'll ever make! A gooey, pineapple base is topped with cake mix only to magically bake into the most delicious pineapple cake you've ever had.
38. Pineapple Upside Down Cupcakes
Pineapple Upside Down Cupcakes deliver big tropical flavor in cute little single serving size portions that everyone loves! A maraschino cherry is surrounded by a sweet pineapple filling, covered by moist pineapple cake batter, and baked "upside down."
39. Tropical Magic Bars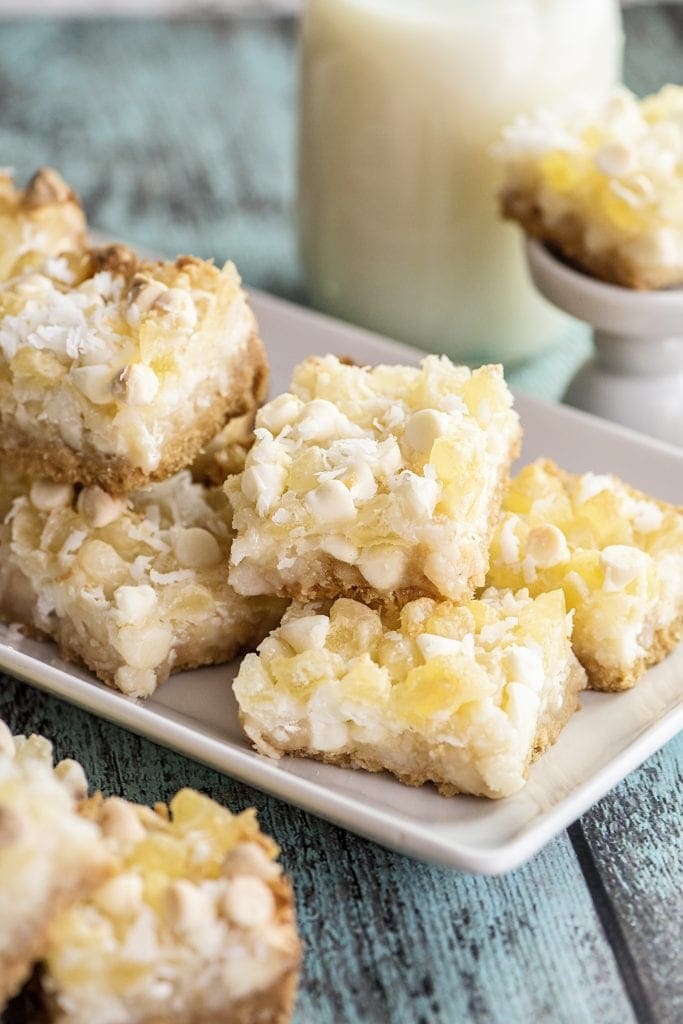 These delicious bars are full of tropical flavors. They are a great dessert to make anytime of year.
40. Pineapple Dream Dessert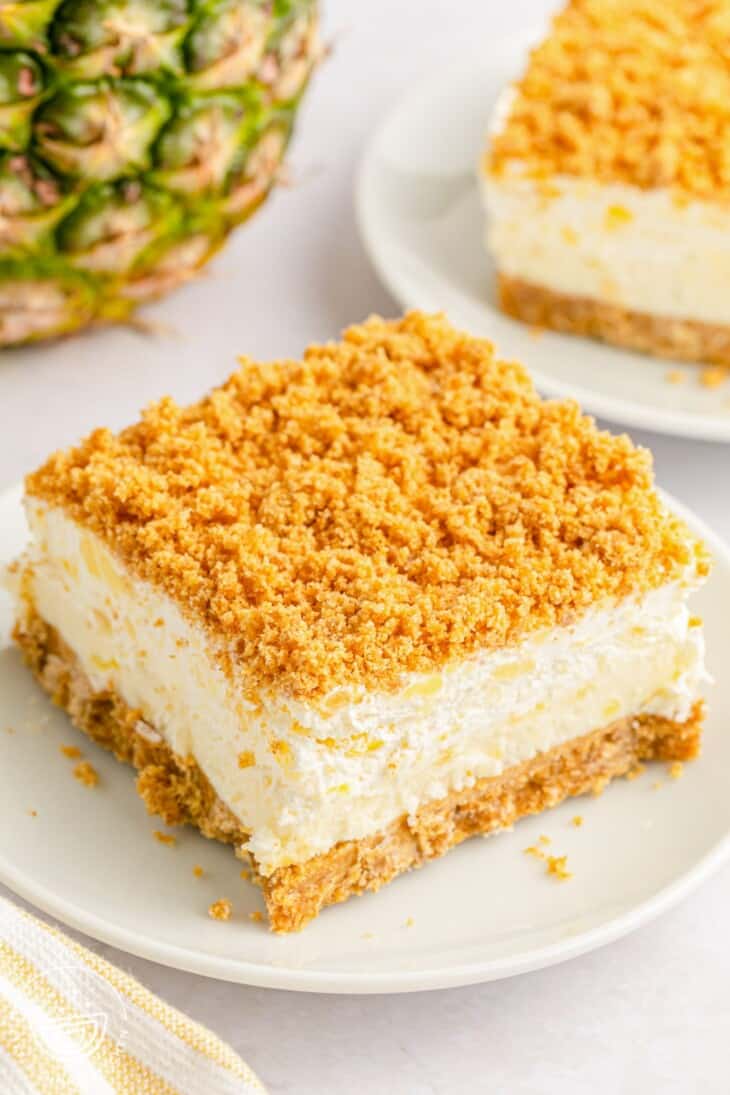 This (Almost) No Bake Pineapple Dream Dessert or Pineapple Delight is creamy, smooth, refreshing and sweet with a buttery graham cracker crust and a delicious cream cheese pineapple filling.
41. Pineapple Danish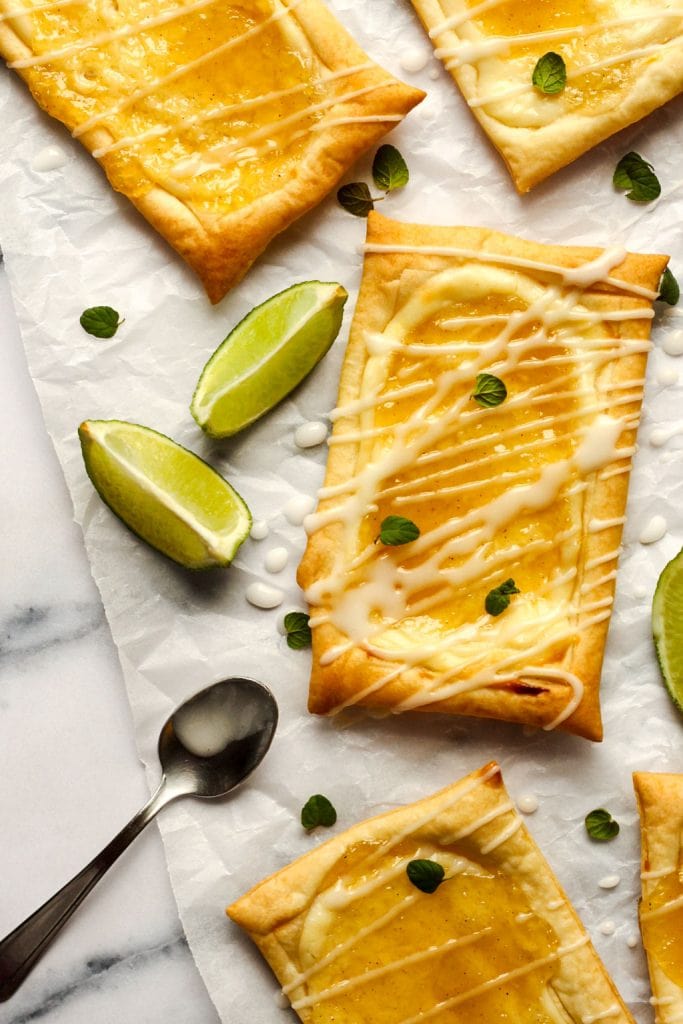 This Pineapple Danish recipe features homemade pineapple sauce, cream cheese, and a zesty lime icing! These danishes are the perfect summer treat or breakfast idea!
42. Pineapple Poke Cake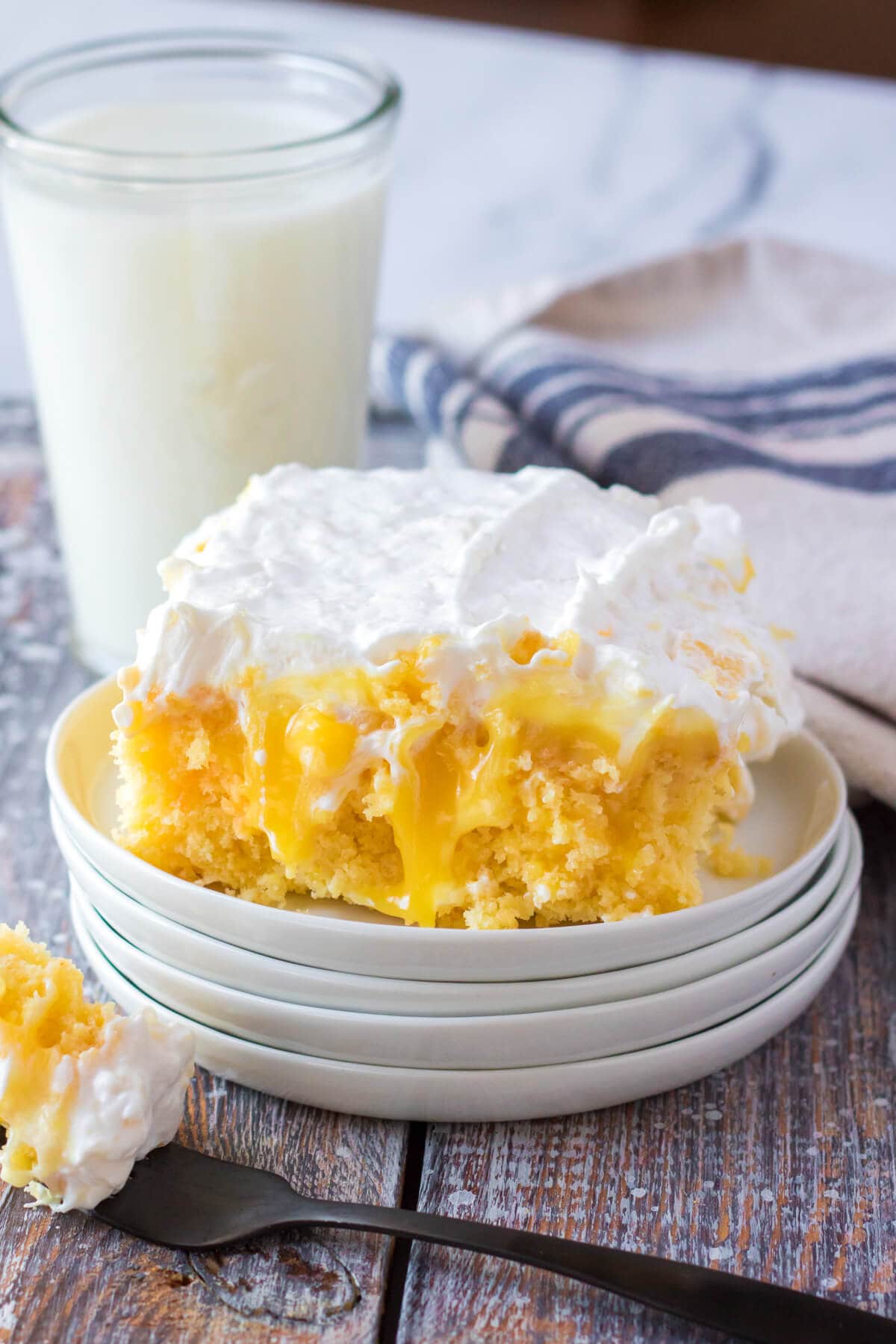 Pineapple Poke Cake is an easy dessert recipe featuring a buttery cake with pineapple vanilla pudding and dreamy pineapple cream topping. It's like a tropical vacation in a pan
43. Pineapple Cake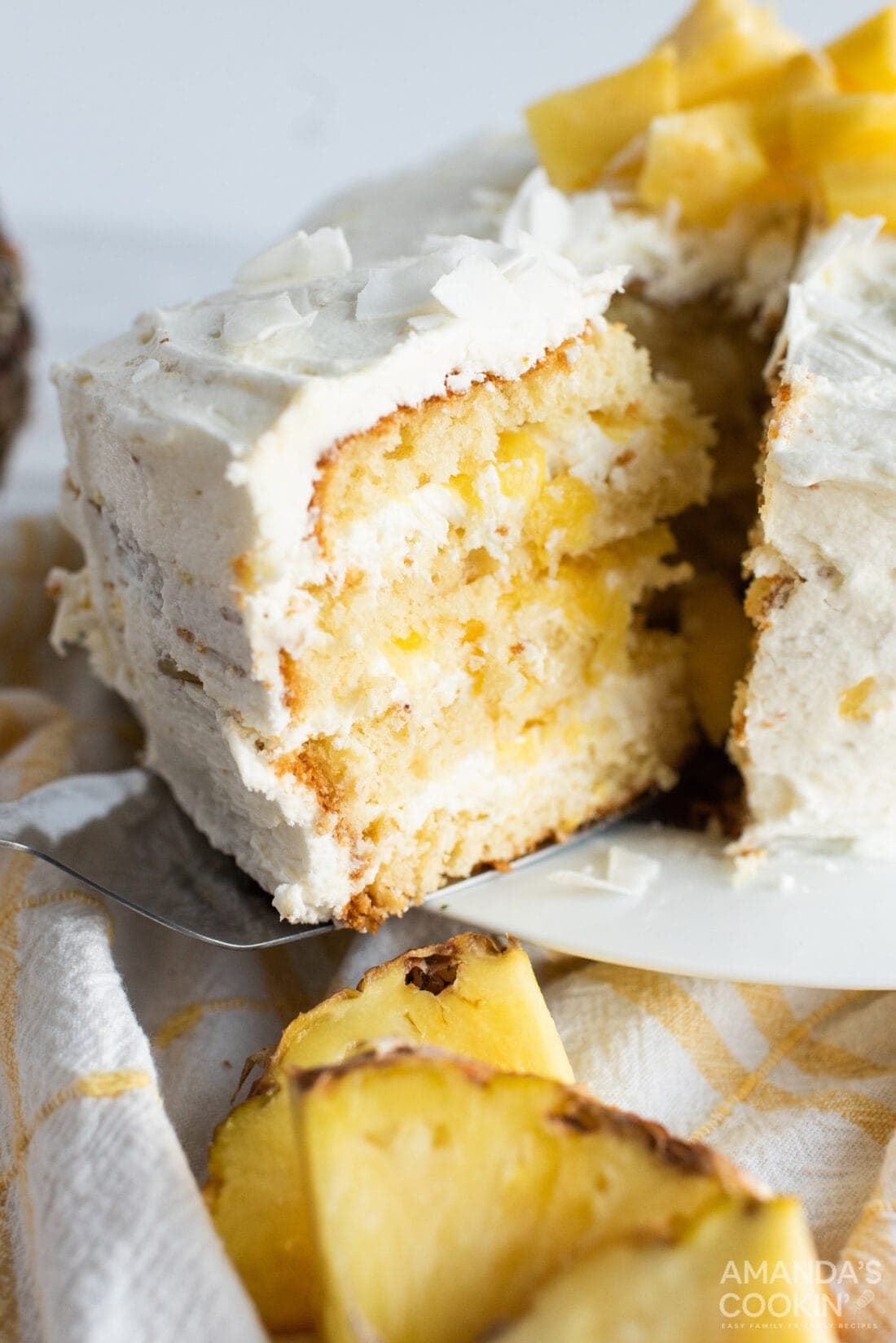 Each layer in this pineapple cake is filled with sweet pineapple and tropical coconut flavor. Every bite is swoon-worthy!
44. Keto Pineapple Upside-Down Cake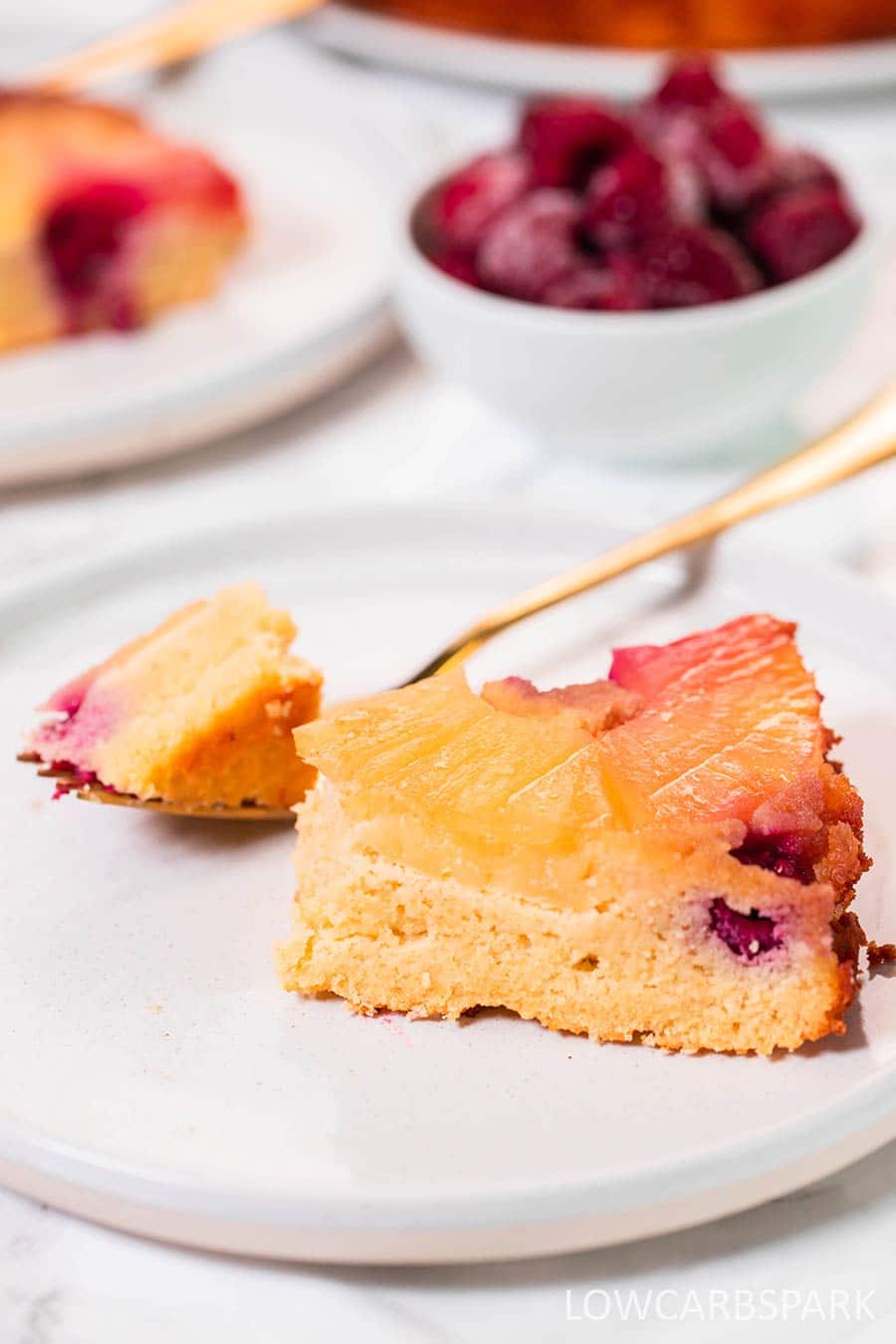 This buttery keto pineapple upside-down cake is delicious, flavorful, and super easy to make. Trust me when I tell you that this dessert will delight you from the first bite since it is fluffy, refreshing, sweet, and sour at the same time.
45. No Bake Tropical Coconut Pineapple Lush Dessert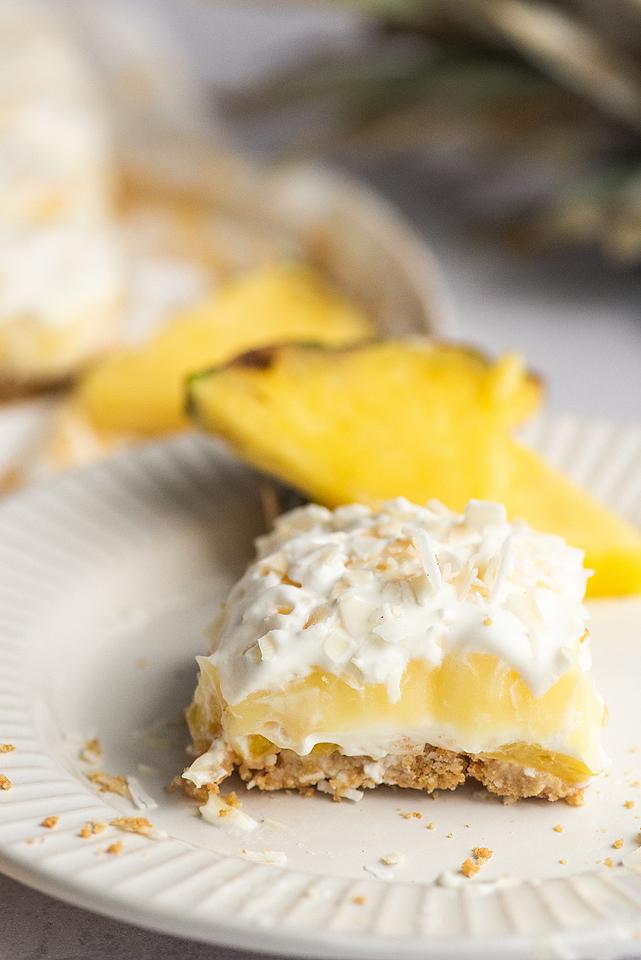 With its creamy layers, juicy chunks of pineapple, and a crunchy graham cracker crust, this dessert is a slice of sunshine on a plate. Whether you're planning a summer barbecue or just craving a sweet escape, this pineapple coconut lush is sure to be a crowd pleaser.
46. Grilled Pineapple
This grilled pineapple is sliced fresh pineapple brushed with brown sugar, butter and cinnamon, then grilled to perfection. An easy side dish or dessert option that's perfect for summer entertaining!
47. Roasted Pineapple with Sticky Vanilla
Easy recipe for sliced roasted pineapple – oven baked with a wet caramel of sticky vanilla, ginger, cayenne pepper/chilli and dark rum.
48. Vegan Piña Colada Cheesecake Bars
Enjoy a virtual tropical vacation with these Vegan Piña Colada Cheesecake Bars! The crust is made with macadamia nuts, coconut and gingersnaps, and the cheesecake filling is sweet yet a little tart, creamy and decadent but 100% vegan.
49. MAKE PINEAPPLE WHOOPIE PIES WITH CAKE MIX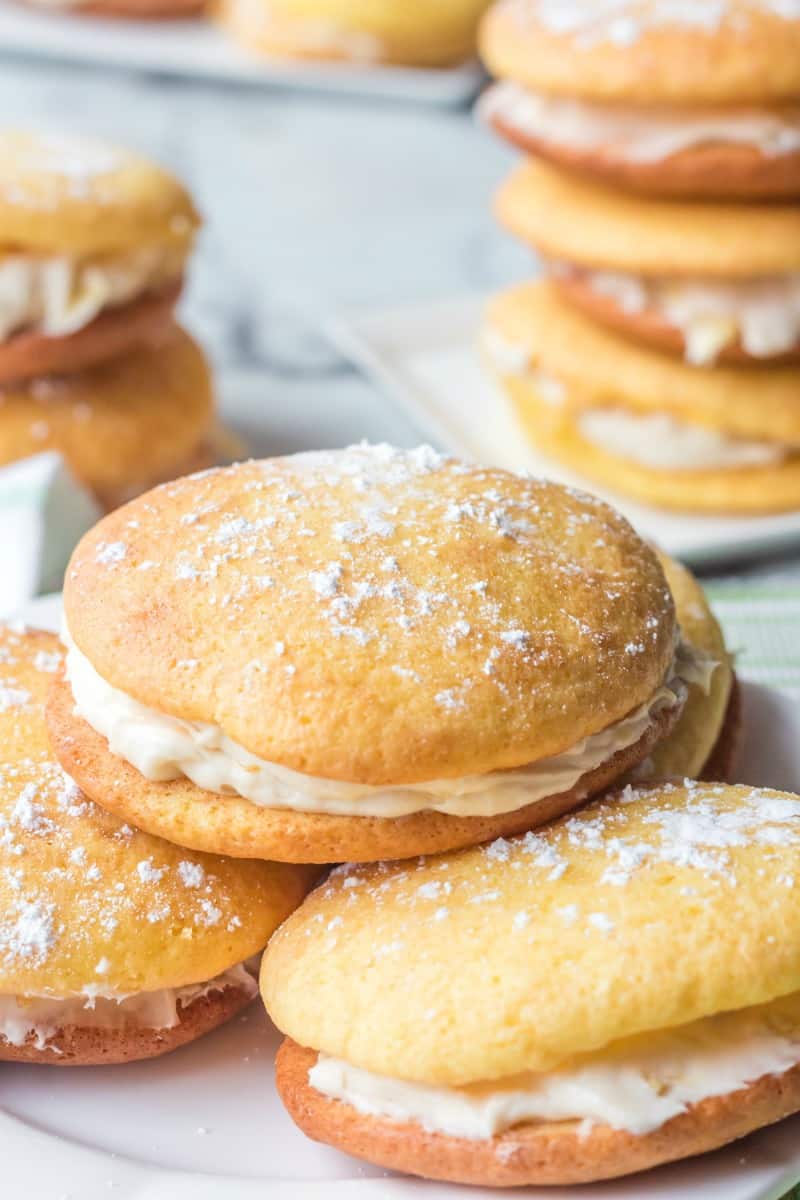 Have you ever wondered if you can make whoopie pies with cake mix? Get this easy whoopie pie recipe with cake mix right here.
By Confessions of an overworked Mom
50. pineapple banana smoothie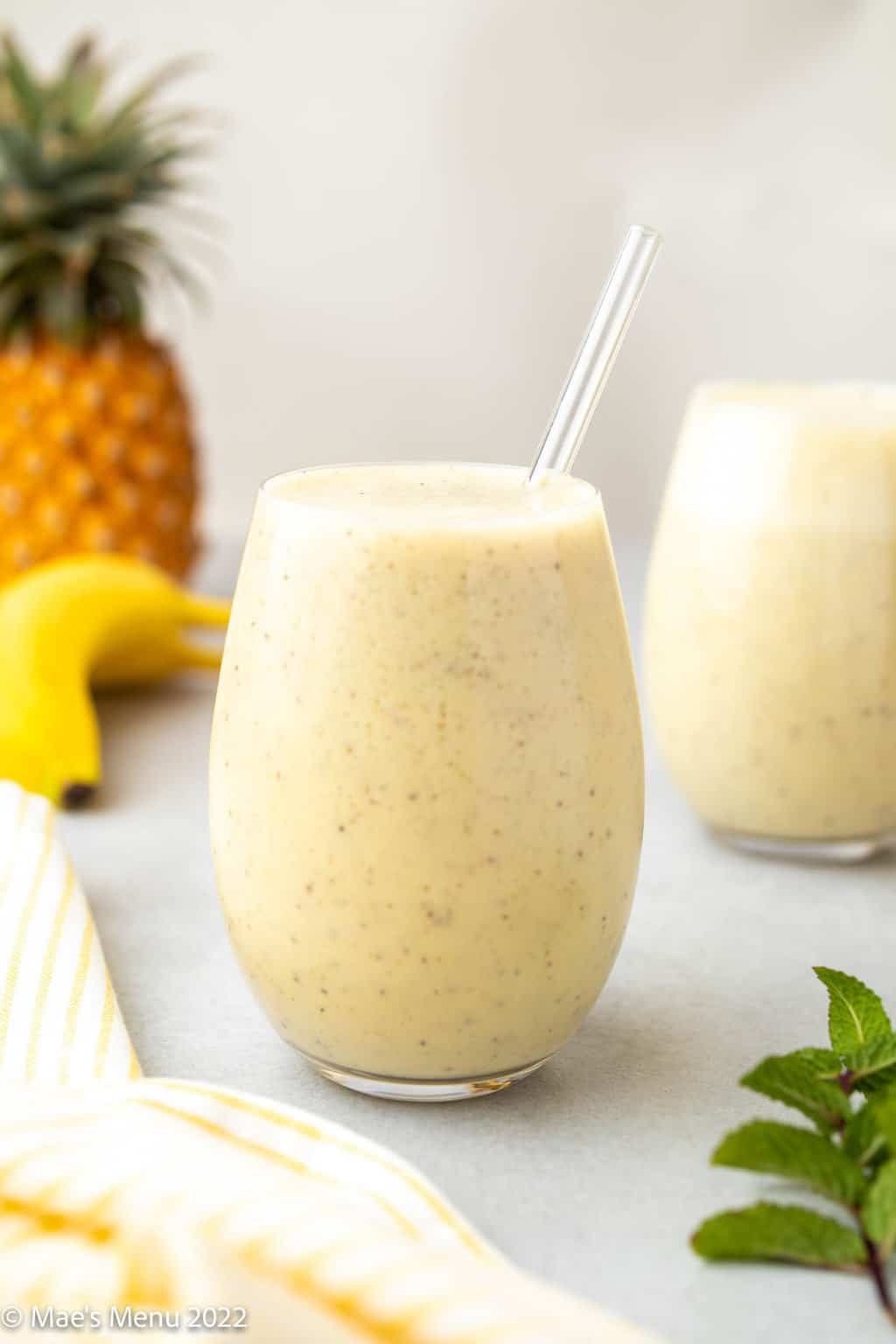 Take yourself on a tropical vacation with this pineapple banana smoothie! this smoothie is ready in less than 5 minutes and takes only 4 ingredients
51. Nana's Pineapple Delight
Nana's Pineapple Delight is a vintage recipe from my grandmother; sweet, fruity pineapple bars with a creamy vanilla frosting and flaky butter crust. It's a staple summer dessert that makes enough to feed a crowd!
52. Pineapple Cake
Pineapple Cake is an incredibly moist cake with a hint of sweet pineapple taste. The topping is the BEST part with its buttery, nutty goodness.
53. Pineapple Tart
Canned pineapple is the star of this old fashioned dessert. Easy to make and always a winner
54. Pineapple Pudding Cake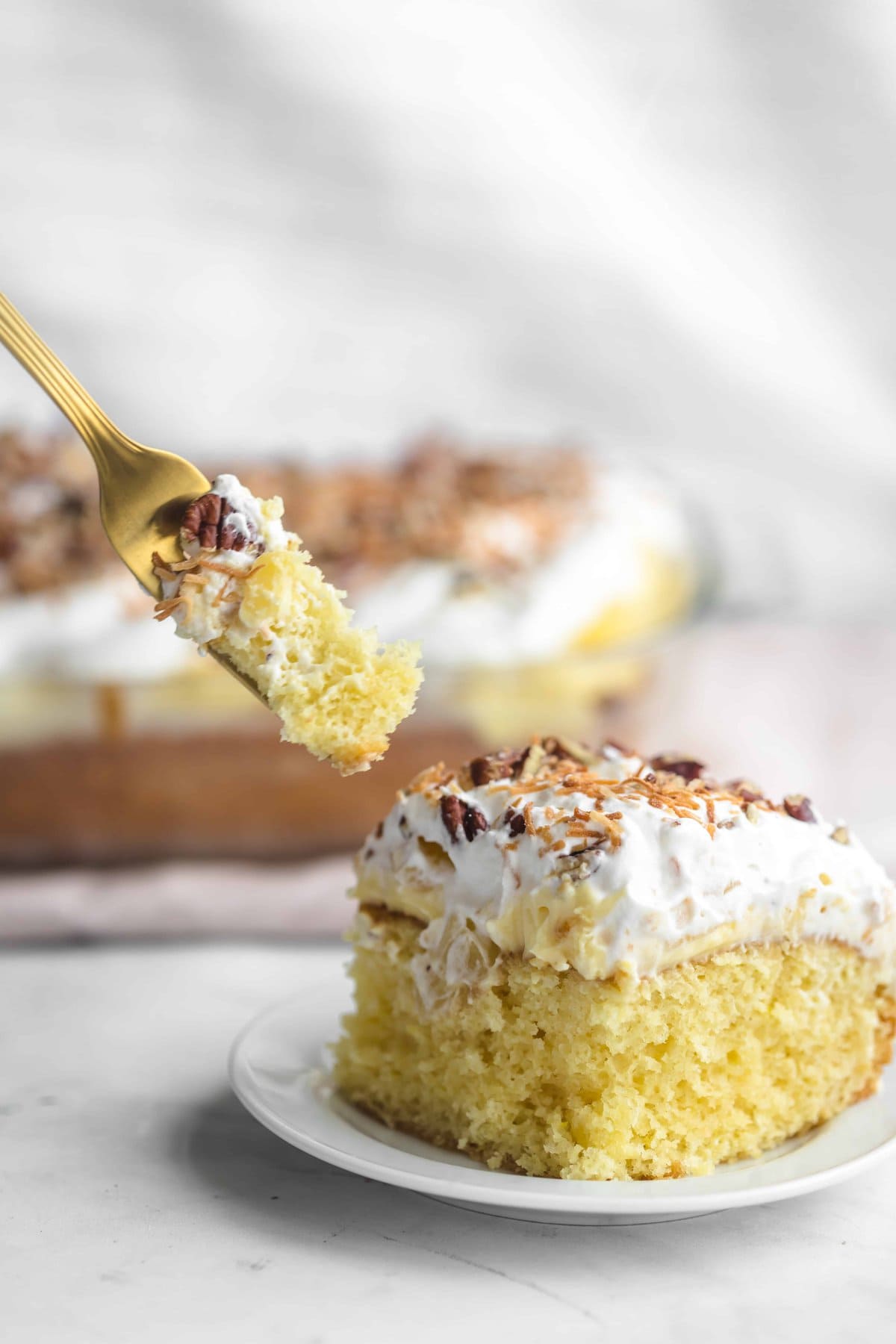 This fluffy yellow cake stays with a pineapple juice infused cake mix and is topped with vanilla pudding and pineapple pieces. It's so light, easy, and delicious!
55. Pineapple Cheesecake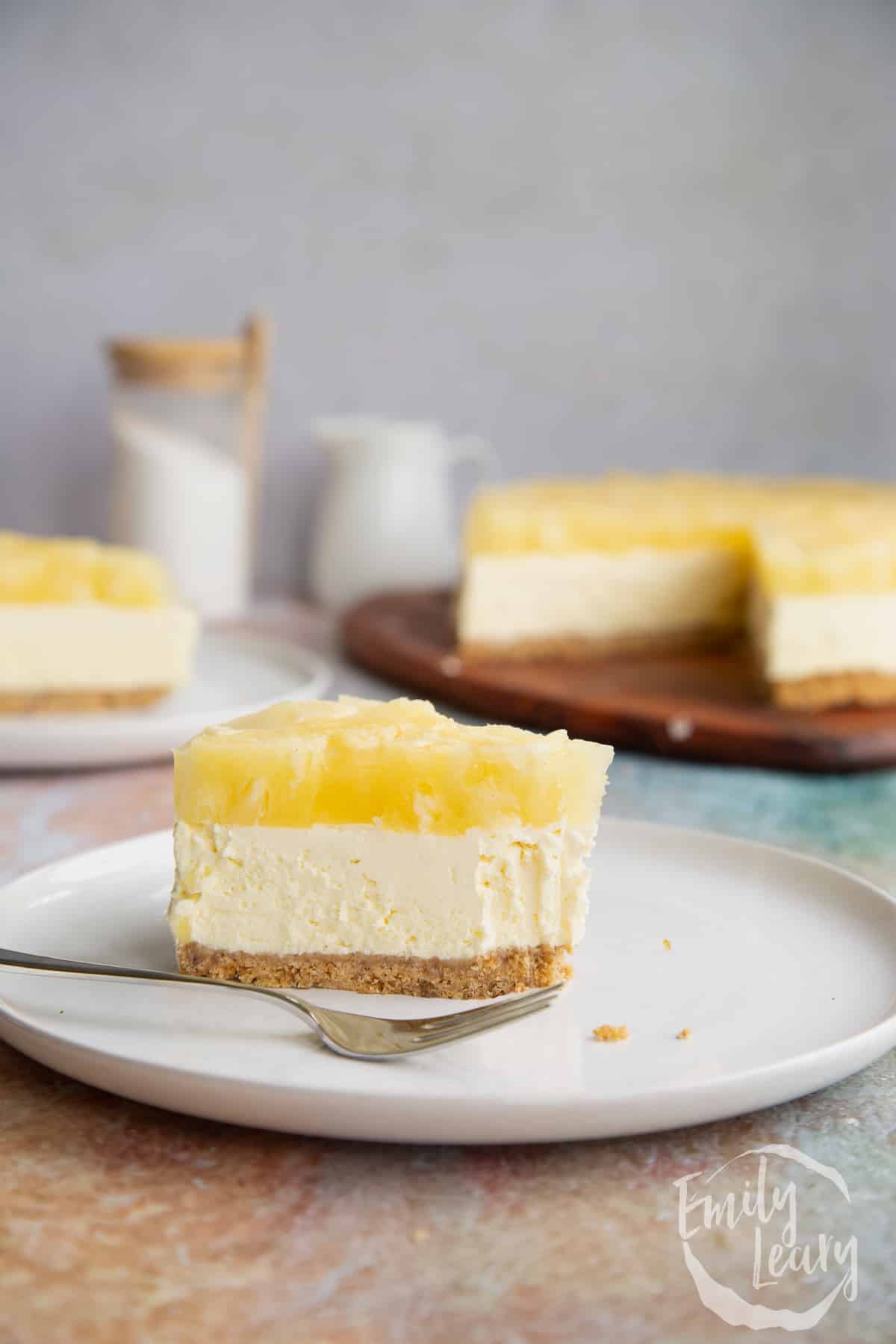 This incredible no bake pineapple cheesecake has a cinnamon crust, creamy vanilla filling and a fresh and fruity pineapple jelly topping
56. Pineapple Upside Down Cupcakes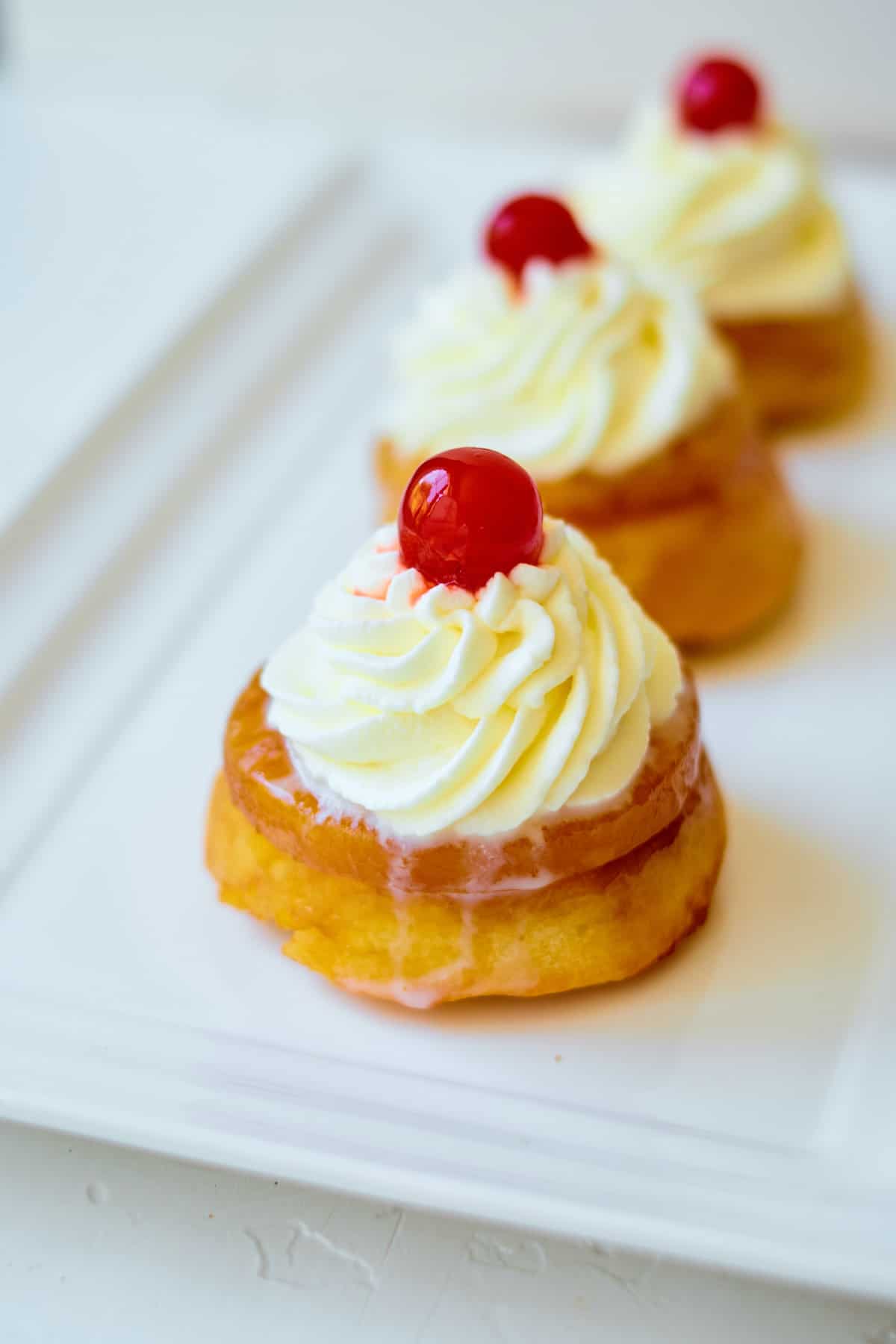 This recipe for Pineapple Upside Down Cupcakes lets you indulge in everything you love about classic pineapple upside-down cake in an easy-to-make and easy-to-serve package!
57. AIR FRYER PINEAPPLE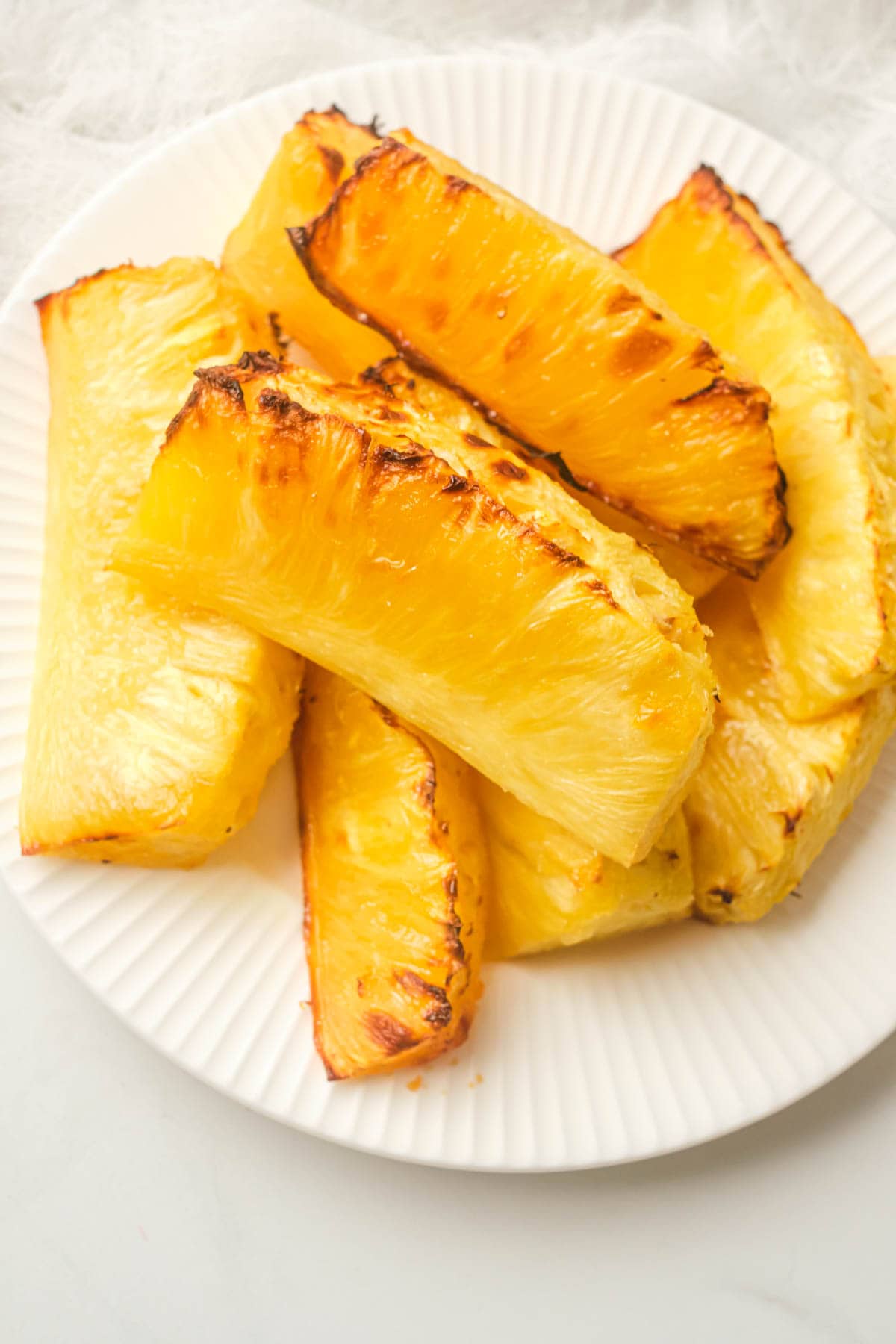 Air Fryer Pineapple turns out sweet, juicy, and perfectly caramelized with charred, golden edges, just like you get when making grilled pineapple. This sweet pineapple air fryer treat is the perfect healthy dessert or versatile side dish
58. No-Bake Pineapple and Cream Dessert (Made with Cookies)
A simple, no bake treat for quick and easy entertaining, these pineapple topped biscuits with cream can be doused with a little liqueur for adult enjoyment!
59. Pineapple Walnut Muffins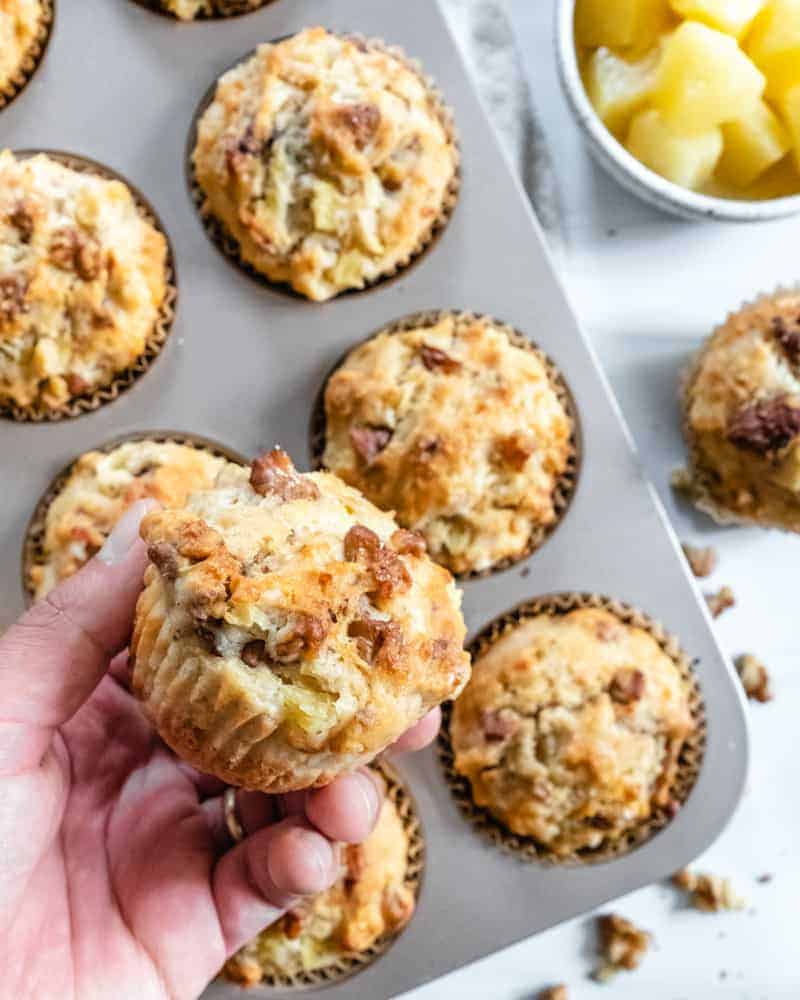 Looking for a tropical sweet treat? These Pineapple Walnut Muffins are incredibly tasty and delicious! Perfect for breakfast or a snack!
60. Pineapple Cheesecake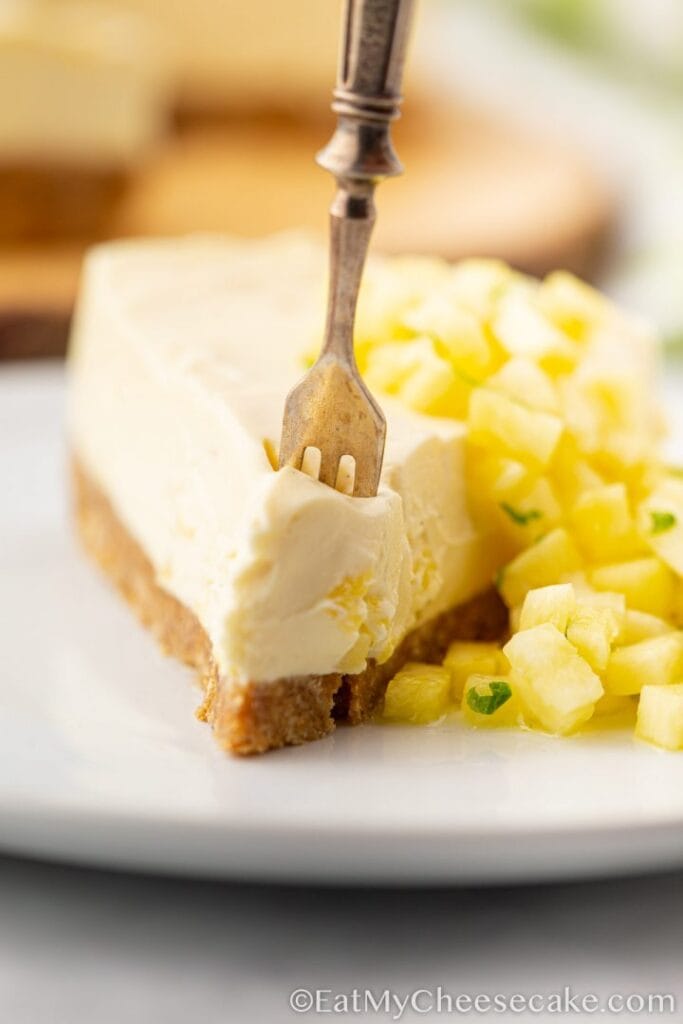 Experience a tropical delight with this luscious pineapple cheesecake, featuring a creamy pineapple-infused filling on a digestive biscuits crust, a perfect dessert for pineapple lovers
61. Pretty In Pink Pineapple Pie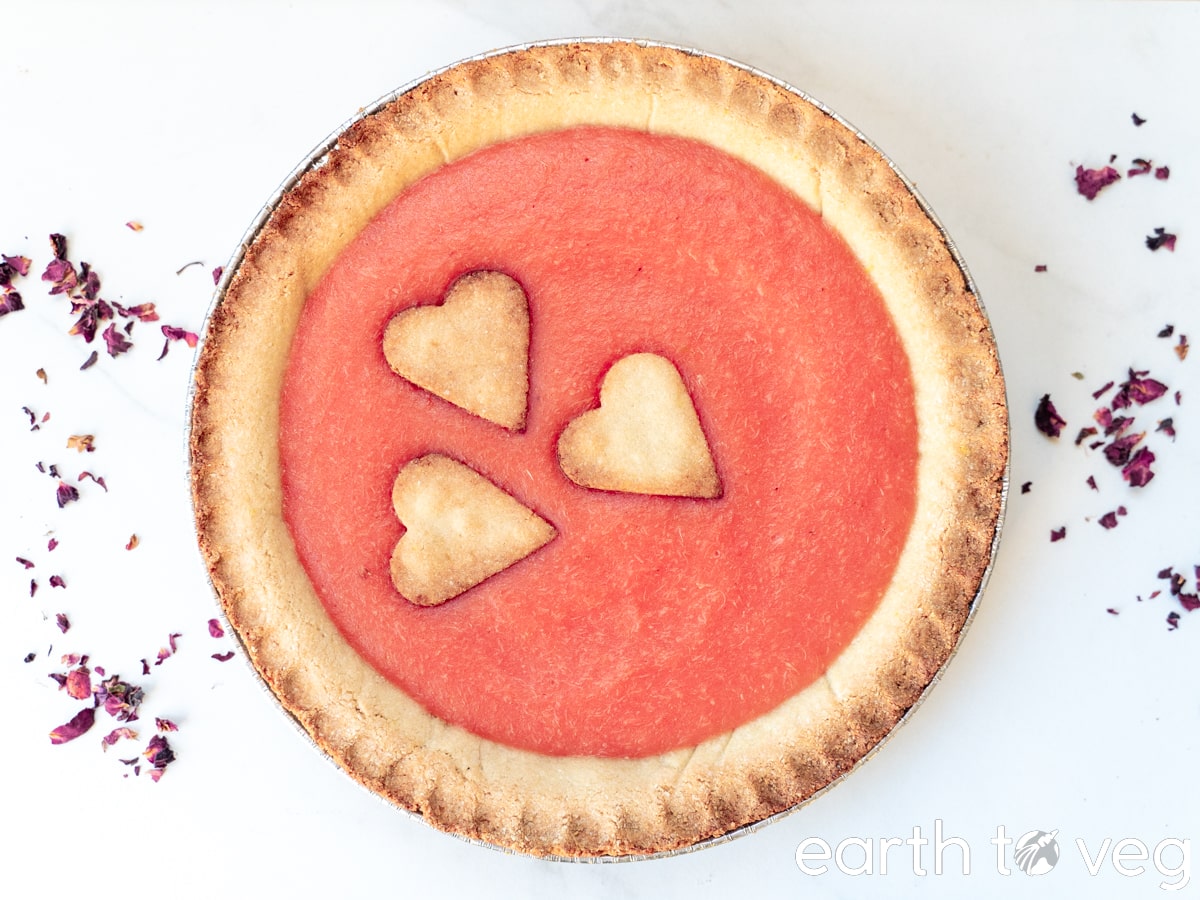 This naturally pink pineapple pie has a no-bake silky smooth filling that is packed with juicy pineapple flavor. It can easily be made sugar-free, gluten-free, and dairy-free
62. Pineapple Fluff Dessert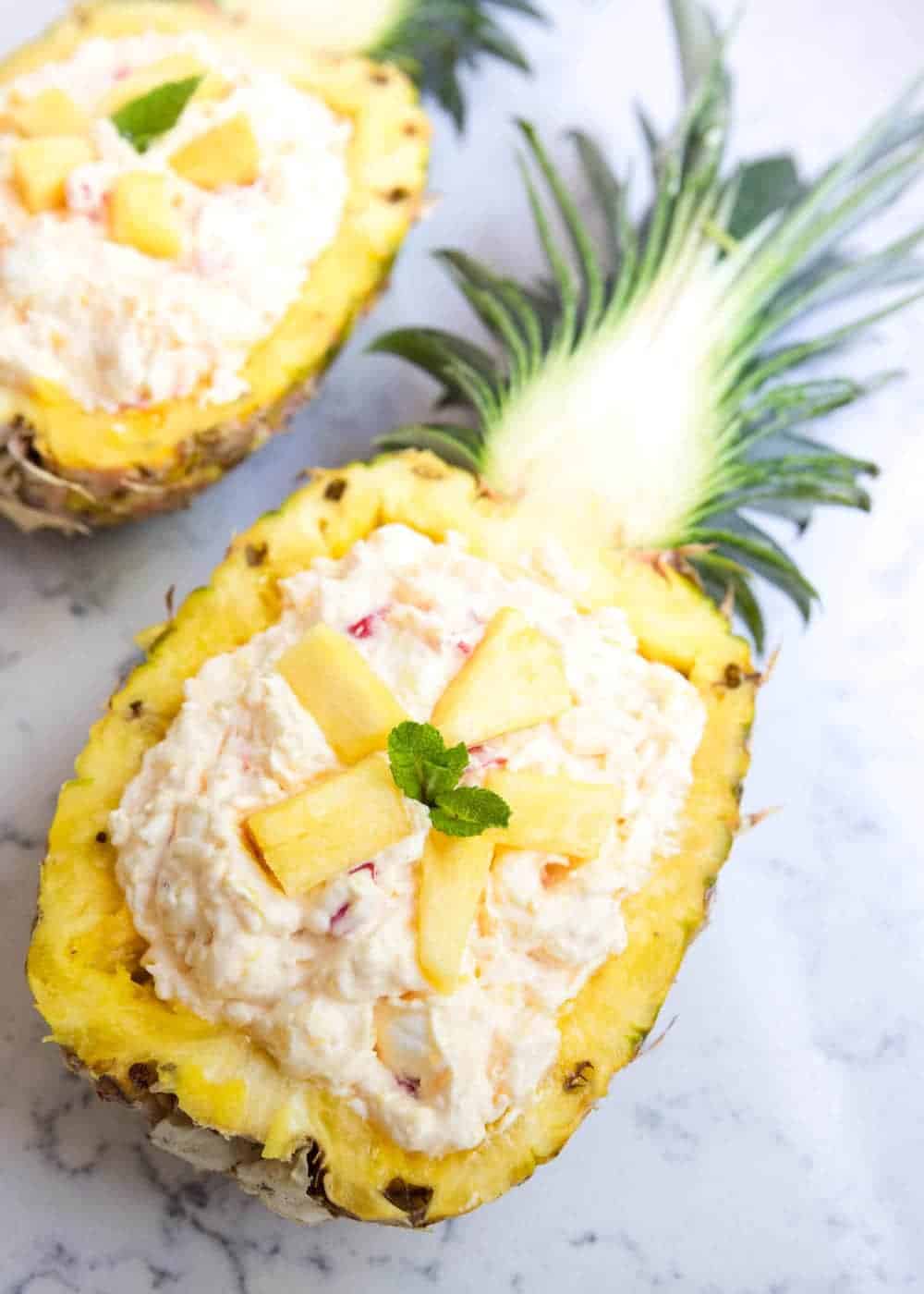 No-bake pineapple fluff dessert made with only 5 simple ingredients. A quick and easy pineapple salad that's great for any occasion. So creamy, tropical and perfect for summer!
63. Tropical Slush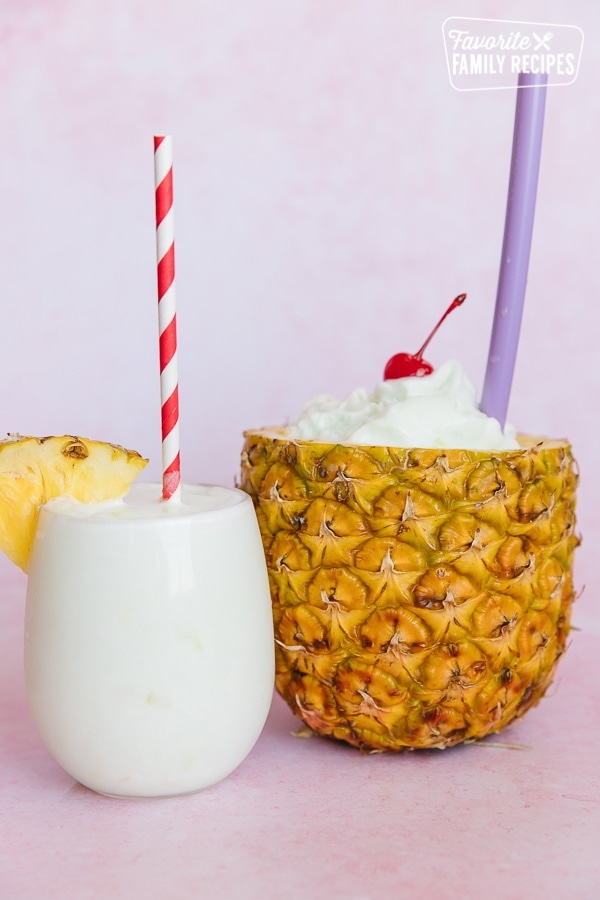 This tropical slush with pineapple, coconut, and lime is the perfect thirst quencher for a hot summer day. Fancy it up by serving in hollowed pineapples with a cherry on top!
64. FROZEN YOGURT RECIPE WITH PINEAPPLE AND COCONUT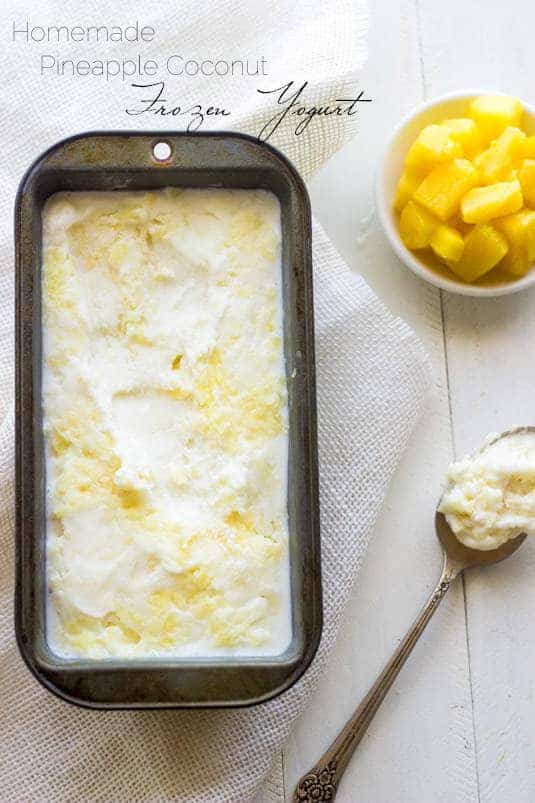 This quick and easy frozen yogurt recipe is healthy and made with coconut milk, Greek yogurt and pineapple. It's the perfect dessert for summer!
65. Pineapple Mint Granita
66. Pina Colada Smoothie
This Pina Colada smoothie is tropical and makes you feel like you are sitting on a beach somewhere.
67. Rhubarb-Wrapped Pineapple Mousse Cake
Aren't these Pineapple Recipe Ideas mouthwatering??? Hey, I'm drooling here!!!
Disclaimer: *Just like I do for all my round-ups, I get a lot of inspiration from Pinterest. If you are at all familiar with that platform you know there are tons of pictures with no direct links to the original source. Some pictures featured here I found no source for or directed to the wrong one but if you know the source, contact me and I will update this post immediately, thank you so much!
More Summer Recipes to Try
If you enjoyed this Collection of Pineapple Recipe Ideas, you might also love these delicious summer recipes too:
After so many Pineapple Recipe Ideas, Make sure to check out Dana's Key Limes: 55+ Recipes post by clicking on the image below.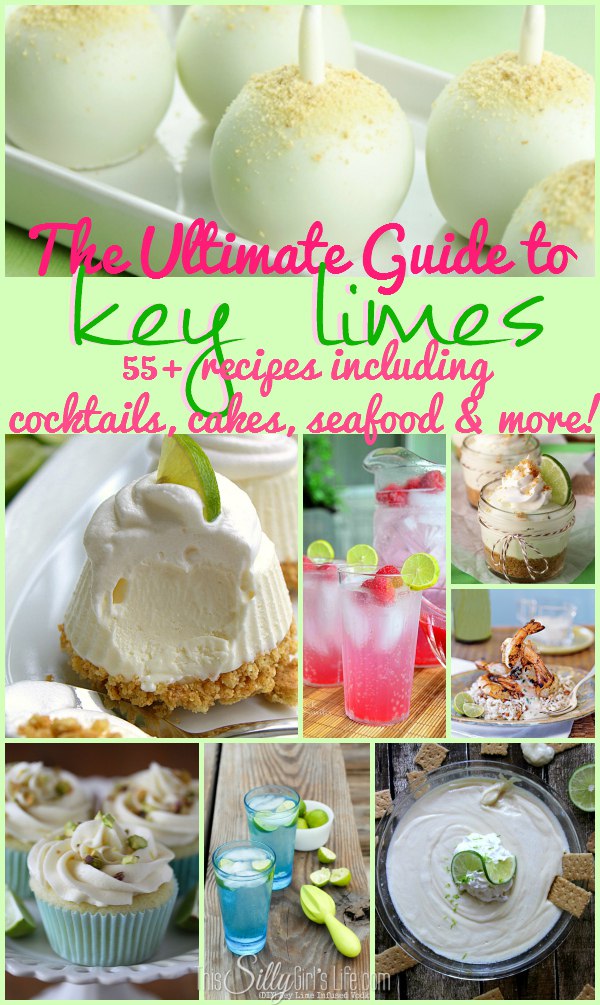 Share and PIN ME!!!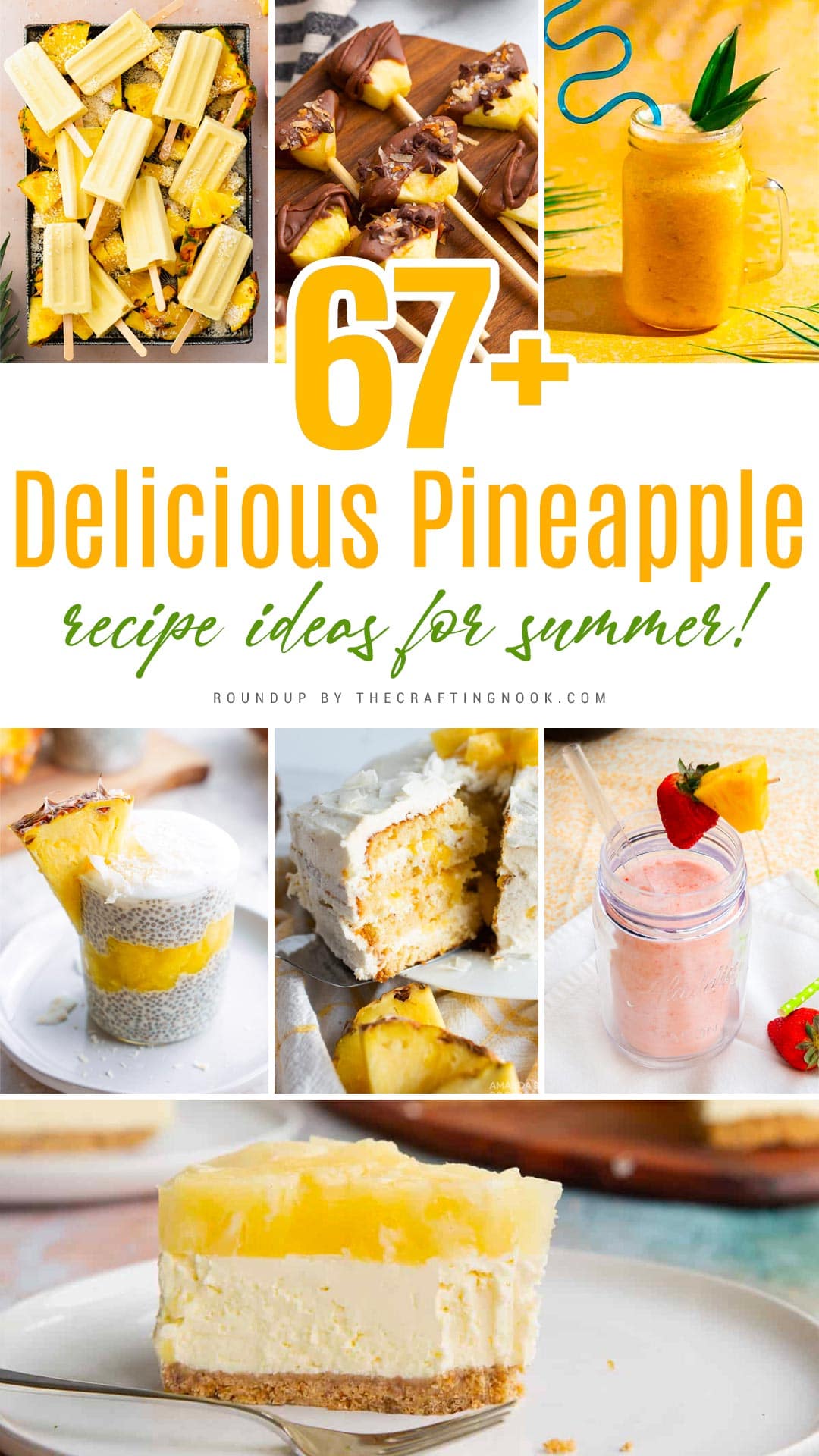 Til' next time...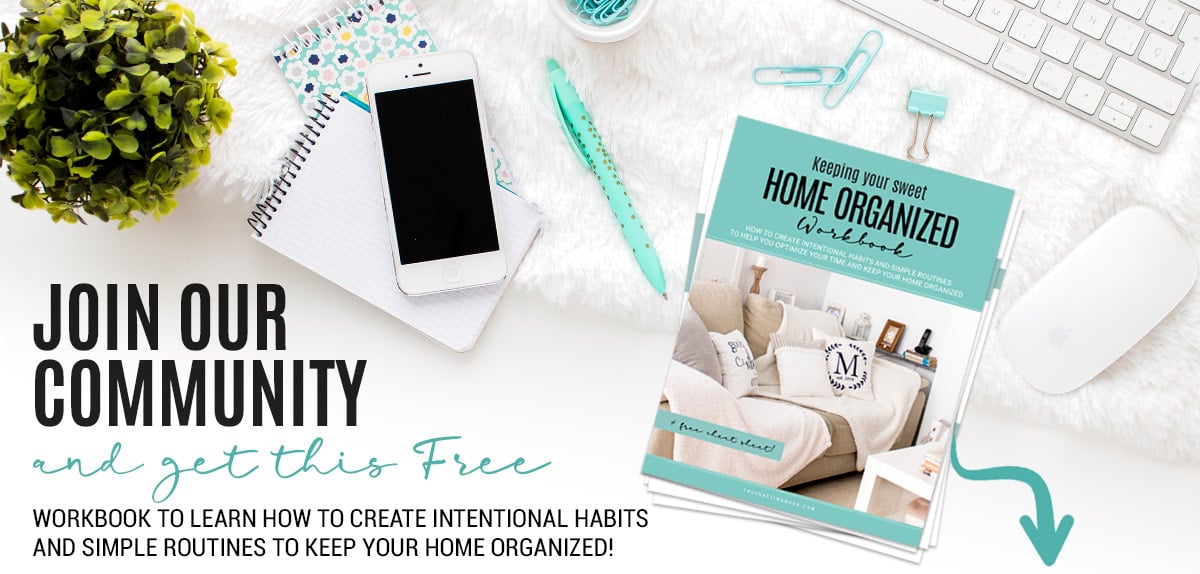 GET INSTANT ACCESS TO THE HOME ORGANIZED WORKBOOK
Plus freebies, printables, exclusive content, tips, stay connected, be the first to know great offers and Product Launches!
Disclaimer: By clicking on the "Yes, I want it" button above you are giving me your consent to collect and use your information according to the law and My Policy Privacy and The Cookie Policy. Zero Spam I promise!