Esta cesta desde que la vi en How About Orange, hace ya algún tiempo, la quise hacer. No sólo me pareció preciosa además es útil y decorativa!. Es una idea genial, reutilizar el papel de periódicos viejos, revistas, historietas y cualquier otro tipo de papel cuyo único destino sea la basura. Lo mejor!, tener donde colocar revistas, películas y pequeñas cosas, suele pasar que uno no encuentra donde ponerlas y que no estorben.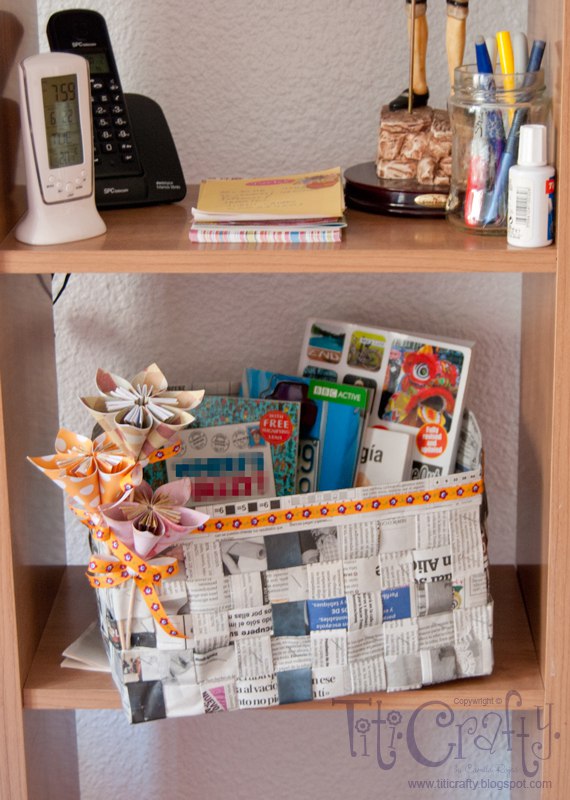 No puedo decir que soy una persona 100% ecológica aunque me encararía serlo, pero pongo mi granito de arena siempre que puedo. Me encanta reutilizar. Creo que hay muchas cosas que pueden tener un propósito estético, utilitario y divertido en cualquier parte y en cualquier producto.

Me disfruté mucho haciendo esta cesta aunque debo confesar que en algunos momentos pensé que no lo iba a lograr JA!… Algo tan sencillo pero cuando las tiras de papel no coinciden bien o pareciera que nunca acaba uno se lo piensa pero la verdad tenia mis ilusiones de verla hecha y en mi mueble de la sala! Así que fui persistente y la terminé.
Al finalizar, la decoré con cintas decorativas de Grossgrain y le puse unas flores de papel en técnica de origami y voilà!… Ya estaba lista para darle uso y la amé!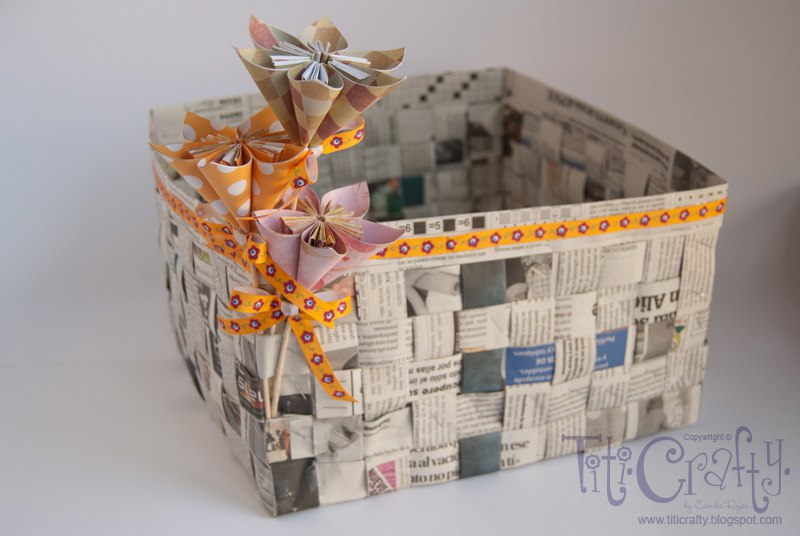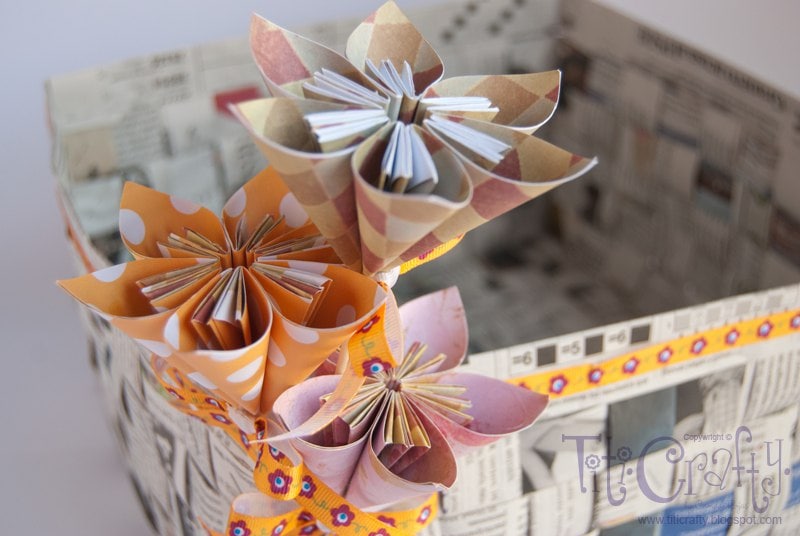 Las instrucciones para hacer la cesta paso a paso (DIY) los puedes conseguir AQUI. En cuestiones de manualidades este blog es genial.
Definitivamente voy a hacer otras con otras formas, tamaños y decorados.
I LOVE your opinion and comments, it totally makes my day, it gives me a huge motivation to keep making fun stuff and crafts!!!
Tu opinión y comentarios hacen mi diá más feliz, me da mucha motivación para seguir haciendo colsas divertidas y manualidades!!!
If you like my happy spot I invite you to subscribe and get my updates. You also can follow me on the social networks on my sidebar.
Si te gusta mi rincón feliz te invito a suscribirte y recibir mis actualizaciones. También puede seguirme por las redes sociales hubicadas en mi barra derecha.
Till next time!!! =D
Hasta la próxima!!! =D
Save
Till Next time!