DIY Red and White Rustic Christmas Wreath
A Rustic Wreath is a perfect addition to a rustic holiday décor. This Red and White Rustic Christmas Wreath is quick and easy to make.
It's the perfect blend of traditional and farmhouse style and the best part is that everything in here can be undone so you can reuse every item. No glue (except for the bow attachment), no-sew, no permanent attachments.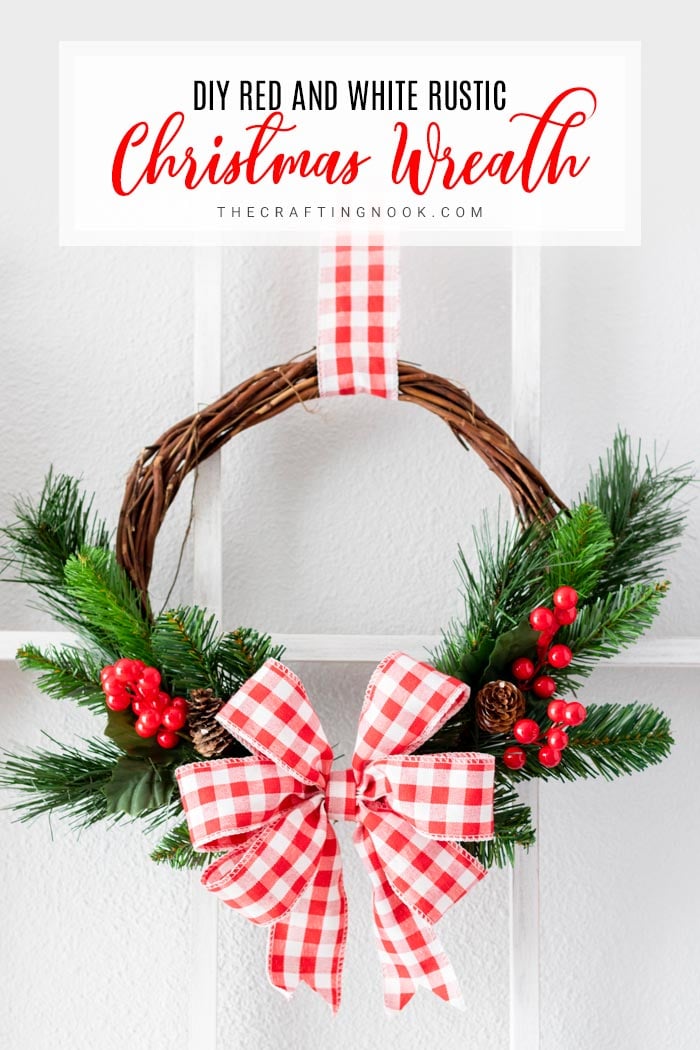 Red and White Rustic Christmas Wreath Tutorial
I don't know what is it about wreaths that I love so much. I've made it my tradition to always have at least one every year and the funny part is that last 2 years I've made 2: one for the front door and one for the living room.
Here are some of my past Christmas Wreaths if you want to check them out:
It took me about an 30 minutes or less to make this cute wreath. Seriously!
This wreath is made in a way that I could undo it and store it easily. So next year, I can make a different one! We shall see!
I love how it turned out and love coming to the living room and see this pretty wreath hanging there above my sofa welcoming me and anyone who visits us!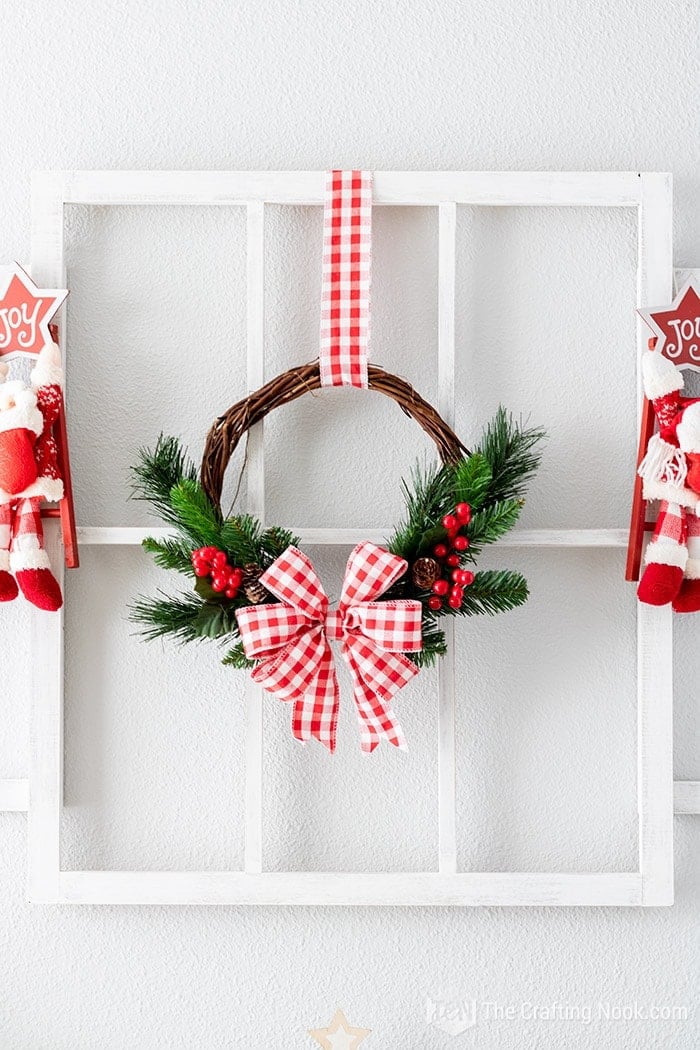 This project is also super inexpensive and easy to make, the wreath is from a dollar store, the ribbon and the greenery are from a Chinese store. I used twine to attach the parts together and only used hot glue to put the bow together and glue the twine as an attachment.
But don't get me wrong, the fact that it's inexpensive doesn't mean has less value, has way more than you think. I put some thought, lots of love, and the creativity to make it look pretty and welcoming.
In my opinion handmade items have way more value than anything expensive. Making my own home decor fills up my heart every time in enter a room!
Now let's see how this Christmas Wreath is made.
Supplies needed:
Grapevine Wreath
Buffalo Plaid Ribbon or fabric (2 inches wide)
2 Christmas tree sprig
2 Cranberry sprigs
Twine
A small strip of yarn
Hot glue gun and scissors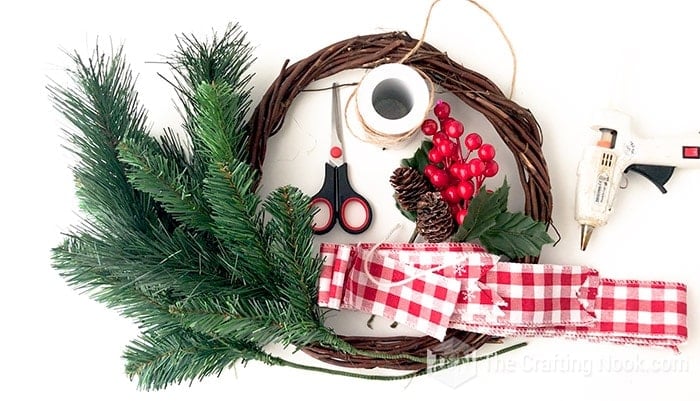 How to make this Rustic Wreath
I've made a quick video tutorial in case it's easier for you to follow BUT if you are the step-by-step photo tutorial kind of person, then just scroll down and keep reading!
Firstly, decide which way the grapevine wreath is going to be. it's usually irregular so decide the best placement for the hanger and the greenery.
Then bend your tree springs to fit the curve on the wreath.
Secure each spring with a strip of twine tied on the back.
Do the same for both springs
Then insert the cranberry springs one on each side and style as you like.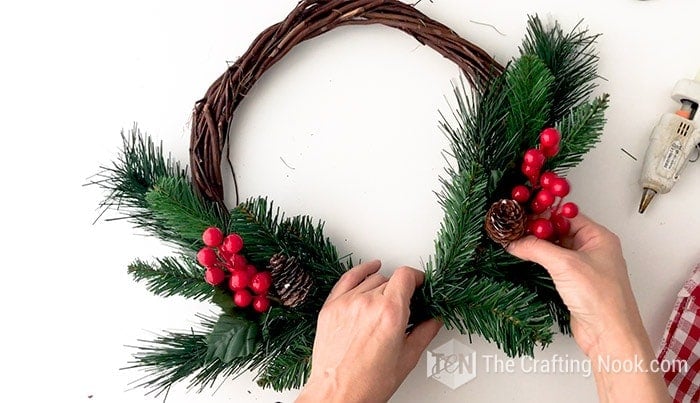 Now it's time to create a cute Christmas bow. I showed in a quickly way how to make it on the video and also in last year's Christmas wreath video but it's kind of a quick video. If you would like me to create a detailed tutorial on how to make this bow, let me know and I'll get to it!
I used hot glue to secure the bow knot on the back and then to glue the ties.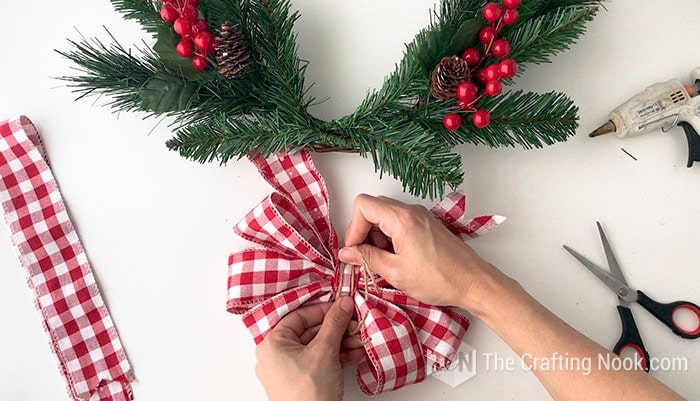 Position your bow in place and tie it to the wreath on the back.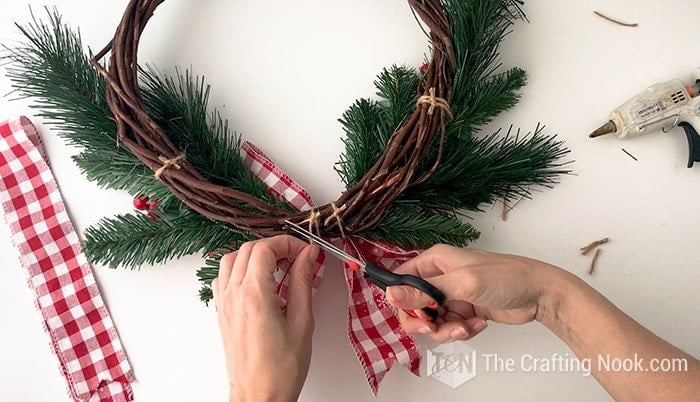 Fluff your bow as you like.
Lastly, Cut a strip of ribbon for the hanger. This is optional depending on where you are going to hang it.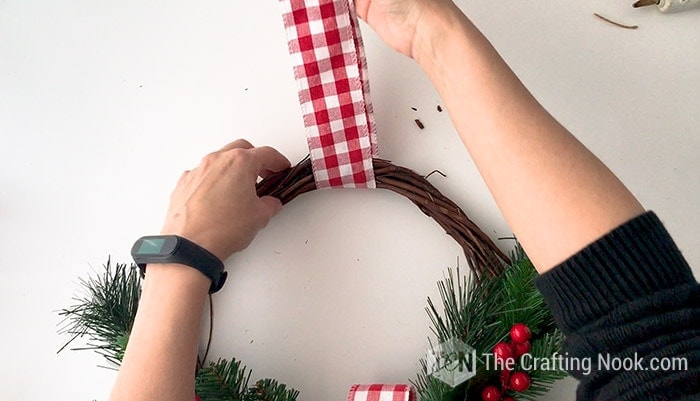 Hang it on your favorite stop and voila!
You are good to go!
I hung it on my living room above the sofa.
I just love how it looks!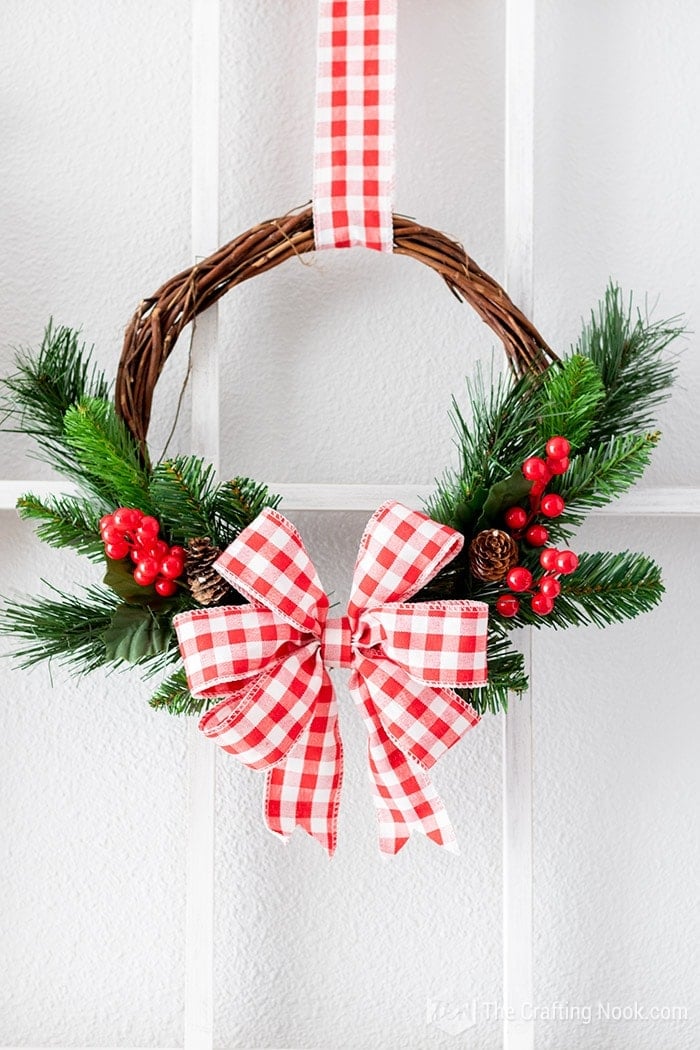 What do you think?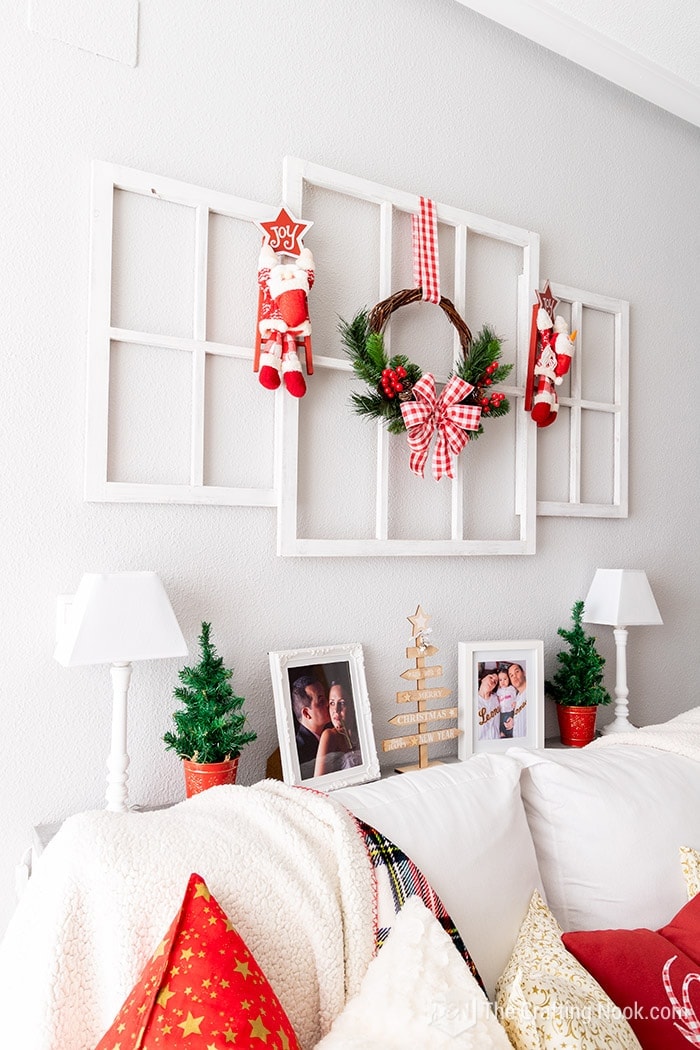 Hope you enjoyed this tutorial and that inspires you to create a gorgeous and festive Christmas Wreath for your home!
These are some Holiday wreaths from my favorite bloggers!
Loving this project? Don't forget to PIN and share it with friends!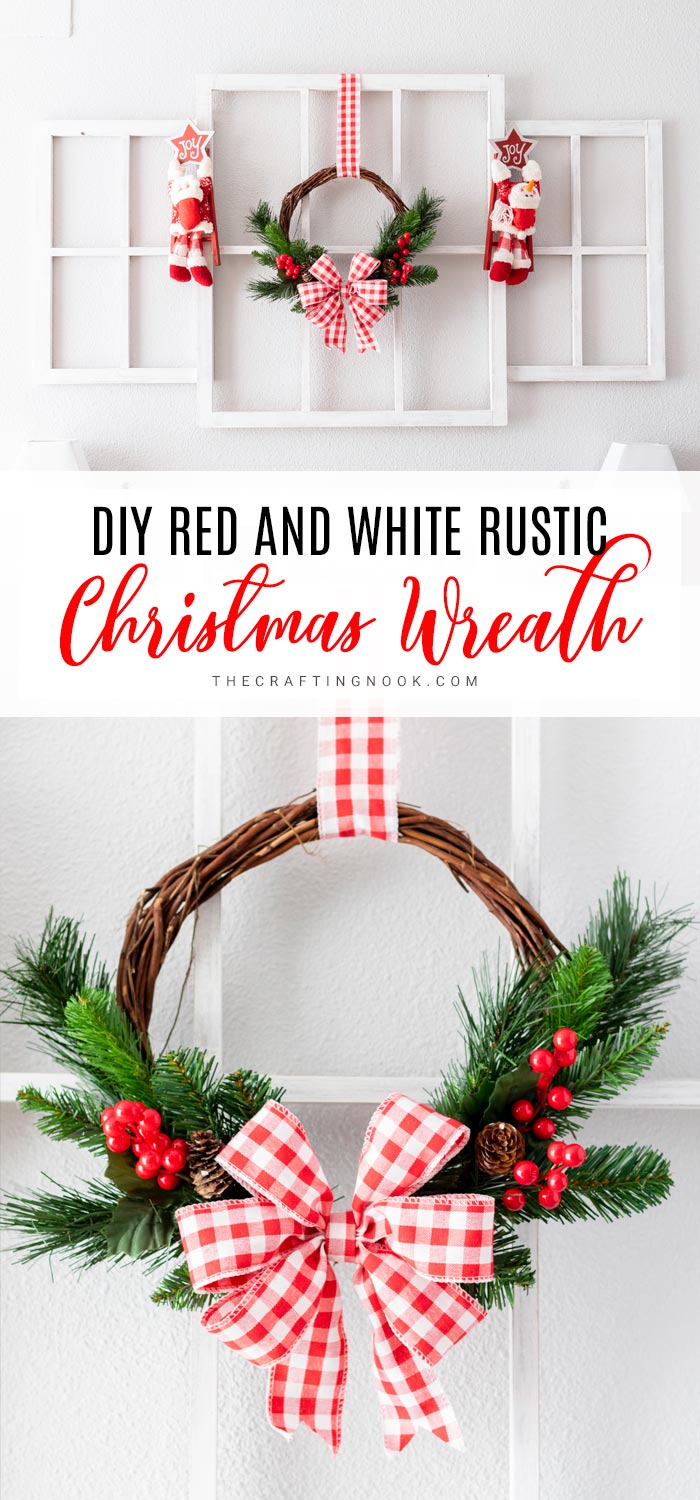 If you found this Christmas wreath lovely, you might also love these: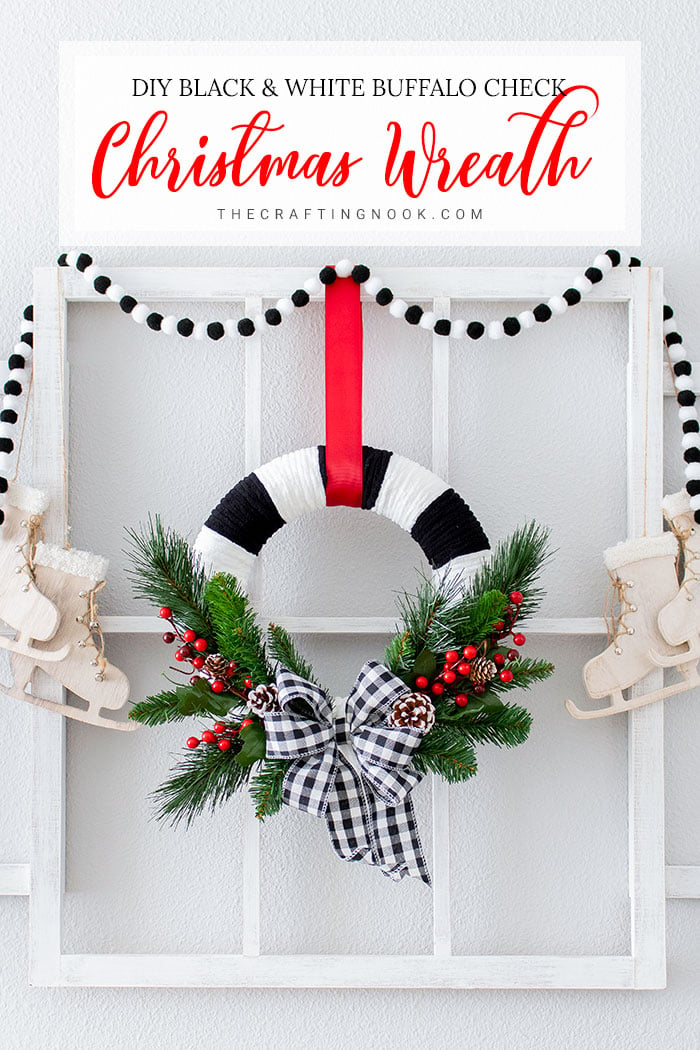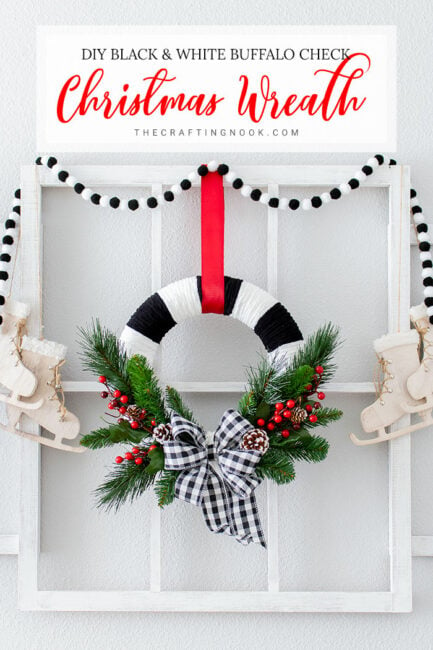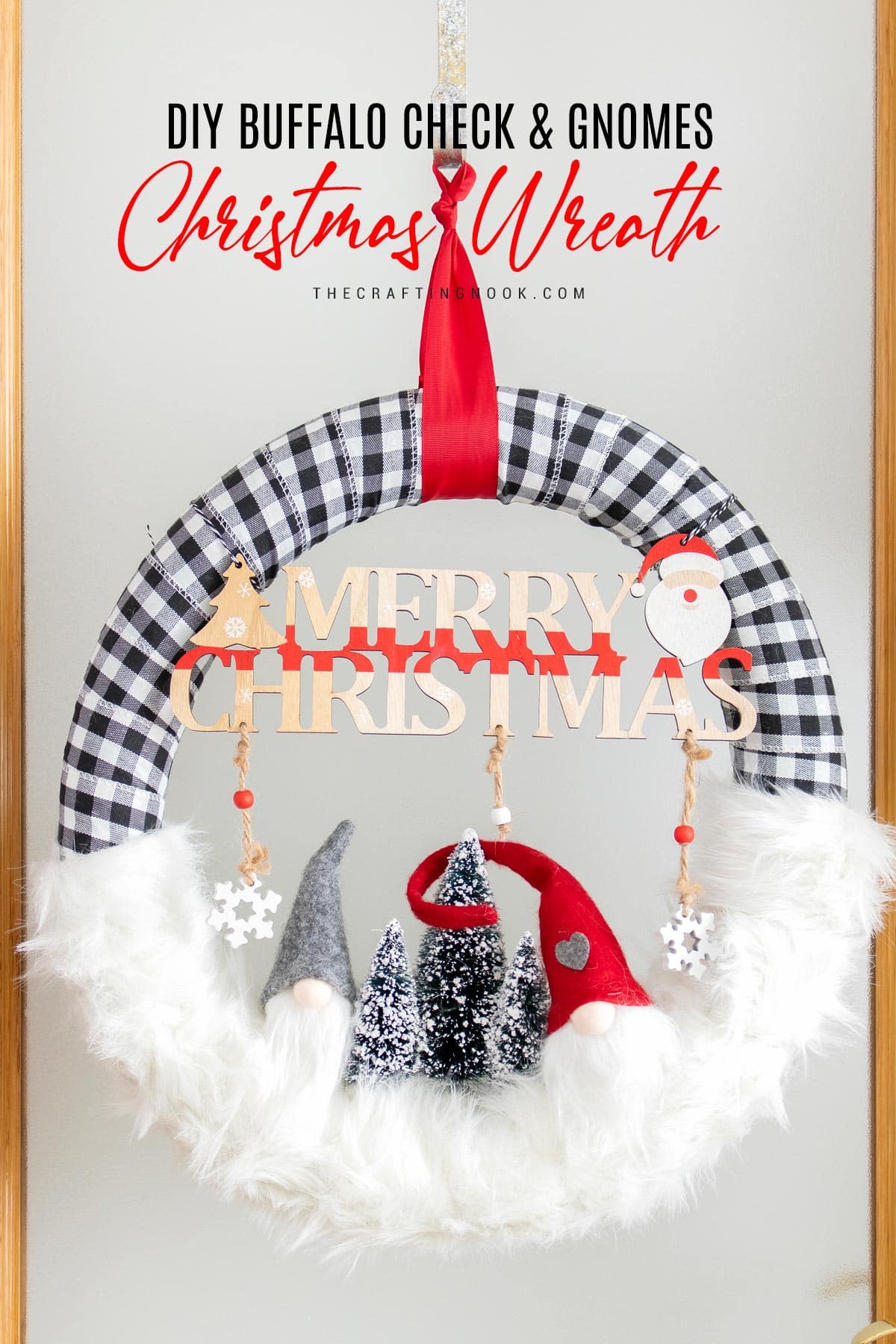 Til' next time...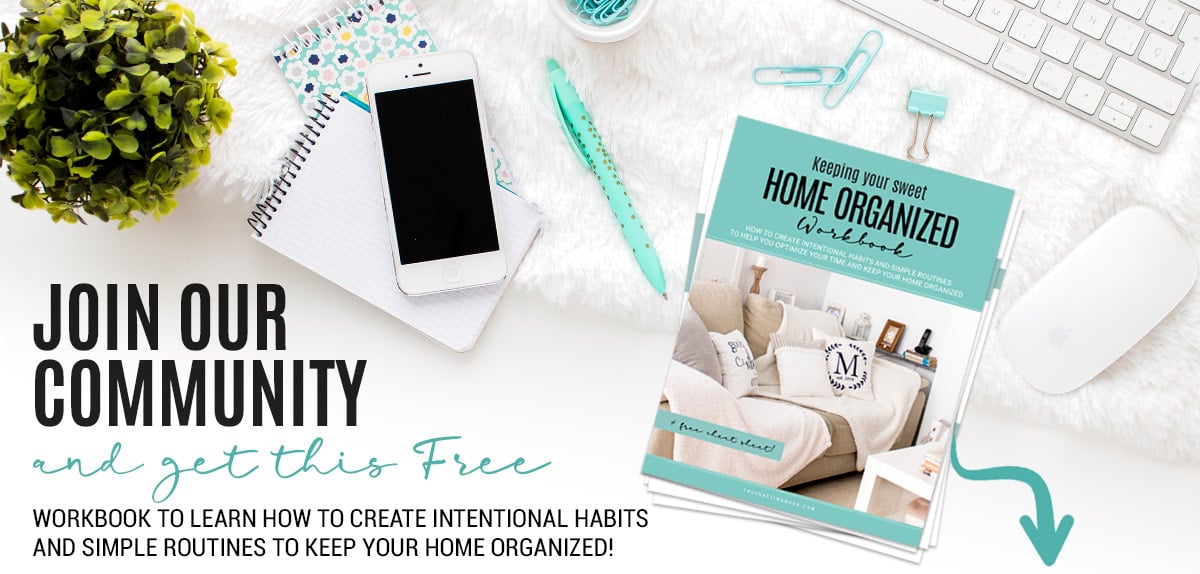 GET INSTANT ACCESS TO THE HOME ORGANIZED WORKBOOK
Plus freebies, printables, exclusive content, tips, stay connected, be the first to know great offers and Product Launches!
Disclaimer: By clicking on the "Yes, I want it" button above you are giving me your consent to collect and use your information according to the law and My Policy Privacy and The Cookie Policy. Zero Spam I promise!