DIY Distressed Wood Look with Dry Brush Painting Technique
A distressed wood finish can give a brand new look to a piece of furniture. This look can be achieved with a dry brush technique. Here I'll show you how to do it.
Distressed wood furniture is perfect for rooms decorated with a rustic, cottage, or farmhouse style. 
Distressed Technique is also perfect for flea market finds, thrown away pieces, or even those you might have kept from grandma around the house.
You might also love these other Woodworking ideas: DIY Limewashed look with Dry brush painting technique, DIY Easy Rustic TV Console Table, and DIY Rustic Wooden Headboard.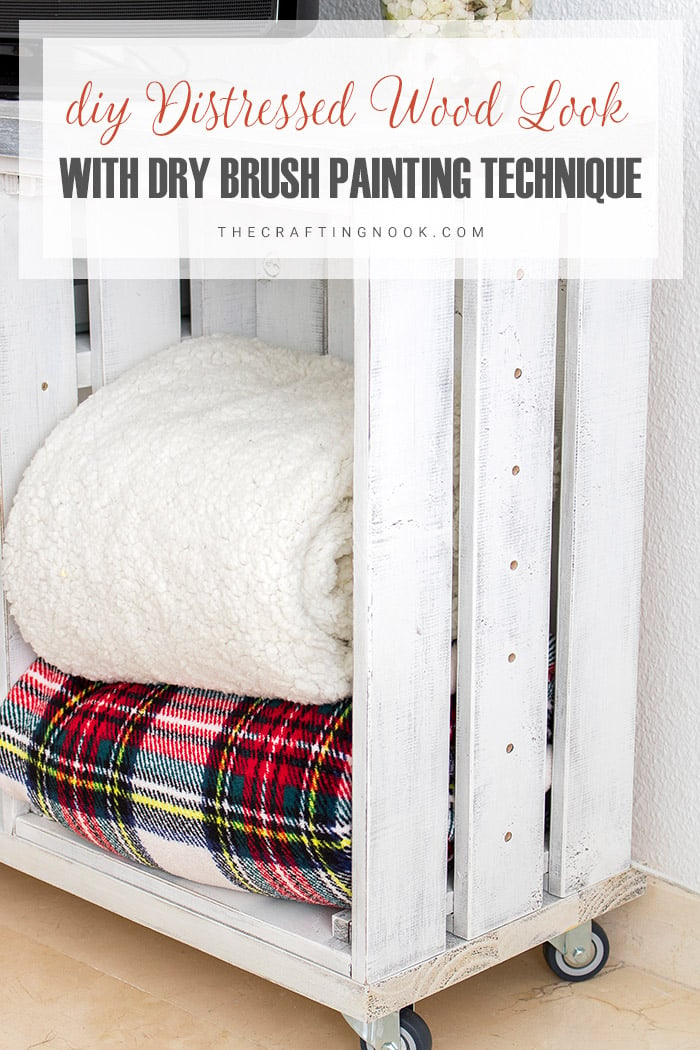 Create Distressed Wood Texture with Dry Brush Painting Technique
I don't know about you but there's something so irresistible about pieces of distressed furniture or chippy painted wood that stirs up our imagination and takes us to another time and place.
Distressed wood looks beautiful in so many styles of homes from farmhouse, shabby chic, and country, cottage to even industrial and modern.
The great thing about this wood painting technique is that If you can't find authentic reclaimed lumber for your project, you can use new materials and apply surface distressing techniques to simulate centuries of use and wear.
The best part?
Most of the time you won't need to spend a fortune since you can use normal paint, stain, and brushes. Also, the piece you might want to transform probably didn't cost much either.
I've started my wood addiction journey a couple of years ago and I've fallen in love with all the possibilities. By all means, I'm no expert but the experience I've had has have taken me to achieve pretty nice furniture pieces.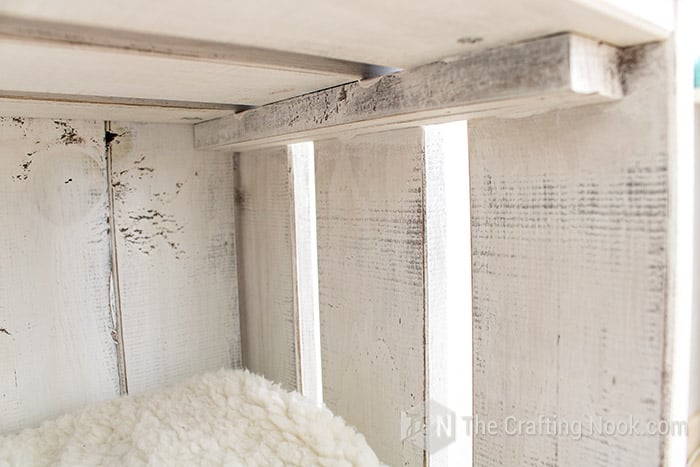 After I published my Rustic TV Console Table I got many questions about how I painted it. I thought the best way to explain was through a detailed tutorial and a video.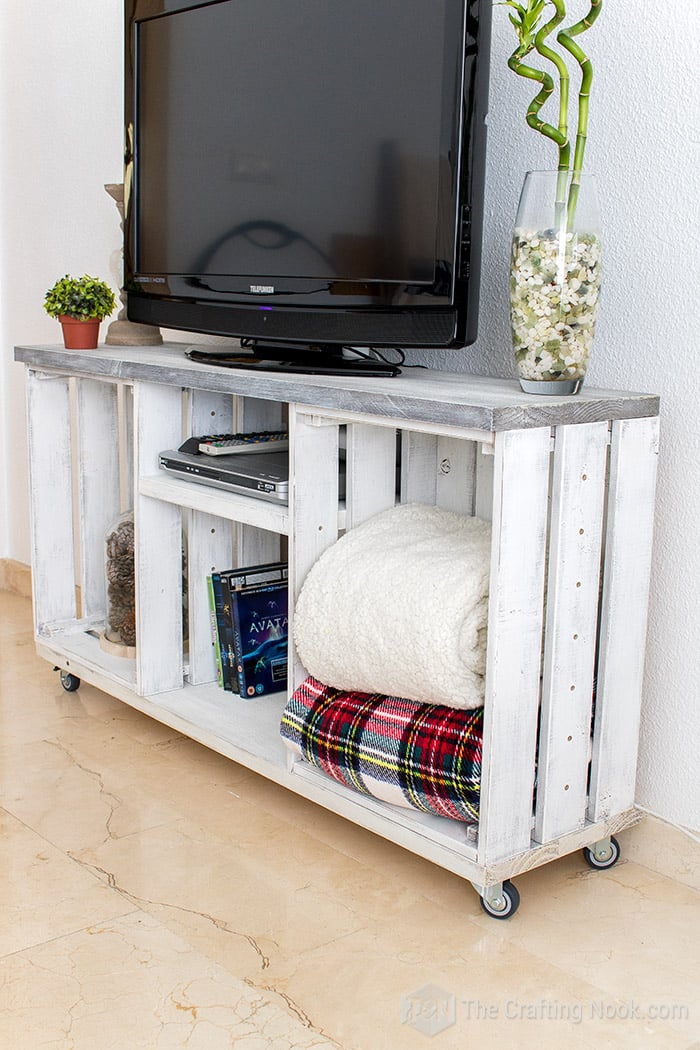 I used this technique for the bottom part of my tv console table and then simulated a Limewashed technique for the top part which you can find here.
Dry brushing furniture or any kind of wood piece is so much fun and in many ways even therapeutic. Although it might take up more time than just regular painting with a roller or spray paint, it just relieves stress and makes a pretty darn gorgeous result.
So let's explain a few details here first before moving on.
What does distressed wood mean?
Distressing (or weathered look) in the decorative arts is the activity of making a new piece of furniture or object appear aged, worn, and older, giving it a "weathered look", and there are many methods to produce an appearance of age and wear.
What is Dry Brushing?
The dry brushing painting technique is a coloring technique used to finish any surface in an uneven way that creates irregularity associated with aged materials.
I've used it in so many different craft projects. Clay painting is one of them and, of course, wood which is my favorite medium.
What I like the most about dry brushing is that, even though it takes time, you have control over how much you cover your piece. As you go applying coats, you get exactly the finish you want.
In my opinion, the most important factor of why dry brush painting is used is to make the painted surface "pop" with depth.
What type of paint do I need?
Well, What I've learned is that quality matters. So whatever you choose make sure it's good quality.
Then I've seen that latex and acrylic paint do really well. However, I use special furniture paint because it combines everything I need, durability, varnish, etc, although I still use a wood spray matte varnish to finish.
Chalk paint is not really as good as acrylic or latex for a dry brush effect because of the nature of the paint mix, however, you can create a gorgeous distressed wood look just not with a dry brush technique.
In this tutorial, I'll show you how I created a distressed wood look applying the dry brush painting technique to a wood board and a crate I used for my TV Console Table.
So, let's get started.
How to create Distressed Wood Look with Dry Brush Painting Technique
Distressed wood supplies:
Wood board.
Dark wood stain (I used walnut)
Cotton white latex paint
Chip Brush.
Plastic or paper plate
Paper
Sandpaper
Steel Wool (grade 2)
Gloves
Brass-bristle scrub brush
Piece of cloth
Spray Mate Clear Varnish
safety glasses.
Instructions:
I made this video tutorial for you on my painting process. If you are more of a step-by-step written detailed tutorial, just scroll down a little bit and keep reading.
Before we begin, be sure to follow us on Pinterest, Facebook, Instagram, and YouTube, and also sign up for our email list (at the end of this post), so you'll never miss a post!
Prep work
Firstly, let's avoid splinters from getting into our fingers. Sand all the edges. Only the edges because we don't want the surface of our board to get too soft.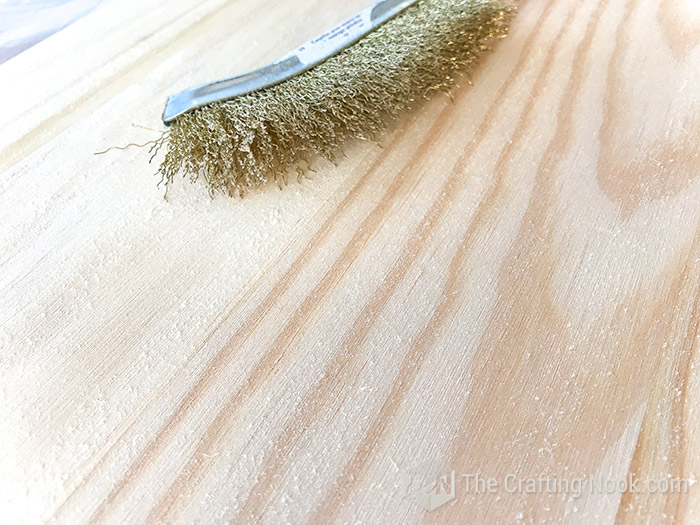 Once the edges are done, let's enhance the whitening effects of dry brushing by opening the wood pores with the brass-bristle scrub brush before applying it.
Work the brush along the wood grain to avoid unsightly cross-grain scratches, and clean the dust off thoroughly before applying the wood stain.
Clean each piece well to remove dust.
Staining the wood
Stain your wood pieces with the base color of your choice. In my case, I used walnut.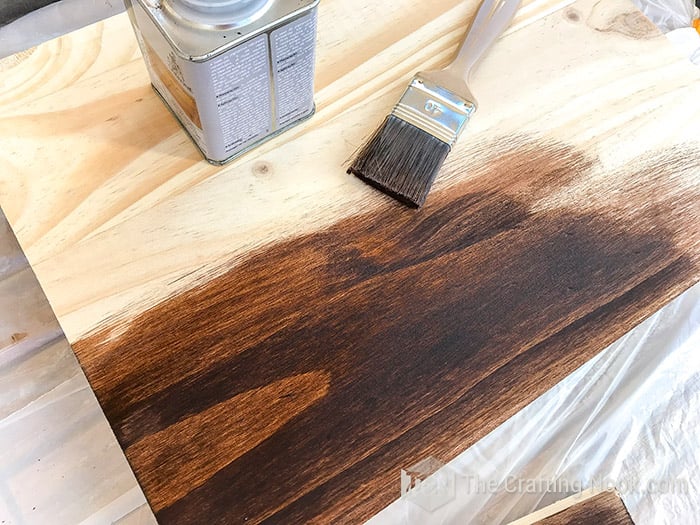 I like to rub a piece of cloth so the wood sucks the stain up more easily.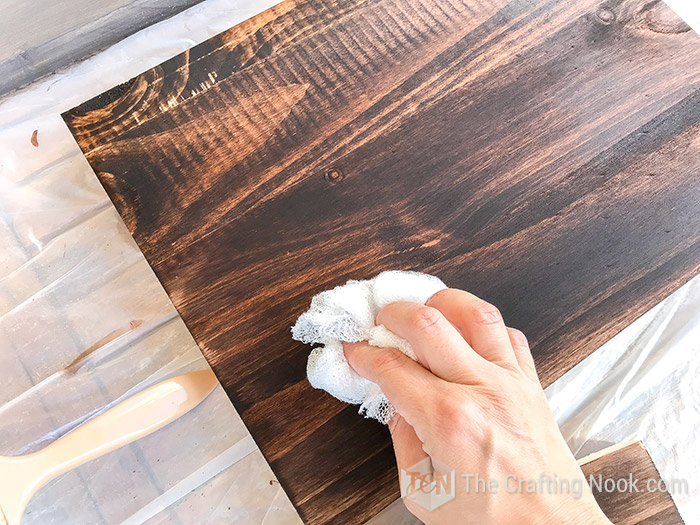 The best way to do this is by staining by sections until I cover the entire piece. That way you avoid weird overlaps in the shades of the stain.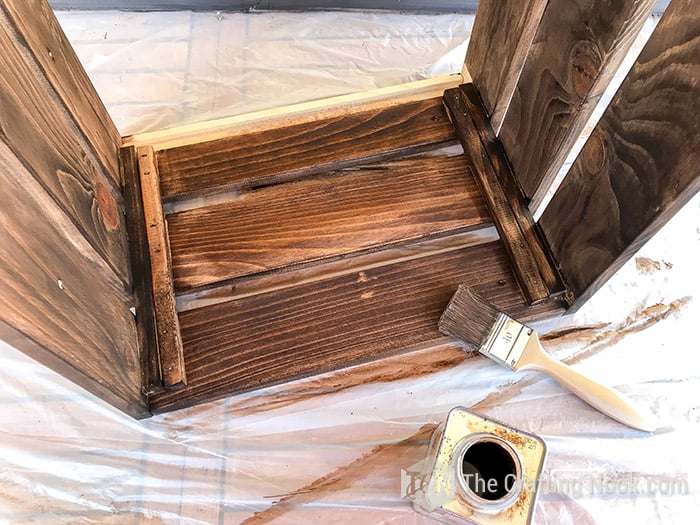 Let it dry overnight.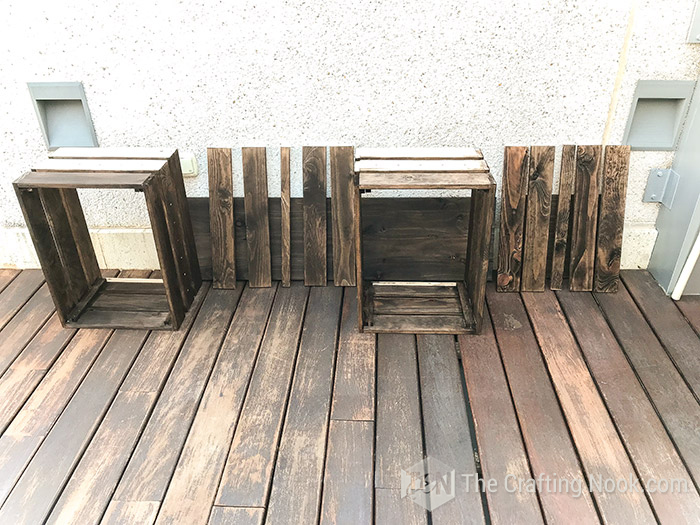 Applying Dry brushing technique
Then dribble a mall amount of paint on the plastic or paper plate.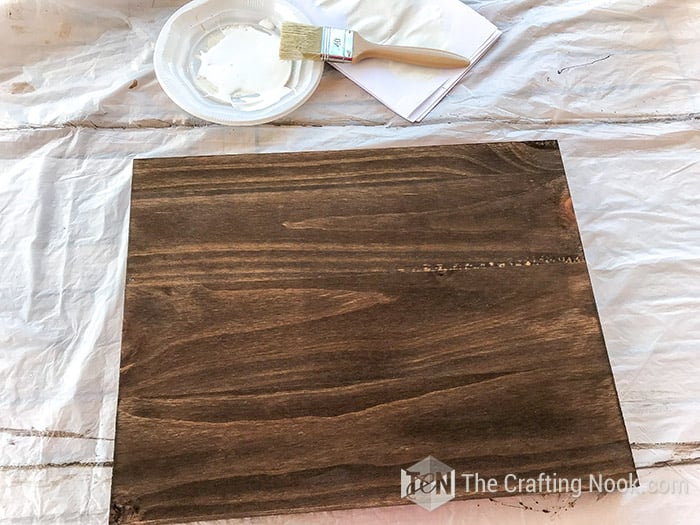 Then very gently dab the tip of your dry paintbrush into the paint and dabbed it on a piece of dry paper or paper towel to remove excess paint.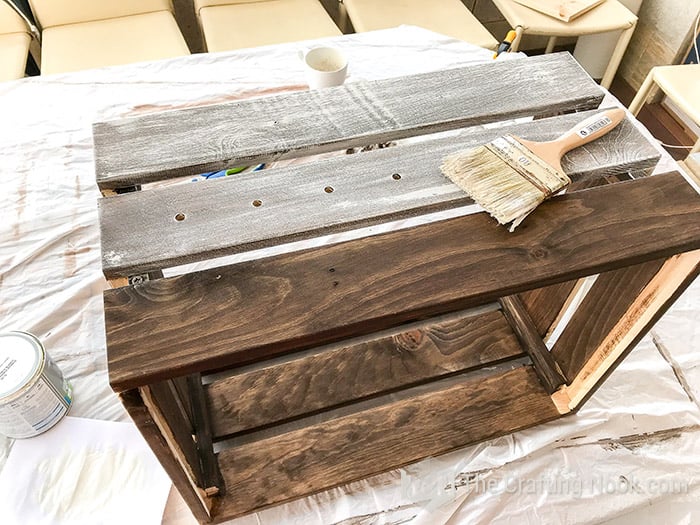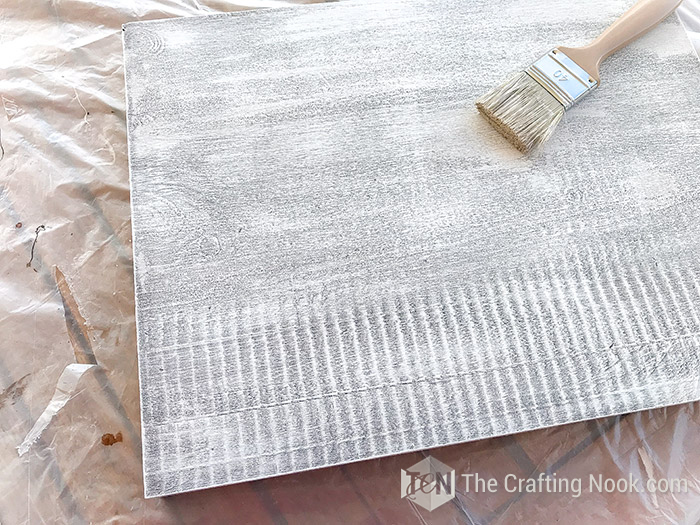 You want to use just a small amount of paint to keep the tip of your paintbrush "almost dry" and not oversaturated with paint, so I suggest starting off with just a tiny bit of paint and adding more as you get comfortable with the technique.
The secret to dry brush painting is to apply the paint with the very tip of your brush. You will notice the painting going up on the bristles but that's normal as you keep brushing.
Use short, quick brush strokes in both directions (along the wood grain and across them) to give it a textured and accent the wood lines.
The key to getting an ideal dry brush effect is by using light pressure to go over the contour of the wooden furniture
There's no right or wrong way to dry brush; so get creative with your painting, you might discover looks you didn't even know you could love!
I kept brush stroking in layers until I got the coverage I was looking for.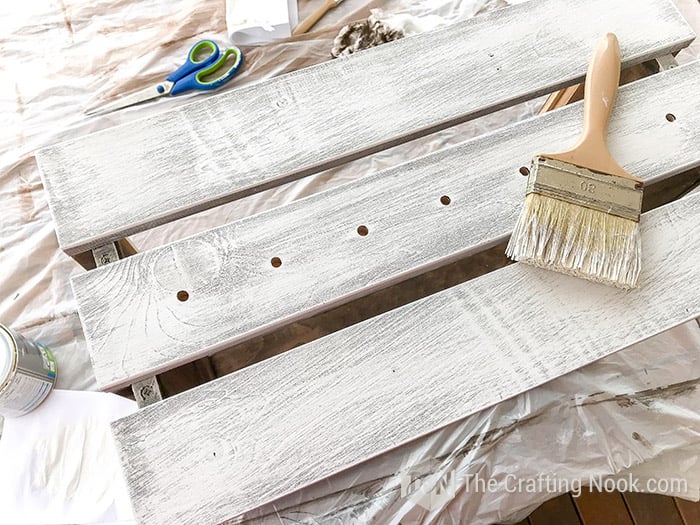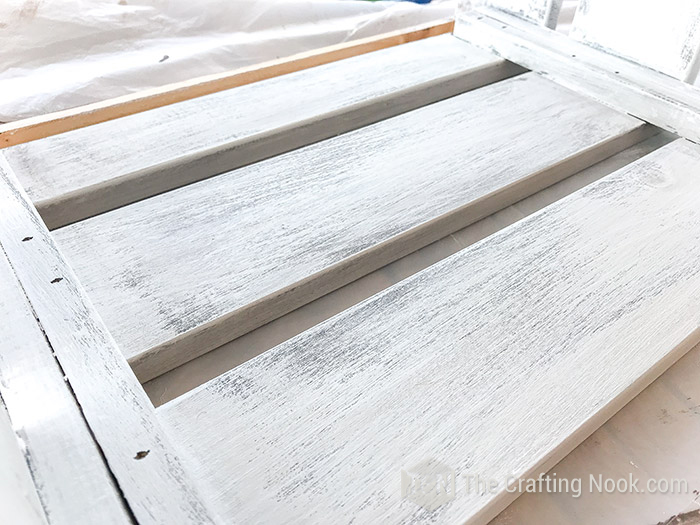 The thing about this technique is that you already get a distressed look without even sanding yet. At the same time, you are leaving your wood grand visible; which in my opinion is what makes the wood look weathered.
So, keep brush stroking until you get the finish you love.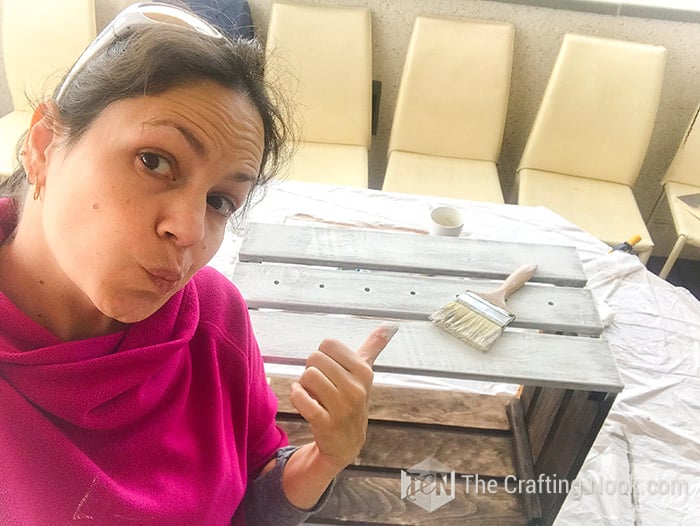 Let it dry once finished at least 2 to 3 hours (overnight is best).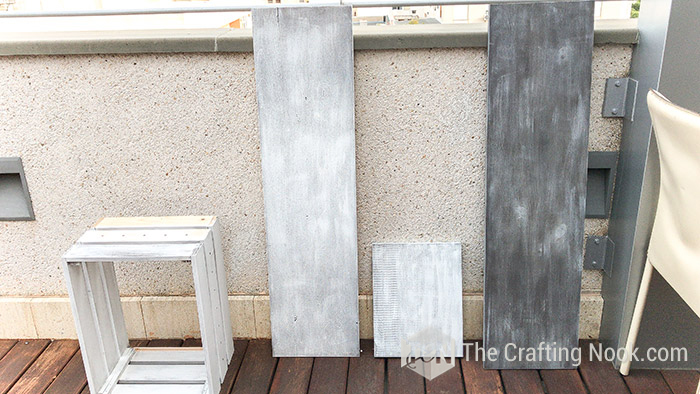 Finishing up the Distressed wood look
Finally, when your piece is completely dry, sand your pieces.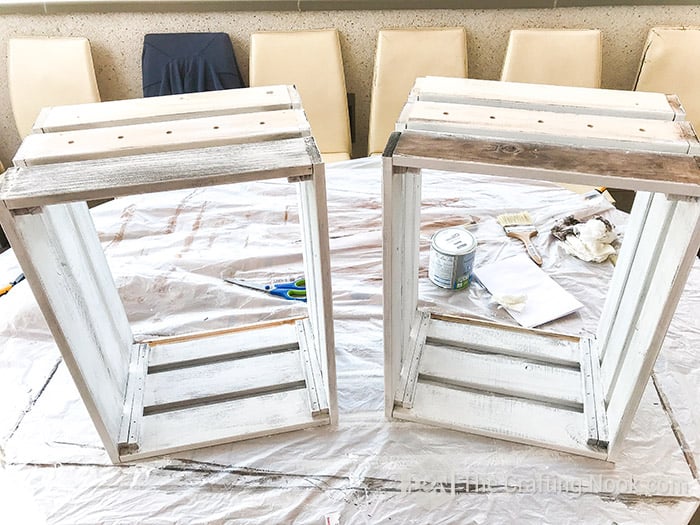 What I did was:
First, I sanded with steel wool harshly all over the piece. You definitely want to use gloves and safety glasses here.
Then I used sandpaper to distress edges and imperfections.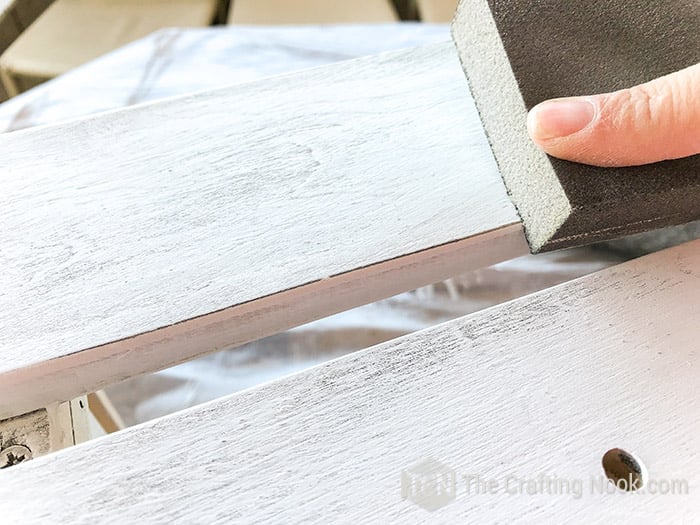 Once you are happy with the distressing grade, clean your pieces to remove dust.
Spray your clear matte varnish to protect and finish your masterpiece.
Why spray?
Because if you use a brush, the applied dry brushed paint will start blending. Even though it looks pretty too, it's not the final finish you are looking for in this case.
Let it dry and you are done!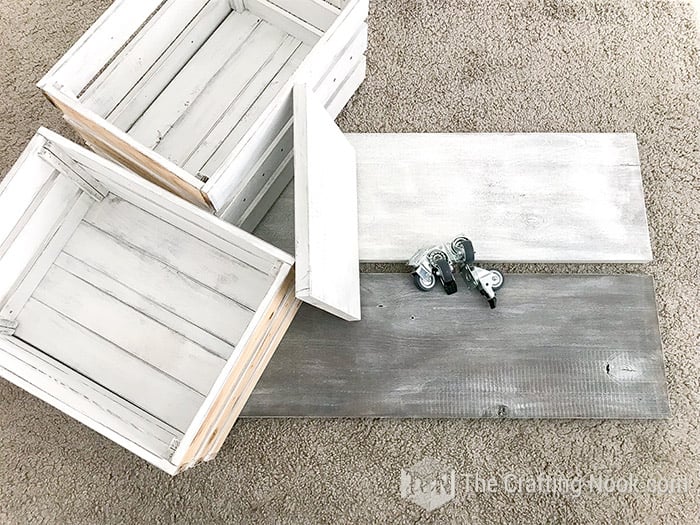 Your distress look effect is ready to rock!
Isn't it super easy and looks amazing?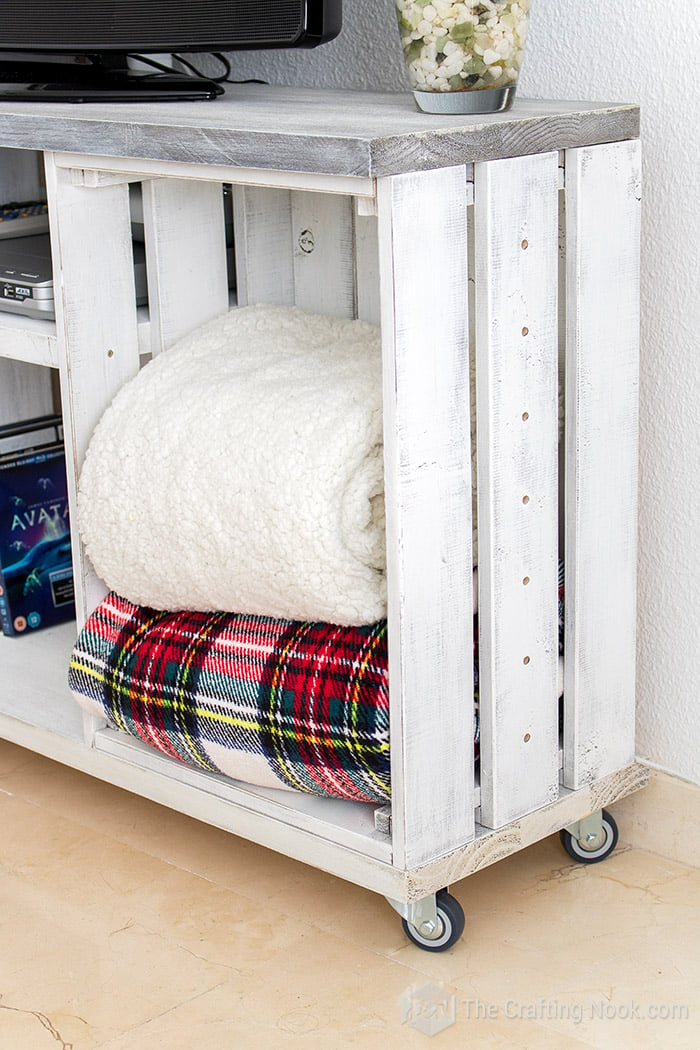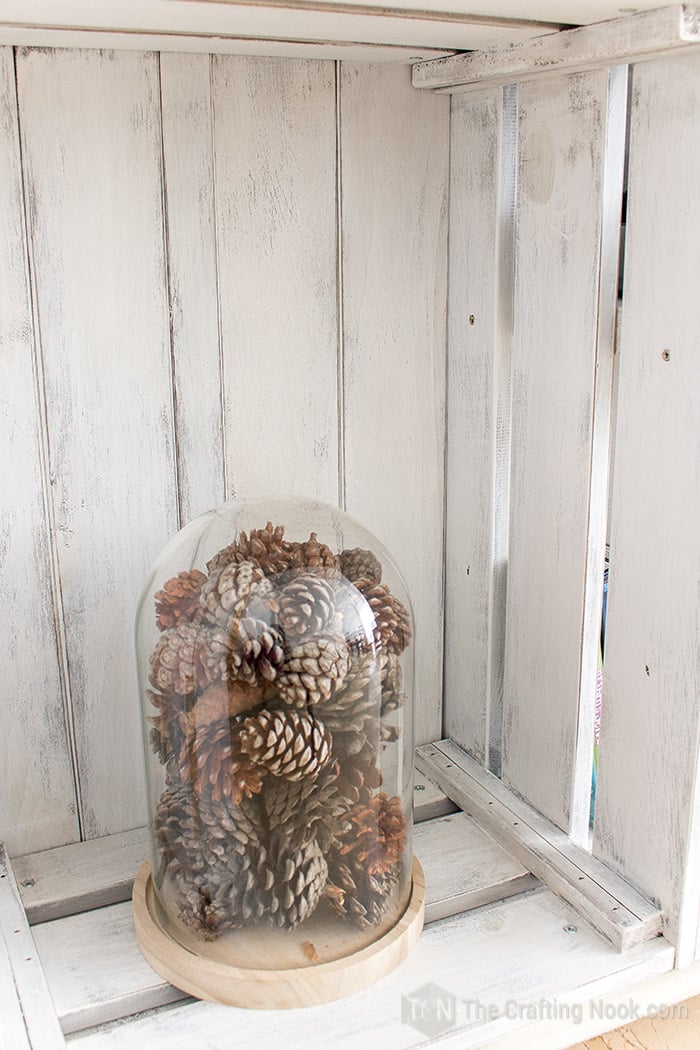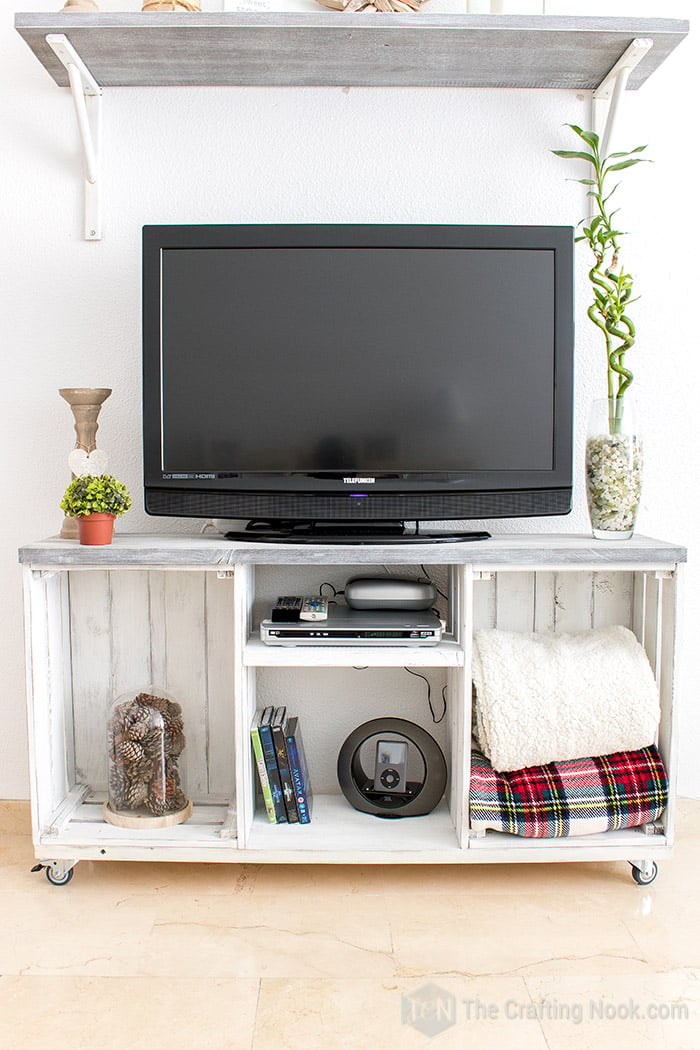 Now, it's your time to get creative and bring your crafty and creative side to use!
Other Wood Painting Techniques from my favorite bloggers:
Hope you enjoyed this tutorial and if you did don't forget to PIN and share with friends!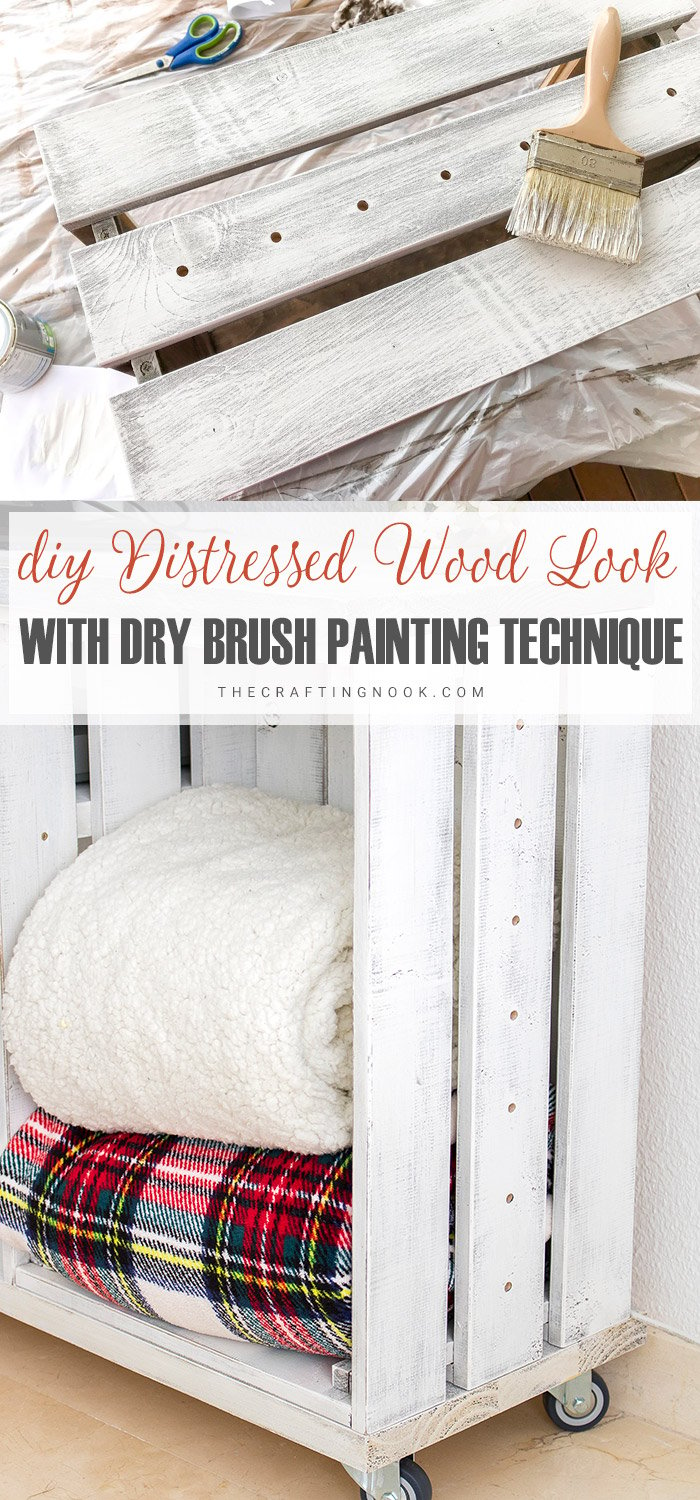 If you liked this tutorial, you might also love these too:
Til' next time...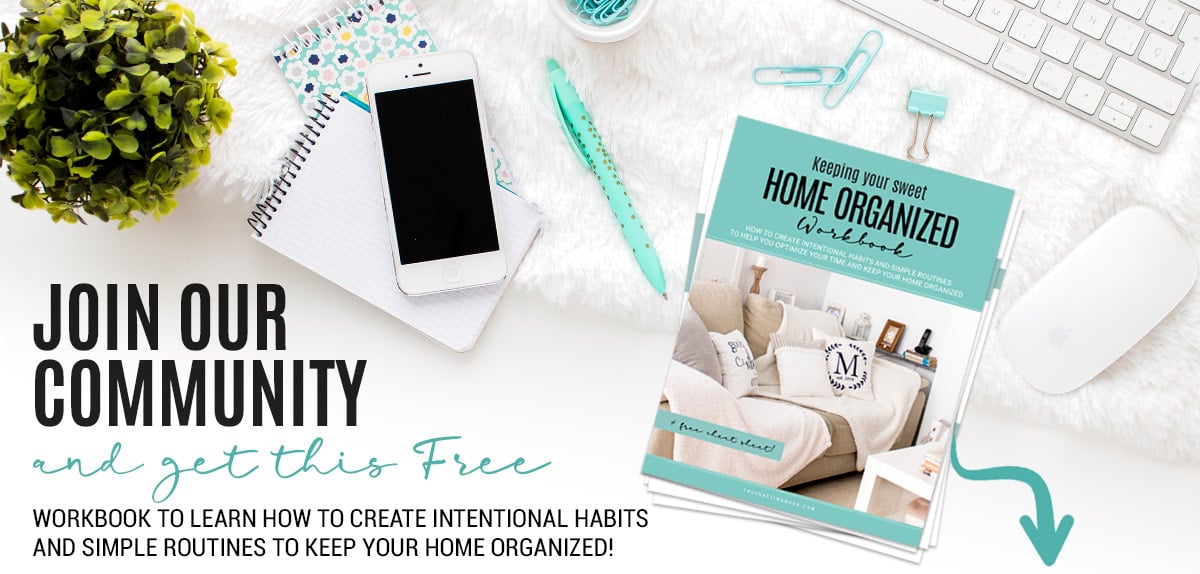 GET INSTANT ACCESS TO THE WORKBOOK
Plus freebies, printables, exclusive content, tips, stay connected, be the first to know great offers and Product Launches!
Disclaimer: By clicking on the "Yes, I want it" button above you are giving me your consent to collect and use your information according to the law and My Policy Privacy and The Cookie Policy. Zero Spam I promise!