Distressed wood furniture is perfect for rooms decorated with a rustic, cottage or farmhouse style. Distressed Technique is also perfect for flea market finds, thrown away pieces or even those you might have kept from grandma around the house.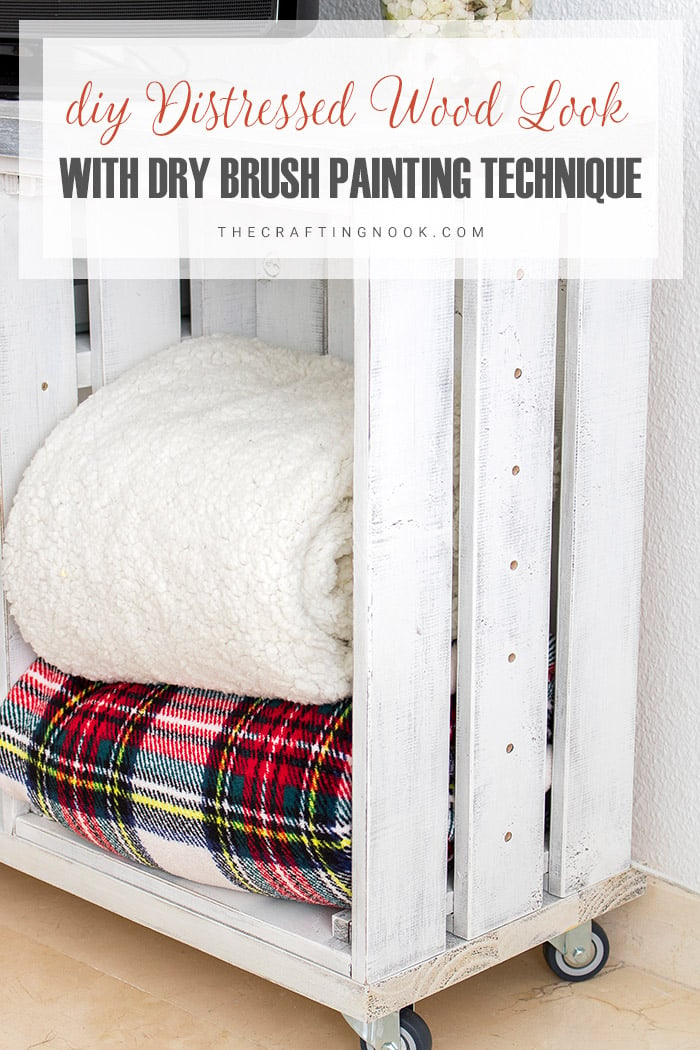 Create Distressed Wood Look with Dry Brush Painting Technique
I don't know about you but there's something so irresistible about pieces of distressed furniture or chippy painted wood that stirs up our imagination and takes us to another time and place.
Distressed wood looks beautiful in so many styles of homes from farmhouse, shabby chic, and country, cottage to even industrial and modern.
The great thing about this wood painting technique is that If you can't find authentic reclaimed lumber for your project, you can use new materials and apply surface distressing techniques to simulate centuries of use and wear.
The best part?
Most of the times you won't need to spend a fortune since you can use normal paint, stain, and brushes. Also, the piece you might want to transform probably didn't cost much either.
I've started my wood addiction journey a couple of years ago and I've fallen in love with all the possibilities. By all means, I'm no expert but the experience I've had have taken me to achieve pretty nice furniture pieces.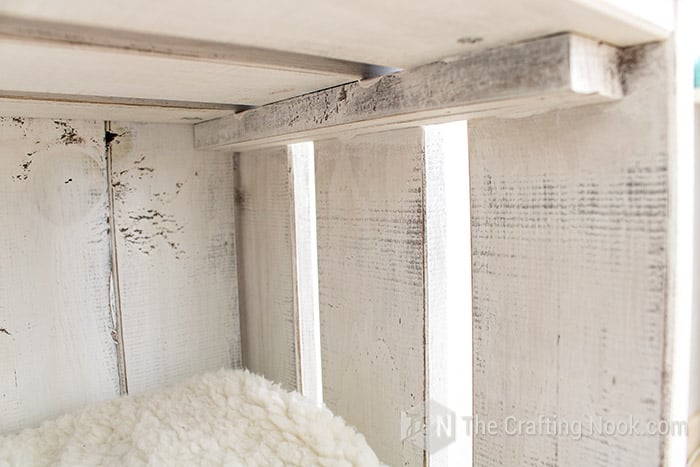 After I published my Rustic TV Console Table I got many questions about how I painted it. I thought the best way to explain was through a detailed tutorial and a video.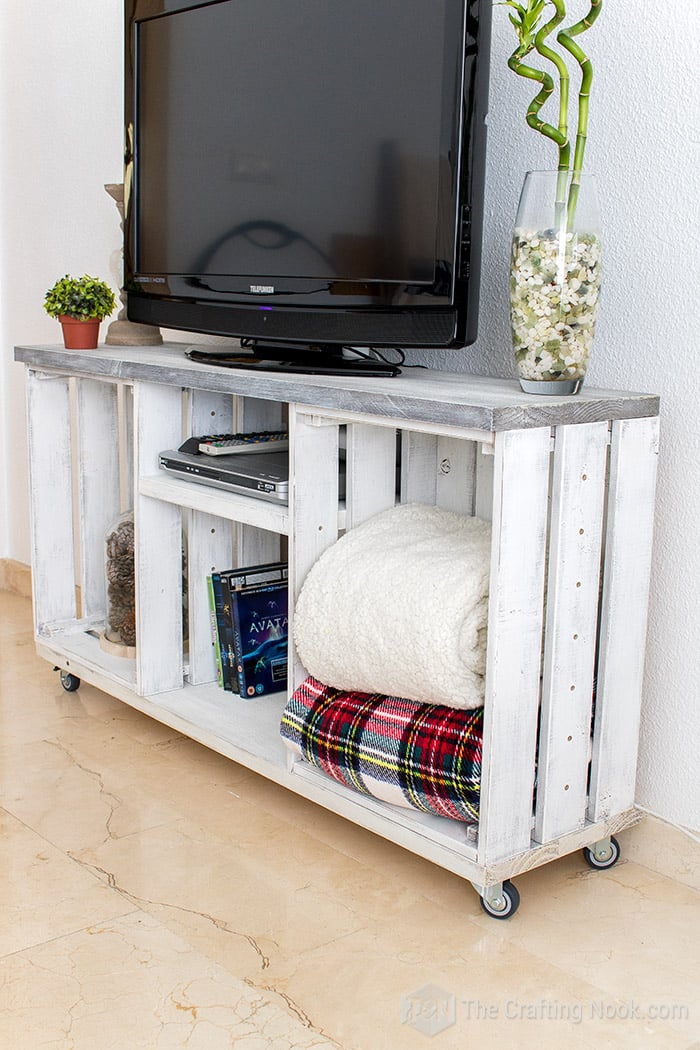 I used this technique for the bottom part of my tv console table and then simulated a Limewashed technique for the top part which you can find here.
So let's explain a few details here first before moving on.
What does distressed wood mean?
Distressing (or weathered look) in the decorative arts is the activity of making a new piece of furniture or object appear aged, worn and older, giving it a "weathered look", and there are many methods to produce an appearance of age and wear.
What is Dry Brushing?
The dry brushing painting technique is a coloring technique used to finish any surface in an uneven way that creates irregularity associated with aged materials.
I've used it in so many different craft projects. Clay painting is one of them and the, of course, wood which is my favorite medium.
What I like the most about dry brushing is that, even though it takes time, you have control over how much you cover your piece. As you go applying coats, you get exactly the finish you want.
In this tutorial, I'll show you how I created distressed wood look applying dry brush painting technique to a wood board and a crate I used for my TV Console Table.
So, let's get started.
Distressed wood supplies:
Wood board.
Dark wood stain (I used walnut)
Cotton white latex paint
Brush.
Plastic or paper plate
Paper
Sandpaper
Steel Wool (grade 2)
Gloves
Brass-bristle scrub brush
Piece of cloth
Spray Mate Clear Varnish
safety glasses.
How to create Distressed Wood Look with Dry Brush Painting Technique
I made this video tutorial for you of my painting process. If you are more of a step-by-step written detailed tutorial, just scroll down a little bit and keep reading.
Firstly, let's avoid splinters from getting into our fingers. Sand all the edges. Only the edges because we don't want the surface of our board to get too soft.
Once the edges are done, let's enhance the whitening effects of dry brushing by opening the wood pores with the brass-bristle scrub brush before applying it.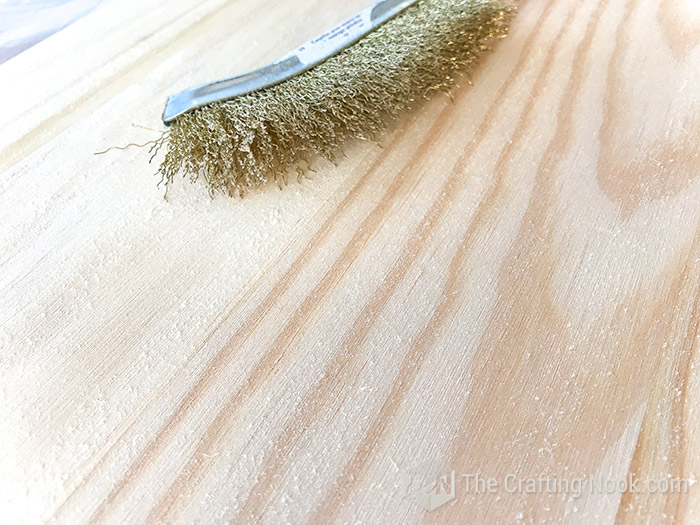 Work the brush along the wood grain to avoid unsightly cross-grain scratches, and clean the dust off thoroughly before applying the wood stain.
Stain your wood board and let it dry overnight.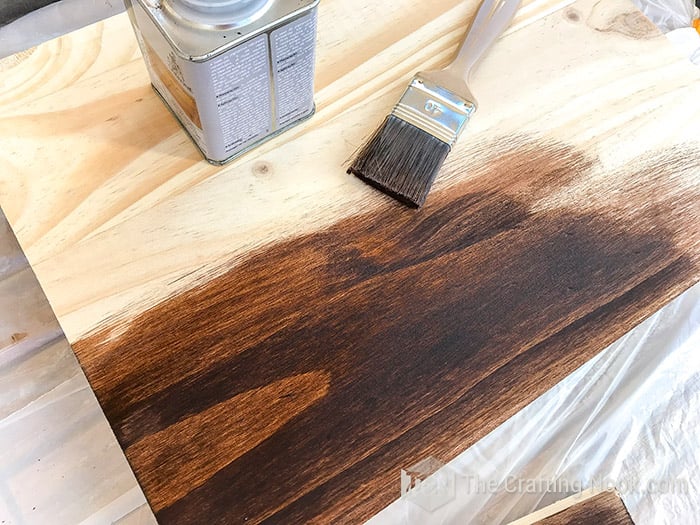 I like to rub a piece of cloth so the wood suck the stain up more easily.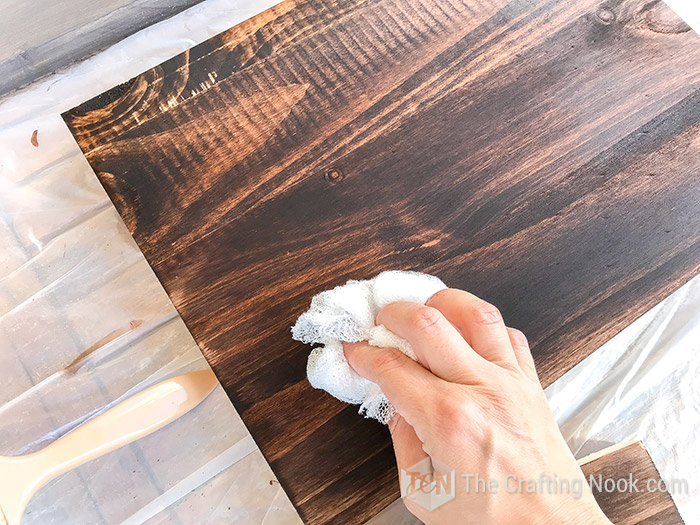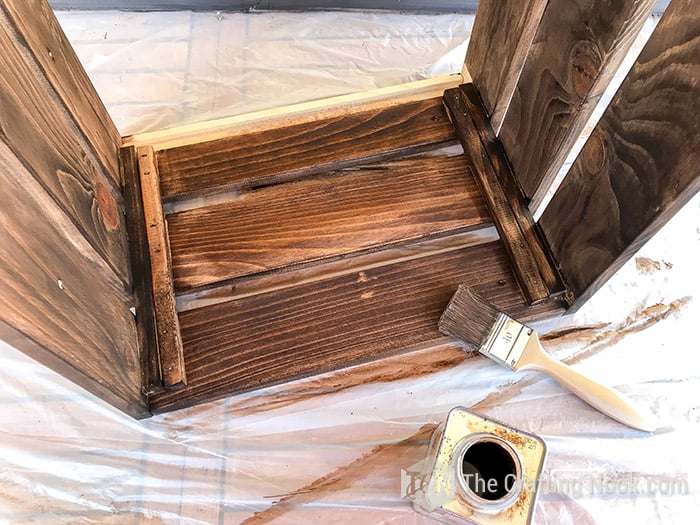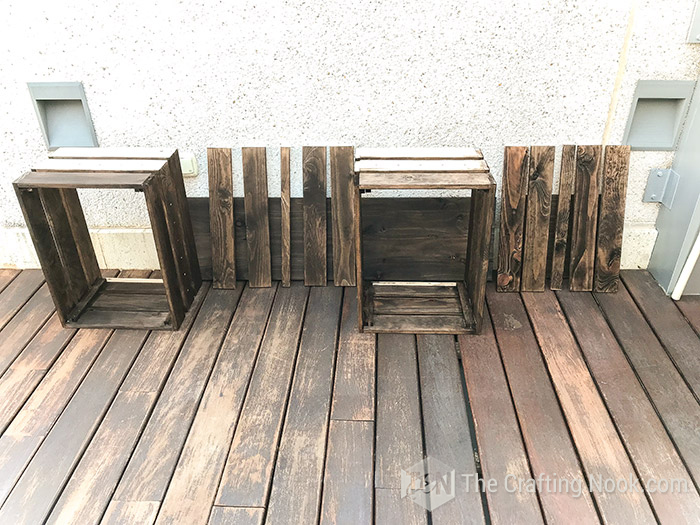 Then dribble a mall amount of paint on the plastic or paper plate.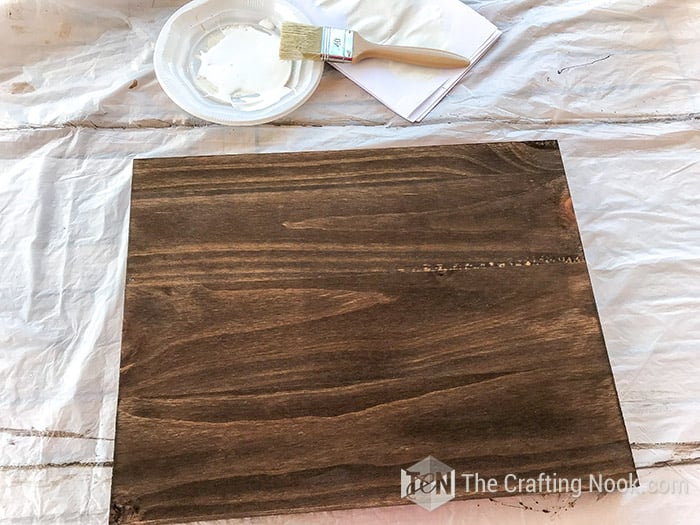 Then very gently dab the tip of your dry paintbrush into the paint and dabbed it on a piece f paper or paper towel to remove excess paint.