DIY Easy and Cute Leather cord and knots Owl Necklace
This Cute Leather and knots Owl Necklace is the easiest handmade jewelry you will ever make. Just a few supplies and your imagination. Learn how!
Have I mentioned that I LOOOOOOVE Owls? hahaha! Well… Here I made a Leather cord and knots owl necklace, super easy to make, cute and very crafty.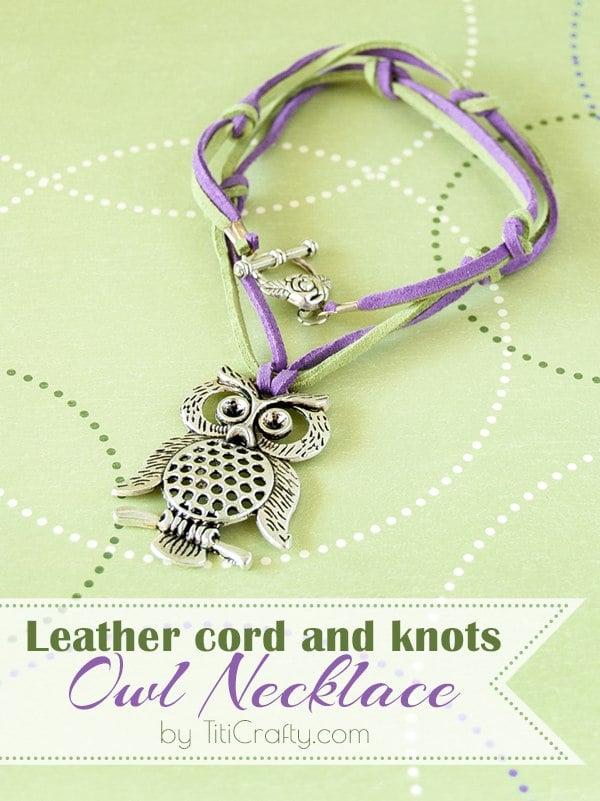 How to make this Leather cord and knots Owl Necklace
Last week I was shopping for some craft supplies and I saw this cute owl pendant, I couldn't help it and I bought it (thankfully it was very cheap). I also found some lovely leather cords and other nice jewelry accessories so I run back home super excited to start my new craft!
Here is how I made it:
Owl Necklace Supplies:
Leather cords
Owl Charm or your favorite one.
Jump rings (3-5mm)
Jewelry pliers
Fold-over cord crimps (that matches your cord thickness)
Clasp
Scissors
I used 2 colors, which means 2 cords. I used green and violet.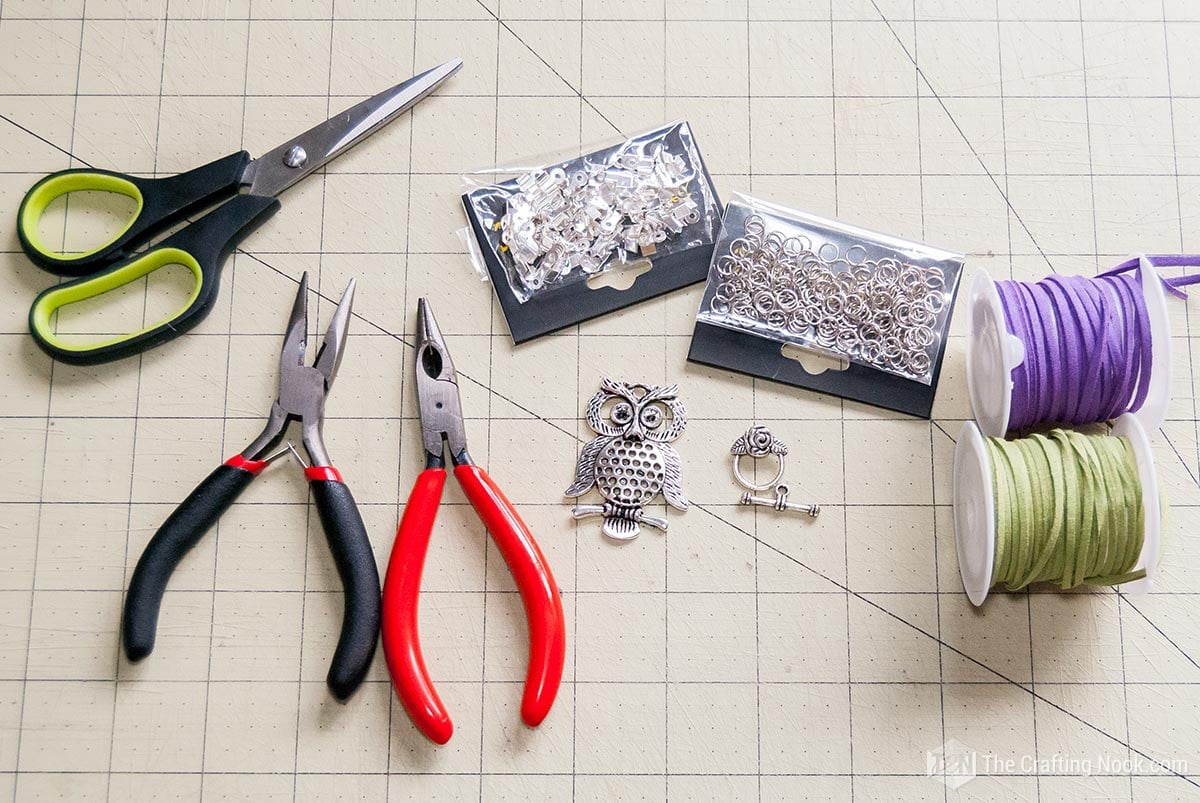 I cut them to equal size, long enough that when the knots are made, the necklace is still on the wished length.
It's always better to have leftovers.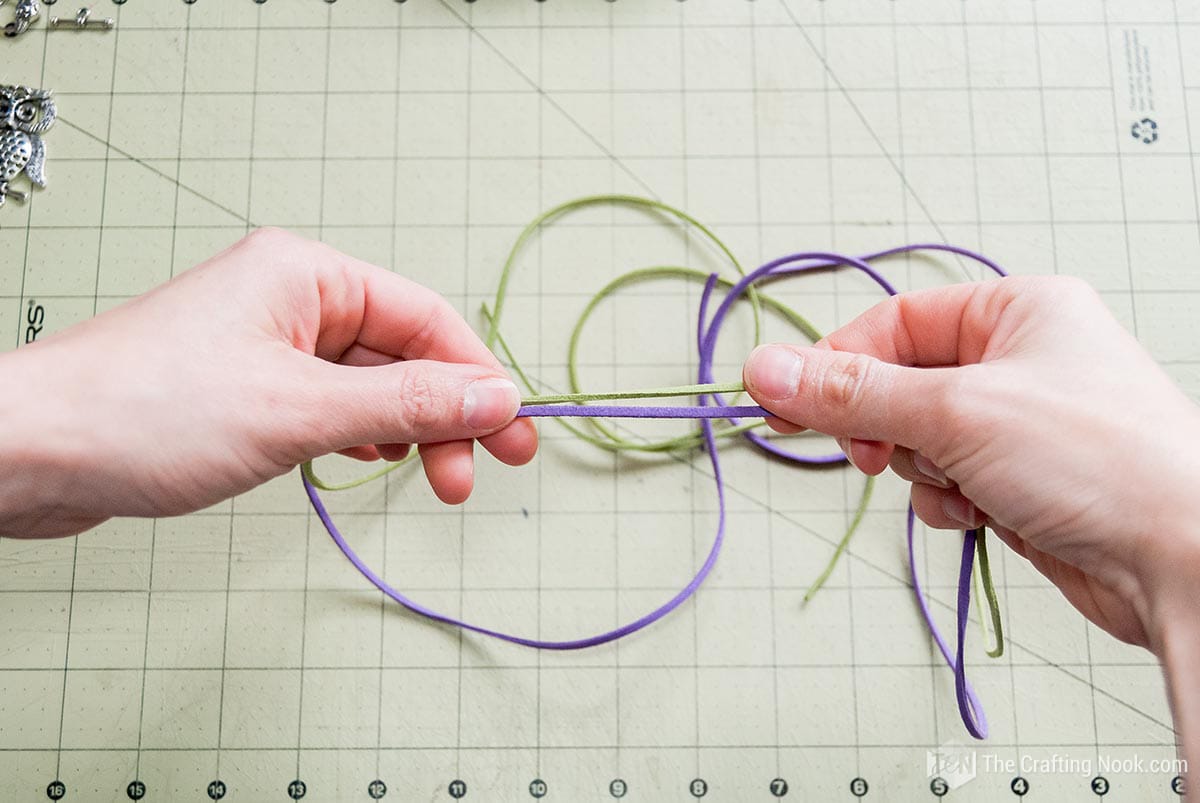 Since the hanging hole is too small, I used just one of the cords to attach the pendant. I took the violet one and I fold it in half.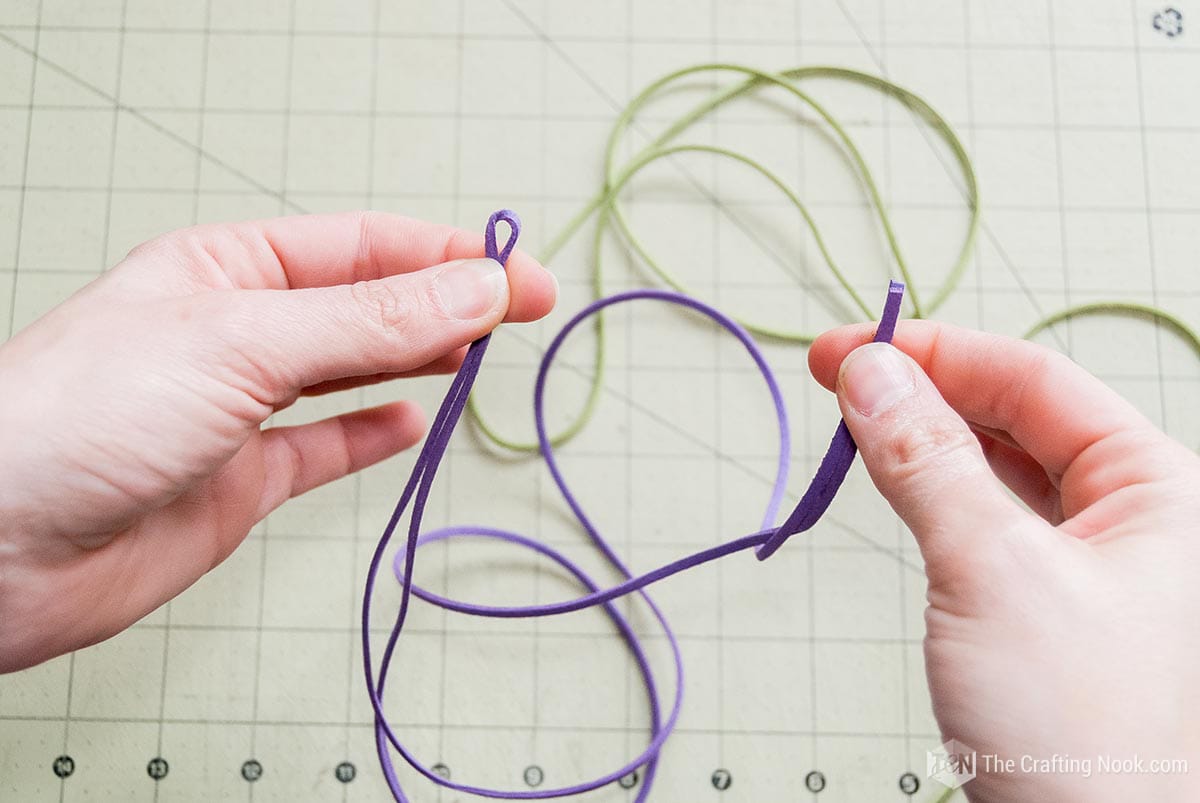 I inserted the folded end through the hole, from the back to the front.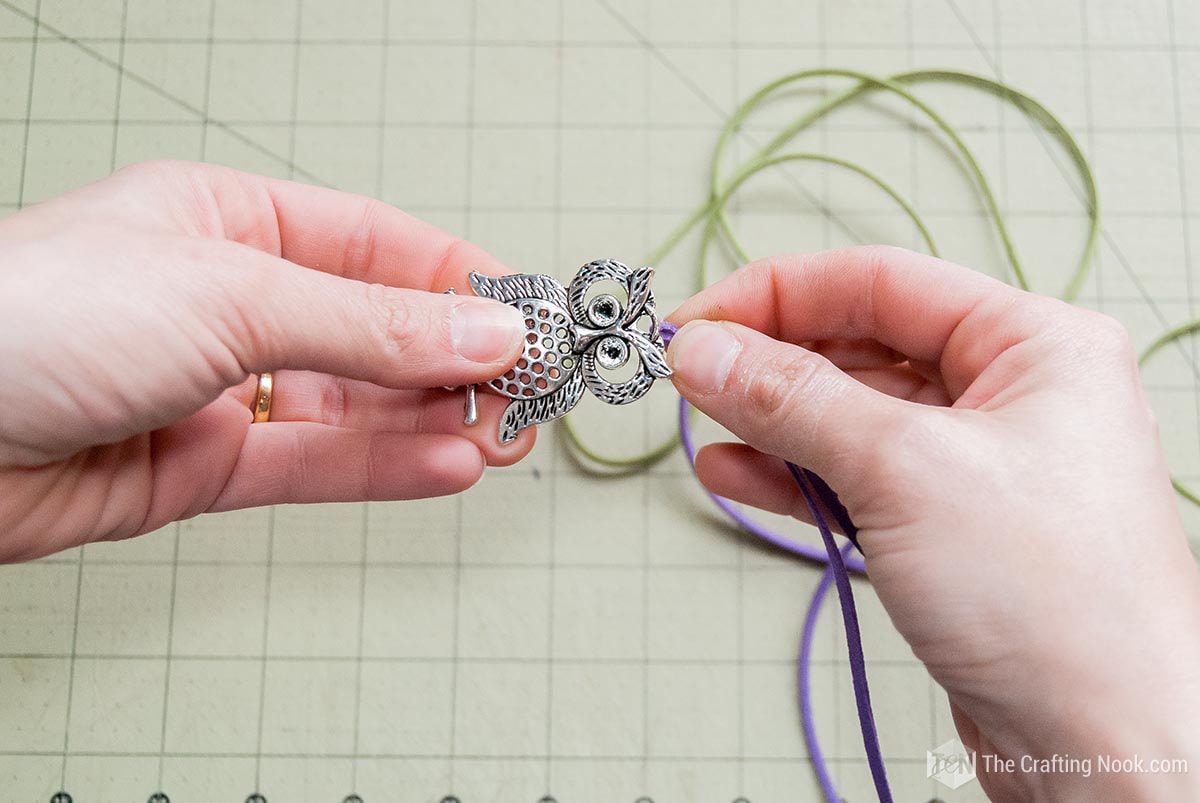 When it was out, I left a few centimeters, I inserted the other end (both cords) through the folded end and pulled all the cord leaving a little space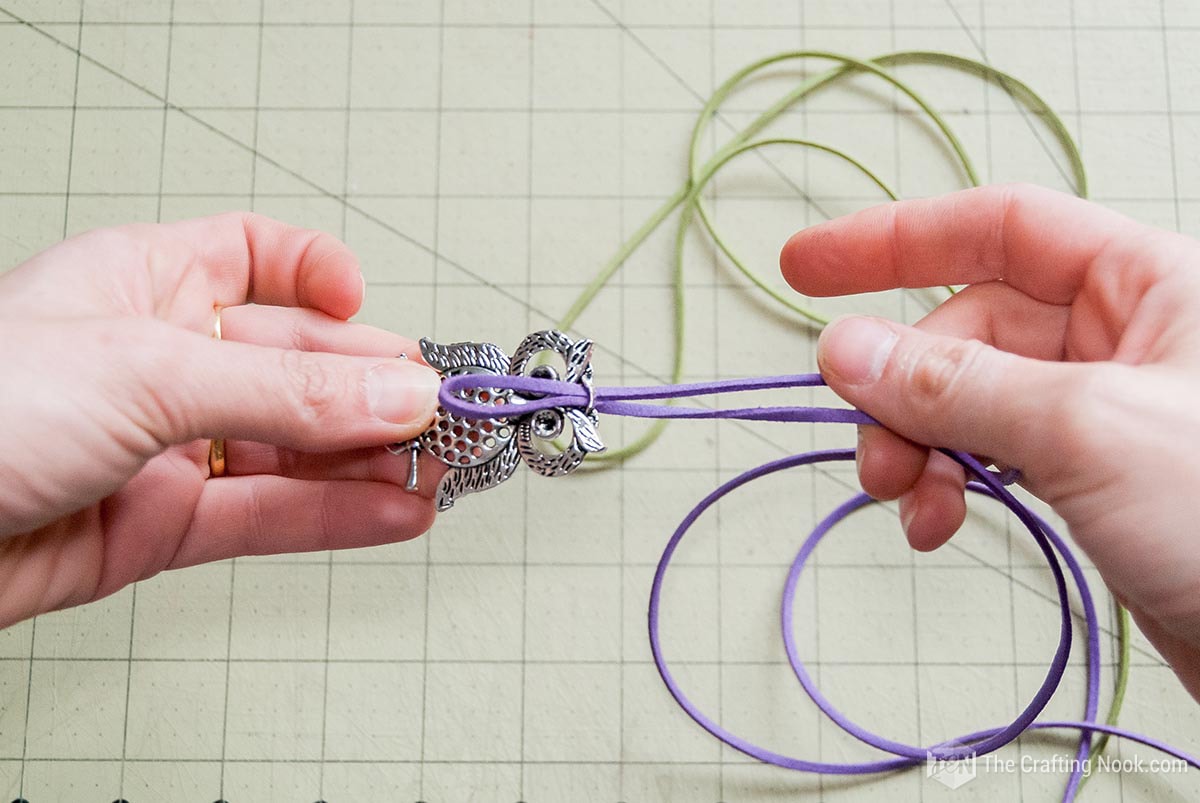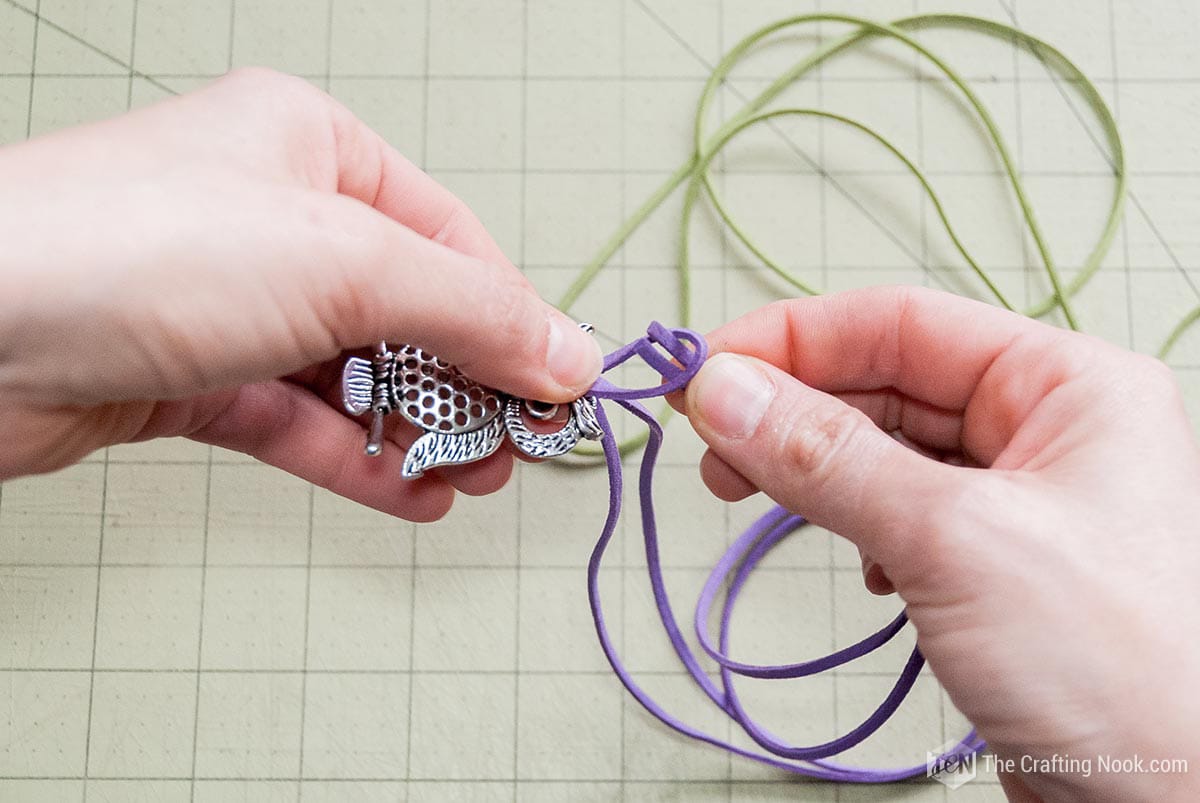 Through that space, I inserted the green cord halfway.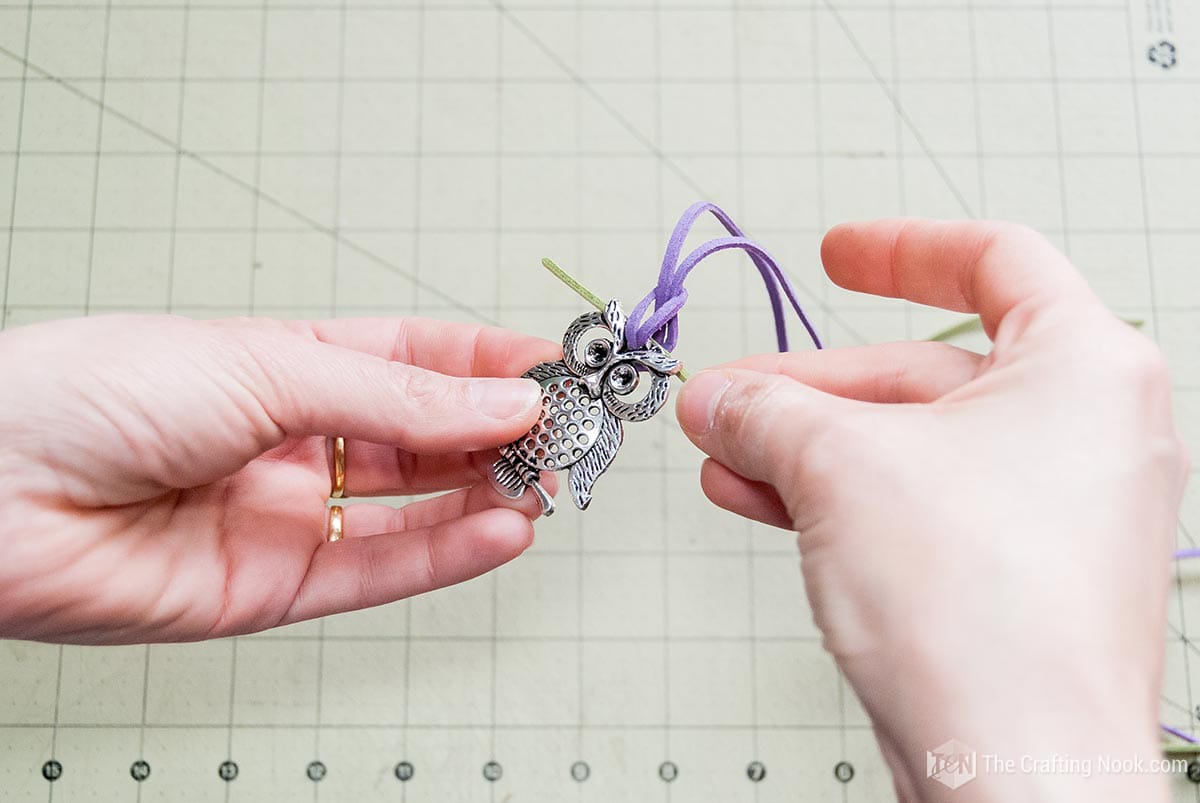 I tightened the violet cord to the green one.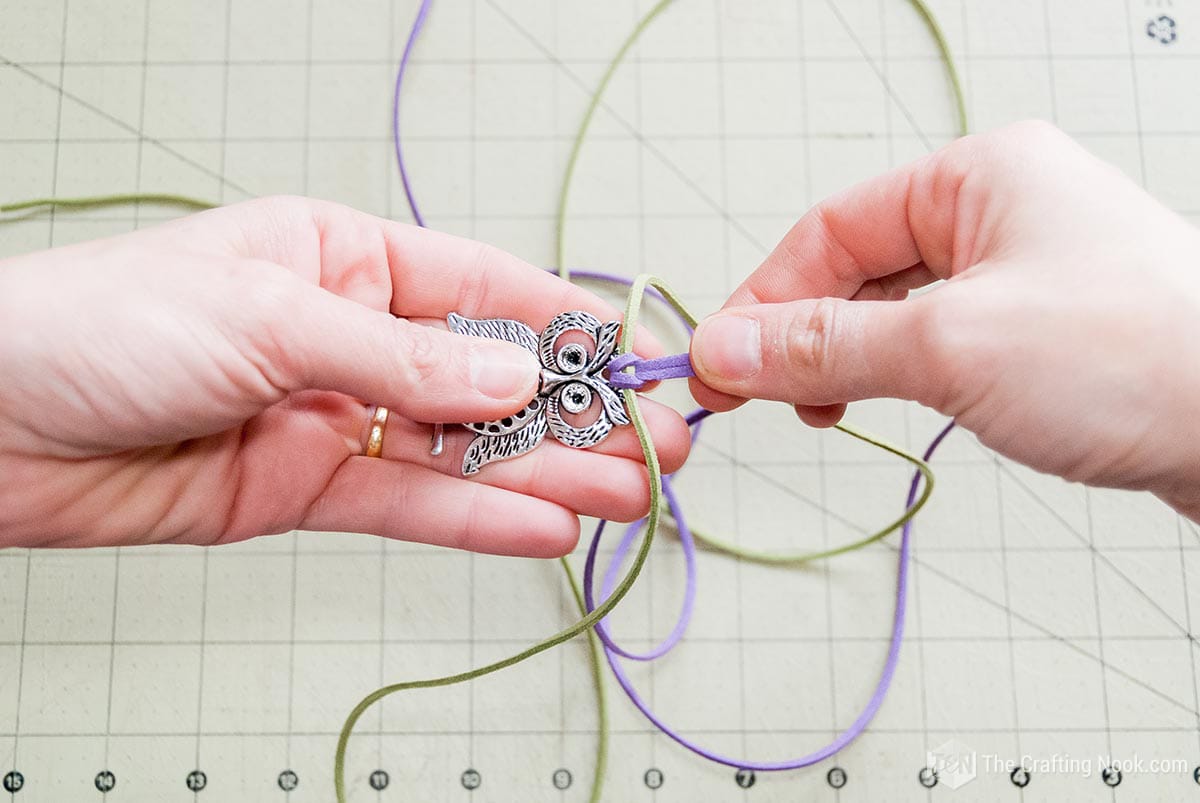 At this point, you should have both colors on each side of the pendant.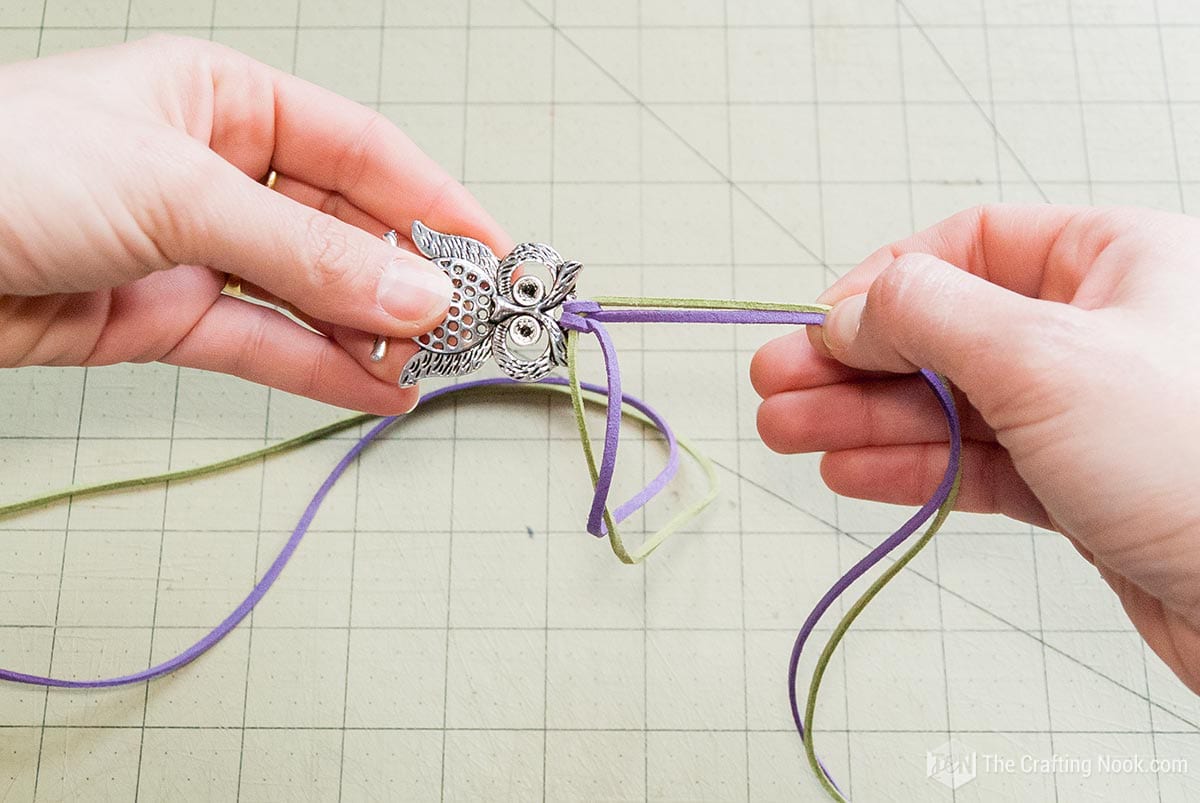 I made the first knot a few centimeters away from the pendant.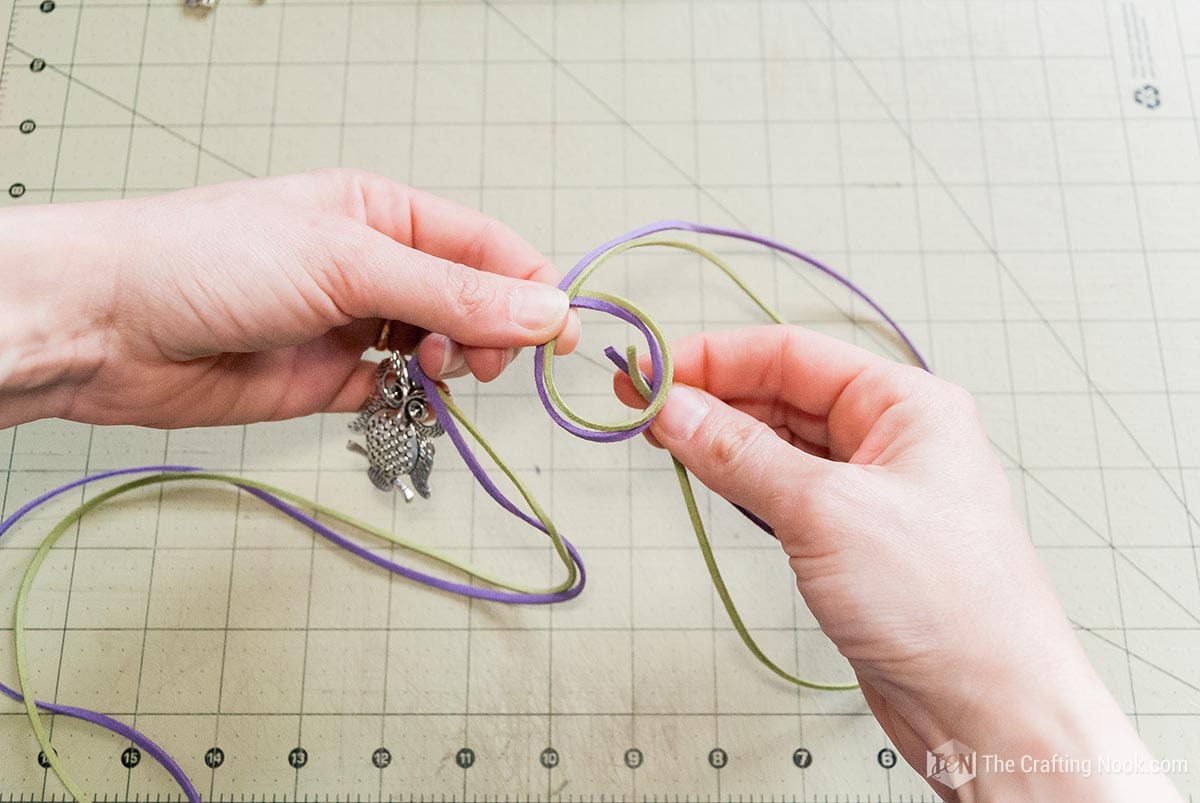 Make it tight. I tried to make visible both color on the knot.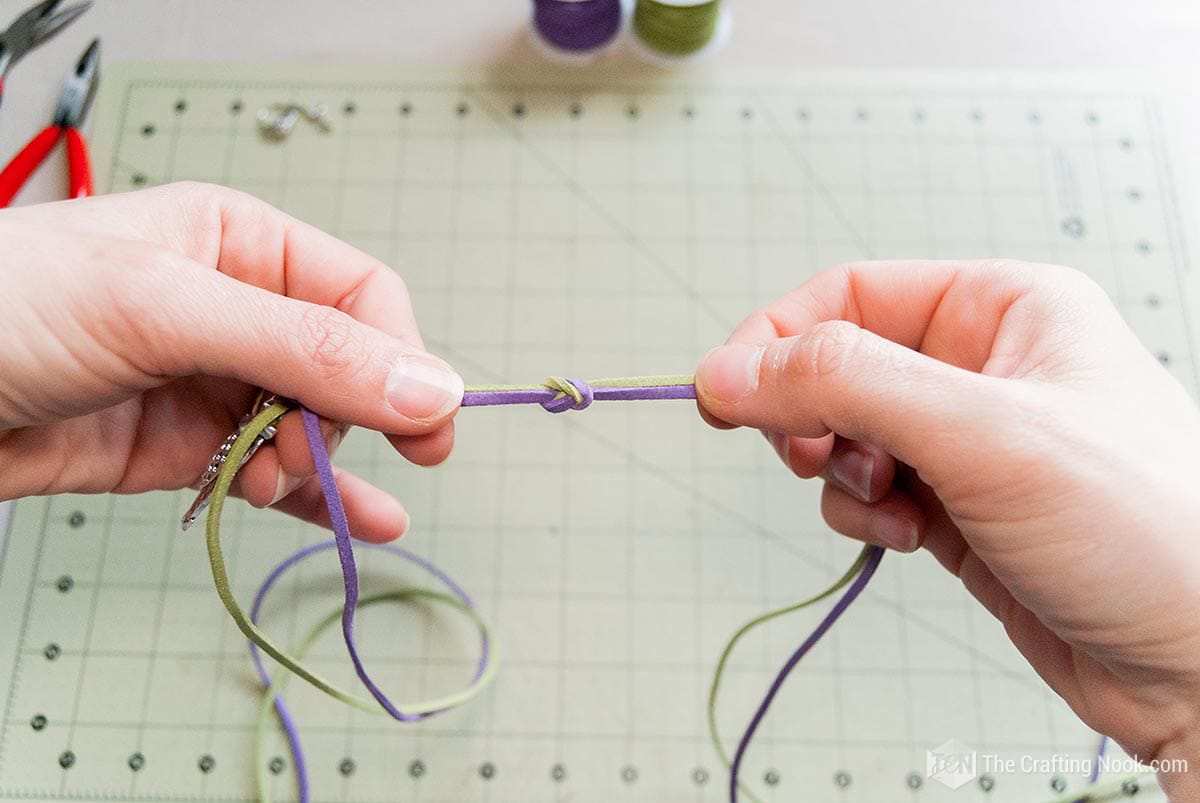 Keeping the same distance I made a knot on the other strip and here is the pattern you'll follow
From that point on I repeated the knots at the same distance until it gets the desired length.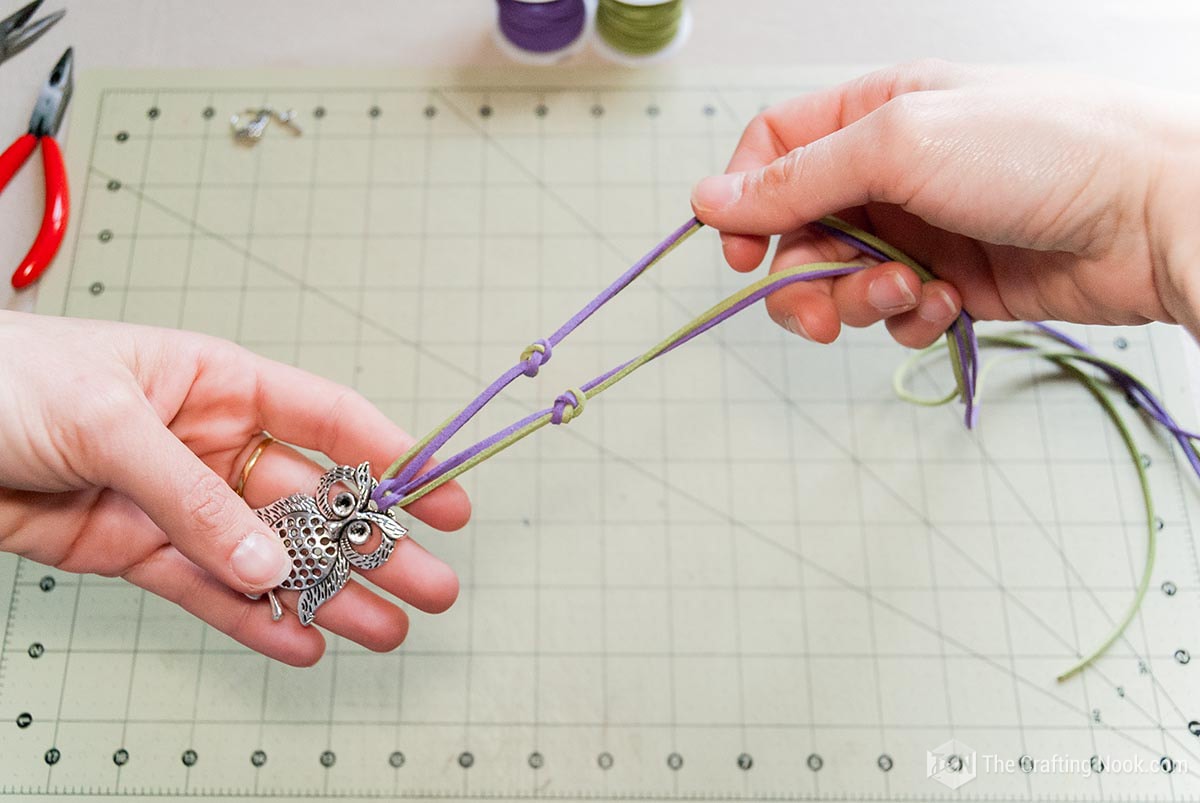 When I got it done I measured again putting the owl where I wanted it to be on my chest.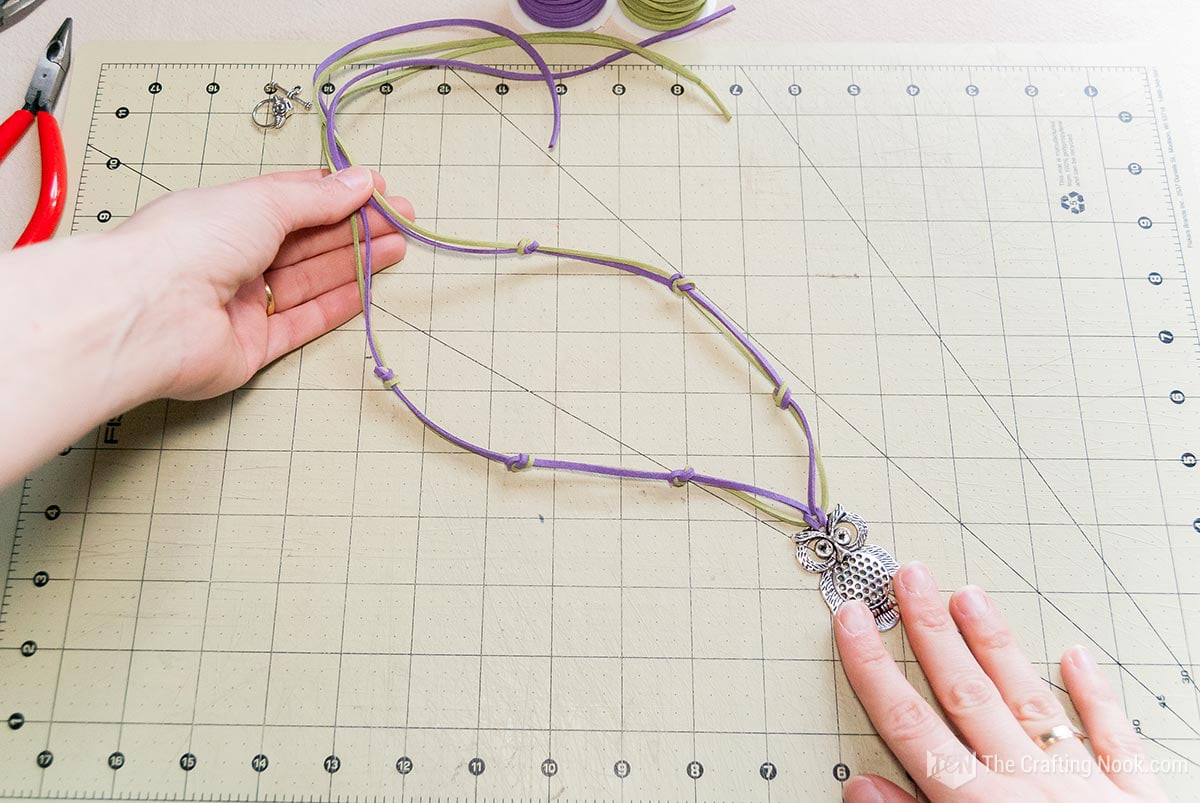 Make a mark to guide where to put the clasp.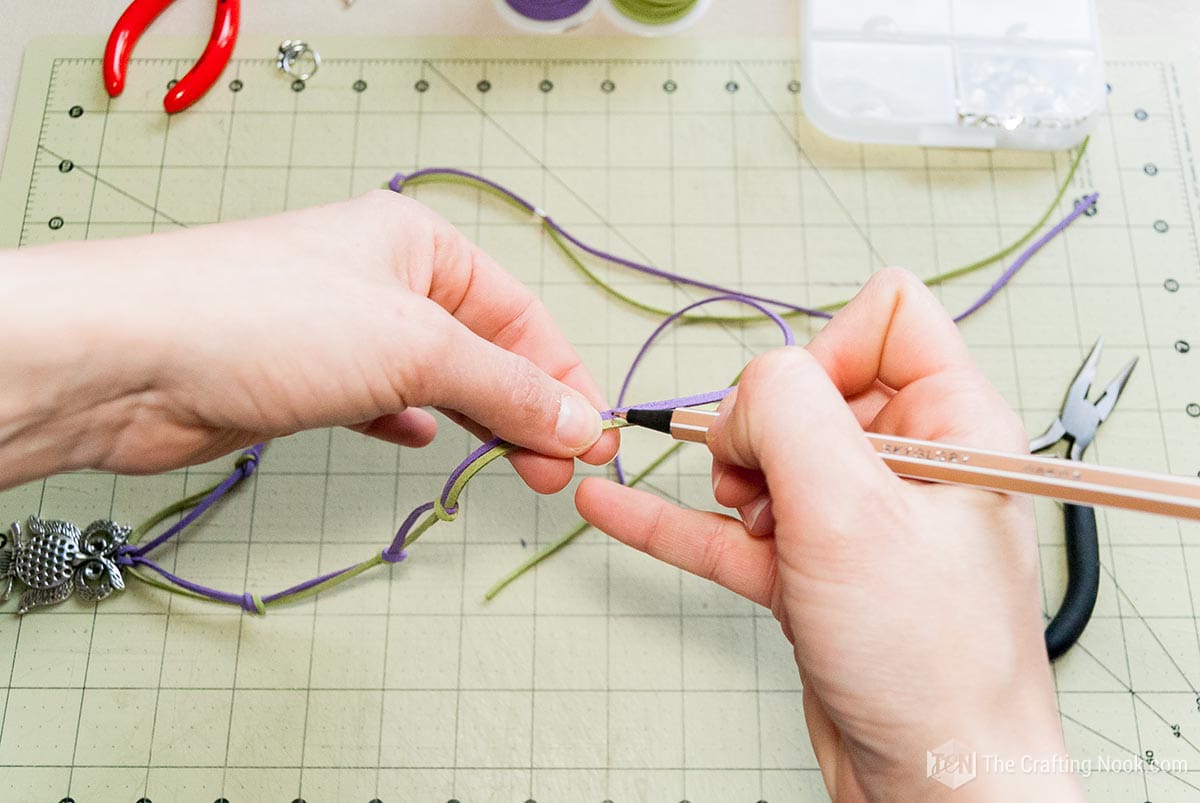 I used some fold-over crimp on the strip neds.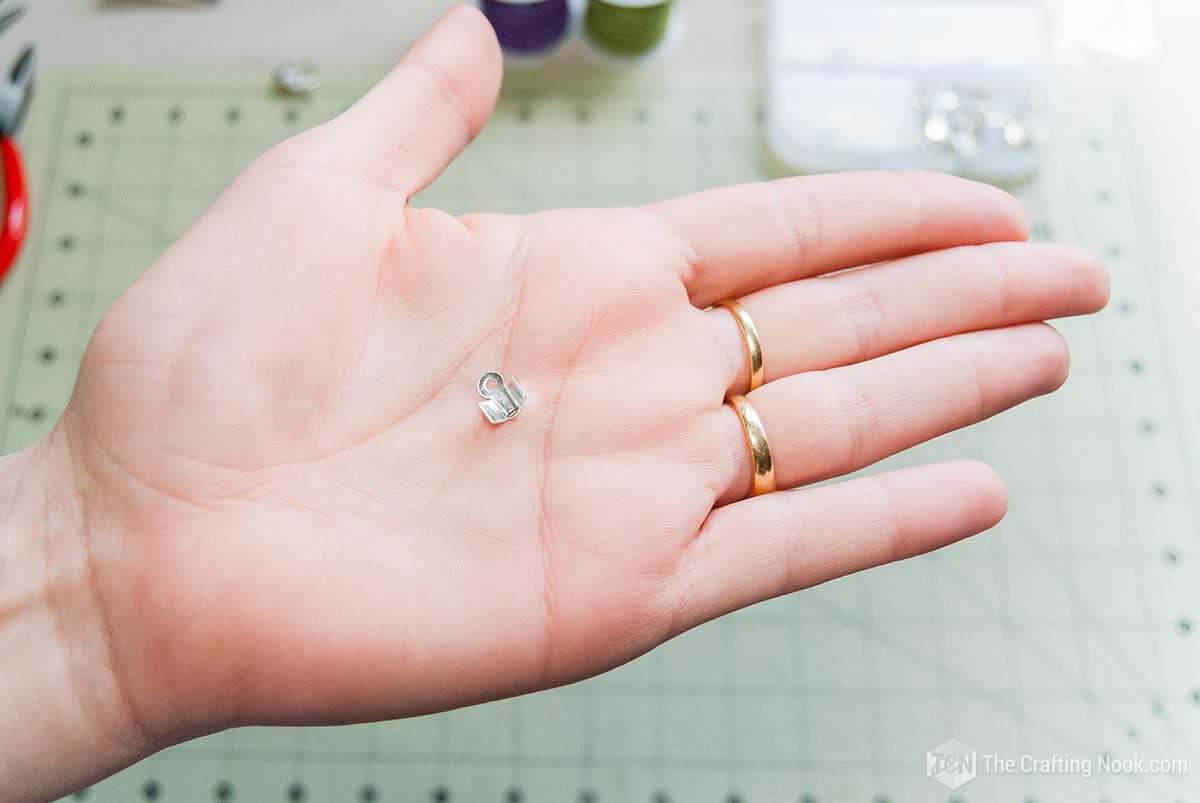 I placed it just before the mark because he clasps make the necklaces a bit longer.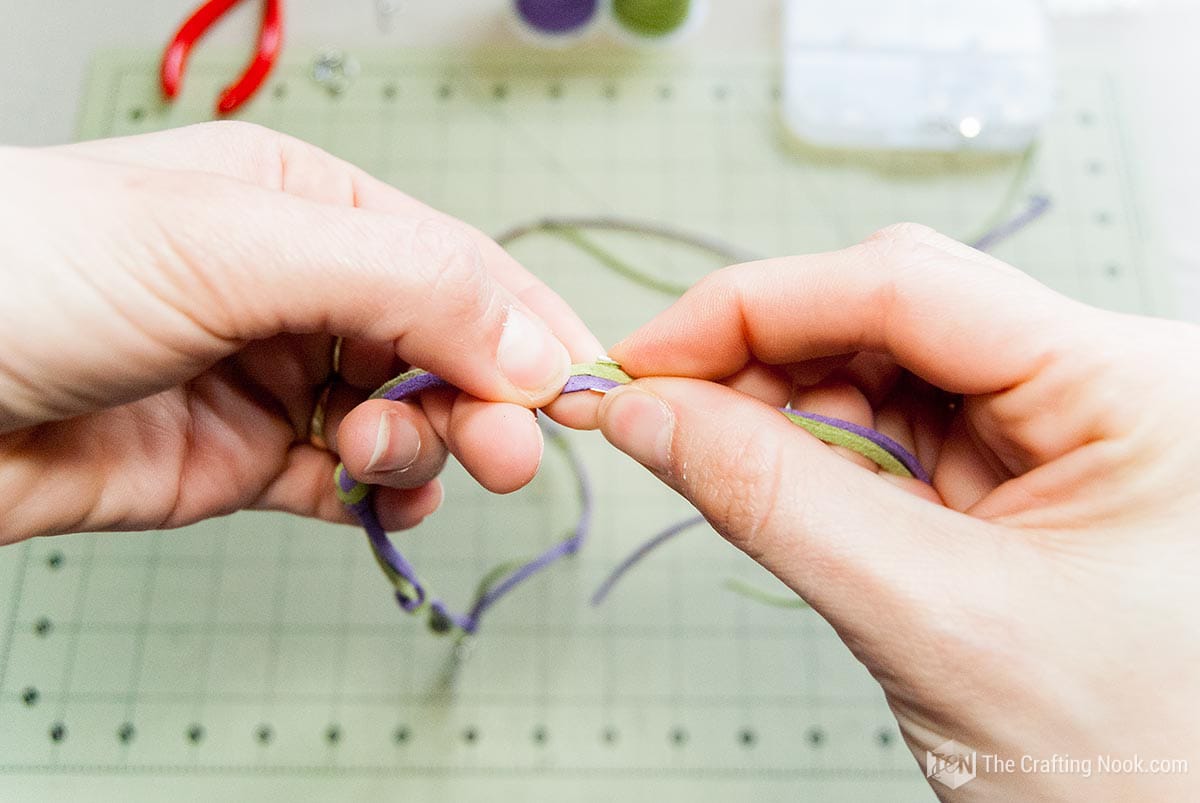 Placing both cords in the cord end, I tightened with a plier.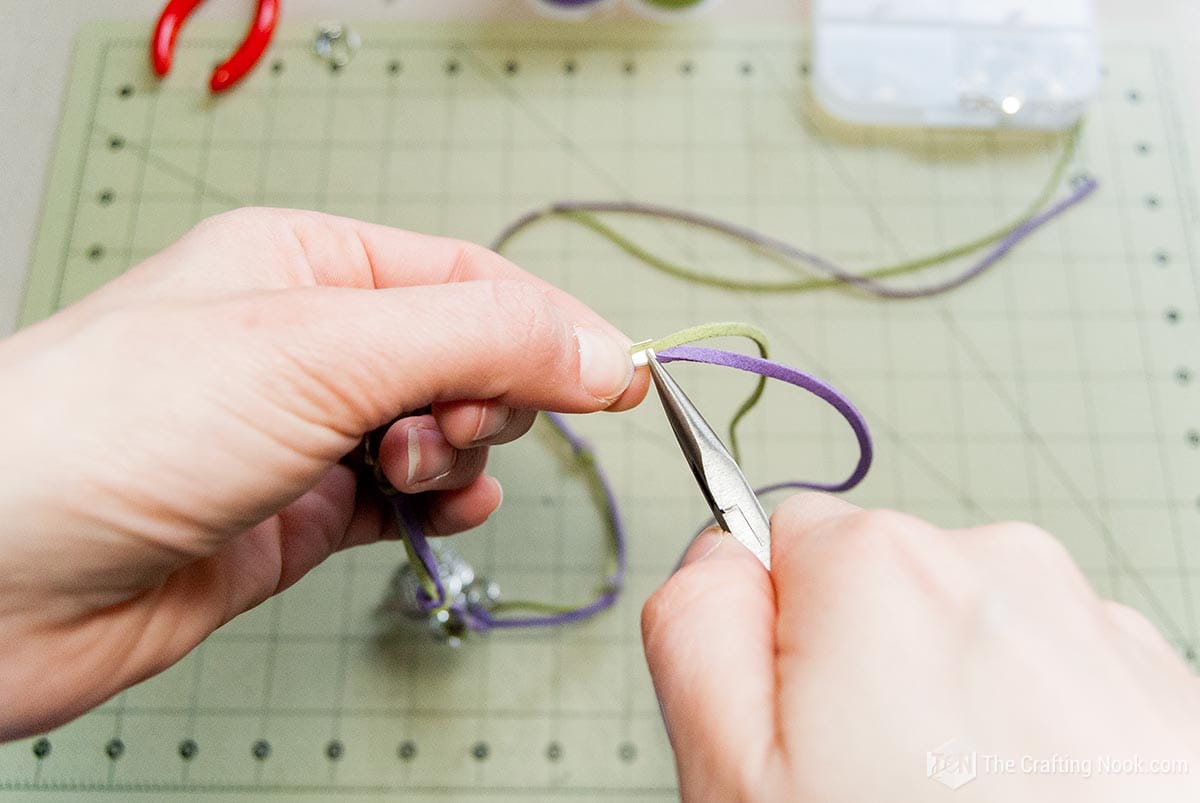 I didn't cut the leftovers yet just in case the length needs to be adjusted.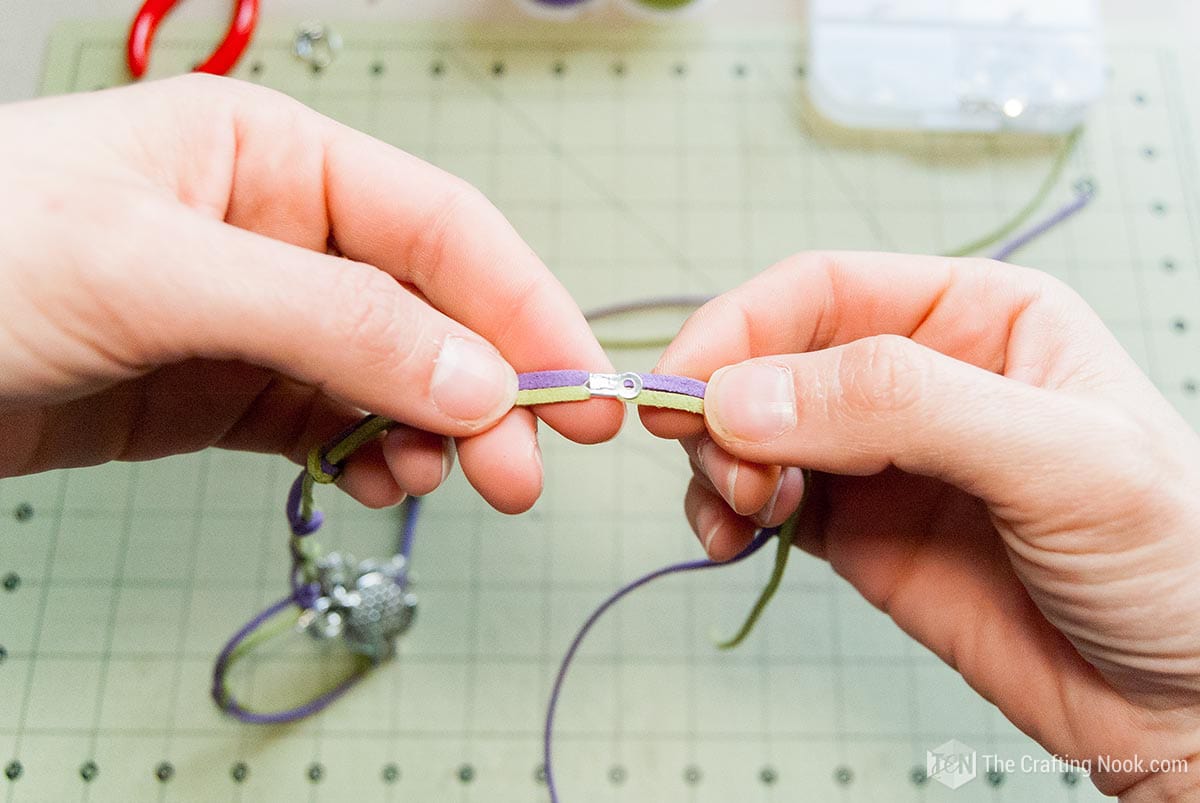 When I finished with both ends I took some jump rings.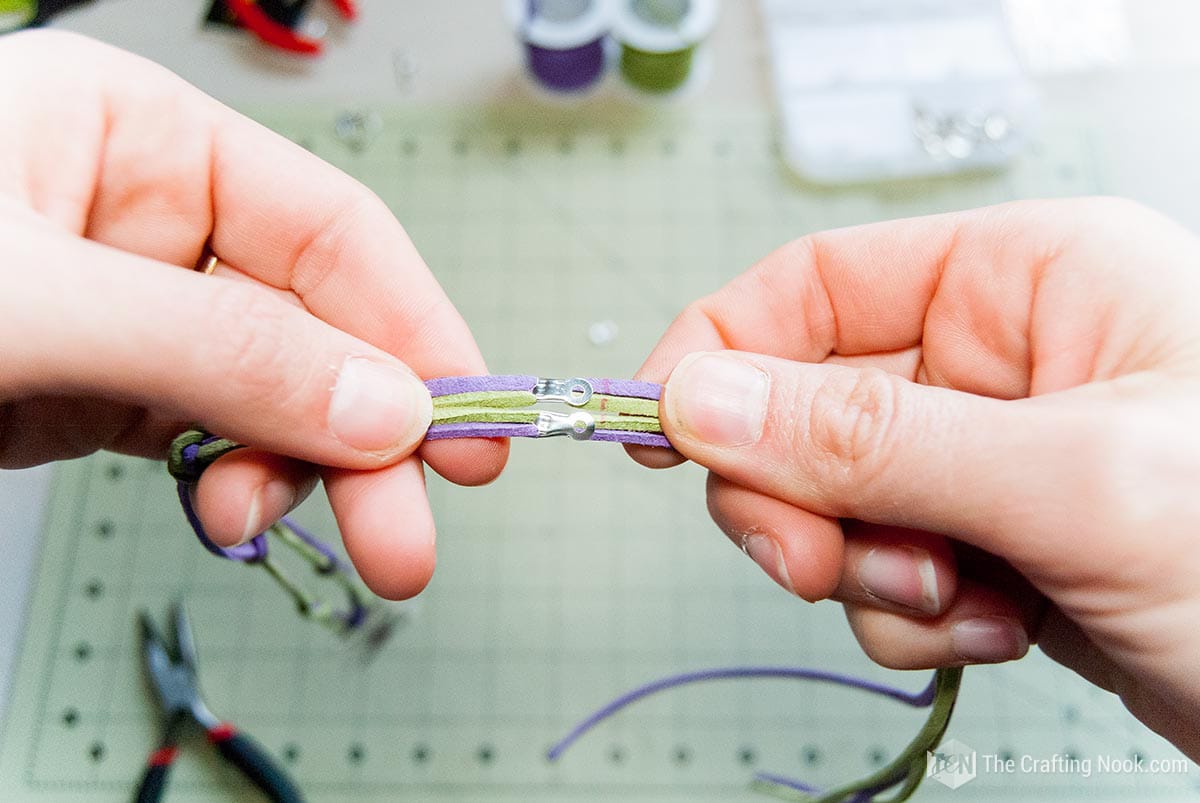 With your pliers open a little bit one jump ring, enough to insert the cord end ring.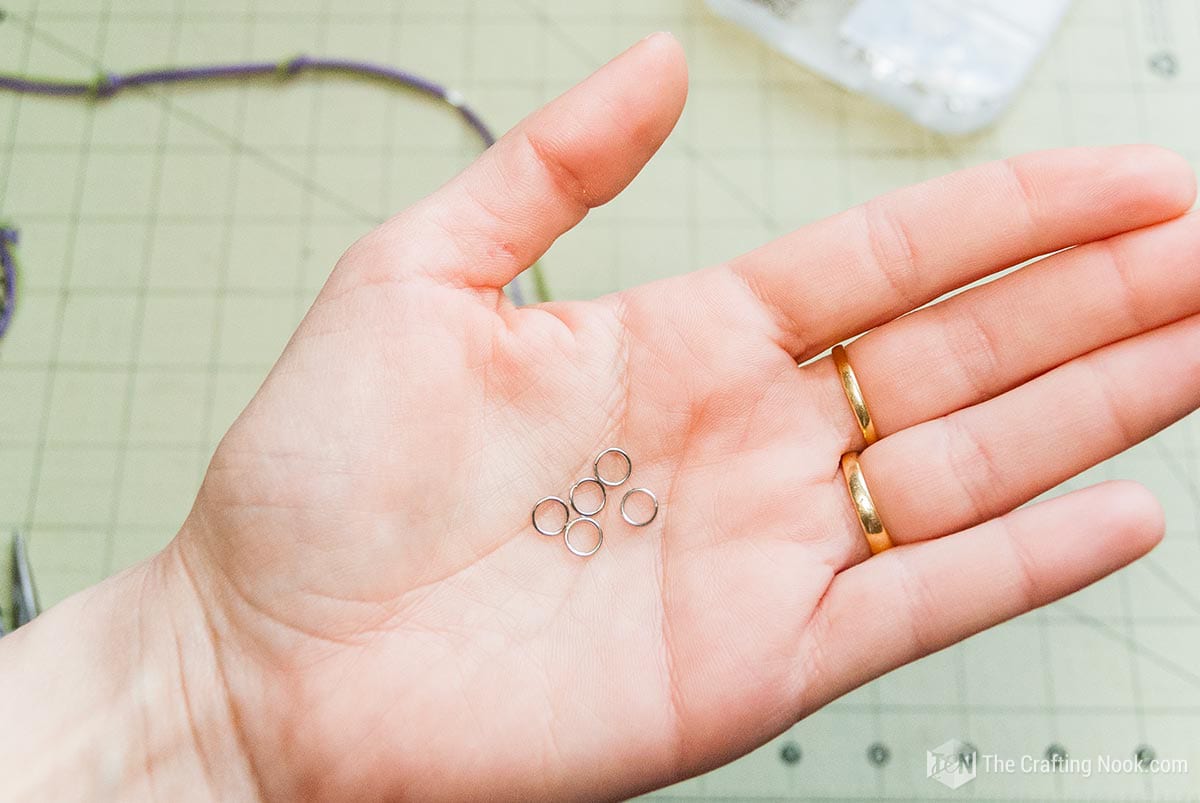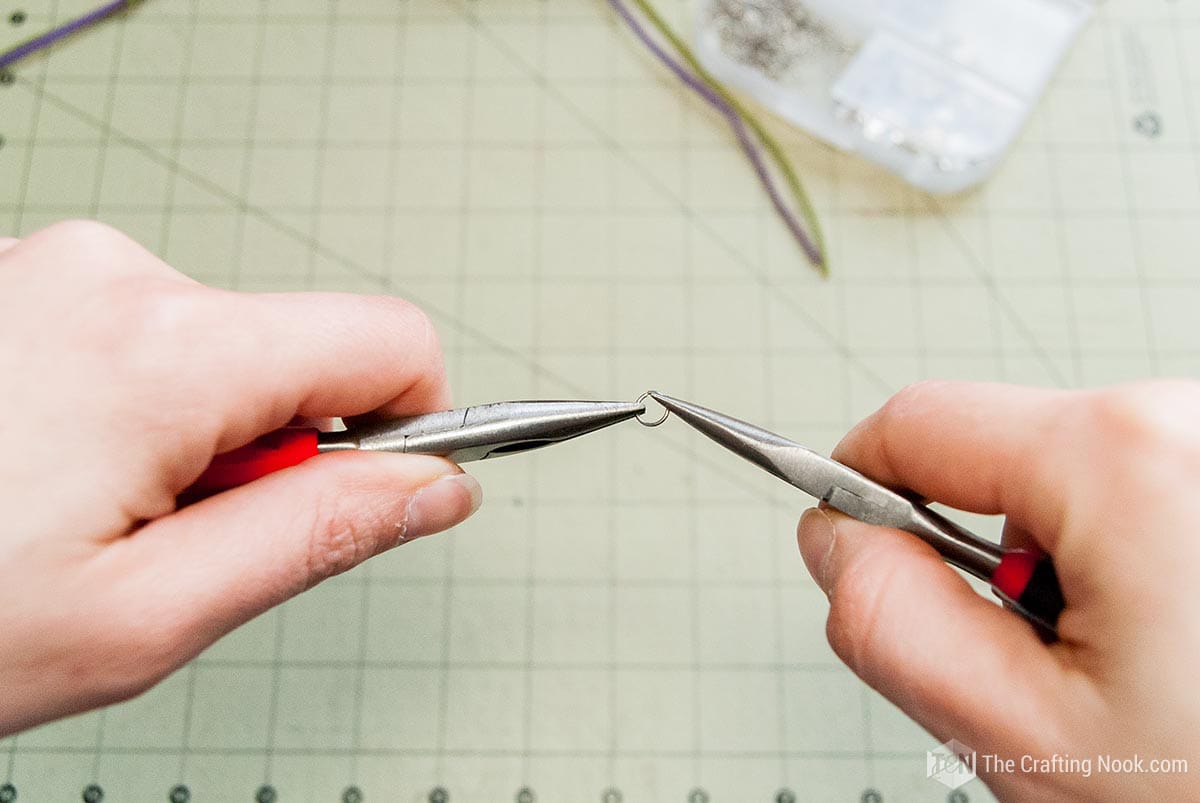 I inserted the cord end and the clasp on each end.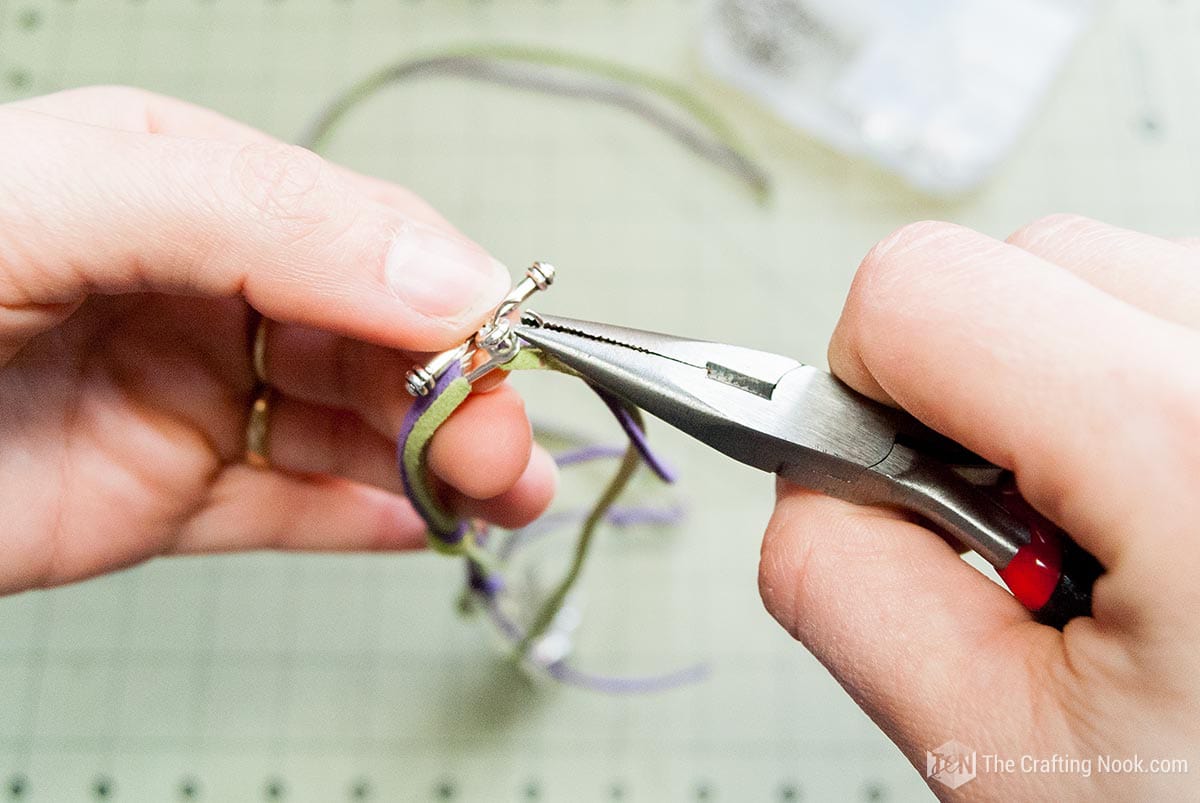 I closed the jump ring again, of course.
Now if everything is ok I did cut the leftovers.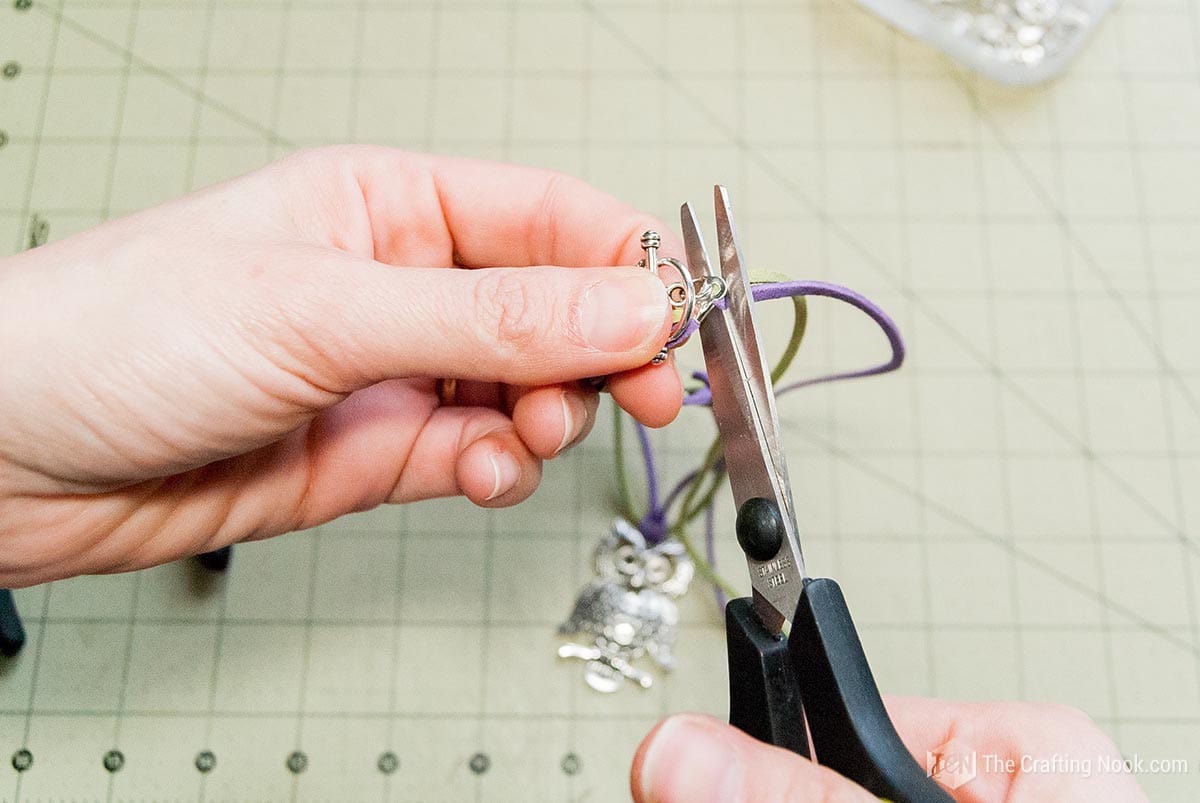 That's it!!! Cute isn't it???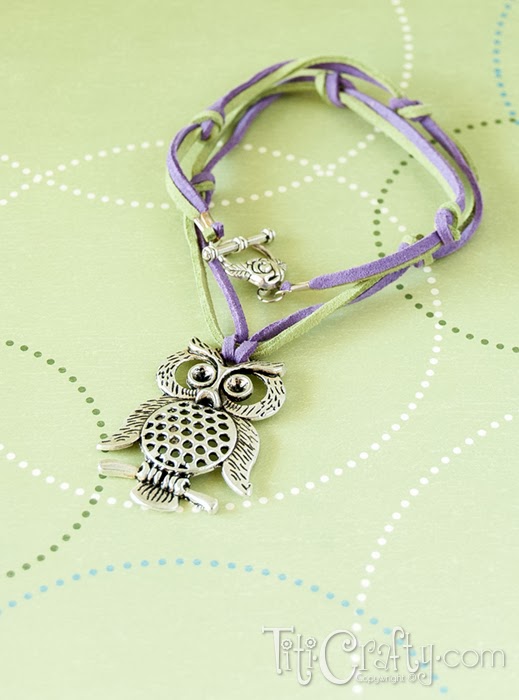 How do I look? I LOOOOVE it!!!
What do you think????
Want some core cute handmade jewelry ideas to make from my favorite bloggers?
Before you go, make sure you check out these cute Jewelry projects too: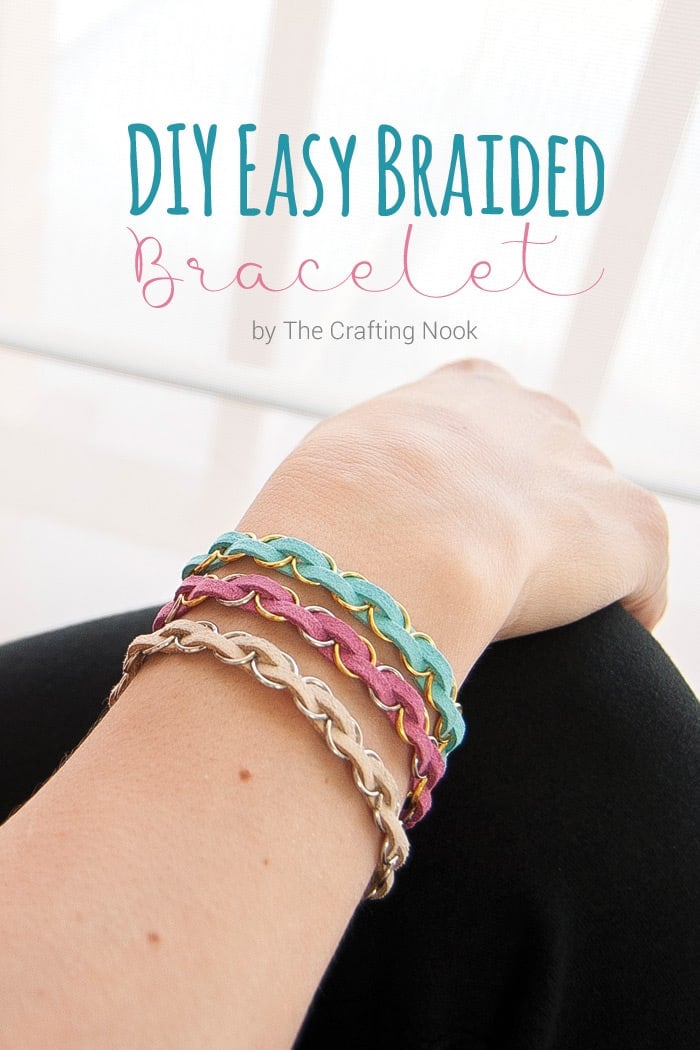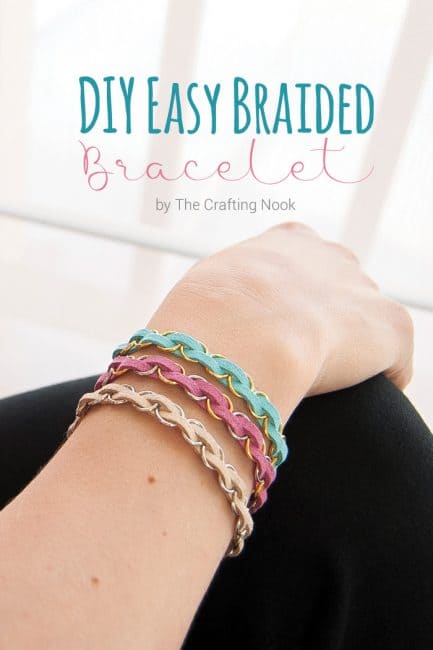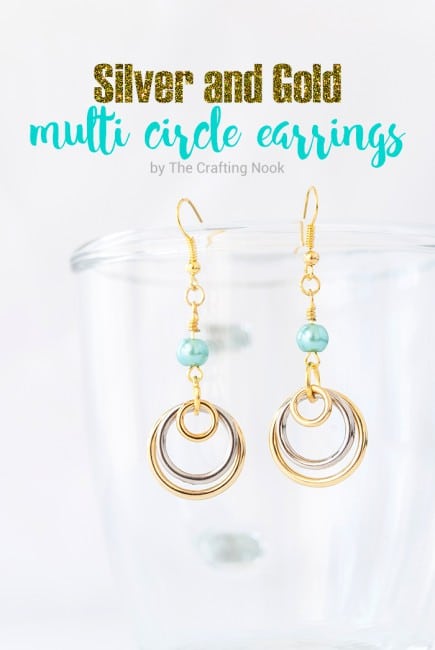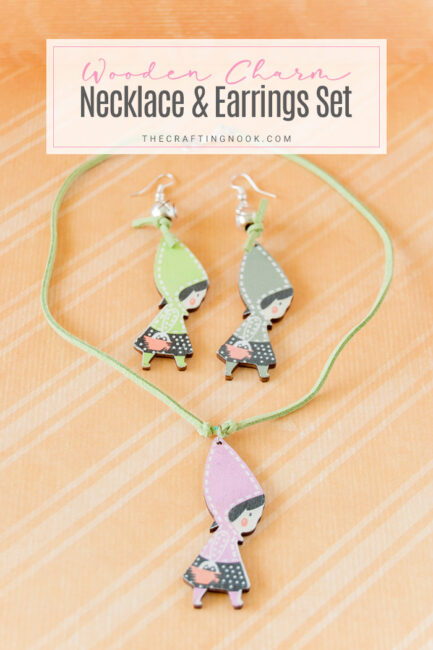 Til' next time...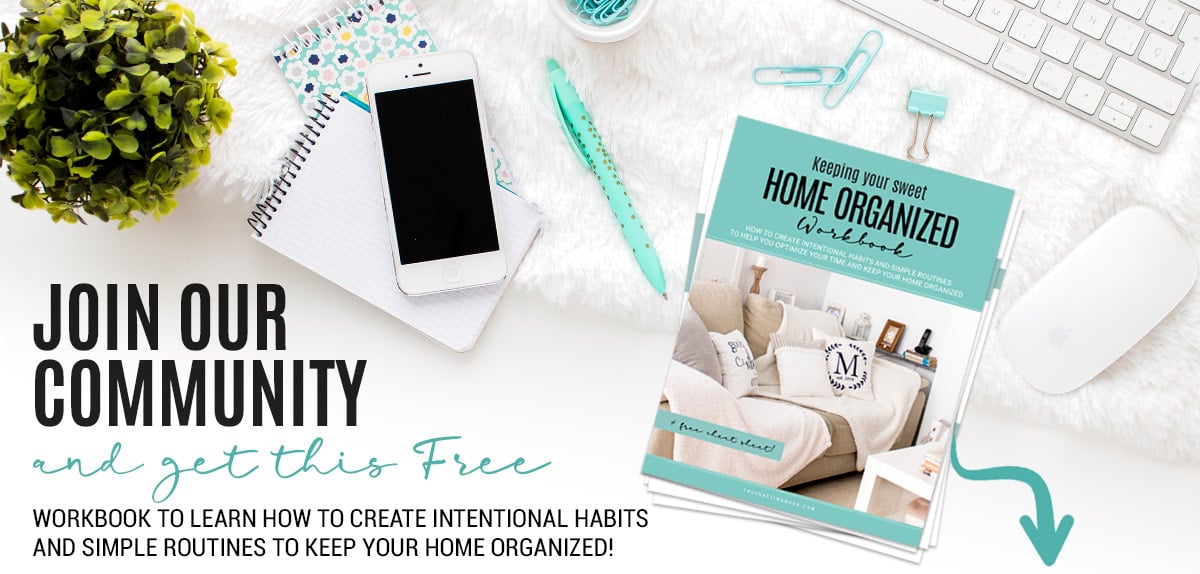 GET INSTANT ACCESS TO THE HOME ORGANIZED WORKBOOK
Plus freebies, printables, exclusive content, tips, stay connected, be the first to know great offers and Product Launches!
Disclaimer: By clicking on the "Yes, I want it" button above you are giving me your consent to collect and use your information according to the law and My Policy Privacy and The Cookie Policy. Zero Spam I promise!