Farmhouse style window frames are a great way to decorate our home, fun to style and so easy to make it. learn how to make yours right here!
I've been wanting to make this window frames tutorial for a long, long time. I've always loved how easy it is to switch decorations using window frames and I had that huge wall behind the sofa screaming for something there.
DIY Farmhouse style Window Frames
So before you say or think anything, I know the frame doesn't stand out very much, almost white on white but the actual intention was very different and I intend to fix it soon.
When I started creating the window frame I had decided to paint the wall behind the sofa in grey. So I worked confidently that the farmhouse style window frame would look amazing, well, still does, I love it, but more amazing.
The thing is that the grey end up being a lot lighter than I anticipated and the frame was already done. So I embraced it for now. My plan now is eventually sand it more until reveals more of the base color so it will stand out more from the wall.
But for the purposes of this tutorial, I will stick with it as is. Creating from scratch a simple window frame like this is so freakin' easy. It takes some time but it's super easy.
I'm not a carpenter, I don't have all the tools, as you might notice on the photos, I work in my living room so if I can make it anyone can. I don't think this is THE way to build it, it probably has tons of ways but this is what I could manage with what I had which is great. I didn't spend much either so yayyy!
Here we go!
Farmhouse style Window Frames Supplies: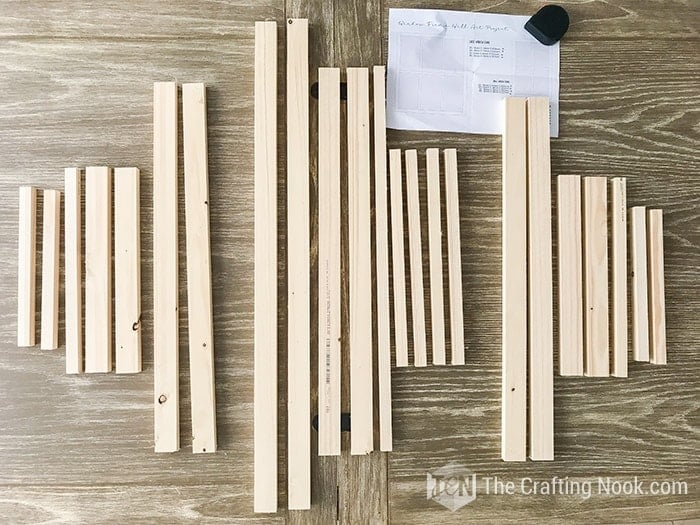 Pinewood boards:
Large Window Frame.
2X – 18mm x 34mm x 800mm
2X – 18mm x 34mm x 632mm
1X – 18mm x 18mm x632mm
4X – 18mm x 18mm x 357mm
Small Window Frames.
4X – 18mm x 34mm x 600mm
4X – 18mm x 34mm x 332mm
2X – 18mm x 18mm x332mm
4X – 18mm x 18mm x 257mm
Flat straight braces.
Wood glue
Flat corner braces (optional)
Screws (size depends on the boards you use)
Wood Stain (I used diluted latex paint 50-50)
White latex paint
Sandpaper
Cotton cloth
Brushes
Plastic or paper plates
Plastic sheet for protection
Measuring tape
Tools:
Drill
Ruler
Kreg-Jig pocket holes tool
How to Make Farmhouse style Window Frames
I made this video tutorial for you of my process. But if you are more of a step-by-step written detailed tutorial, just scroll down a little bit and keep reading.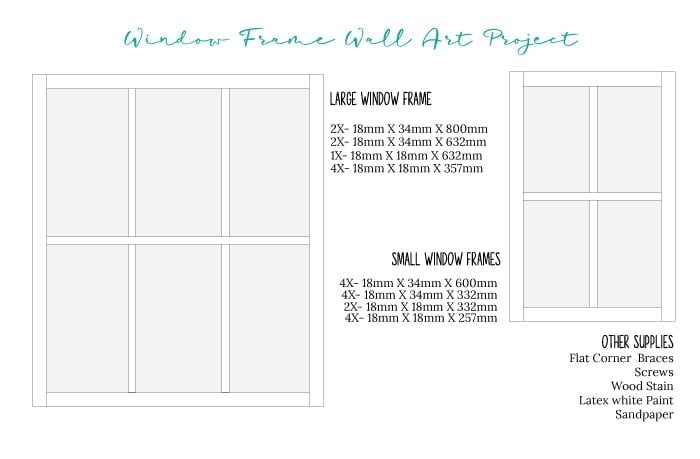 Firstly prepare your working space and sand slightly your wood boards to remove any imperfections and possible splinters.
Present pieces to make sure all the pieces fit as planned.
Draw your marks for pocket holes as holes and center marks as simple lines as follow: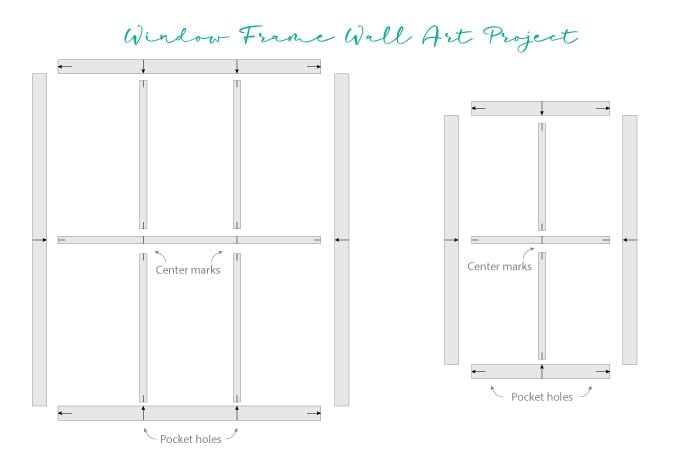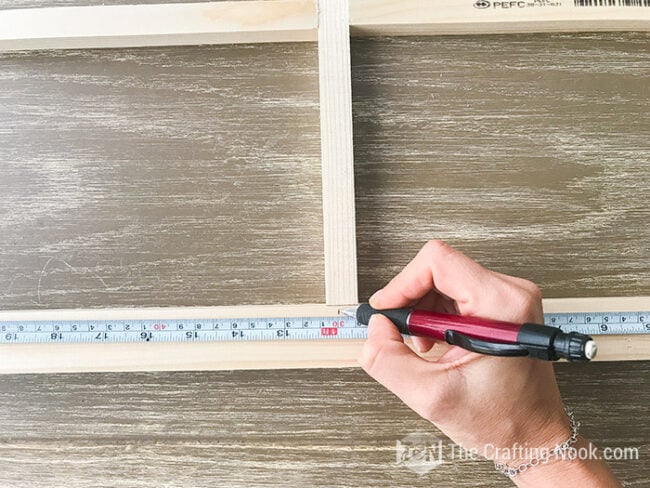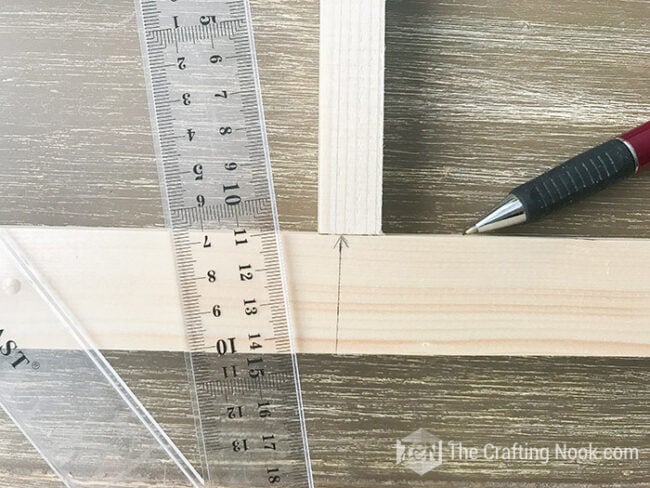 All lines should meet when you present the pieces. This will ensure that when you drill the screws everything will fit.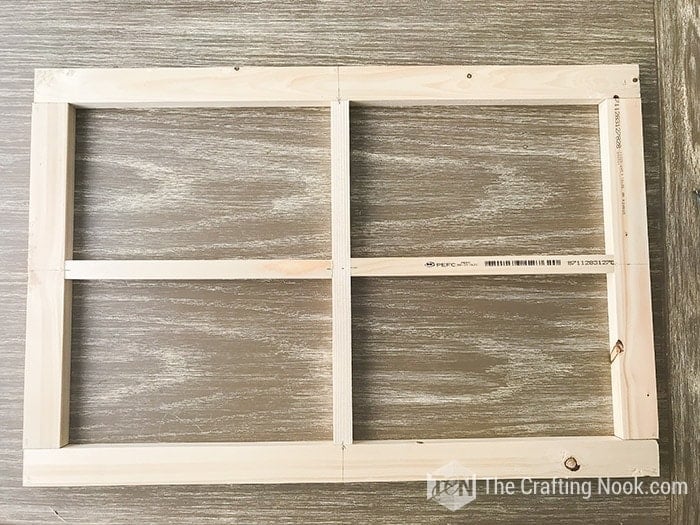 Using your keg-jug or your favorite pocket hole tool, make the pocket holes that you marked. Make sure you drill in the same direction as your arrow guides.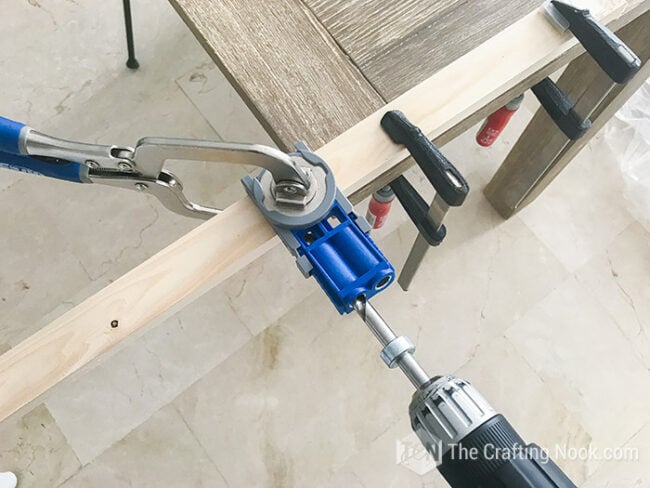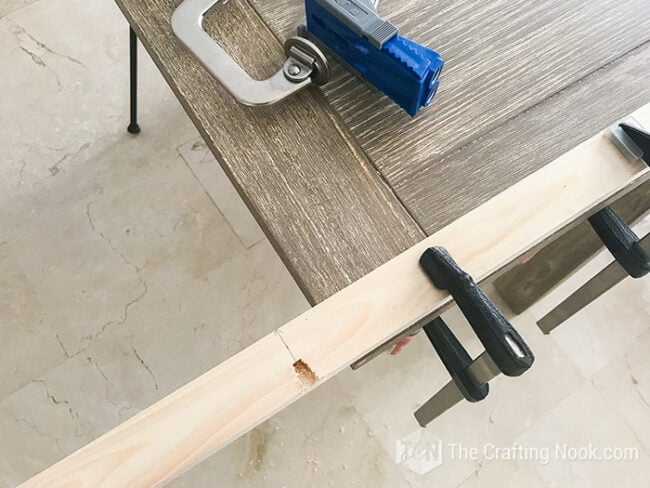 I didn't make the pocket holes on the internal boards because I thought it might break my boards so I went for the frame boards even though it created a small carve on the edges. But when I hung it's not visible at all.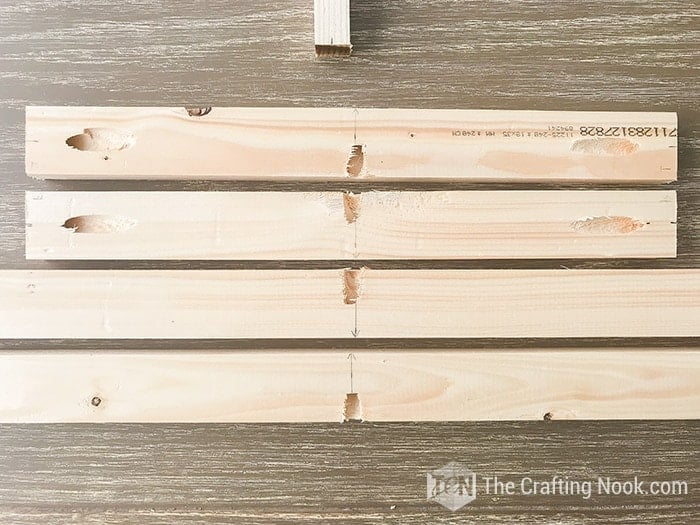 Once done with the pocket holes, it's time to assemble the frames.
Start with the frame drilling your screws in and then fit the inner pieces.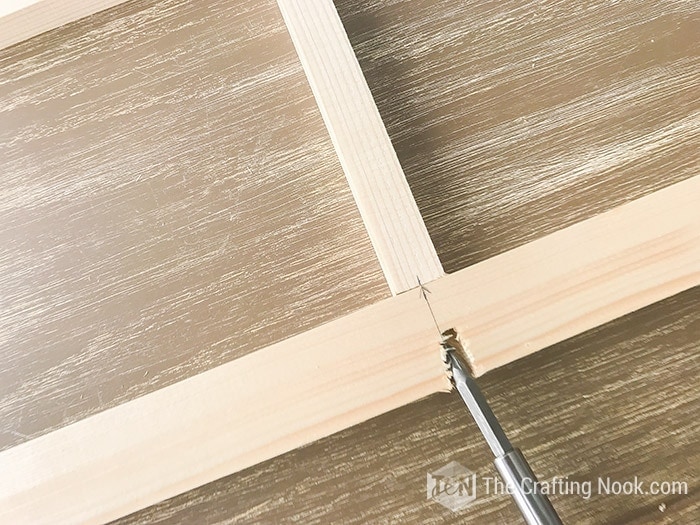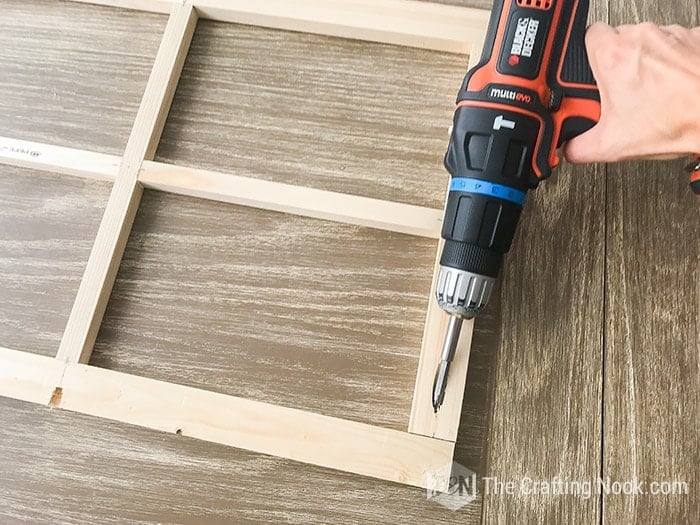 Use glue to secure each piece better.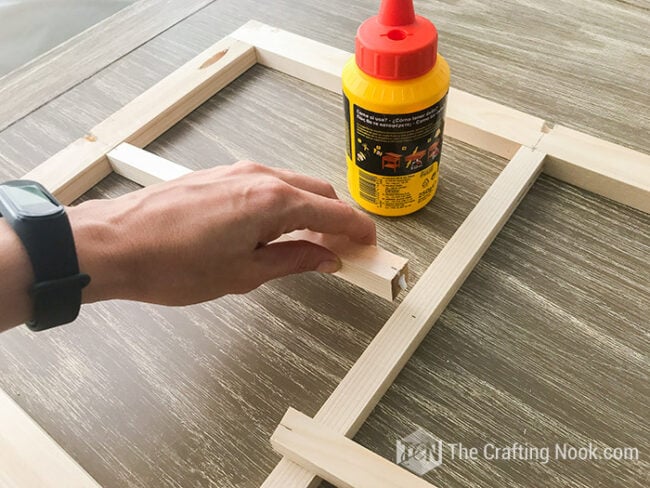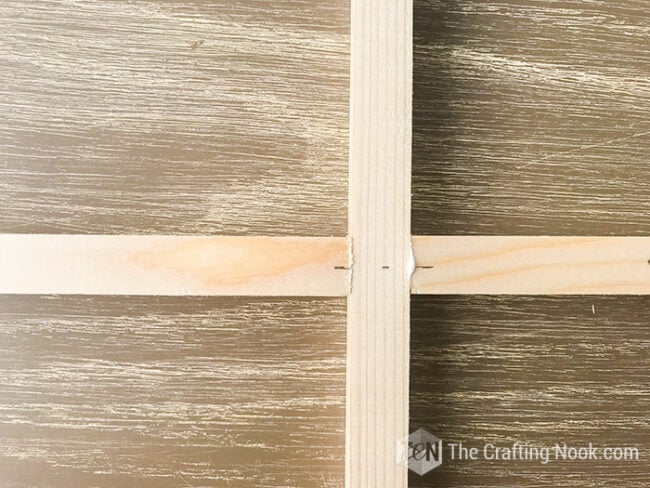 I used a flat straight brace to secure inner pieces joints.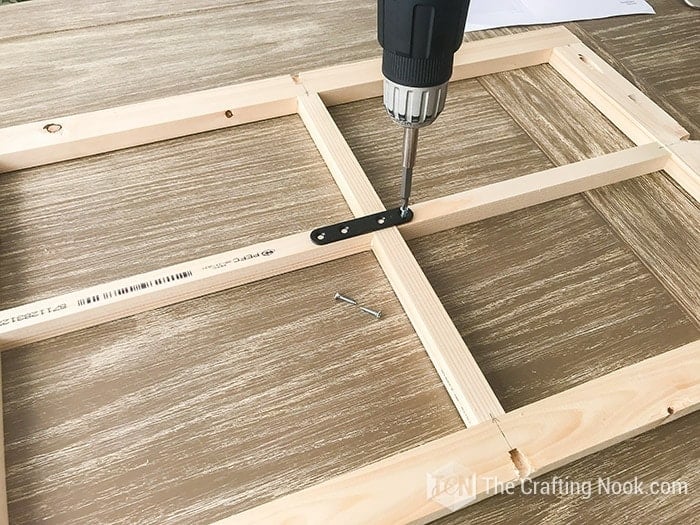 Your first window frame is finished. Now create the other 2 if you are making my setup.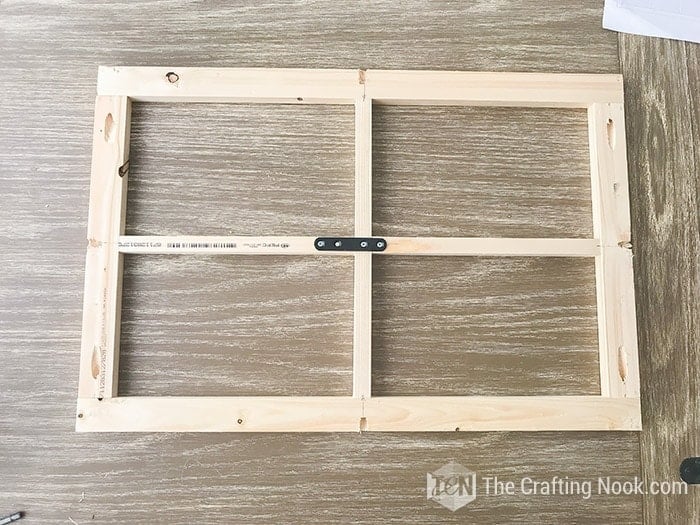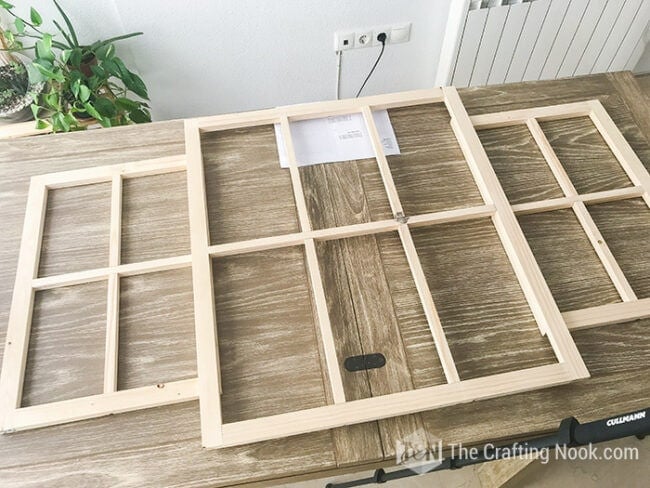 The next step is painting your frames.
Stain the frames first. I created my own stain mixing latex paint and water 1:1 ratio. I used the brown I love you can use your favorite stain.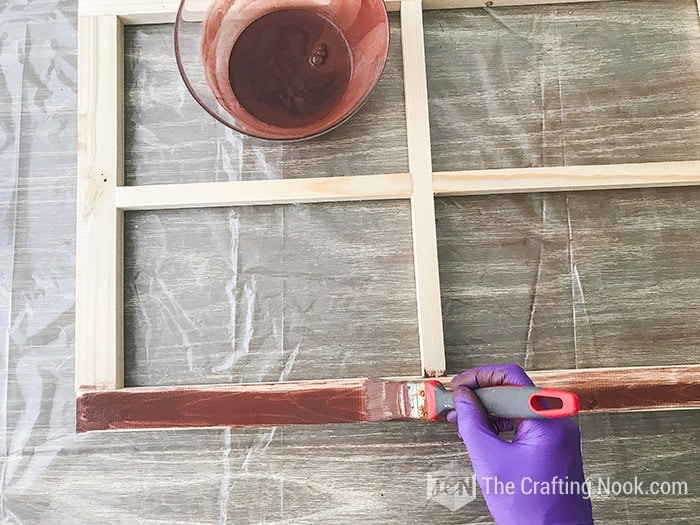 Apply the stain and then rub it with a cotton cloth.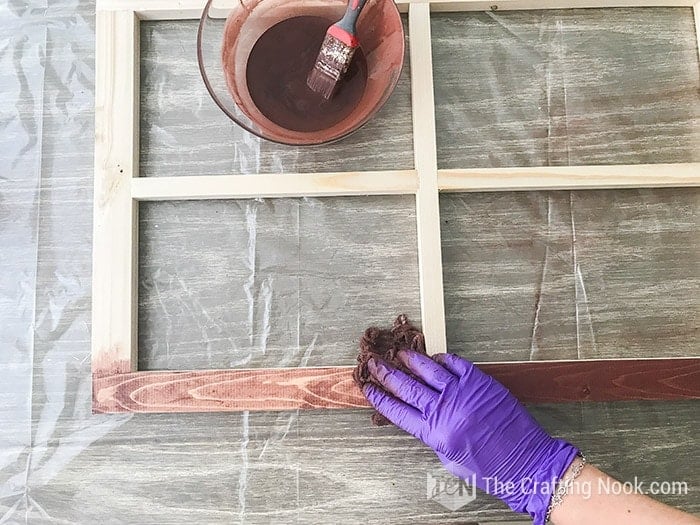 Let them dry for a couple of hours.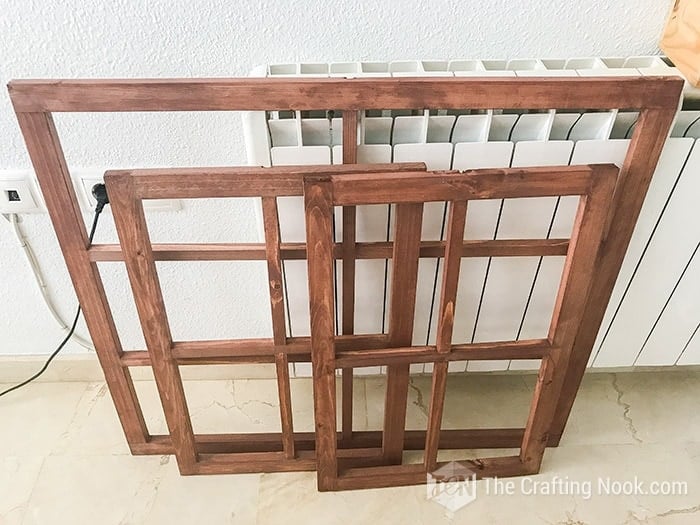 Then using your white latex paint, apply dry brush technique to create the rustic farmhouse style.
Dry brushing is super easy. You can check out my blog post where I share the full detailed step-by-step.
But for now, pour a little bit of paint on a plastic plate.
Then very gently dab the tip of your dry paintbrush into the paint and dabbed it on a piece f paper or paper towel to remove excess paint.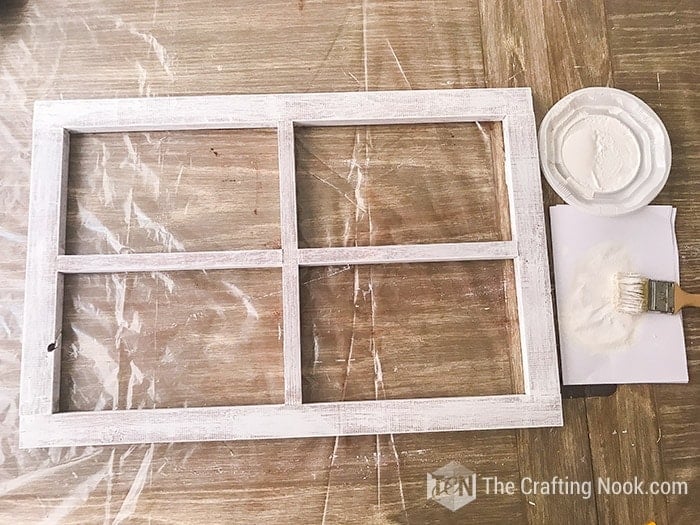 You want to keep the tip of your paintbrush slightly wet but not oversaturated with paint, so I suggest starting off with just a tiny bit of paint and adding more as you get comfortable with the technique.
Use short, quick brushstrokes in both directions (along the wood grain and across them) to give it a textured and accent the wood lines.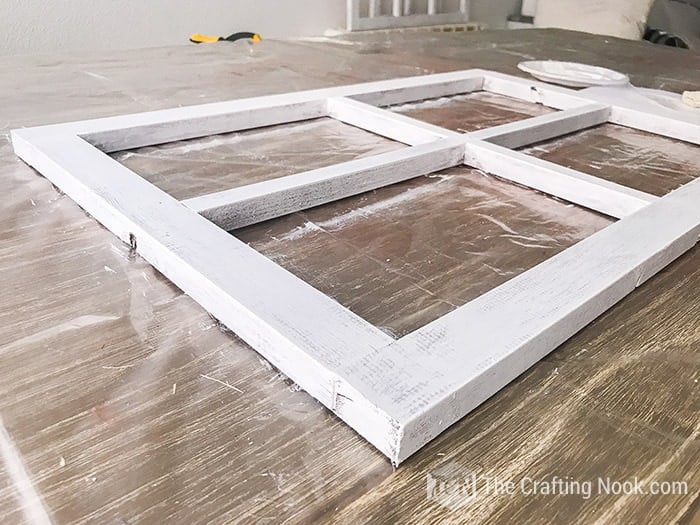 When you finished each frame let them dry for a couple more hours.
Now you need to sand your pieces. Here there's no perfect spot. Sand as much as you need to get the look you want or like. As I mentioned I might sand mine some more to revel more base color so it stands out more from the wall. So be free, be creative.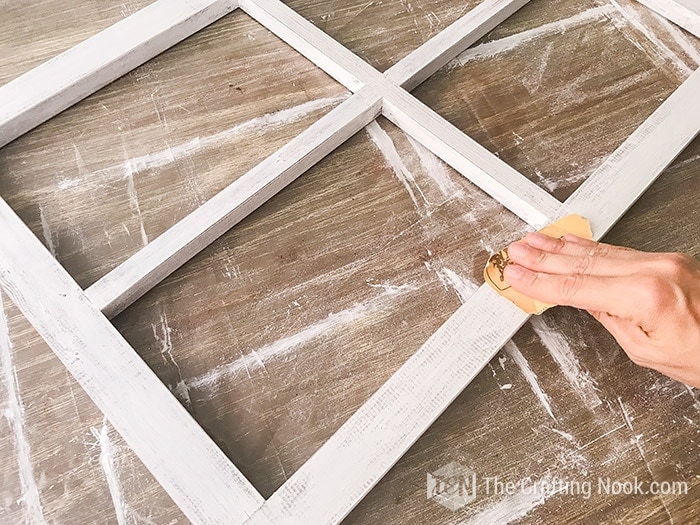 Clean and remove dust with a piece of cloth.
Now the last step is amounting them and hang them.
I decided to place the large frame on top of the smaller ones.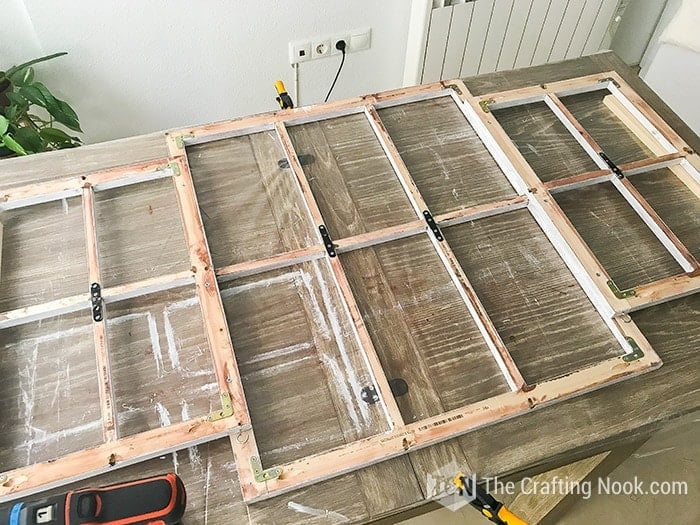 On the back, drill some screws to secure the position you want your frames to stay.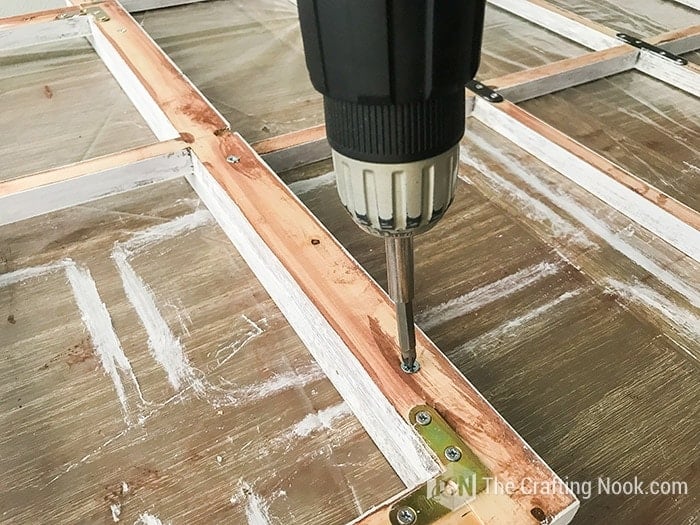 Take advantage of the spaces behind boards to screw your hooks. I set them facing the same directions so it would be easier to hang.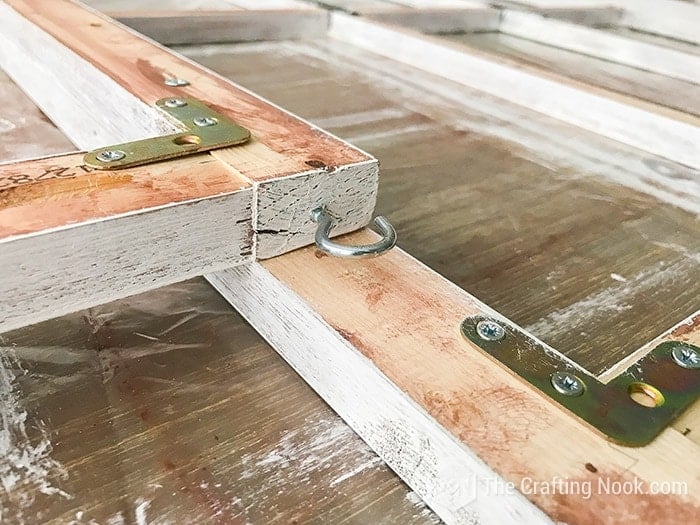 You are done!!! Seal it with Spray varnish and voila!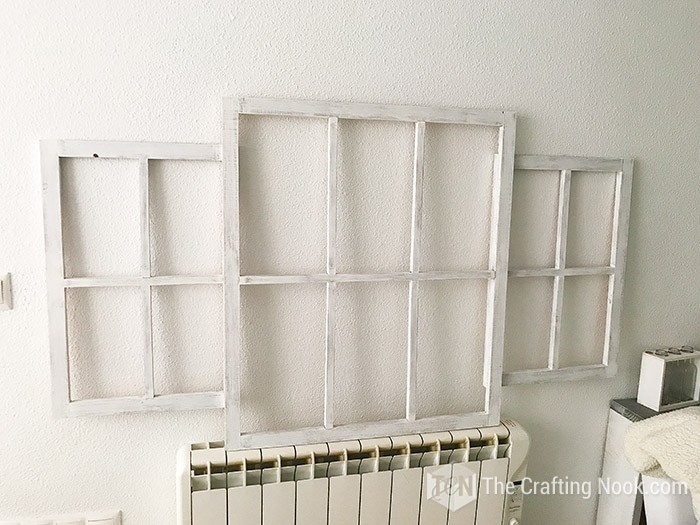 Now just pick your perfect spot and hang it away!!!
My living room changed since I made the window frames and the video so that's why they look different.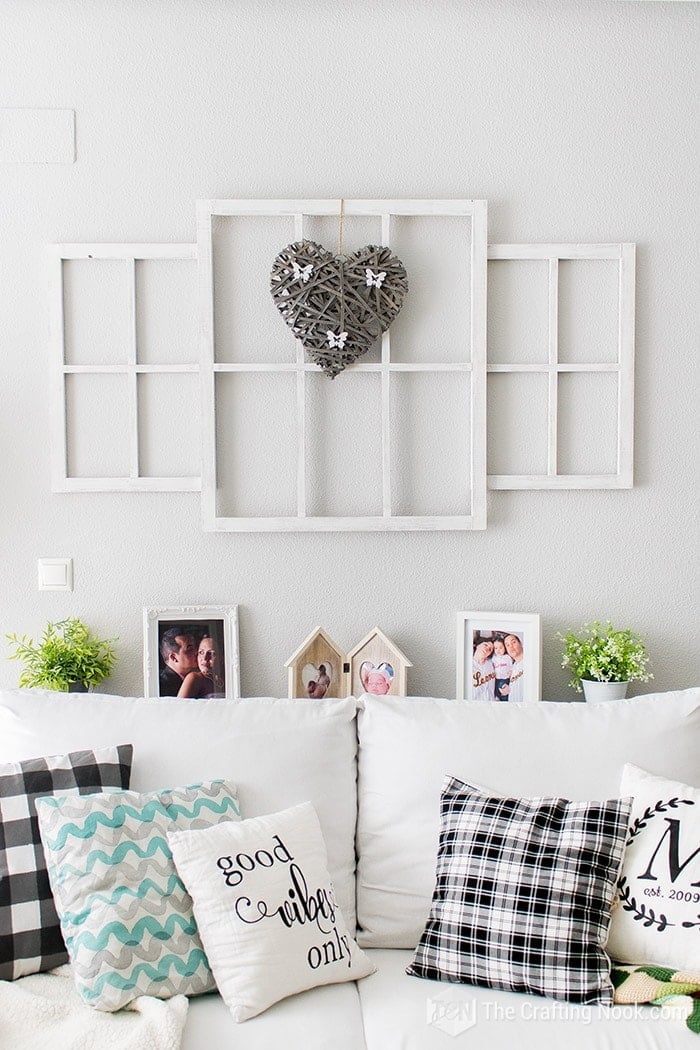 I absolutely love how it turned out! Right now I have the rustic heart hung on the frame but for Christmas, I had a pretty wreath! So the imagination is the limit!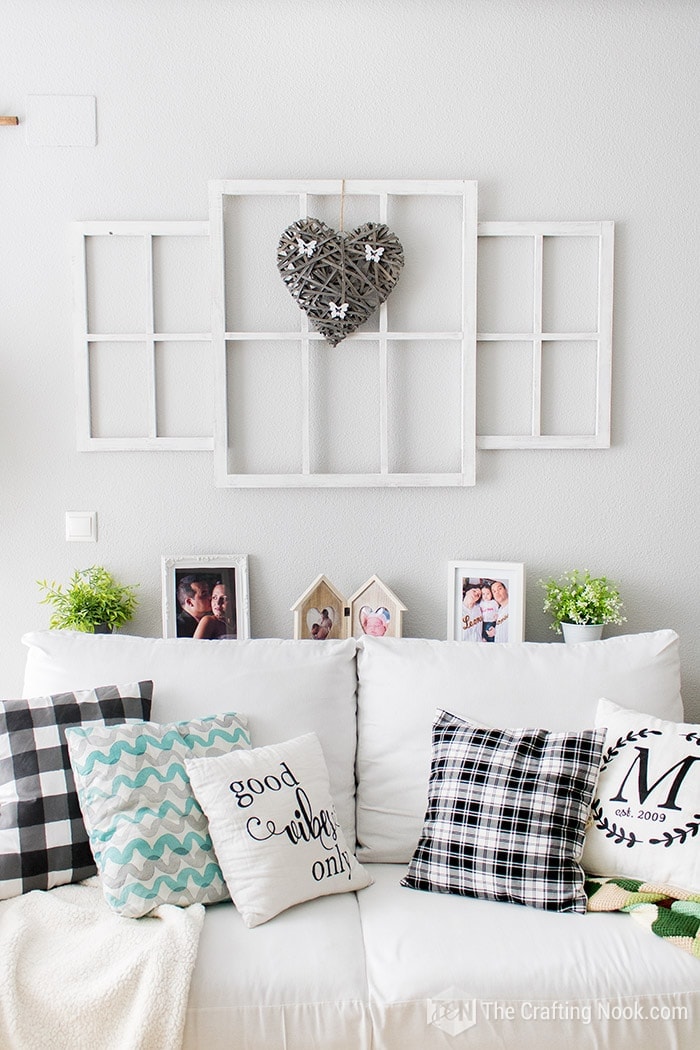 What do you think?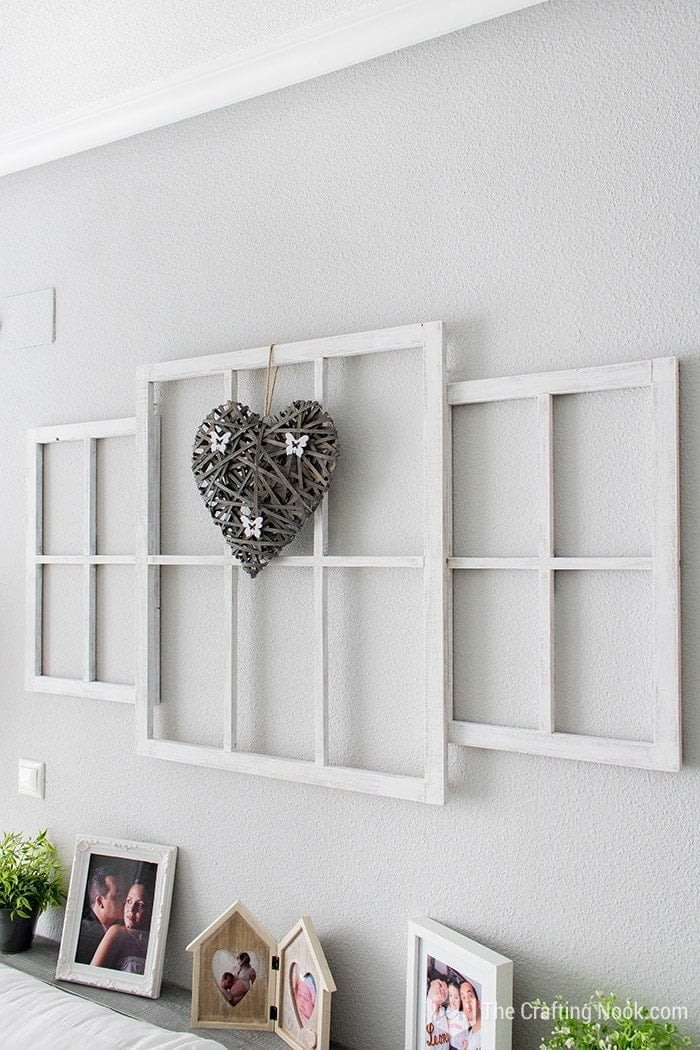 Hope you enjoyed this tutorial. Making pretty window frames is so easy and so versatile. You can decor and style it in so many ways.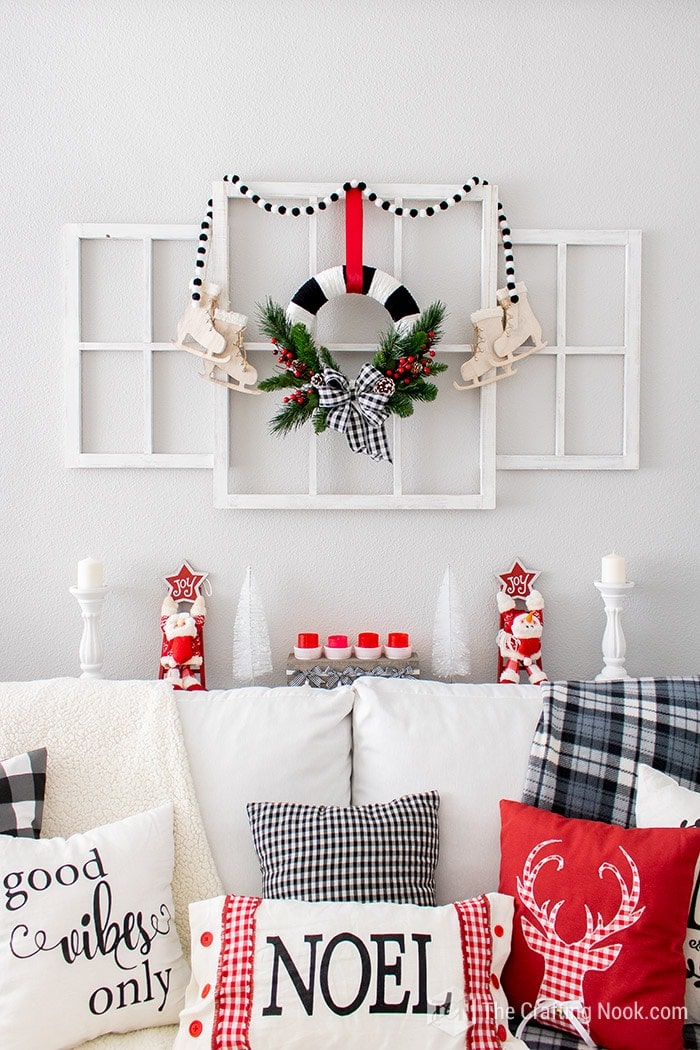 More Farmhouse Inspiration.
Found this tutorial useful, don't forget to PIN and share it with friends.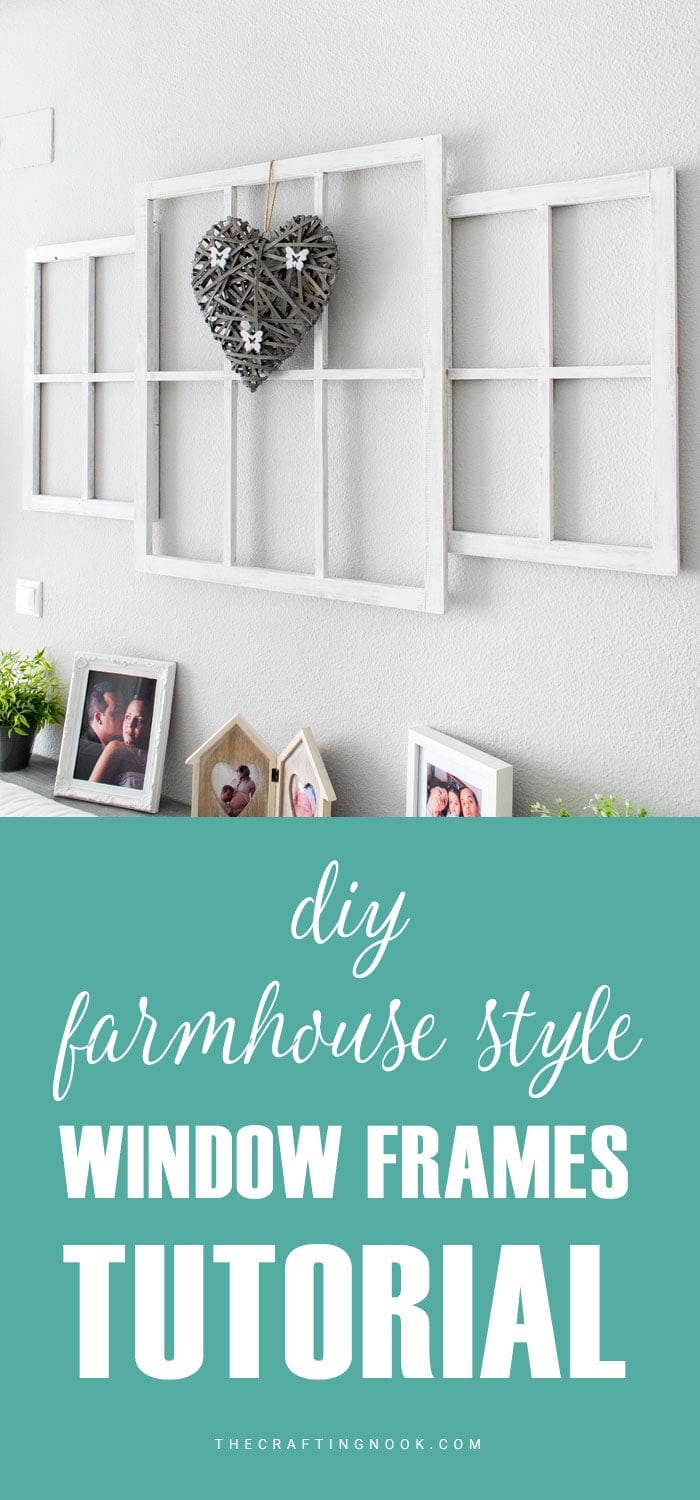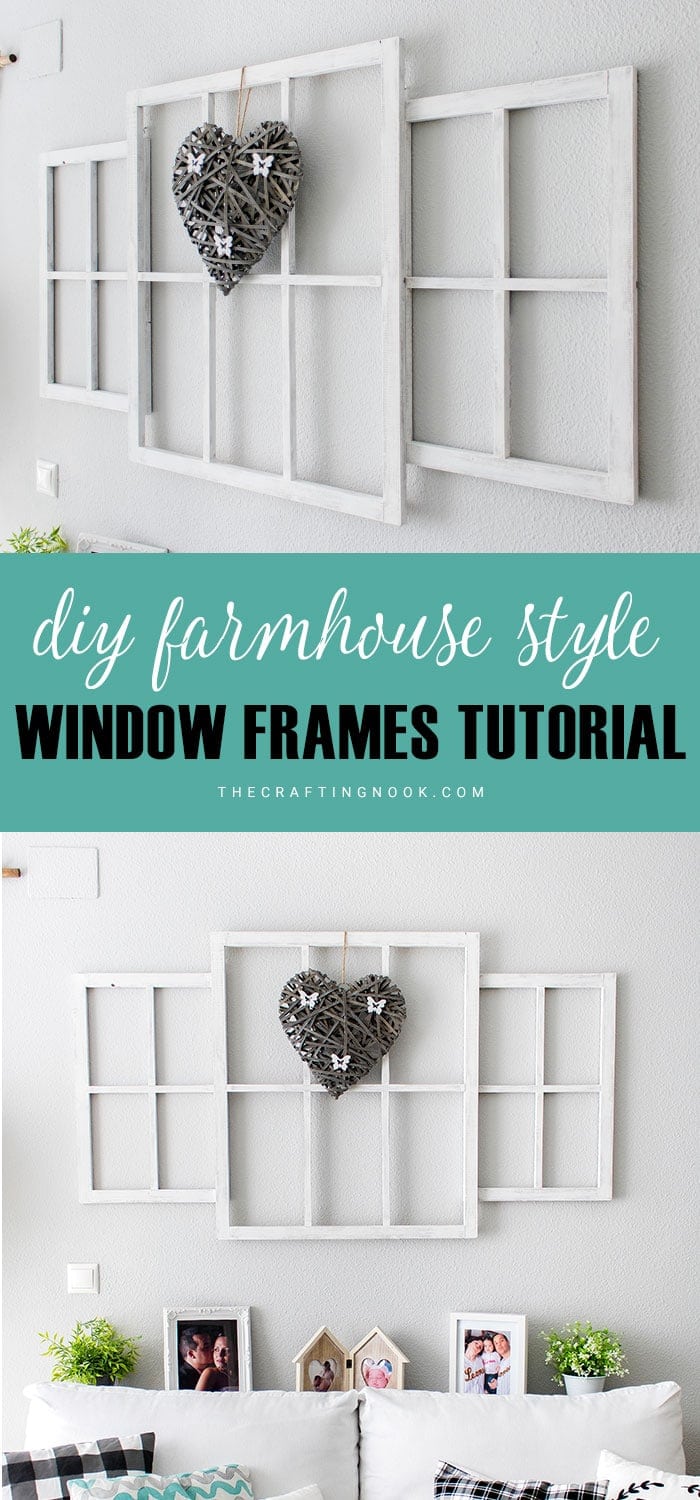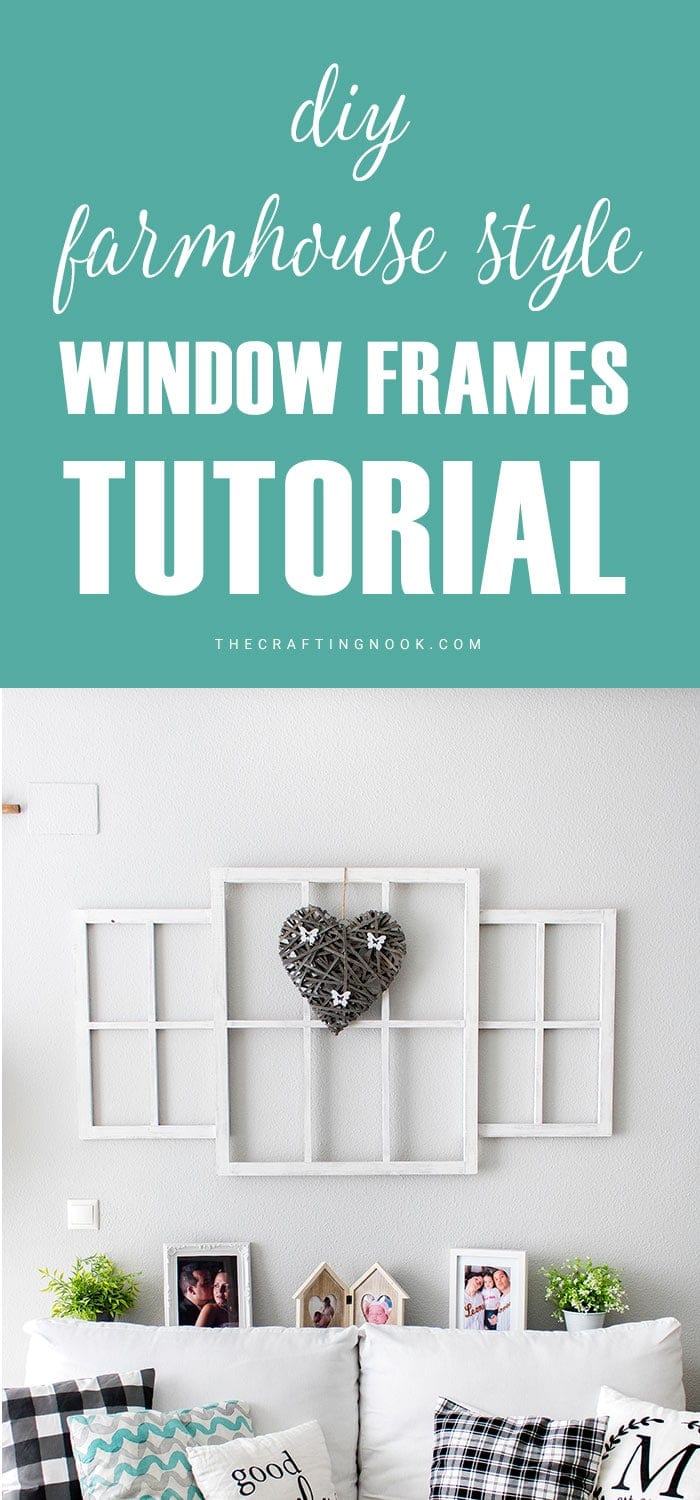 If you like this tutorial, you might also love these too: