DIY Ribbon Christmas Ornaments (with video tutorial)
These Ribbon Christmas Ornaments made with just clear plastic ornaments and lots of sparkling gold ribbon is one easy and inexpensive yet elegant Christmas ornament for the tree. Learn how to make some yourself!
Not gonna lie here, I got obsessed with clear ornaments. Until this year I wasn't able to find it anywhere where I live and now that I could get them I was like "Oh, I want to make lots of cute ornaments!".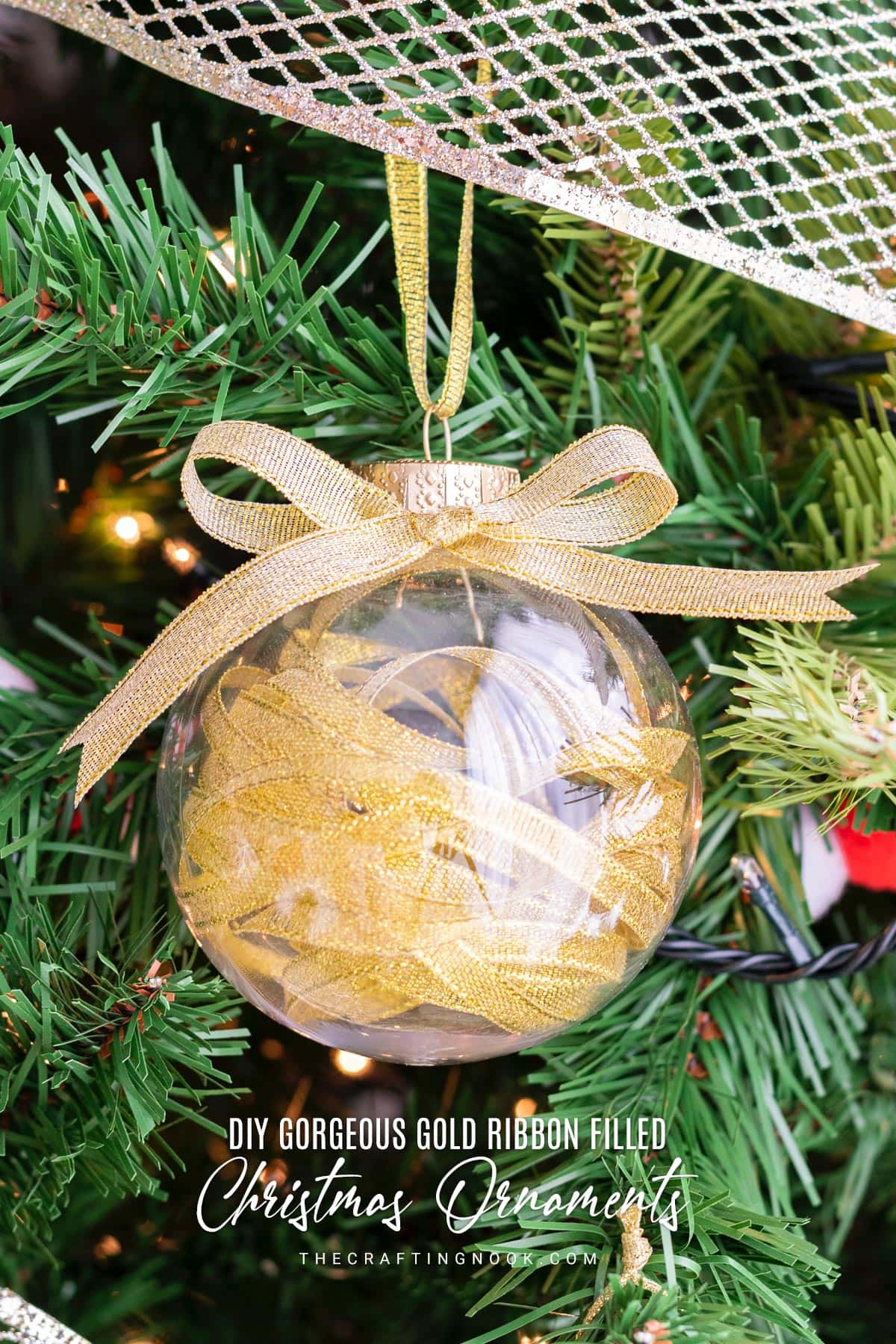 Fun easy craft: DIY Ribbon Christmas Ornaments
Like I mentioned on my previous post, Feather filled Ornaments, I wanted to still keep the rustic look but with a little more glam adding more gold to the overall look.
While I was making the feather ornament, I thought it would be fun to have some ornaments all filled with the gold ribbon, it would add a nice and sparkling texture to the ornament so I gave it a try.
Oh boy! Did I love it!
The hardest part for me was deciding how much of the gold ribbon to fill the ornament would be the right amount.
I tried a few times until I felt it was the perfect amount. It turned out to be 1/3 roll of the ones I got from a Chinese store. Each roll had about 10 yards so I could fill 3 ornaments.
This ribbon Christmas tree ornament project turned out so pretty, elegant and bright!
I love how something so simple can still be so pretty and special.
You can use plastic or glass ornaments but I'm telling you plastic do just as well.
Imagination is the limit.
I love crafting at nights with the tv and snuggled in some cozy blankets so this kind of craft makes it easy and fun to do just that with the whole family!
The best part?
It's crazy inexpensive. You can find all supplies in a dollar store if you may so there's no need to break the bank to have gorgeous ornaments in your Christmas tree.
These cute homemade ornaments also make the perfect gift for a loved one. It can definitely be a little project for fun activities with young kids since the variations are endless. You can take care of the hot glue but they can have fun filling up the ornaments, not to mention how good that is to improve fine motor skills.
How to make Ribbon Christmas Ornaments
So without further ado, let's start creating some glamorous handmade ornaments!
Supplies:
Clear ornaments
7mm gold ribbon (or the color of your choice)
10mm gold ribbon (or the color of your choice)
Tools:
Hot glue gun and glue sticks
Scissors.
Step-by-Step Instructions:
1. Firstly, clean well your ornaments.
In my case my ornament caps were silver, so I sprayed-painted them gold.
2. Remove the ornaments' caps and set them aside.
3. Decide how much ribbon you want to fill the ornaments with. In my case it was a little over 3 yards each
A quick tip is once you have how much you want to use in each ornament, cut as many strips as ornaments so you don't have to calculate each time.
4. Then start filling up each ornament. Twist, wrap and turn around the ribbon so it's always uneven.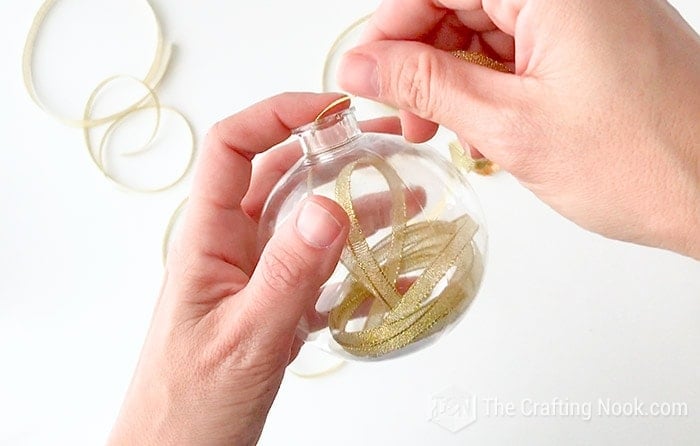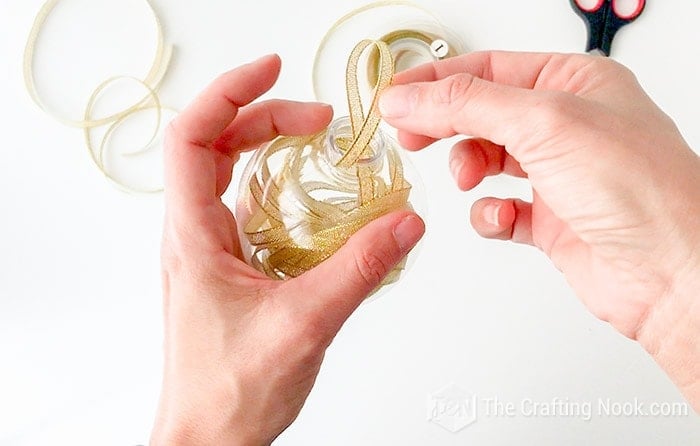 5. Once you added all the ribbon, put the cap back.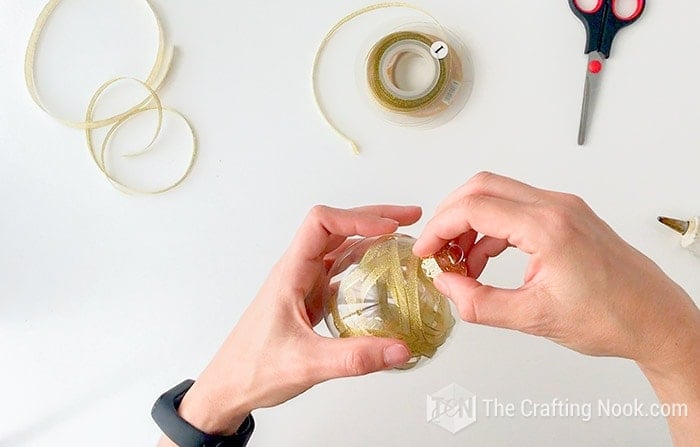 6. Make a cute ribbon bow with the 10mm gold ribbon.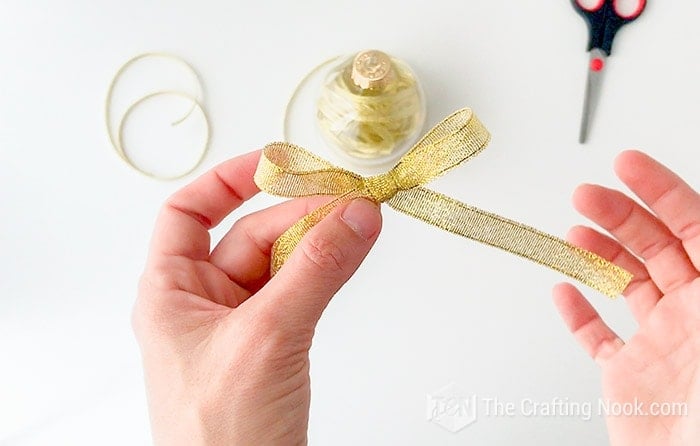 7. Using hot glue, glue the ribbon to the ornament as close as possible to the cap but avoid touching it so you can reuse the ornament without damaging the cap.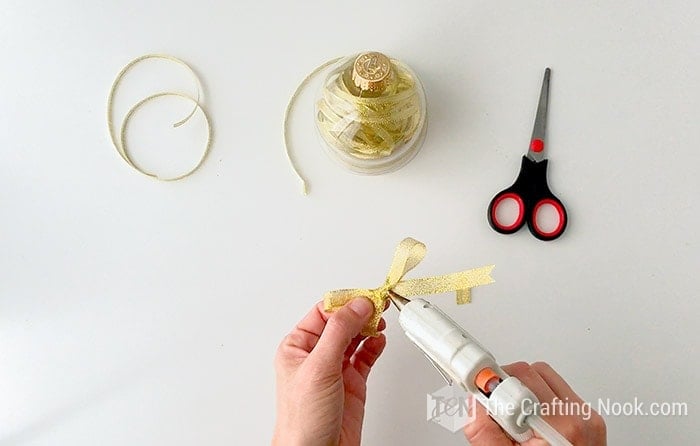 8. Lastly, cut an additional strip of ribbon (I prefer 7mm) for the hanger tying both ends with a knot.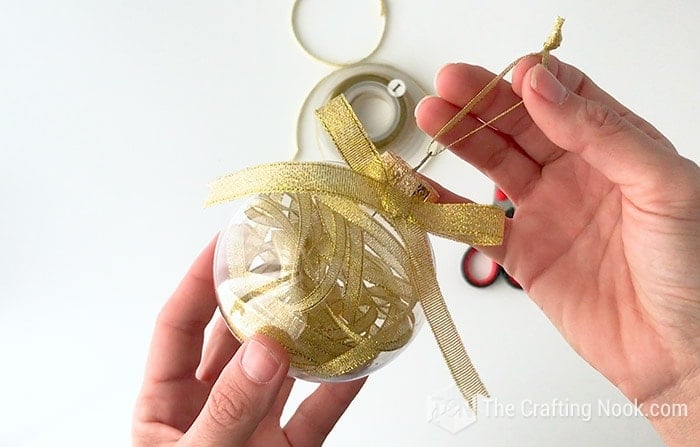 Voila!
You are all done. Your cute diy ribbon Christmas ornaments are ready to rock glam your tree.
Crafting Tips
If you don't have young kids and aren't worried about your ornaments breaking or shattering, feel free to use clear glass ornaments instead of plastic.
You can alternatively, fill these clear ornaments with twine or burlap ribbon if you want a more rustic look or a Disney ribbon to make it more children-friendly! And why not? even fabric scraps would make a great filling!
Repeat the process with each Christmas tree ornament for as many as you need and let's hang them!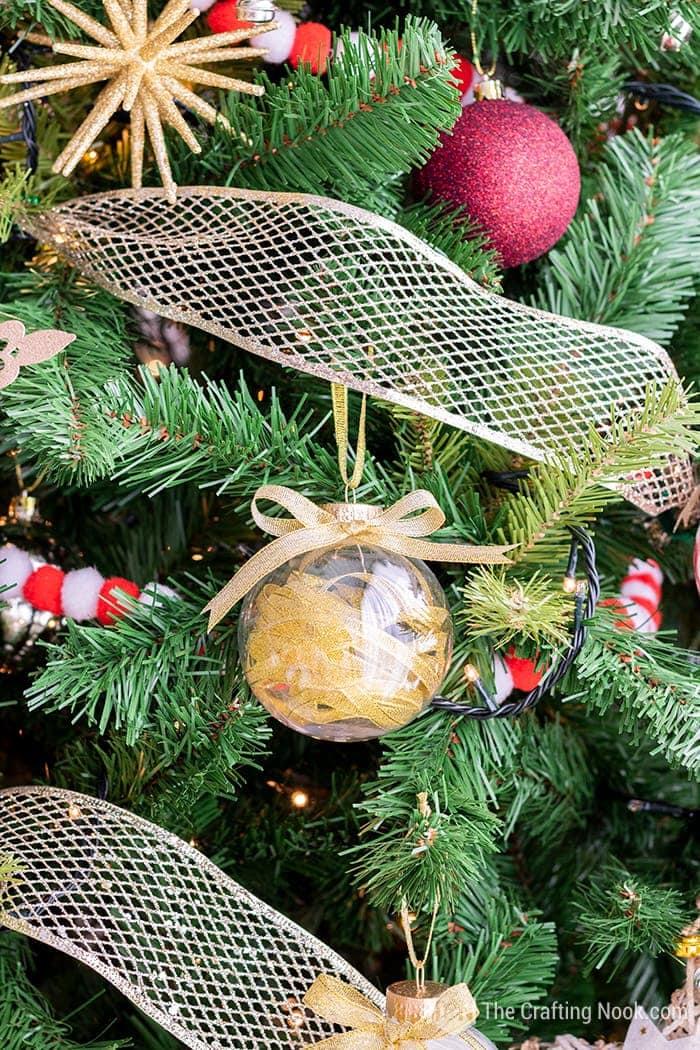 How cute is this ornament? I absolutely love how it turned out.
What do you think?
Frequently Asked Questions
What ribbons are used in these ornaments?
I used a sparkling gold ribbon for these ornaments. But you can use any type that will fit your Christmas tree theme and style.
Where to buy ribbons for this Ornament?
You can get ribbons at your local craft store, at Dollar tree stores, Michaels, amazon, Etsy, and even department stores.
Where to buy Clear Ornaments for ribbon tree Ornament?
You can get gorgeous clear ornaments at your local craft store, sometimes at Dollar tree stores, Christmas stores, amazon, and even department stores.
More Christmas Ornaments to Try
Loving this DIY ribbon Christmas ornaments tutorial? You might also love these other Christmas project ideas too:
Here are some other clear ornament crafts from my favorite bloggers!
Share and PIN ME!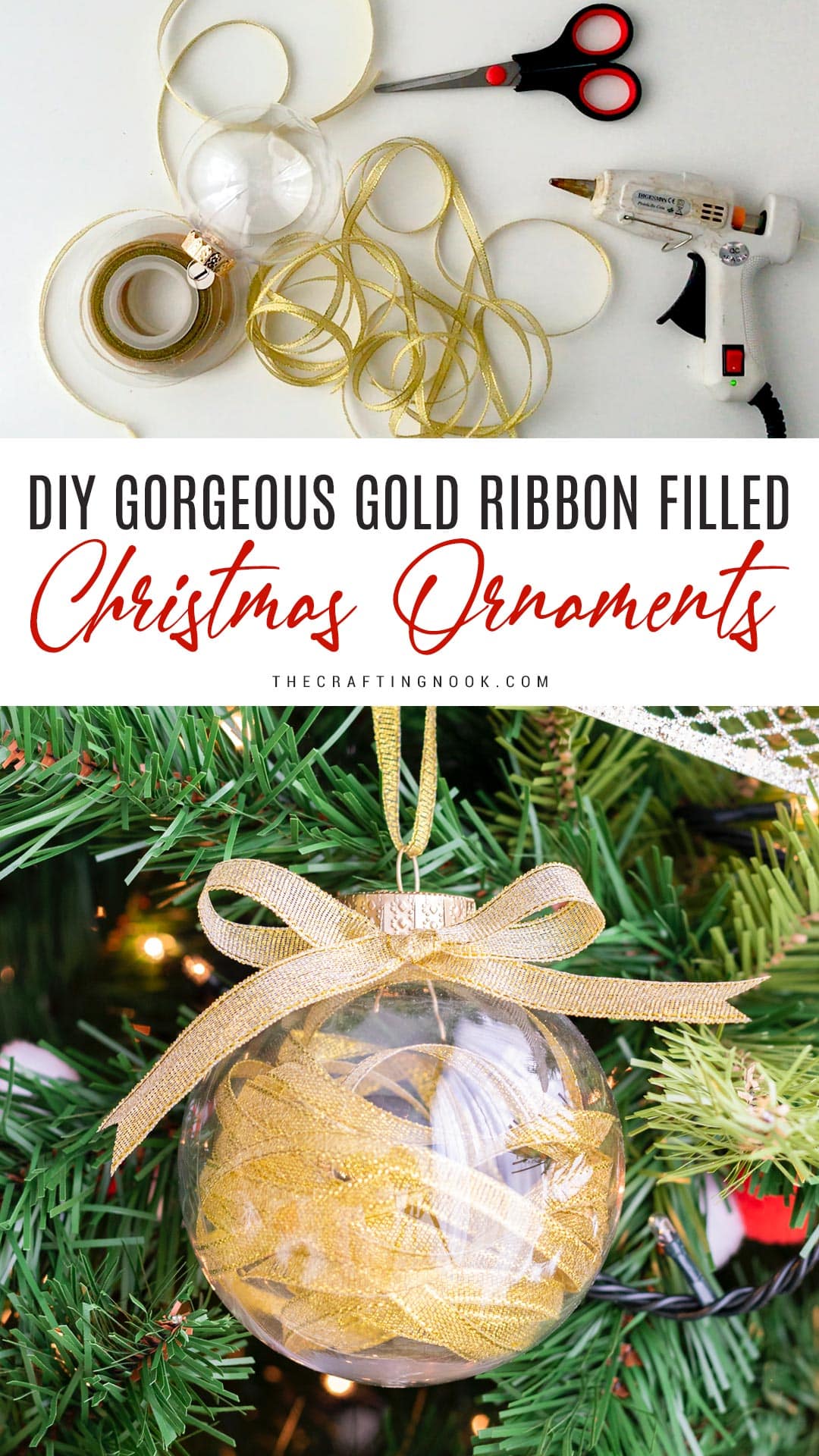 Til' next time...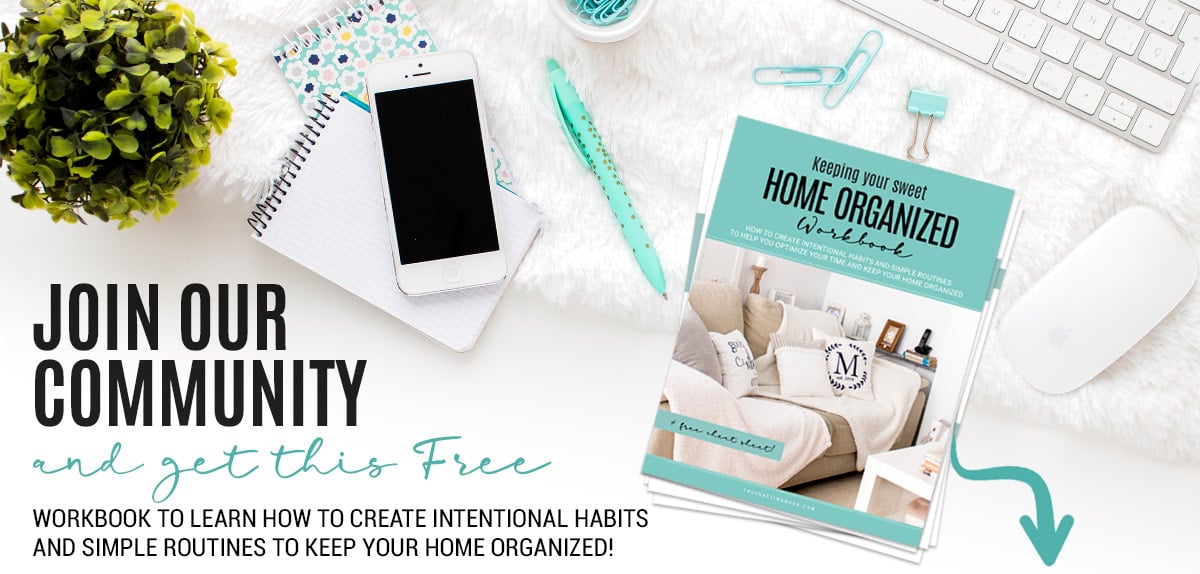 GET INSTANT ACCESS TO THE HOME ORGANIZED WORKBOOK
Plus freebies, printables, exclusive content, tips, stay connected, be the first to know great offers and Product Launches!
Disclaimer: By clicking on the "Yes, I want it" button above you are giving me your consent to collect and use your information according to the law and My Policy Privacy and The Cookie Policy. Zero Spam I promise!