DIY Red and Gold Christmas Ornaments Shadow Box
You don't need to be a crafting queen to create gorgeous holiday decorations. This lovely Christmas Ornaments Shadow Box DIY is super easy to make and will look festive and adorable in your home.
It's not a secret that Christmas is my favorite time of the year. If I hadn't been creative or crafty all year long this is when everything comes to me! I just love it!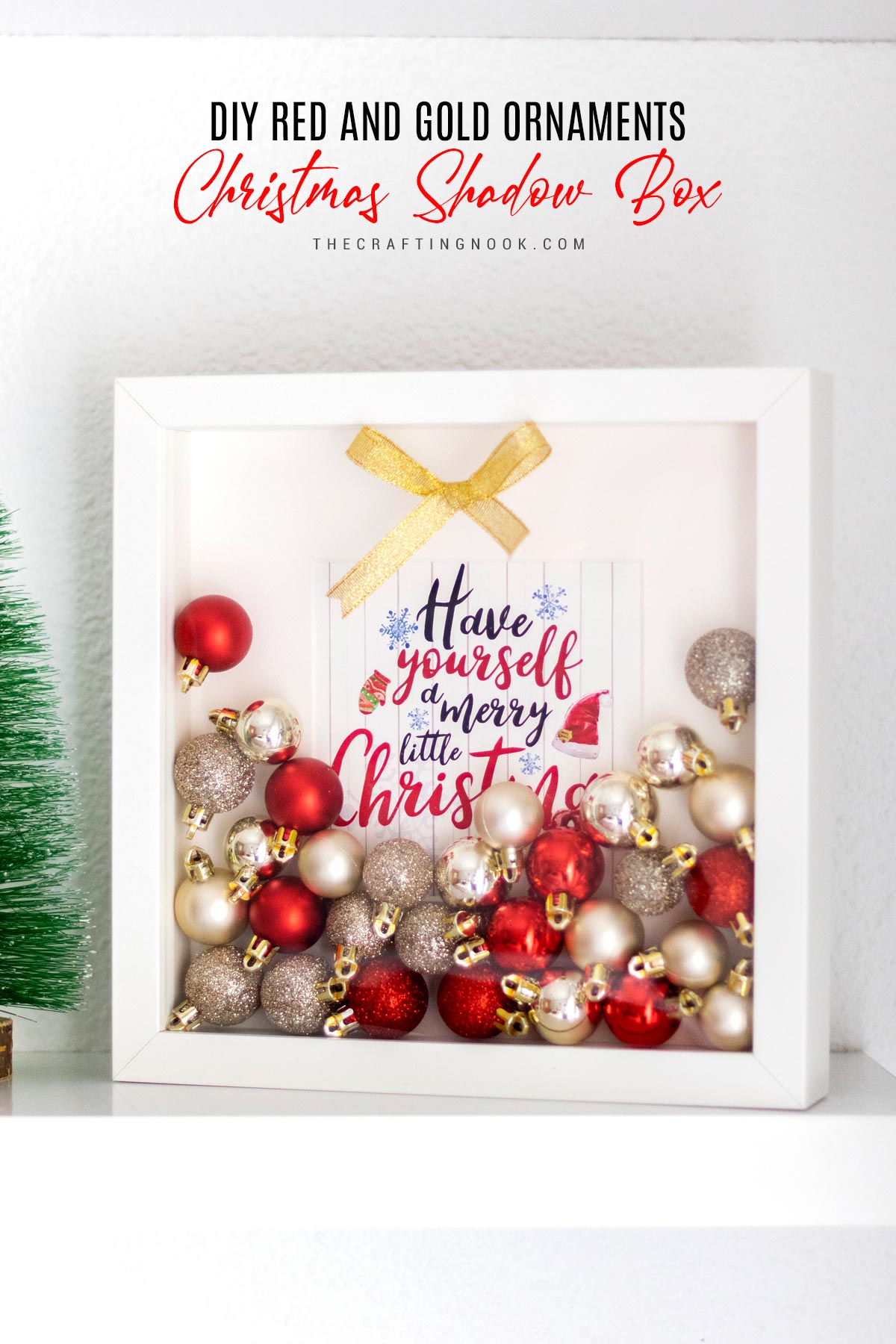 Red and Gold Christmas Ornaments Shadow Box Tutorial
This time of year always brings out the craftiness within me. I love Christmas and I love to create myself as many decor for my home as I can as well as gifts for friends and family.
I recently shared e blog posts about making your own Elegant Christmas Ornaments. If by any chance you missed them, make sure to go back and check them out, you will love them!
To me, there is nothing like decorating my Christmas tree and my home with my own handmade items.
I absolutely love shadow boxes. I find them so decorative and fun to make.
This one was made last year at the last minute and I never got to share it.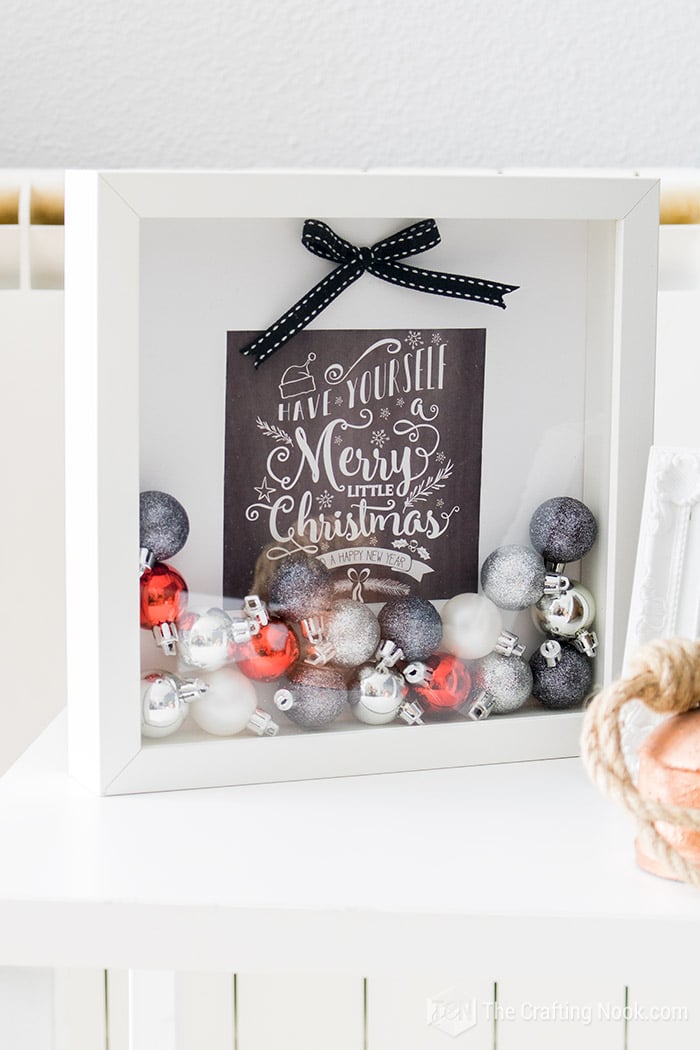 This year I made it again with different colors and decided I wanted to share it.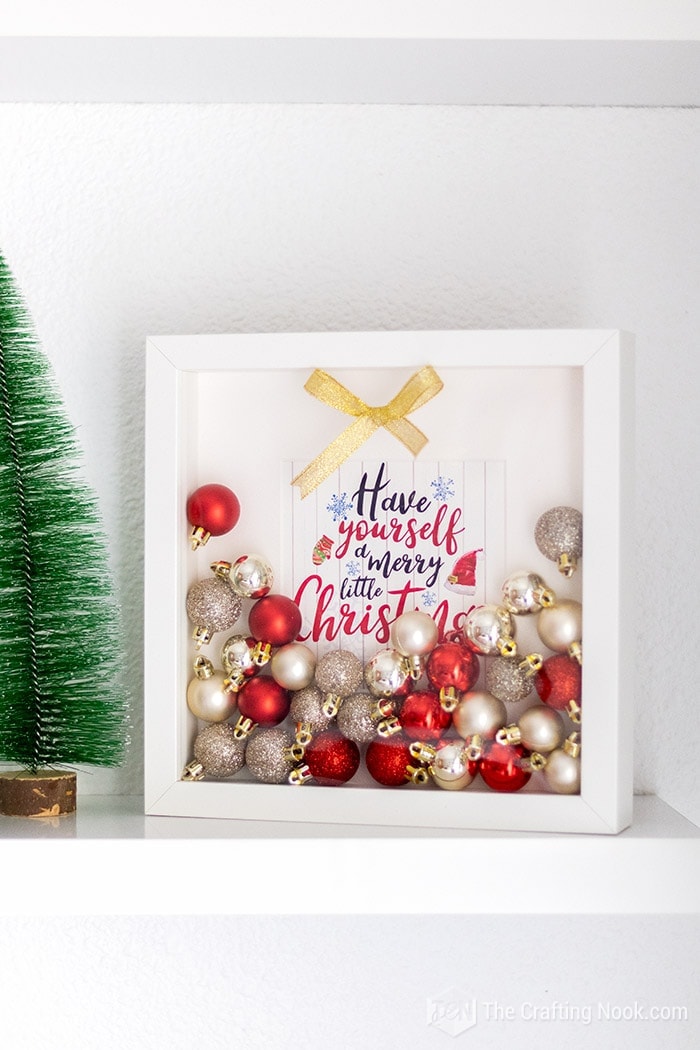 I love sharing ideas with you that are very simple to make, mostly inexpensive and easy enough. The best part is that you can always tweak them to meet your needs and your creative abilities so you can make them your own.
I absolutely love sharing some ideas that might just spark your imagination and get your creative mojo flowing.
Hope you have lots of fun with this.
The Shadow Boxes above were made using an 9×9 (23x23cm) Ikea Ribba white decorative Shadow Box. These shadow boxes were very easy to make and I only needed a few supplies.
There are so many possibilities with what you can put inside a shadow box. Using your own imagination and use things that you already have on hand if possible you can create such meaningful, fun and so decorative pieces (if you are a crafter, you probably have boxes of goodies on hand!).
For this Christmas Shadow Box, I just used a printable sentiment that you can snag if you like it, a Shadowbox frame, a cute bow and lots of small Christmas ornaments in gold and red colors.
This project is so crazy easy and fun to make! No special items or tools.
So let's get started!
Supplies needed:
I Shadow box frame ( I used a white Ikea Ribba 9×9)
A sentiment printable
Sorted small Christmas ornaments (very small)
Adhesive take (just a tiny bit)
Hot glue and scissors.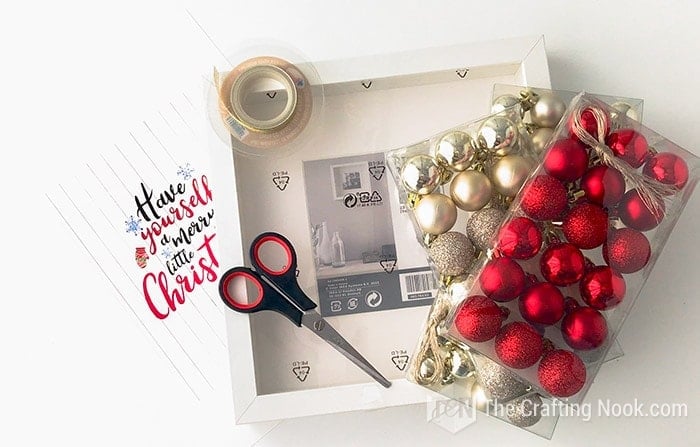 How to make a Red and Gold Christmas Ornaments Shadow Box
I made this quick video to show you how to make this cute and elegant Christmas ornament. Keep scrolling for a more detailed tutorial.
Firstly, unpack your shadow box if you haven't yet remove all protective plastics and separate all the main pieces.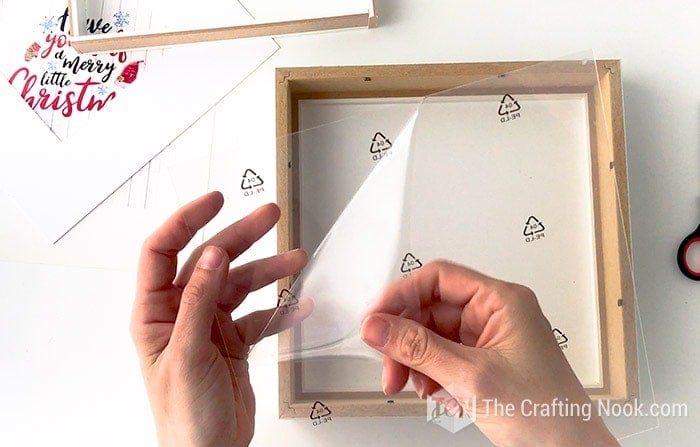 Print your sentiment. I recommend measuring your available space and adjust the printable design to fit it. Within the printer setting, you can reduce by a percentage or you can set it up on an app like canva.
Take the window mat and adjust to taste your printable sentiment.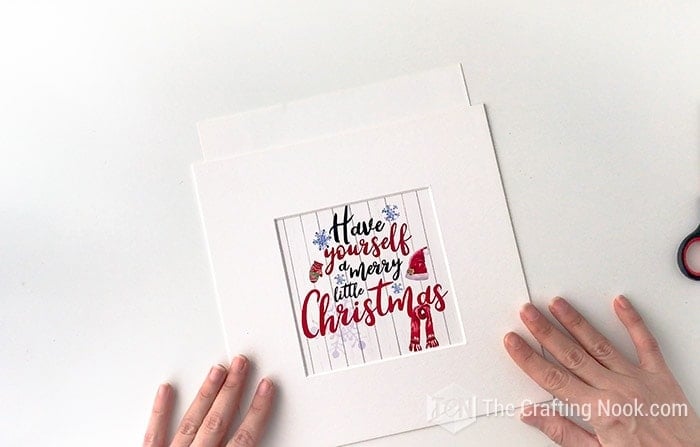 Cut any excess of paper.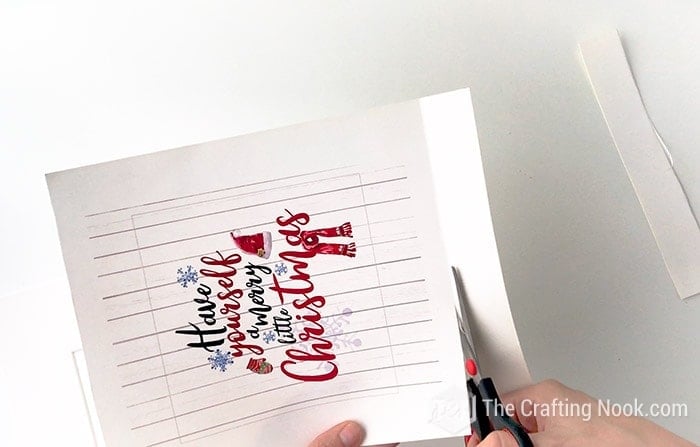 Secure sentiment to the back of the window mat with a couple of small pieces of adhesive tape so it doesn't move around.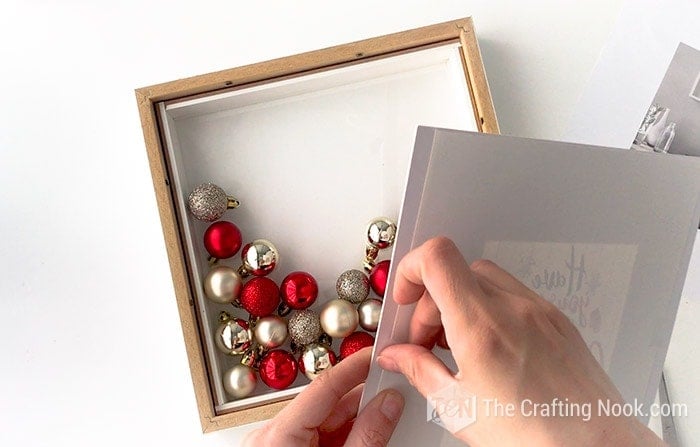 Next, take your frame and start adding your Christmas ornaments. Add as many as you like but making sure you can read the sentiment.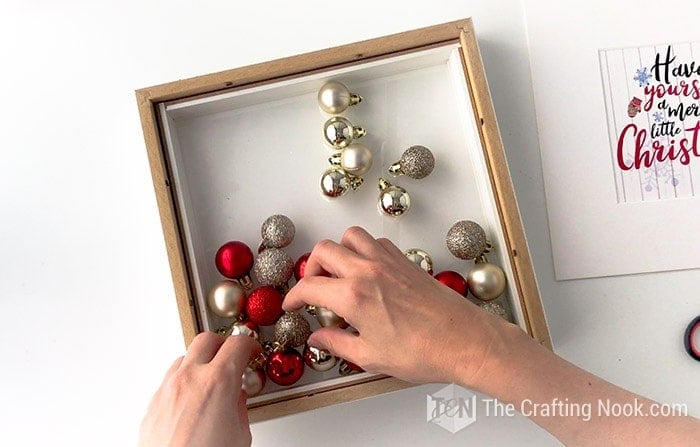 In my case the word Christmas got a little covered but since all the rest was visible, you get to know what it says.
Just play around with it until you like it!
Put your window mat back in place then put back the back cover.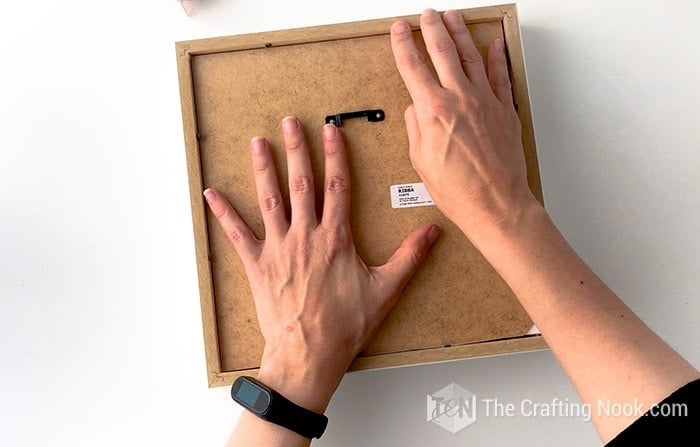 Turn it over.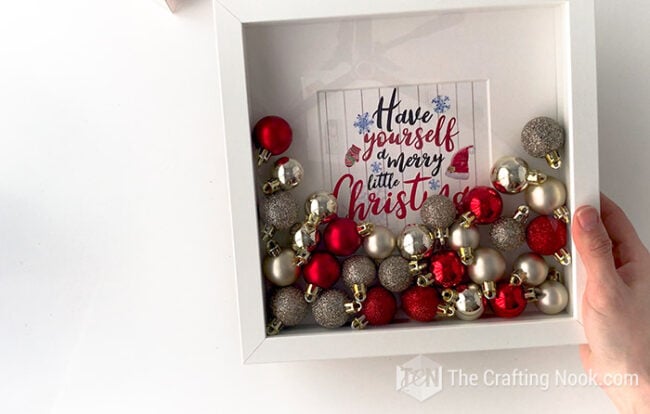 Cut a small piece of adhesive tape. Put it right where you would like the bow to be.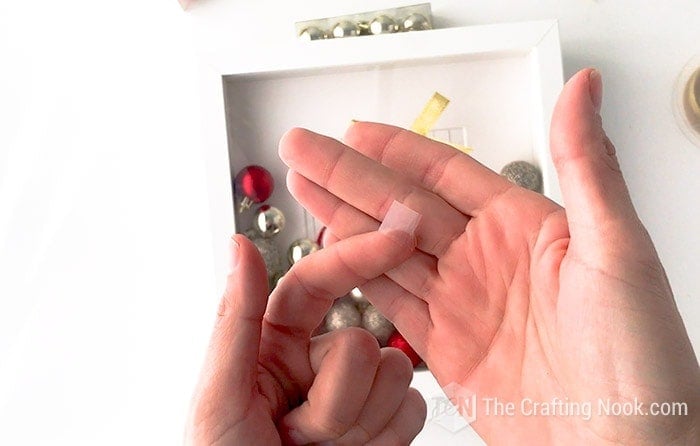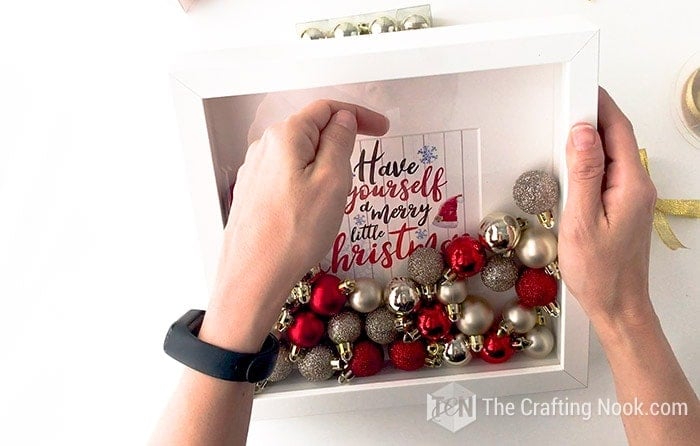 Lastly, you can glue your bow with hot glue without damaging the clear material. In this case, it was not glass, so I didn't want it to melt or deform with the heat and be able to remove it when Christmas is over.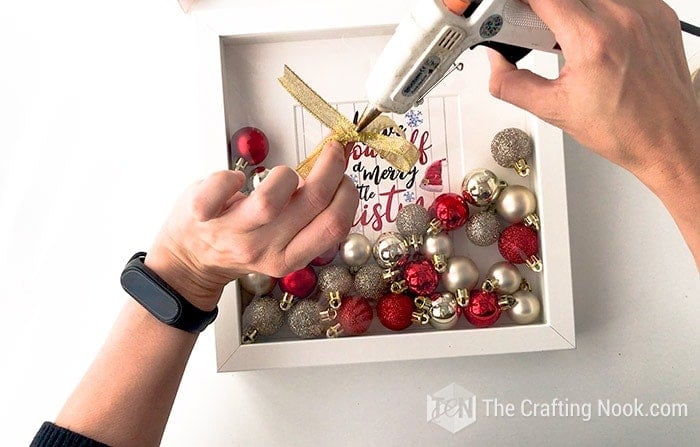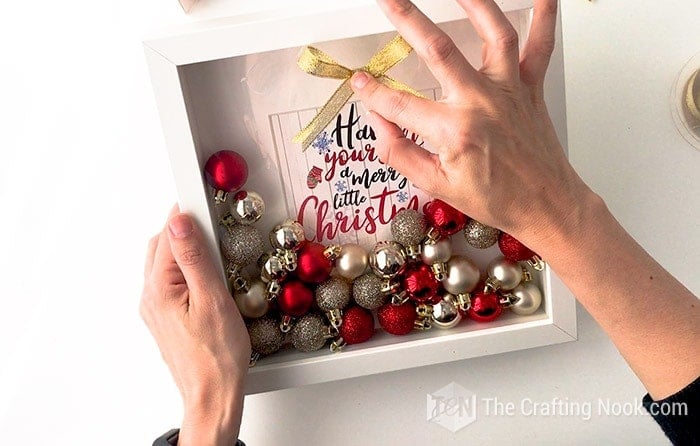 You are good to go!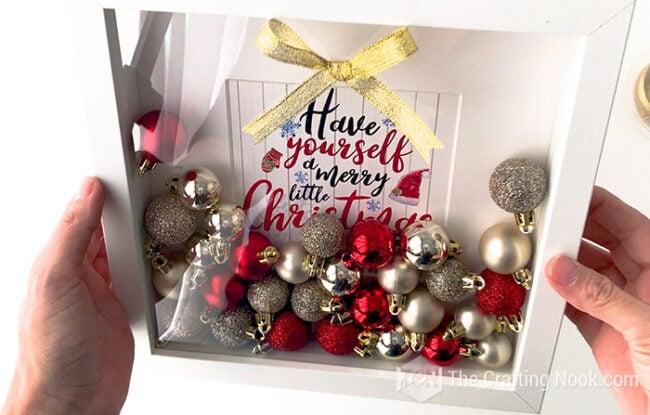 you can shake it a little bit to rearrange the ornaments or just leave it as it is.
Put it where you will see it and make you smile every time.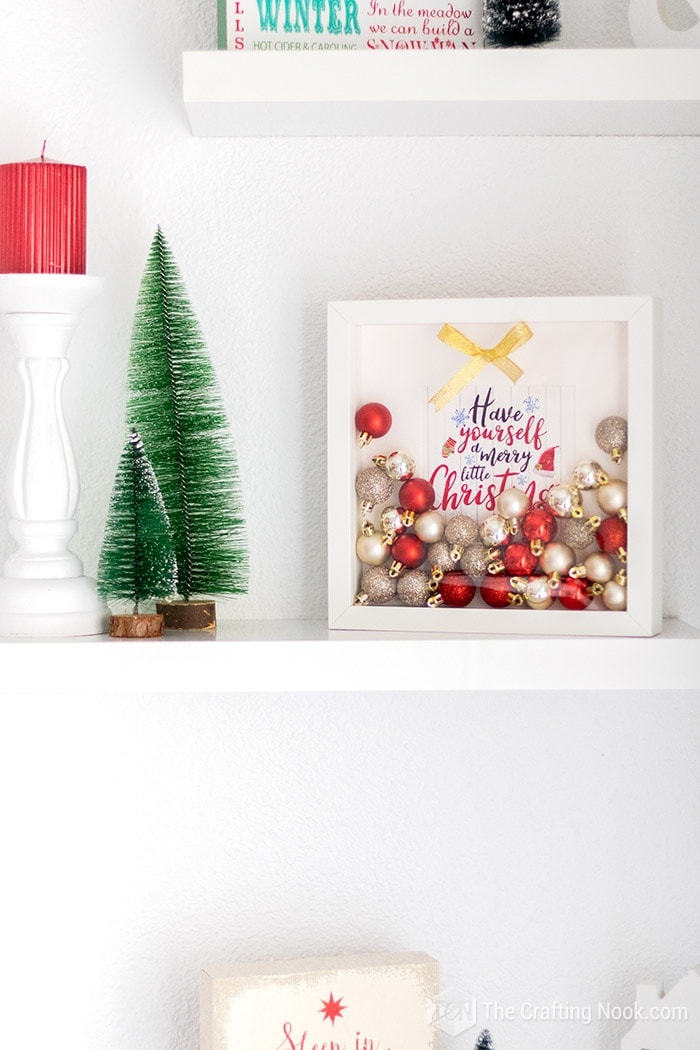 I put it in my bedroom and I so love waking up and look at it!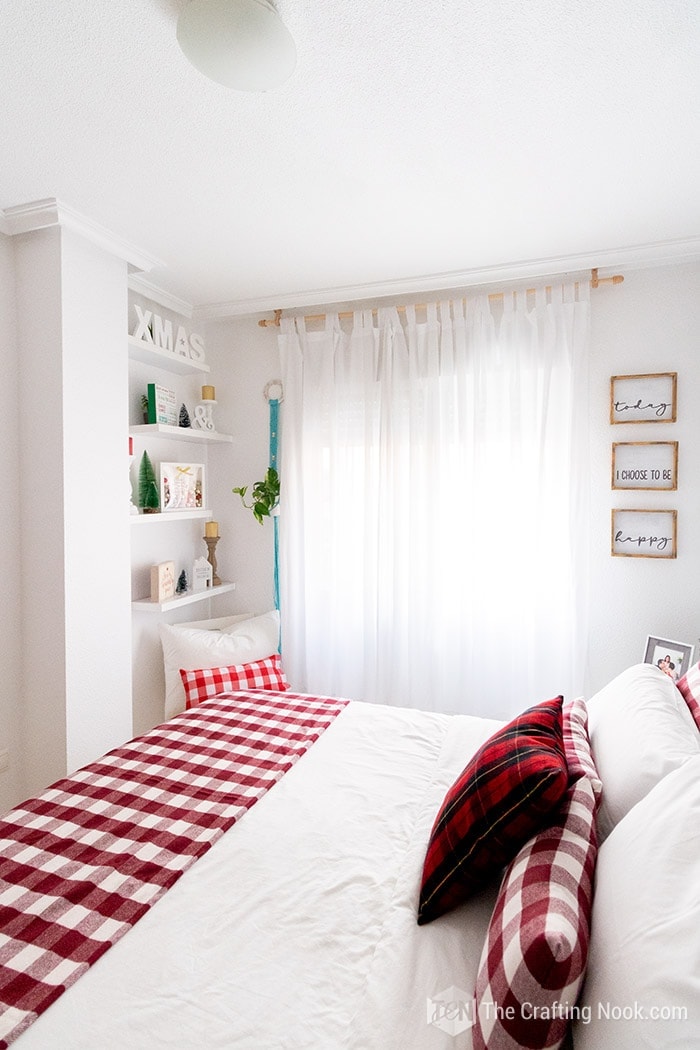 Now it's your turn to get crafty.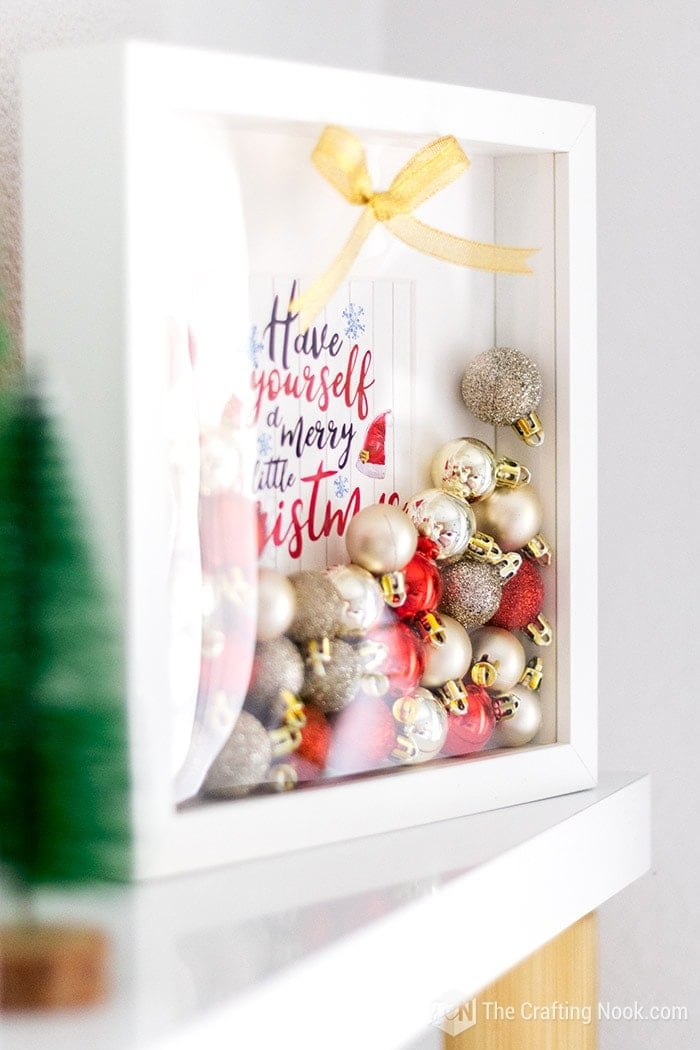 I truly hope you like this idea and that it inspires you to create one for yourself!
Doesn't it look super cute on my shelves?
I just love it!
Here are some other shadow box craft ideas from my favorite bloggers:
If you found this tutorial inspiring, don't forget to PIN and share it with friends!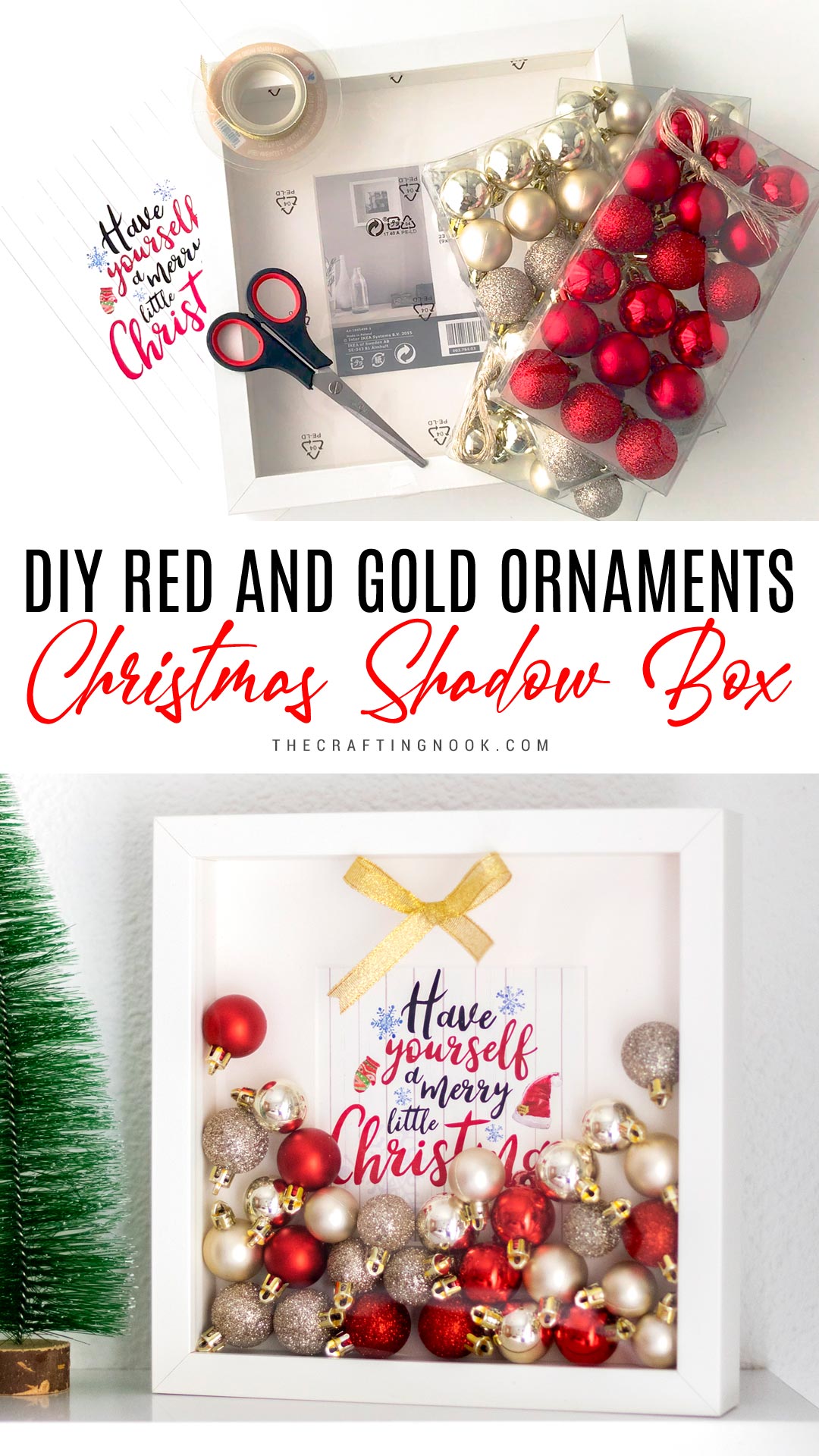 Loving this Christmas craft? I'm sure you will love these even more!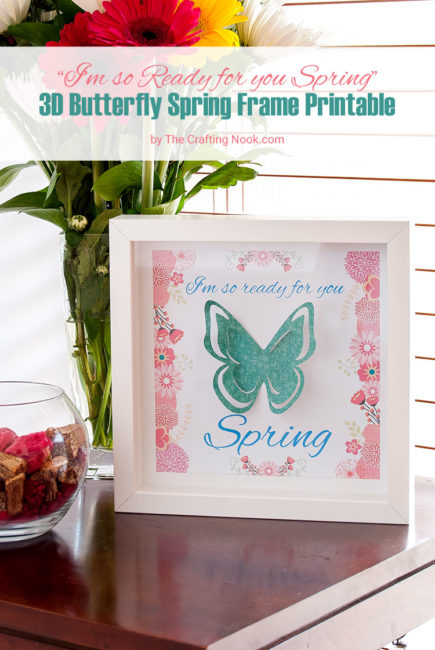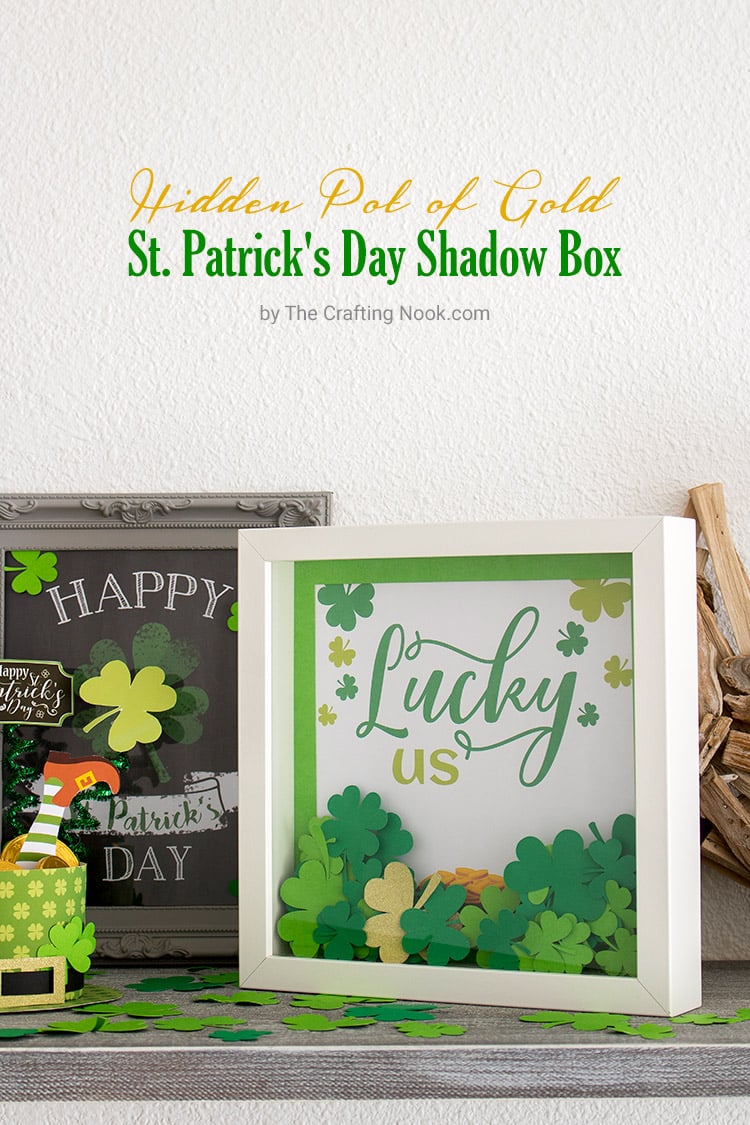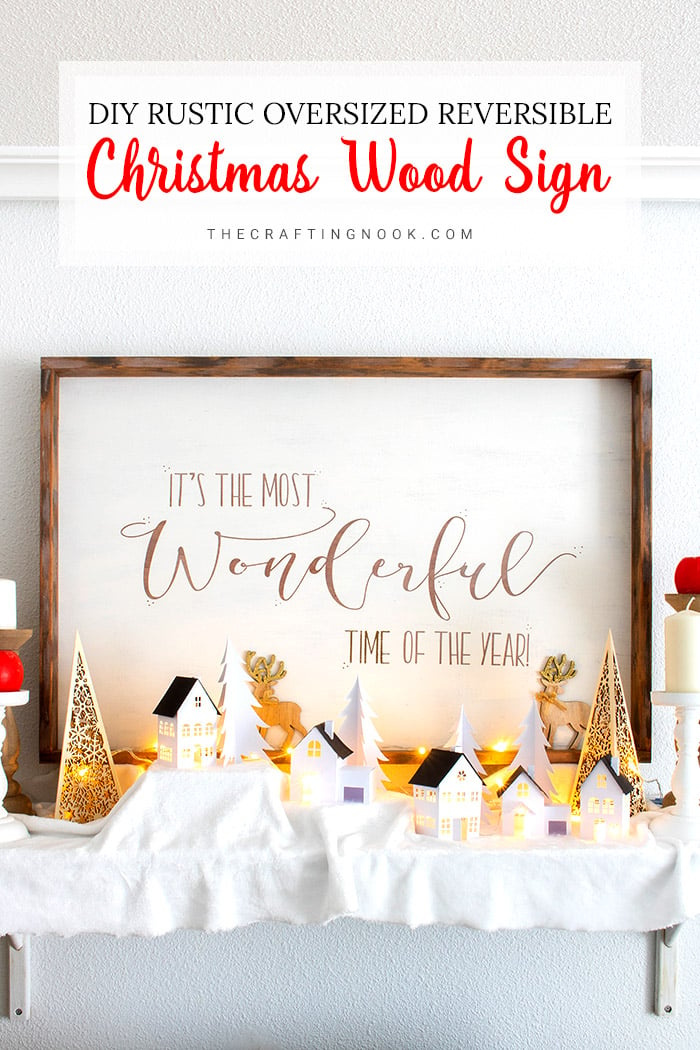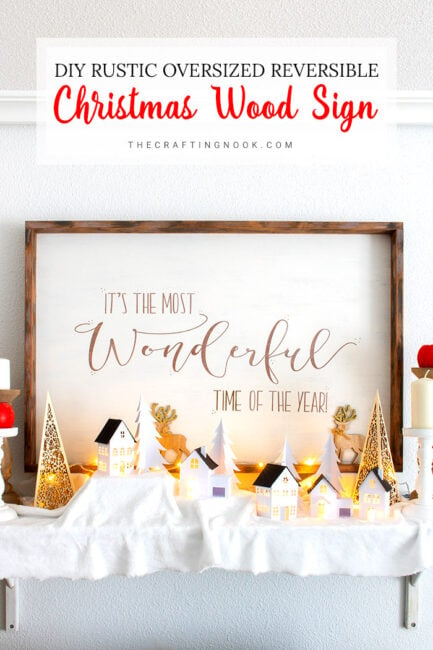 Til' next time...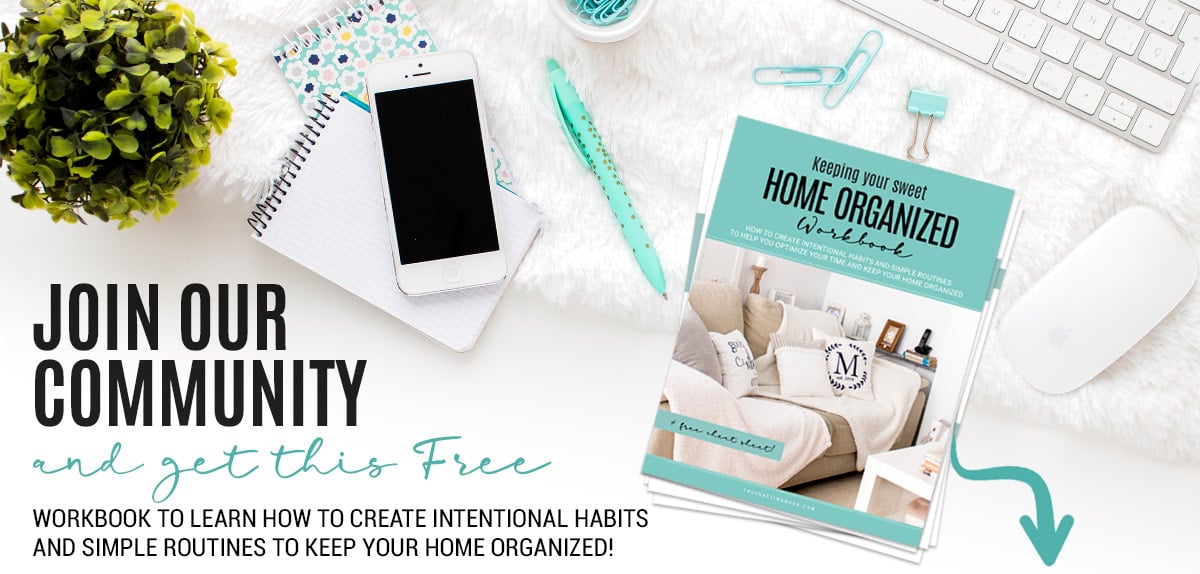 GET INSTANT ACCESS TO THE HOME ORGANIZED WORKBOOK
Plus freebies, printables, exclusive content, tips, stay connected, be the first to know great offers and Product Launches!
Disclaimer: By clicking on the "Yes, I want it" button above you are giving me your consent to collect and use your information according to the law and My Policy Privacy and The Cookie Policy. Zero Spam I promise!