A Reversible Farmhouse Wood Sign is the perfect way to add a rustic touch to your home decor and making it reversible saves you space too! Learn how here.
If you have been around for a while, you probably know I love farmhouse style. Even though I don't have a farmhouse or a house for that matter, I still manage to add small rustic touches to my small apartment.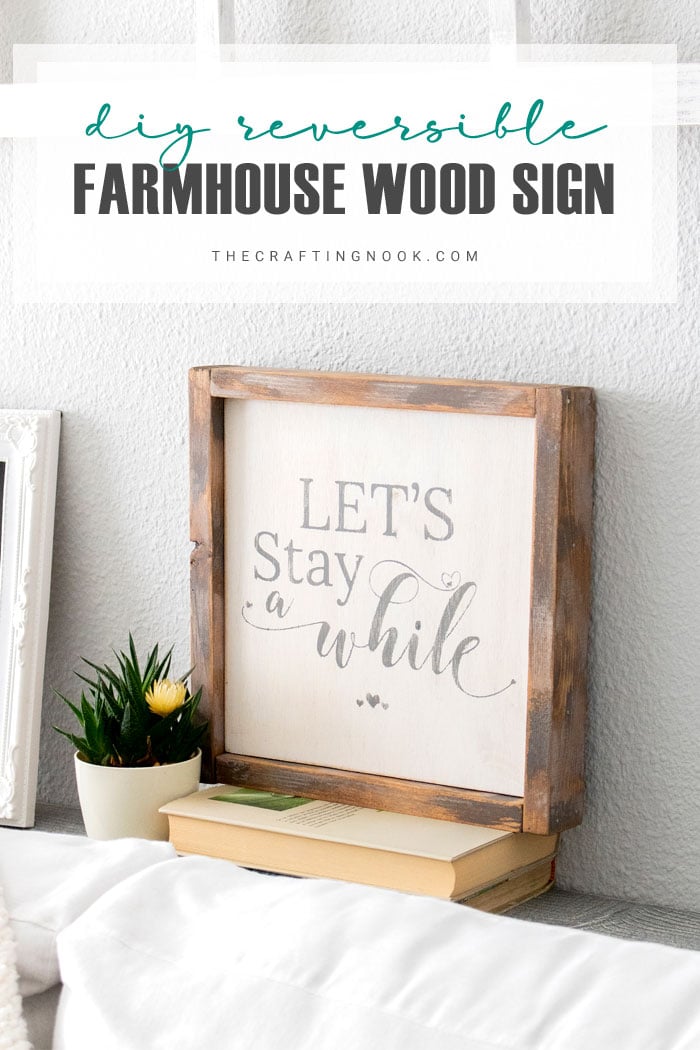 DIY Reversible Farmhouse Wood Sign
After making my Window Frames, and my reversible Christmas/Winter wood sign, I had some wood boards left and wood pieces from other projects. I decided to make this cute Reversible Farmhouse Wood Sign so I can use the side that fits my mood best.
Cool, right?
I was thinking that usually, we have the back of wood signs wasted. Then we make more and more and where do we store all that? Making them reversible we get 2 for the space of 1, right?
I so love this one turned out and it was SO easy and fun to make.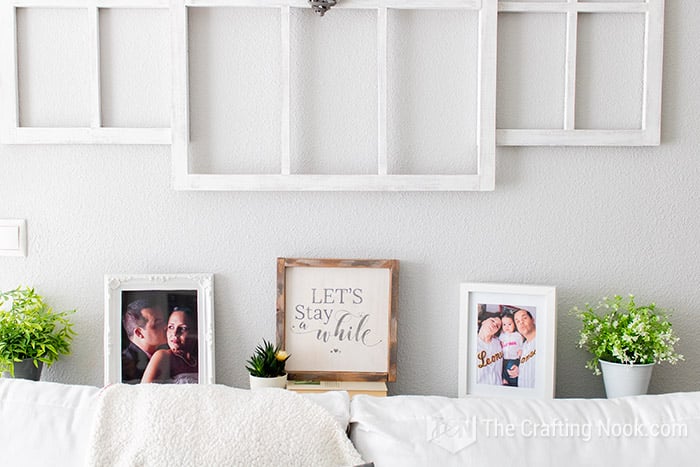 You can make it with scrap pieces as I did or buy them and still won't be expensive.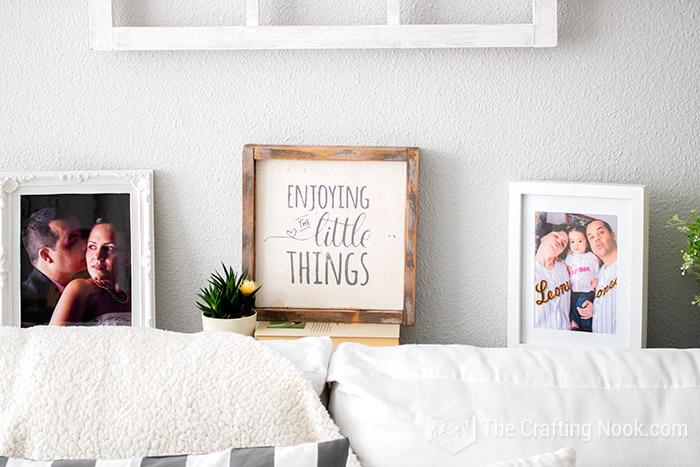 Believe me, you don't need to be a carpenter or an experienced crafter to make this wood sign. You don't need to have a cutting machine either. There are plenty of stencils you can buy and there are even ways to transfer your design to the wood without spending more than a bit of ink of your printer.
So this being said, how about we jump right in?
How to Make a Reversible Farmhouse Wood Sign.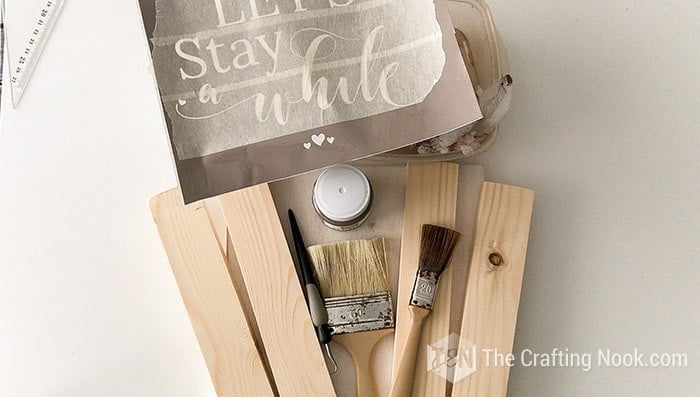 Gather your supplies:
2X – 230mm x 45mm x 18mm
2X – 266mm x 45mm x 18mm
1 wood board 230mm x 230mm x 16mm
White latex paint
Grey latex paint
Wood stain (your favorite color)
Quote vinyl stencil 
Sandpaper
Headless nails
Wood glue
Brushes
Plastic plate
Cotton cloth
Tools:
Hammer
Jigsaw (if you are cutting your own boards)
Reversible Farmhouse Wood Sign Tutorial
I made this video tutorial for you of my process. But if you are more of a step-by-step written detailed tutorial, just scroll down a little bit and keep reading.
Whitewash your wood sign board (dilute white paint with water 1:1) and sand it.
Sand your wood boards to avoid splinters.
Now, this is a fun part. You want to give your boards that weathered look.
Give your boards rough strokes with your brush using your grey paint on all 4 sides. Don't worry about where or if it covers. This is absolutely random and imperfect.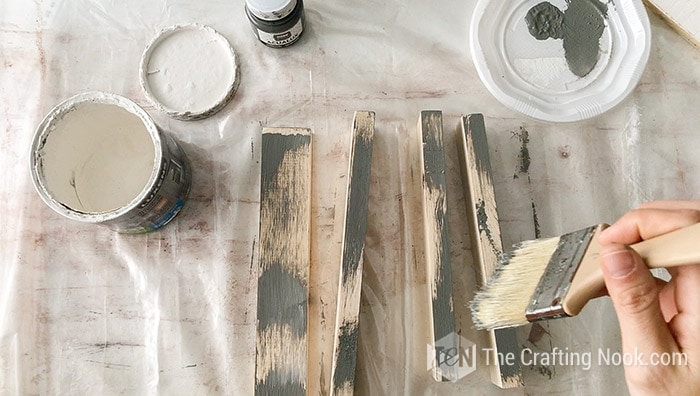 Set aside to let it dry.
Get your wood sign board. Place your vinyl stencil as centered as you can, rub it well and remove the transfer tape.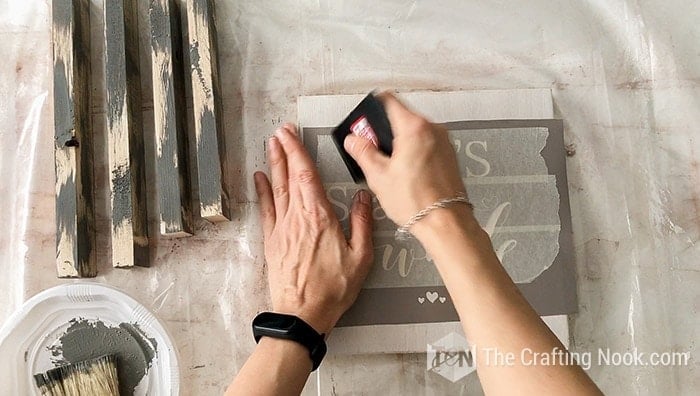 Paint your pretty quote and let it dry.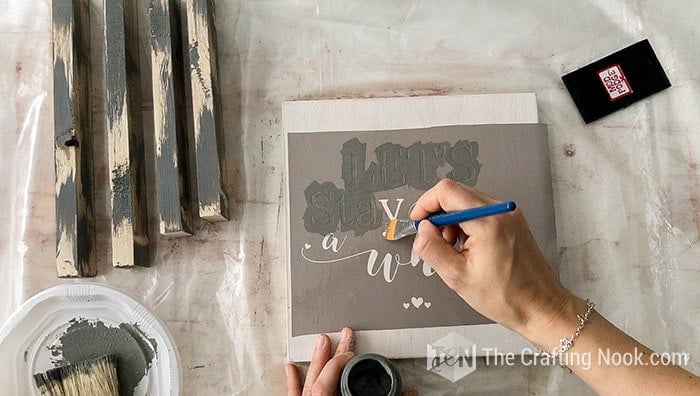 Go back to your frame boards and now repeat the prices with the white paint. Again just rough strokes randomly on all 4 sides.