DIY Winter Scene Christmas Cloche Centerpiece
This super cute Winter Scene Christmas Cloche Centerpiece is crazy easy to make, perfect for a night craft and even involve kids in the activity.
Ok, I know it doesn't snow where I live but there's nothing wrong with dreaming of a snowy winter scene, right?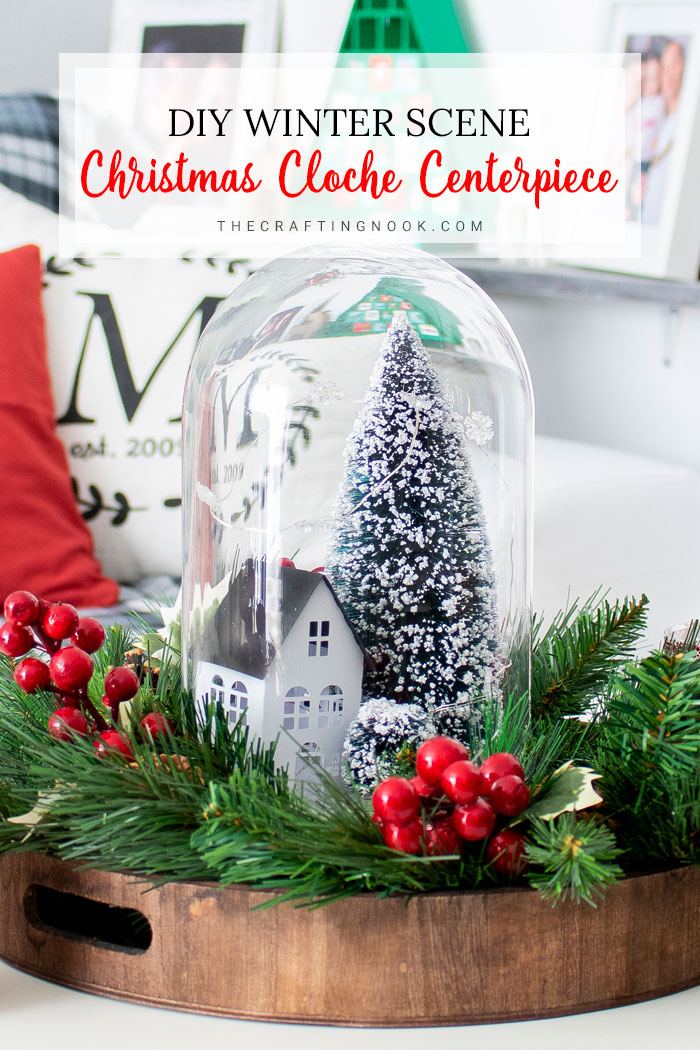 How to Make a Winter Scene Christmas Cloche Centerpiece
I've had this glass dome for a long time and I've wanted to make a Christmas cloche since I bought it! It's so pretty and elegant.
Winter Scene Cloches have become a decor idea because they can turn anything you put inside them into a gorgeous highlighted decoration. Of course, you can use some for Christmas decor, too! I prefer using only winder details and leave the Christmas touch to the outside of the centerpiece.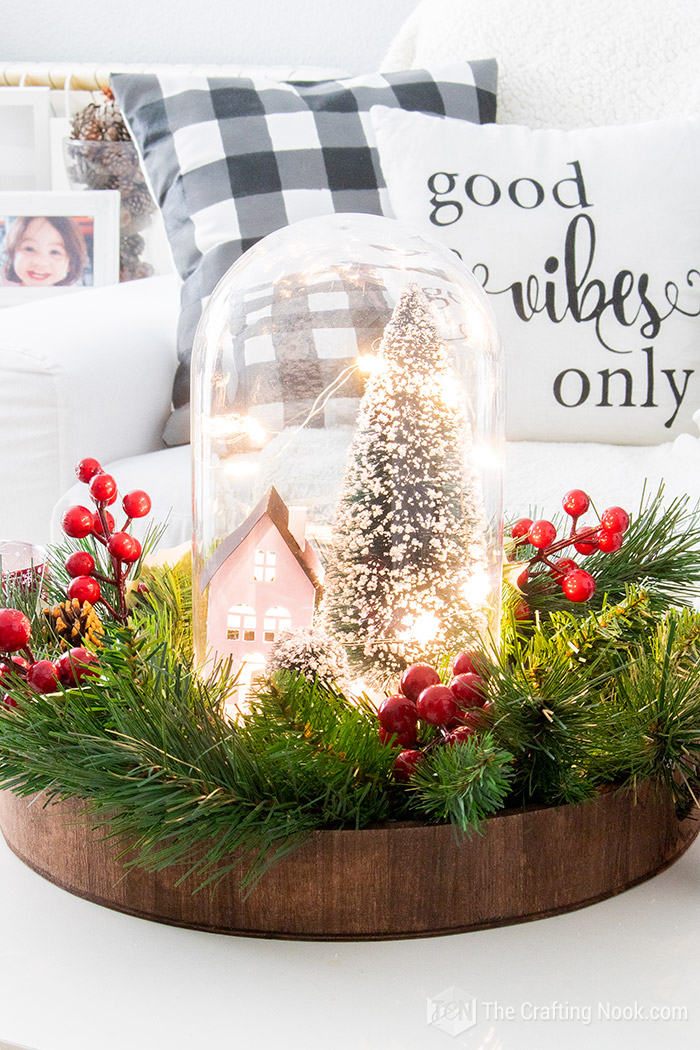 Cloches can be used as different kinds of decorations such as centerpieces, mantel and windowsill decorations or you can just put it everywhere you like throughout the whole home.
The elements used for this Christmas Cloche Centerpiece are usually among your Christmas decorations so it's probably you don't need to buy anything except for the glass dome if you don't have one.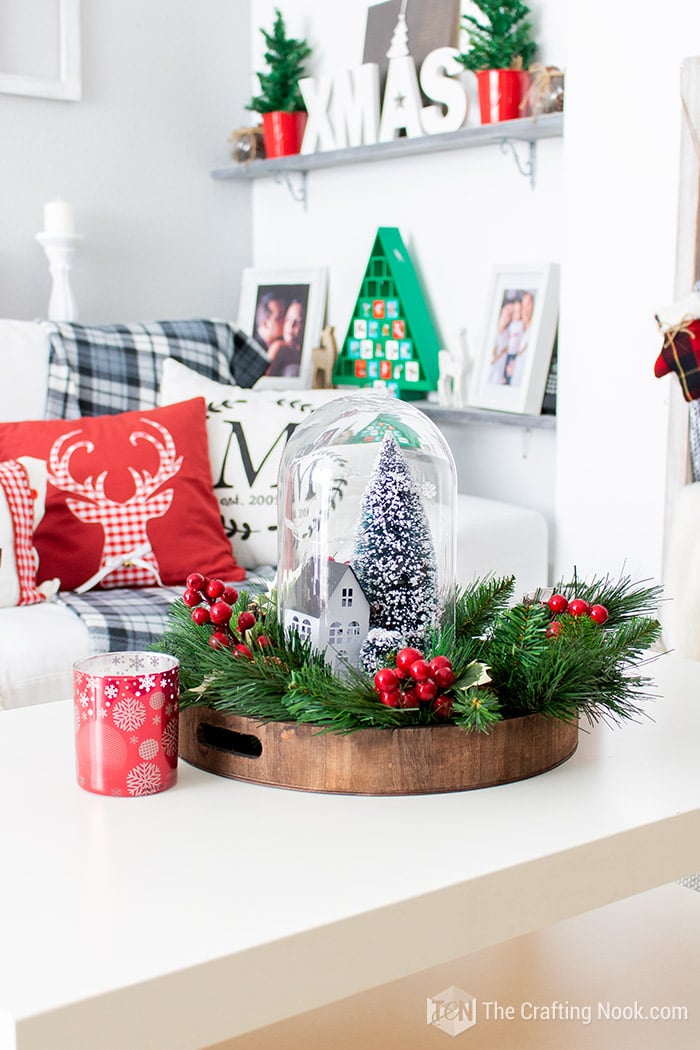 Super easy and fun to make, this Winter Scene Christmas Cloche Centerpiece is a perfect craft to make with kids too. It's so relaxing. Although the light string is a bit tricky.
Christmas Cloche Centerpiece Supplies:
A piece of white cardstock (about the size of your dome)
Faux snow.
A small house (I used one from my Christmas Village Tutorial)
Bottle Brush Trees
Metallic light strings.
White glue
Glass Dome
Greenery stems
Berries stems
A wooden tray.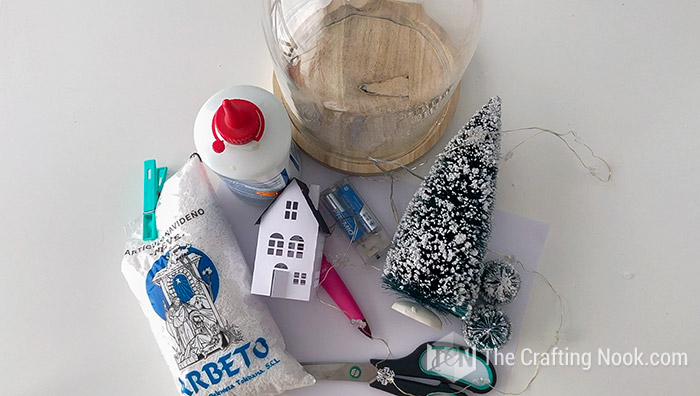 Winter Scene Christmas Cloche Centerpiece Tutorial
I created this fun video tutorial if you like this kind of style! If you are more of a step-by-step photo kind of person, scroll down a bit and keep reading.
Firstly, farther all your supplies, clean your glass dome and make your paper house (if you decide to go for it).
The paper house can be found as a cut file to download on my Christmas Village post here if you want to download it and also the full tutorial on how to assemble it. You can also print it out and cut it with a cuter.
Now, get you white cardstock and draw the contour of your dome.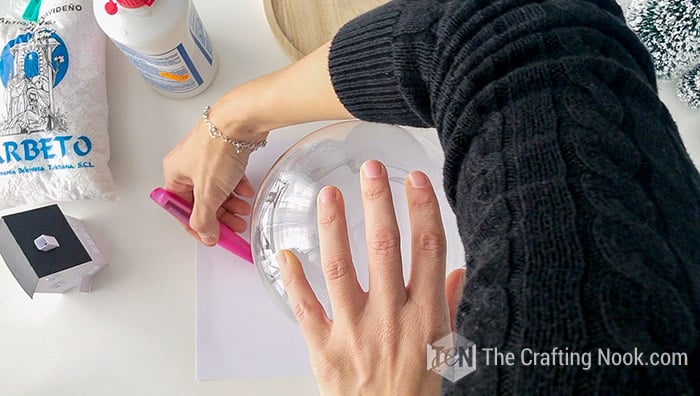 You need to cut a couple of millimeters towards the center instead of along the line you draw. This is so it fits inside the dome.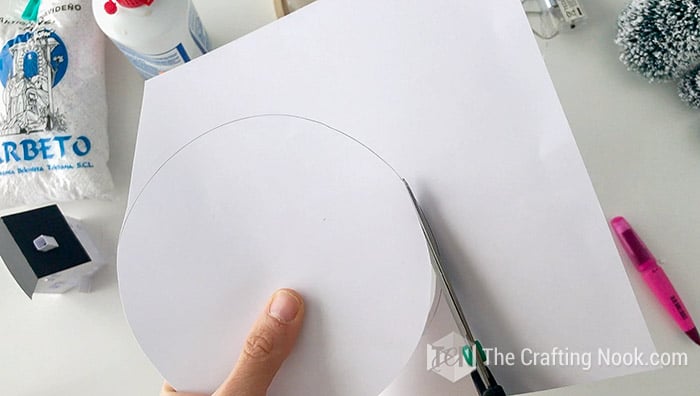 Then apply generously your glue and spread it all over your circle. I used my finger since I love to get my hands dirty LOL. You can use a foam brush if you prefer.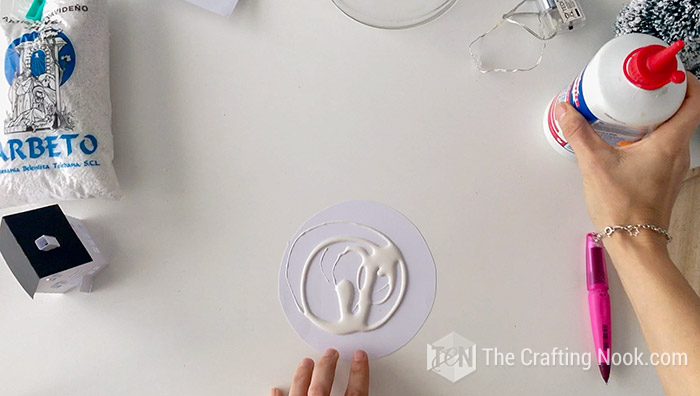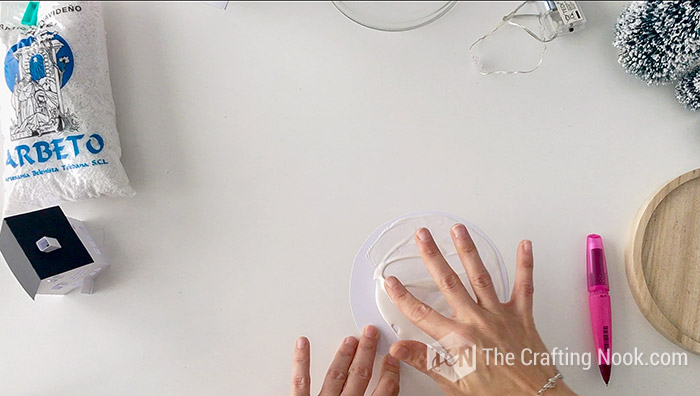 This is the messy part. Be very gentle or get your whole house full of faux snow LOL. Pour slowly your faux snow over the glue. Cover everything and add some more.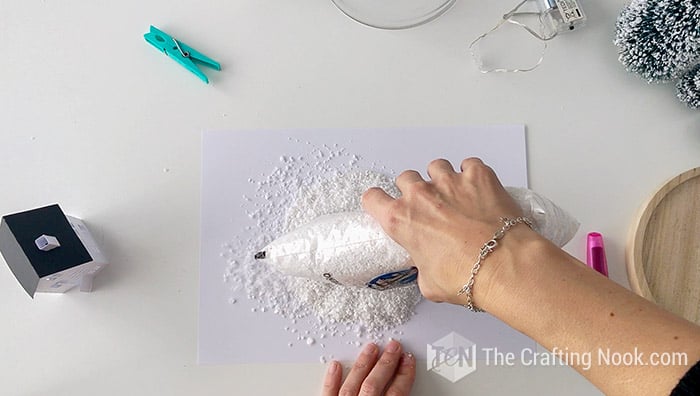 Very gently and slowly give small taps to press down the faux snow.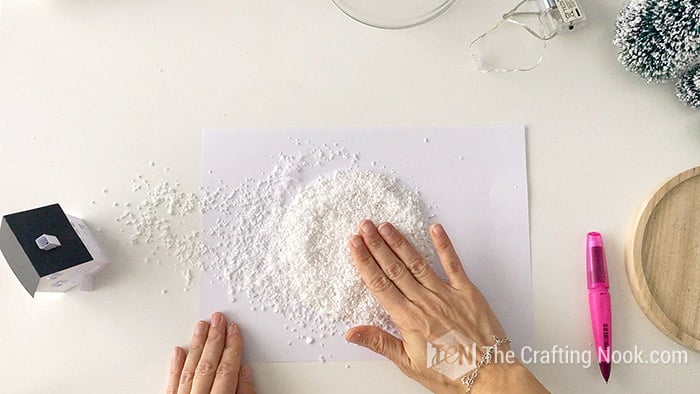 Set it aside and let dry completely.
Once dry, place your snowy circle on your dome base as centered as possible.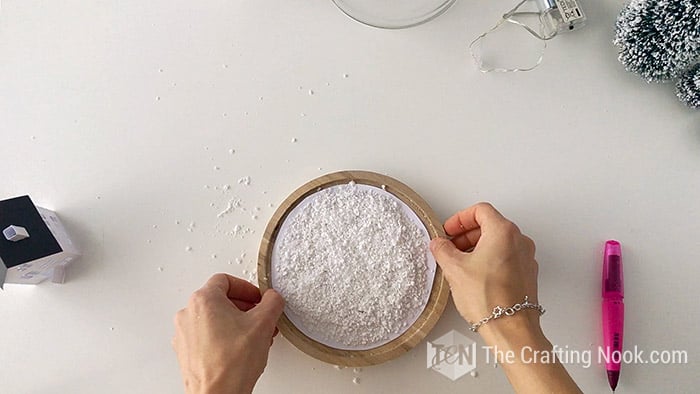 Then style your elements as you like.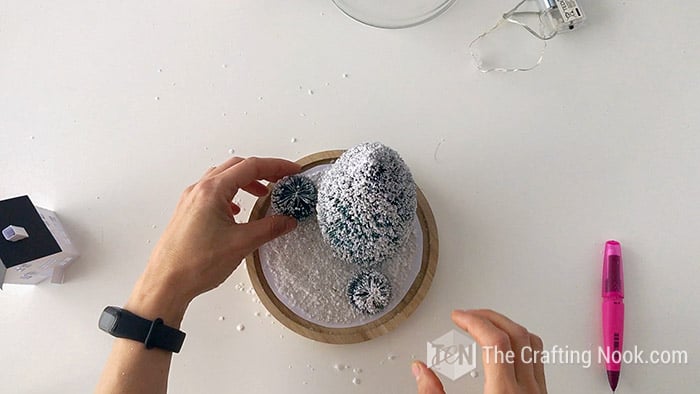 Ok, now here comes the very tricky part (at least for me LOL). The light string!
I started by the tip (first light bulb/led) since the wire is metallic I bent it so it could go under the paper house.
Then I started shaping it going around the house and trees until I got only the last string of wire and the battery switch.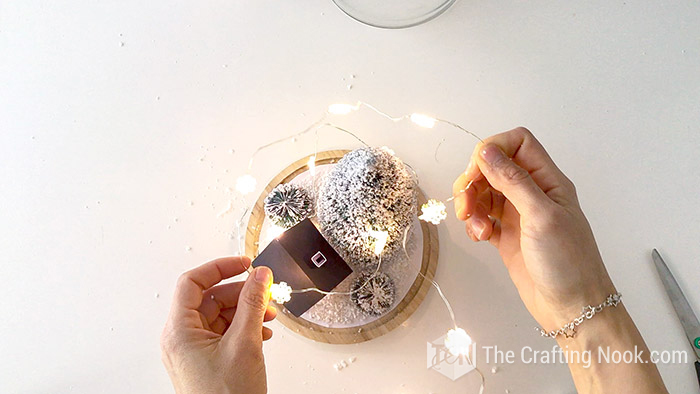 The tricky part is that since the wire is metallic as it moves, it drops things until you get it right. LOL, I did it like 3 times before I got it right.
When you get your light string in place, it's time to put in place your glass dome. Do it very carefully as it might touch the string and might move things.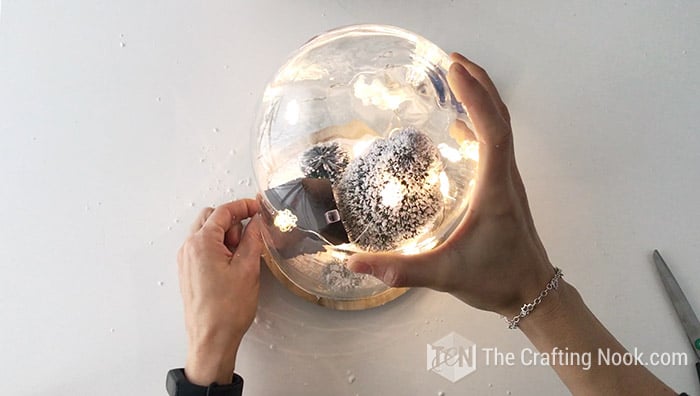 When you finish, YAYYYY you are done!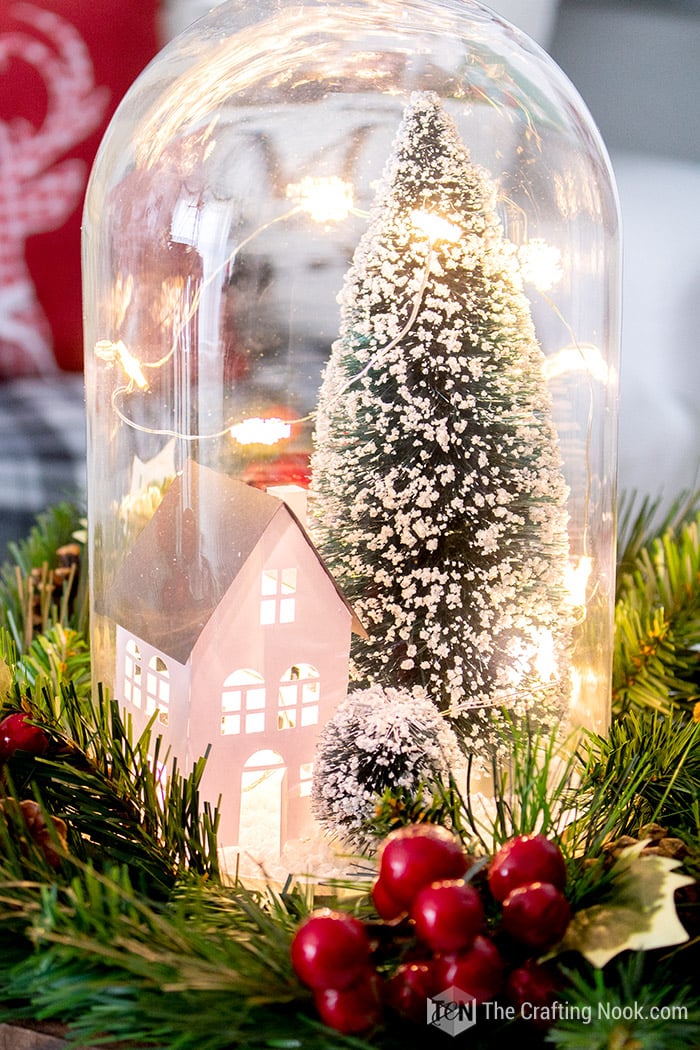 Turn the light on and off and see the magic!!!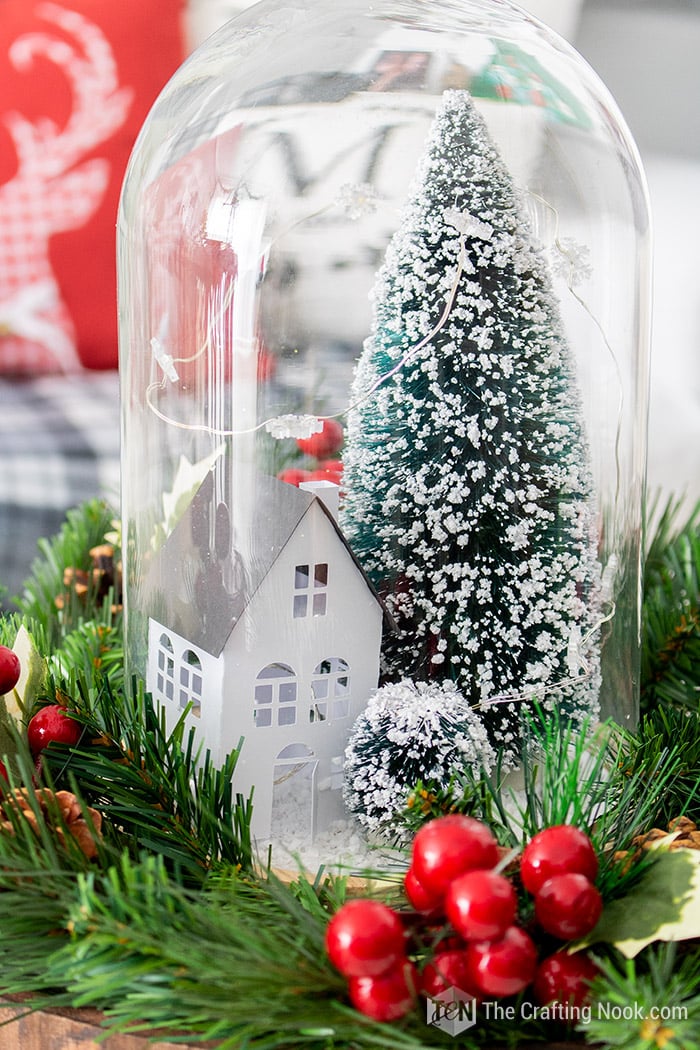 How pretty is it? I absolutely love it!!!!
The final step is to put some greenery stems around the border of your wooden tray leaving empty the center so you can put your Christmas cloche There. If your greenery is like mine (very fluffy, use small wood blocks, books or boxes to rise your dome a little bit.)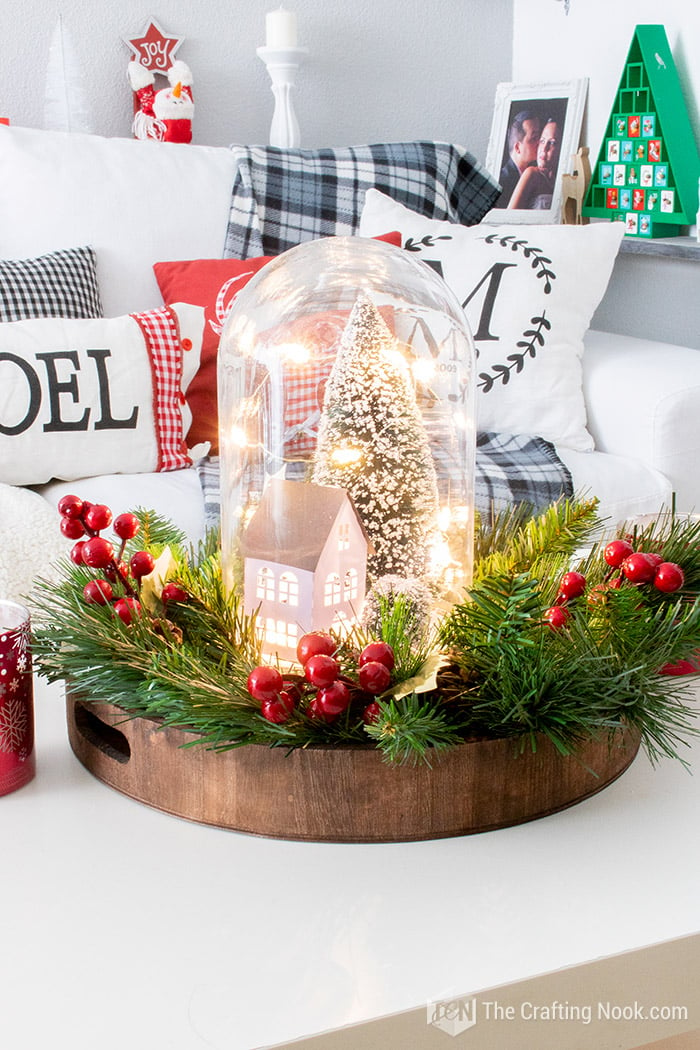 Then just to add a little pop of color insert a few berries stems among the greenery and your centerpiece is complete.
I put my Winter Scene Christmas Cloche Centerpiece on my coffee table and placed a candle on each side.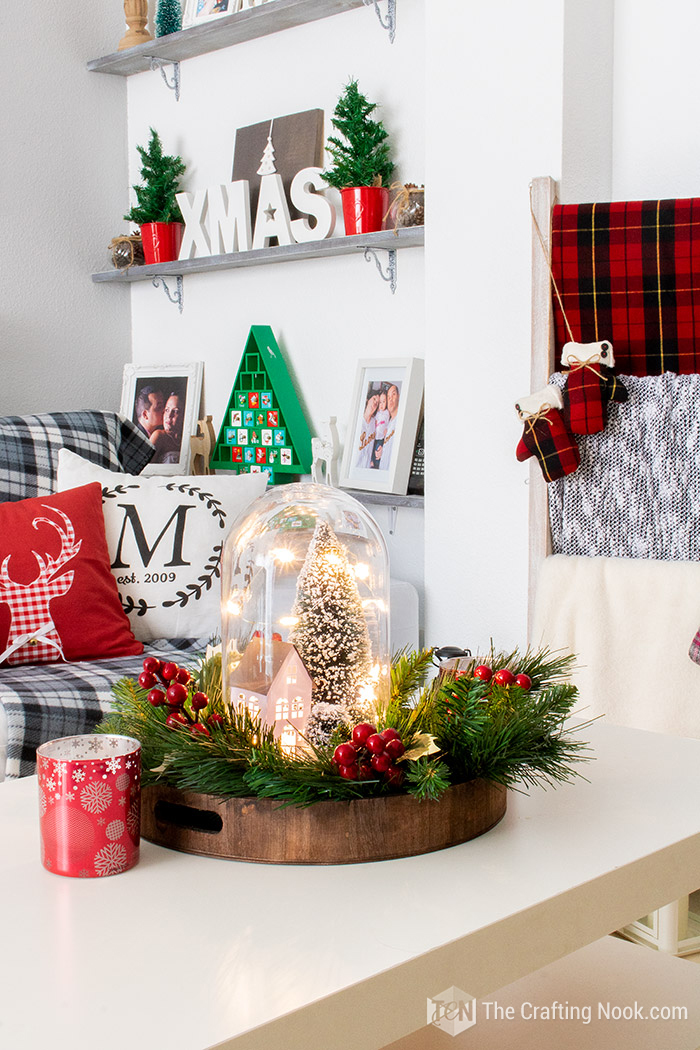 LOVE it!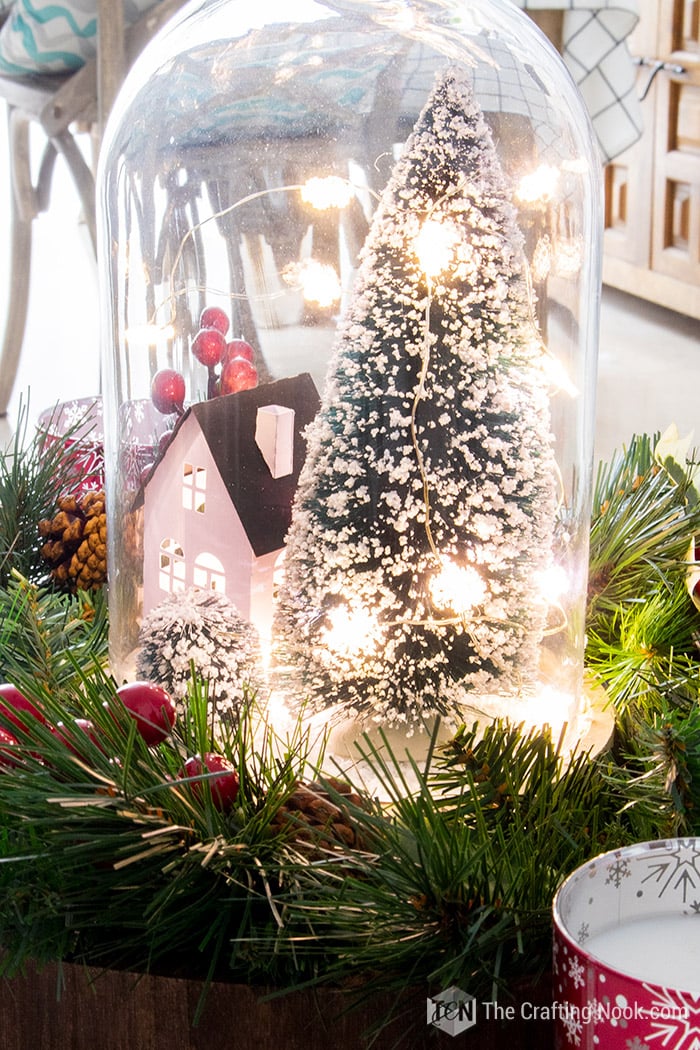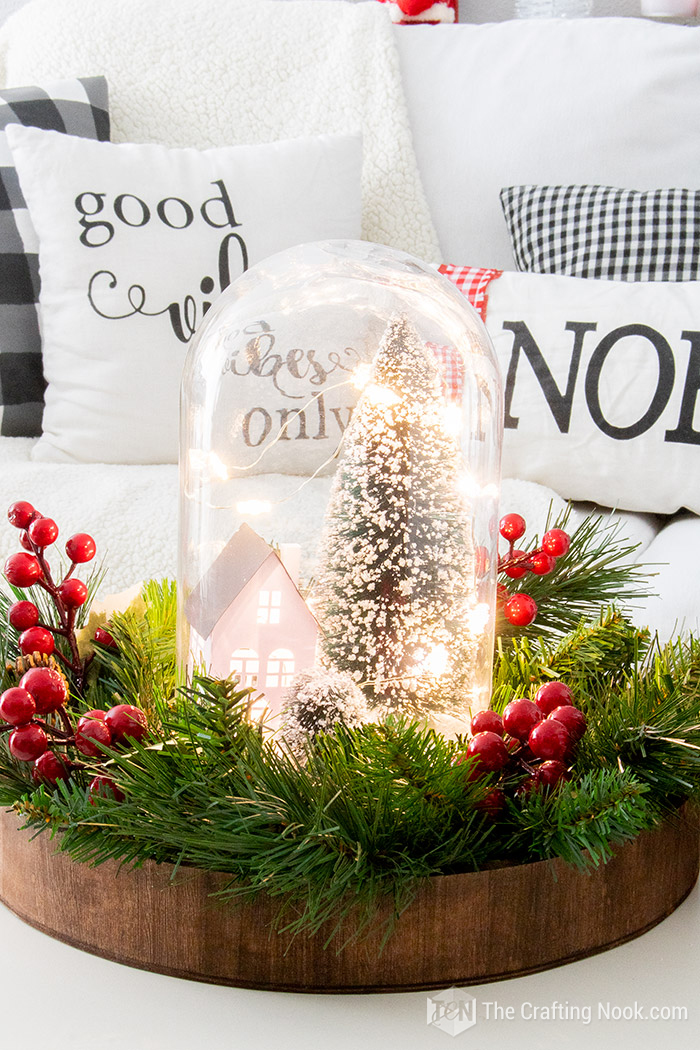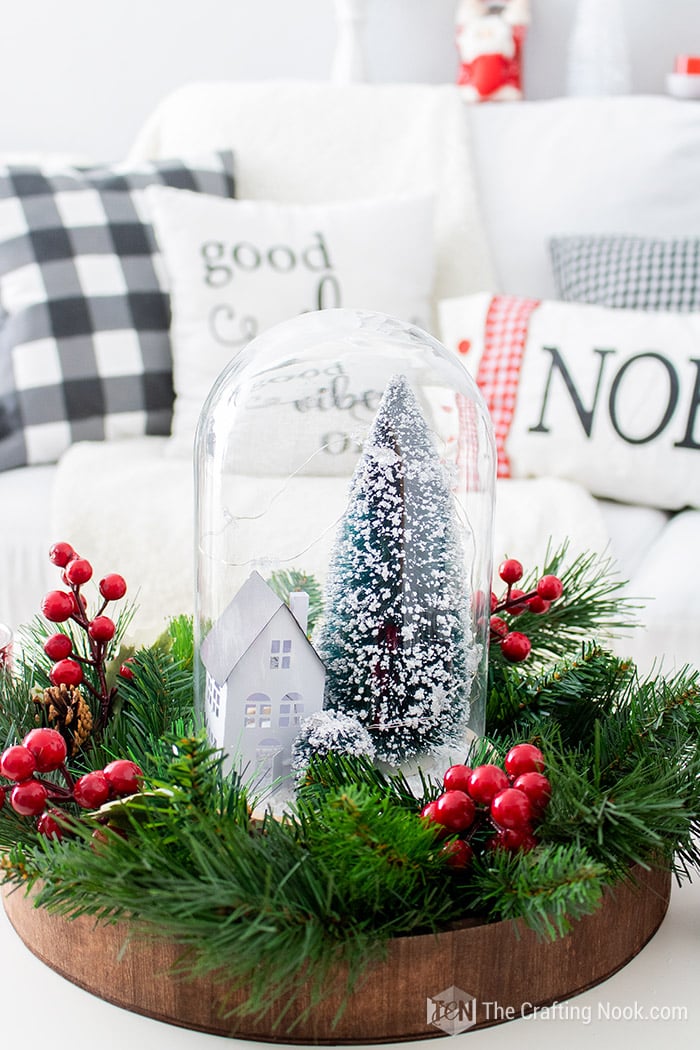 What do you think???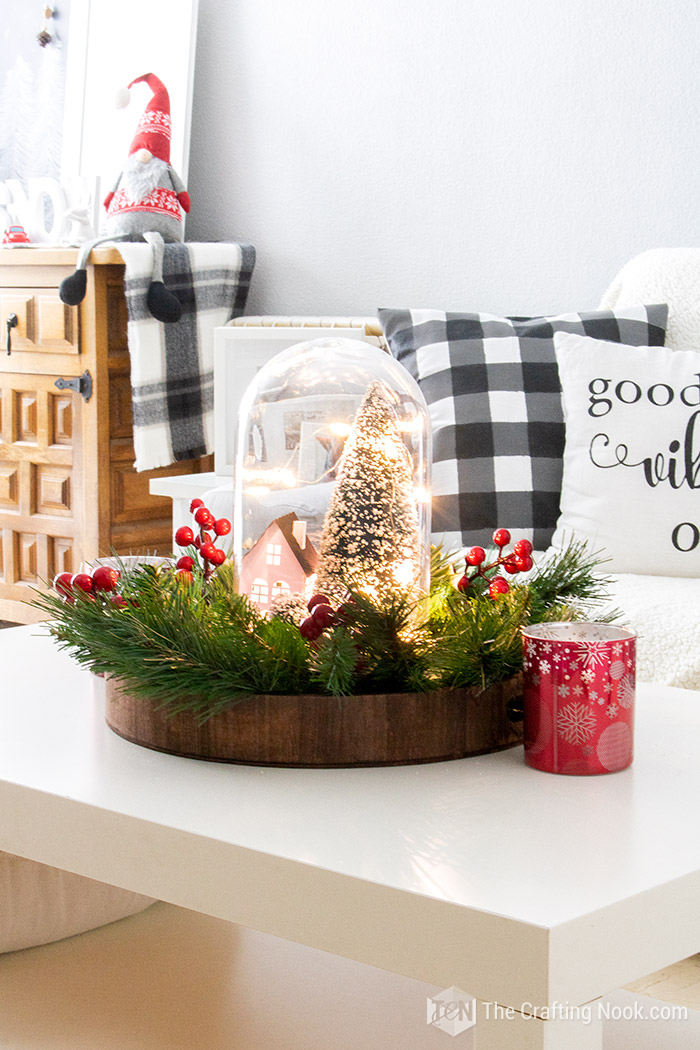 Hope you enjoyed today's project and that it inspires you to create one for yourself.
If you enjoyed this lovely project, don't forget to PIN and share it with friends!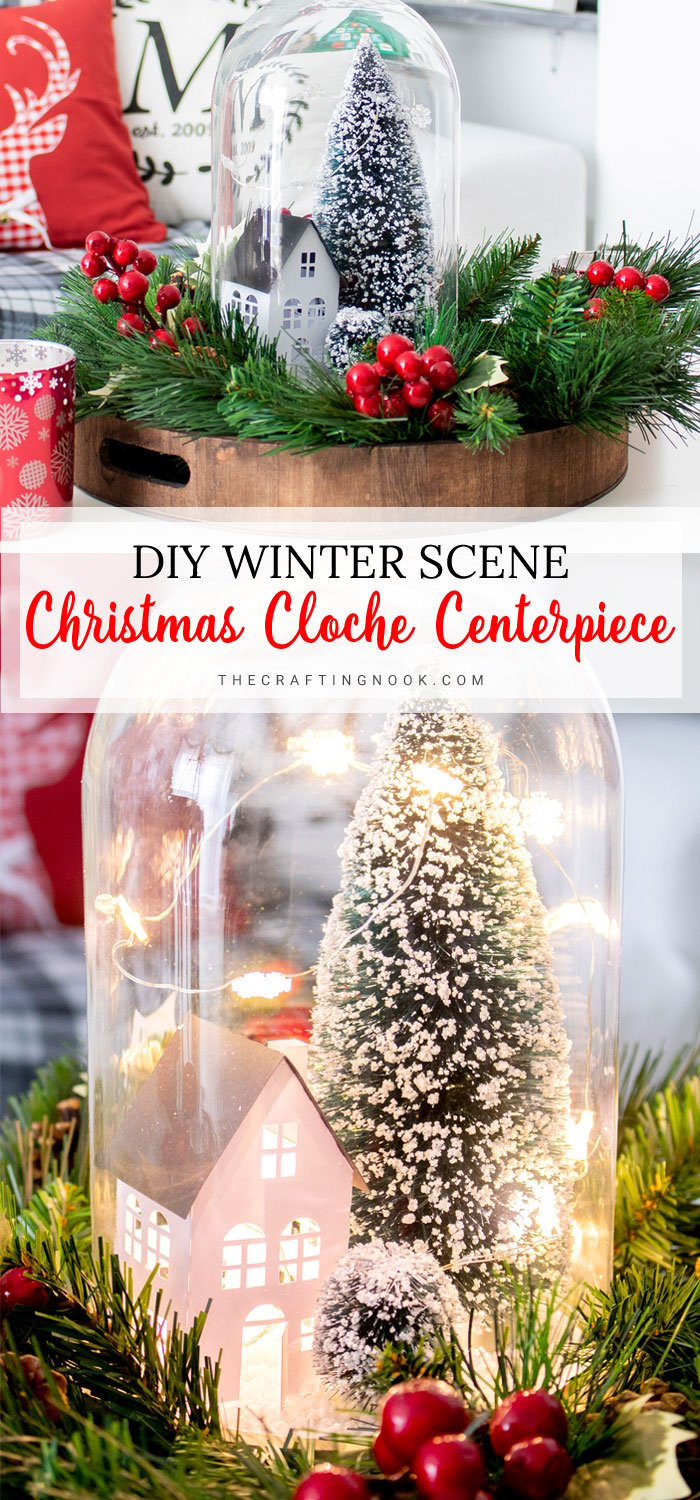 Loving this Christmas Project? You might also love these too: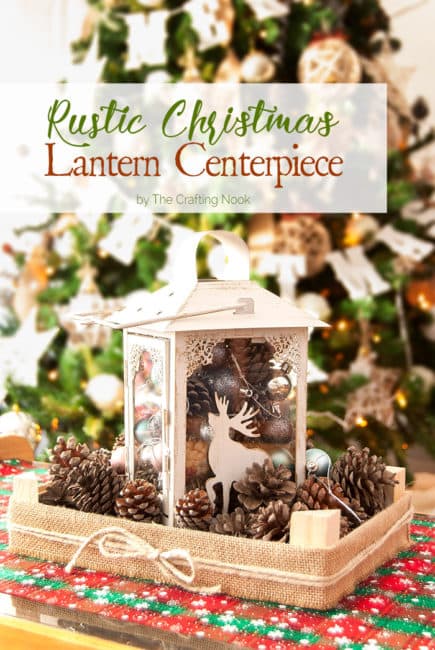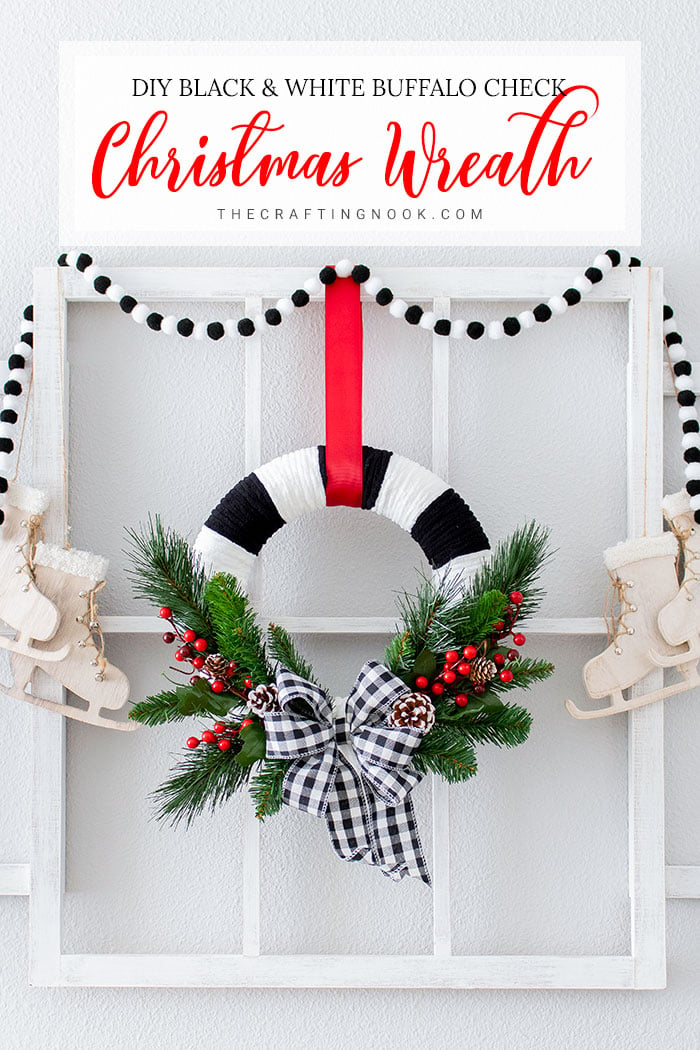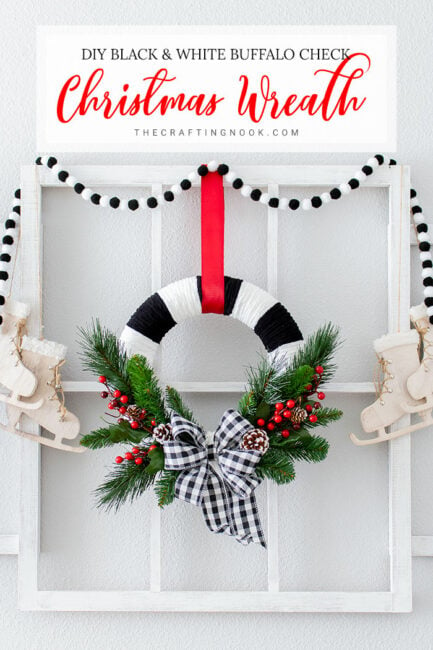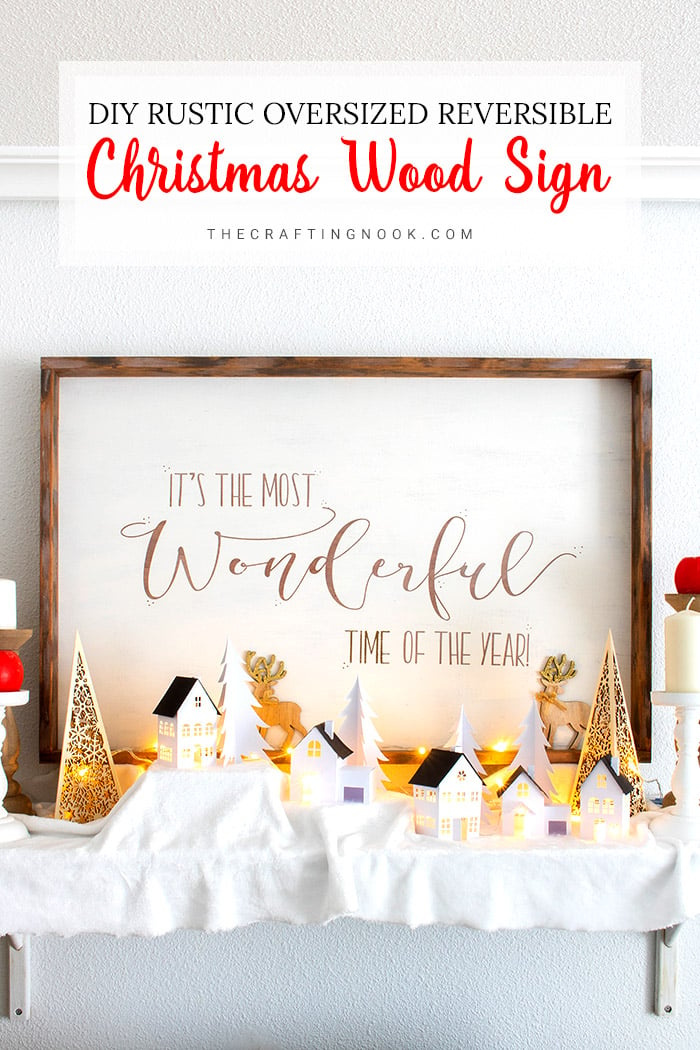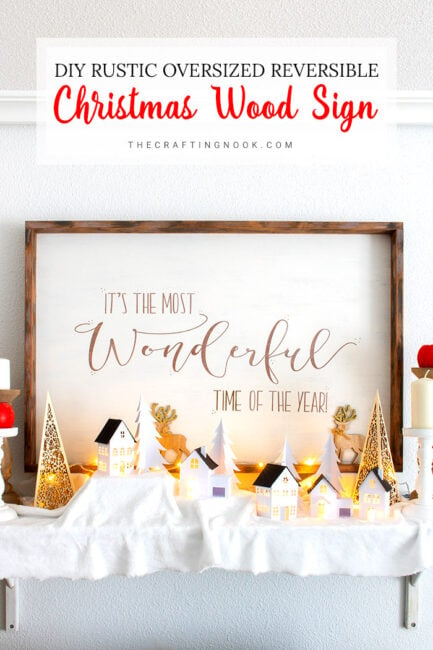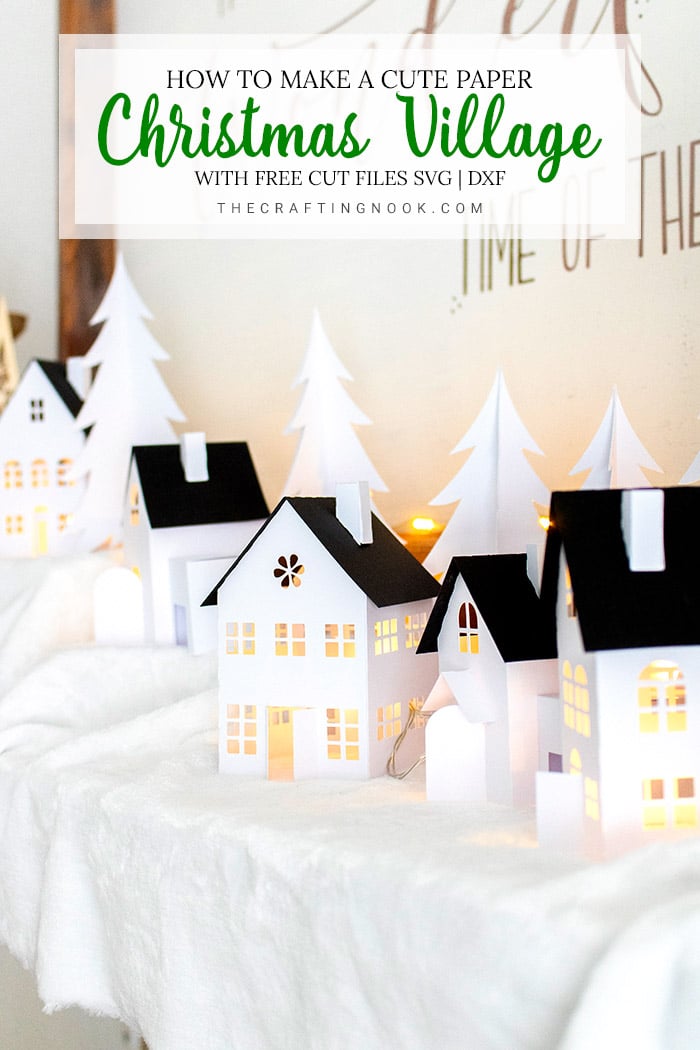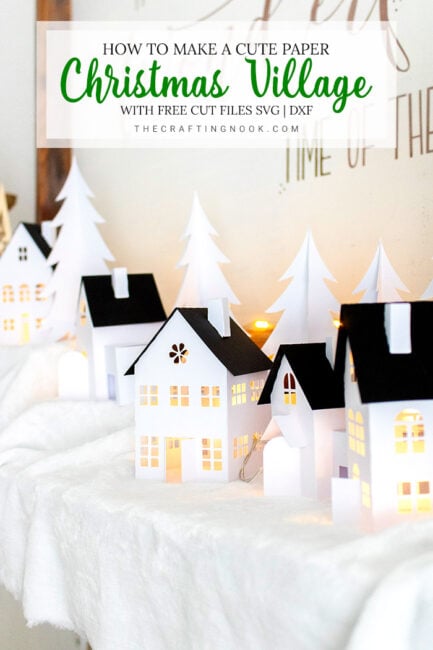 Some of my favorite Christmas Home Decor from my favorite Bloggers:
Til' next time...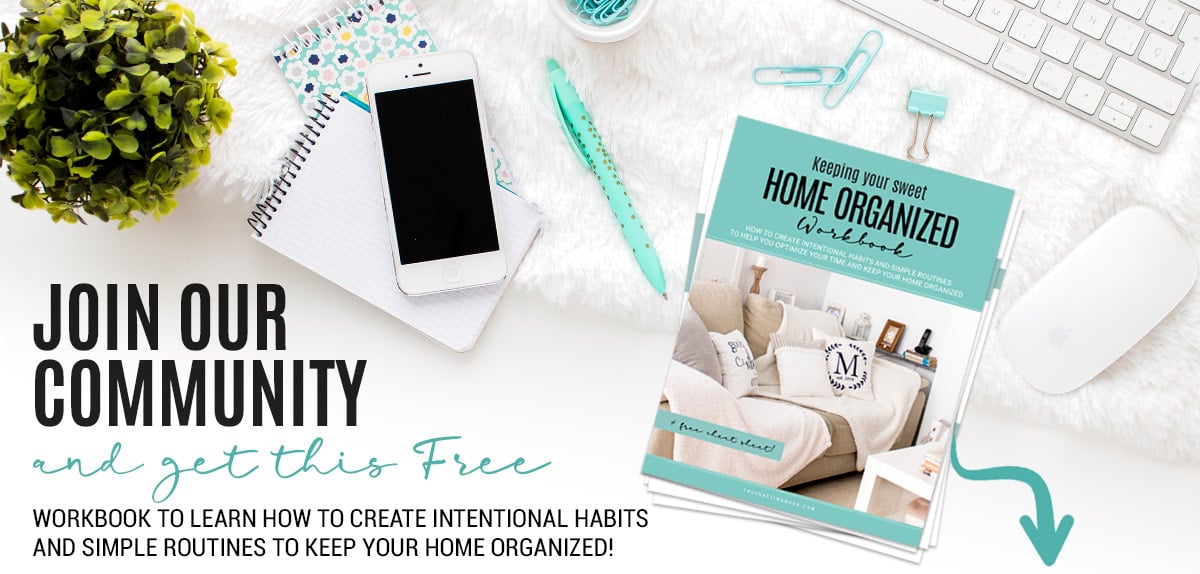 GET INSTANT ACCESS TO THE HOME ORGANIZED WORKBOOK
Plus freebies, printables, exclusive content, tips, stay connected, be the first to know great offers and Product Launches!
Disclaimer: By clicking on the "Yes, I want it" button above you are giving me your consent to collect and use your information according to the law and My Policy Privacy and The Cookie Policy. Zero Spam I promise!