25+ Red and White Christmas Decoration Ideas
There is something relaxing about decorating for Christmas. In general, Christmas decorations create an atmosphere of cheer and tradition. It is especially fun to decorate the house for Christmas with red and white decorations. Throughout this roundup, I'll give you some really cool ideas with Red and white Christmas Decoration.
I'm so, SO excited… Christmas is around the corner and with it all the joy and hope for the most wonderful time of the year!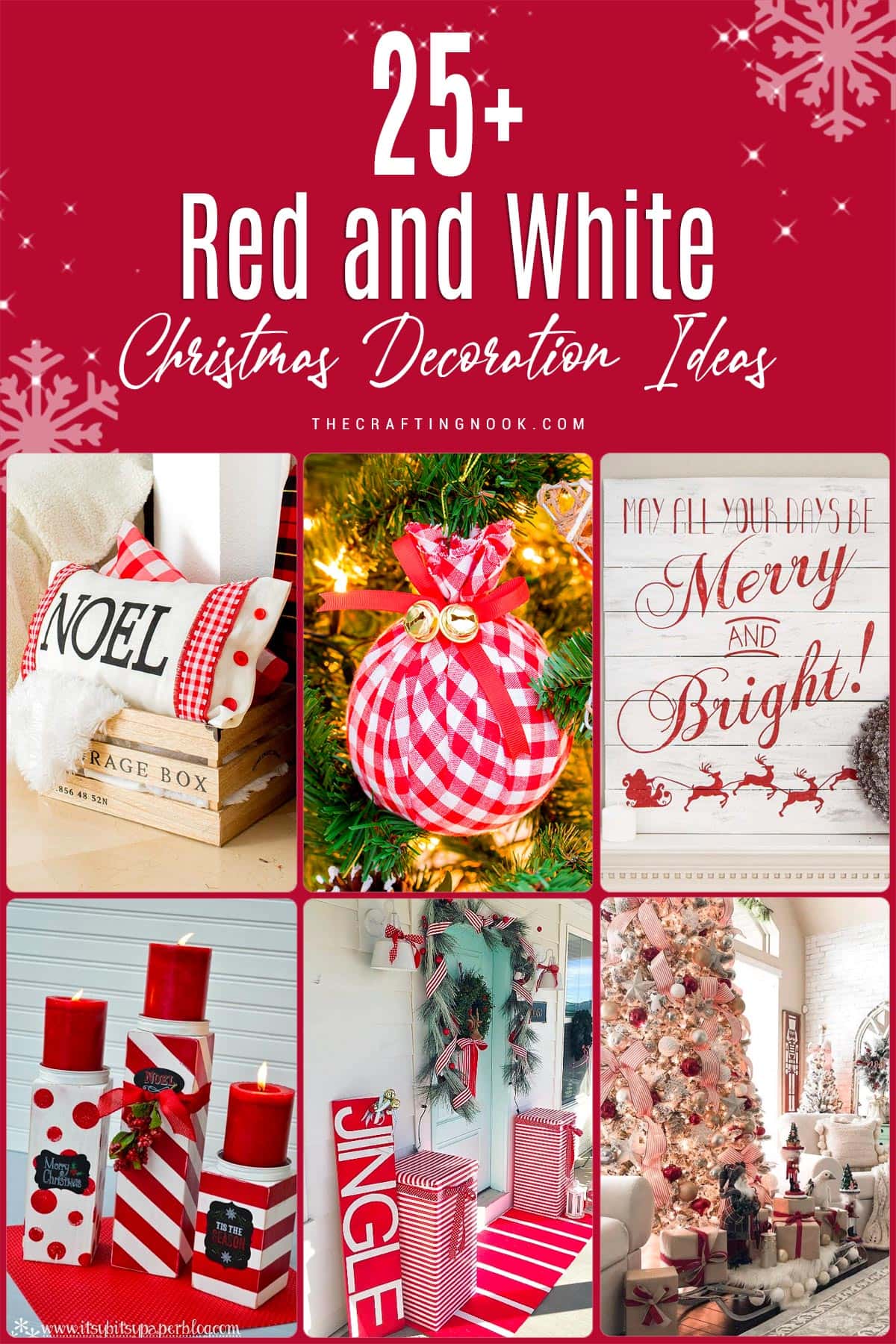 I'm loving the new trends; love the rustic and the red and white Christmas decoration ideas I've been seeing all around the web.
I'm so super inspired by this holiday season and I definitely tried to keep the traditions and colors that are now in!
25 Red and White Christmas Decoration Ideas
Christmas is the most exciting time of the year. It is not about the gifts, it's all about the holiday spirit and what it does to people.
People get more patient and happier. Joy, hope, happiness, and love start bringing out the best in people and I so love the colors and the smell we can see and feel everywhere! I guess it's the Christmas magic.
Don't you feel the same?
There is no doubt that red, white color scheme with greens and metallics are the most traditional colors for Christmas. It's the perfect time of year to decorate your home for Christmas in red and white, it's a perfect way to create a cozy, festive feeling.
There's no secret I love a white christmas décor with pop of color wether i's bold red, or gold or any other but to me white and red is really special .
Most common Supplies needed For these Christmas projects
Fabric
Wood boards
Wood blocks
Ornaments
Glitter
Ribbons
Pinecones
Paint
Brushes
Glue
Candles
Stencils
Red Berry Springs
Greenery
COMMON TOOLS:
Drill
Screwdriver
Hammers and nails or nail guns
Hot glue gun and glue sticks
red and white Christmas Decoration ideas to BOOST Your INSPIRATION
I've collected these 25+ AWESOME red and white Christmas Decoration ideas for you to enjoy as much as I have. These ladies never stop amazing me!
Disclaimer: *Just like I do for all my round ups, I get a lot of inspiration from Pinterest. If you are at all familiar with that platform you know there are tons of pictures with no direct links to the original source. Some pictures featured here I found no source for or directed to the wrong one but if you know the source, contact me and I will update this post immediately, thank you so much!
1. DIY Red and White 3-PIECES ENVELOPE PILLOWCASE
If you want to try something new or just want a simple sewing project to enjoy, then this step-by-step tutorial on how to make an envelope pillowcase is right for you! Simple to make, wash, and reuse, these Red and white 3-piece envelope pillowcases are easy to make. Could there be anything better?
2. DIY WHITE AND RED CHRISTMAS WREATH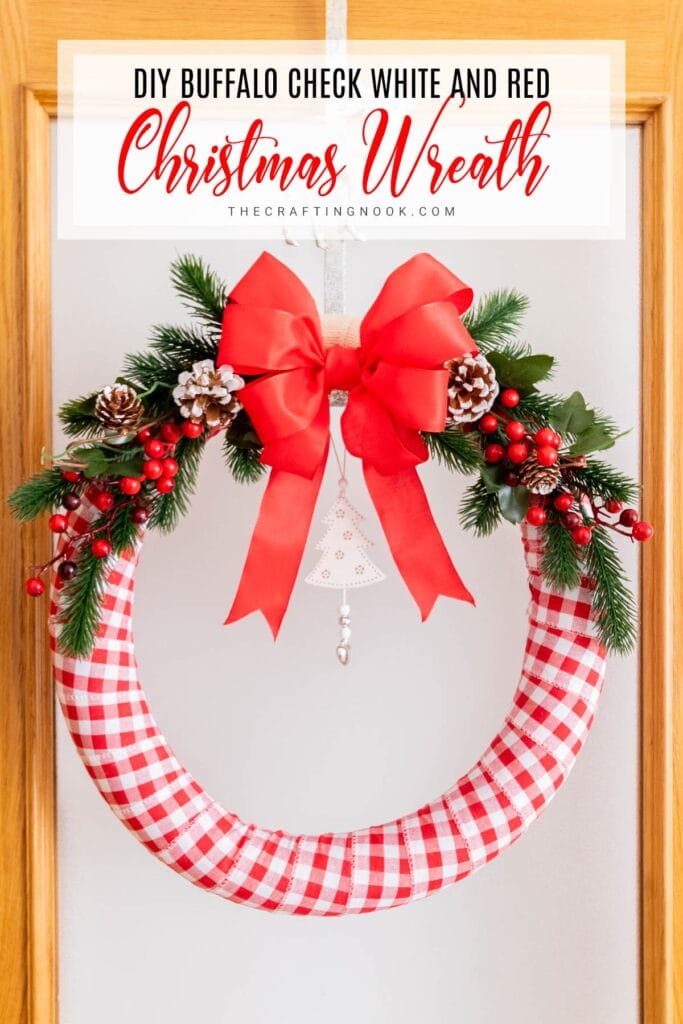 With a few inexpensive supplies like greenry, solid and plaid ribbons, red berries springs, and a few quick steps, you can make a great-looking diy wreath that will look great on your front door. This Simple Buffalo Check White and Red Christmas Wreath it's so crazy easy to make and looks so festive and beautiful on the door. A perfect touch for your Christmas decor. Here's how to do it.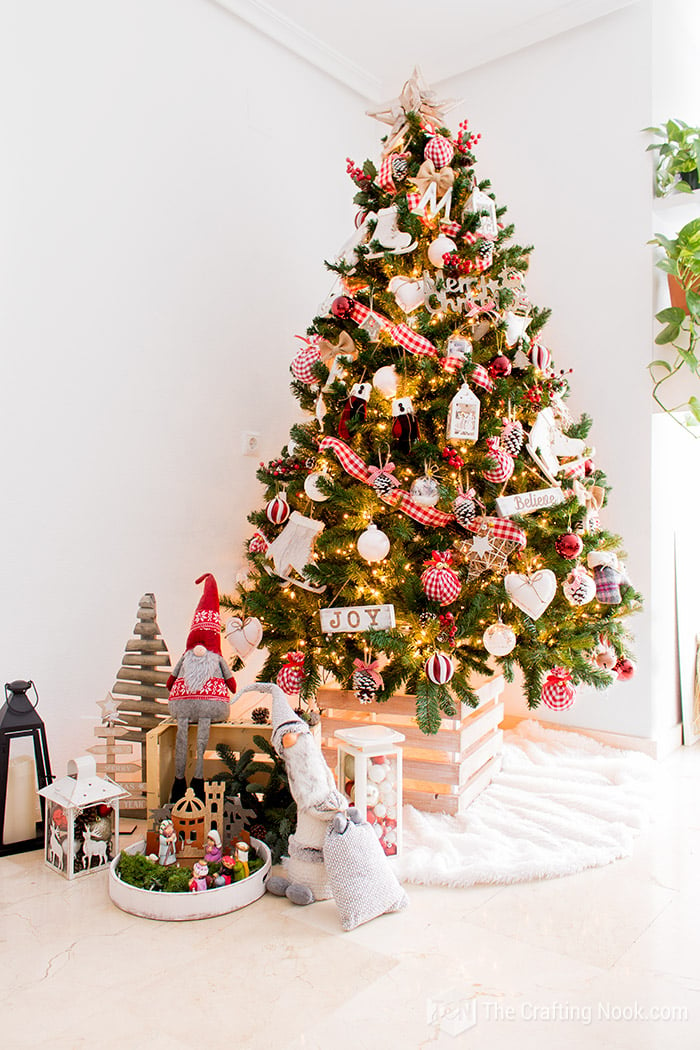 My Red and white Christmas tree decorations although looks like I've spent a fortune I really haven't I am very frugal. In fact, I buy all my ornaments from past seasons on sale and make by myself most of the ornaments. I also re-use my handmade ornaments either tweaking them a bit or just as they are. There are so many ways to save on your holiday decor. Don't break your bank on these trees.
4. DIY Red and white REINDEER APPLIQUE PLAID CHRISTMAS PILLOWS
Festive and pretty Red and White Reindeer Applique Plaid Christmas Pillows are a fun and cute project that will dress up your room, especially the sofa for Christmas. Bring the festivity to your home while enjoying a special and cozy space with this tutorial showing how to cut fabric, create the applique and sew the pillow cover.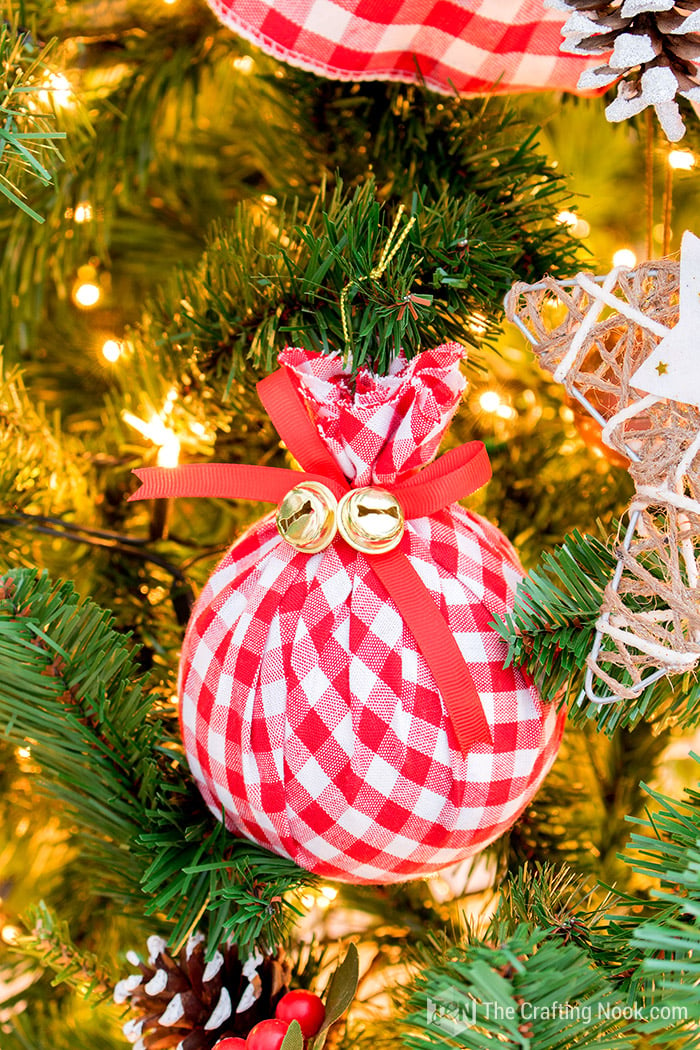 Got some Christmas Baubles that got old and maybe ugly but don't know what to do? You can easily make cute Red and White Buffalo Check Christmas Ornament and give them a gorgeous new look! Buffalo Check Christmas Ornaments are all in and I must confess I hope the trend stays! LOVE IT!!!
6. DIY NOEL MODERN FARMHOUSE CHRISTMAS PILLOW COVER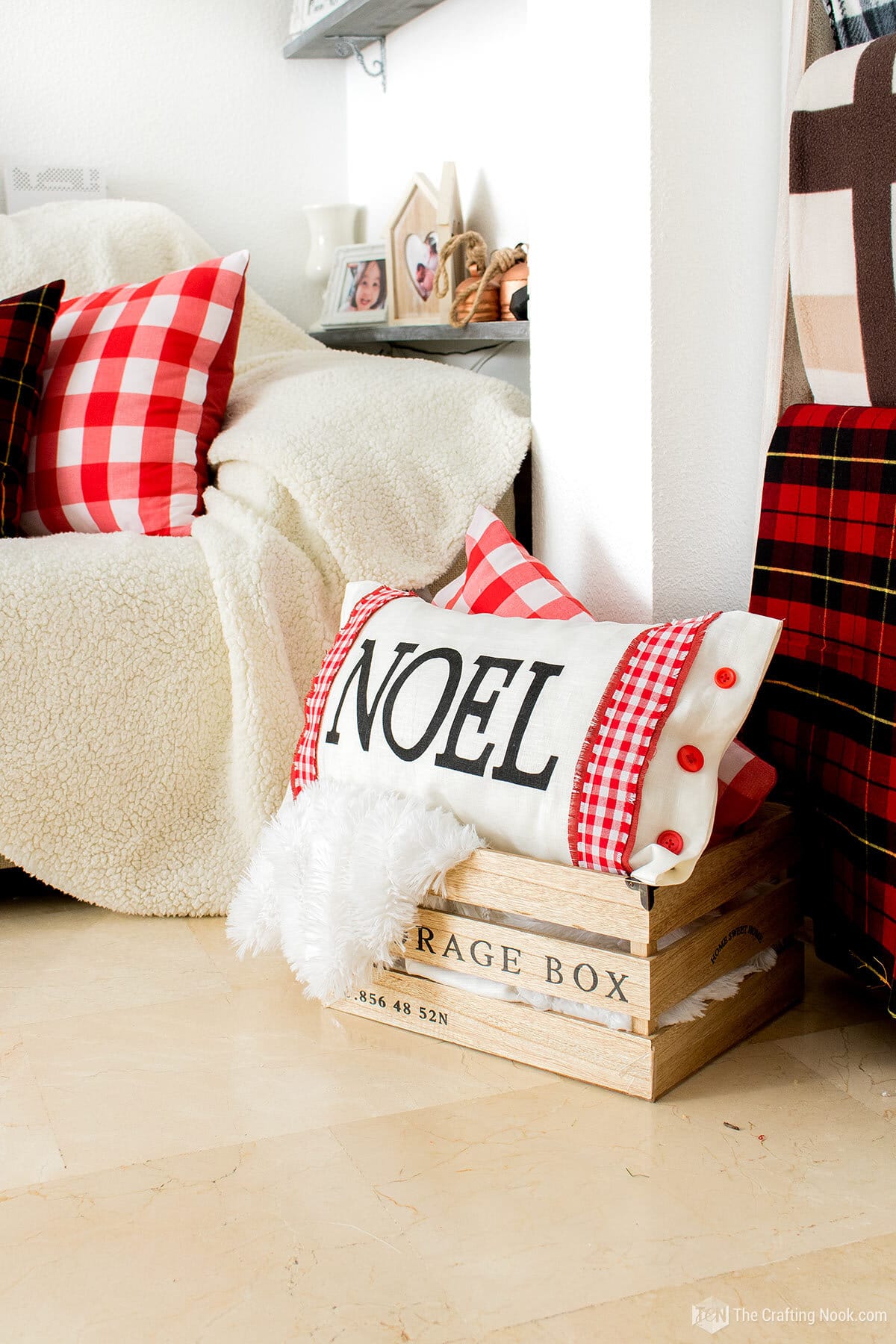 This grain sack inspired Noel Modern Farmhouse Christmas Pillow Cover is a perfect project to add some farmhouse style to our Christmas decor. A fun and easy project that will only need a few supplies and all your love!
7. Luminous Ideas to Update Your Candles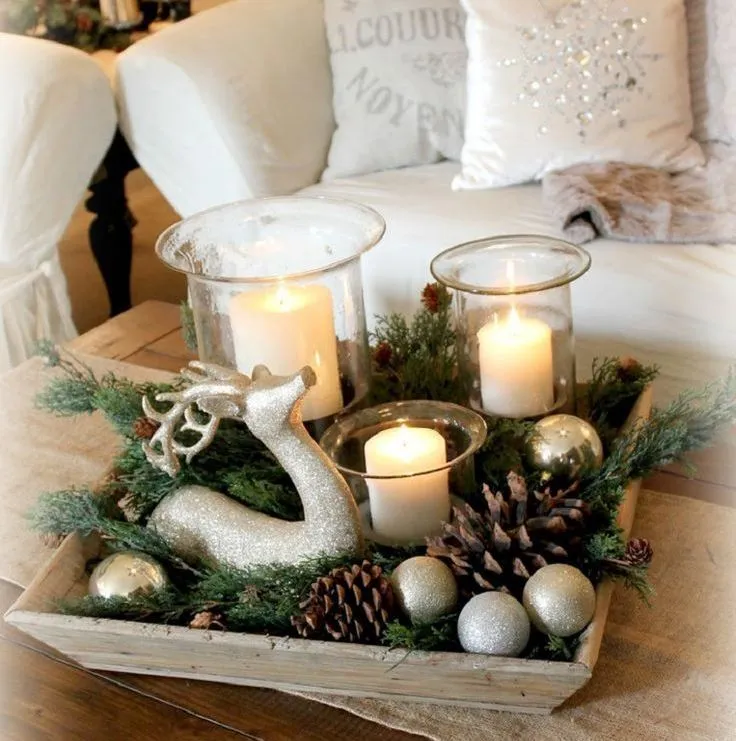 Embellishing your candles or creating a decorative item with candles to use as a dinner table centerpiece is a smart idea to make your family feel the cozy spirit of winter. It is not that hard as you may think. Take some twigs, cinnamon sticks, fresh greenery and Christmas silver ornaments then have a look at this inspirational gallery of ideas.
8. Red And White Christmas Decoration Ideas
9. Red & White Ribbon Wrapped Ornaments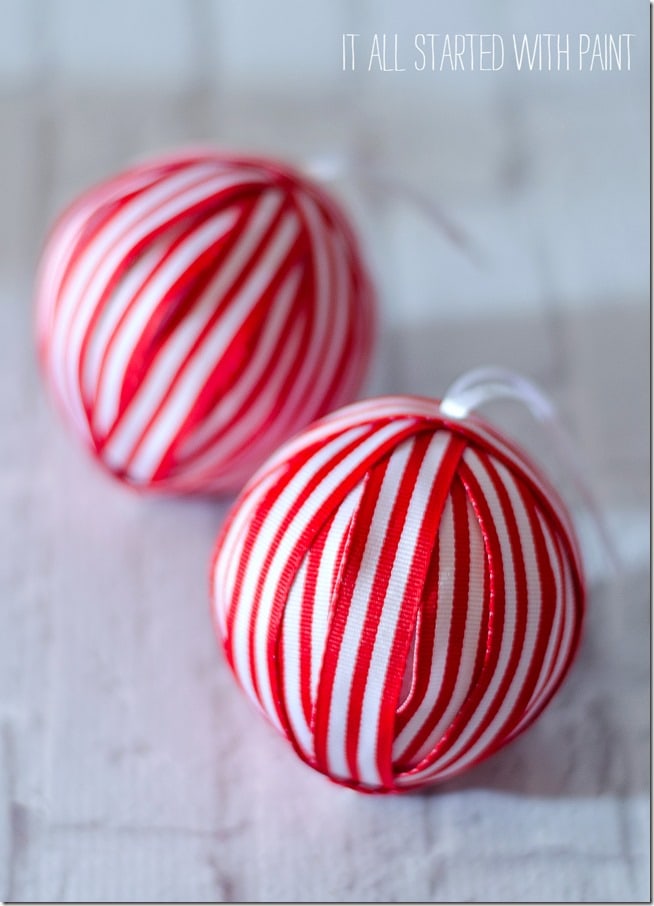 Use a red and white ribbon to cover a Styrofoam ball and with a pin or glue attach a cord to han it. Super easy an so cute.
10. Red and White Nordic Style Christmas Tree
Sometimes it's nice to go back to traditional Christmas hanging from the tree just red and white ornament baubles, snowflakes, red and white garlands and some handmade ornaments.
11. Christmas Decorations Ideas Bringing The Christmas Spirit into Your Living Room
Hang several Christmas balls from ribbons all together from a window frame. What a creative and festive way to decorate your windows.
12. Red and White Nordic Christmas Decor
A pair of Christmas stockings a couple of trees painted red and a few other Christmas decorations make a super cute buffet table.
13. Winter Twig Wreath
Create a wooden frame with dry branches and twigs and hang some ornaments with ribbons. You created an easy and adorable door wreath.
14. DIY 4X4 Christmas Candlesticks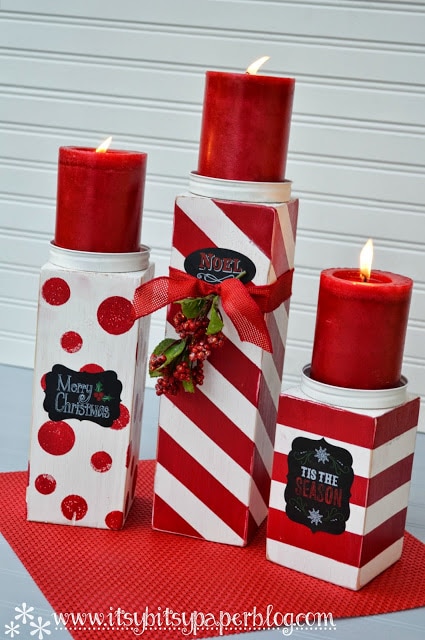 As simple as painting some wood blocks white and red with different patterns then putting some red candles in jar lids on top and finishing it off with a cute ribbon bows and chalk vinyl labels.
by Pam's Party and Practical Tips
15. Christmas Style Wrapped with a Bow
There is just the right amount of contrast between the pink bows and the dark red ornaments layered on top of this Christmas tree.
16. Red and White North Pole Porch
Place two very large boxes lined with white and red in front of the door of your house along with a huge wood sign that sas Jingle, plus a acute carpet, lanterns and a a wreath. So cute!
17. Rustic Red & Gray Christmas Vignette
Love that the Noel sign is made using faux cranberries. Looks so cute!
18. Merry and Bright Christmas Sign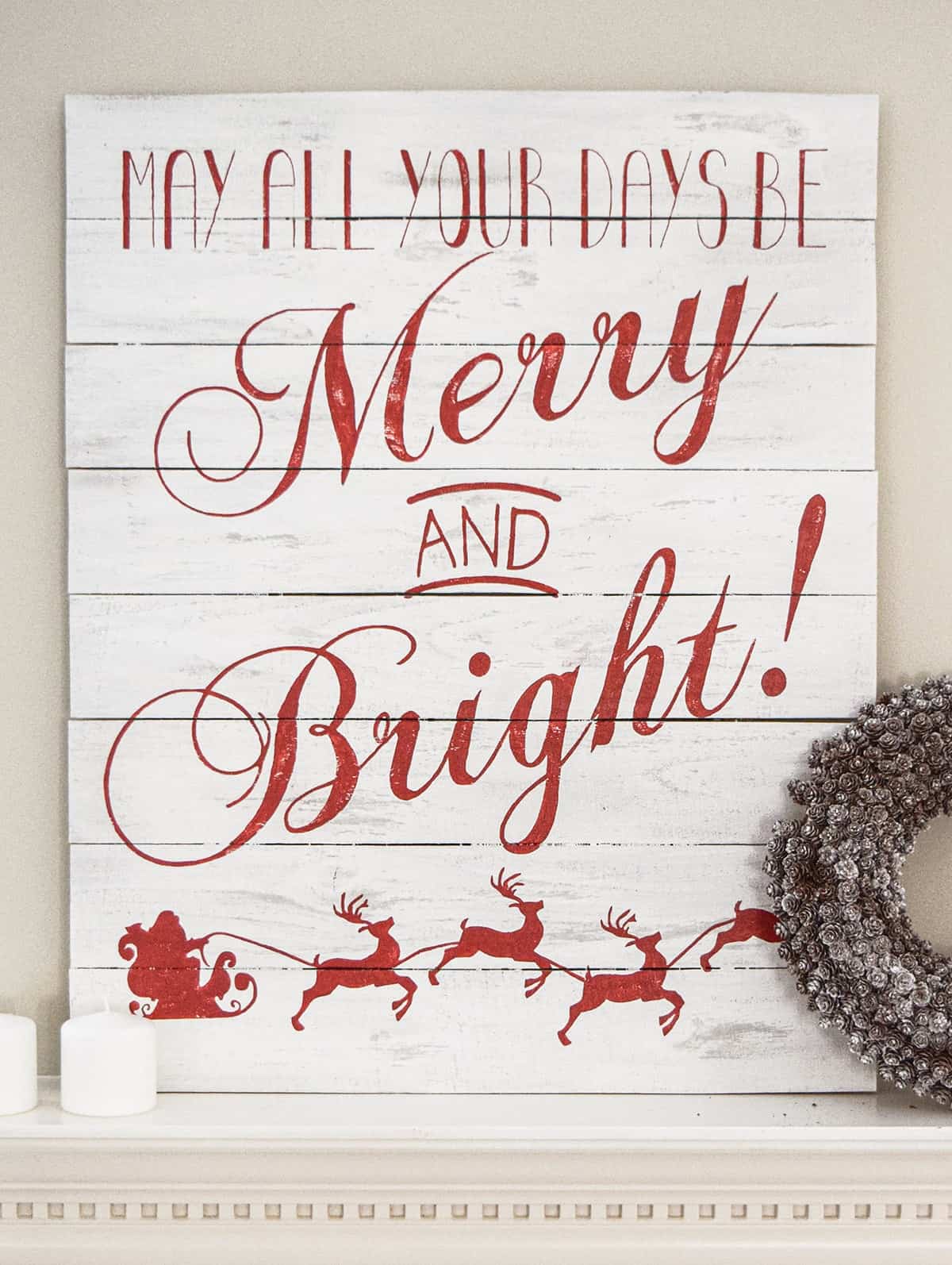 Using a few supplies from the home improvement store, you can have your own unique décor to display in your home!
19. Winter Vases with DIY Snow Christmas Centerpiece
One of my 'go-to' items at the Dollar Tree are these cylinder glass vases. There are so many projects you can do with them, but today I'm showing you how you can make Winter Vases With DIY Snow Texture.
by Design, Dining + Diapers via Infarrantly Creative
20. White Christmas Tree With Red Ornaments
A bright white christmas tree de orated with red ornaments and ribbons surrounded by cute wrapped gifts and Santa Boots filled with candy canes look so stylish
21. Rustic Woodland Inspired Christmas
I hope you enjoy checking out our rustic woodland inspired Christmas decor!
22. Changing Seasons: Easy Winter Holiday Bathroom Decor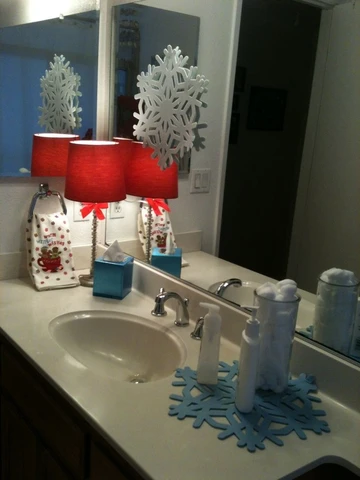 As you can see from these holiday-ready bathrooms from Hello Beautiful, Bath and Body Works, and Four Generations One Roof, choosing a specific holiday color palette will keep your decorations sophisticated.
23. Easy Yarn Winter Hat Santa Garland Diy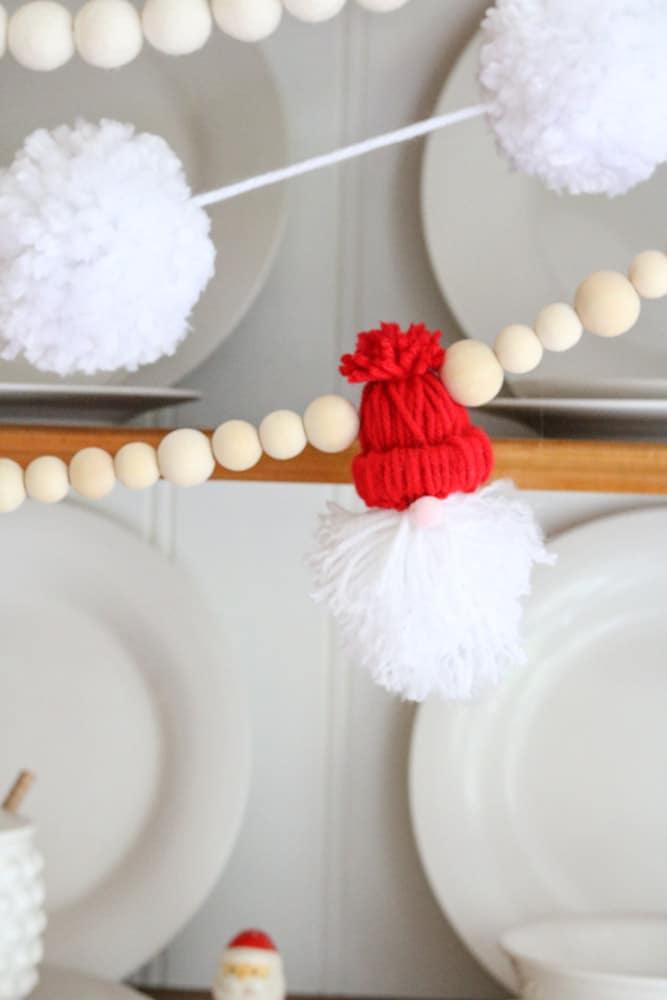 Here are directions on how to make a yarn winter hat Santa garland. This is a jolly garland to add to your Christmas decorations.
24. How to Make a Candy Cane Tree with Chunky Yarn
A super easy idea to add red and white to your Christmas decorations. Gather some red and white chunky yarn, cardboard cone and red felt to create this fun Cone Christmas Tree!
25. Red and White Christmas Home Tour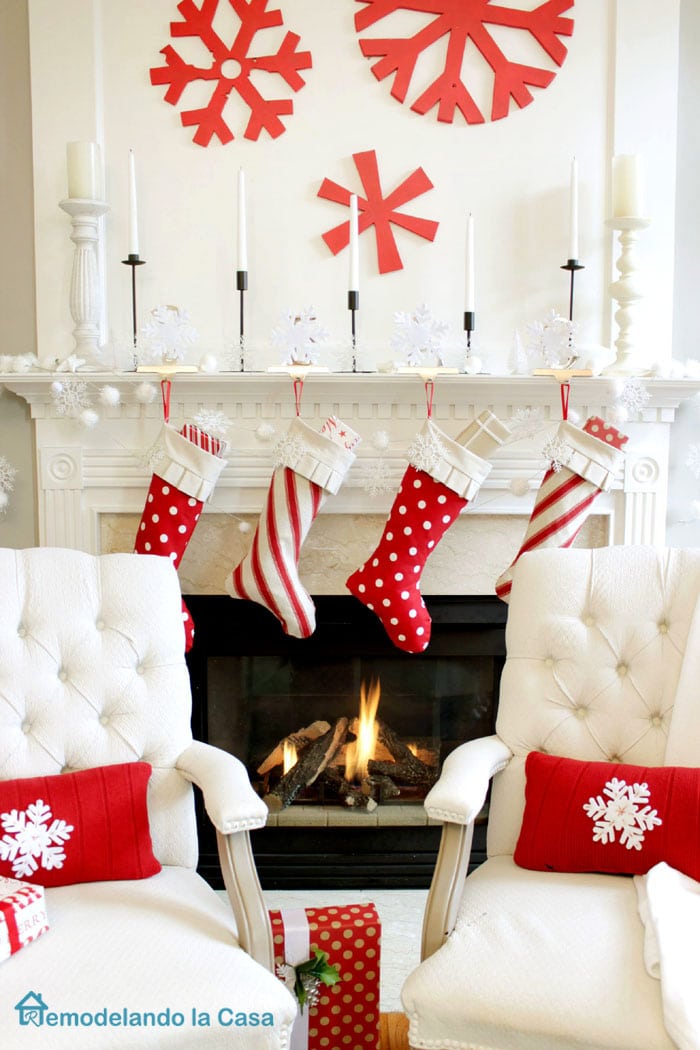 26. 2015 Christmas Home Tour
More Christmas Decoration Ideas to Try
Need some more Christmas decoration ideas? look no more! Here you have some I'm sure you will love!
Share and PIN ME!
Til' next time...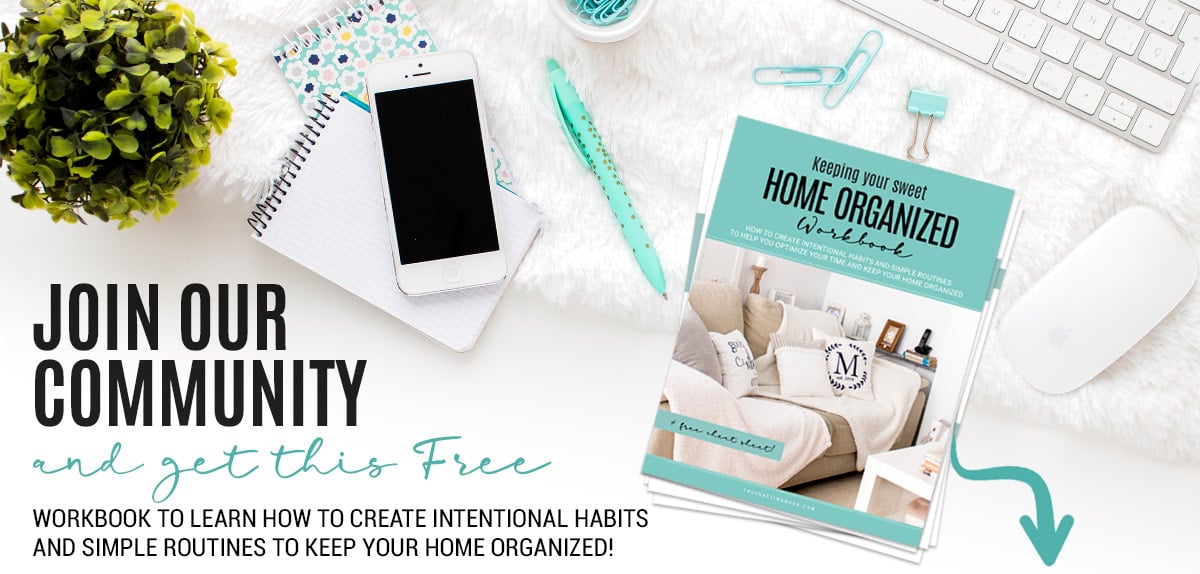 GET INSTANT ACCESS TO THE HOME ORGANIZED WORKBOOK
Plus freebies, printables, exclusive content, tips, stay connected, be the first to know great offers and Product Launches!
Disclaimer: By clicking on the "Yes, I want it" button above you are giving me your consent to collect and use your information according to the law and My Policy Privacy and The Cookie Policy. Zero Spam I promise!