Reindeer Buffalo Plaid Christmas Pillow Cover
This festive and pretty Reindeer Buffalo Plaid Christmas Pillow Cover is a fun and cute project that will dress up your room for Christmas. Bring the festivity to your home while enjoying a special and cozy space.
Ok yes, I confess, I have a pillowbsession. LOL!
Yes, I'm kind of obsessed with pillows. Especially during the Christmas season. In my opinion, pillows make any space cozier and prettier.
There's nothing like a fluffy blanket and a bunch of pillows to feel like home!
You might also love these other easy sewing project ideas: DIY 10-min Envelope Pillow Cover, How To Make a Duvet cover, and DIY 3-Pieces Envelope Pillowcase for Christmas.
Reindeer Buffalo Plaid Christmas Pillow Cover Tutorial
Apparently, deer heads and antlers are in with holiday decor. I'm liking the trend but we're not really the hunter, deer-head-wall-hanging kind of people so I haven't really done much with that, but we never know, I might end up with one on my wall LOL.
But I do love seasonal and festive pillows because I think they are the cutest, easiest, and low-cost way to dress up a room for any holiday.
This is a pretty view of the pillow in our new home after I learned how to use interfacing and cut fabric with my Silhouette Cameo!. So cute, isn't it?
How to make a Reindeer Buffalo Plaid Christmas Pillow Cover
Before we begin, be sure to follow us on Pinterest, Facebook, Instagram, and YouTube, and also sign up for our email list (at the end of this post), so you'll never miss a post!
Buffalo Plaid Christmas Pillow Supplies:
Solid Fabric (size of your pillow +1cm)
Buffalo Plaid fabric (size depends on the size of your design. If it's this one would be 11×12 Inches)
Interfacing
Zipper (the size of your pillow)
Sewing machine
Cutting Machine.h
Coordinating threads, pins, scissors, measuring tape, and an iron.
A Pillow Insert.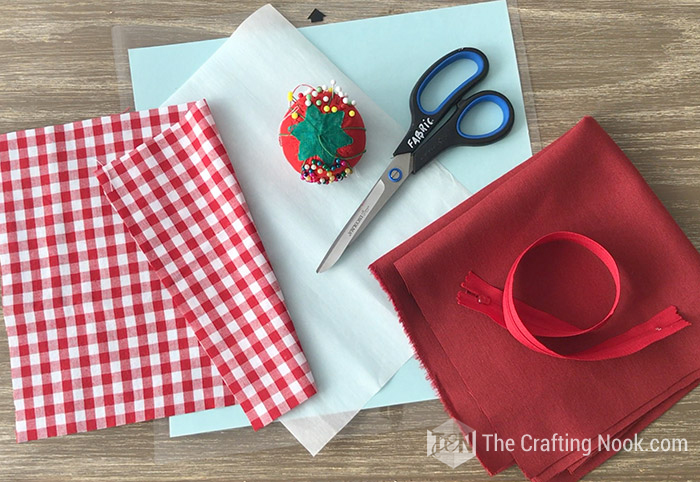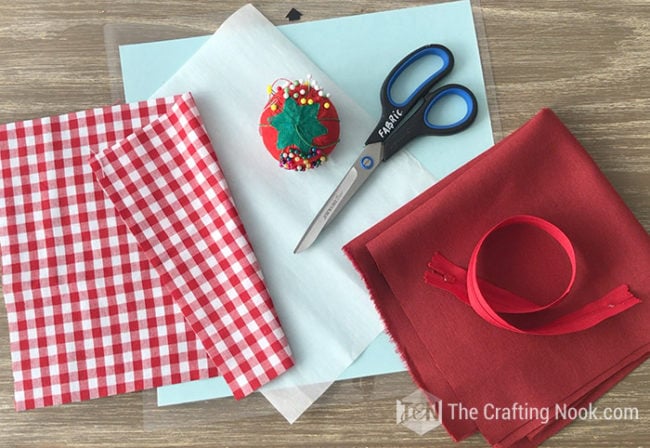 I've made this quick video tutorial to make it easier to see the process, but if you are more of a step-by-step photo kind of person, scroll down a bit and keep reading!
Buffalo Plaid Christmas Reindeer Applique Tutorial
I start by ironing the fabric and then set them aside.
Prepare your design. I used this Reindeer silhouette I got from Freepik and edited it to my needs. If you like it, you can download it here.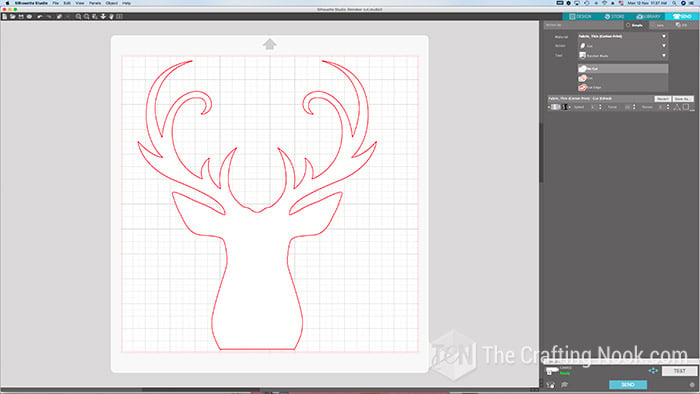 I used the total height my mat allowed me.
With defined measures proceed to cut the fabric to the size needed. In this case, mine was 11×12 Inches.
Now cut your interfacing (or Fusible Web of your choice) just slightly smaller than your piece of fabric so it won't stick on your iron.
Place the interfacing shiny (nonpaper) side against the back of the fabric.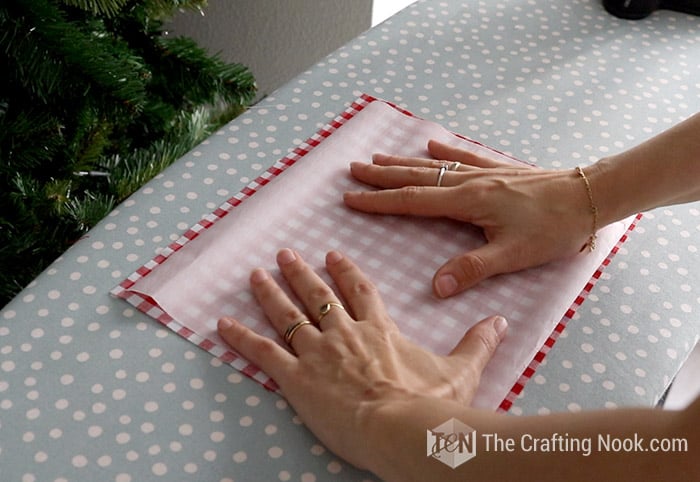 Iron interfacing & fabric together. Place the fabric right side up, so your interfacing is underneath your fabric with the paper backing against the ironing board.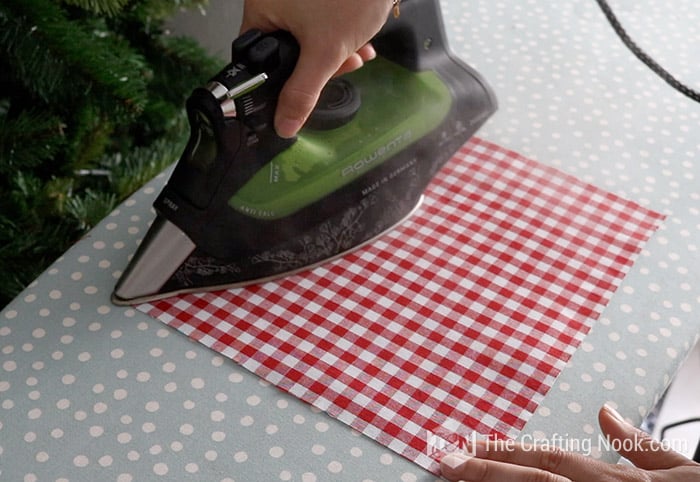 Once it has cooled, carefully peel away the paper backing. You'll see the interfacing adhered to the fabric.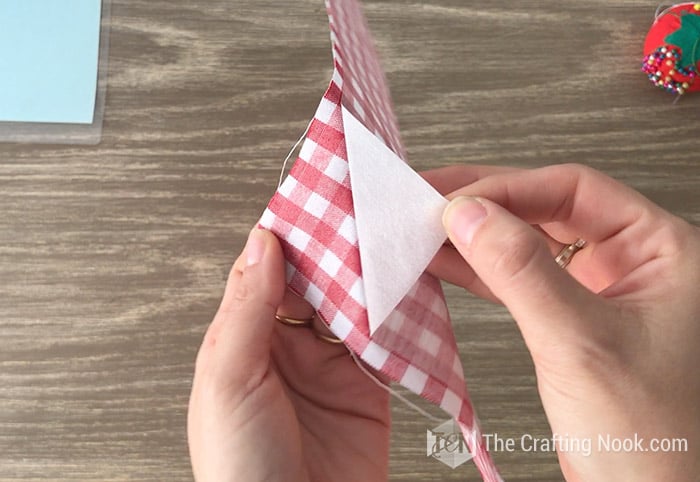 Place the fabric right side up on the Silhouette mat. There is a little more to this than just slappin' it down on the mat. It's very important that the fabric be well-adhered to the mat. If your mat is full of lint, dust, or paper bits, then the cut may not go so well. If the mat has started to lose some of its stickiness, then spray a Repositionable Adhesive Spray to the back of the fabric/fusible web before placing it on the mat.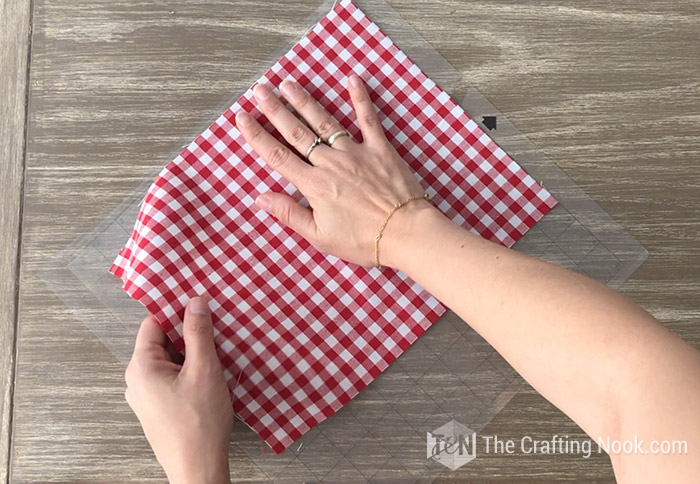 Load the mat into the machine.
Be sure to be using the fabric blade (the blue one or a brand new normal one that you can use only with fabric).
Choose the Cut setting which is Fabric Cotton Print. When I choose this setting, the software sets the thickness of the cut to 3 but, I've found that I I get great results setting my blade at 4 when the fabric seems thick.
Send the design to the Silhouette to cut. (you can do this with your Cameo or Portrait!).
Carefully, peel away all the surrounding fabric from the mat leaving only the deer.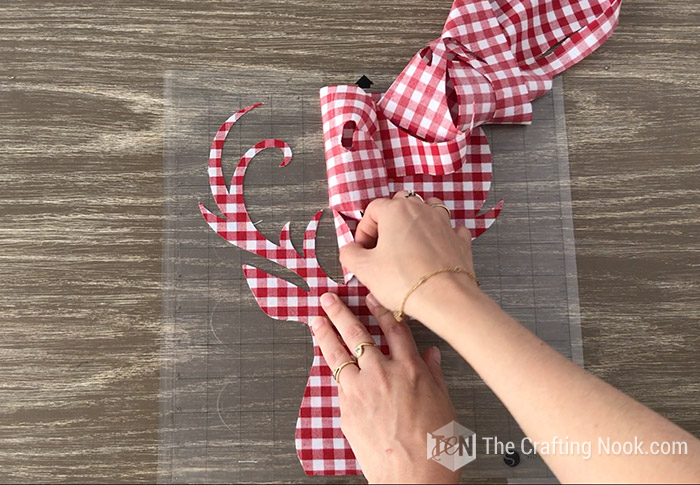 Then really carefully start peeling off your deer from the mat.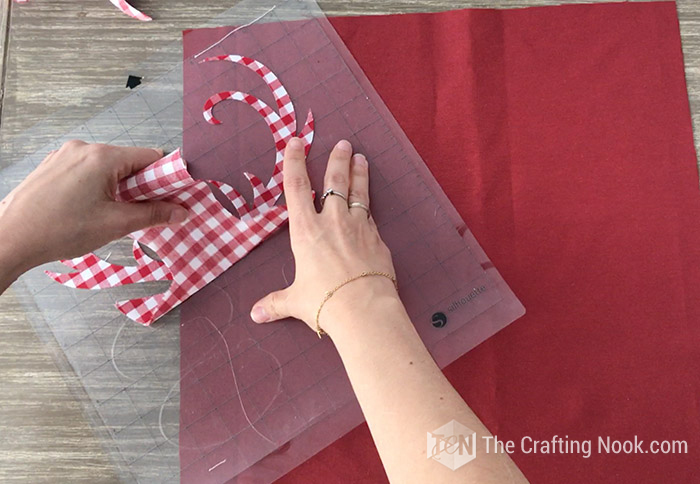 Installing the Reindeer Applique
Once done place it onto the front piece of your pillow. Mine I chose centered horizontally but closer to what I choose to be the base (where the zipper will be).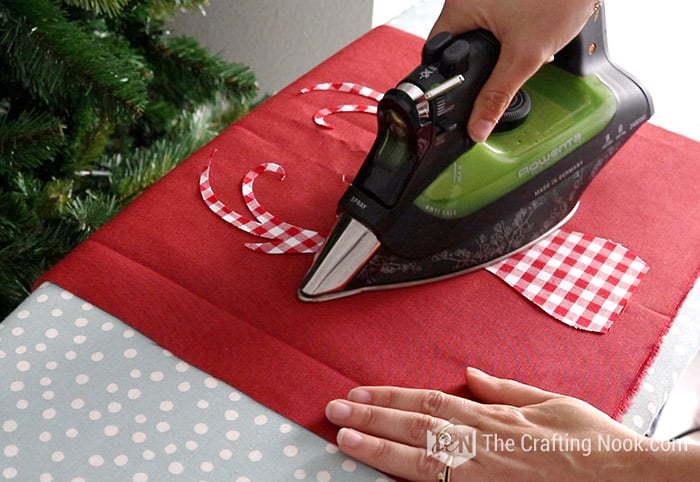 Iron the design onto your fabric and top zig-zag stitch around the design.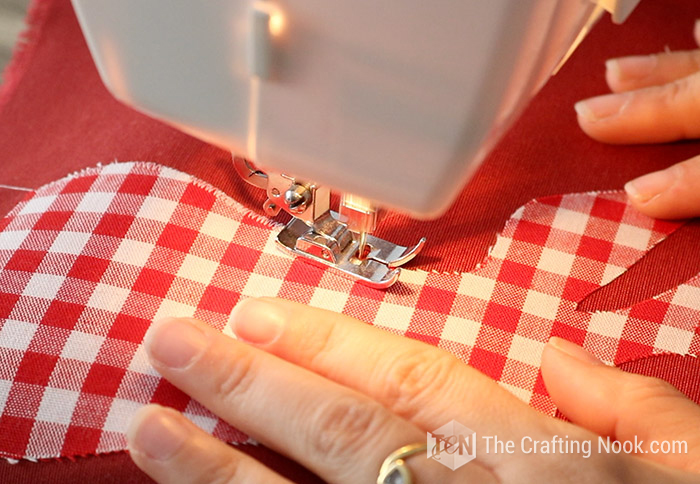 Your design is done!
You are almost there!
Pillow Cover Zipper Installation
Fold about 1 cm (0.4 Inch) wrong sides together of the bottom side of your fabric and Iron it. Do this on both pieces.
Then align your 2 pieces of fabric (folded sides together) and place your zipper on top as centered as possible.
Now, align your zipper from end to end to the folded edge on top of the folded side. Pin in place on both sides making sure the 2 pieces are still aligned.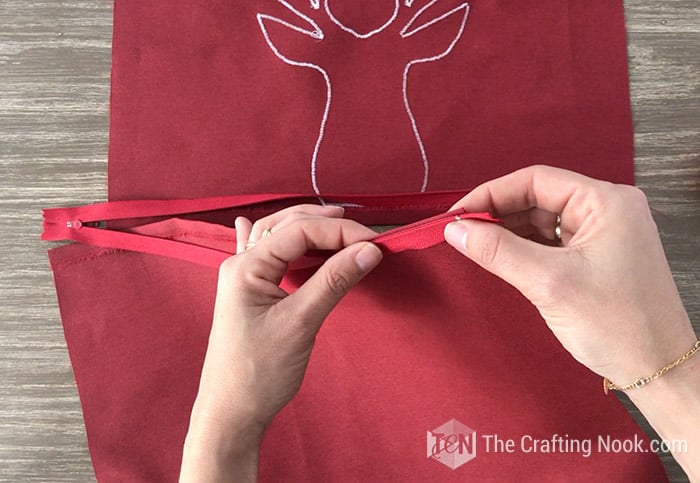 If you turn it you will see the zipper is not visible.
My zipper was slightly larger than my pillow size so I centered it. Once you finish pining zipper in place you will get something like this: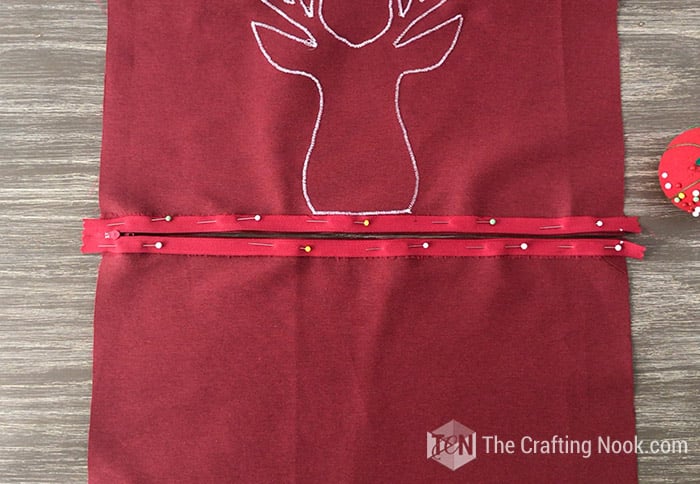 The first thing you need to do is to put your zipper foot on.
I found out easier to work with the zipper unzipped. I mean all open.
Be sure you are back to a regular straight stitch and start at the end of the zipper farthest away from the zipper handle sewing just like you would any other straight line, but keep it as close to the zipper teeth as possible.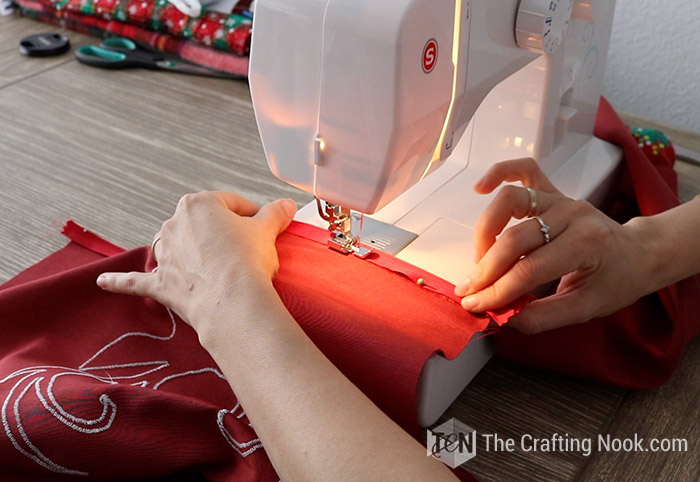 When you get to the zipper pull you won't be able to keep going because it takes up some space. So stop just a little bit away from it, keeping your needle down in the fabric (if possible.) Lift your foot and carefully zip the zipper past the foot, lower your foot and continue to the end of the zipper. Backstitch to end your stitch.
For the other side, I do the same I did but I start from the other end as I mentioned. That way I keep the fabric always on the left side of the sewing machine. Am I too weird?
Your zipper is installed.
Woohoo!
But before moving on we need a final touch to the zipper. Zip the pillow all the way shut and about 1 cm (0,4 Inch) from the fabric edge, stitch across the zipper along the edge for the beginning of the zipper and then open it and align the zipper ends, stitch again. Just a few stitches about an inch long onto the zipper.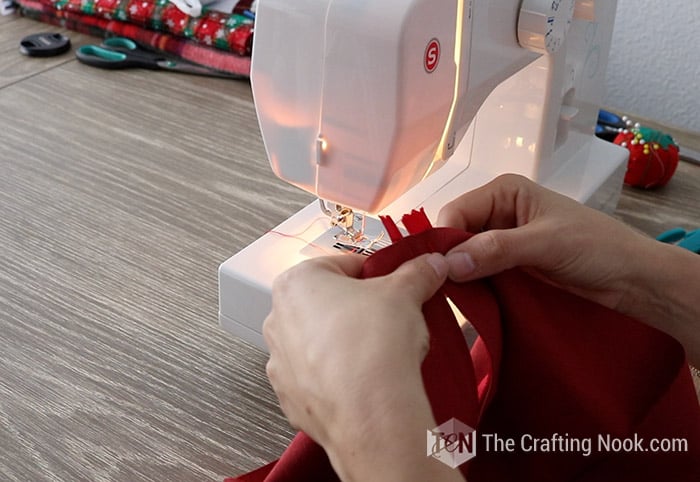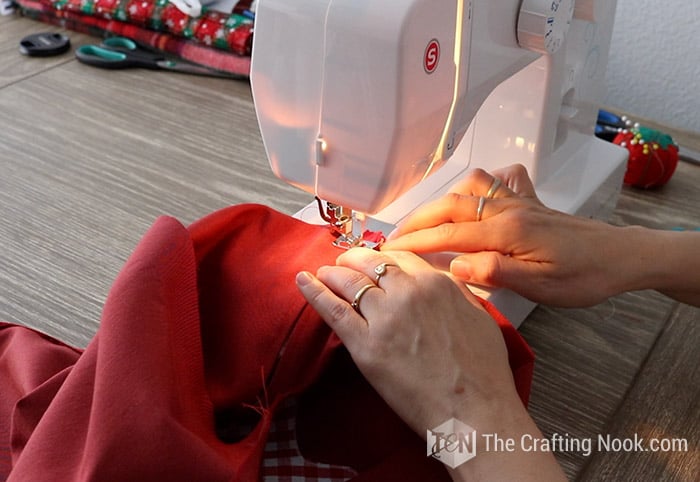 After you zipped the pillow part way in the step above, you will want to cut off any overhang on the zipper track
Next up, zip the pillow about three-fourths of the way shut. Your fabric squares should still line up nicely when you do this. If off a little – you should be okay. But if you see some significant shifting at this point (which it shouldn't) you will need to unpick one of the sides of the zipper and redo it.
Go back to your machine, put your regular foot back on and sew the remaining edges with a 1/2 inch seam allowance, cutting across diagonally at the corners.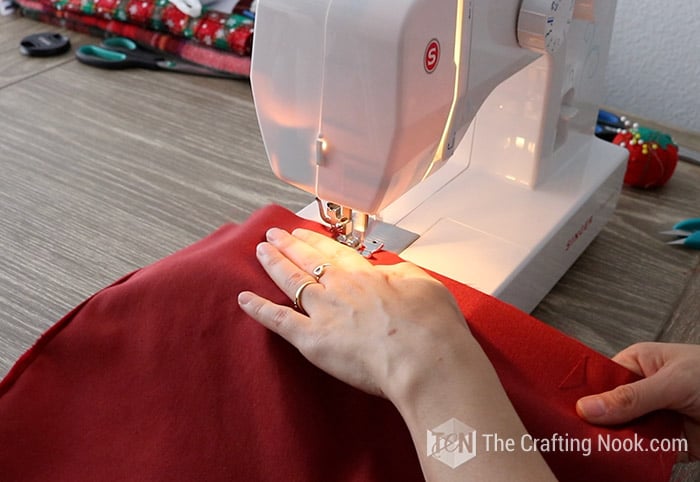 Then I like to zig-zag stitch the edge (serge without a serger) to make sure the fabric won't fray. This will give your edges a finished look and keep them from fraying.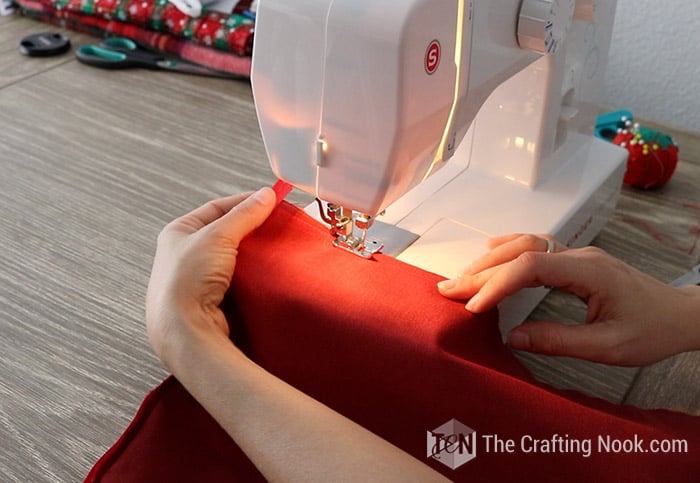 You're ready to turn your zippered pillow cover right side out! My favorite part!. I usually use my scissor tips to help fully push out the edges (but very carefully!) you don't want to rip your beautiful new pillow cover! Iron it and you are ready!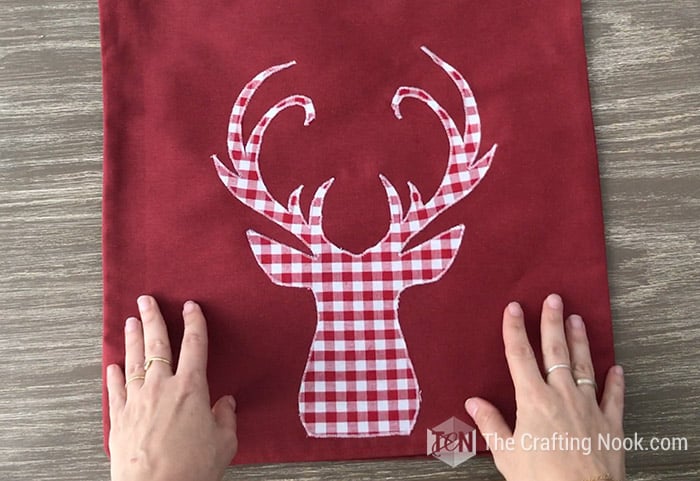 It wasn't that hard, was it?
Well, first times are always harder, but I'm telling you, it gets easier as you make more pillow covers. If you already made some pillow covers in the past, you know what I'm talking about!
The final touch was making a cute ribbon bow with a Jingle bell. Stitch it to the neck of the reindeer and you are done!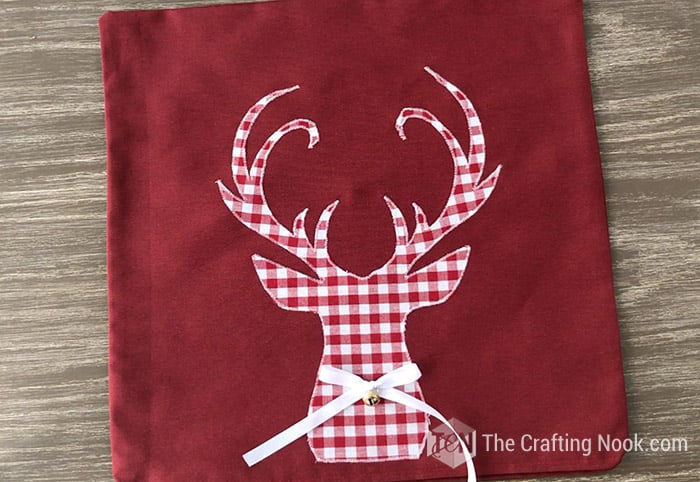 Now, get a pillow in there and enjoy!!!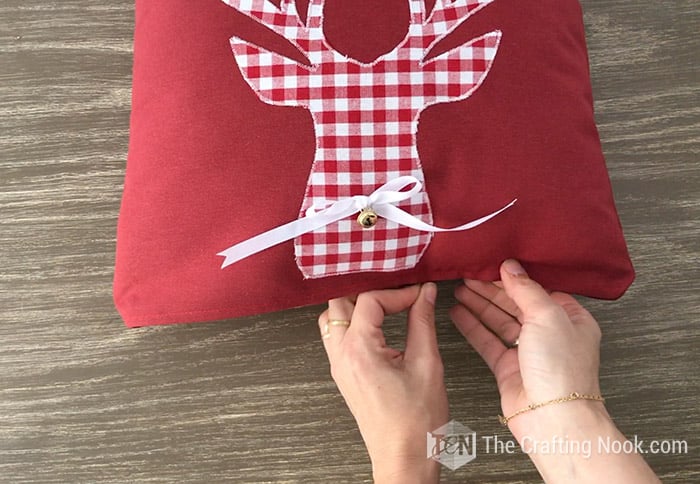 This is how my Reindeer Buffalo Plaid Christmas Pillow turned out! I'm so loving it!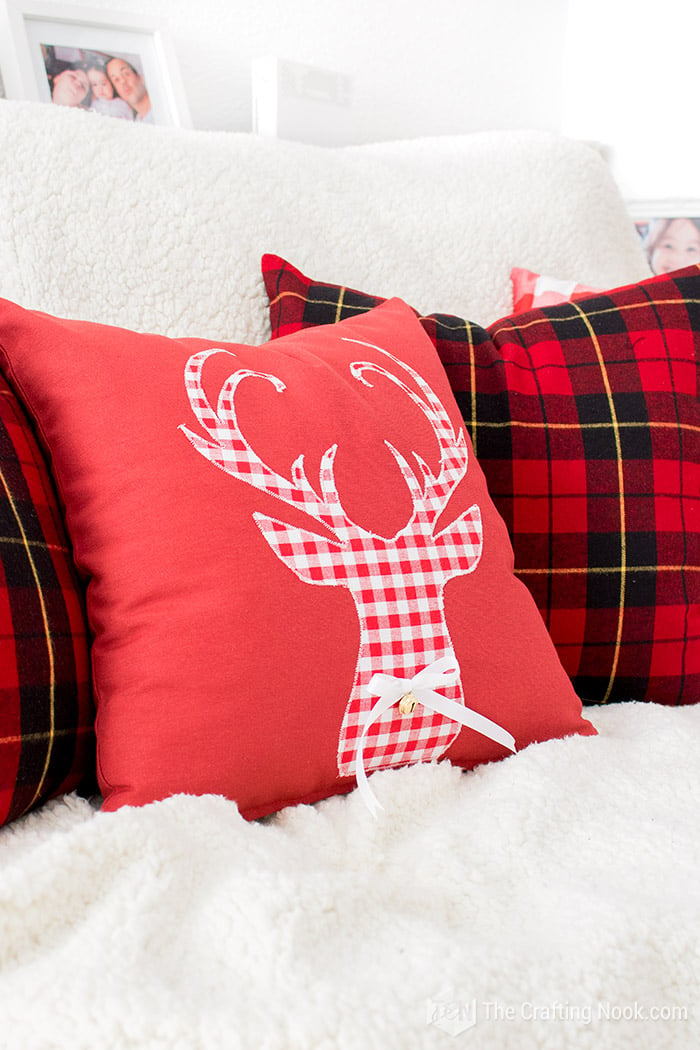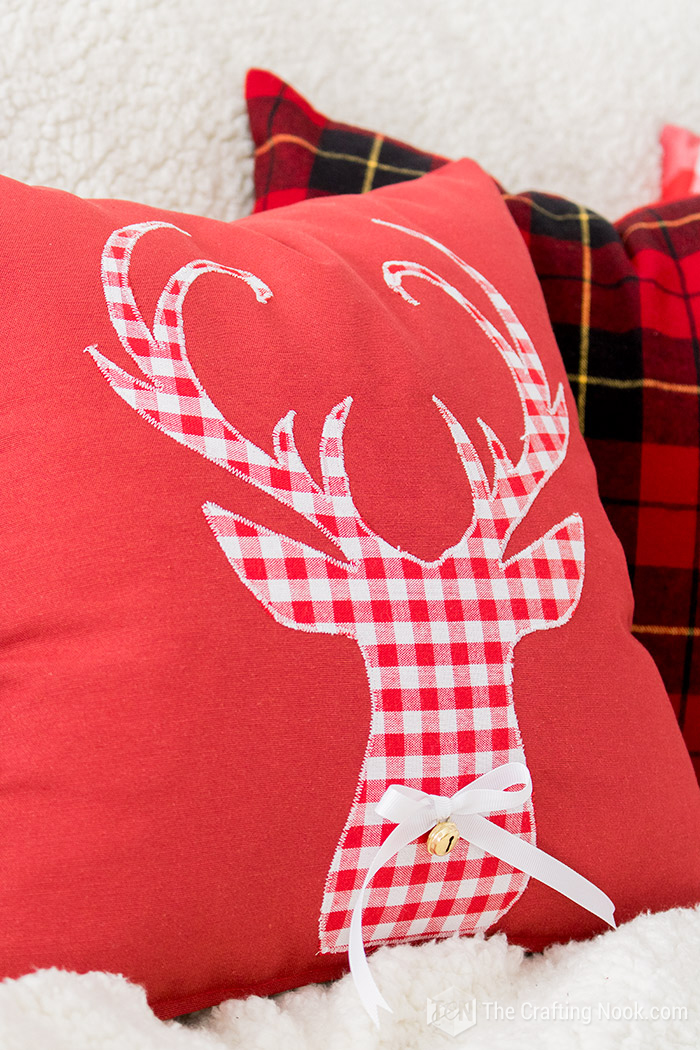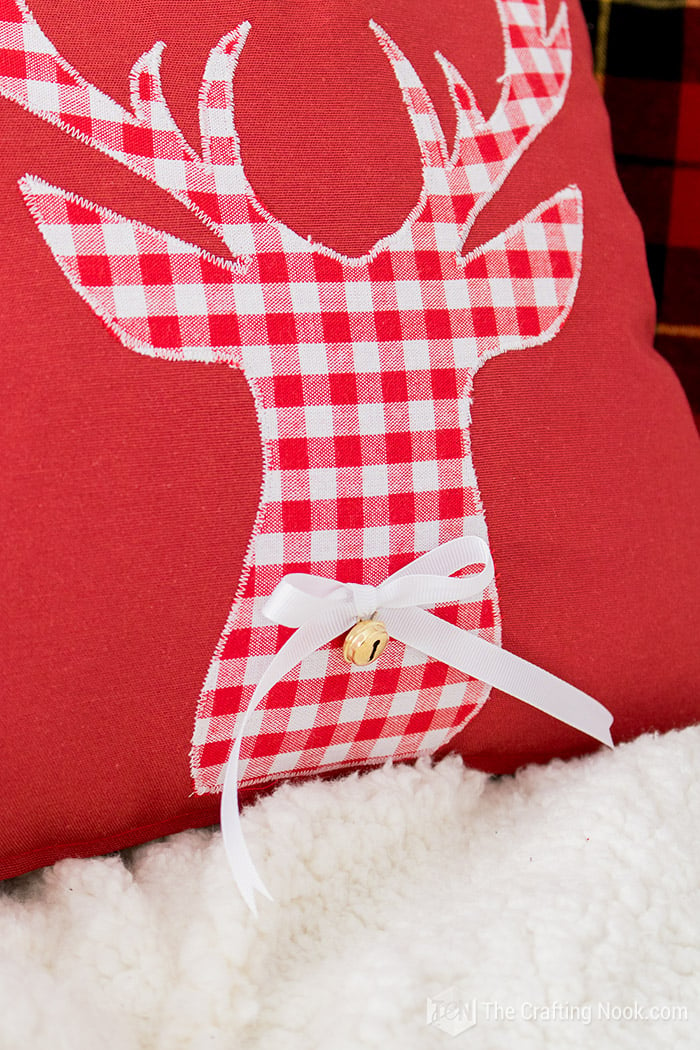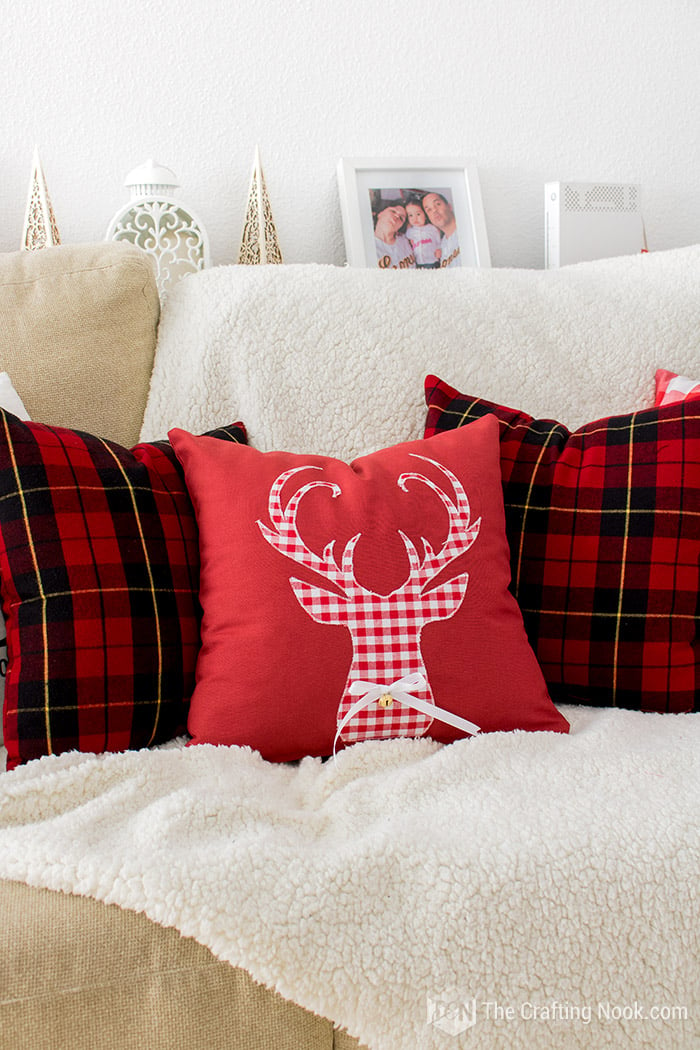 I hope, you enjoyed this Reindeer Buffalo Plaid Christmas Pillow Cover tutorial. If you did, don't forget to Share with your friends!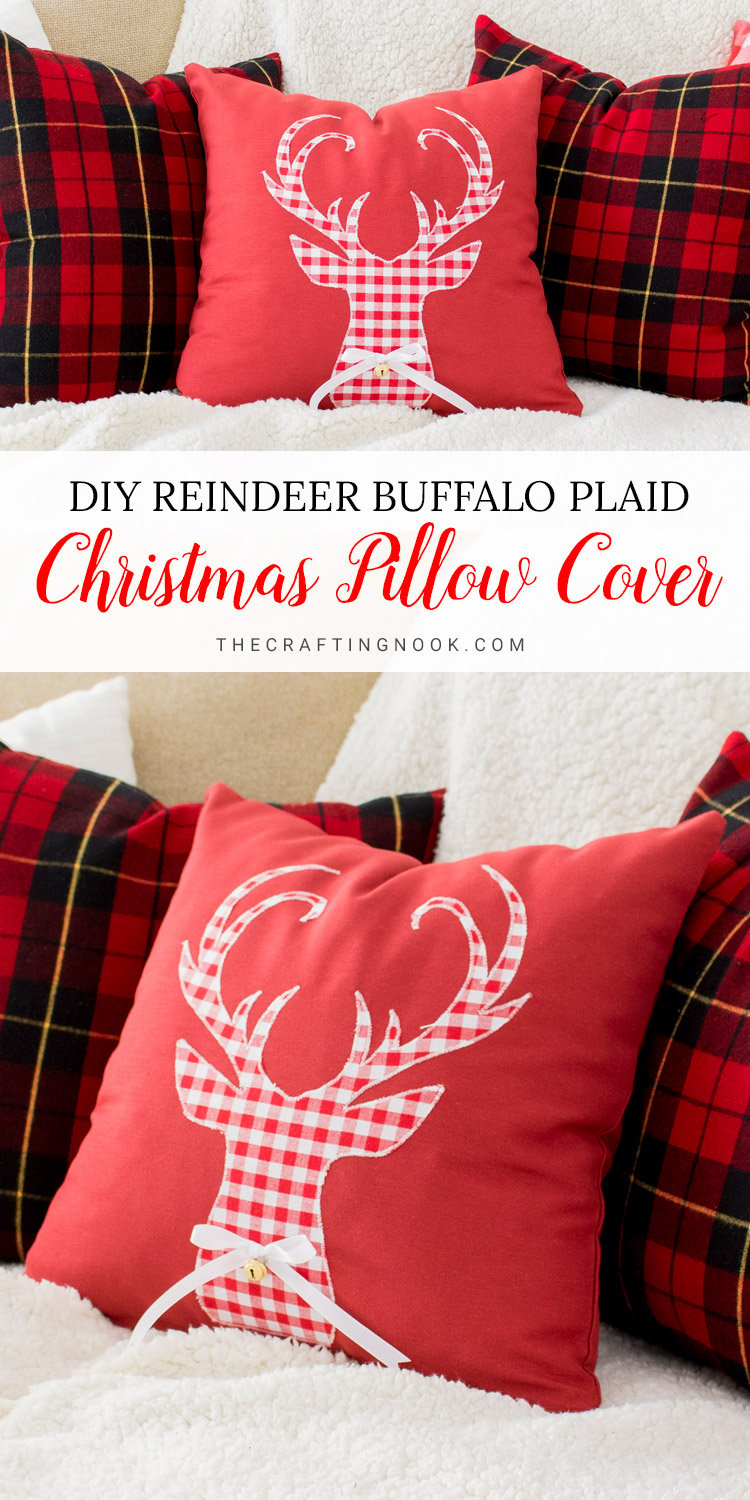 If you like this Buffalo Plaid Christmas Pillow project, you might also love these too: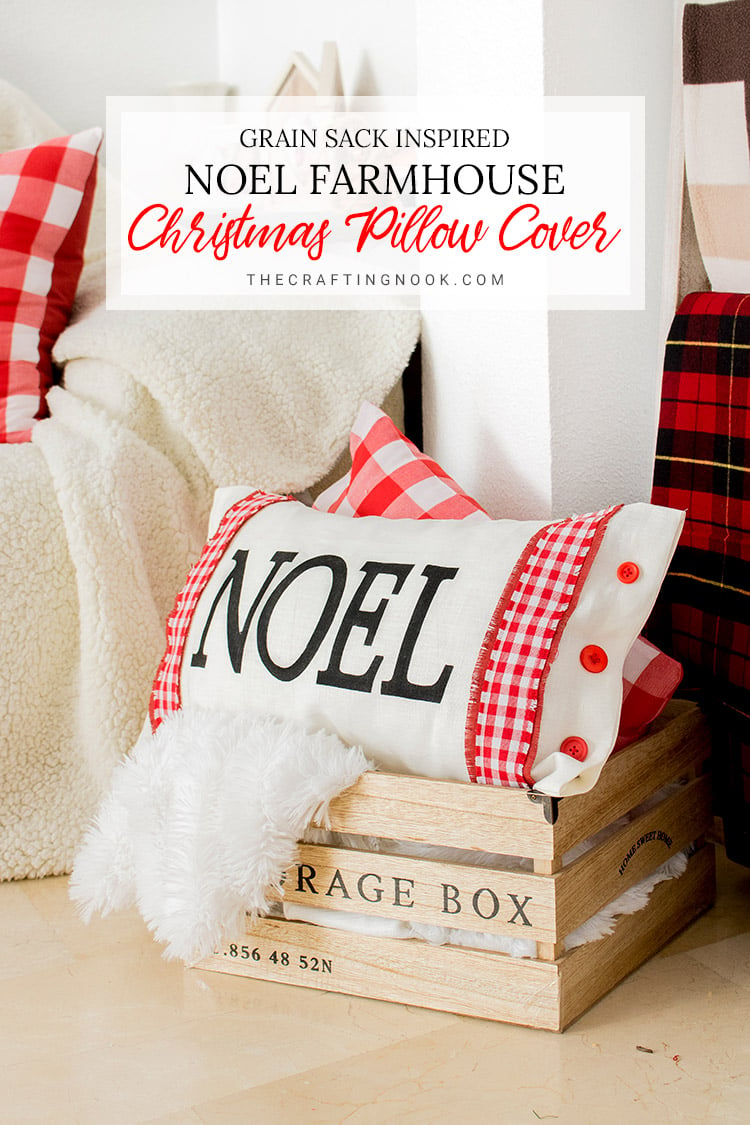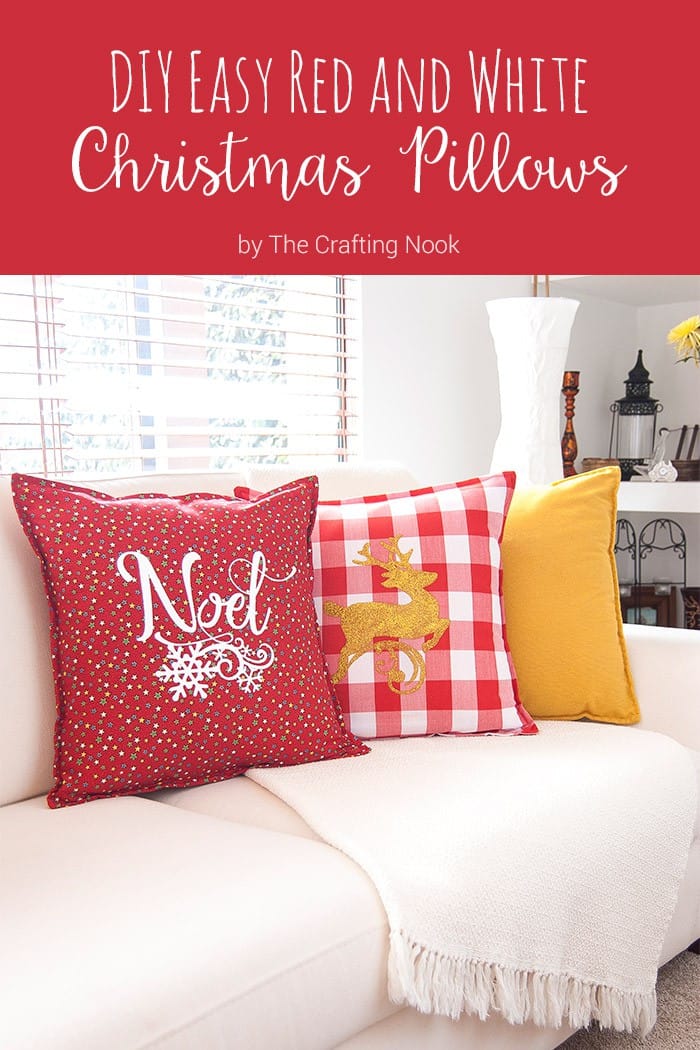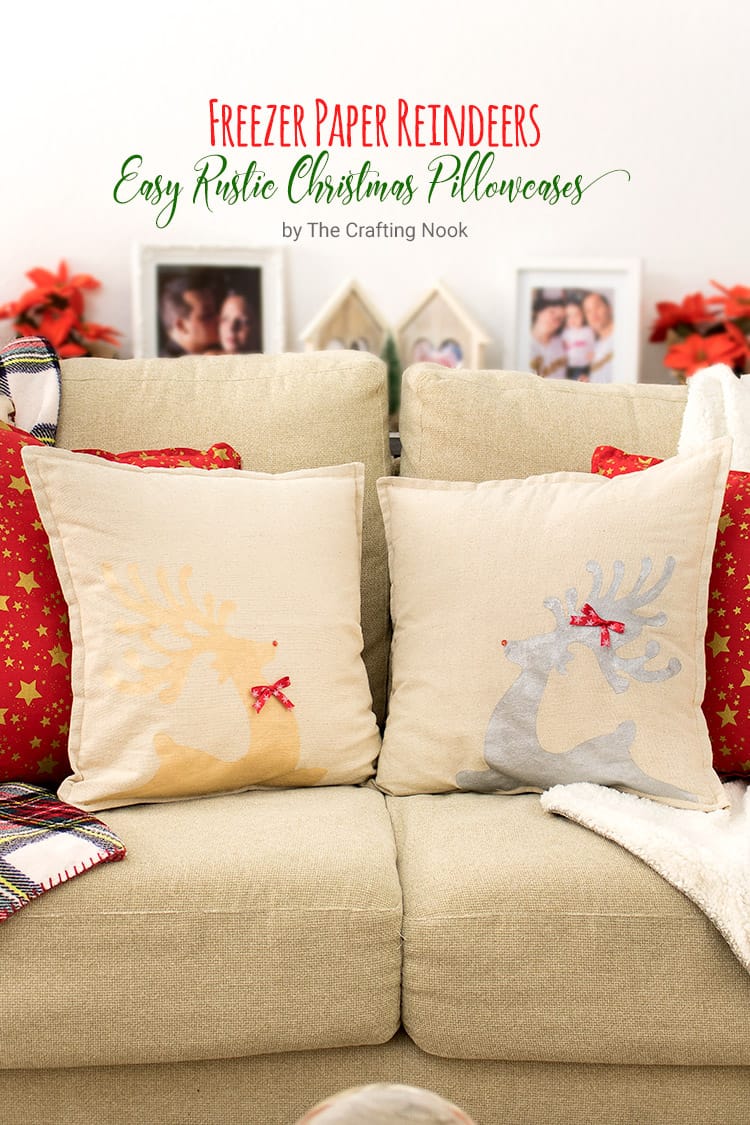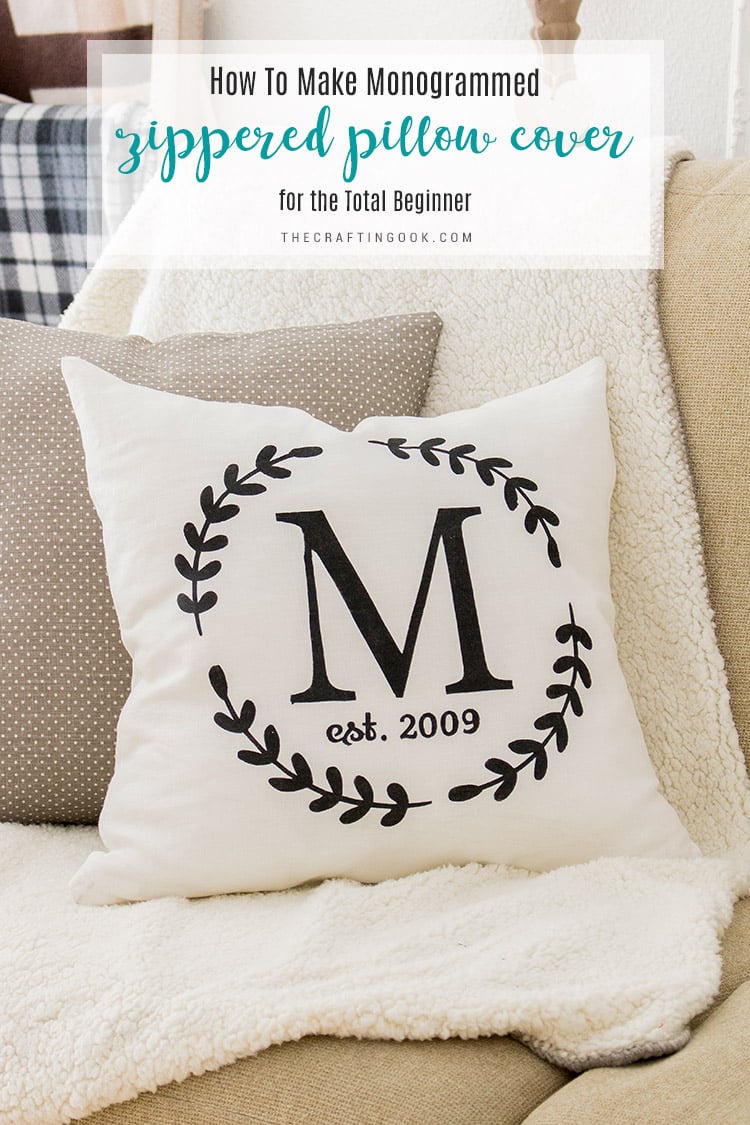 Til' next time...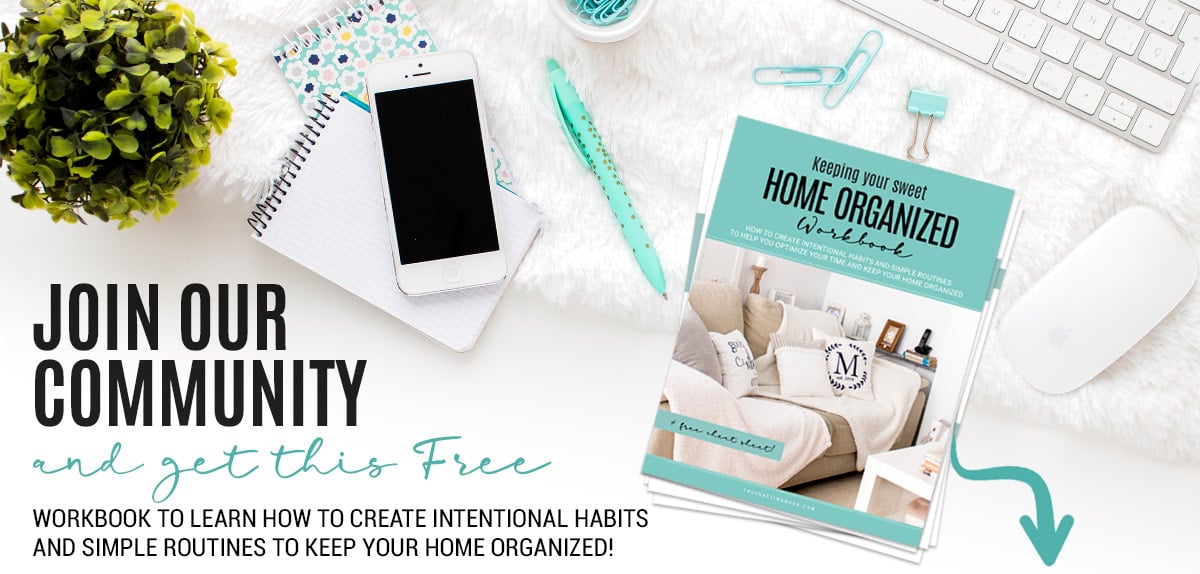 GET INSTANT ACCESS TO THE HOME ORGANIZED WORKBOOK
Plus freebies, printables, exclusive content, tips, stay connected, be the first to know great offers and Product Launches!
Disclaimer: By clicking on the "Yes, I want it" button above you are giving me your consent to collect and use your information according to the law and My Policy Privacy and The Cookie Policy. Zero Spam I promise!