Sewing Tools and Notions (Both usual and Unusual!)
Hi everybody! Second date for us, one month later (remember? Fabrics 101 + Heat Pad DIY for Beginners? Irene from Serger Pepper?) Today I'm going to talk about Sewing Tools and Notions, all that you need to start sewing as an absolute beginner!
You'll discover that some of the sewing tools/notions I'm showing you aren't exactly sewing-related… but if you are able to think outside the box, you can always save some Bucks and use what you already have under your eyes! It's a long post, I would suggest you to Pin It for future reference, you won't regret it, promise! (it's easy – just hover your mouse over the first pic, you'll be redirected to your Pinterest account!) Let's talk about it.
Sewing Tools and Notions (BOTH USUAL AND UNUSUAL)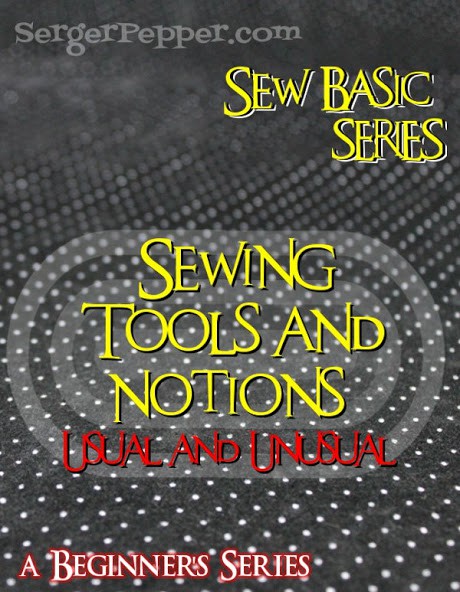 I'm listing in order of importance and urgency (for me) all the sewing tools and notions you should get to start sewing comfortably. In fact, from number 10 and below, I'm listing some of the sewing tools you can do without with no problem at all, but I think some of you already have them in their house and maybe don't know they can be used this way!
1. Scissors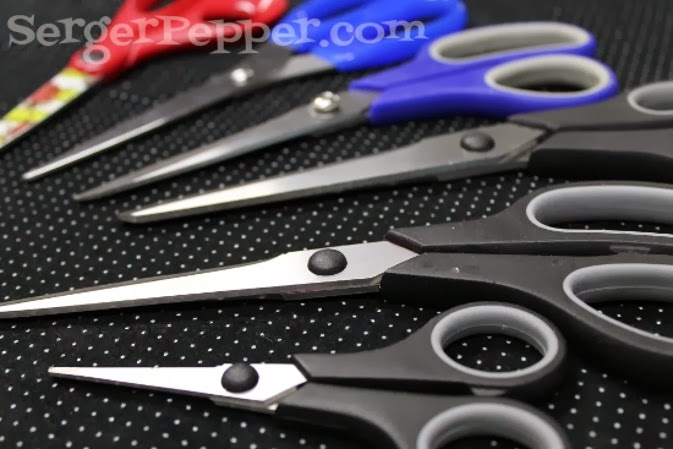 You need them to cut your fabric and thread. I would suggest you buy sewing scissors if you can afford them: they last nearly forever and can be sharpened when they start cutting less.  Dimensions matter! To cut fabrics, the longer the better. You should have a little scissor too, just to cut thread tails and avoid cutting fabric too, in the meantime! A Warning: never use your scissors for anything different from fabric (or thread): never with paper (i.e. cutting patterns), plastic nor other materials, or they will lose their sharpening soon! Warn Your Relatives Too…. (Ask me why I'm telling you this!) … or: you can use a Scissors Lock like this: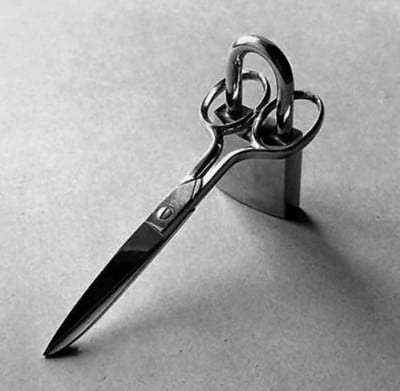 Meaningful, don't you think?
2. Measure Tape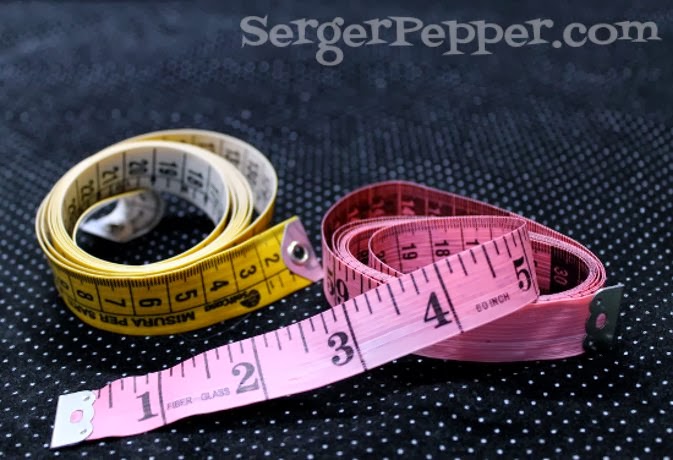 Depending on your country, you can use a measuring tape with centimeters or inches (the pink one has both, one on each size, while the yellow/white has cm on both sides). As you can guess, they're used to take measurements, mostly on curvy lines (like circumferences and anybody measure).
3. Needles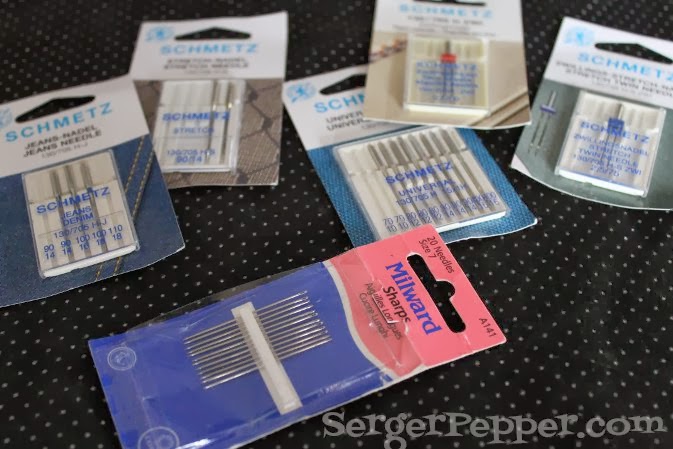 You'll need needles for sewing by hand (the one with the pink and blue package) and for domestic sewing machine (the Schmetz ones are my favorite brand – I'm not affiliated, simply love them!). You can recognize the sewing machine ones because the eye is near the tip of the needle and the hand sewing kind has it on the other end of the shaft. Tip.1: you need to change your sewing machine needle most often than you can think (or actually do), at least every time you start a new project! Tip.2: use a specific kind of sewing machine needle for every type of fabric: there are denim needles, ballpoint needles for knits/stretch, double/triple needles; choose a proper size too, basing on your fabric thickness.
4. Pins and Pincushion(s):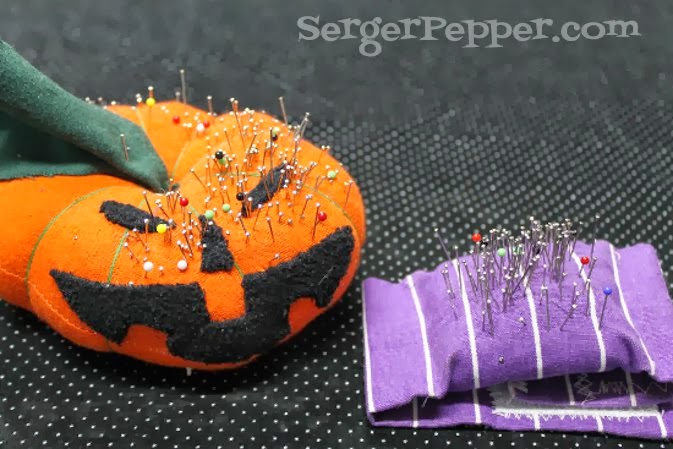 Pins are meant to keep the fabric in place while cutting or sewing; you can buy the all-metal kind or the ones with colored head: just pay attention to choose the glass head ones versus the plastic head (that will melt on your fabric the first time you'll press above them with your iron!) There are different sized pins both in length and thickness, to start just choose the regular ones! To collect your pins, you can use a repurposed box/can/jar or create a nice pincushion, better if it has a built-in sharpening feature!
5. Iron and Water Sprayer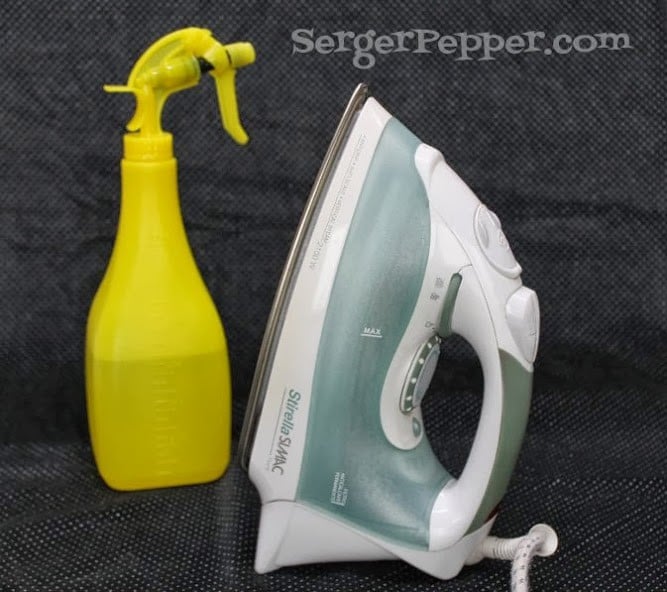 Pressing while sewing makes the difference between homemade and handmade! Check my How-To Press list of tips, if you are still thinking that you can skip this step! I would add to this point: iron cloth (a simple white cotton fabric scrap to put between iron and fabric), iron board and, as soon as you can, add some Fancy Pressing Tool DIY: Tailor's Ham, Sausage Roll and Pressing Glove: easy to do, lifesaver and money saver!
6. Thimble and Threader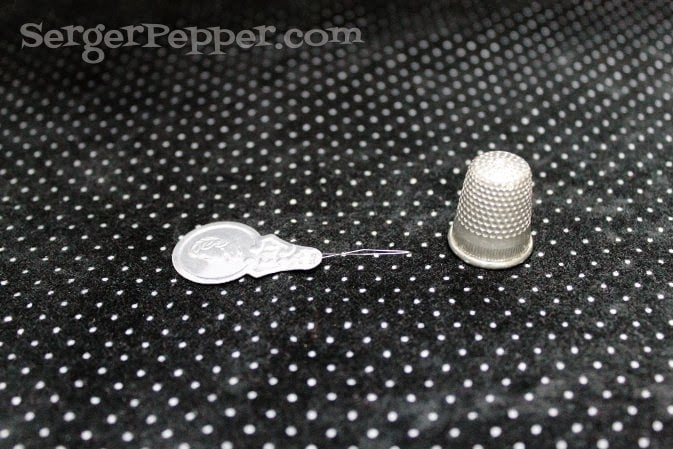 While they're designed for hand sewing, these sewing tools are needful for sewing by machine too! The thimble goes on your middle fingertip to protect it while you push on your needle. I use it while I am fixing thread tails left from the sewing machine/serger. The threader is useful for threading any kind of needle (for sewing by hand or by machine): you put it in the eye of the needle, then thread it and pull it back, so it threads your needle. I found it useless on the serger, where tweezers are better, due to the reduced space!
7. Threads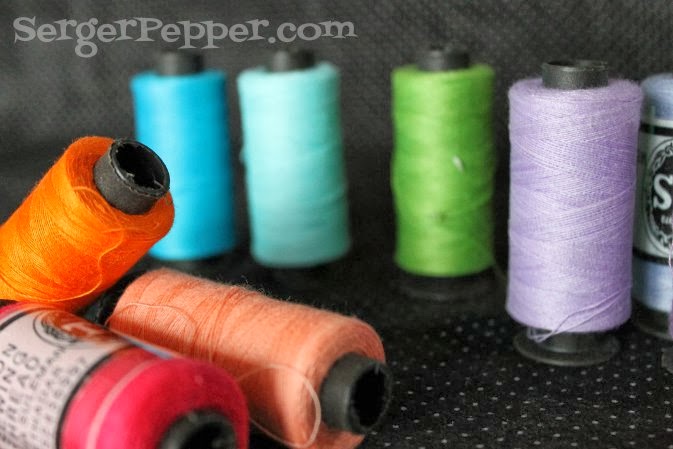 You can't sew without threads! The most used are cotton or polyester threads, but you can find also nylon and wooly nylon (used in sergers), metallic, silk, rayon… The other thing to look at is the thickness of the thread; the most used is weight n°50, which means that 50 km of this thread weighs 1 Kg! Tip: Use the same thread kind on both spoon and bobbin, except when using embroidery thread or denim hem thread; this will minimize the hazard of thread breaking!
8. Rulers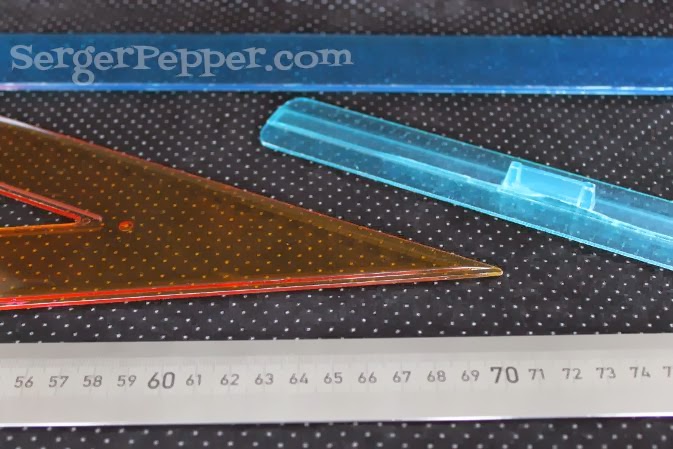 You can use any rulers you like, they're useful to take straight measurements (like while adjusting your patterns). I have them from when I went to school, they're transparent so you can look through and see what's below. I have a metallic one too (this is longer and it's good to measure fabric from the bolt), this is newer – no need to have one if you're not a sewing gadget hoarder like me :) You could desire a squared quilt ruler but be warned: they're quite costly! I had some triangular squared rulers from school, so I'm using them (one has 45° angles while the other is a 60° – 30°)
9. Pattern weights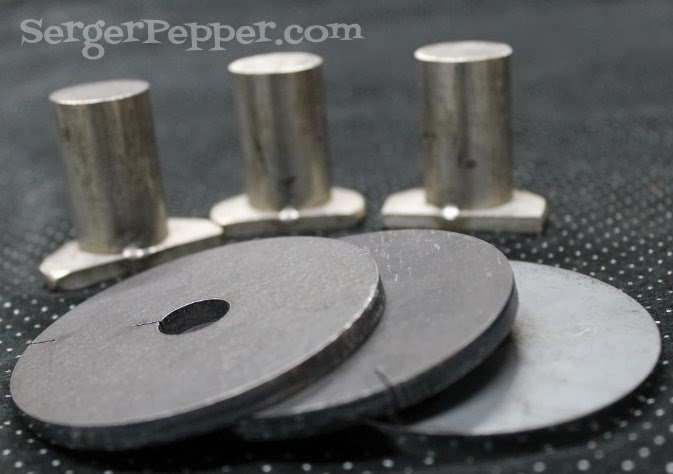 Pattern weights are a huge timesaver when you have to cut your pattern shape, mostly on knits, sheer or any fabrics you can't pin (like leather or PUL). The ones on the pic are clearly handmade (from hubby – thanks Mr. P!), you can use also: canned food, sandbags, heavyweight mugs… anything you have in hand! Are you more of a visual person? See this: Pattern weights Eye Candy!
10. Seam Ripper and Tweezers
Seam Ripper is your best friend, believe me, or not! His primary purpose is to cut seams, both wrong seams (think when you sew together wrong sides instead of Right Sides Facing… how many times!!) or existing seams on garments to be refashioned; you'll find it useful to open your buttonholes if you've made them with a sewing machine! Tweezers come with your Serger for a reason: you'll find them essential to thread your needles and loopers unless you have really tiny fingers!!!
11. Frixion Pens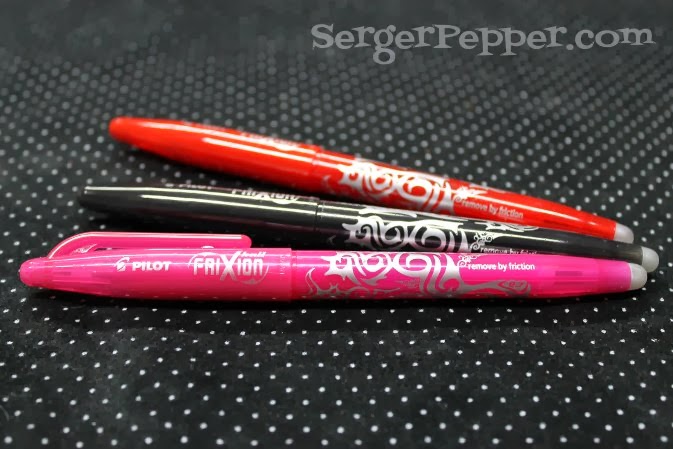 They're one of my favorite marking tools, useful to transfer pattern notches onto light-colored fabrics. Maybe you can find these ballpoint gel pens on your children's pencil case: they're erasable pens that have a side feature: they disappear with heat! Tip: always check on scraps before using them in a place that you can see from the outside of your garment… someone noticed that they tend to reappear with extreme cold (put the test-scrap in your freezer after pressing it with a hot iron… just to stay on the safe side!)
12. Chalk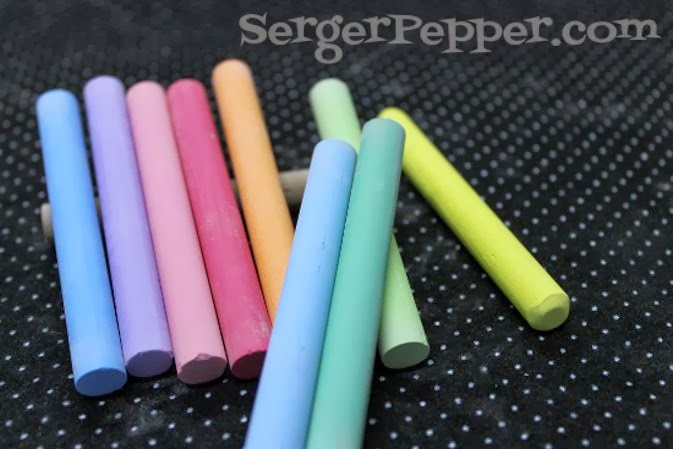 This is one other marking tool I use a lot. There's a specific tailor's chalk you can use but I often run out of it (or break it into one hundred tiny pieces… I hate it), so I always keep a couple of boxes of plain chalk, the one you can use on the regular chalkboard: it's cheap, comes in many colors and is good for most situations! The only fact against it is that his markings won't last long, so use it when you expect to finish your sewing project within the day, just to be sure! Remember: Check if it leaves traces, trying to brush it out before marking all your fabric.
13. Lint Roller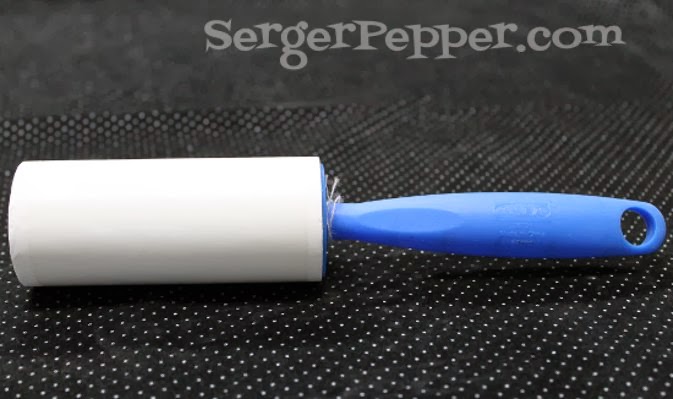 I love this (unusual) sewing tool! You can use it to keep your project clean from bits of thread wandering after using your seam ripper…  or if you don't have a thread catcher (or you own it but still have to get in the habit of using it, like me – so your project acts as a thread catcher itself!). This one on the pic is from Ikea and is built to catch pet's hair so it has really strong adhesive power!
14. Sewing Gauge and Binder Clips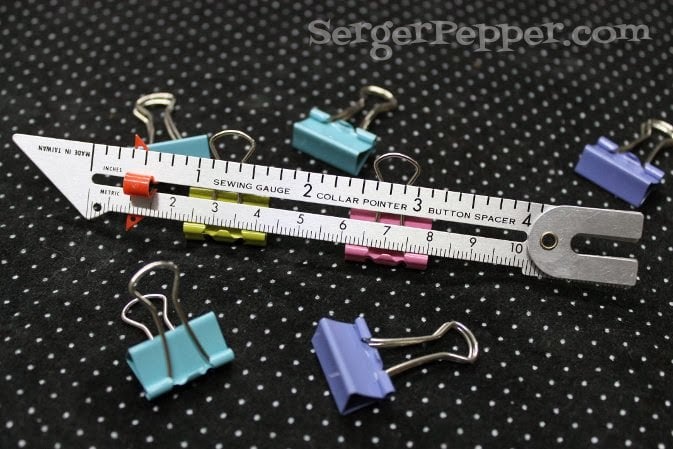 This Sewing Gauge is a new entry in my sewing tools stash: it is a multipurpose gadget that helps you: a. measure and mark hem depth b. draw scallops and circles c. evenly space buttonholes, tucks and pleats d. add seam allowances little binder clips are useful instead of pins for sewing leather/PUL and for keeping together pattern pieces while already cut out.
15. Mask Tape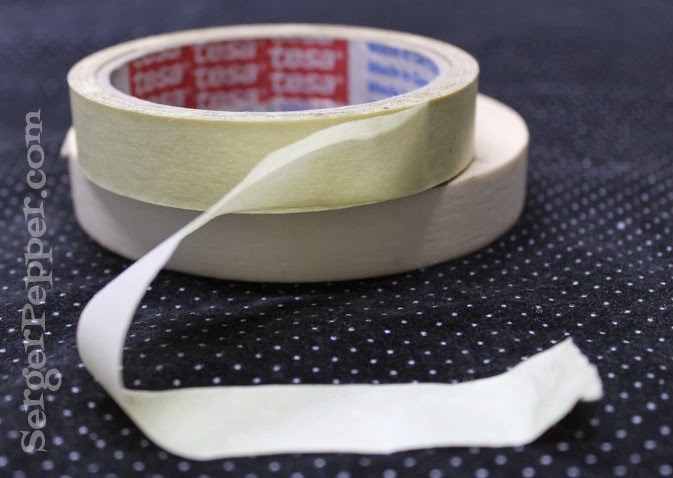 Yes, the one you use when wall painting… You can place it on your sewing machine needle plate to mark the distance from the needle: you'll only have to align your edge to the masking tape… et voilà: a straight hem is done! ł Plus: it leaves no traces when you pull it off!
16. "Professional" Tools to Add Seam Allowances (LOL)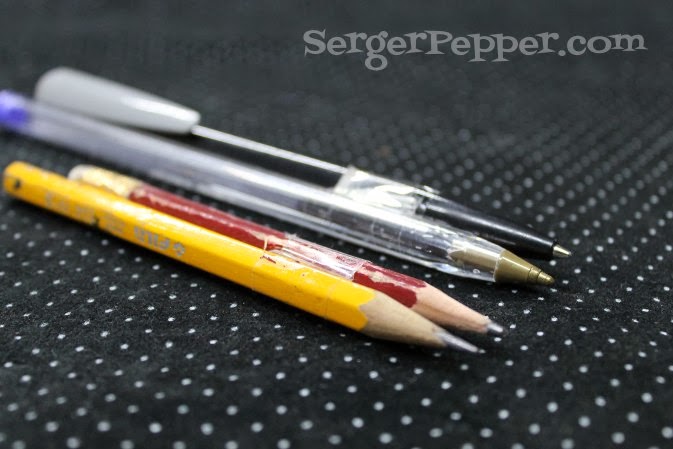 Depending on where you live, you can expect to find patterns drawn with or without seam allowances (in Europe we have to add them, while in the rest of the world you mostly find patterns with included seam allowances). You can use this Pinterest Wise-Tip: tape together two pencils (or pens) and you'll have a perfect 1,5 cm Seam Allowance, just follow the edges of the pattern without seam allowances to add them! And it works on the other way too, to find sewing lines: just follow cutting lines to trace a seam line toward the inside, when your pattern s.a. is 1,5 cm! If you're more of a gadget hoarder, you can always check the Seam Allowance Guide!
17. Glue Stick and Ponytail Holders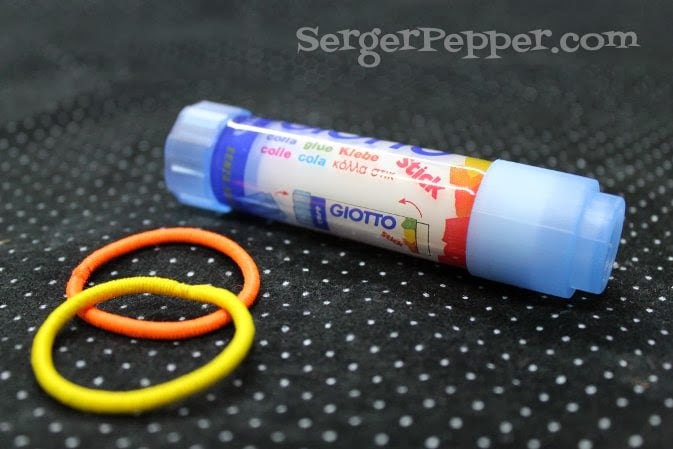 I know that there are glues specific for fabrics, someone says that they don't stick to your needle and don't go inside your sewing machine gears… and I do not question it… but I always use a glue stick from my Lil Potato's school pencil-case to stick zippers or appliques to the main fabric, by using the caution of a thin layer of it! You can use ponytail holders when your project asks for round elastic, as for a button closure on wallet or sunglasses cases… It's cheaper than the store-bought by-the-meter round elastic and comes in more colors!
18. Chopsticks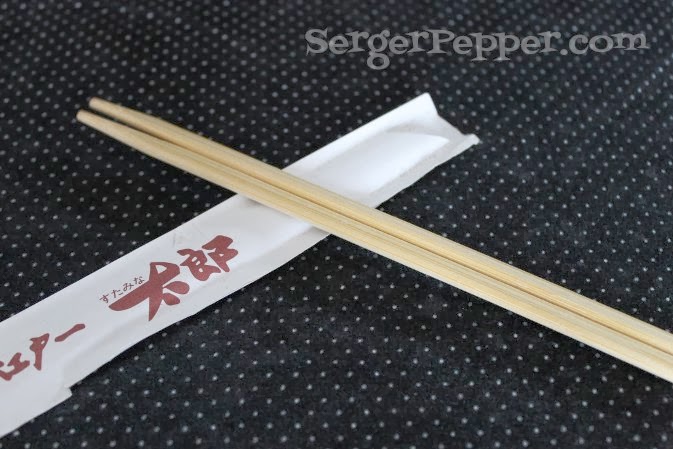 They're perfect sewing tools (as well as eating tools!), used for turning inside-out corners. You can also press fabric while they're inside, to give shape without burning your fingers!
More Sewing Tools (I do not own)
Rotary Cutter and Cutting Mat: Mostly used from quilters, but also useful for cutting sheer fabrics – they're costly, I'm not planning to buy them soon! Tracing Wheel: It's used to transfer pattern markings to fabric by leaving a fine imprint on smooth fabrics that can be pressed away after sewing. This is one of those sewing tools I love to collect, will be mine soon! And that's all for today! I hope you liked this (long) post about sewing tools, perfect for beginners.
Hope you enjoyed these Tips for about Tools for sewing. If you did and want to know more jump over and check out more sewing tips posts!!!  
Til' next time...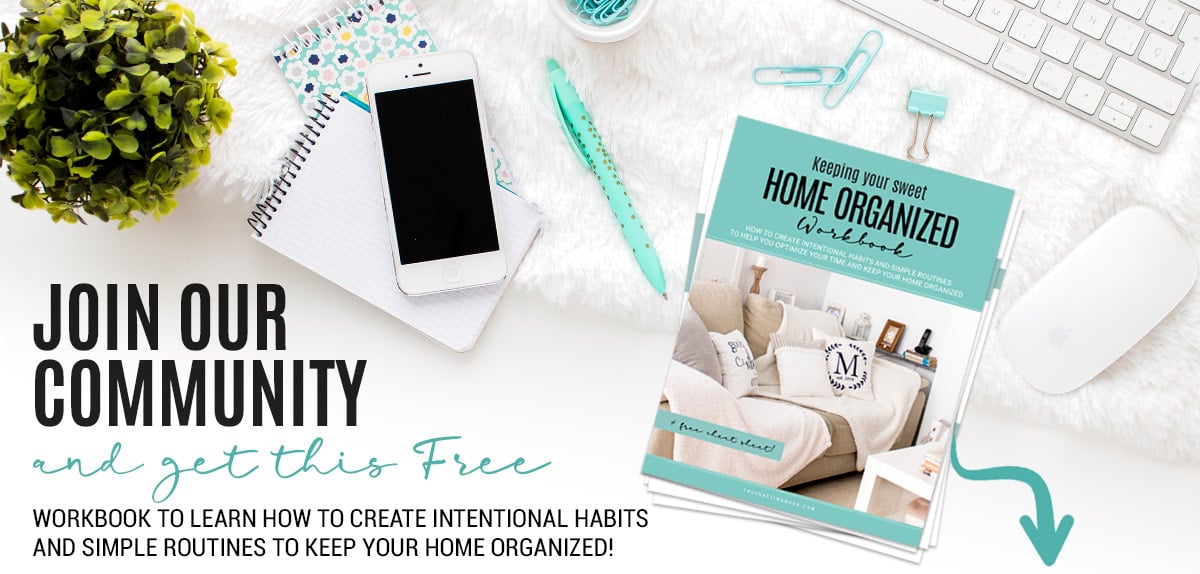 GET INSTANT ACCESS TO THE HOME ORGANIZED WORKBOOK
Plus freebies, printables, exclusive content, tips, stay connected, be the first to know great offers and Product Launches!
Disclaimer: By clicking on the "Yes, I want it" button above you are giving me your consent to collect and use your information according to the law and My Policy Privacy and The Cookie Policy. Zero Spam I promise!