My Red and Gold Decor Christmas Home Tour 2020
Is that time of the year again. Let's take a peek at our cozy decor and be welcome our humble Christmas Home Tour 2020.
This 2020 year has been crazy. I can't say it was completely bad because it was, so many losses and stressful situations. But it also brought positive things, like more awareness, the opportunity to reinvent ourselves, be kinder, empathic, and supportive.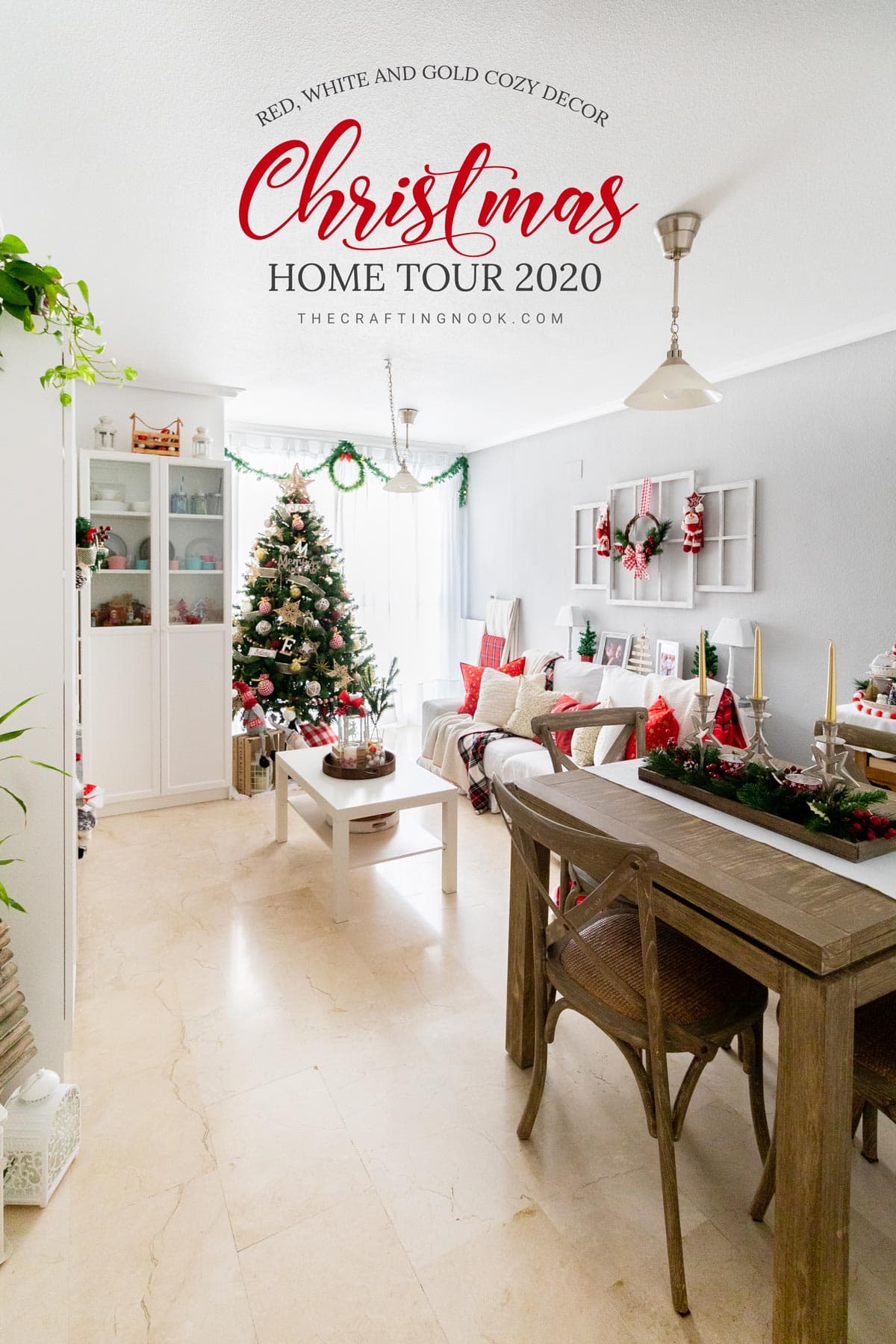 My Red And Gold Decor Christmas Home Tour
The truth is that 2020 supposed a huge challenge in many, many ways. Economy changed. The way we work changed and even our relationships changed.
In my opinion, 2020 had a big impact on our creativity too.
I saw that while decorating for Christmas.
I got a little blocked quite a few times and that made me understand I needed to take time to recharge my creativity source. I love listening to music, so I cuddled up on my sofa with a cup of tea and played a nice Christmas song playlist. This was one way that helped me get inspired.
Some other days, I just took a walk, visit Christmas shops or just enjoy a sunny day out.
But to be honest, I'm loving how my home decor turned out and I'm enjoying it so much! Reason why it was such an exciting thing to make this Christmas home tour 2020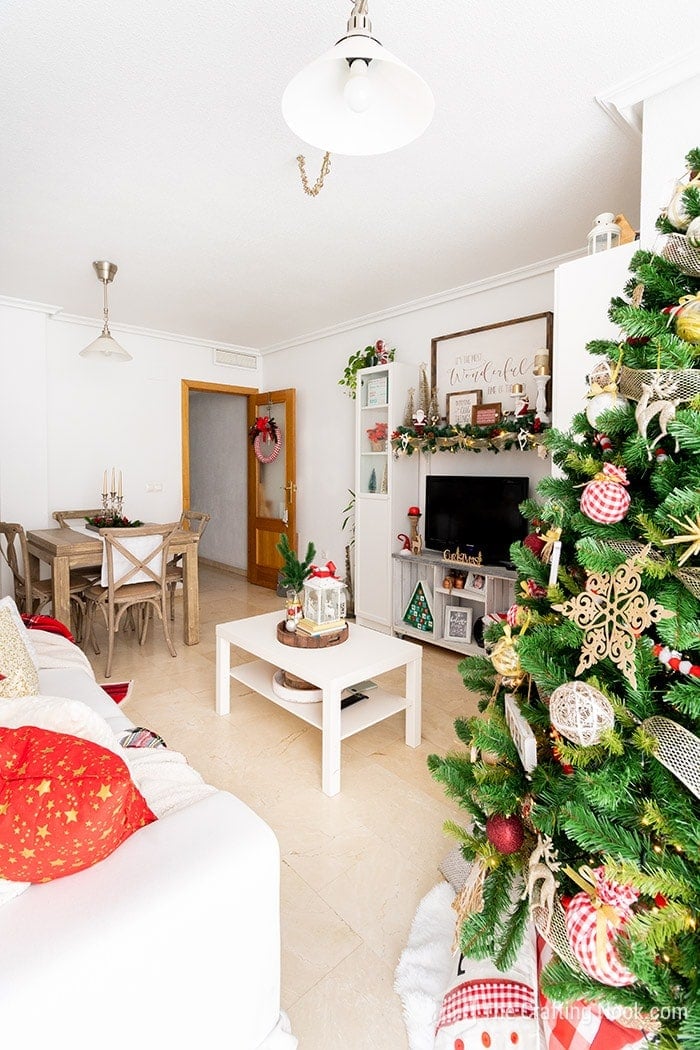 This isn't a complete home tour, I didn't decorate as many spaces as I have in past years, but I've included every bit of our Christmas decor, so you are seeing it all.
This year I kept things simple.
I used mostly gold with pops of red to provide that cozy, Christmas feeling and I sprinkled greens in every room.
My home is decorated and ready for Christmas in a cozy almost farmhouse style. It has been decorated for a few weeks now and I photographed everything.
I had so much fun taking the photos… I got 2 new lenses this year and I having a blast playing around, shooting from different angles and trying to teach myself new things I wound up taking a ton of pictures!
Like it happened every year, with so many photos that I took, I had a really hard time narrowing them down.
So I hope you are ready for lots of photos of my cozy Christmas home tour!
Grab a cup of tea or wine and enjoy!
Let's start this Christmas Home Tour 2020
I usually decorate my entryway but this year I decided to skip that and focus more on our living room BUT like every year I did create my Christmas wreath for the front door.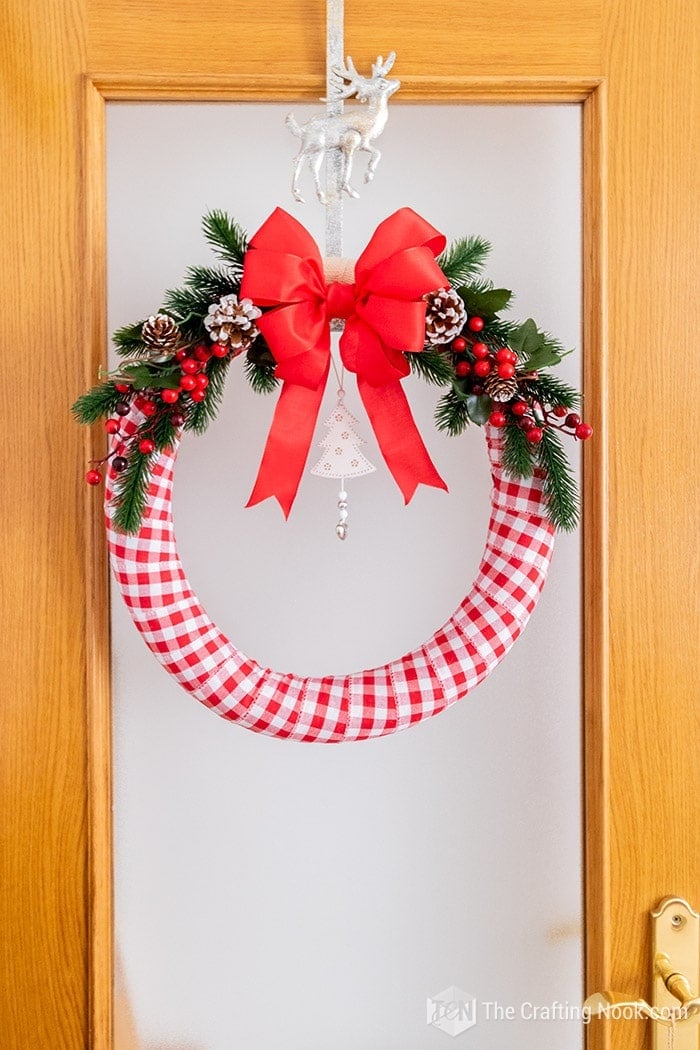 Then when you enter my living room you have a wide view of the whole space.
My apartment is very small and I have a living room, dining room and family room (and office when the Christmas tree isn't up) in the same room.
That doesn't stop me from experimenting with decorations and variations.
I love lanterns and I placed a couple of them with a wooden tree and my beloved Bambu right next to the door.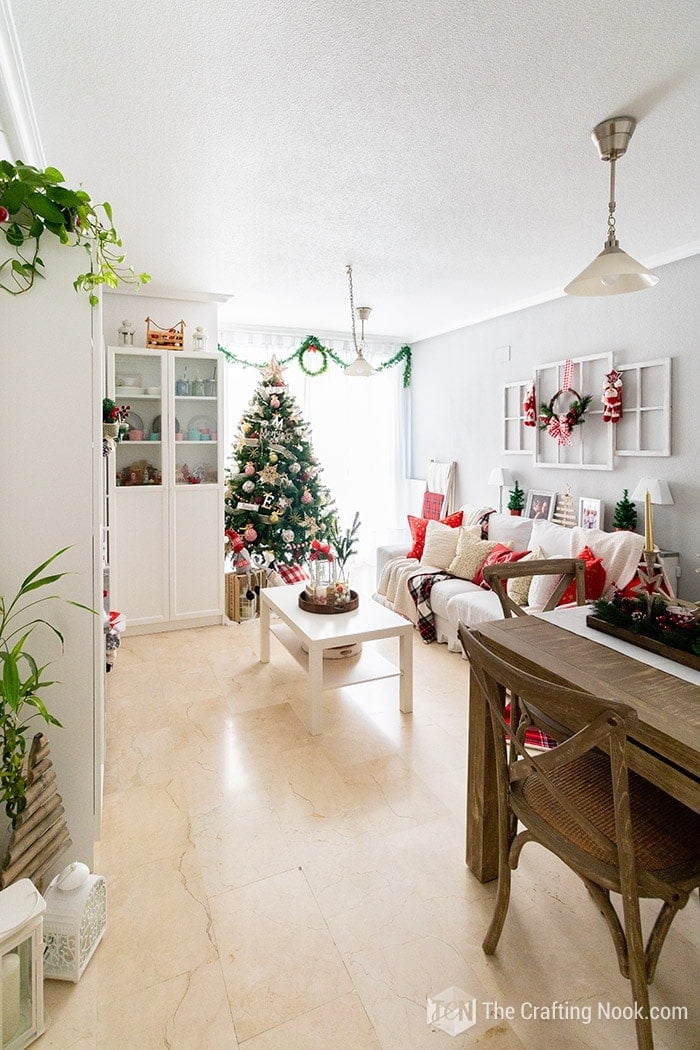 Then the first thing that pops is my big Christmas tree in the back by the window.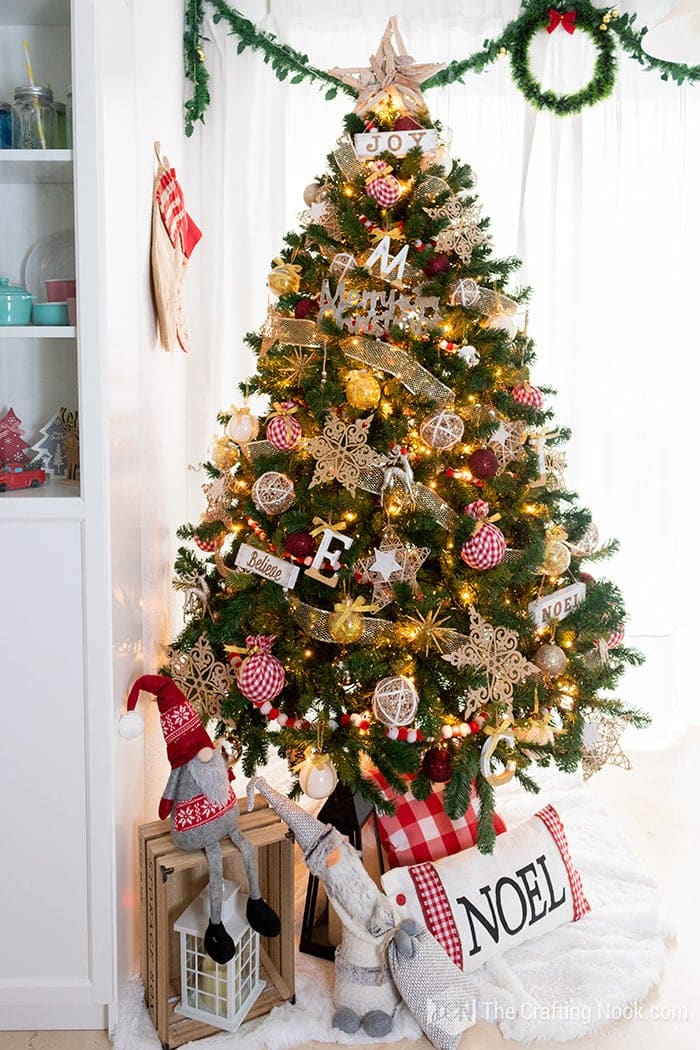 You will notice that I only have one sofa and LOTS of pillows and blankets. Haha. My obsession.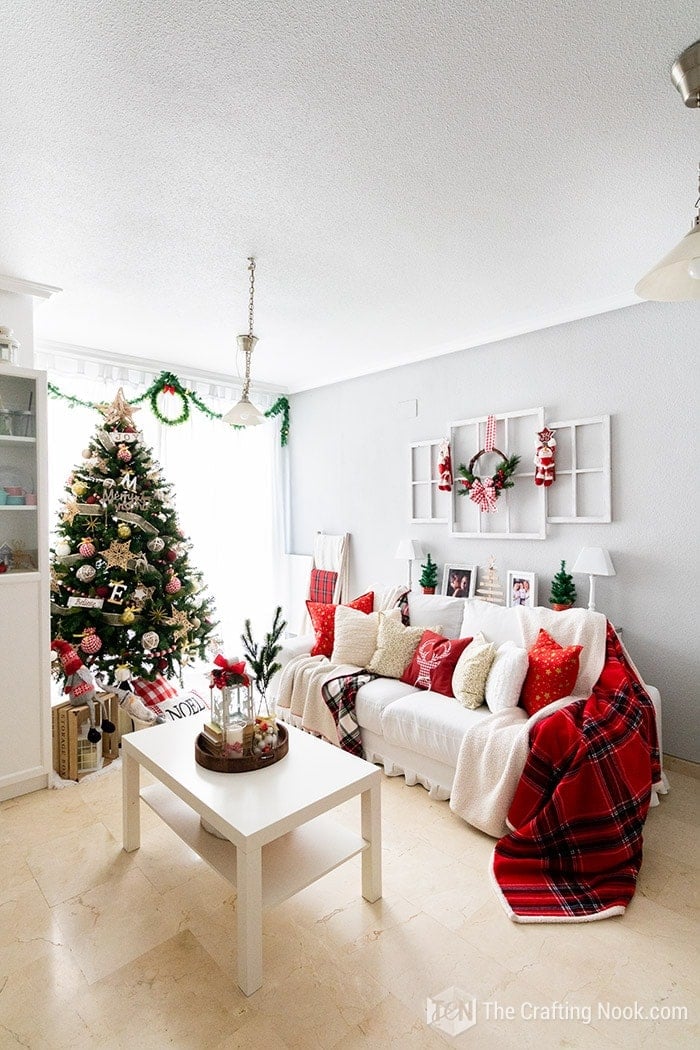 I love how those cozy blankets make the room feel homey and warm. The pillows add such a festive look.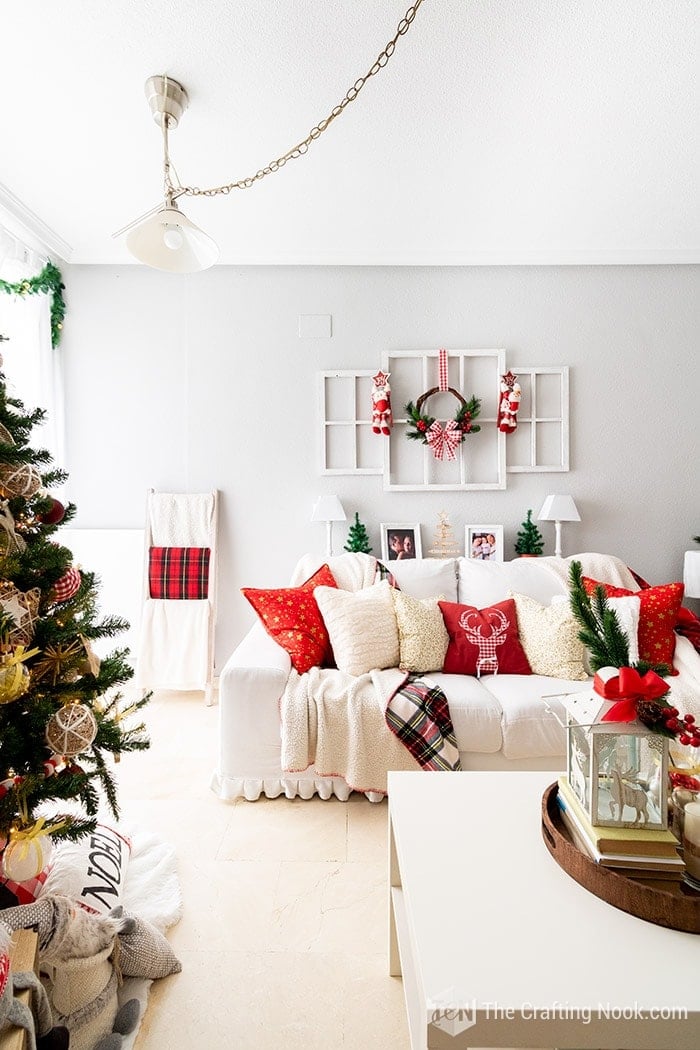 My coffee table got a little love while simple I love how it looks.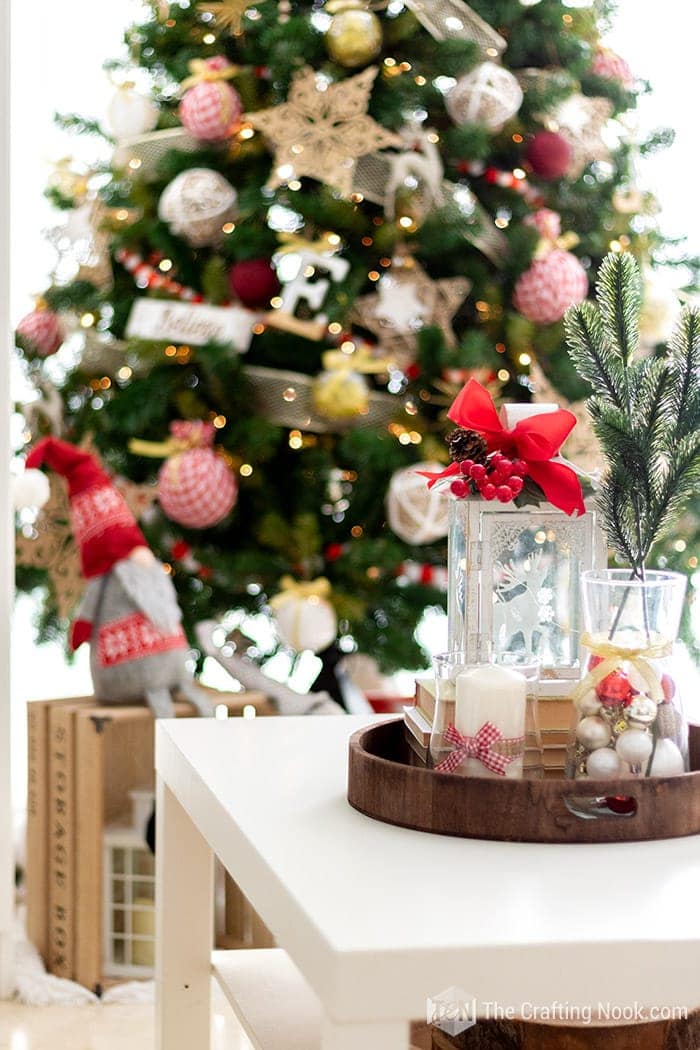 Used some old books, candles, a vase filled with ornaments and my favorite: I filled a cute lantern with battery-powered twinkle lights.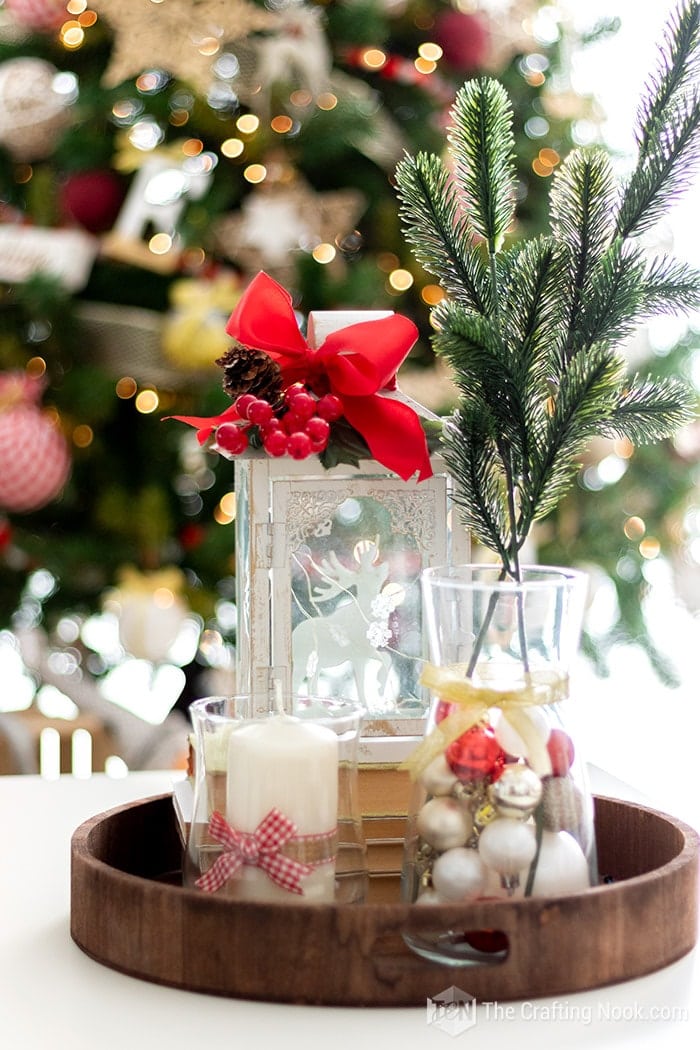 Behind my sofa, I finally put some lamps woot! LOL. I decorated the table with a wooden Christmas tree and a few small pine trees.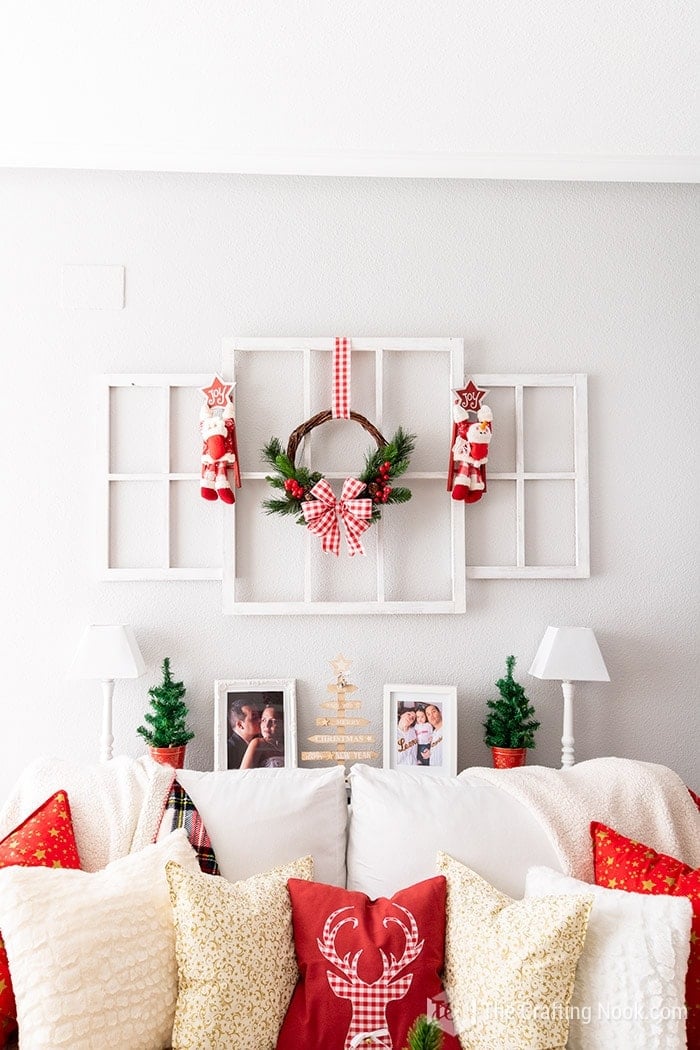 Hanging from my window frames I have my 2 crazy guys hanging from a ladder (snowman and Santa) and hanging from the center I put my rustic Christmas wreath.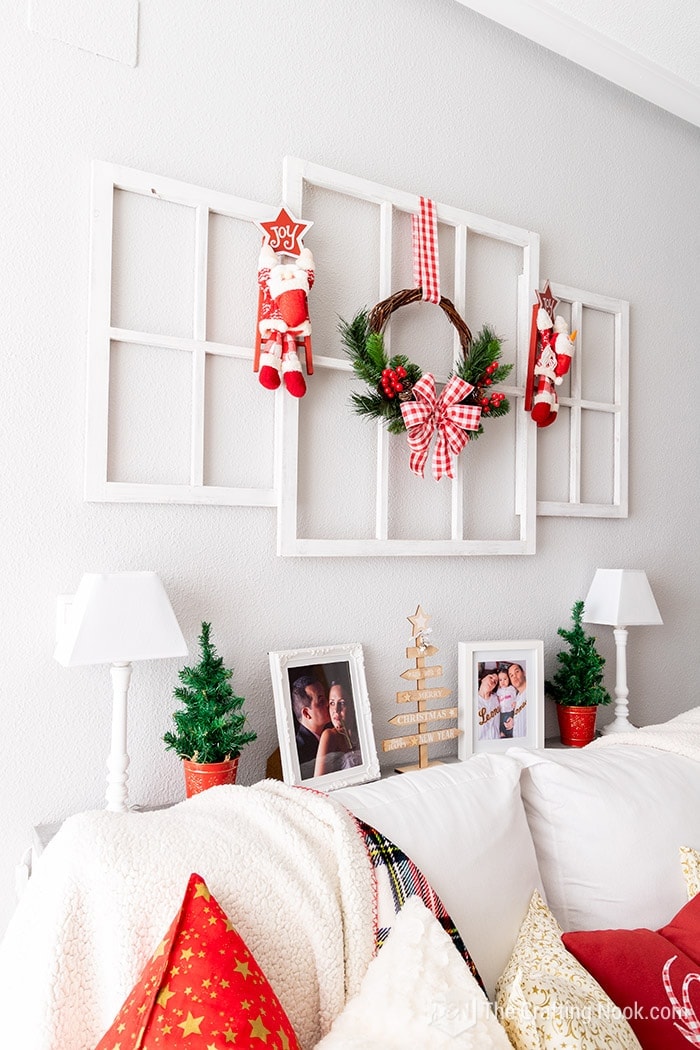 From the sofa you can see my mantel.
For my mantel, I kept my oversize reversible wood sign I made last year with a few other rustic frames and signs. I bought a few bottle brush Christmas trees that I absolutely love and used my all-time favorite candle holders with a few other Greenery and Christmas ornaments.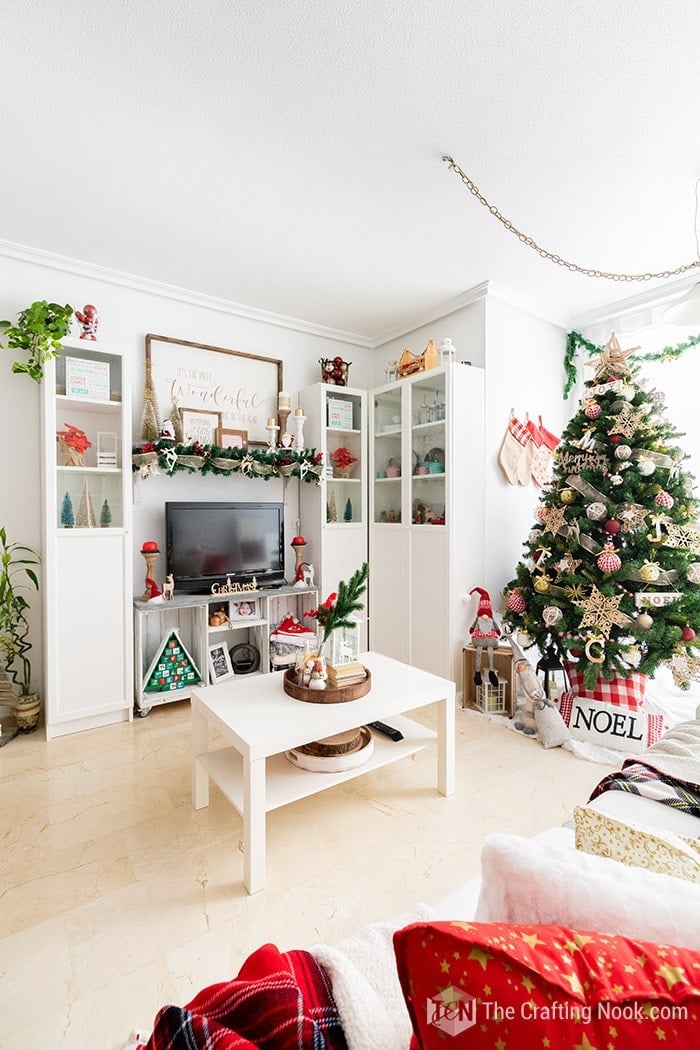 Then I balanced objects on each side of the mantle. I set 3 bottlebrush trees that had different sizes on the left and my three candle holders on the right.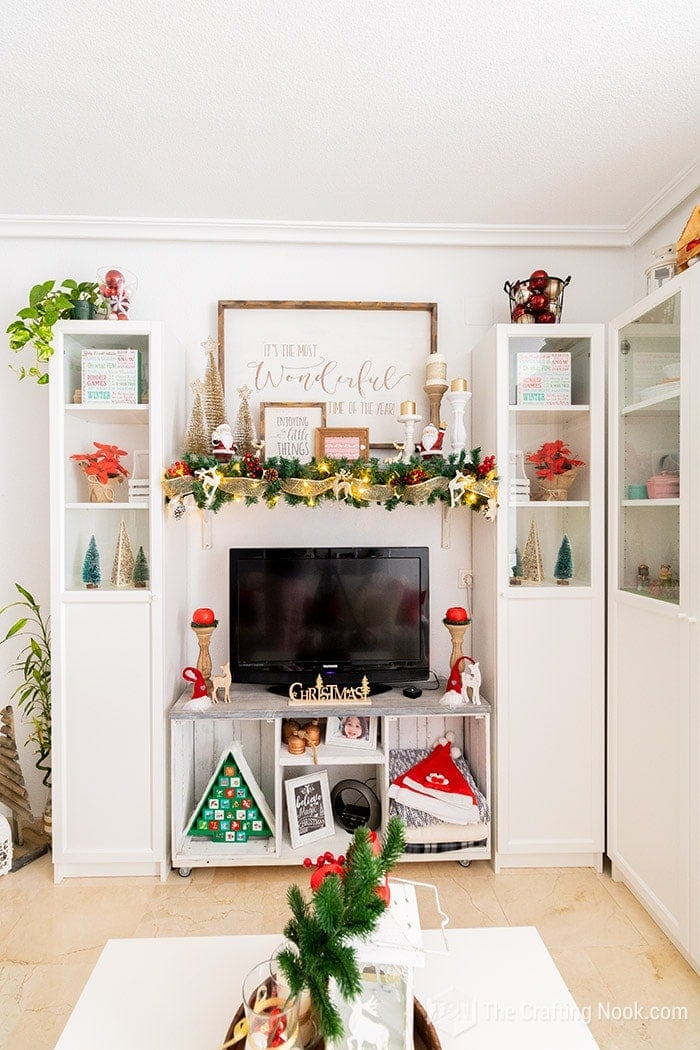 Among the Christmas trees and the candle holders, I put some cute Santa and gold reindeers.
To add a balance in between put another wood sign and a frame with a cute Christmas pattern in it.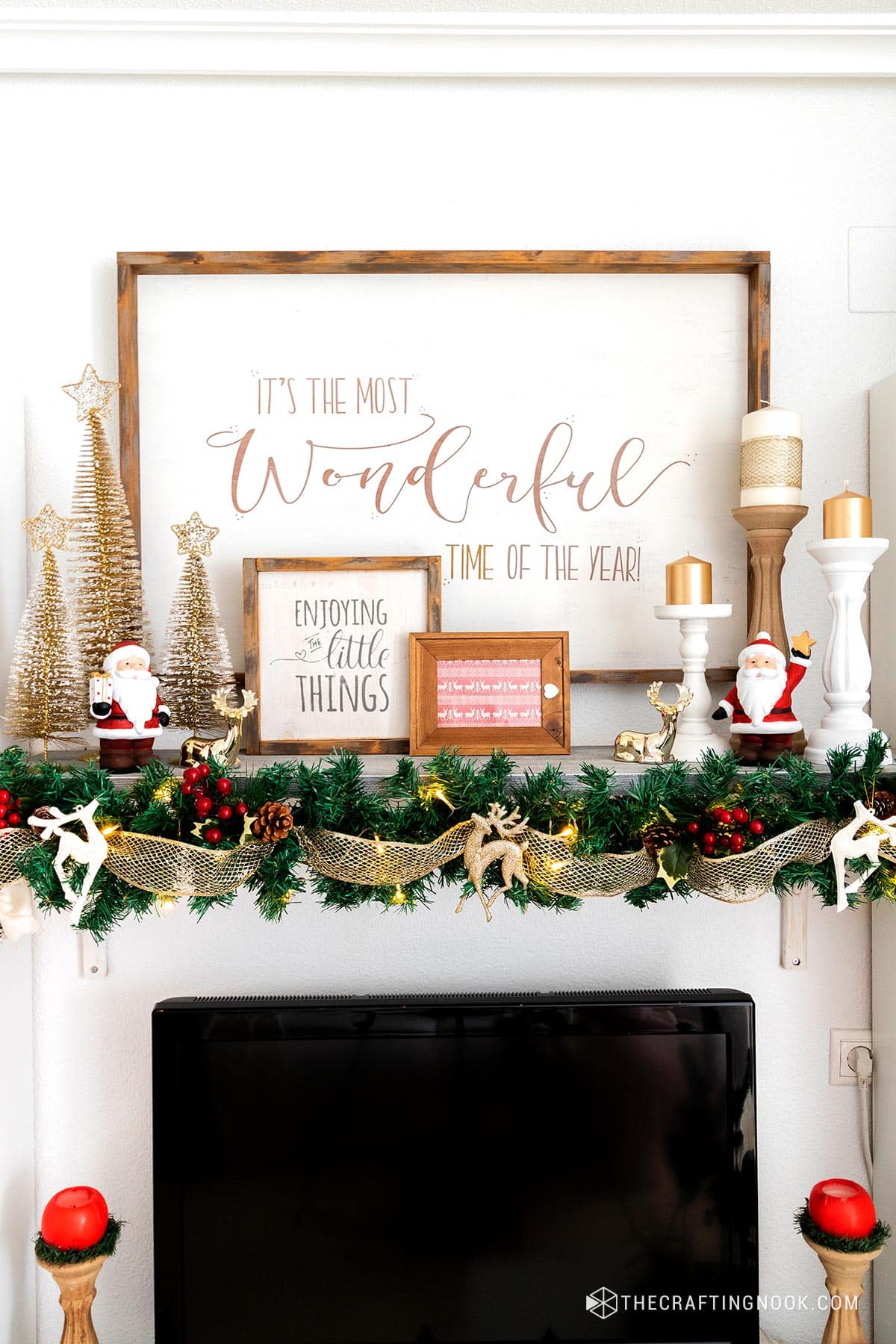 I was trying to keep it simple and even though it didn't turn out just as simple but still I think it looks so pretty, balanced and festive.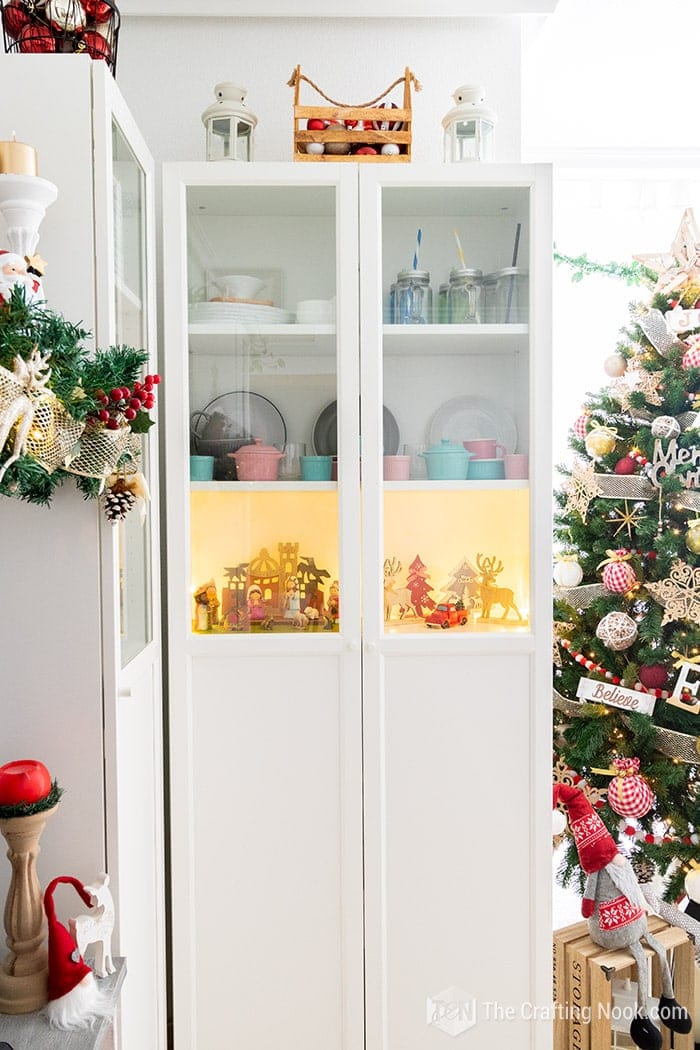 On the bookshelves around the TV and mantel, I decorated with bottlebrush trees, wooden trees, Candle Holders, Vases and baskets filled with ornaments, Christmas flowers and my nativity.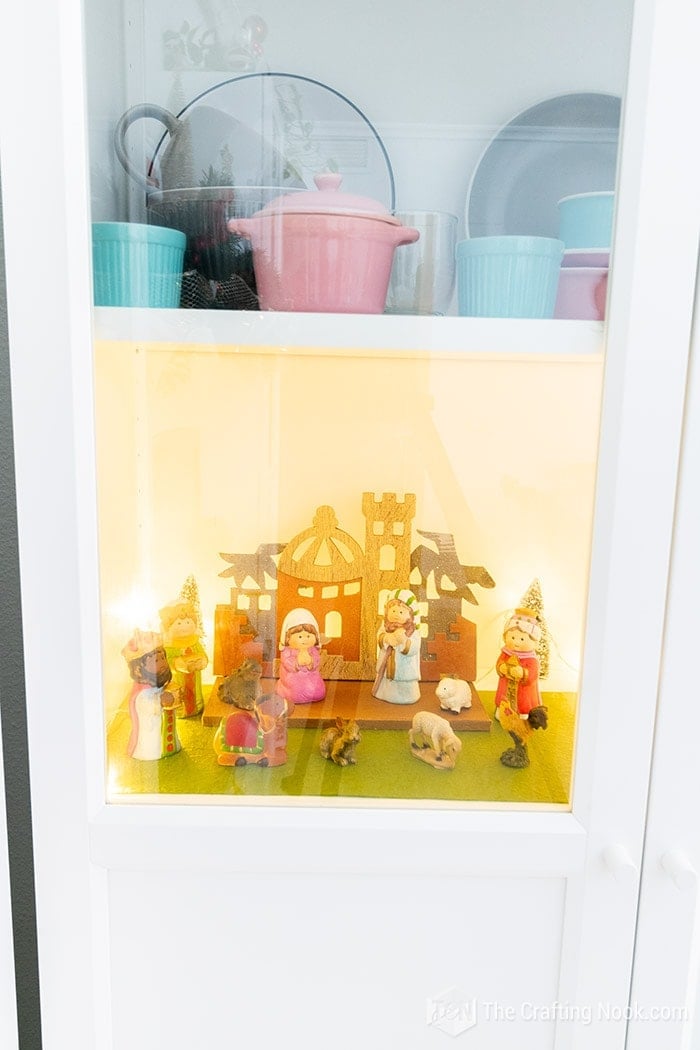 This year my Christmas tree got a new placement by the winding between the sofa and the TV center.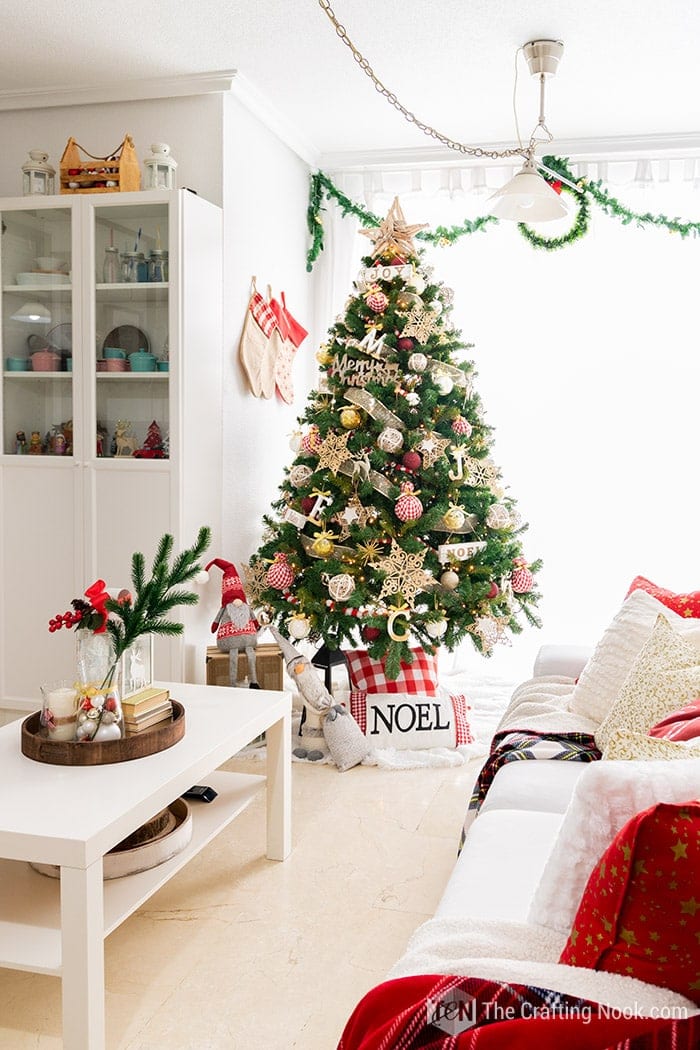 I absolutely loved it.
It turned out just as it should. I achieved a balanced mix tween the rustic look and the glam from the champagne gold.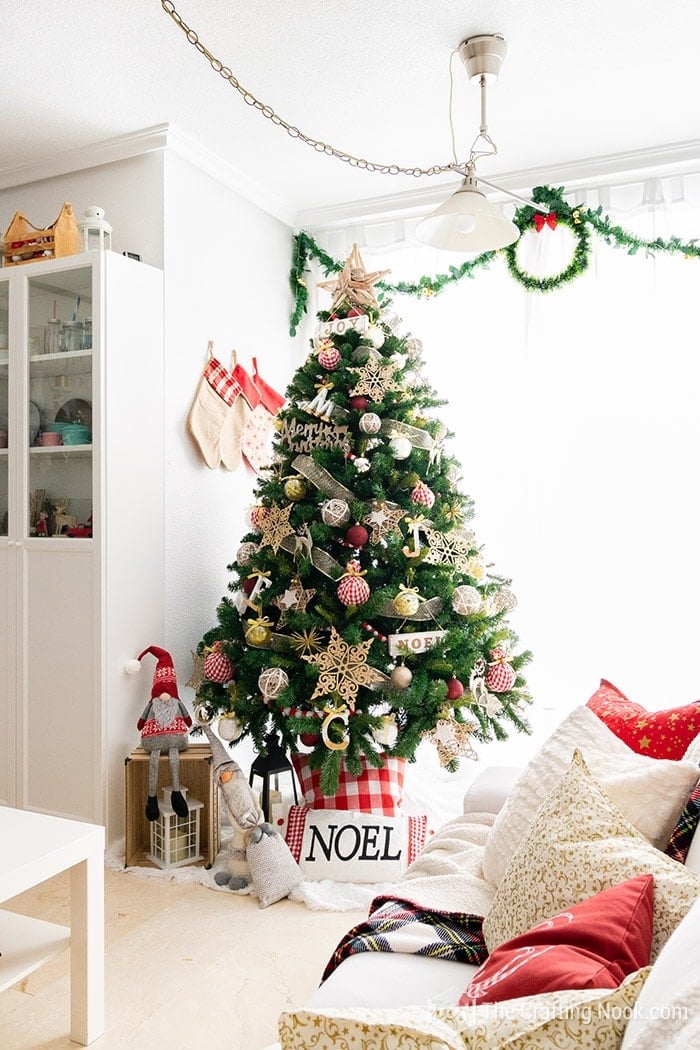 I re-used most of my ornaments. Some got a revamp and some got just a few tweaks.
I bought only a few things like the gold mesh ribbon, the pom-poms I used to make the garland, some super cute reindeers, and some champagne gold yarn ornaments.
I decided to use again my red and white buffalo check ornaments I made a couple of years ago but changed the ribbon color to gold.
Every time I sit on the living room sofa I feel this deep joy and almost can hear the reindeer's jingle bells!
I used faux fur as my Christmas skirt like I do every year and placed some pillows, lanterns, crates and my beloved gnomes!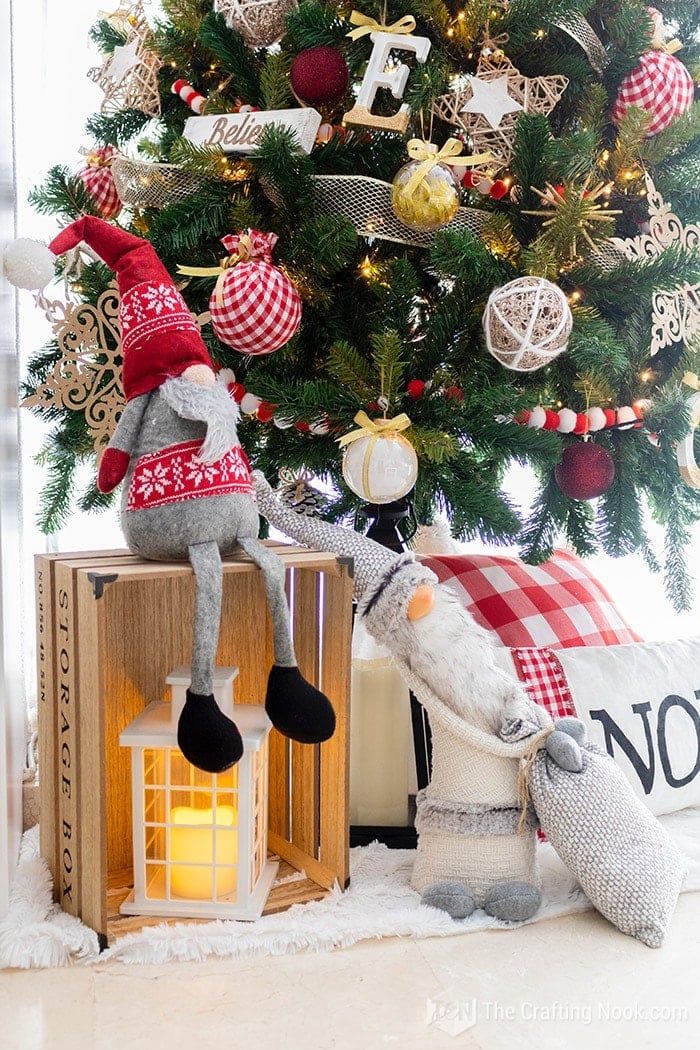 This is my favorite view right now in my house!
At nights when I go to my bedroom I always see my tree's twinkling lights on my way and it fills my heart with joy!
When you turn around you can see my dining table and the buffet.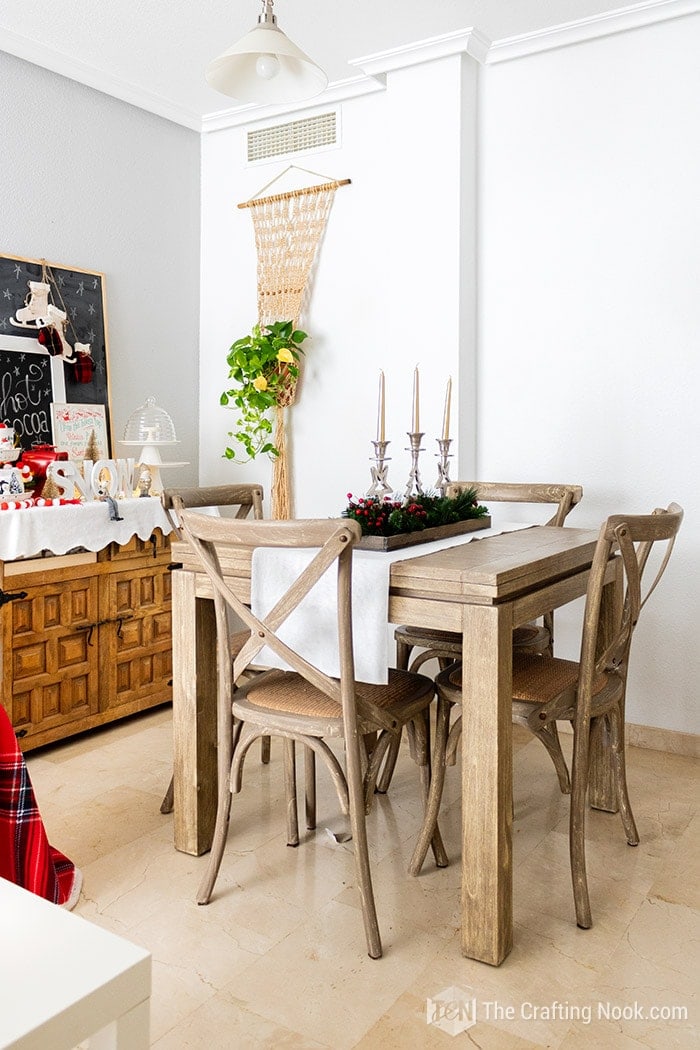 As you may have noticed my table is small as everything in my apartment LOL. I created a simple yet super cute centerpiece.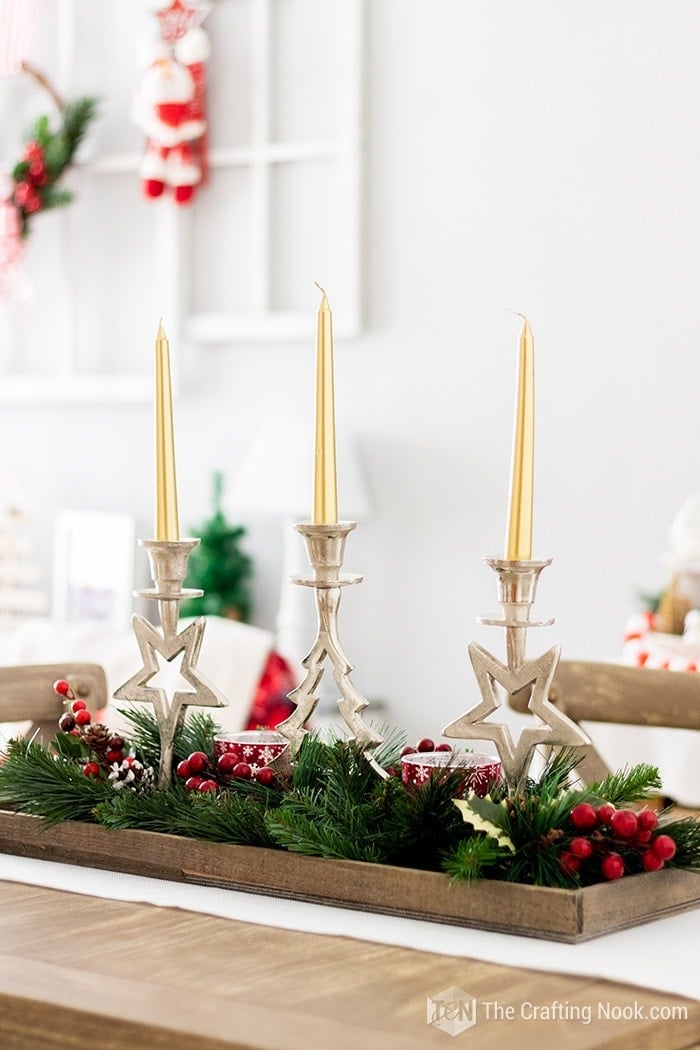 In a wooden tray, I paced these 3 gorgeous candle holders and a couple of red scented candles tangled with pine and cranberry springs. All this placed on a white burlap table runner.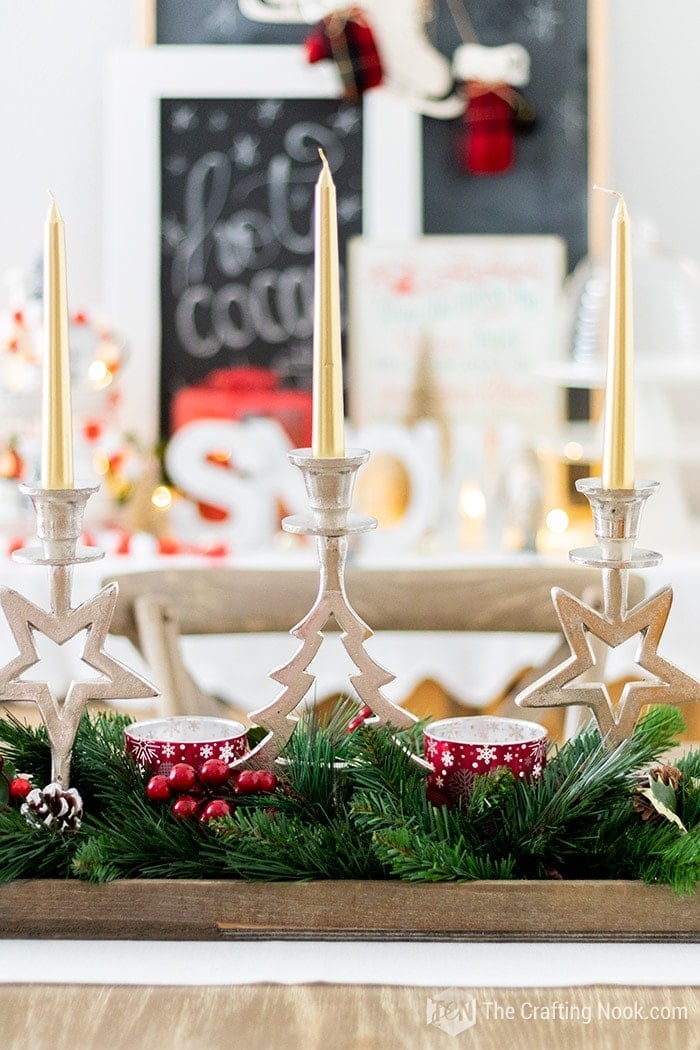 I got a little carried away with my buffet LOL.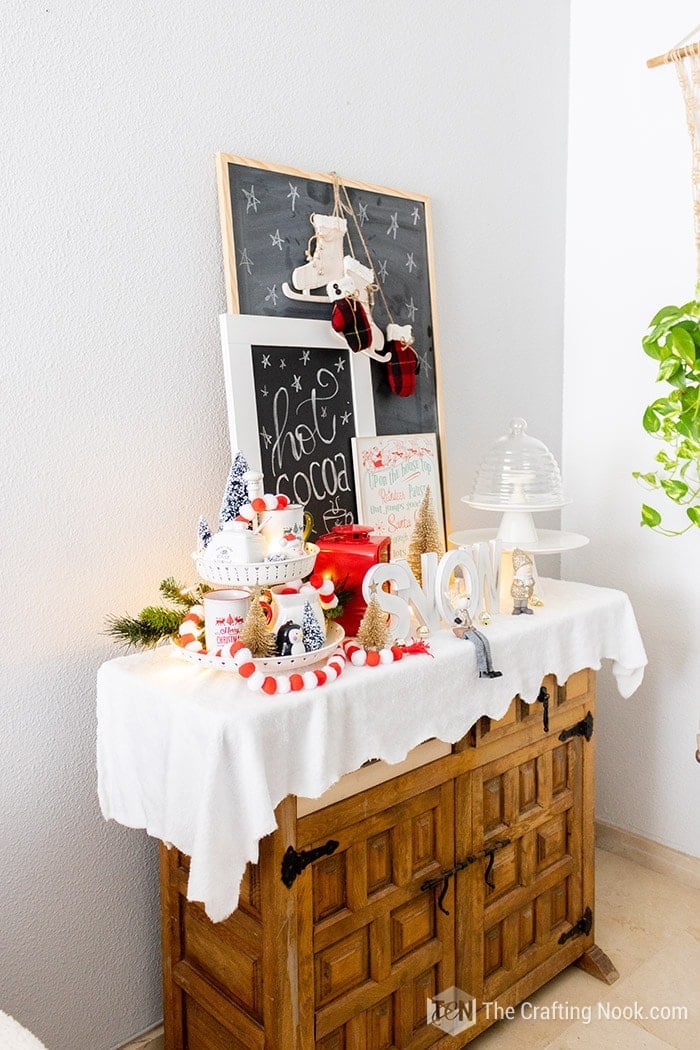 I used my chalkboards and another wood sign as my backings decorated with my wooden skates and mittens.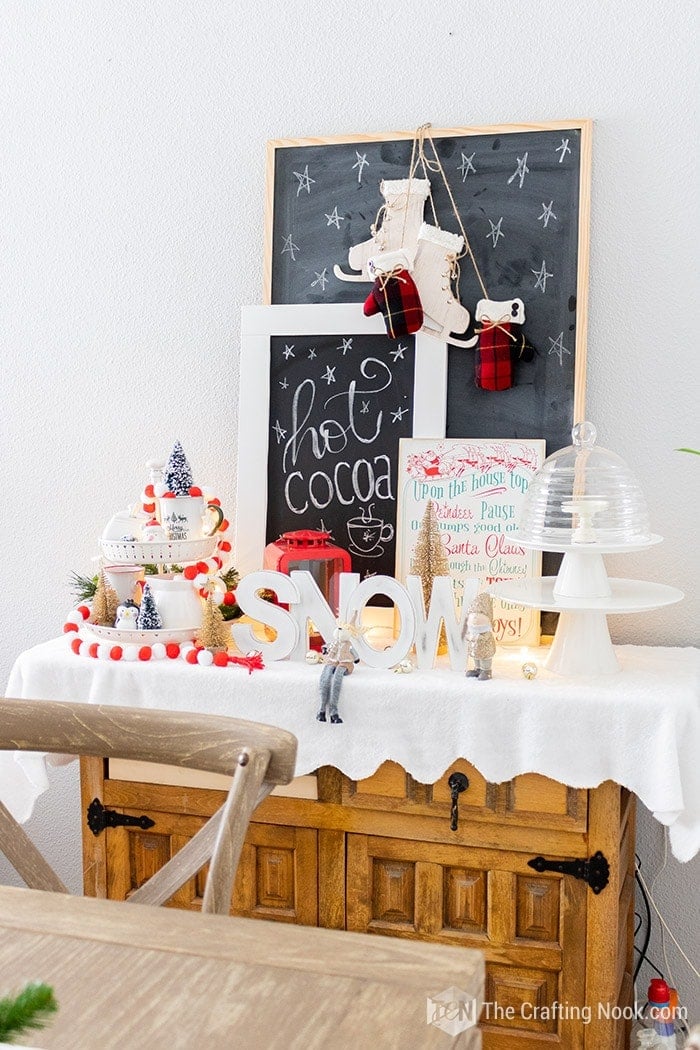 I covered the top with a piece of fleece to resemble snow. Then I balanced heaver elements on both ends.
On one end I put my Christmas vignette and on the other you can see my cake stands one on top of the other.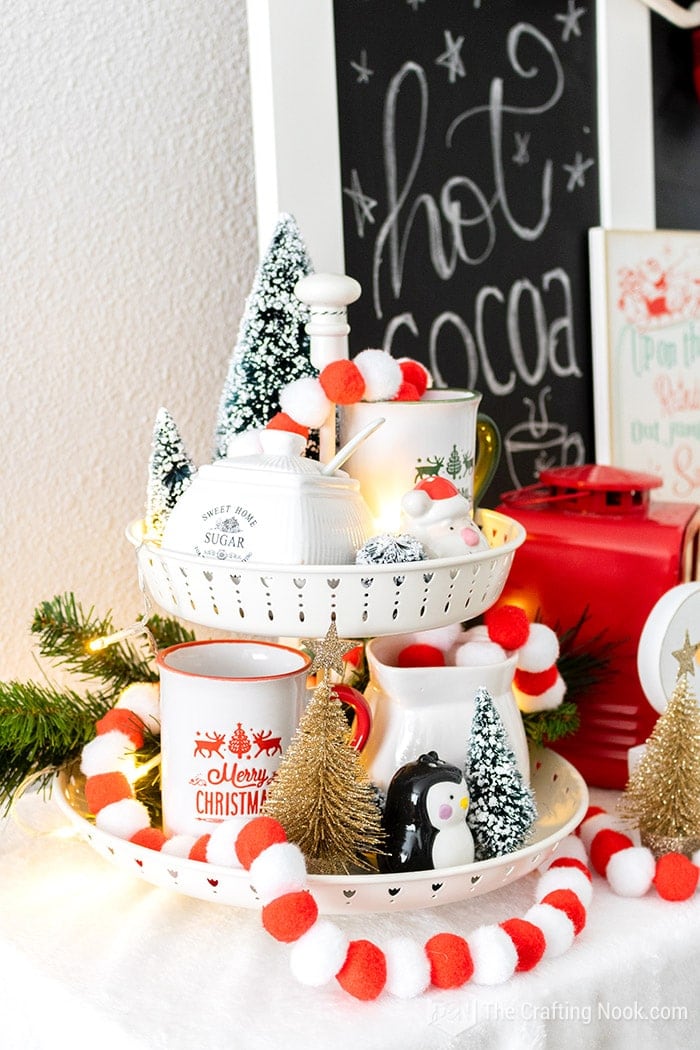 In the center, I put the word SNOW decorated with a red lantern, ornaments, bottlebrush trees and cute characters.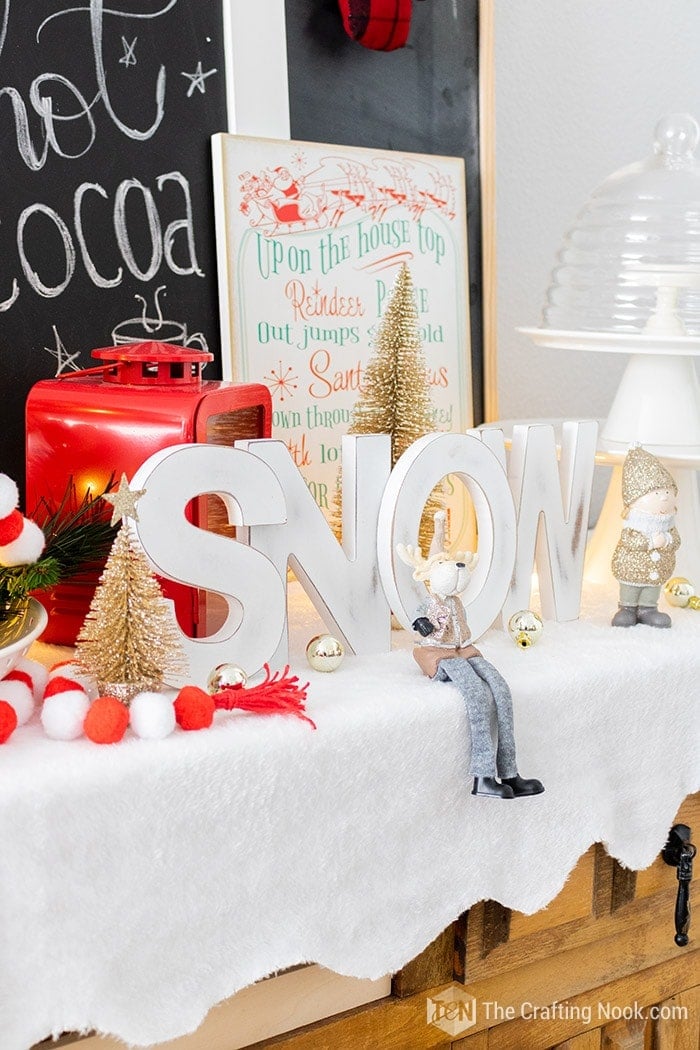 Then there's my bedroom!
I totally got addicted to decorating the bedroom. When I finished it and finally could take all the photos with everything tidy up and clean, organized and decorated I had this feeling so deep. I felt home like never before. I actually slept so well that night.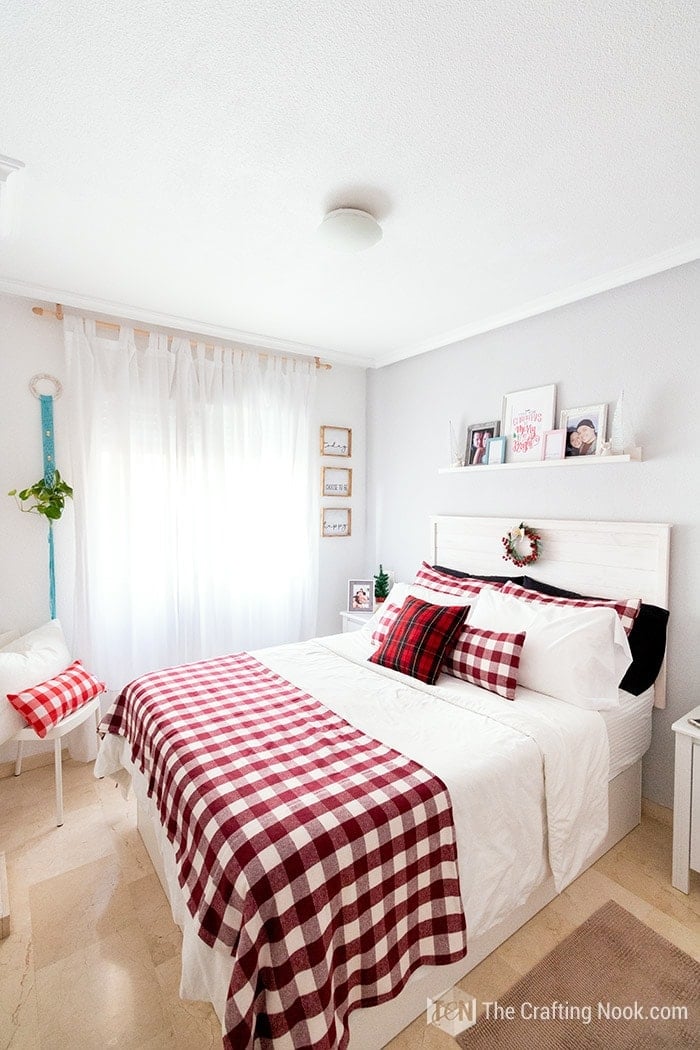 Every morning when I wake up with the thin morning light coming from the window, I have this joy and happiness bursting out of my chest. It's hard to explain but it's the best feeling ever.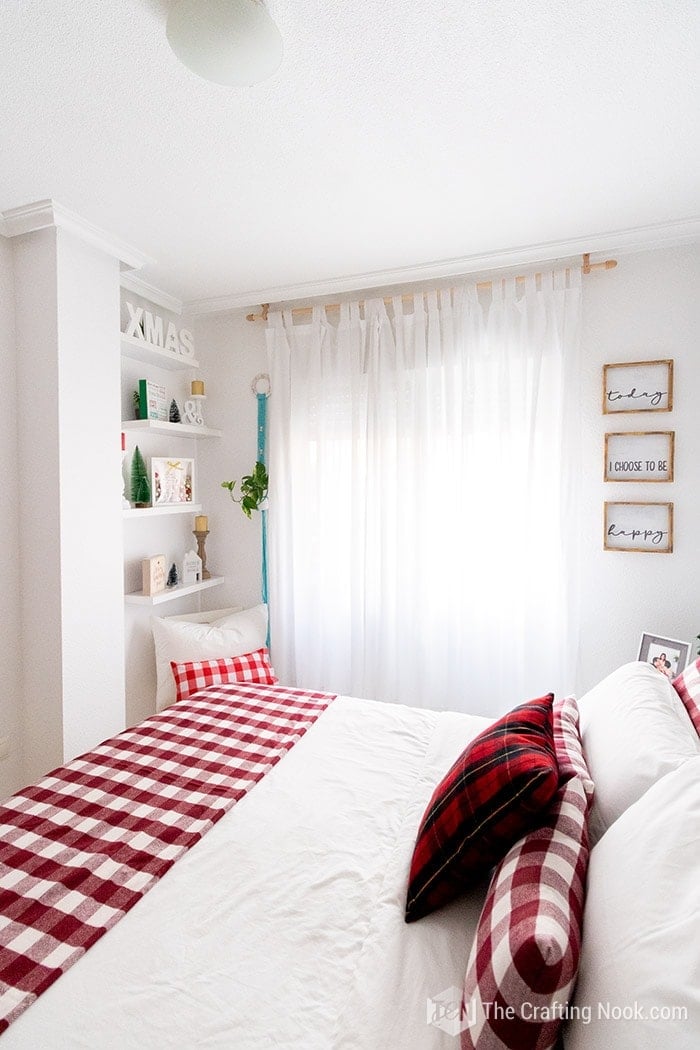 So now you can understand why our bedroom decor got a special place in my heart.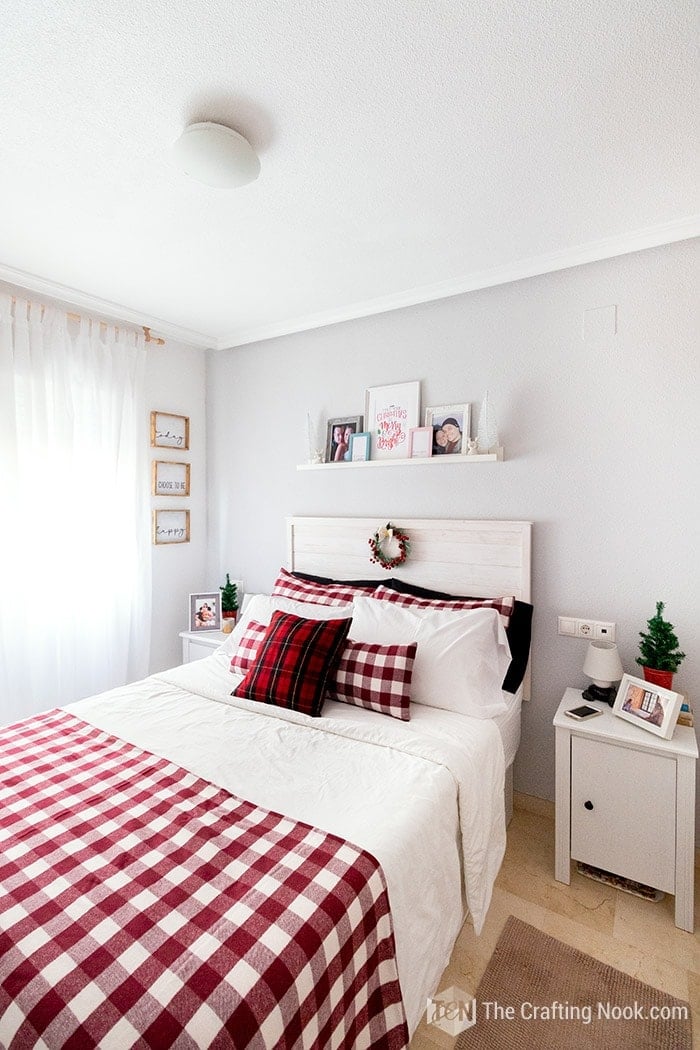 Hopefully, with each year that we celebrate here, I might be able to expand the decoration to more rooms and make it a whole bright holiday home.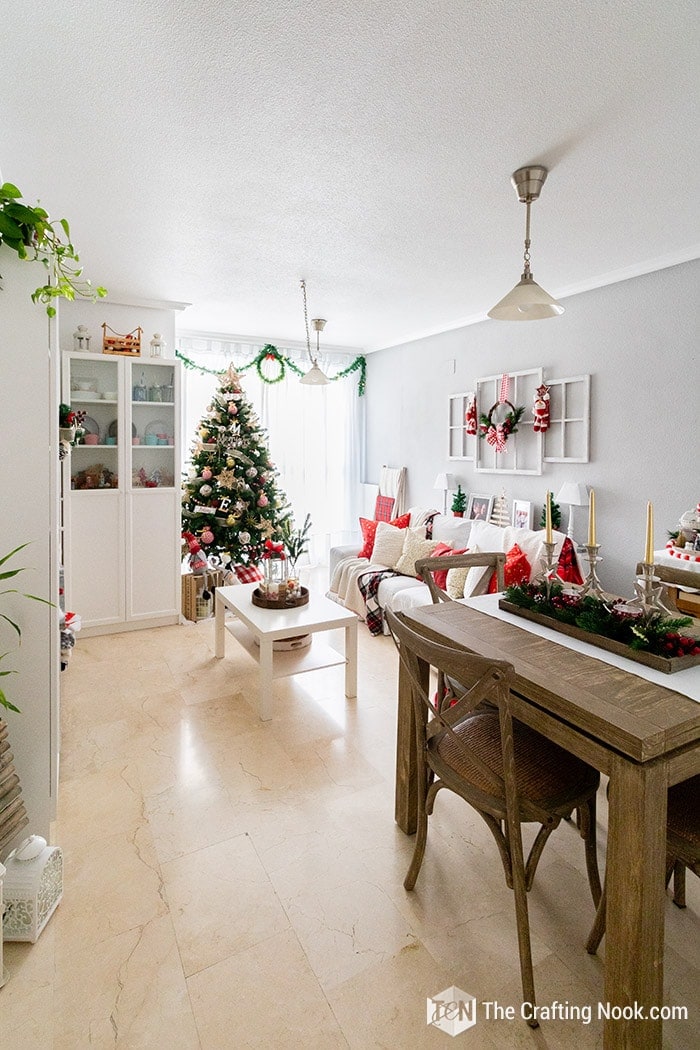 Hope you enjoyed this Christmas Home Tour.
I wish from the bottom of my heart that your Christmas is Merry and Bright. As blessed as mine is so far and most of all, hope Santa and our beloved baby Jesus bring joy and help you achieve all your dreams and goals for the next year!
Here are some Amazing Home Tours from my favorite Bloggers
If you found this Home Tour inspiring, please don't forget to PIN and share it with friends!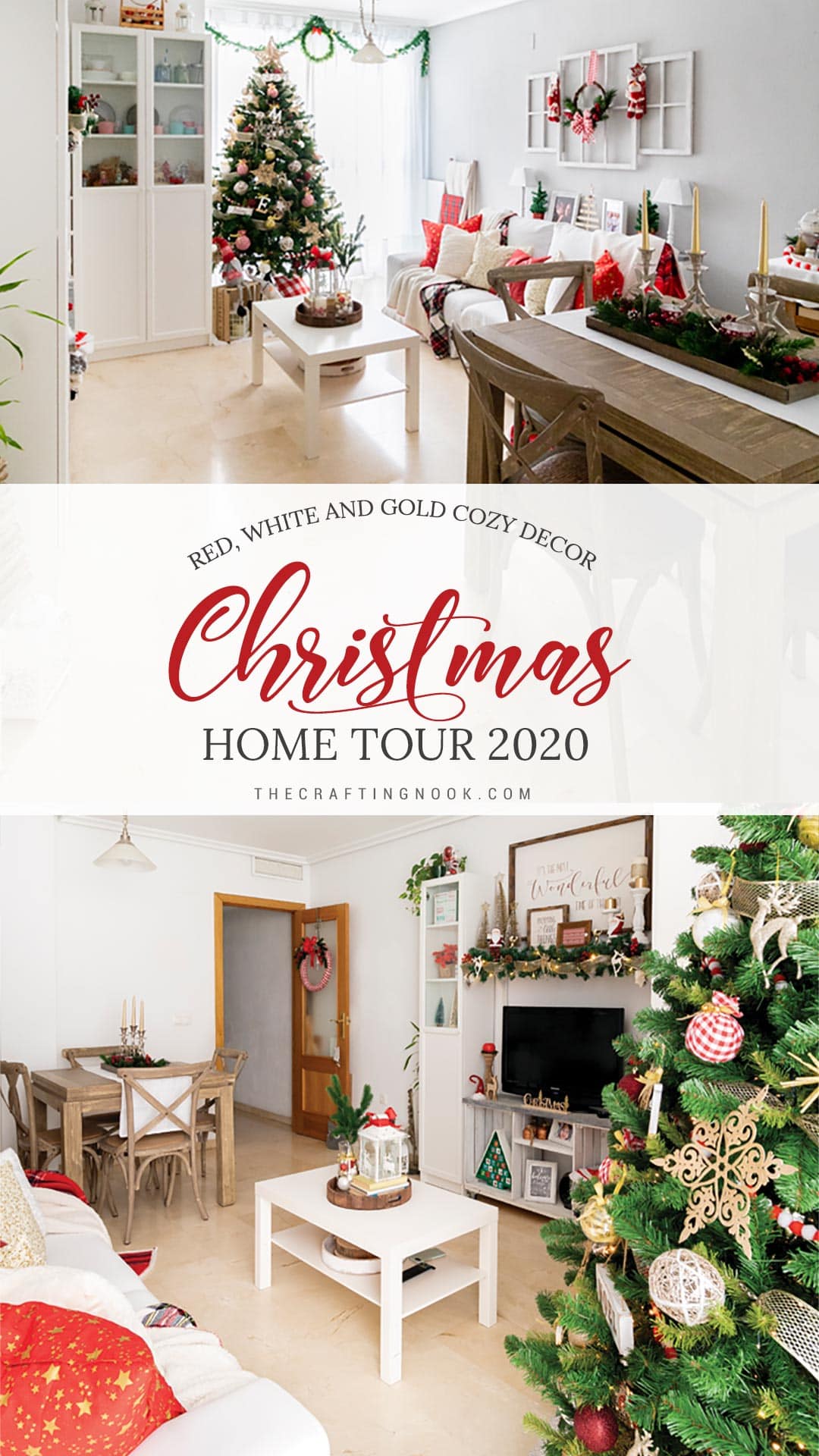 Til' next time...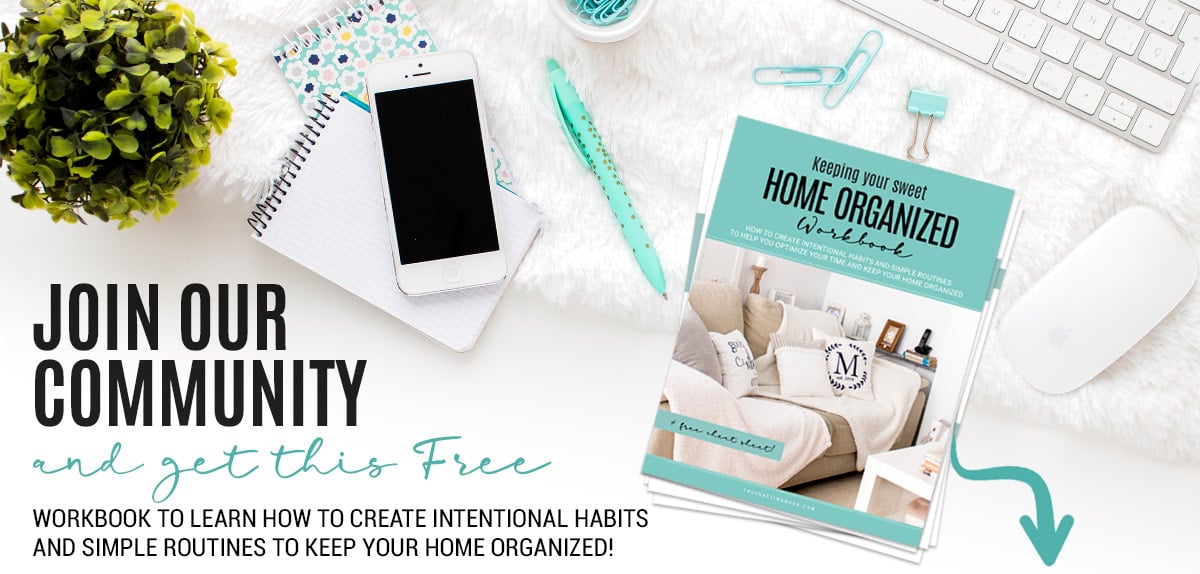 GET INSTANT ACCESS TO THE HOME ORGANIZED WORKBOOK
Plus freebies, printables, exclusive content, tips, stay connected, be the first to know great offers and Product Launches!
Disclaimer: By clicking on the "Yes, I want it" button above you are giving me your consent to collect and use your information according to the law and My Policy Privacy and The Cookie Policy. Zero Spam I promise!