Buffalo Plaid Christmas Home Tour (Red and White for 2018)
Welcome to my crazy obsessed love for Red and White Buffalo Plaid Christmas Home Tour! I am so excited to show you around our holiday home this year. Grab a cup of coffee or tea, some cookies, and get comfy.
Woohoo! It's my favorite time of year – Christmas Home Tour time!!! Isn't Christmas is the BEST??? This is the best week of the year in the blogland (at least for me anyway). There are so many gorgeous home tours everywhere you look.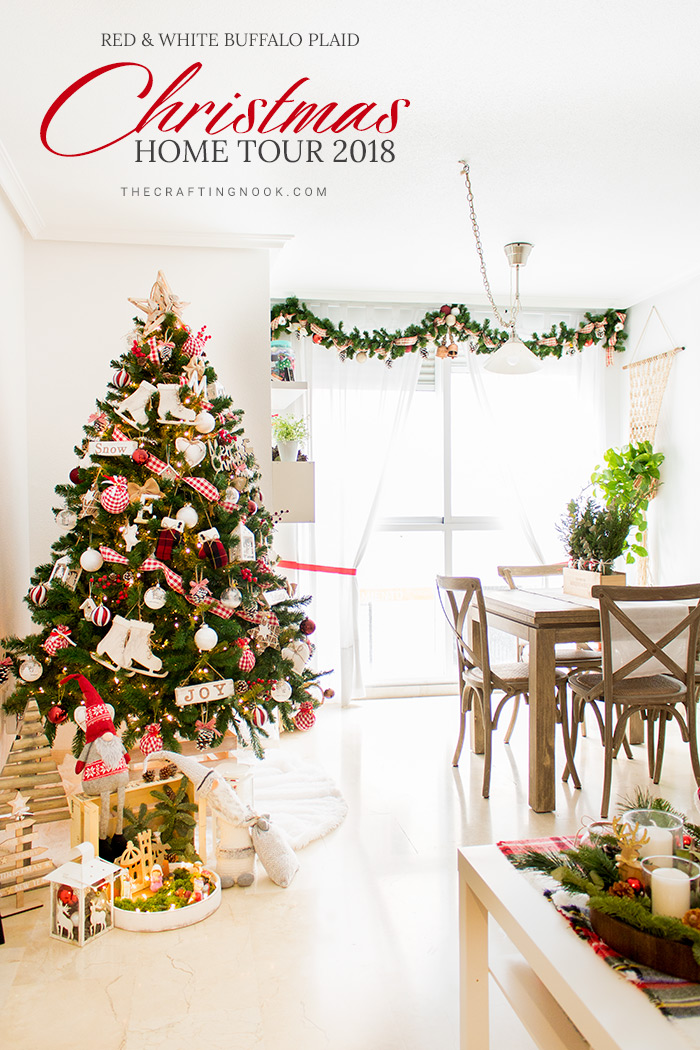 Red and White Buffalo Plaid Christmas Home Tour 2018
This year I knew right away what I wanted to go for in terms of a theme and I love that I was able to make it happen. I was crazy in love with Buffalo check Plaid and decided to go for Red and white.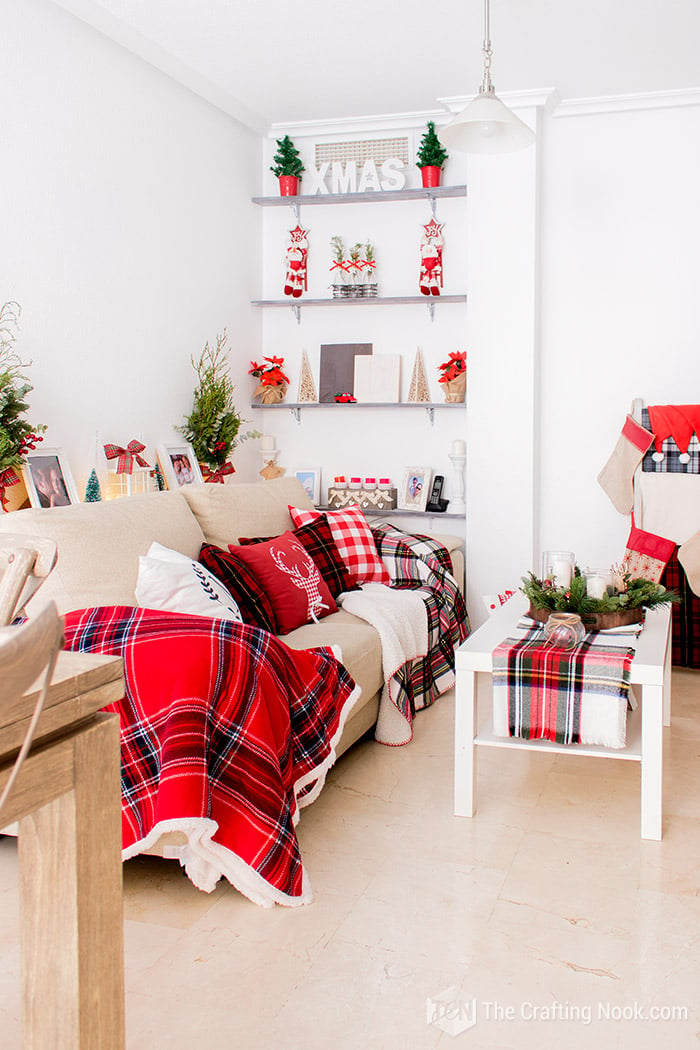 Welcome to my 2018 Red and White Buffalo Plaid Christmas Home Tour with lots of classic reds and rustic plaids!
It's not a secret for anyone that Christmas is my favorite season and makes me so happy. In fact, I love it so darn much that I always decorate in November… way before Thanksgiving (almost right after Halloween lol).
Yes, I know what you are thinking – I'm one of "those" But truth to be told, I don't have any Thanksgiving decoration and just want to enjoy the Christmas decor for as long as I possibly can.
So many fond memories come to mind when I think of the holiday. It's a month of family traditions, service, celebrating the birth of our Jesus and enjoying so much the weather, scents, colors, and love all around!!
Today, I wanted to share with you some of the Christmas decor that we put up in our home, in hopes that it inspires you for your own decorating.
This year's Christmas Home Tour will show that I love the holiday so much and that I don't need to spend that much money to make it beautiful, cozy, and expensive-looking. I use a variety of adornments, textures, and colors to make it bright and happy. I hope you like it…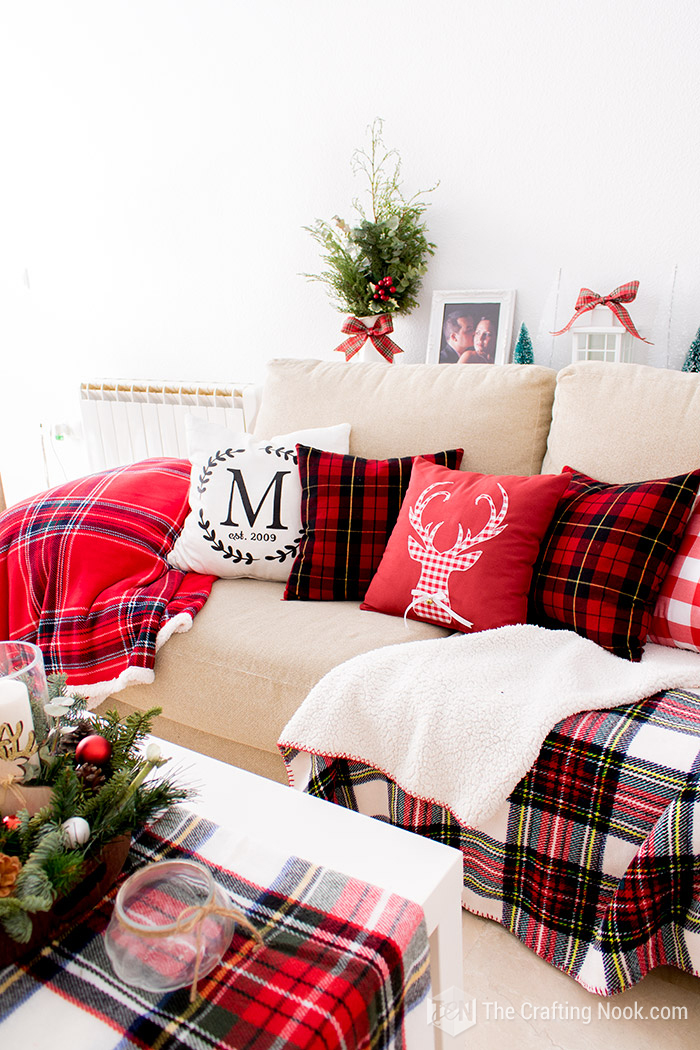 So, Welcome…
Buffalo Plaid Christmas Home Tour 2018
Our Entryway
To me, it's important to welcome people to my home, especially during the Holidays. I love creating a warm entryway decor even though natural light is inexistent in that space of my apartment.
I always make a new Christmas Wreath for our door and this is this year's one.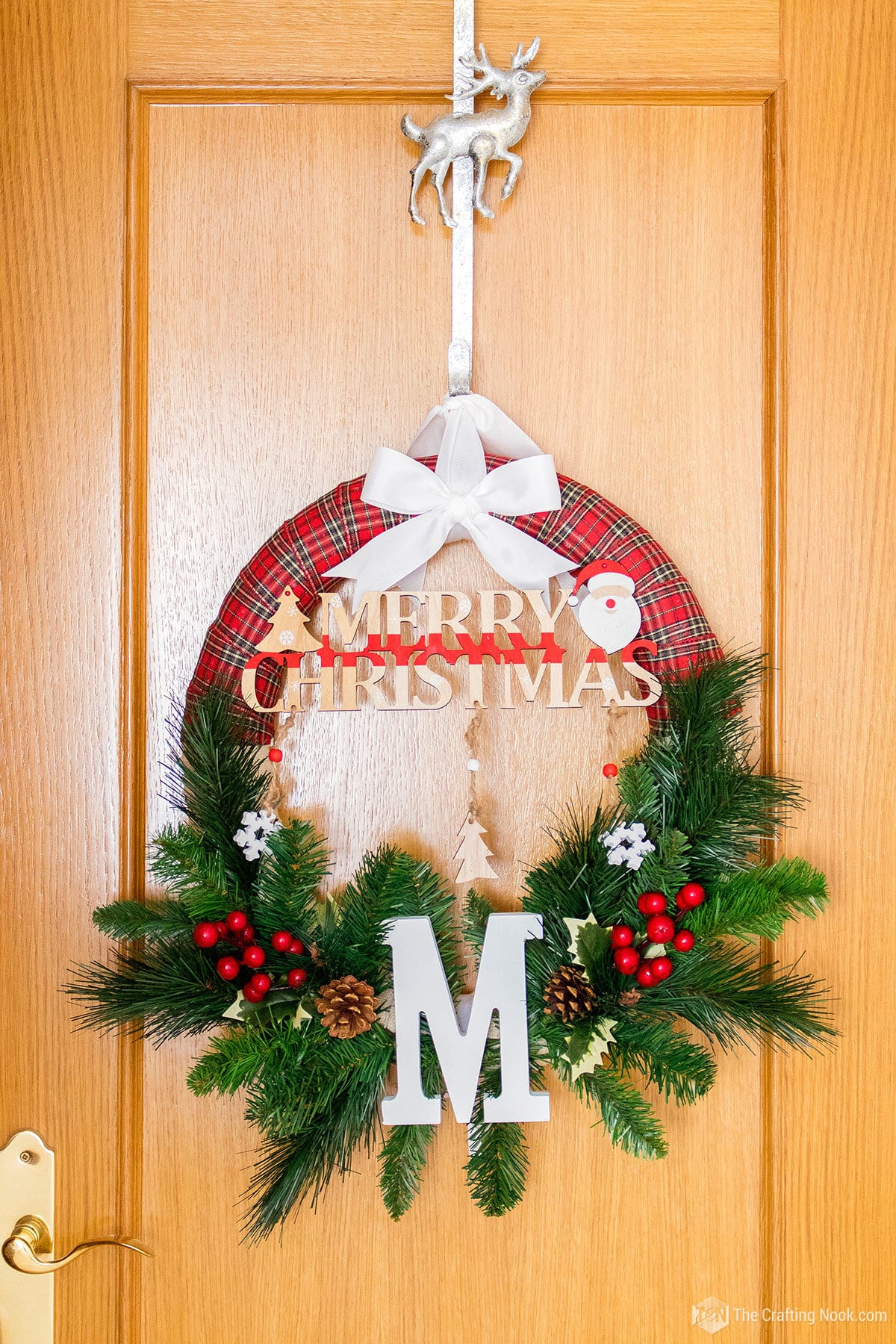 As soon as I open the door you can see our Entryway table. This year I tried something new. I got a chalkboard and draw some pines and stars/snow (it depends on the point of view LOL)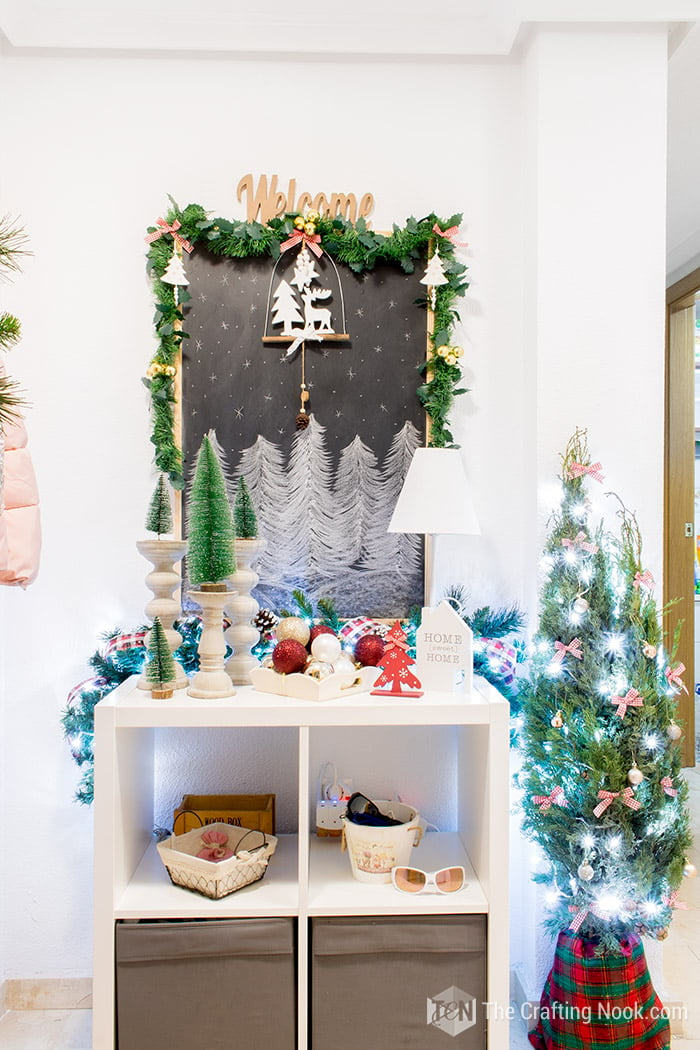 I never miss to put up my Welcome wood sign and decorated with ornaments, greenery, garlands, and trees placed on some candle Holders.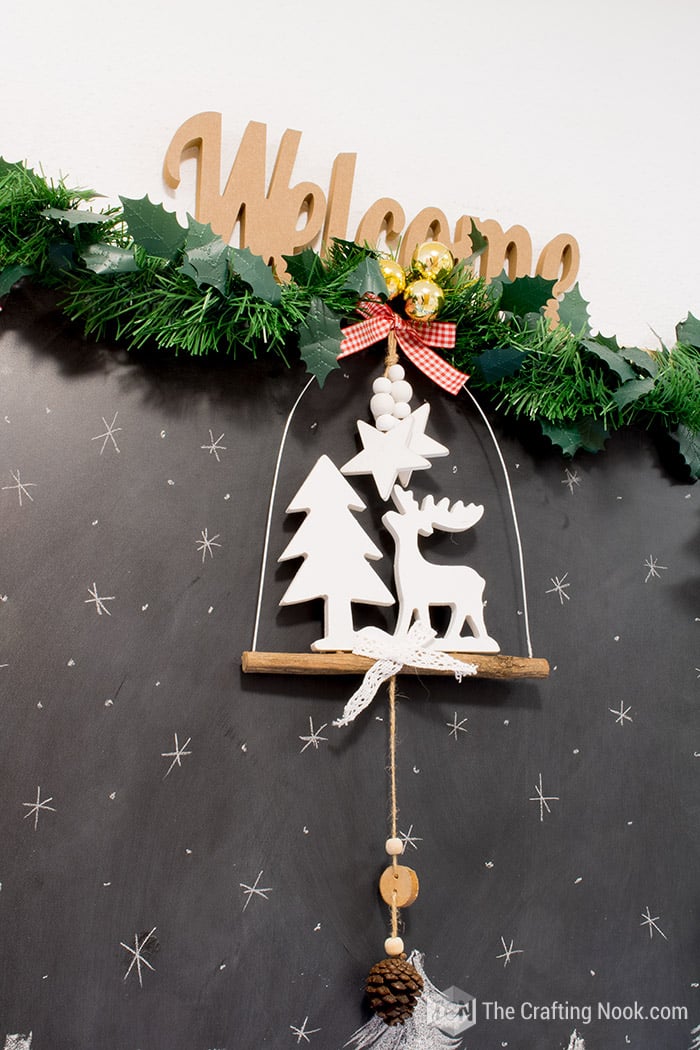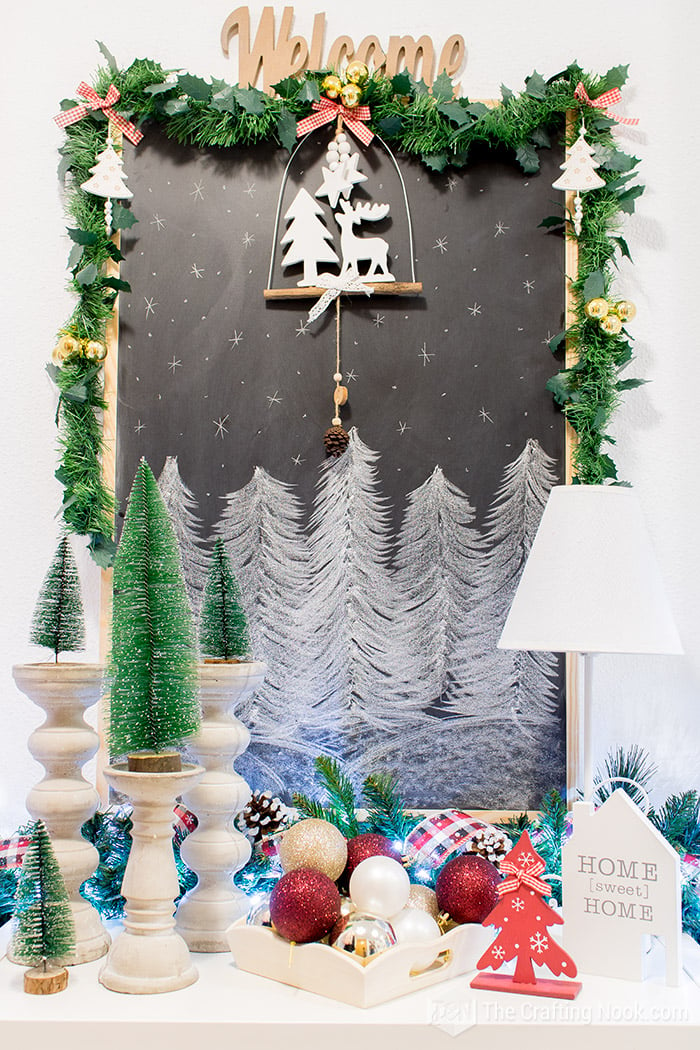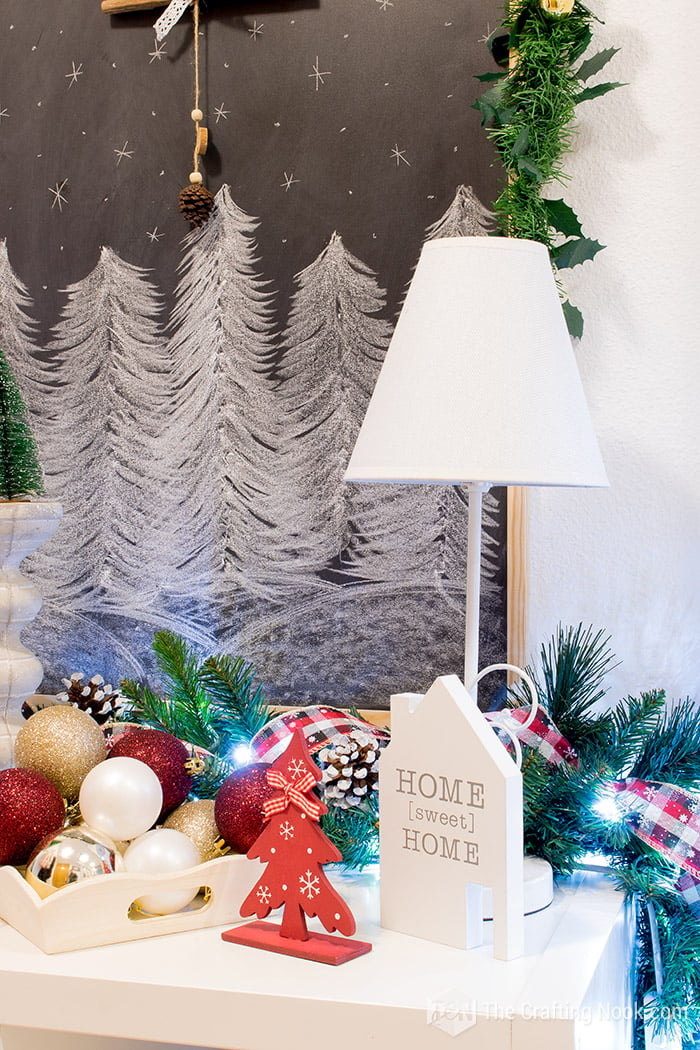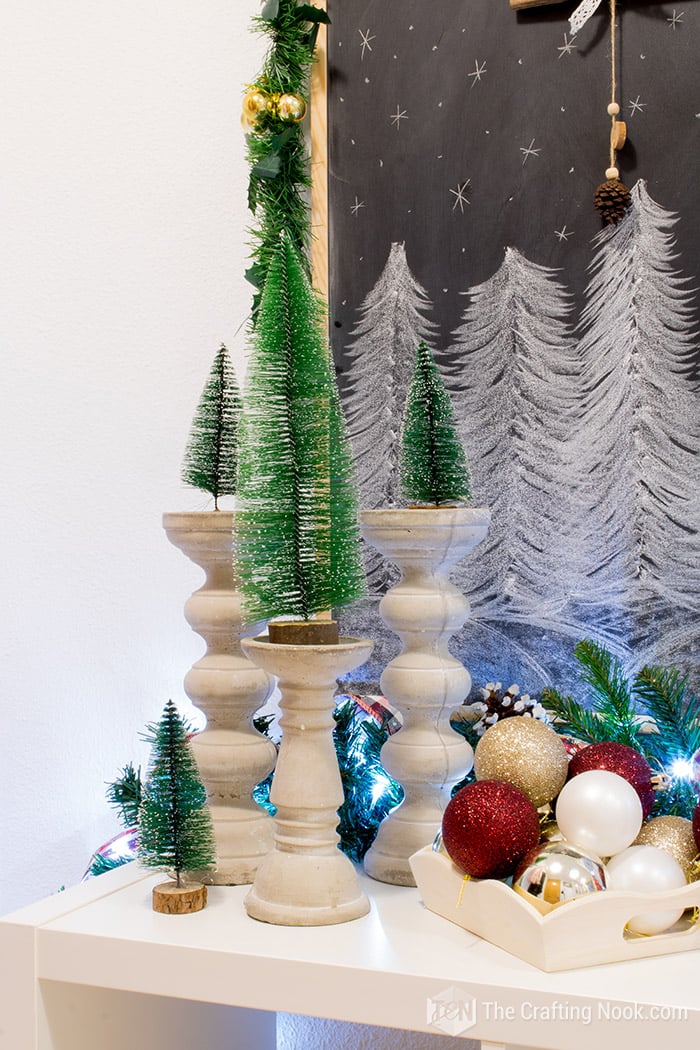 One new thing I tried this year in this space is a fresh pine tree. It's actually a huge branch. My Uncle has lots of these type of pine trees in his backyard so I stole it from him LOL.
I put it in a container with water (covered it with plaid fabric) so it would last until January and added some light, bows, and baubles. Simple yet cute!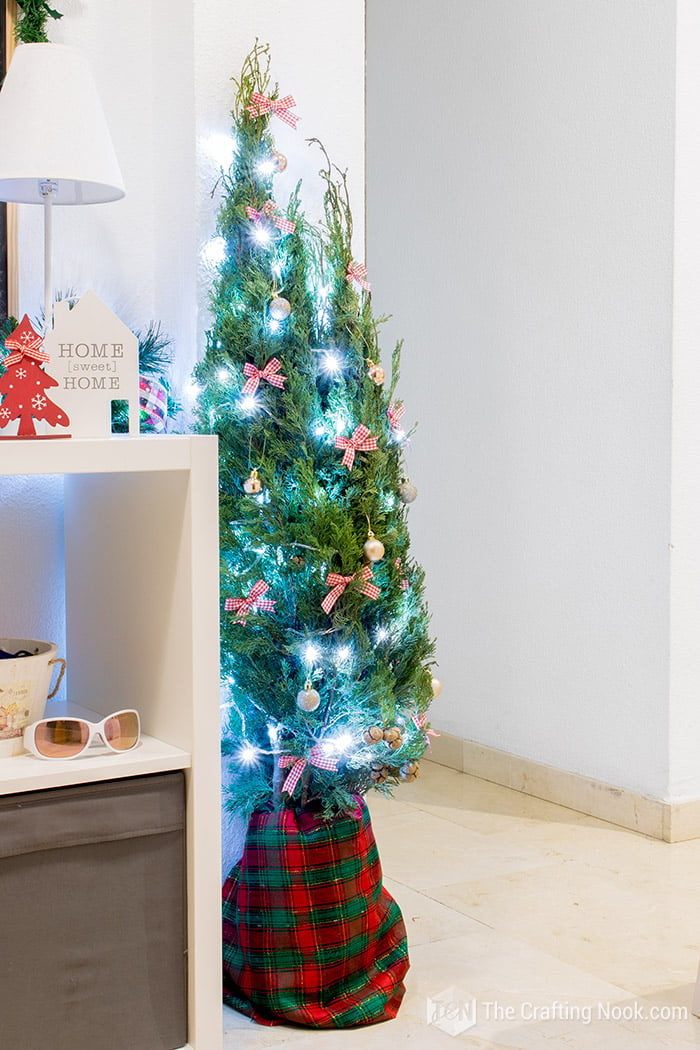 The whole space looks so lovely at night!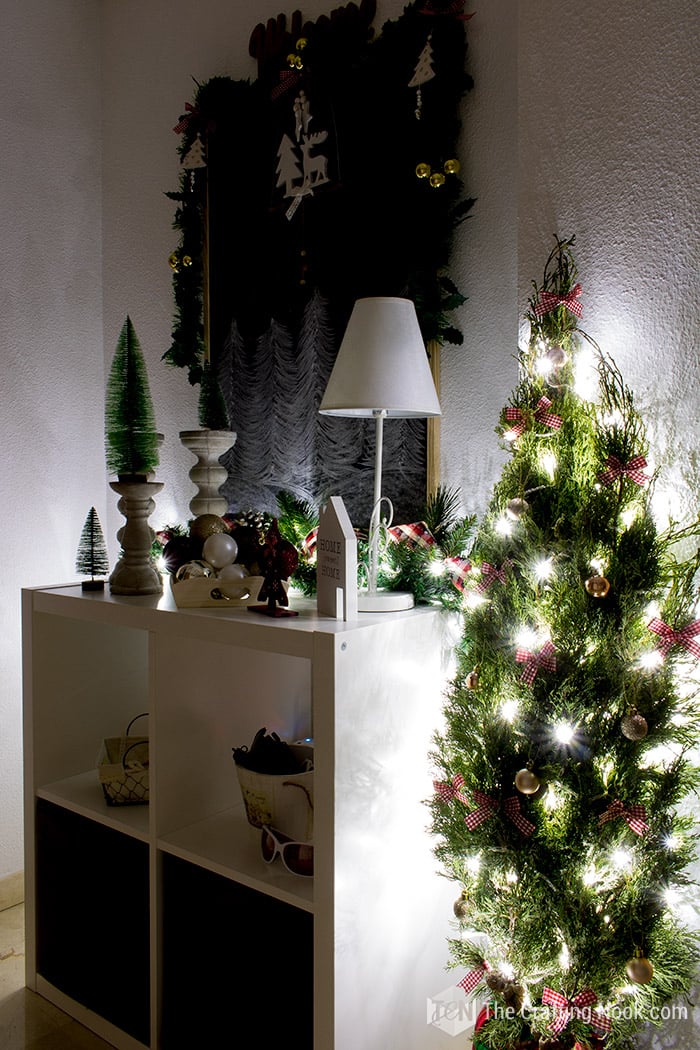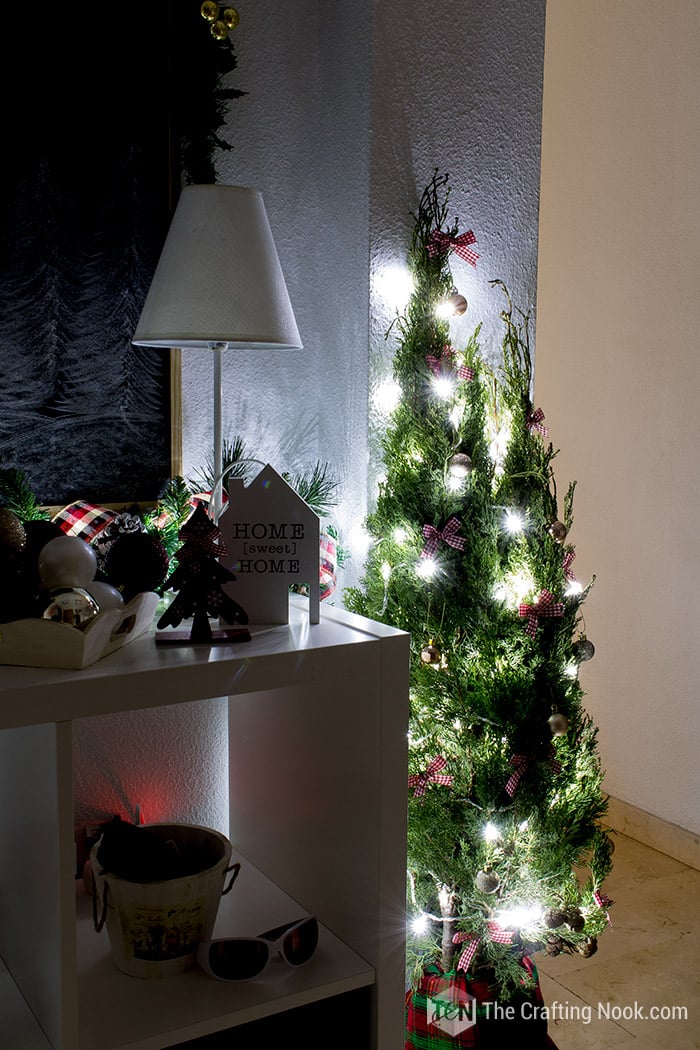 Let's move on to our living room also known as our family room.
Right there from the hallway, you can start feeling the magic. All that bright light coming from it. The first thing you will spot is our big gorgeous Christmas Tree.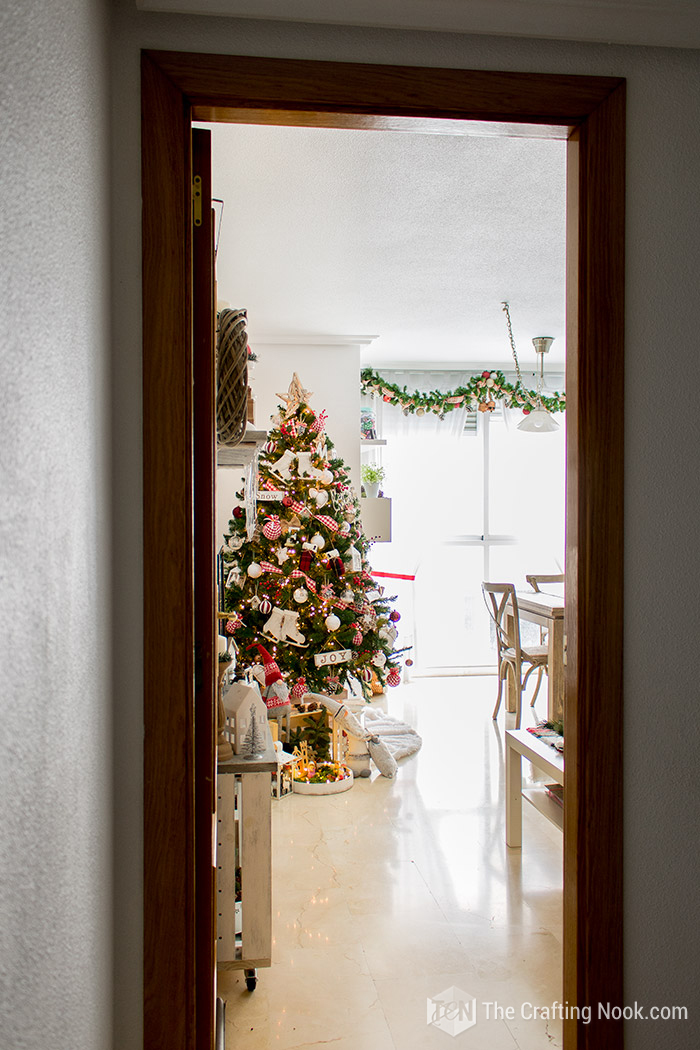 Living Room Christmas Decor
Here is where most of our Christmas decoration is in place.
Here is where I start the magic and the whole family joins along to make it even more special.
I've mentioned a few times or many… LOL, that our apartment is really small. However, that never stopped me from doing my best to make it look pretty, cozy and homey. Christmas is no exception and actually is the most inspiring time of the year when it comes to home decor.
As you can see in this space there's the dining table, living room and when there's no Christmas tree, there's my desk/office space right there.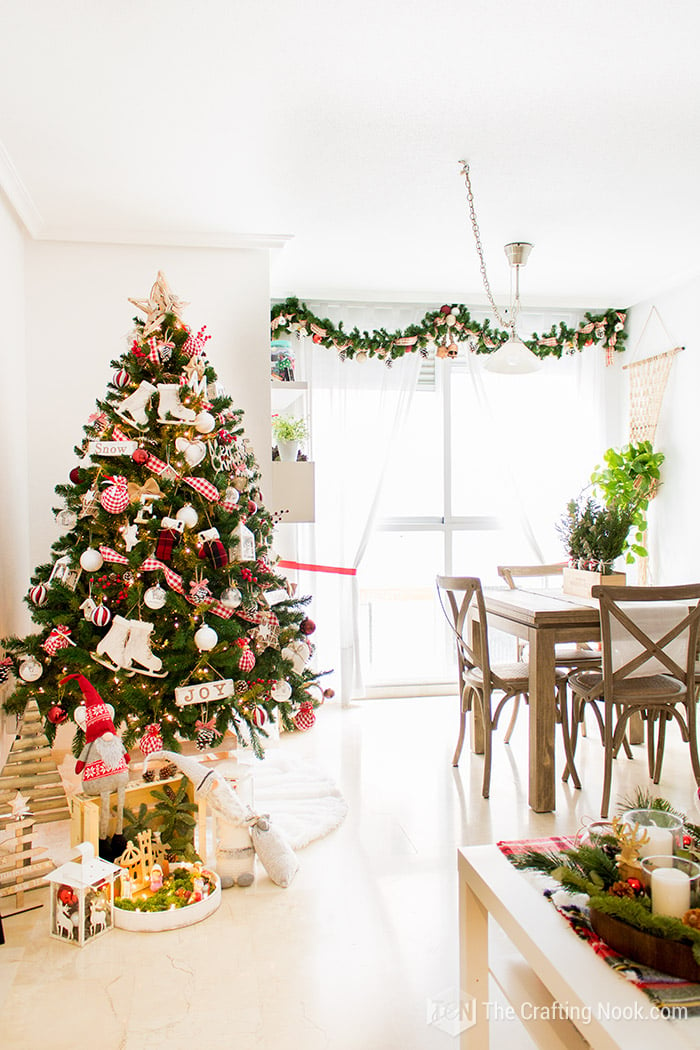 So, once you enter the living room right on the left you will see our TV console and what I like to call my "Mantel".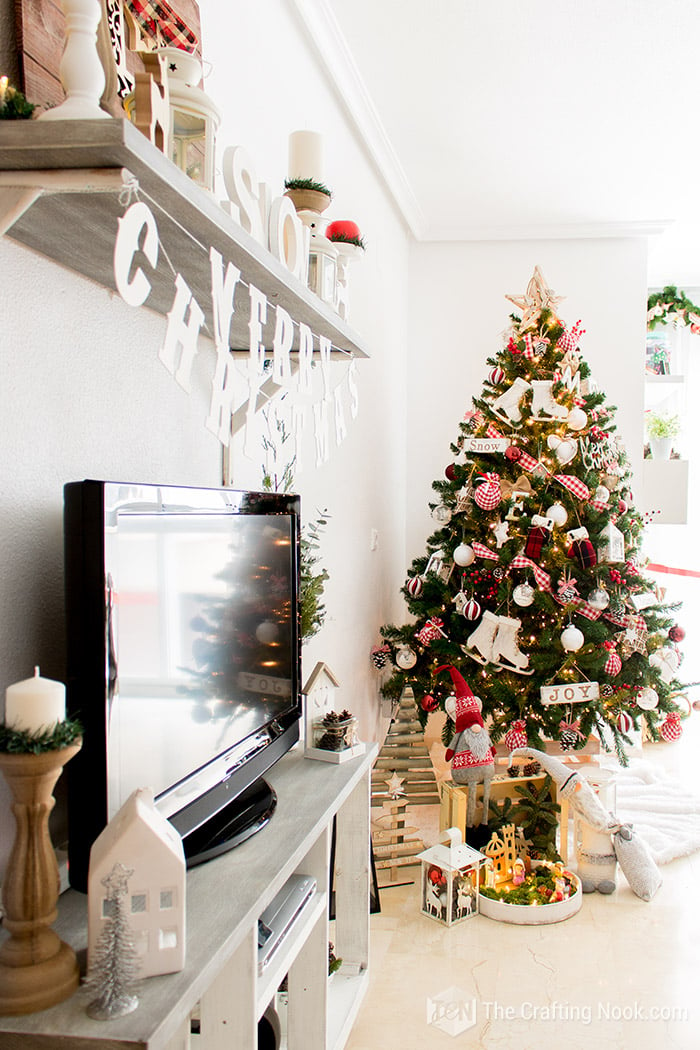 I know I'm crazy but in my defense, since I don't have a fireplace I kind of created my own version of a mantel by placing a shelf above the TV console and there is where I decorate for each season. So yes, that's my mantel and I'll show the details in a bit.
Ok, then when you look at your right you will find our actual living room space and at the end of the room is our dining room space.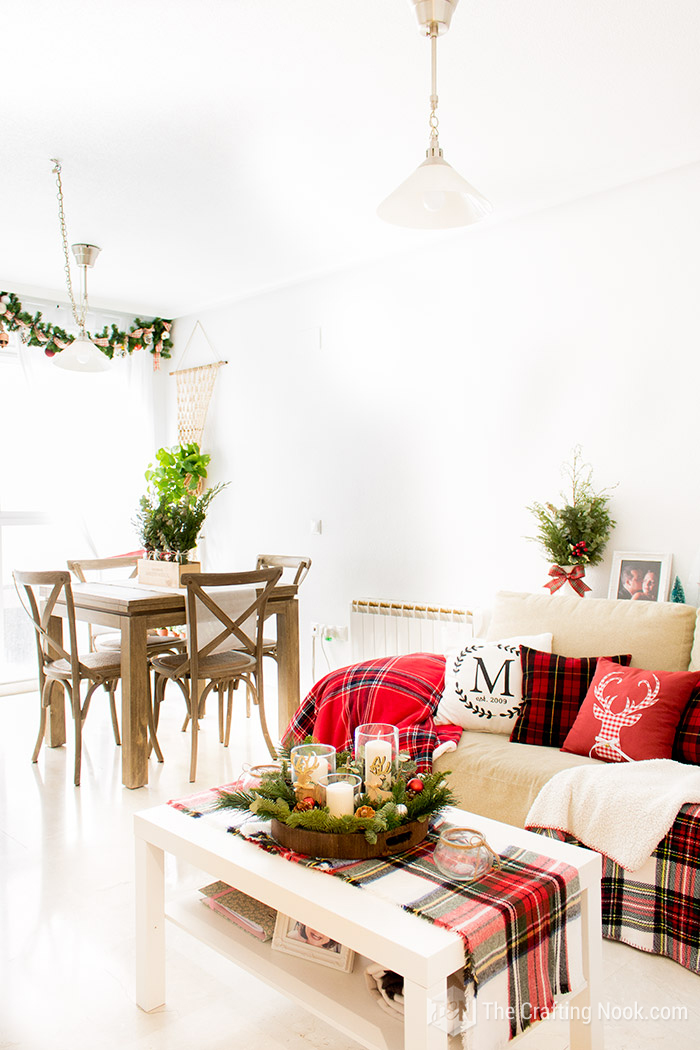 Let's do this organized.
Let's start with the living room space.
There are 2 things I love the most about winter.
Can you guess what those are?
Yup, pillows, and cozy blankets!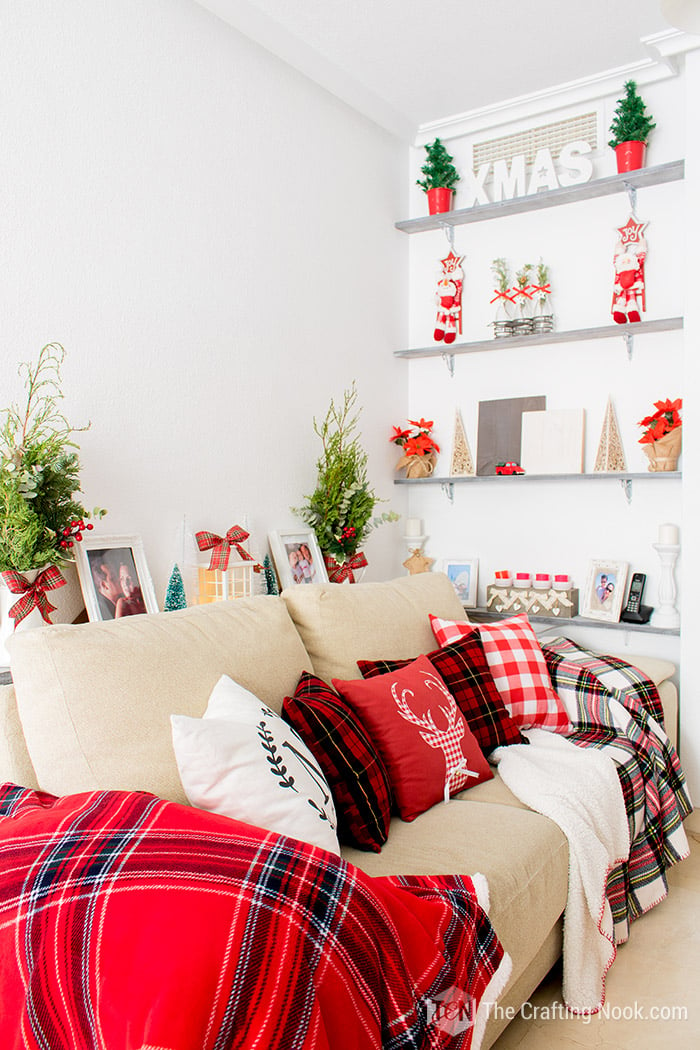 So those are my main features in our living room.
I threw my 2 favorite blankets and lots of pillows on the sofa being the cute Plaid reindeer Pillow among them. All bright red and white.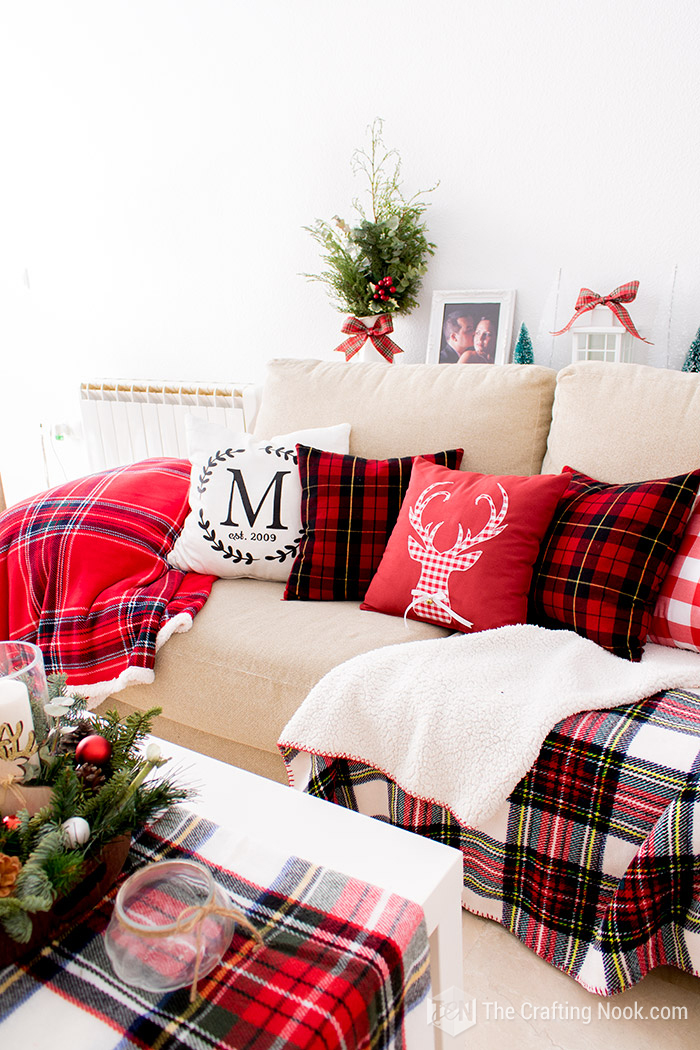 On the table behind the sofa, I made a couple pine arrangements in jars. LOL. Yes, I did a lot of things with those stolen pines, right?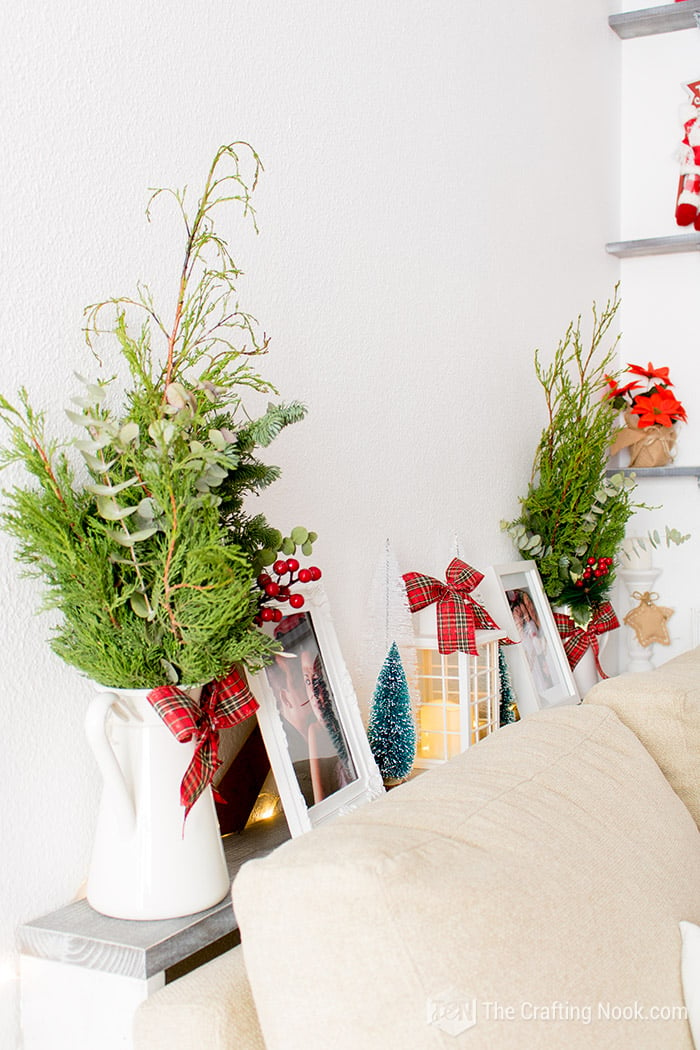 That cute lantern in the center was a bargain. Found it for less than $1 because the handle was broken. I didn't even thought it twice to take it.
Then decorated around the lantern with cute tiny trees and our frames.
On the shelves next to the sofa I mixed Christmas decorations with regular decoration. Those wood boards you see there will be wood signs that I haven't had the chance to make them yet so please don't mind that part. LOL.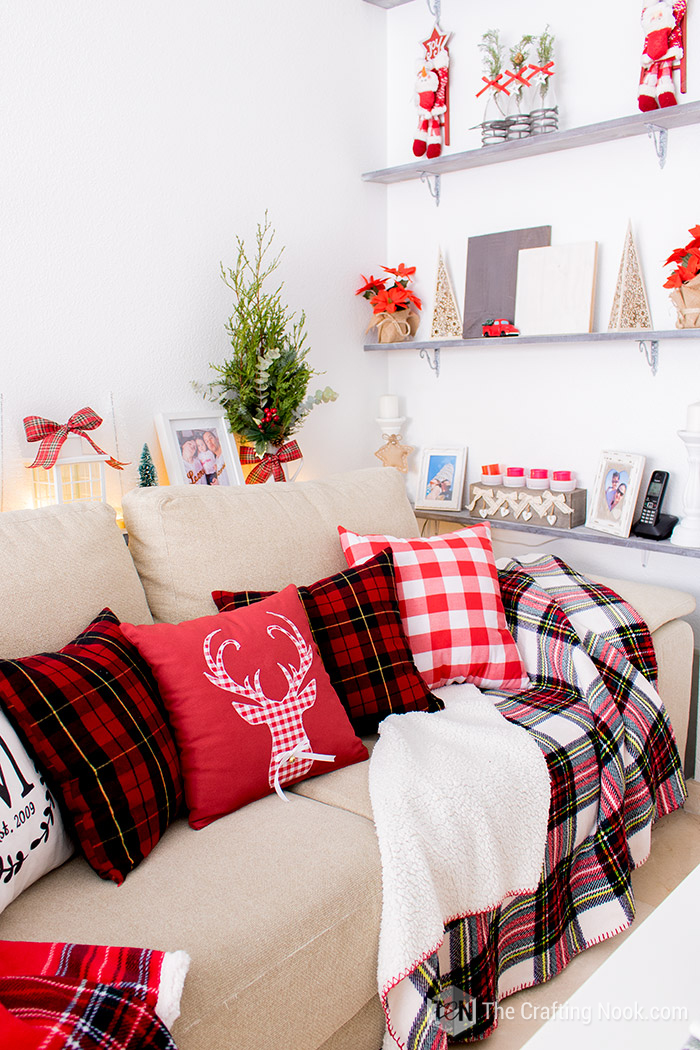 Right at the top, I put my XMAS Letters with 2 cute small pines. I actually Love how those shelves look. They are so bright and happy.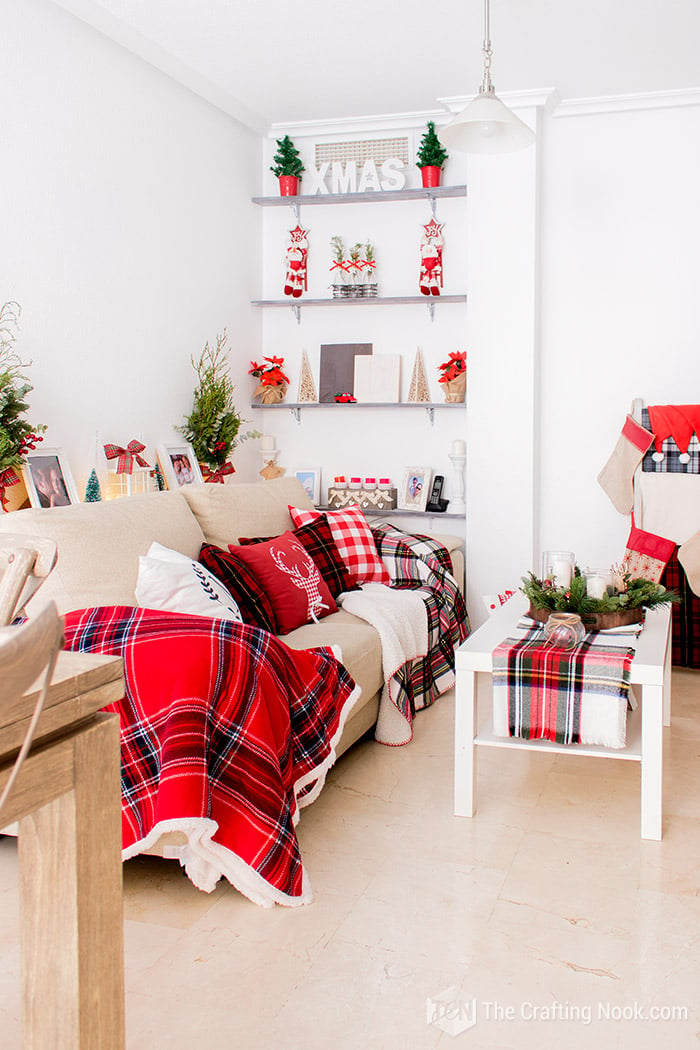 On our coffee table, I used a plaid scarf as table runner (I know I'm terrible LOL) and made the centerpiece inspired by Kimberlee from The Fancy Shack. I got a few features similar and decided to try my own version. I still think hers is way prettier but I'm pretty happy with my results.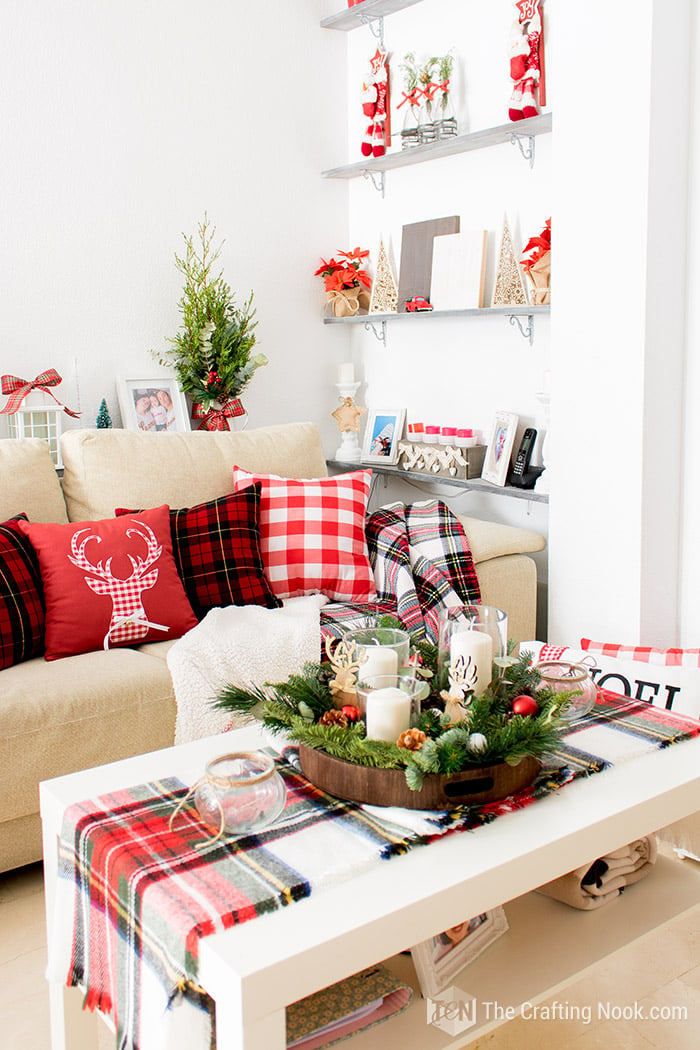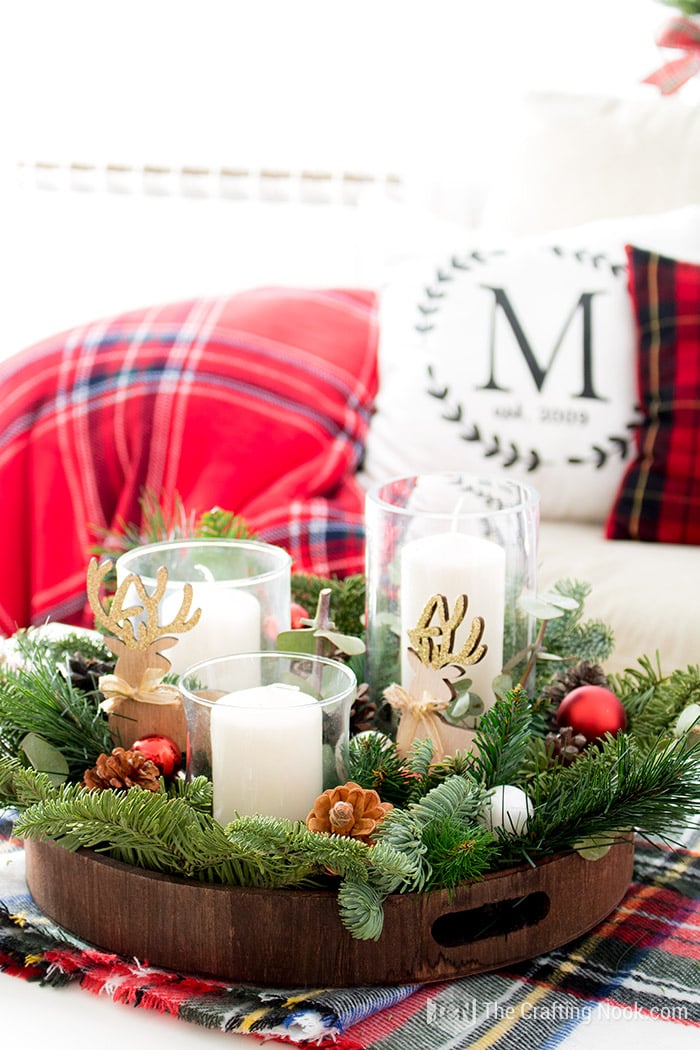 Right next to the sofa I have our cute crate with some extra pillows including our grain sack inspired Pillow. I also created a setup with a lantern and the blanket ladder.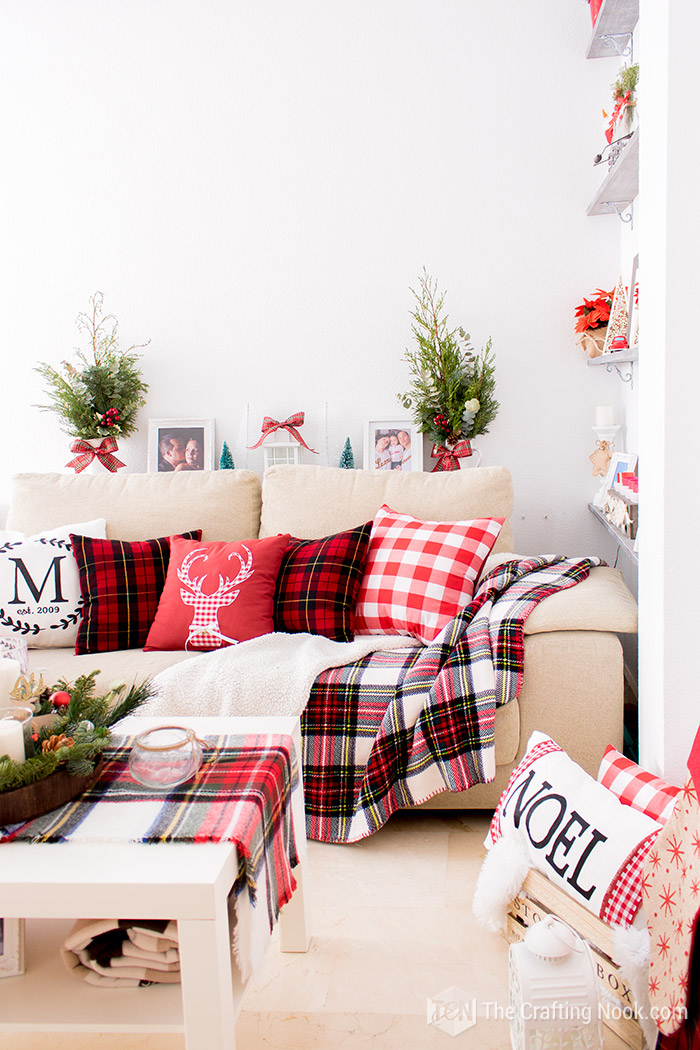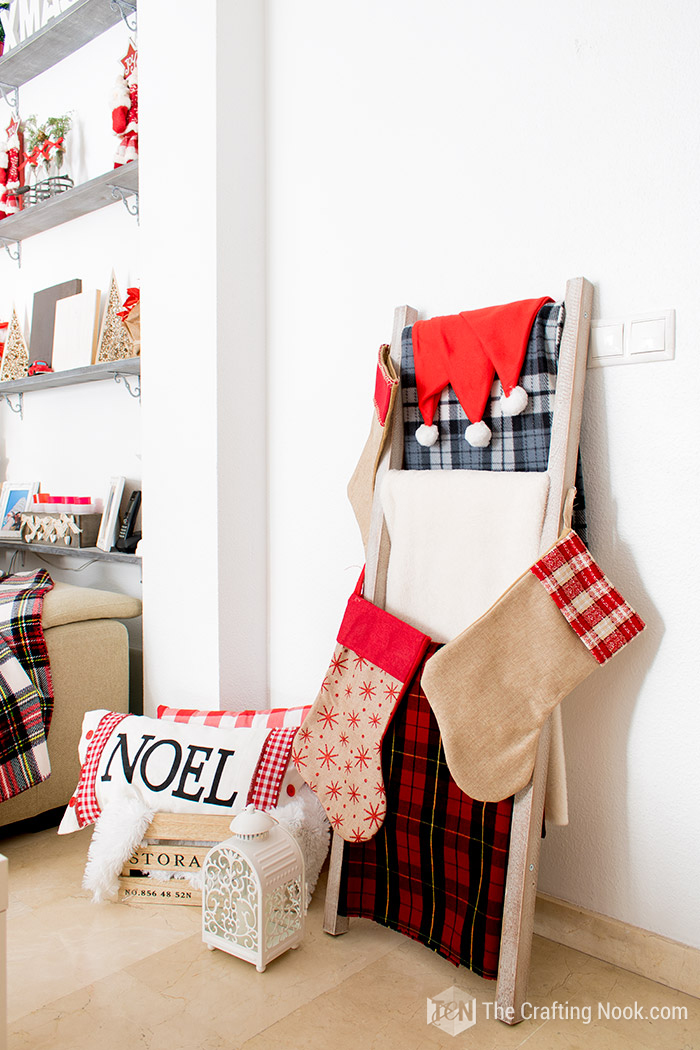 This year I decided to put the stockings hung on the ladder and I love how it looks.
From the sofa I so enjoy my view os the Christmas tree. You guys, I LOVE how our Christmas tree turned out.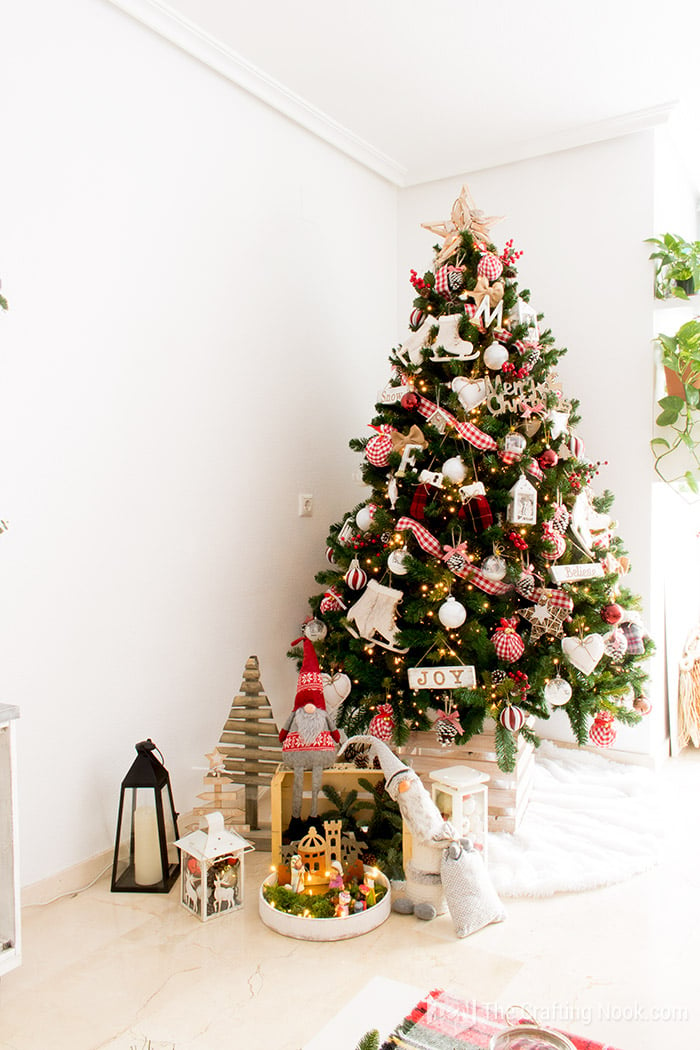 At nights is even more magical.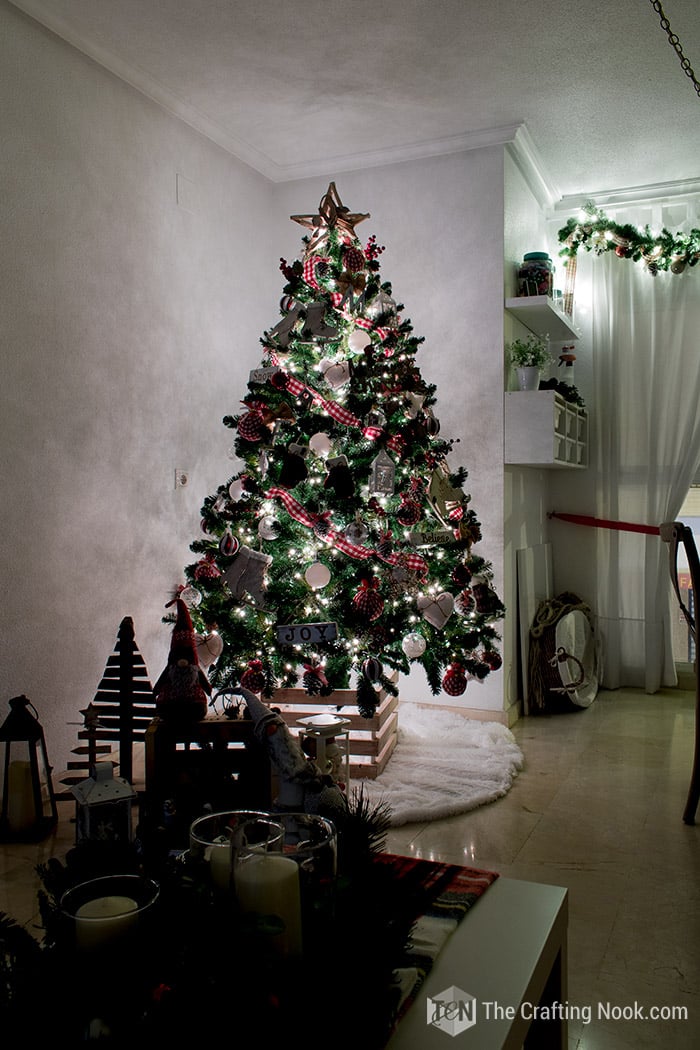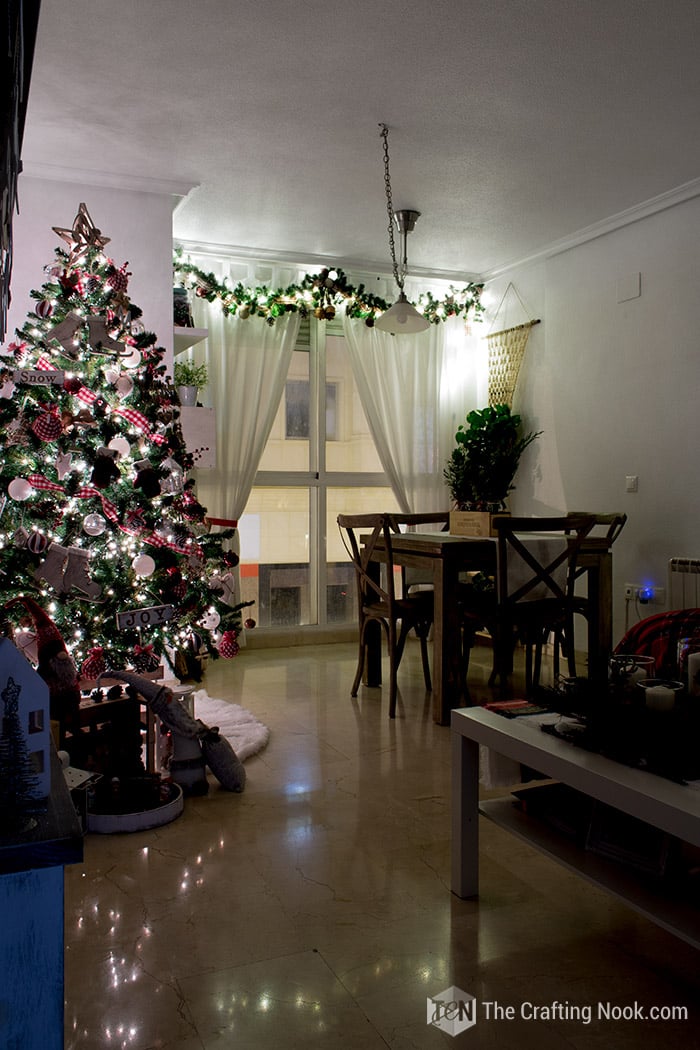 If you case my blog post about the Red and white Buffalo Plaid Christmas tree, you might know how much in love I am with my new gnomes here! I can't get enough of them.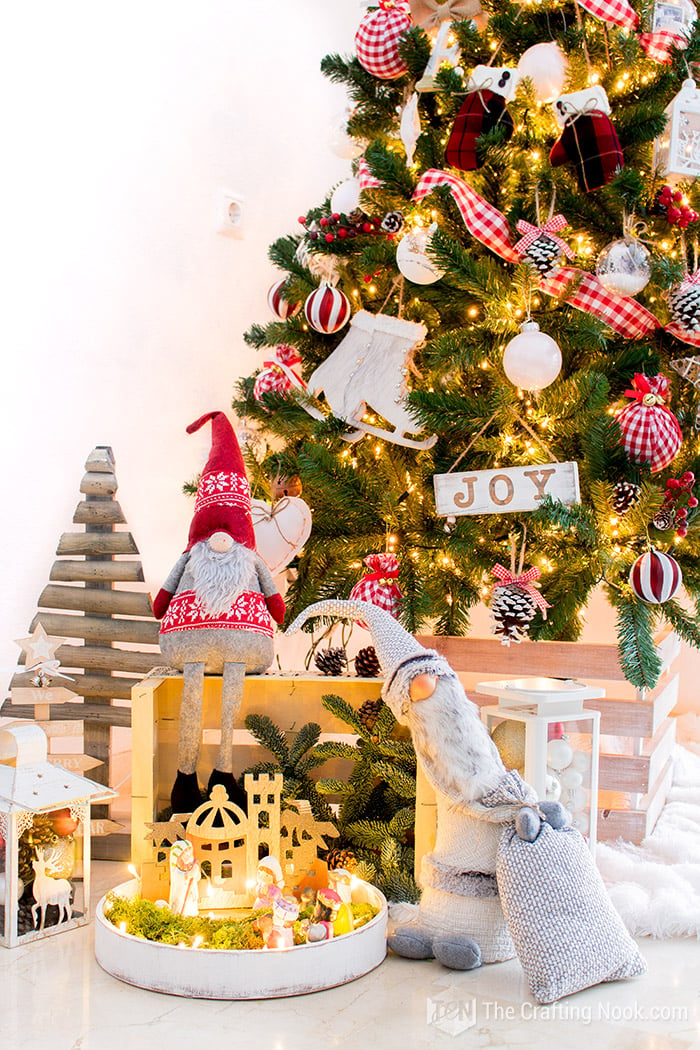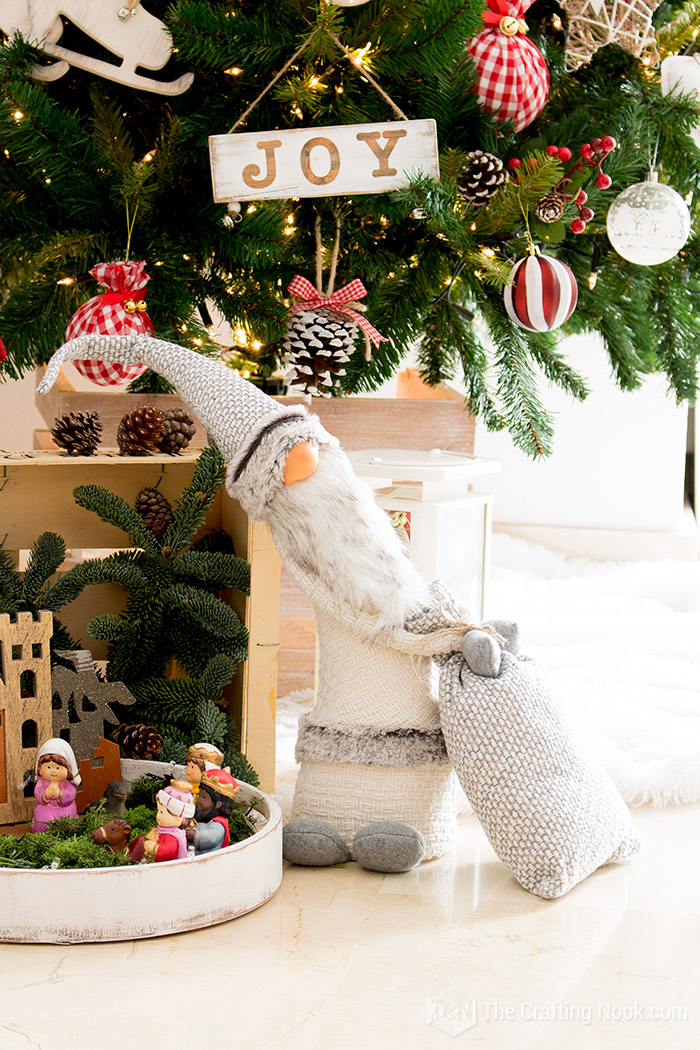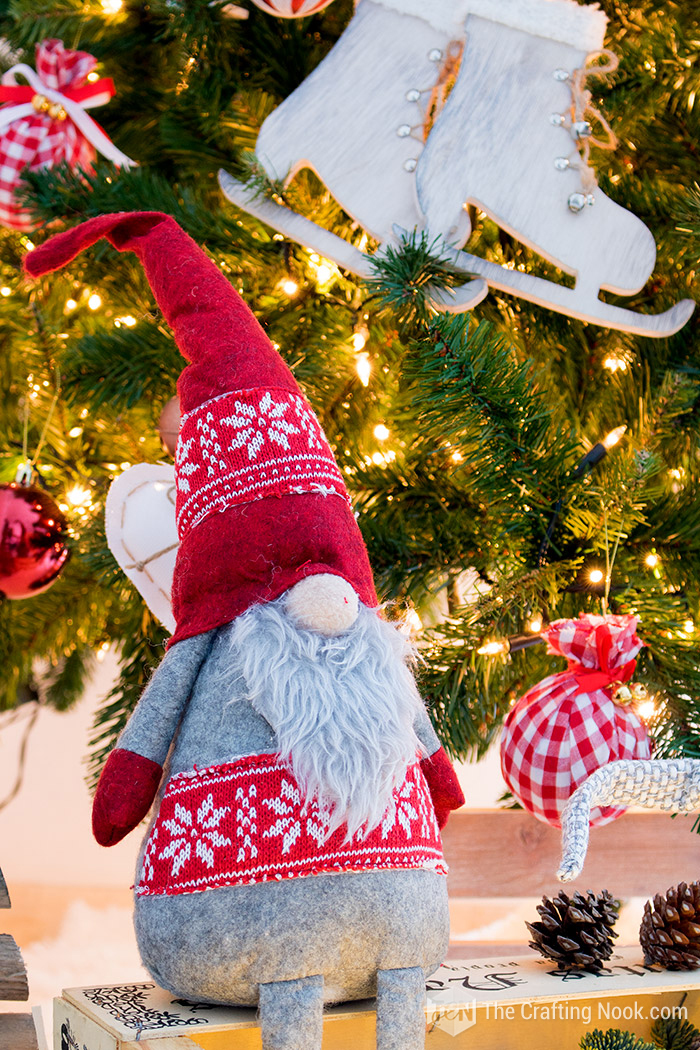 I'm actually super happy with how the whole Christmas Tree base setup turned out using a real fruit crate and lanterns to surround the nativity and add style to the tree.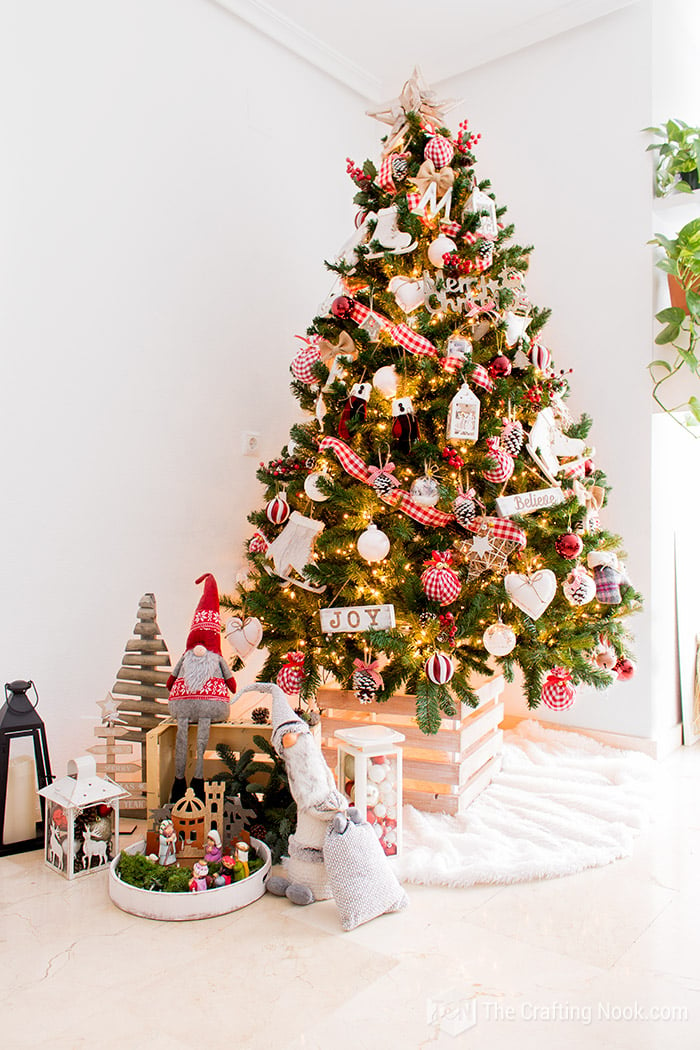 I just feel so excited and happy with the whole space.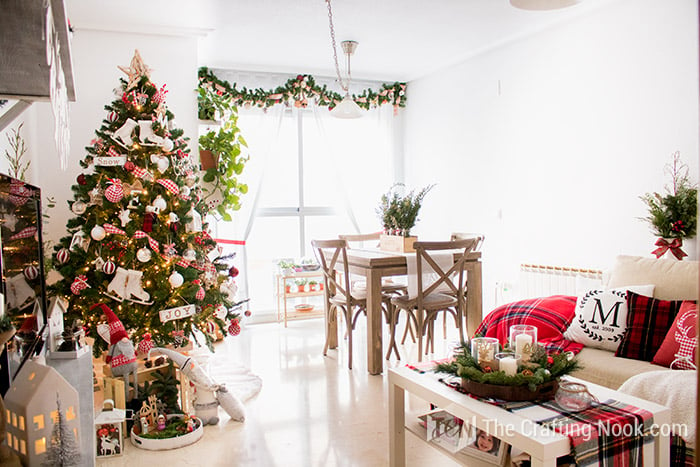 Moving on to our Christmas mantel.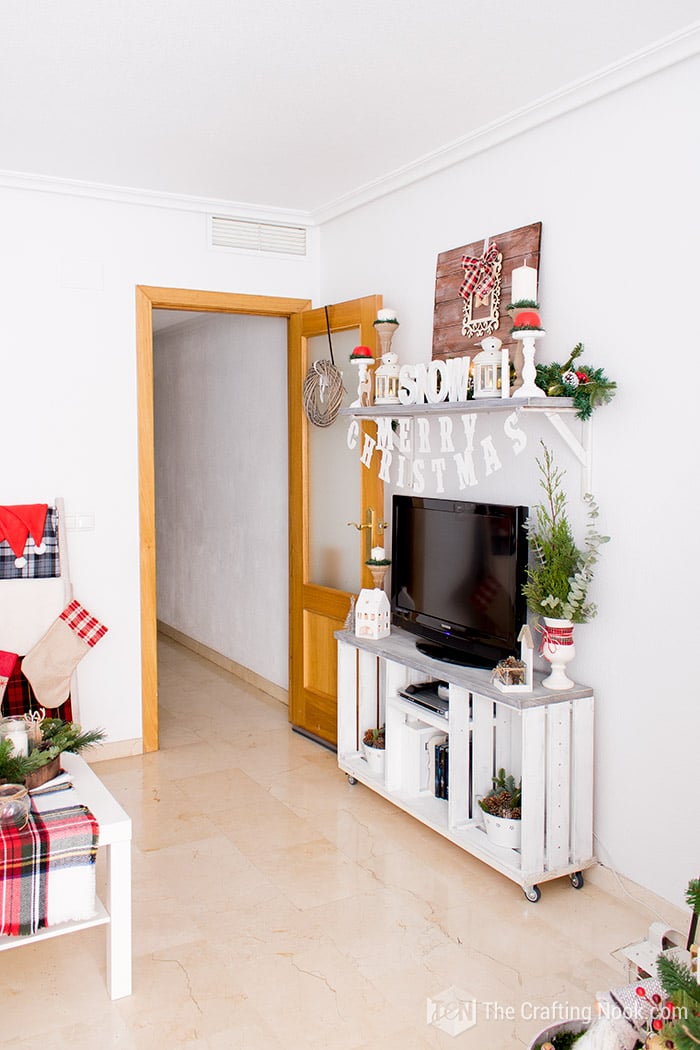 As you can see, I kept a more rustic style than in the rest of the home with spots of red here and there. It was not entirely intentional. I realized it after I was done but I liked it as it was so I didn't want to change anything.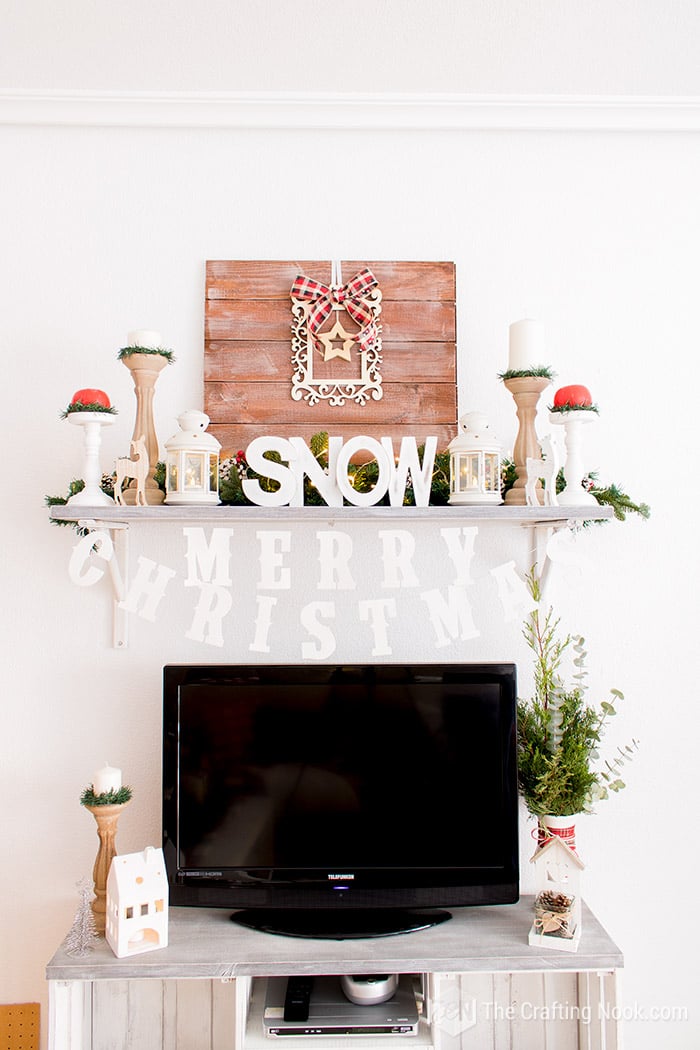 I kept my pallet board from Fall decor up there but change what I had around it. I also used this cure swirly frame with a star in the center hung from it.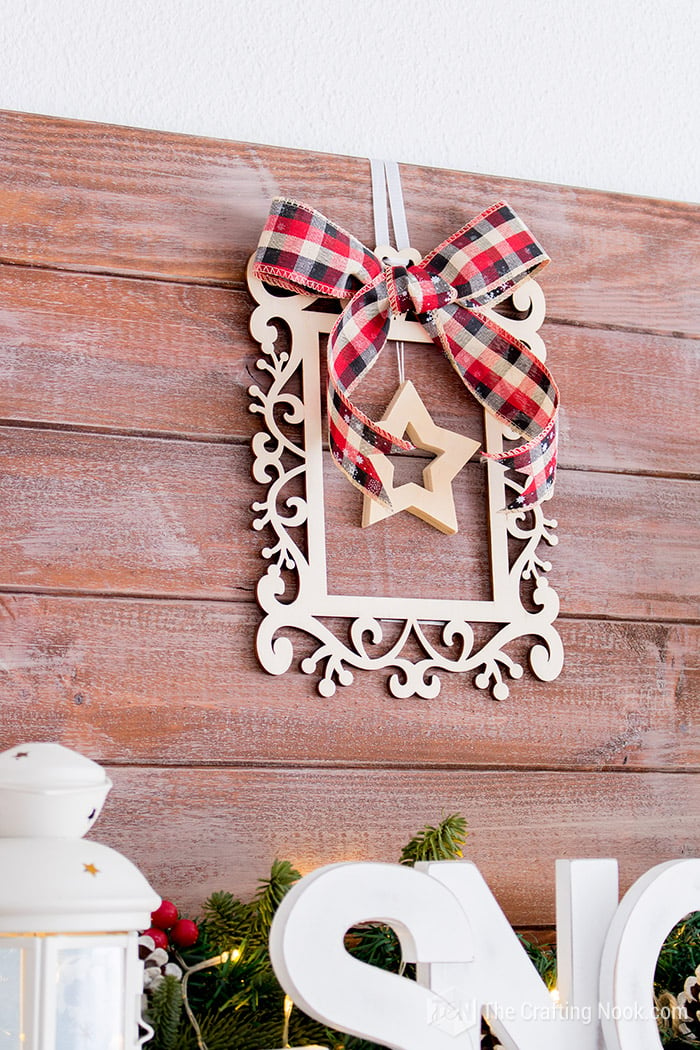 I used a greenery garland with lights and mixed fake with real greenery. I love how it looks.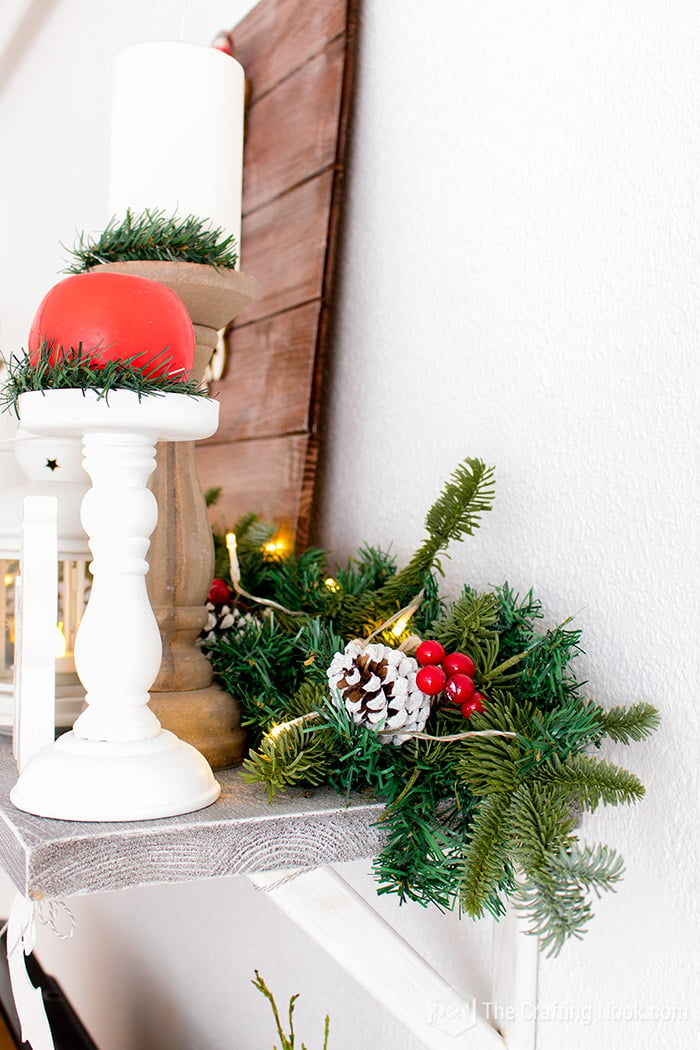 Then I just balanced candle holders, lanterns, and reindeers figures on both ends of the shelf. And finished with my SNOW letters in the center.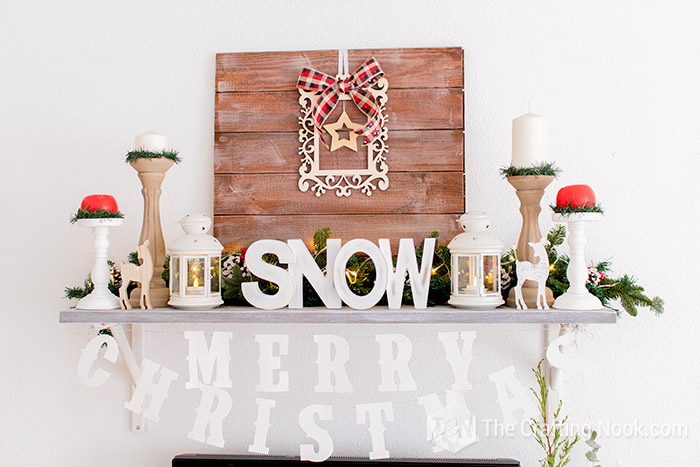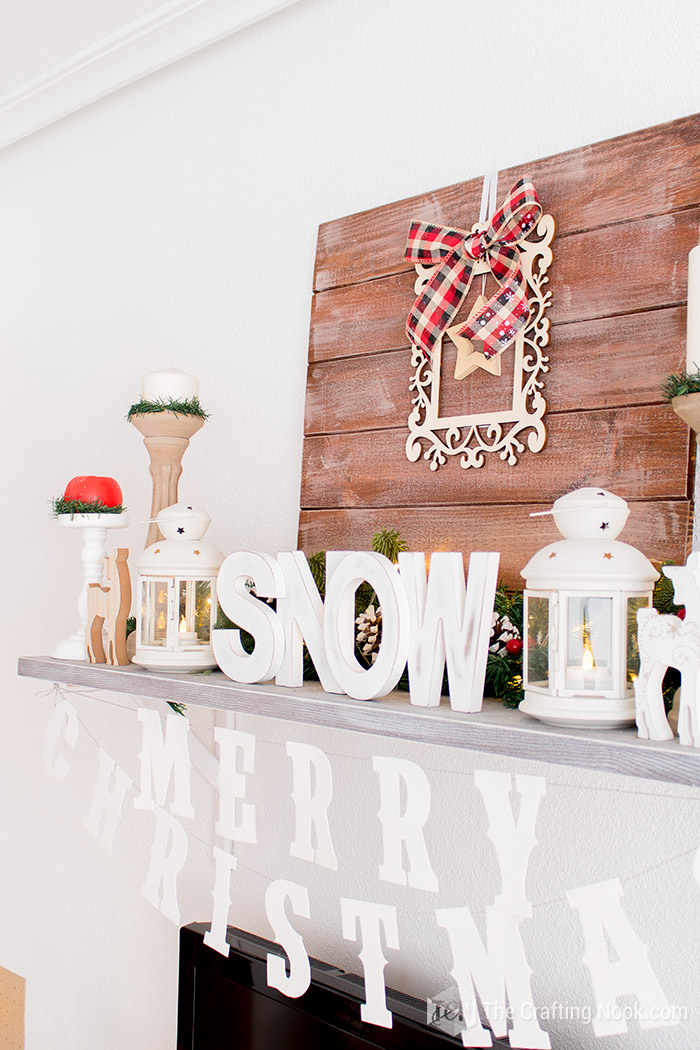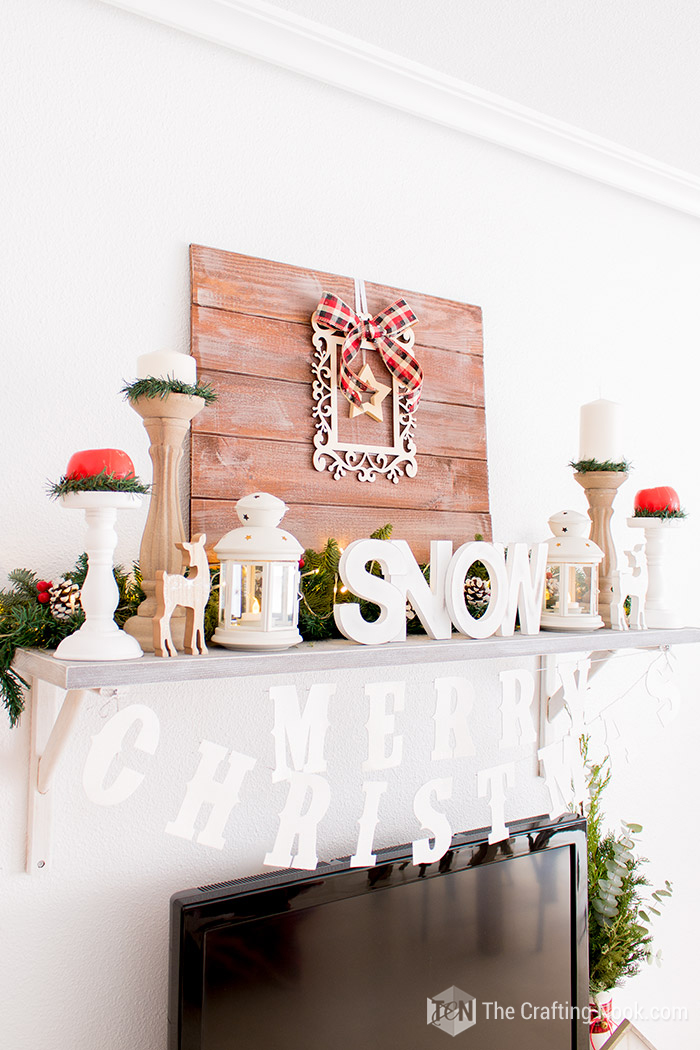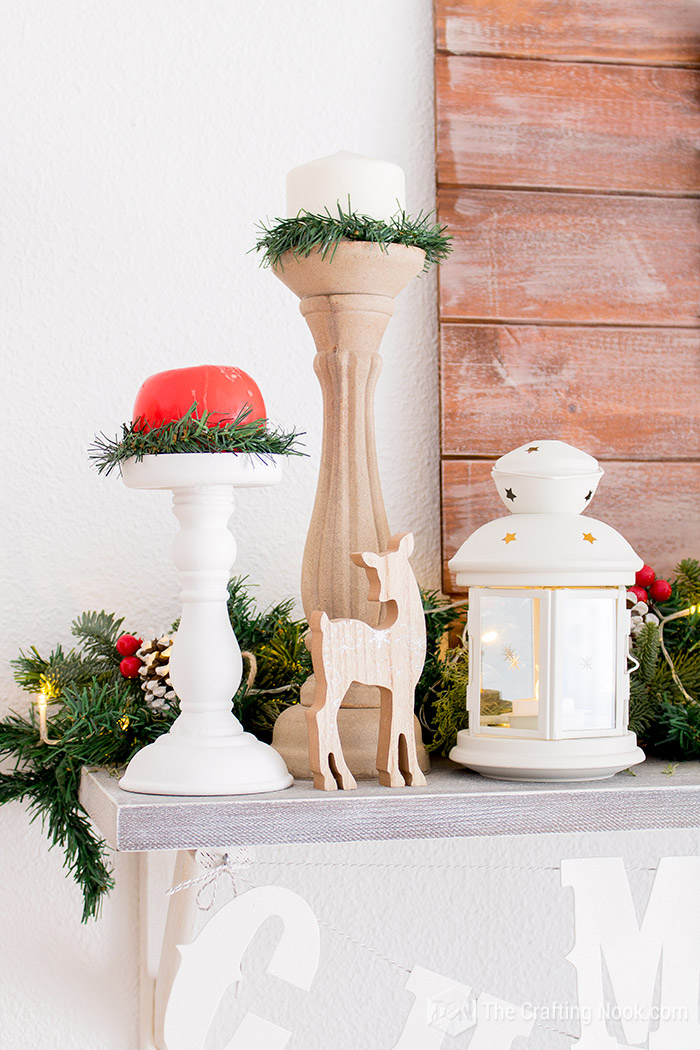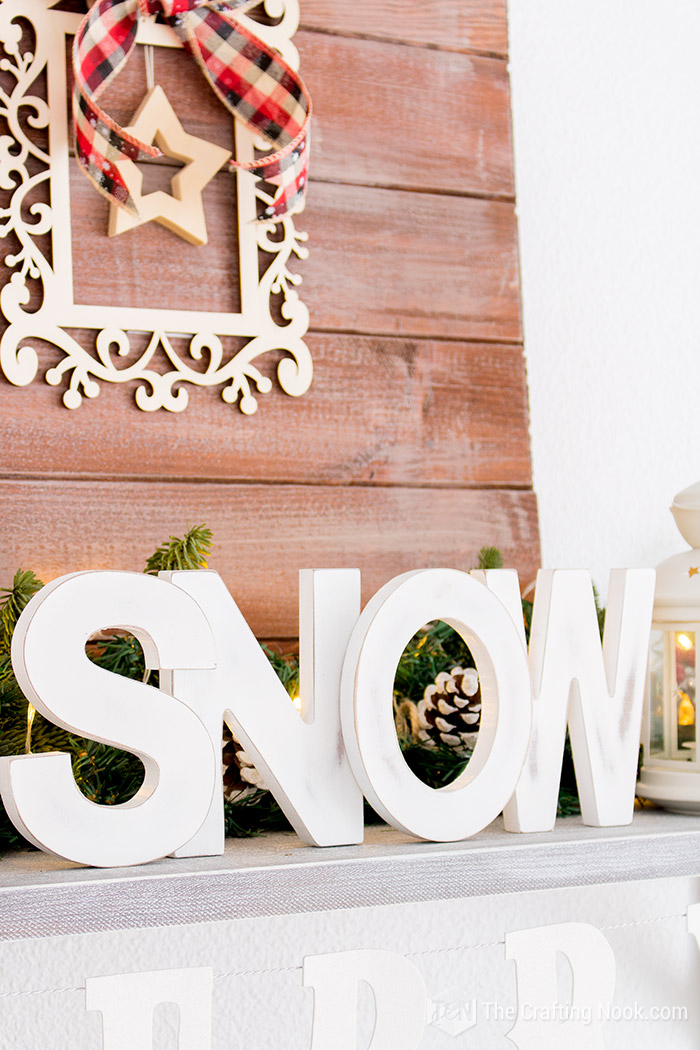 The TV console table got some love too.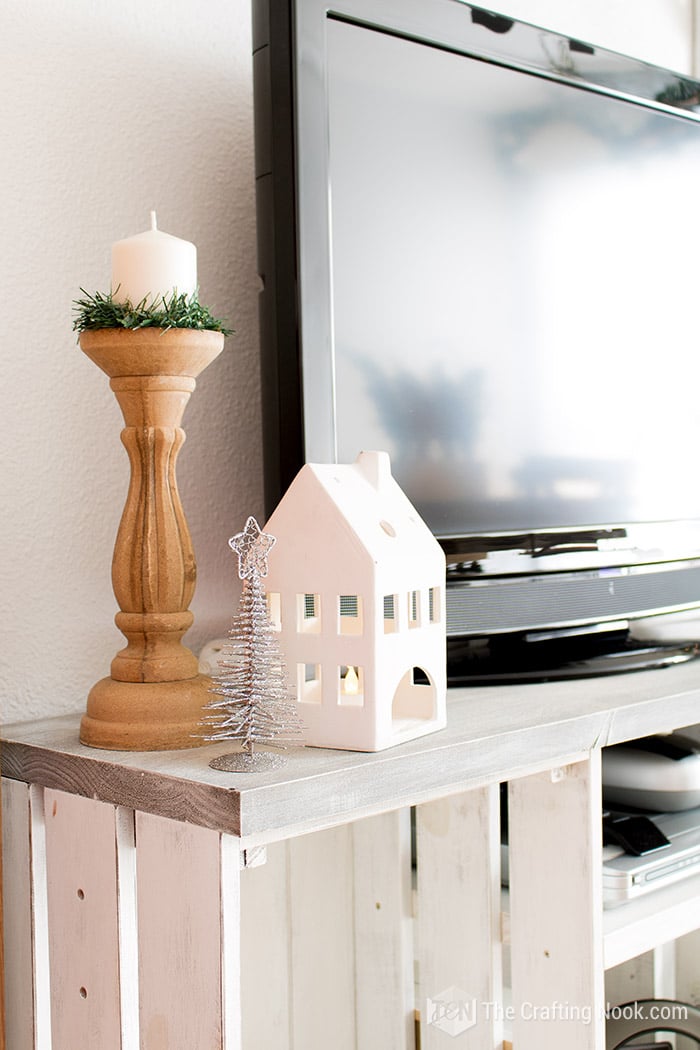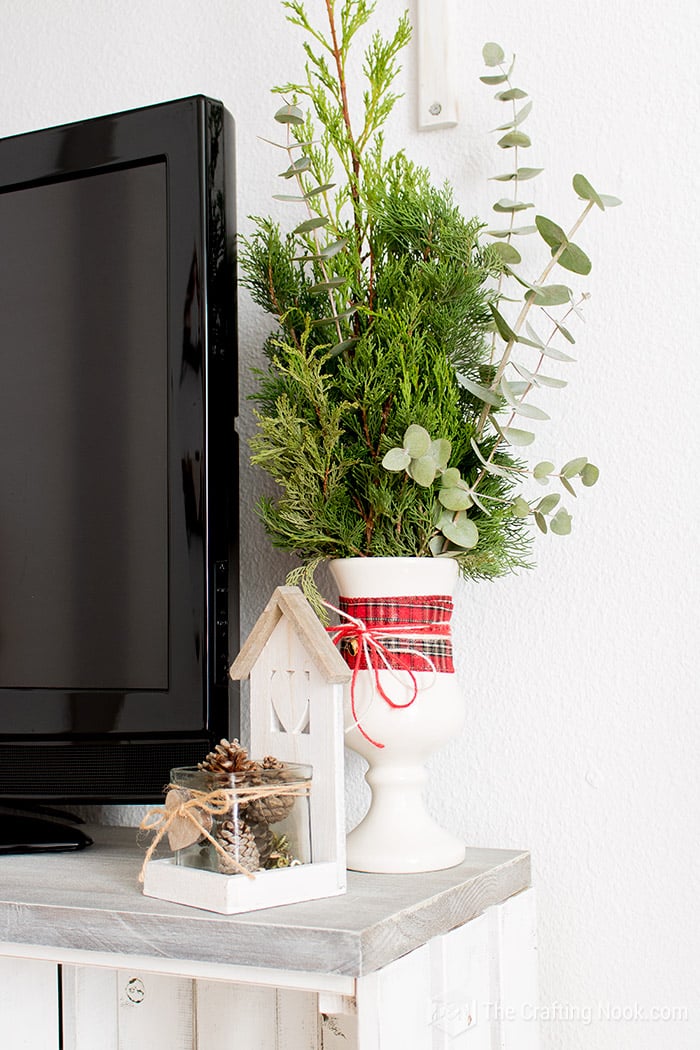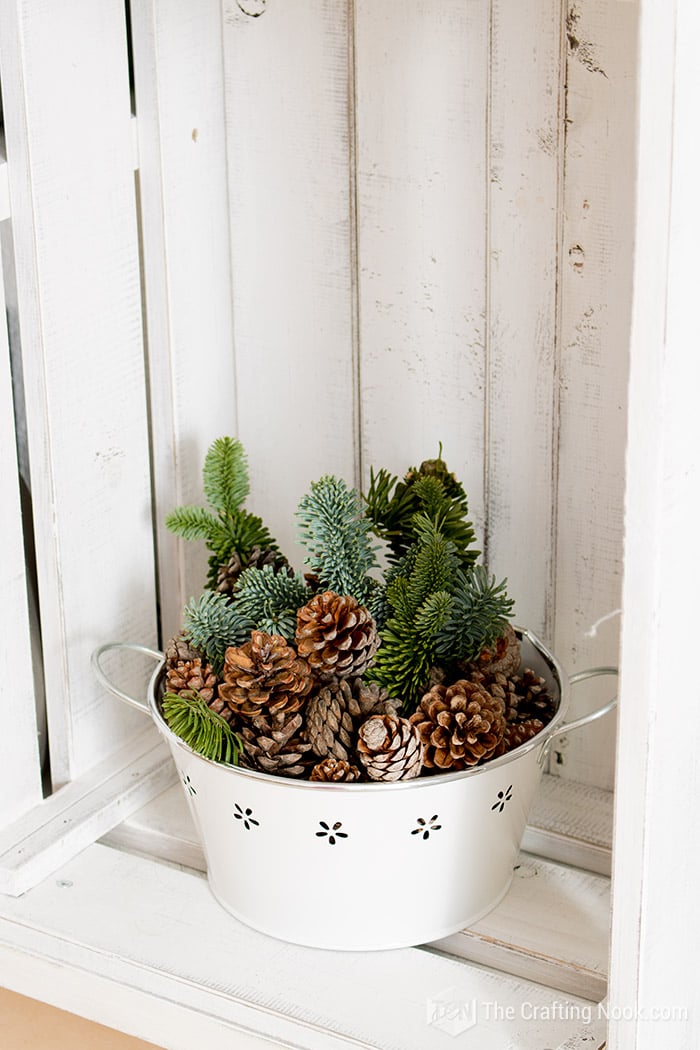 I especially love the bowls with pine branches and pinecones! So cute!
Now, I left for the last, one new adventure. This year I included in our Christmas decorating, our BEDROOM!!!!
Buffalo Plaid Christmas Bedroom decor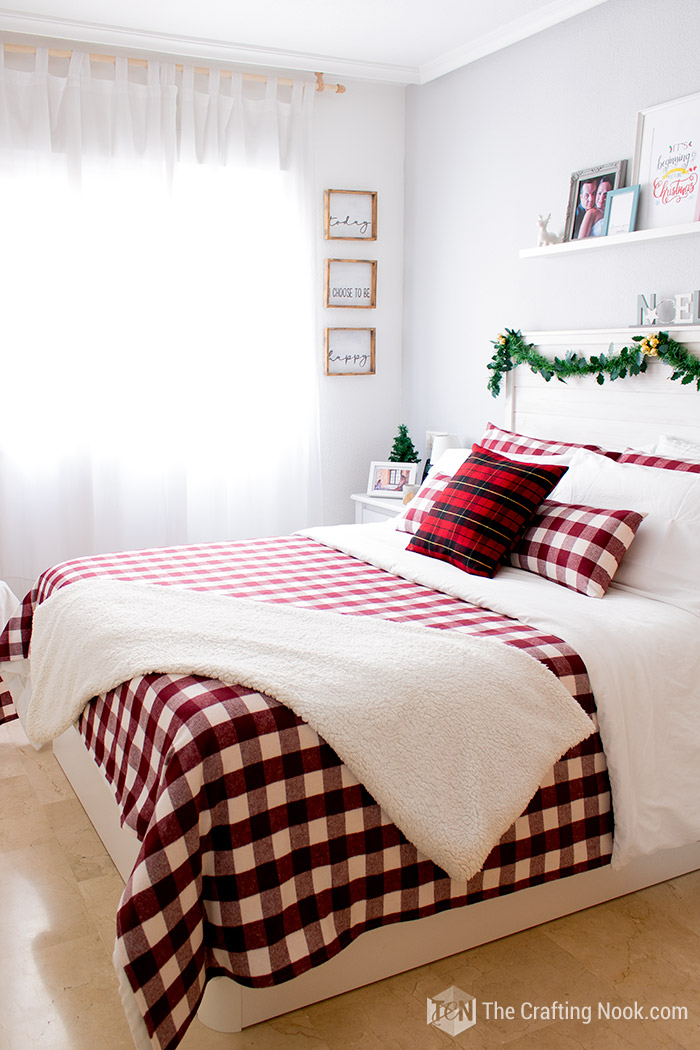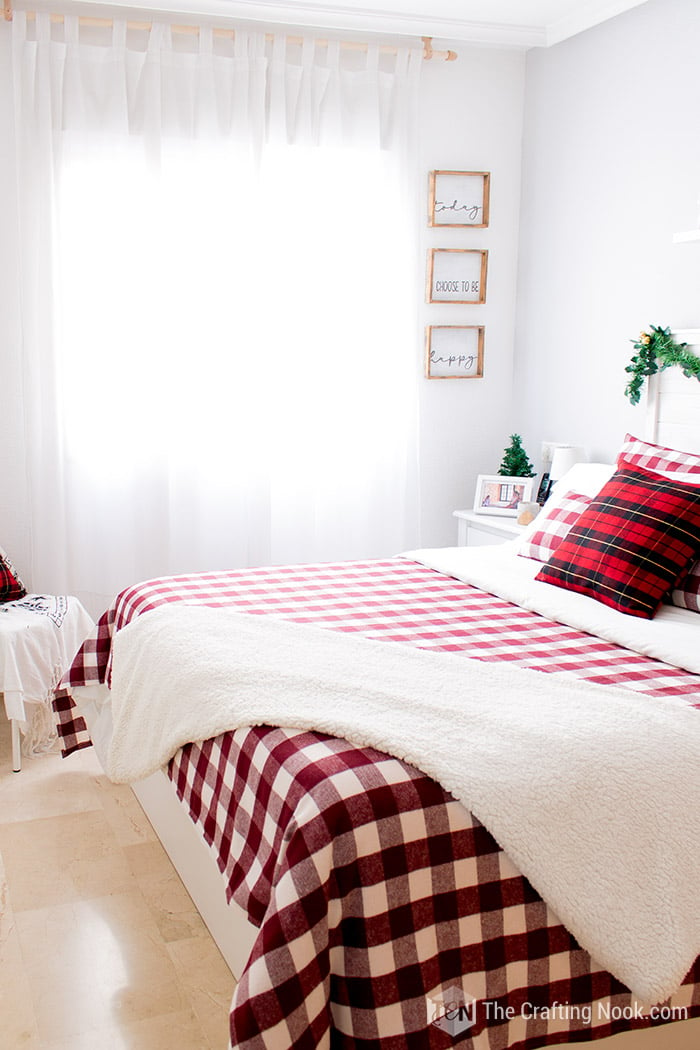 Ha ha I know, you might think, what else is new. BUT it's the first time ever I decorate a bedroom for Christmas or any Holiday for that matter. So, you might understand I'm frikin' excited LOL.
When I finished and finally could take all the photos with everything tidy up and clean, organized and decorated I had this feeling so deep. I felt home like never before. I actually slept so good that night.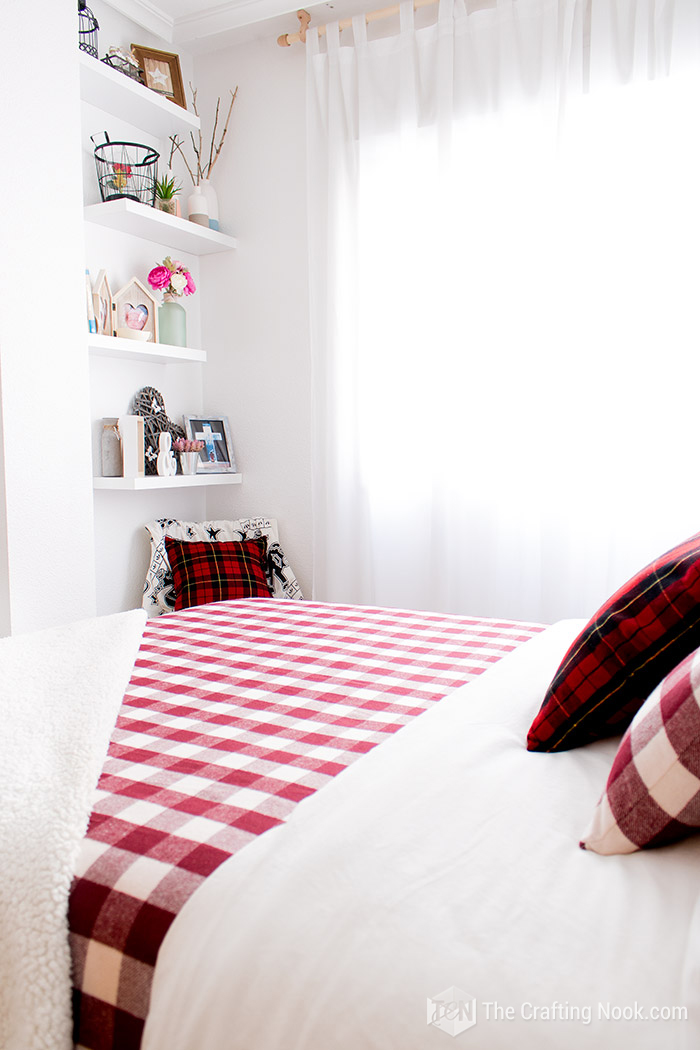 I usually don't sleep too well, no matter what I do. That's been my normal for as long as I can remember so next morning when I woke up with the thin morning light coming from the window, I had this joy and happiness bursting out of my chest. It's hard to explain but it was one of my best mornings ever. I was rested, I was happy and I was absolutely thankful.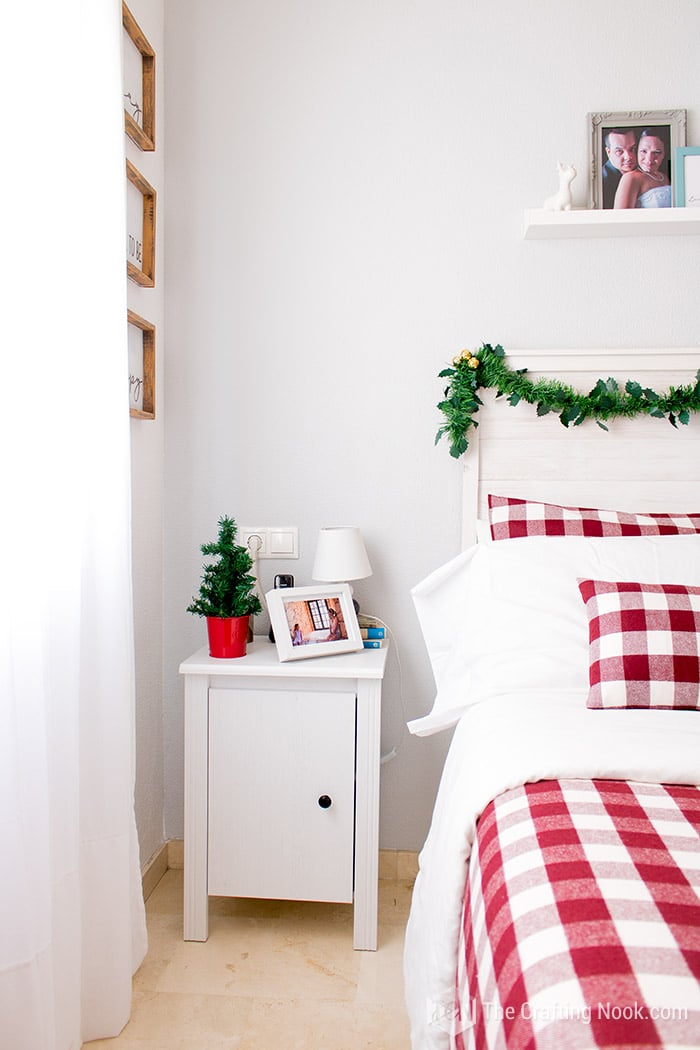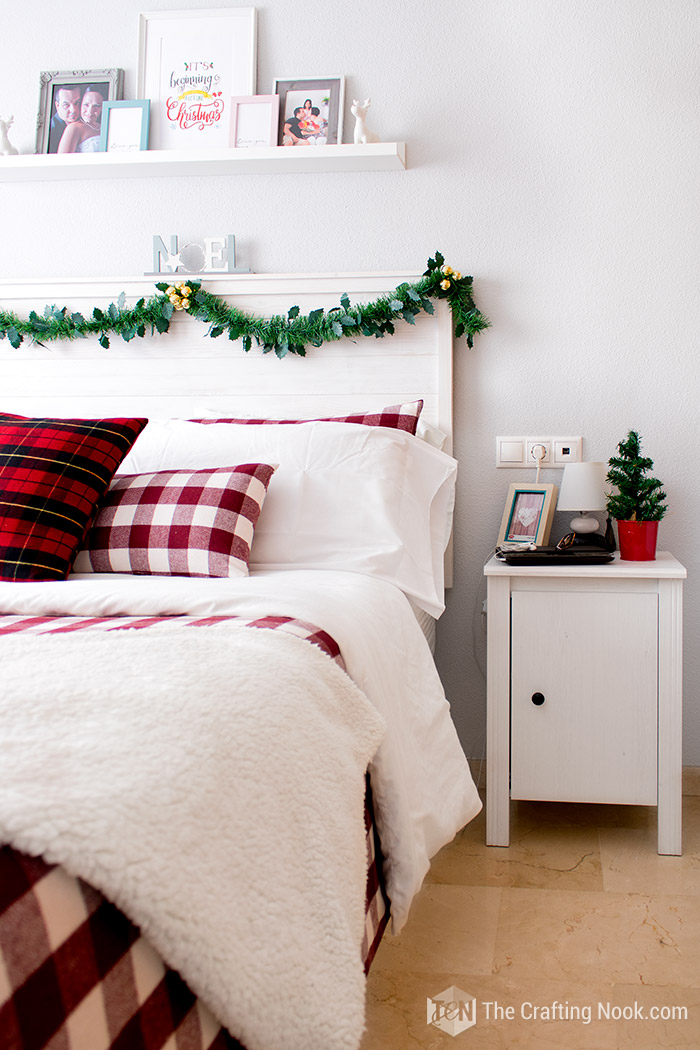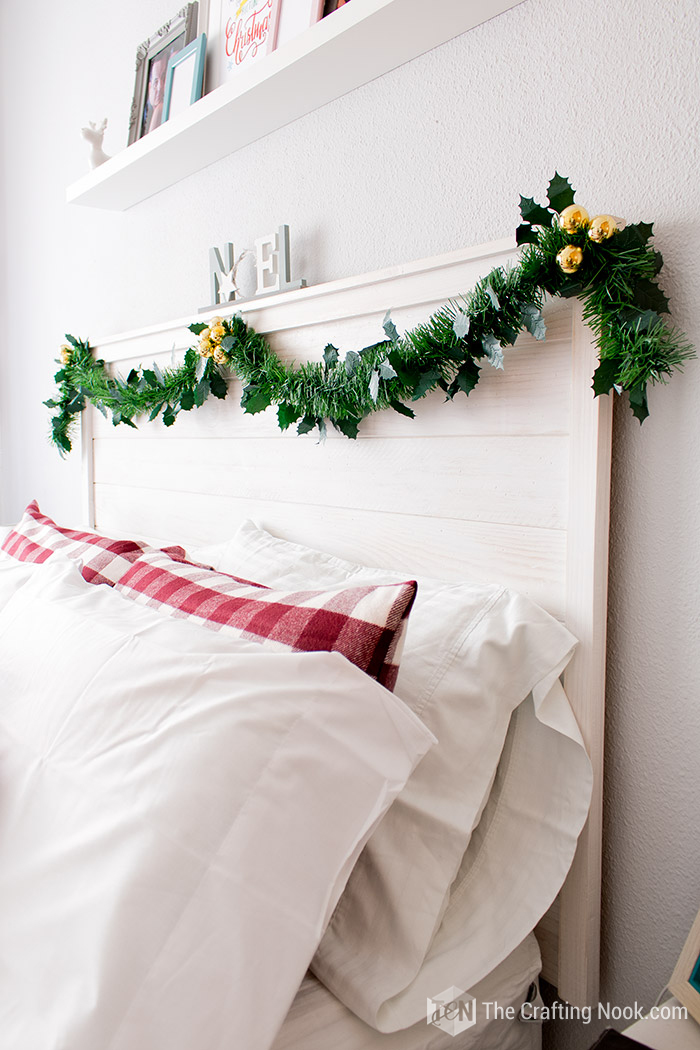 Thankfully it was Saturday and my girl had stayed at my mom's so I could just stay there all snuggled and cuddling under my duvet for almost 2 hours!!!! LOL, I couldn't believe it!
So now you can understand why our bedroom decor got a special place in my heart.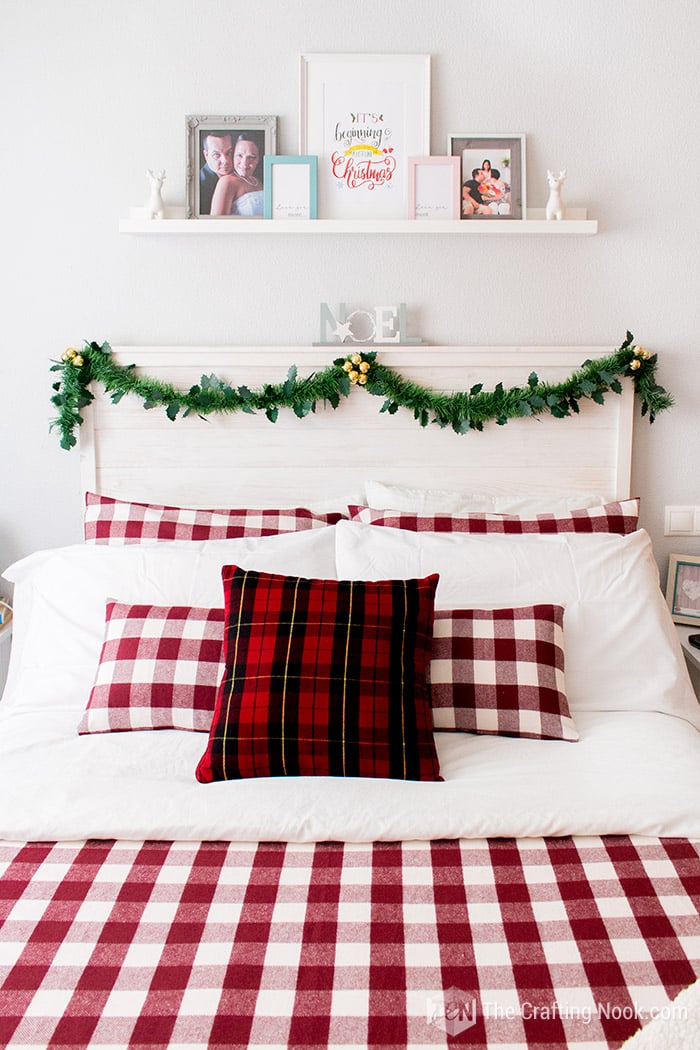 Hopefully, with each year that we celebrate here, I might be able to expand the decoration to more rooms and make it a whole bright holiday home.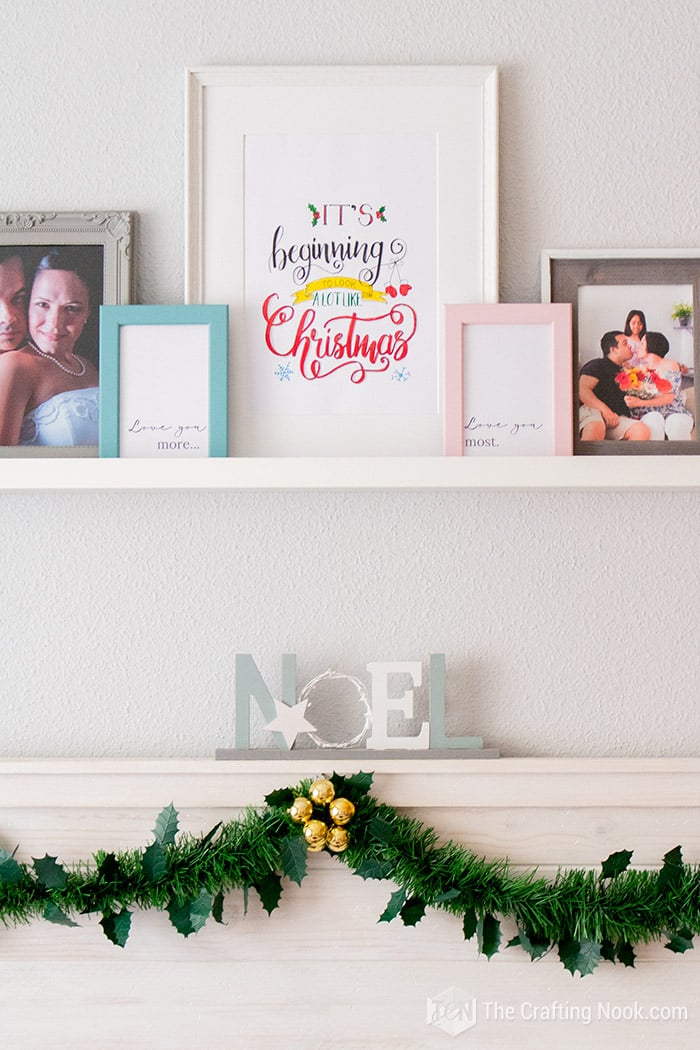 I even got to use one of my own Hand lettering Practices for the main Frame above the headboard. I absolutely adore how it looks!!!!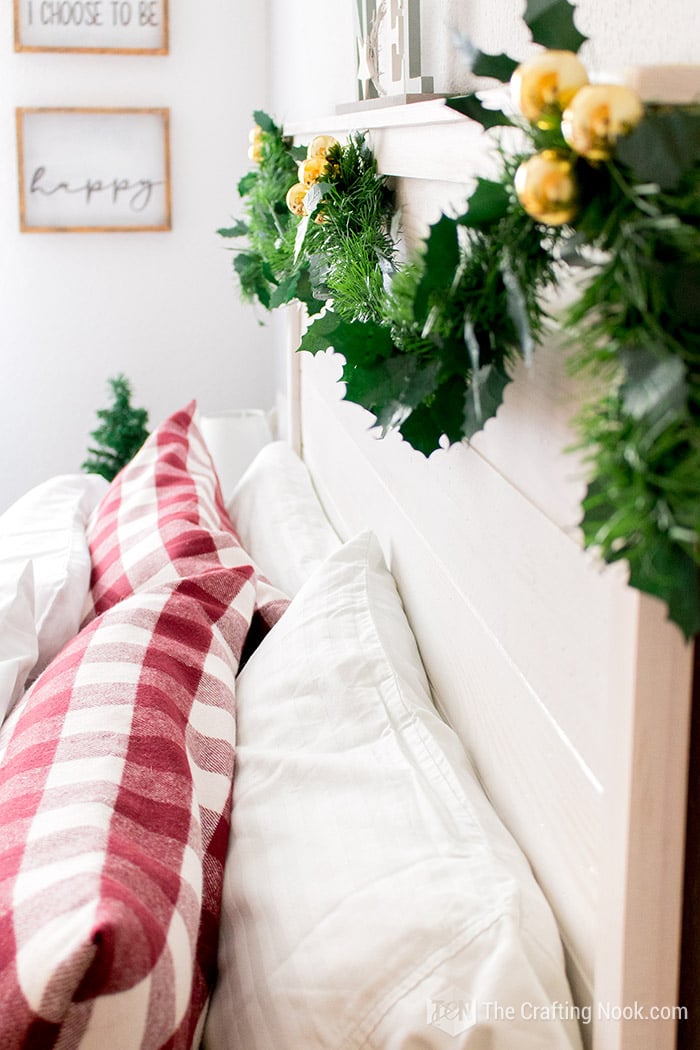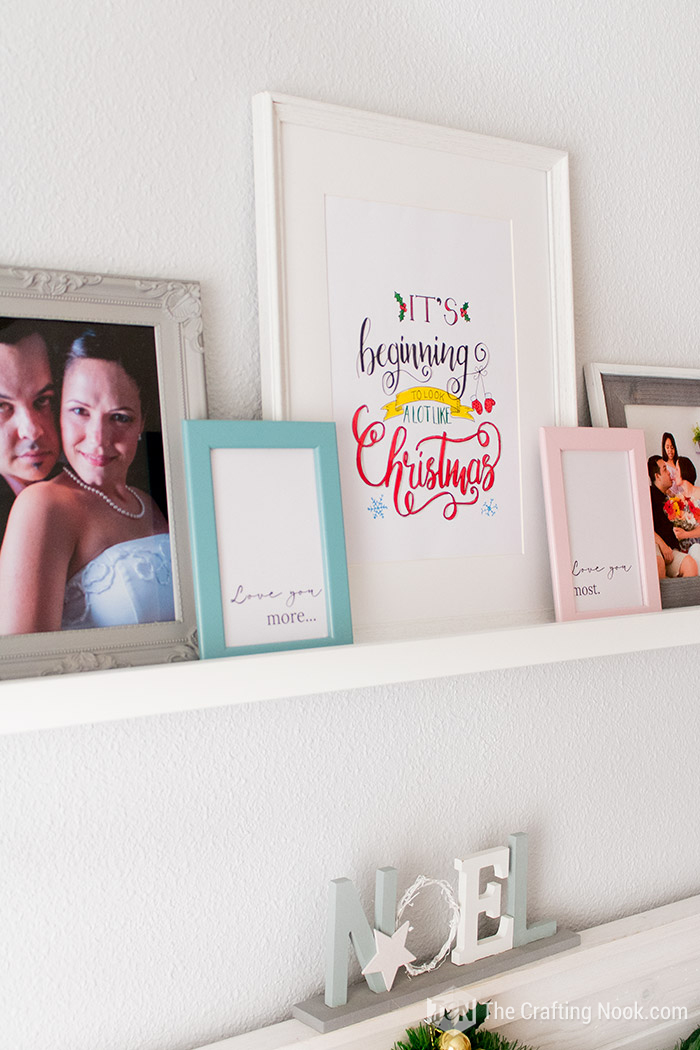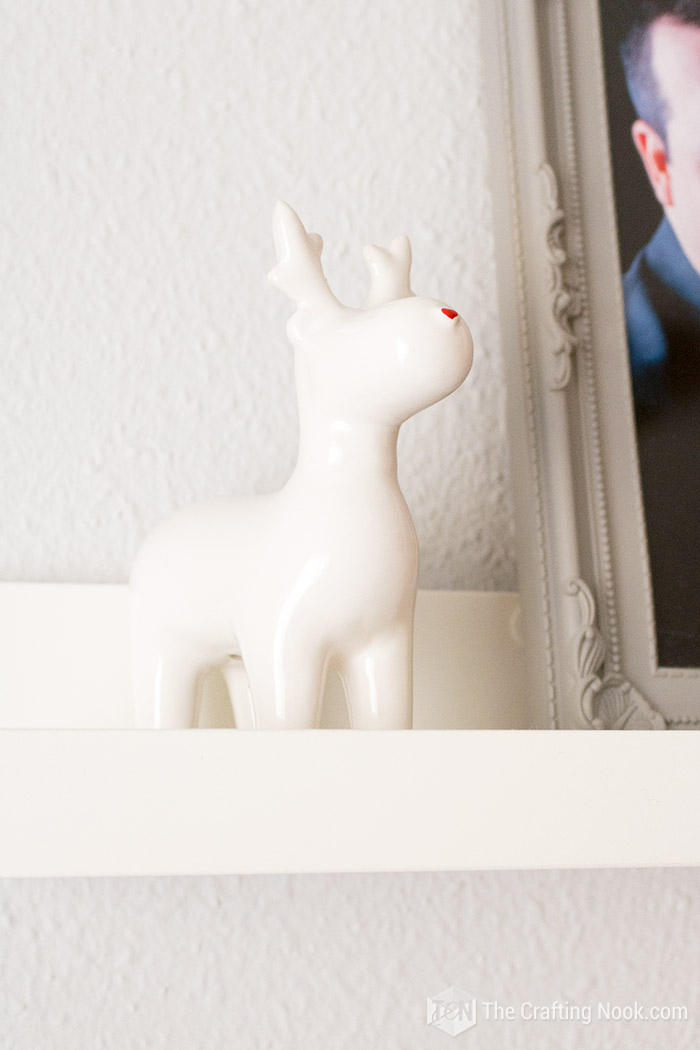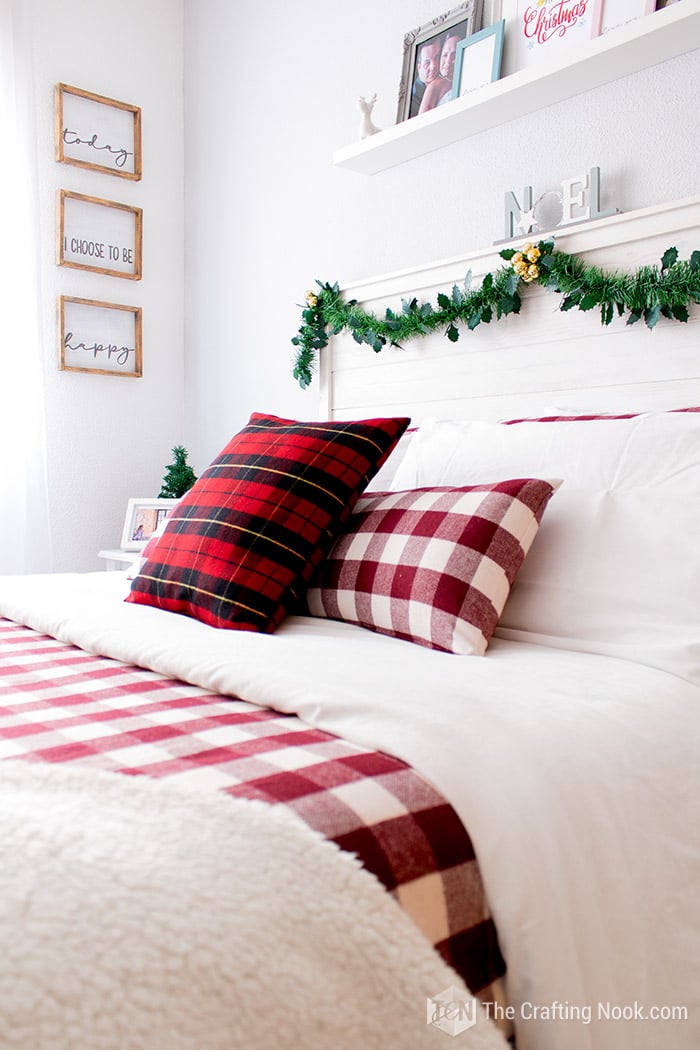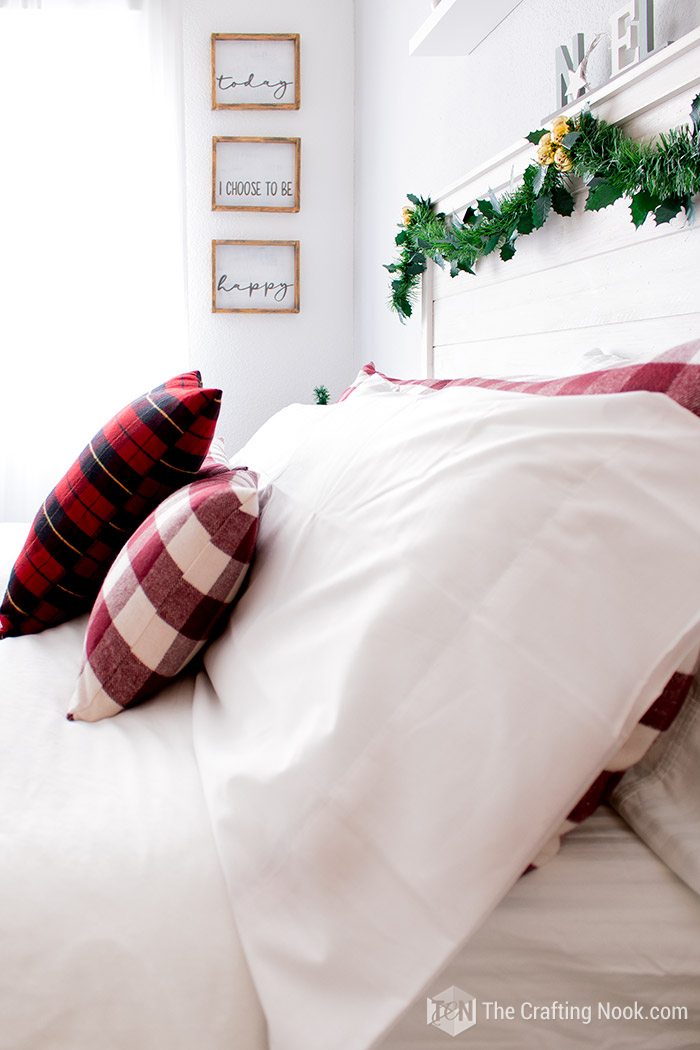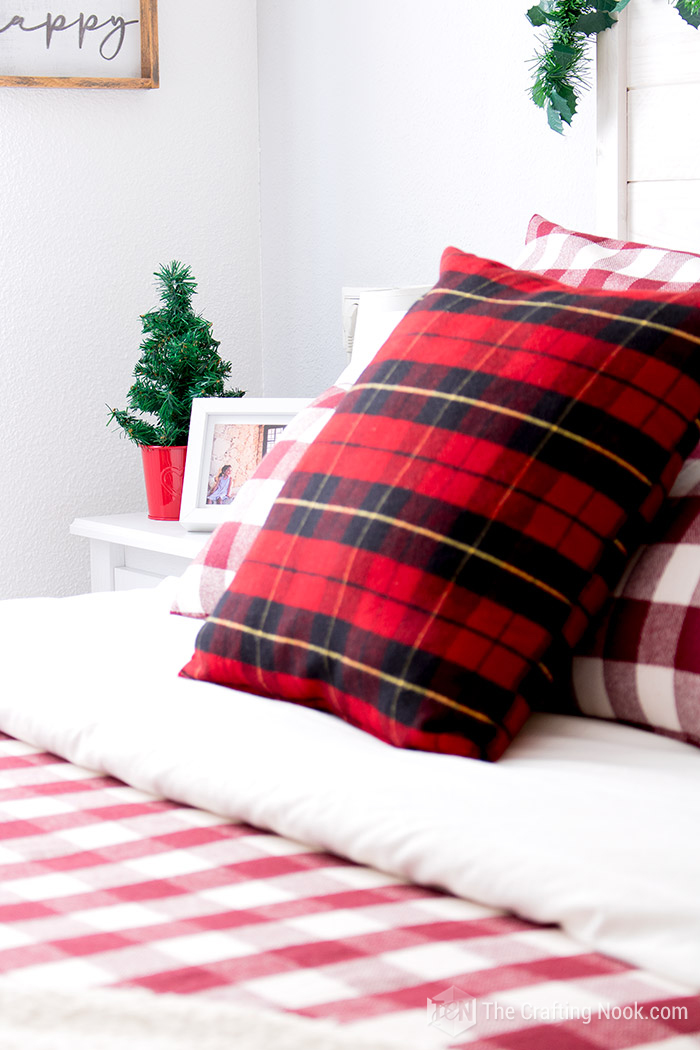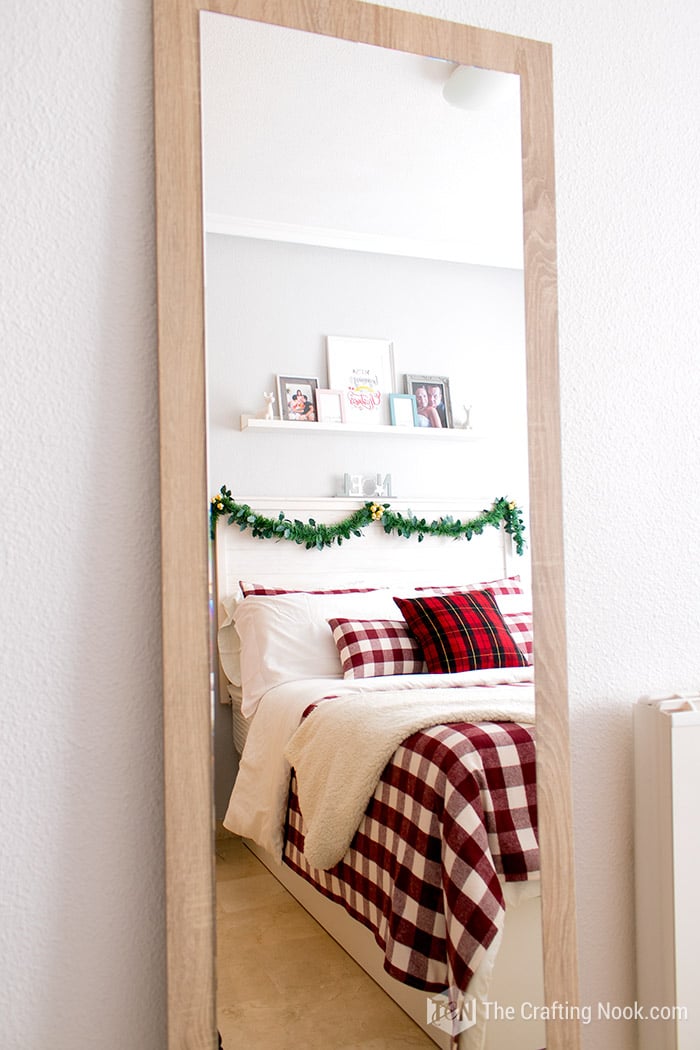 Well, That's it for this year!
Hope you enjoyed this Red and White Buffalo Plaid Christmas Home Tour and that I gave you a little bit of inspiration and ideas. It was all made with lots of love!
A few other Christmas Home Tours I LOVE
I wish from the bottom of my heart that your Christmas is Merry and Bright. As blessed as mine is so far and most of all, hope Santa and our beloved baby Jesus brings joy and help you achieve all your dreams and goals for the next year!
Merry Christmas and Happy New Year my friends!
If you enjoyed this Red and White Buffalo Plaid Christmas Home Tour, don't forget to share with friends!!!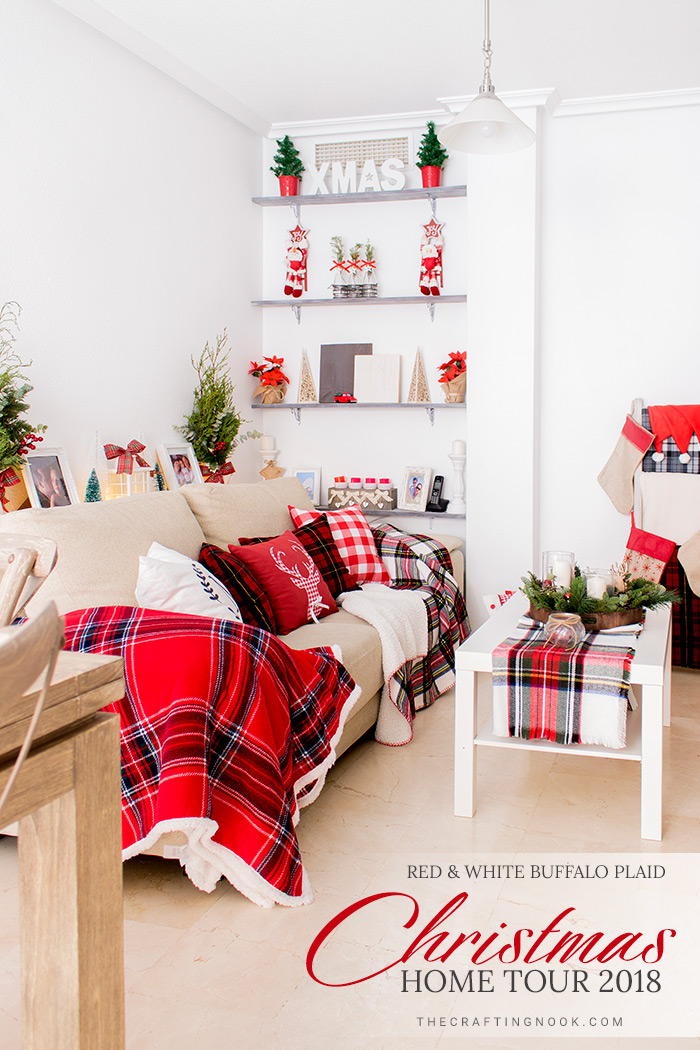 Found inspiring this Red and White Buffalo Plaid Christmas Home Tour, I'm sure you might find also lovely these too:
Til' next time...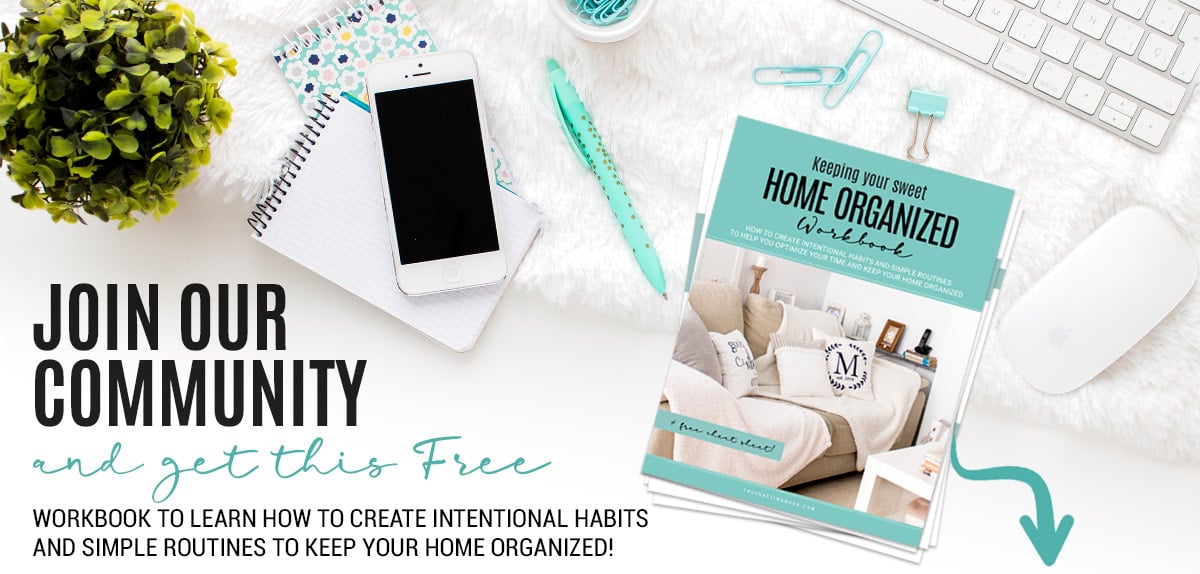 GET INSTANT ACCESS TO THE HOME ORGANIZED WORKBOOK
Plus freebies, printables, exclusive content, tips, stay connected, be the first to know great offers and Product Launches!
Disclaimer: By clicking on the "Yes, I want it" button above you are giving me your consent to collect and use your information according to the law and My Policy Privacy and The Cookie Policy. Zero Spam I promise!