Welcome to my crazy obsessed love for Red and White Buffalo Plaid Christmas Home Tour! I am so excited to show you around our holiday home this year. Grab a cup of coffee or tea, some cookies, and get comfy.
Woohoo! It's my favorite time of year – Christmas Home Tour time!!! Isn't Christmas is the BEST??? This is the best week of the year in the blogland (at least for me anyway). There are so many gorgeous home tours everywhere you look.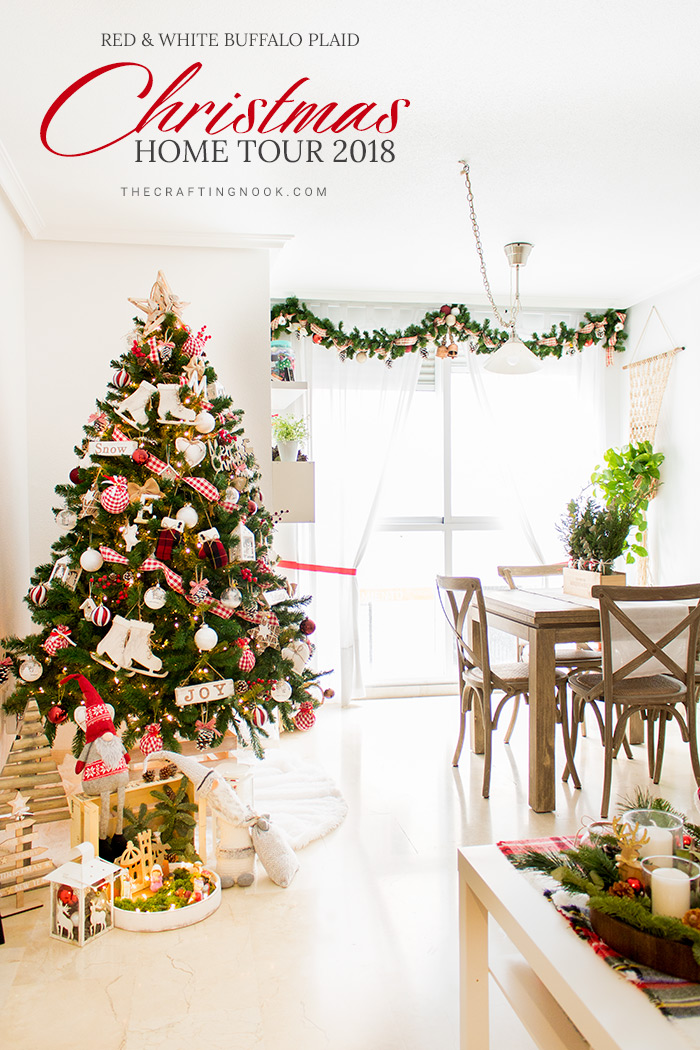 Red and White Buffalo Plaid Christmas Home Tour 2018
This year I knew right away what I wanted to go for in terms of a theme and I love that I was able to make it happen. I was crazy in love with Buffalo check Plaid and decided to go for Red and white.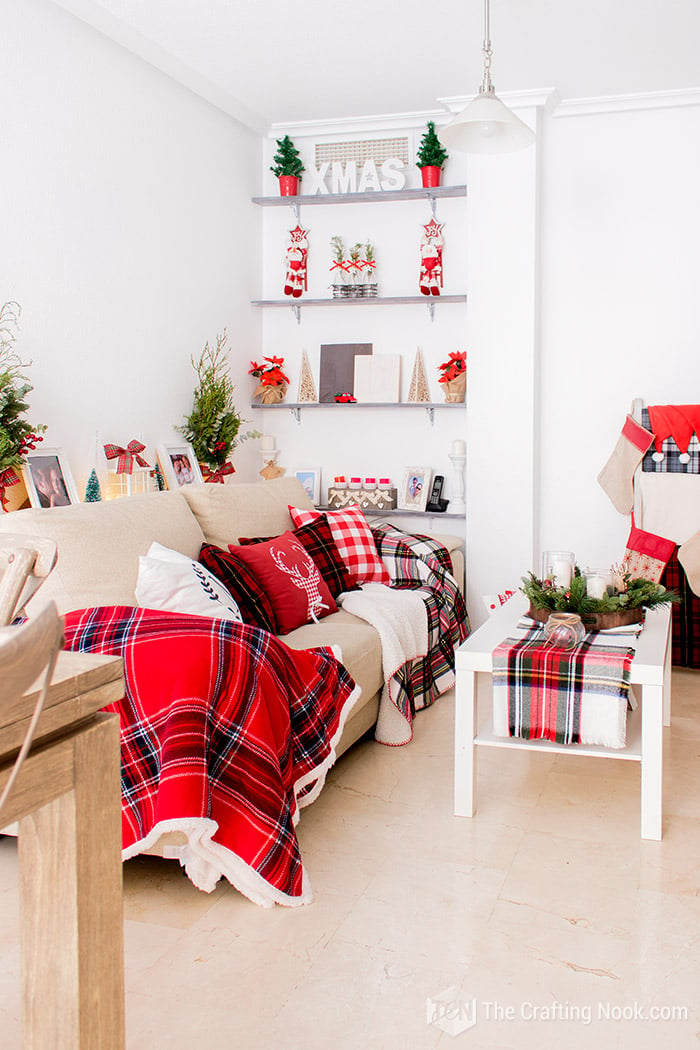 Welcome to my 2018 Red and White Buffalo Plaid Christmas Home Tour with lots of classic reds and rustic plaids!
It's not a secret for anyone that Christmas is my favorite season and makes me so happy. In fact, I love it so darn much that I always decorate in November… way before Thanksgiving (almost right after Halloween lol).
Yes, I know what you are thinking – I'm one of "those" But truth to be told, I don't have any Thanksgiving decoration and just want to enjoy the Christmas decor for as long as I possibly can.
So many fond memories come to mind when I think of the holiday. It's a month of family traditions, service, celebrating the birth of our Jesus and enjoying so much the weather, scents, colors, and love all around!!
Today, I wanted to share with you some of the Christmas decor that we put up in our home, in hopes that it inspires you for your own decorating.
This year's Christmas Home Tour will show that I love the holiday so much and that I don't need to spend that much money to make it beautiful, cozy, and expensive-looking. I use a variety of adornments, textures, and colors to make it bright and happy. I hope you like it…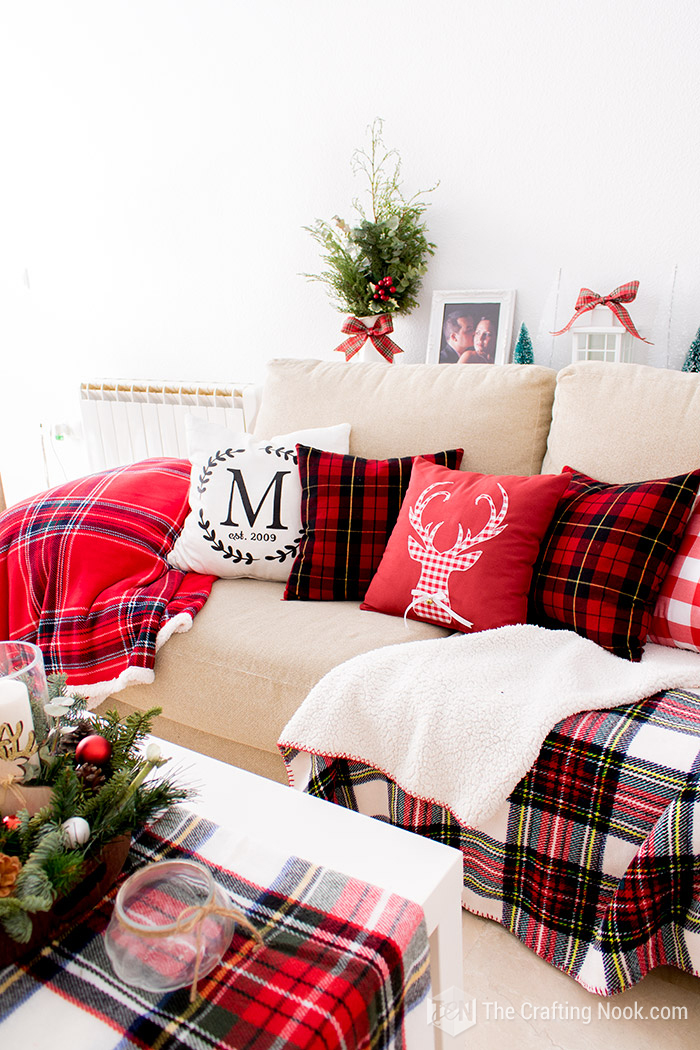 So, Welcome…
Buffalo Plaid Christmas Home Tour 2018
Our Entryway
To me, it's important to welcome people to my home, especially during the Holidays. I love creating a warm entryway decor even though natural light is inexistent in that space of my apartment.
I always make a new Christmas Wreath for our door and this is this year's one.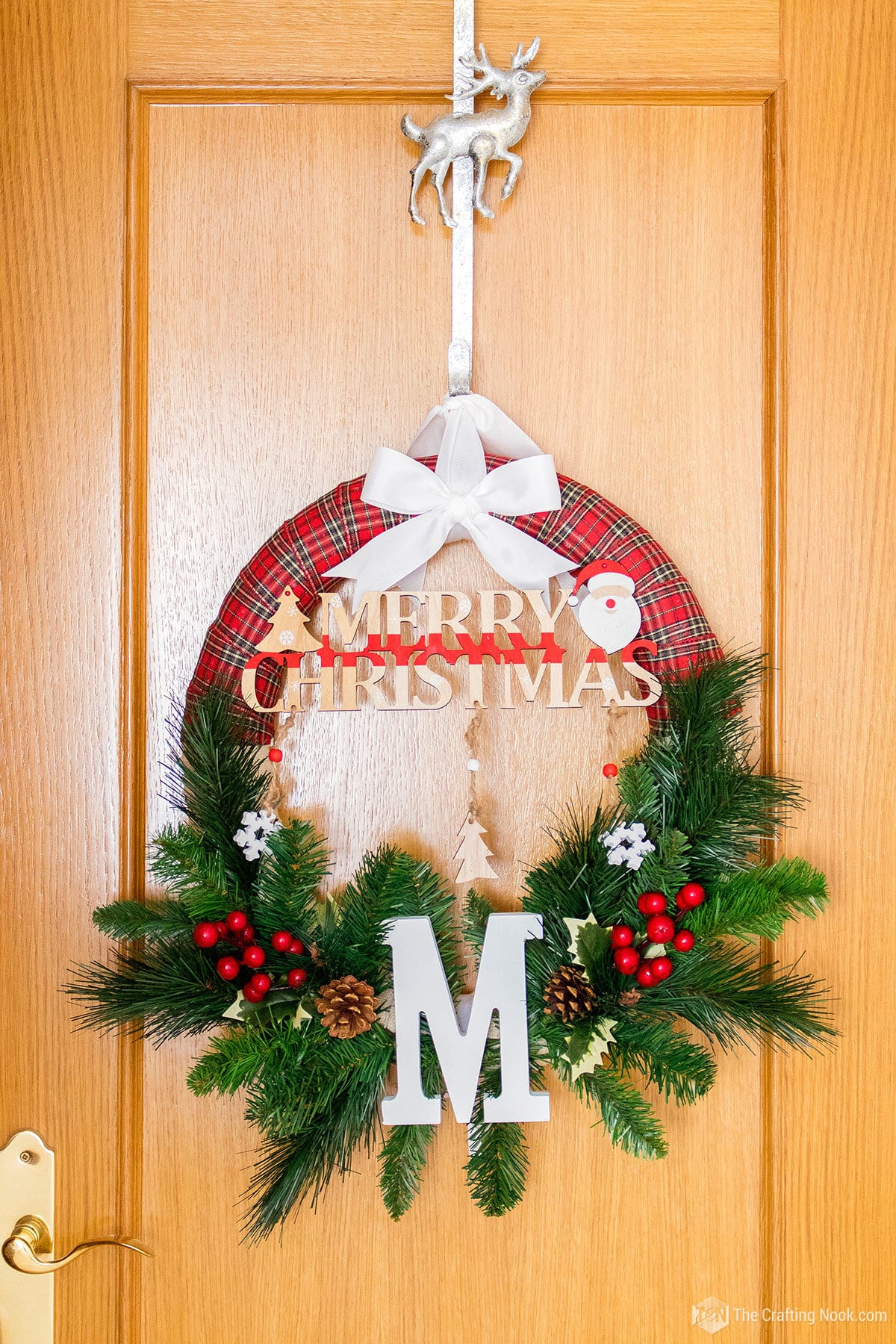 As soon as I open the door you can see our Entryway table. This year I tried something new. I got a chalkboard and draw some pines and stars/snow (it depends on the point of view LOL)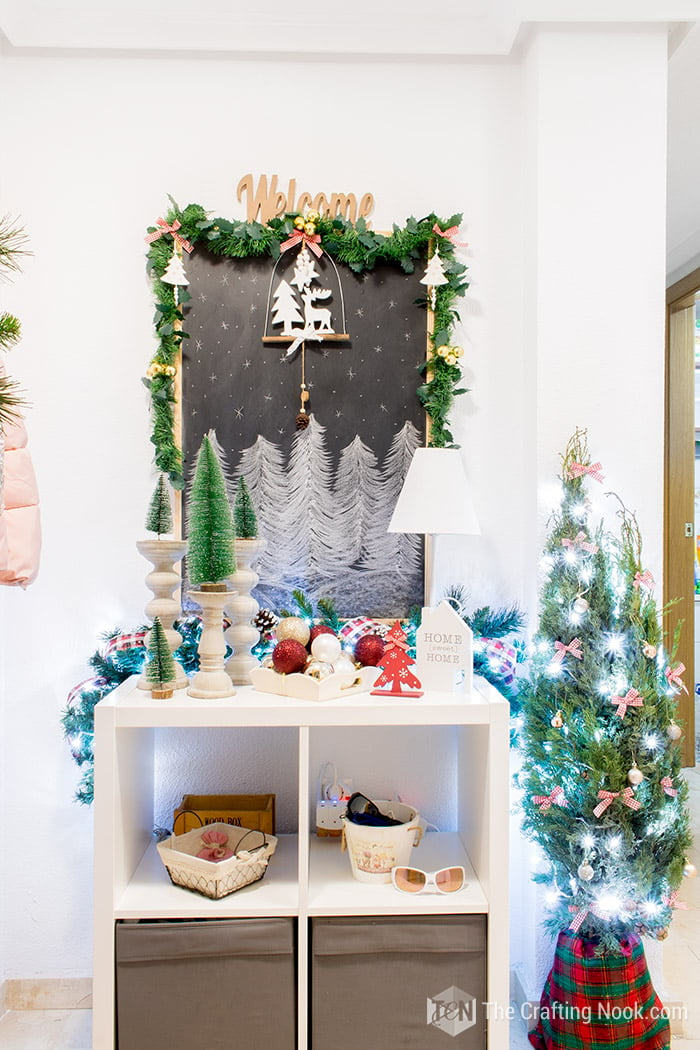 I never miss to put up my Welcome wood sign and decorated with ornaments, greenery, garlands, and trees placed on some candle Holders.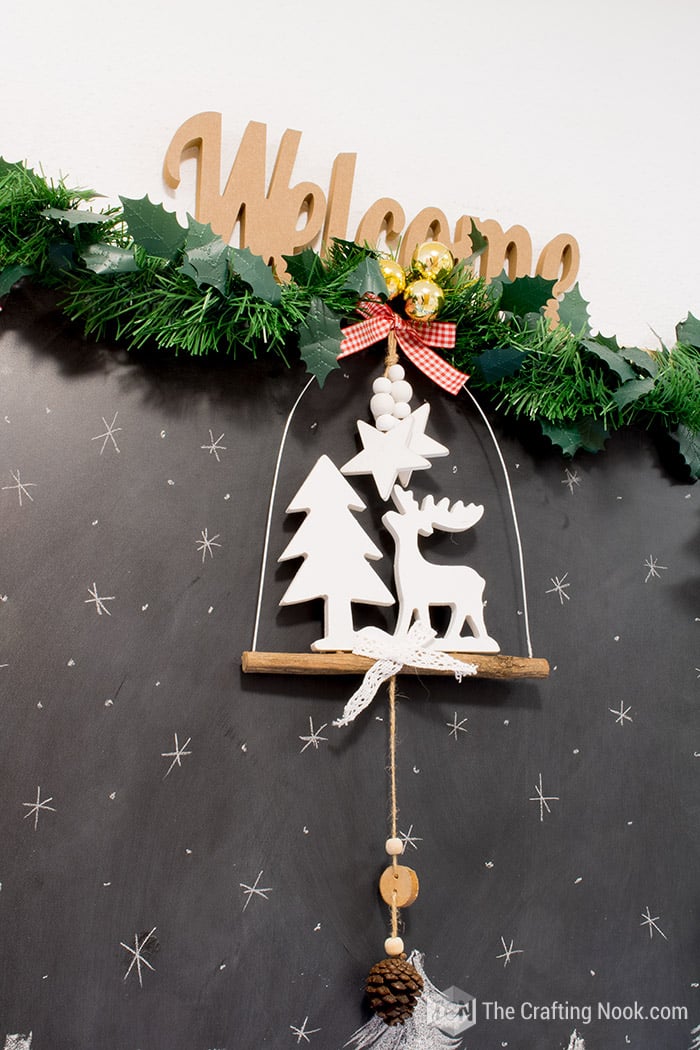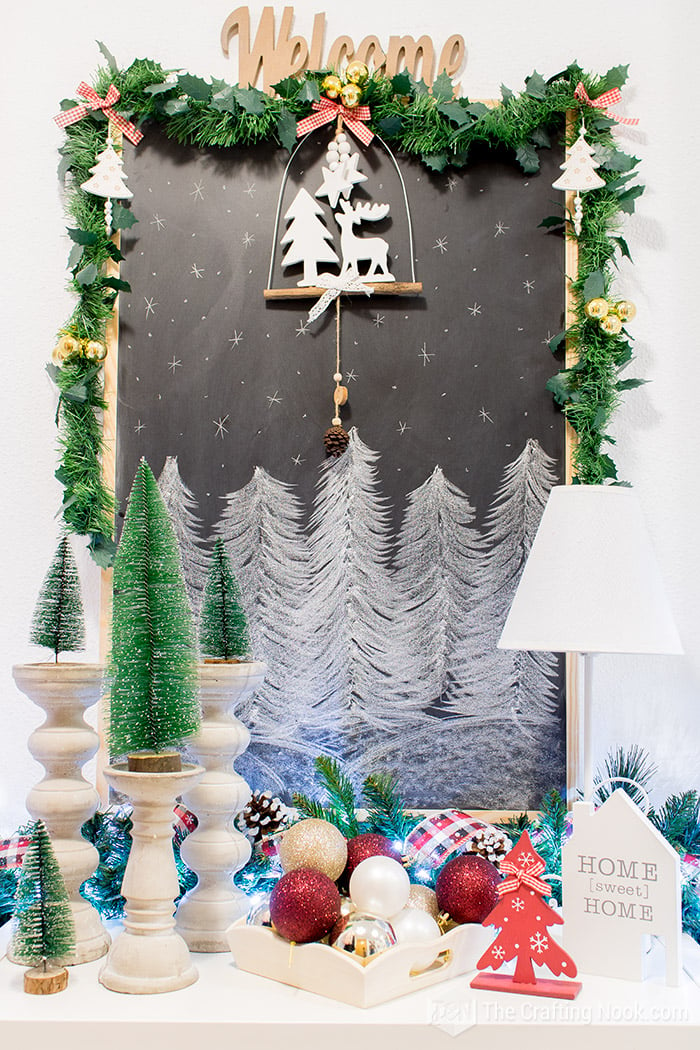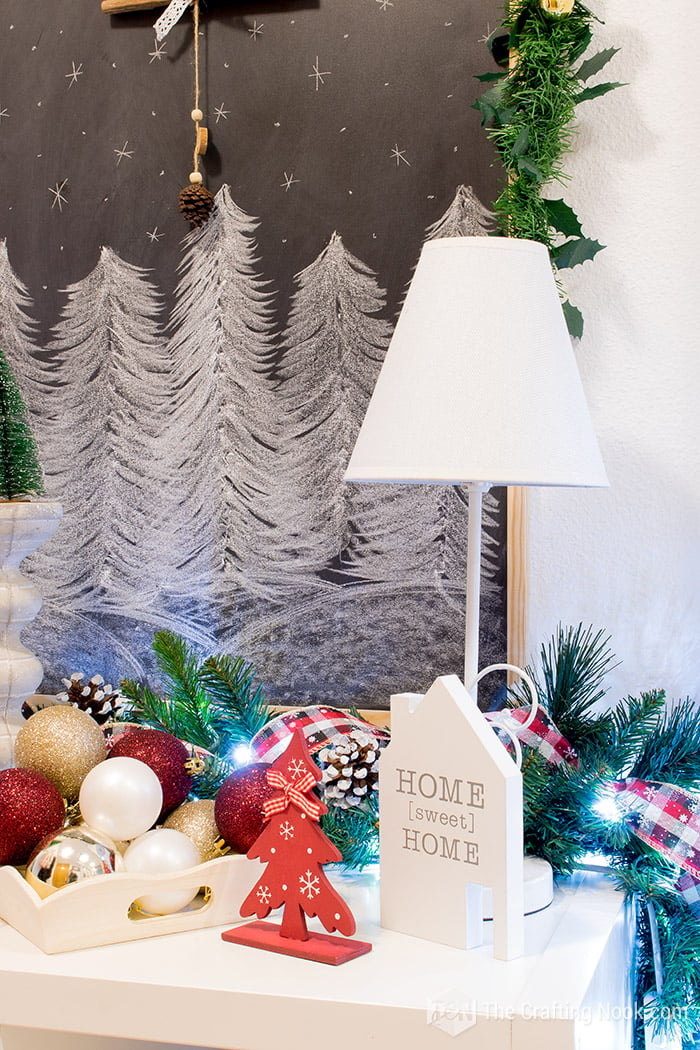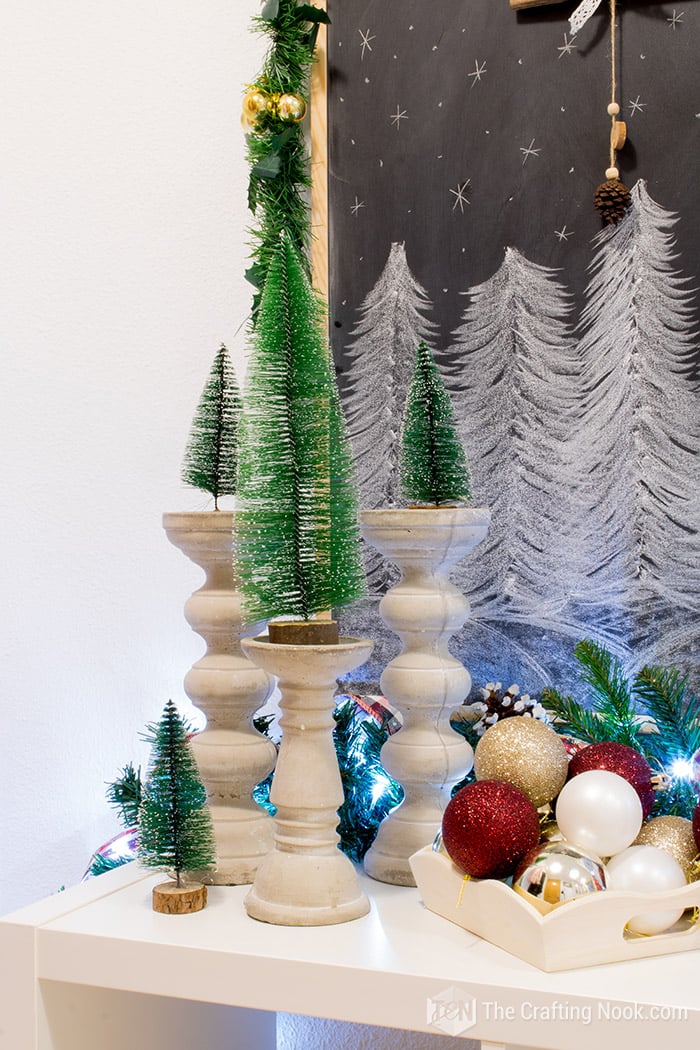 One new thing I tried this year in this space is a fresh pine tree. It's actually a huge branch. My Uncle has lots of these type of pine trees in his backyard so I stole it from him LOL.
I put it in a container with water (covered it with plaid fabric) so it would last until January and added some light, bows, and baubles. Simple yet cute!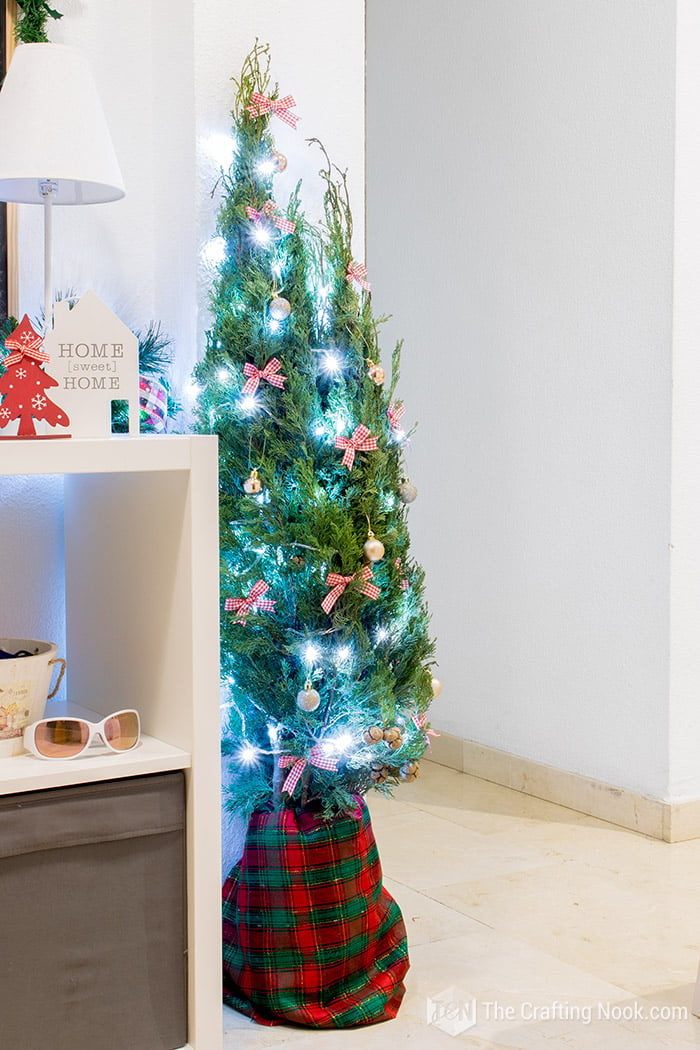 The whole space looks so lovely at night!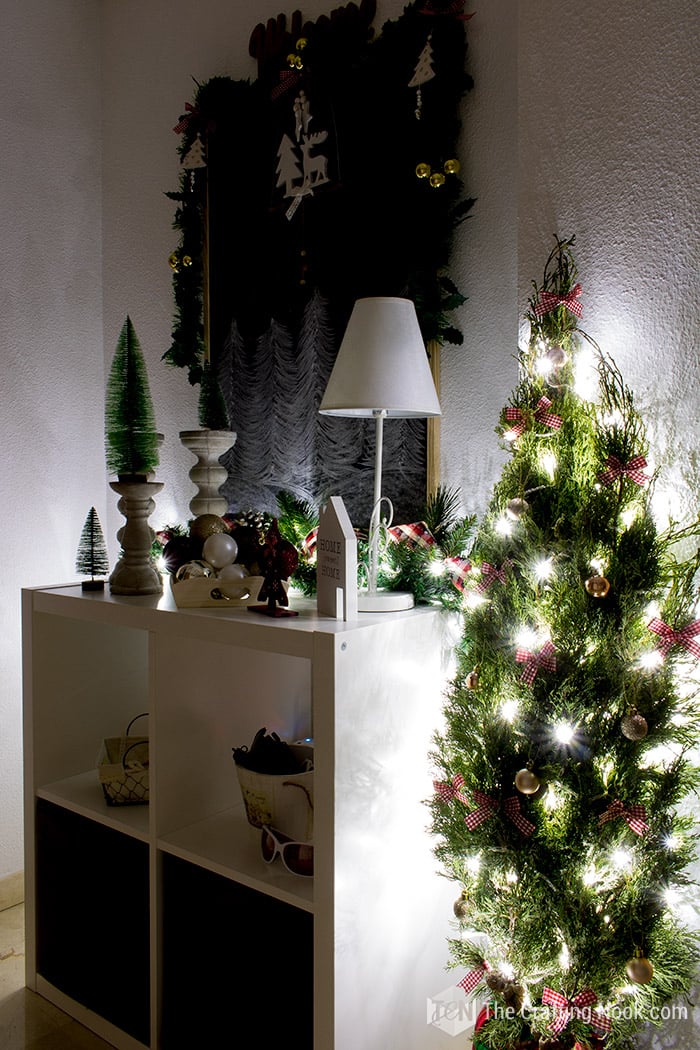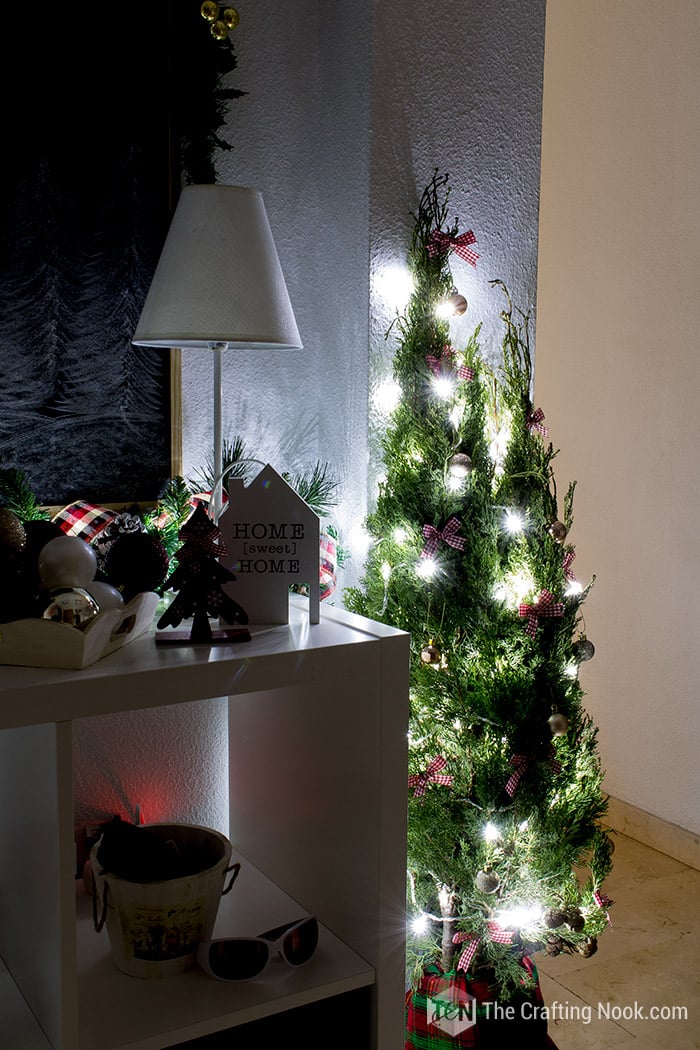 Let's move on to our living room also known as our family room.
Right there from the hallway, you can start feeling the magic. All that bright light coming from it. The first thing you will spot is our big gorgeous Christmas Tree.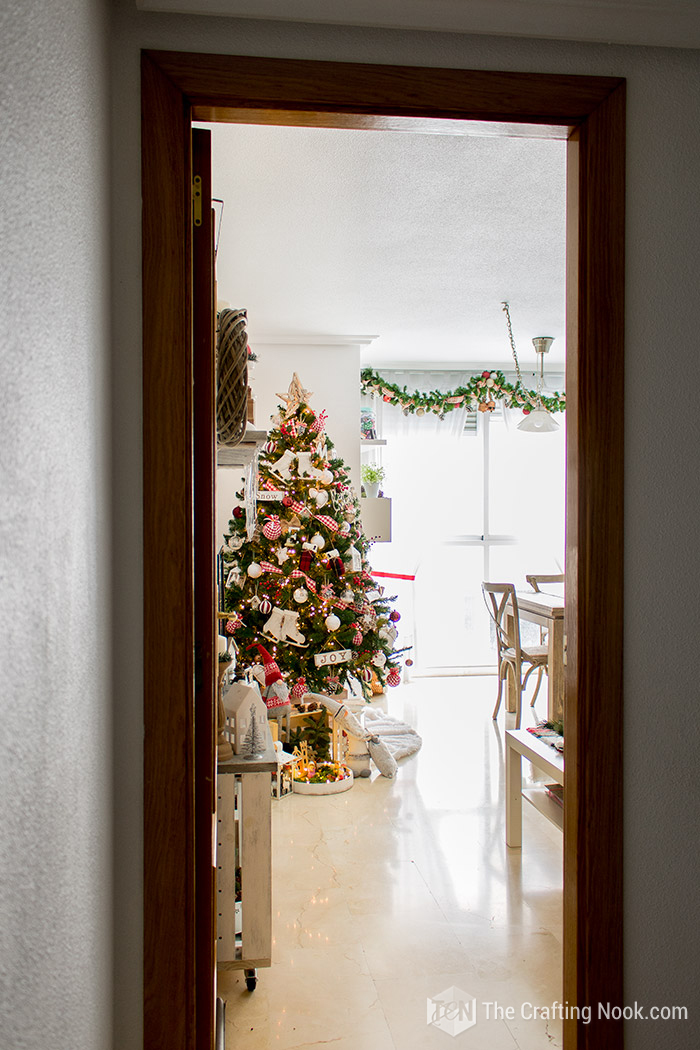 Living Room Christmas Decor
Here is where most of our Christmas decoration is in place.
Here is where I start the magic and the whole family joins along to make it even more special.
I've mentioned a few times or many… LOL, that our apartment is really small. However, that never stopped me from doing my best to make it look pretty, cozy and homey. Christmas is no exception and actually is the most inspiring time of the year when it comes to home decor.
As you can see in this space there's the dining table, living room and when there's no Christmas tree, there's my desk/office space right there.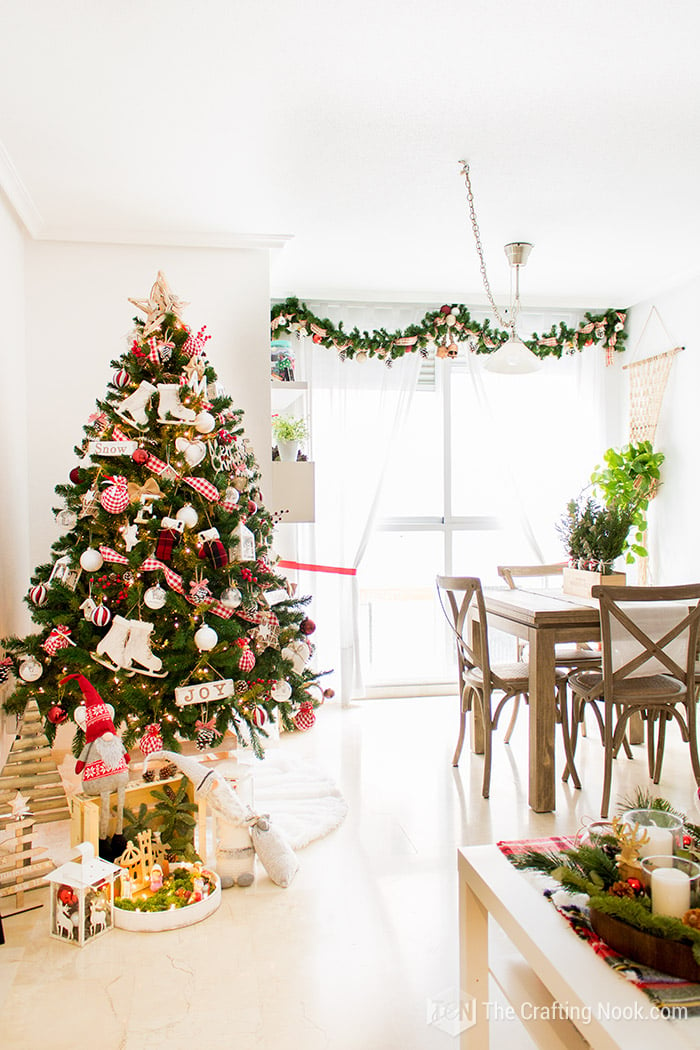 So, once you enter the living room right on the left you will see our TV console and what I like to call my "Mantel".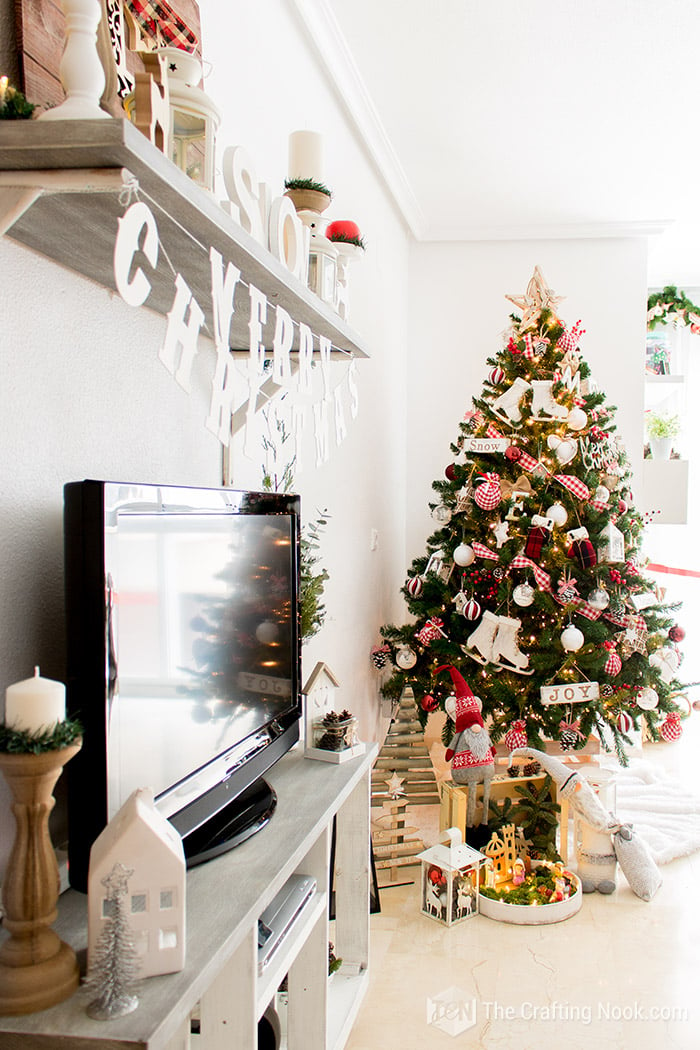 I know I'm crazy but in my defense, since I don't have a fireplace I kind of created my own version of a mantel by placing a shelf above the TV console and there is where I decorate for each season. So yes, that's my mantel and I'll show the details in a bit.
Ok, then when you look at your right you will find our actual living room space and at the end of the room is our dining room space.