Easy Halloween Skeleton Wreath
This super creepy Halloween Skeleton Wreath is one fun and easy project to decorate your front door this year. The best part, No glue needed to create this Halloween skeleton wreath, just lots of pins.
The spooky season is around the corner and I this year I'm getting ready in time! I think this is my very first Halloween decoration since I moved to Spain and we are having lots of fun. The last time I decorated for Halloween, was 3 years ago when I was living in Colombia and I decorated my mom's house. I decorated the front door and made a cute mantel. So now it's time to decorate our home.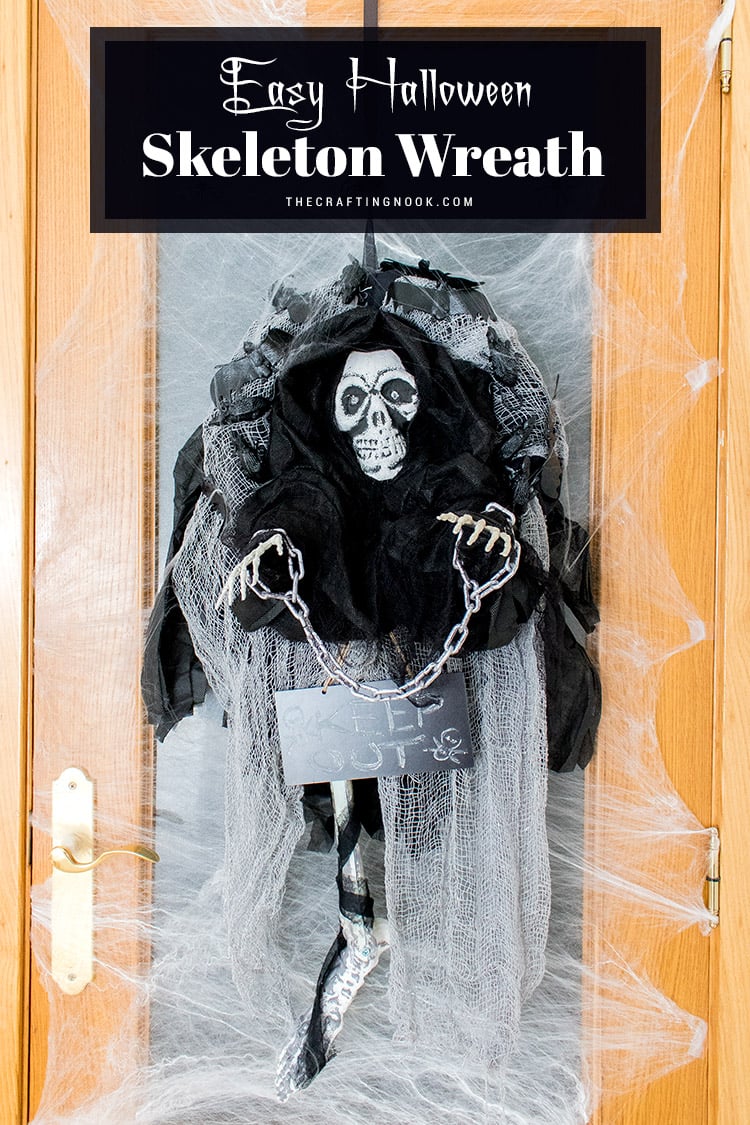 How to Make a Halloween Skeleton Wreath.
I'm usually not that Halloween crazy, but I know kids love it and mine is no exception. I didn't know kids went trick or treating until last year they knocked on our door LOL. We were like Whaaaaaaaaat!!! Haha, lesson learned we gotta be prepared for Halloween!
People say I'm cute (what I usually do) and people always expect cute things even for Halloween. This year I wanted to make something out of my comfort zone and go for something more creepy.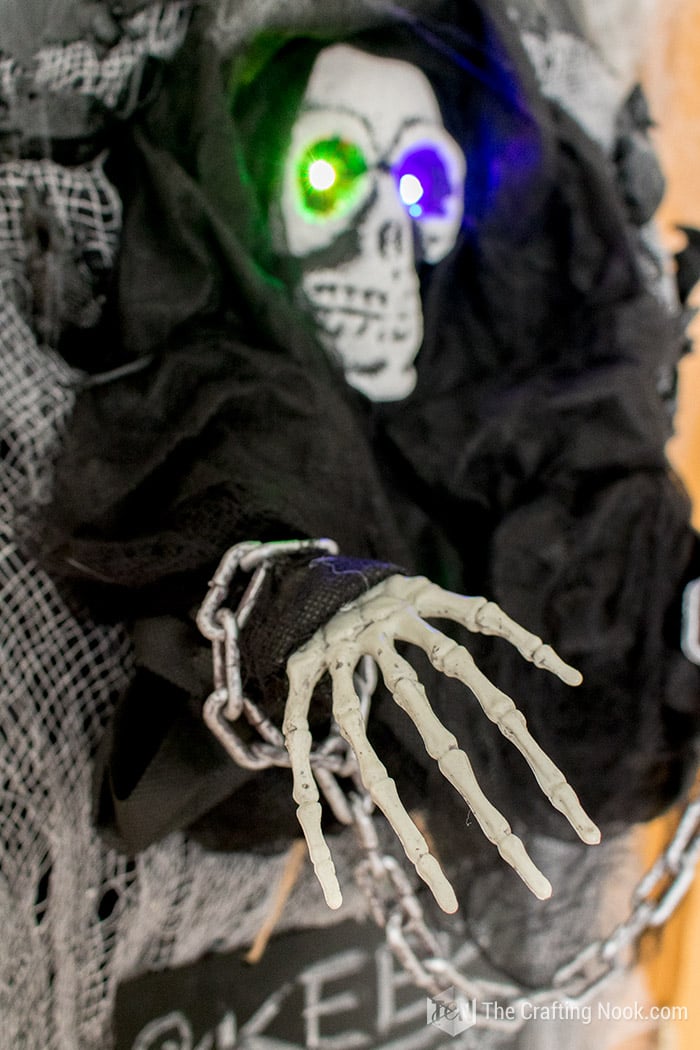 As I mentioned this is my first Halloween decoration in my new home, therefore, you can imagine I have absolutely nothing spooky at home. This being said I went hunting shopping for supplies and ideas.
The only thing I knew for sure is that I wanted to decorate my front door with a wreath, so I was looking for things that would fit that project.
Then I saw This creepy guy in a store with the led lights as the eyes. Too fun to waste.
My idea was complete! LOL
Supplies to Make a Halloween Skeleton Wreath: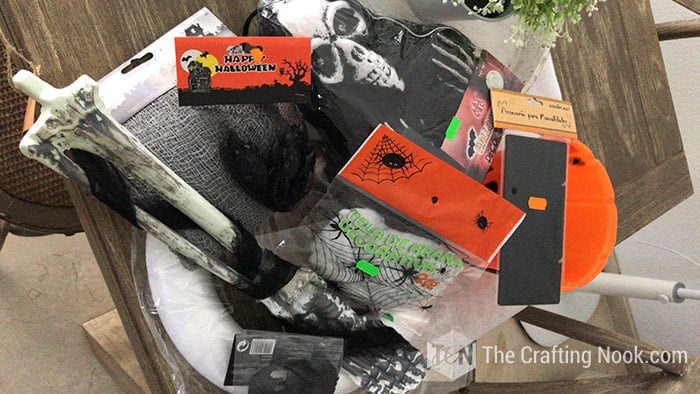 Craft foam Wreath

Black fabric (any type goes and enough to wrap the foam)

Grey creepy Cloth (rags)

Skeleton hanging decor

Bats, rats or any other creepy plastic animal

Black ribbon (for hanging)

Pins

Small Chalkboard sign
I made this video tutorial for you, BUT, if you are more like a step-by-step photo tutorial, scroll down just a bit and keep reading!
Take your foam wreath and wrap it with your black fabric. It doesn't have to be perfect. Actually, the least perfect, the better.
Pin the fabric on the back to secure it.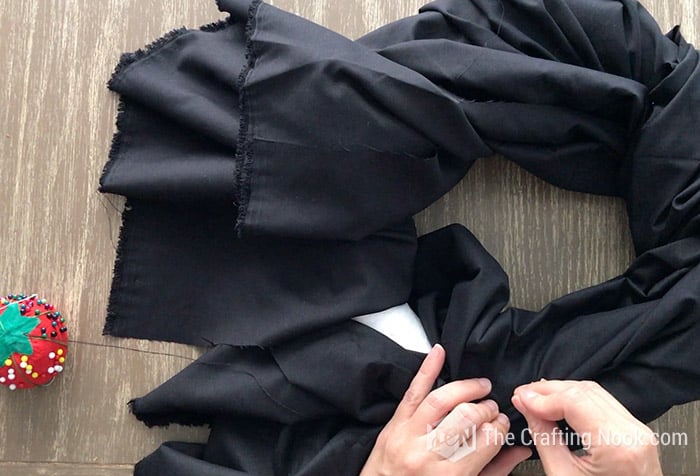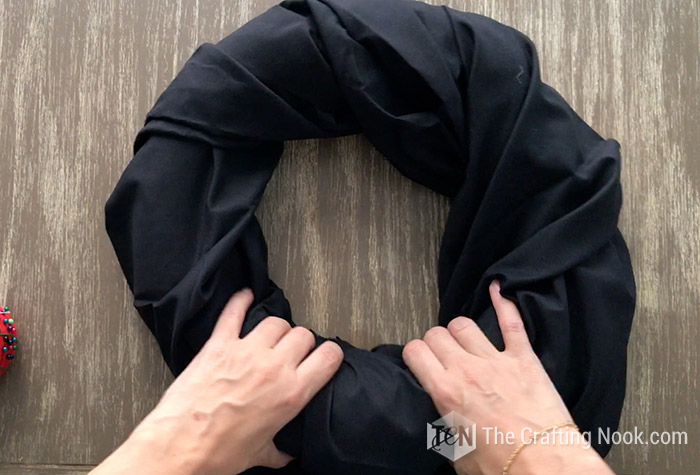 Once you are done, then wrap it with your creepy cloth. Here again, nothing perfect, it's almost like where it lands, it's fine! LOL.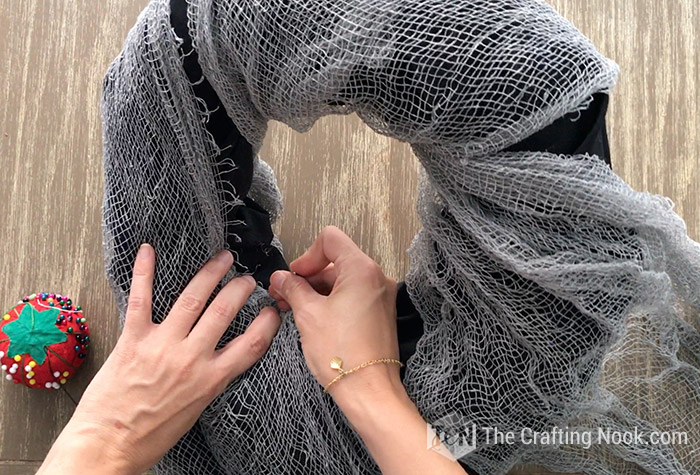 Add a few pins to secure.
Bring the skeleton!!!
Depending on the size of your wreath foam and your skeleton, it might fit tight or get loose. You can always secure with pins or even with wires the back. It all depends on your skeleton.
In my case, the skeleton was itself a decoration it had its own rags, so I inserted the rags through the wreath to the back.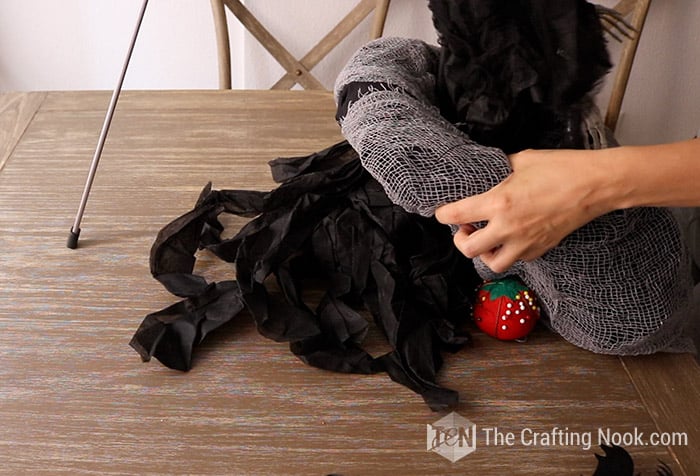 Fit your skeleton inside the wreath and fix all the rags around the head. Secure with pins in different places.
Adjust the hand's position as desired. Most of these decor has its parts made with wires so you should be able to adjust them too.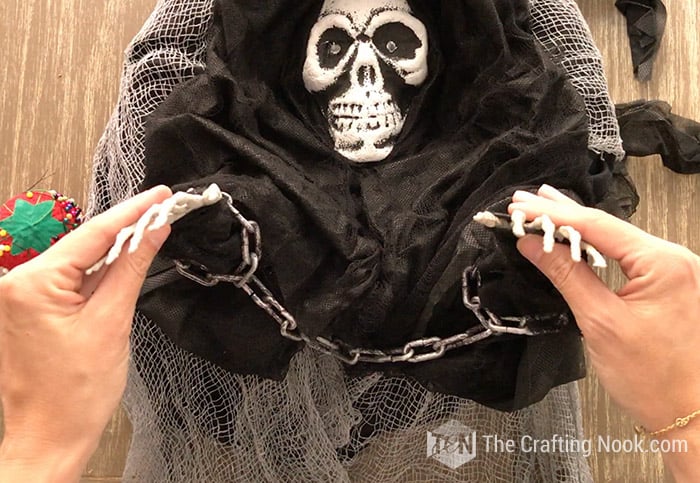 Time to add some creepy animals.
If you plastic rats and bats are hollow, you might be able to pin them to the wreath. What I did was to find one hidden place between a leg and the belly and inserted the pin there.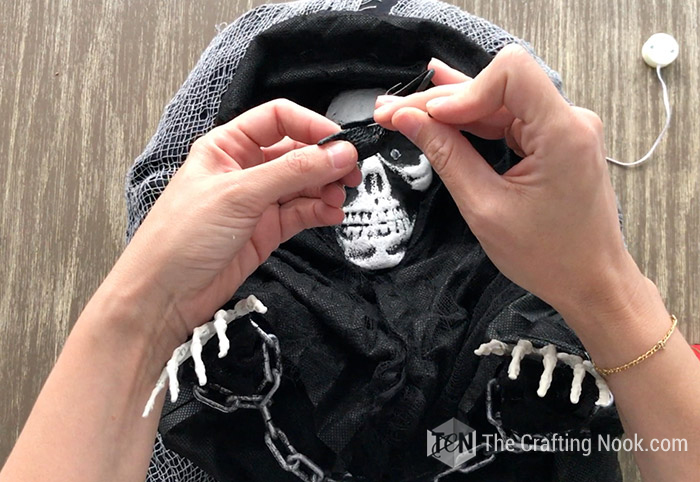 Then I pin it to the wreath.
The same with the bats, but in this case, there was no hidden place so I used black pins.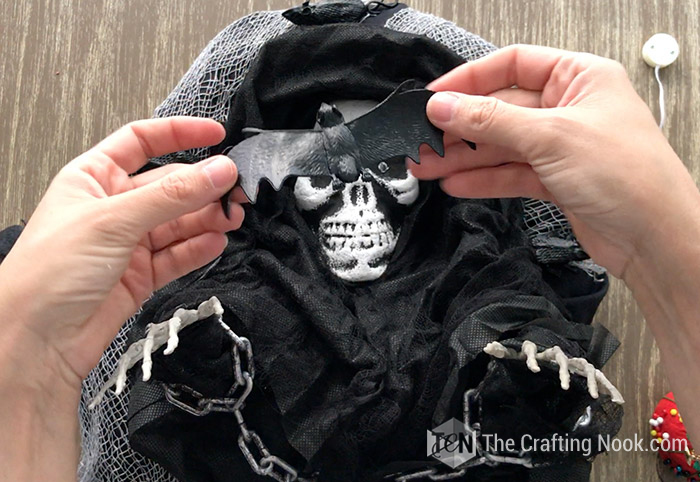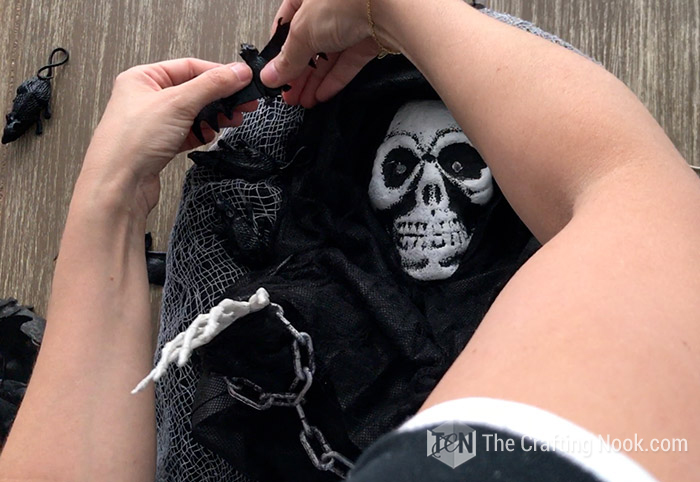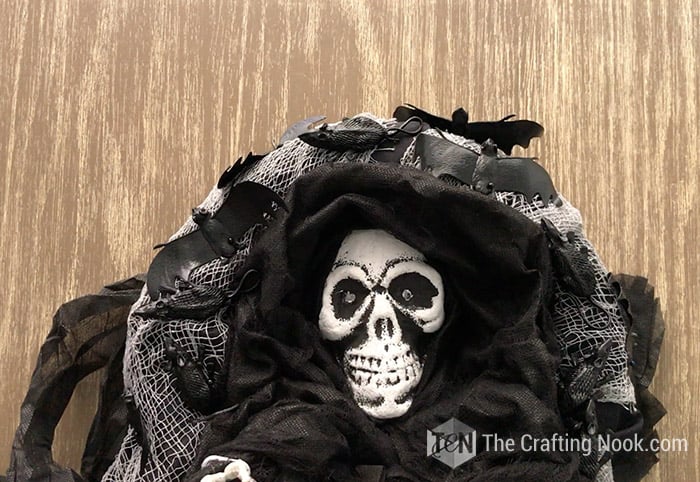 Then you can add more spooky details, like skeleton legs, or more hands, spiderwebs. In this case, I put a skeleton leg and a chalkboard sign saying keep out.
The last detail is the hanger. I used a black ribbon to make the hanger.
There you go!
You got yourself a spooky, creepy Halloween skeleton wreath for your door!
If your skeleton has lights in the eyes turn them on and let's have fun!!!
What other decoration I can use to make this Halloween Skeleton wreath?
Well, There are so many options.
One of them is a skeleton mask. You can fill it with paper or anything to have the shape and pin them in place inside the wreath.
A Skeleton toy. Same as before, make sure it fits and then pin them in place or secure with wire or yarn.
A plastic skeleton head. You can wrap it in back fabric or black creepy cloth and then secure it inside the wreath.
What other halloween wreath ideas would you suggest?
I have quite some awesome creepy halloween wreath ideas from fellow bloggers
This is how my Halloween skeleton wreath turned out and some of the details.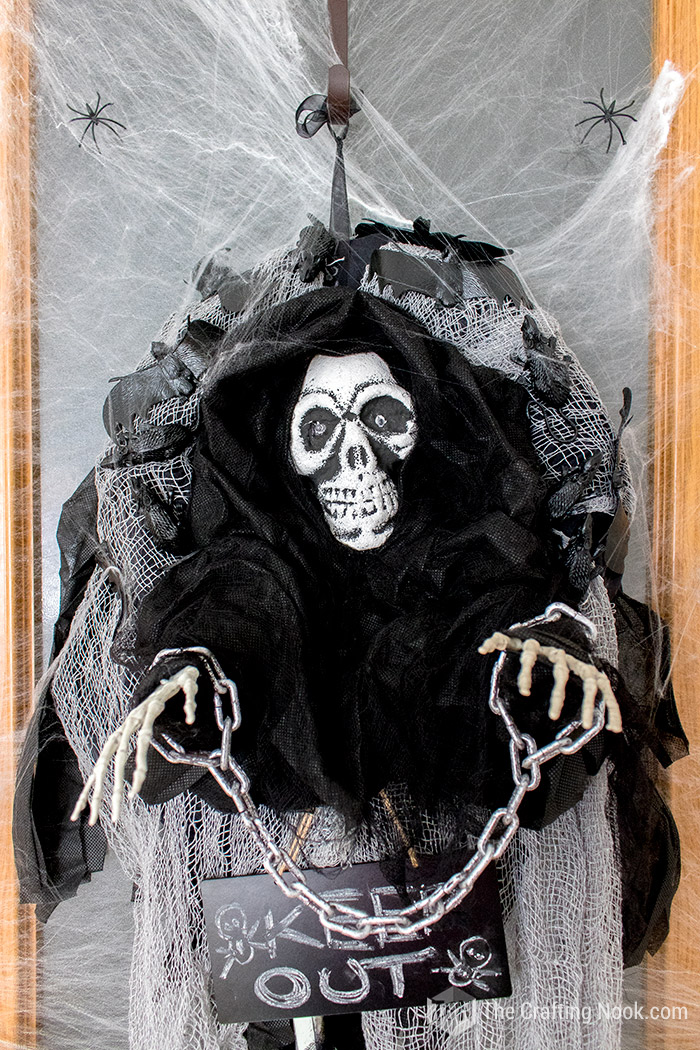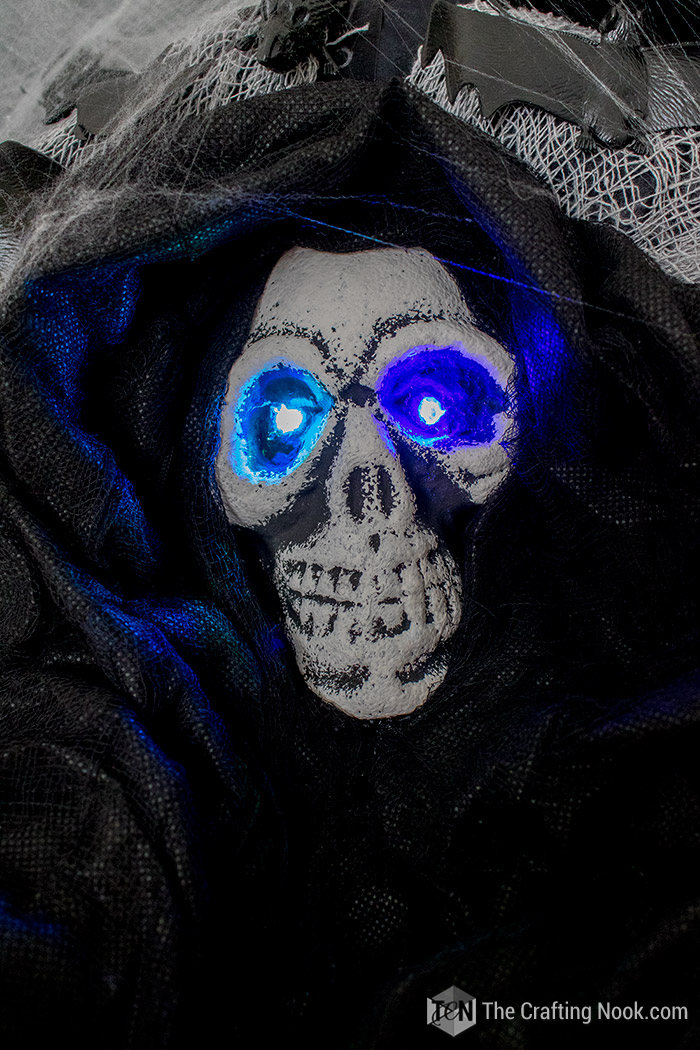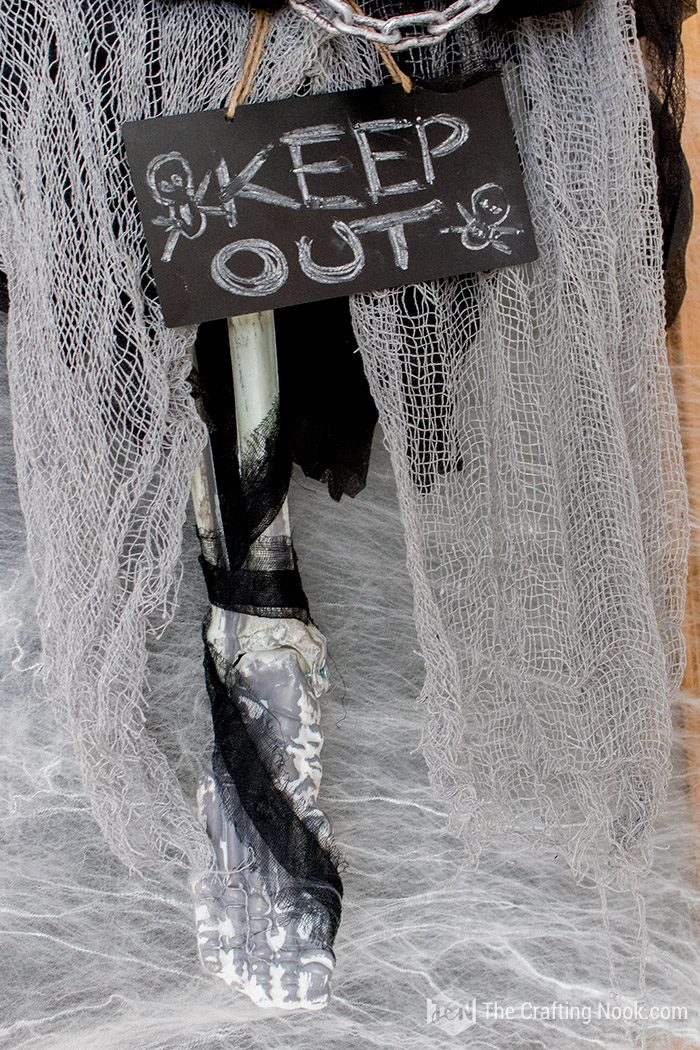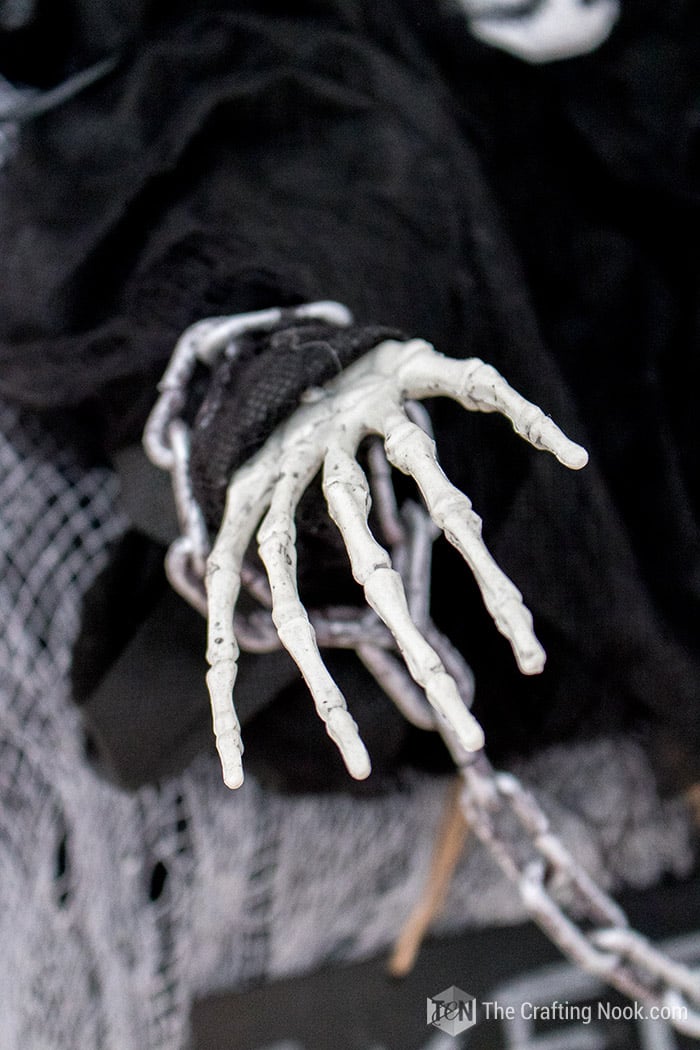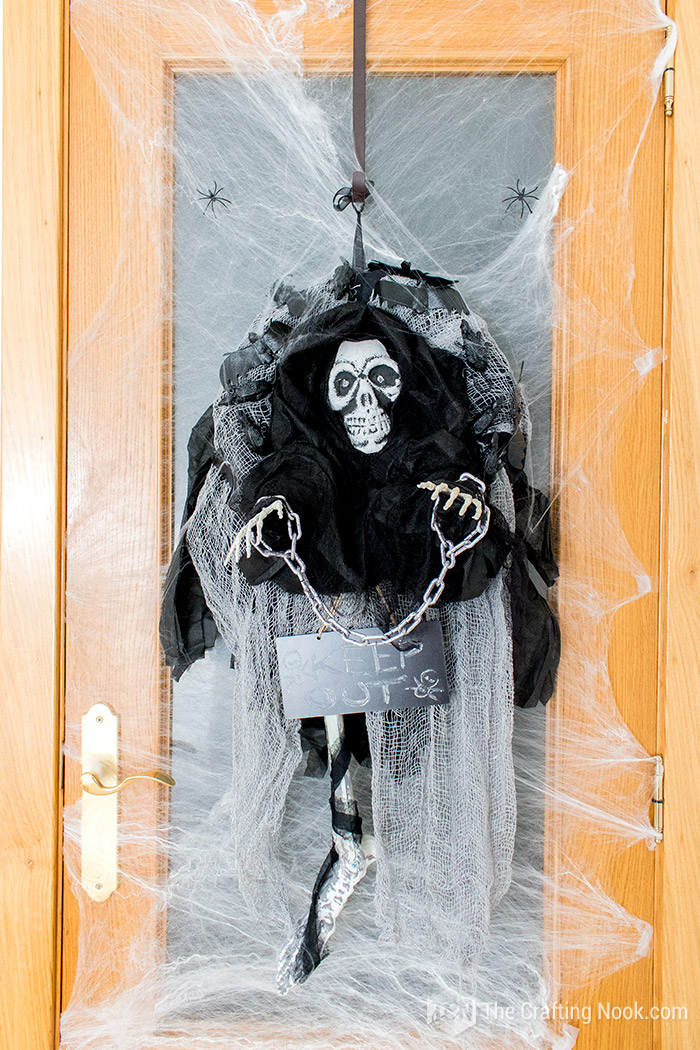 If you like my Halloween skeleton wreath project don't forget to share with your friends!
If you enjoyed this Halloween project, you might also love these too: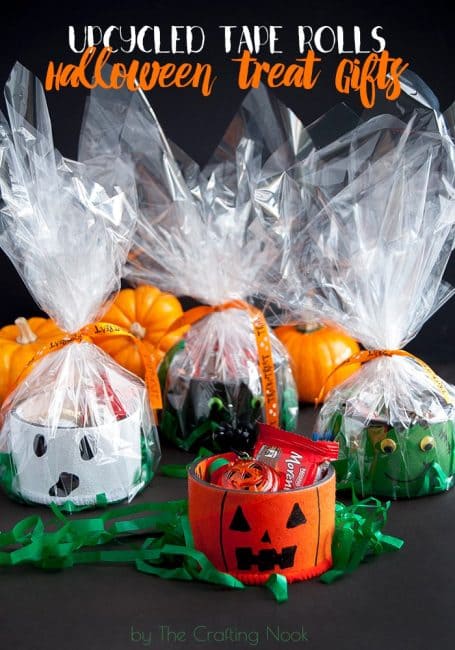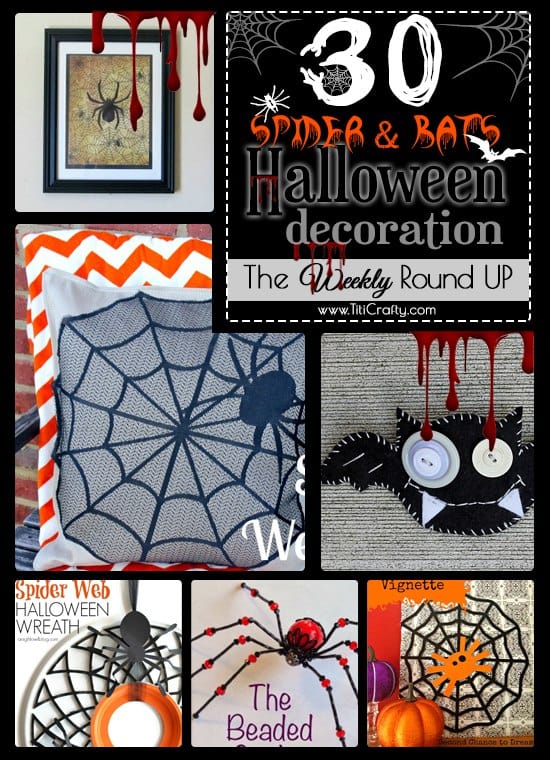 Til' next time...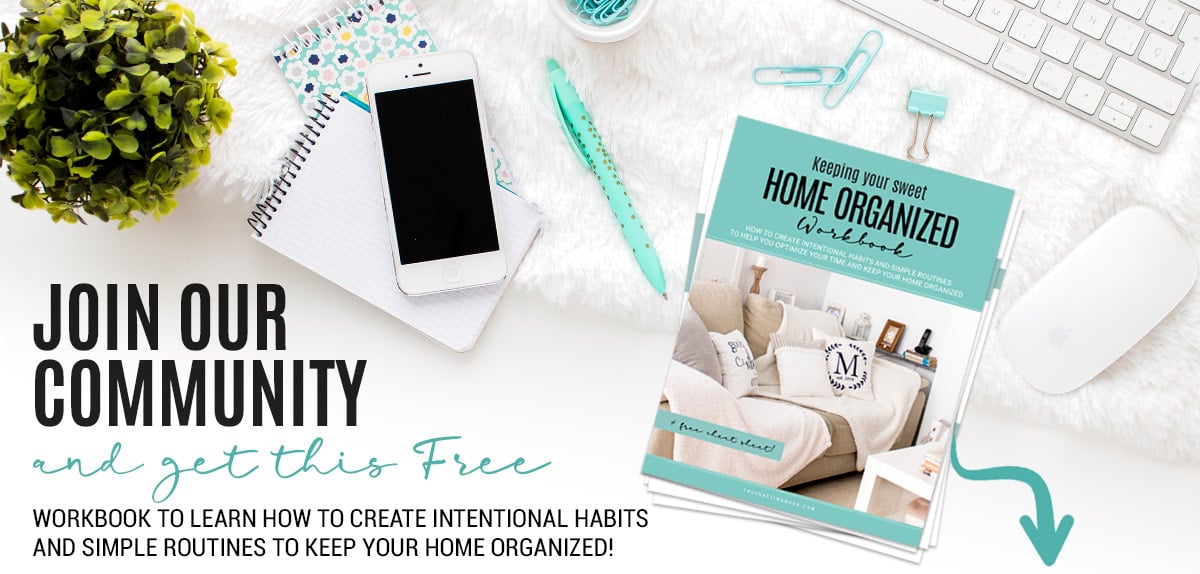 GET INSTANT ACCESS TO THE WORKBOOK
Plus freebies, printables, exclusive content, tips, stay connected, be the first to know great offers and Product Launches!
Disclaimer: By clicking on the "Yes, I want it" button above you are giving me your consent to collect and use your information according to the law and My Policy Privacy and The Cookie Policy. Zero Spam I promise!