DIY Felt Flowers Spooky Halloween Wreath
This super Spooky Halloween Wreath is one fun and easy project to make and decorate your front door this year. Made with felt flowers and some spooky eyeballs on a wreath foam.
I spent a bit more time than expected on this Halloween wreath. The process of making it wasn't difficult, but it required more time and lots more felt flowers than I thought.
That's why I'm sharing it sooner rather than later than I originally intended. But it's okay to pin and make it next year if you don't have time to make it this year.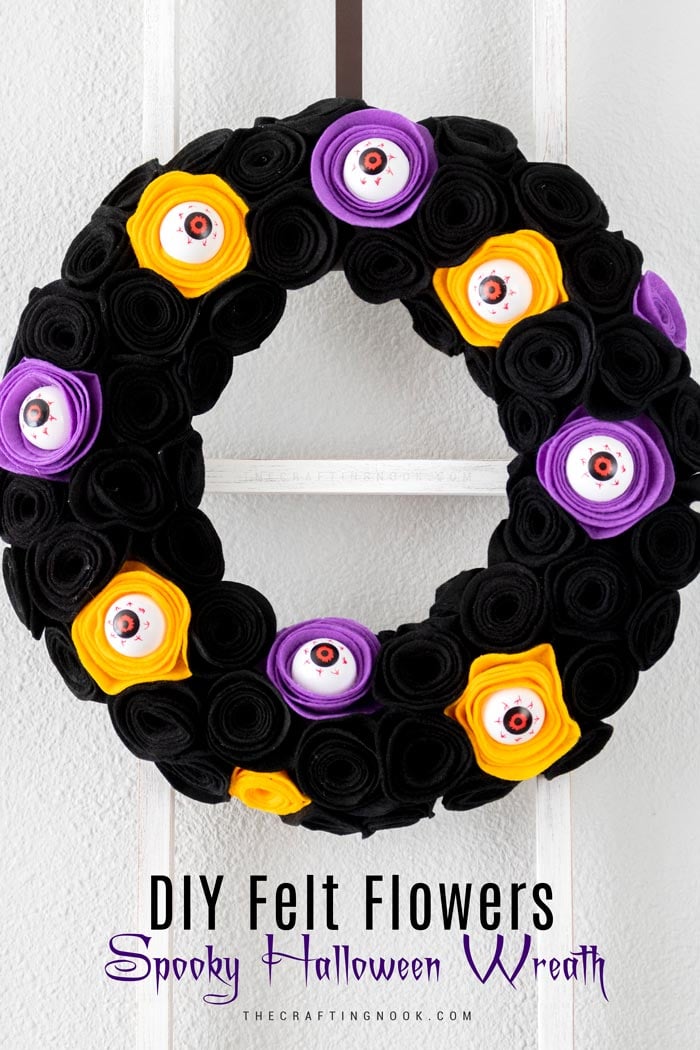 How to make this Felt Flowers Spooky Halloween Wreath
Halloween is quickly approaching, and this year I plan on being prepared! I hadn't made any Halloween decorations for the past 2 years and we were really looking forward to having fun crafting for Halloween this year.
This year we chose to combine Halloween and fall so we could enjoy both for a longer time. It turned out super cute! You can check out our Fall Halloween home decor here.
My last Halloween decor was actually pretty creepy but so much fun. We made this really scary Halloween wreath using a skeleton and lots of plastic rats and bats! LOL. Fun!
This spooky wreath was inspired by KC over at Real Creative, Real Organized and added my twist to make it extra spooky!
Wreath Supplies
About 2 yards of black felt (it could be more or less depending on the diameter of your circles)
Around 1/2 yard of purple felt
About 1/2 yard of orange felt
Hot glue tool
Wreath foam
8 Plastic spooky eyeballs
Pencil or fabric chalk
Scissors
Halloween Wreath Tutorial
I created this fun video tutorial if you like this kind of style! If you are more of a step-by-step photo kind of person, scroll down a bit and keep reading.
Step 1: Start by cutting as many black circles as you can. I made around 70 felt black flowers. A few orange and purple. I used 4 of each for eyeball flowers. I used a small bowl to draw the circle shape.
Step 2: Check out my Felt Flowers Blog post for the detailed instructions for the regular felt flowers and start making your black flowers.
Step 3: Let's make the eyeball flowers. Follow the same instructions to cut the spiral on the felt circles.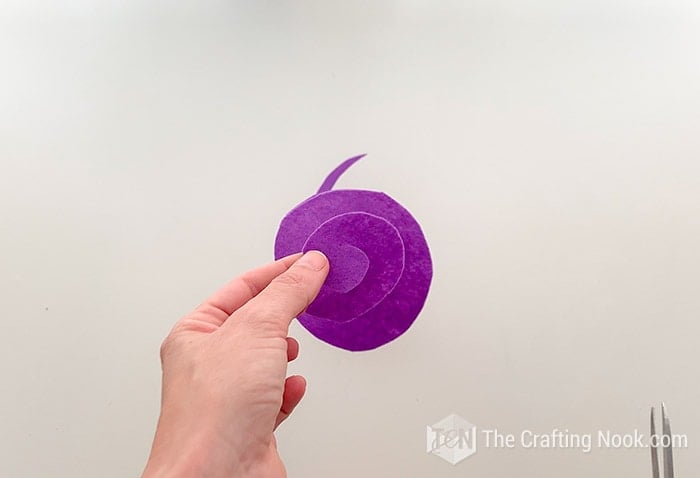 Step 4: Grab your plastic eyeball and around the middle of the ball (around the eye) start gluing the felt flower starting by the external tip. Add glue around so the felt won't slip.
Step 5: Make looks with the felt until you reach the end. Add glue every now and then to keep felt in place and at the end add hot glue to the edges of the felt and on the eyeball back and glue the end of the felt to cover the loops and ball.
Step 6: Make more of these with purple and orange felt.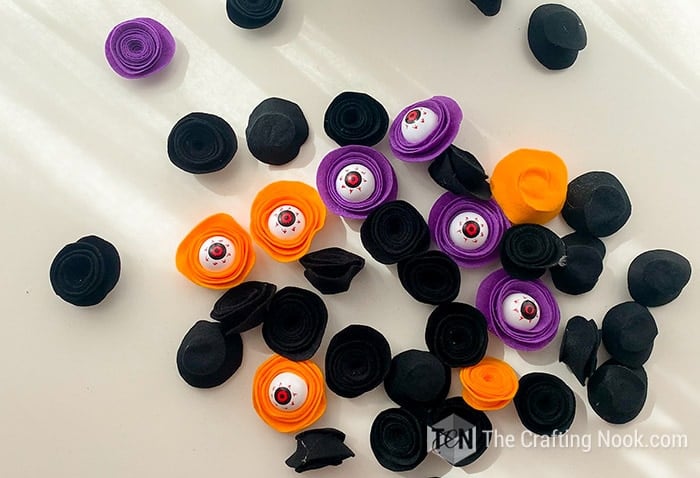 Step 7: Start gluing your felt flowers and eyeball flowers to your wreath foam. I surrounded each eyeball flower with lots of black felt flowers and then added the next eyeball one and so on.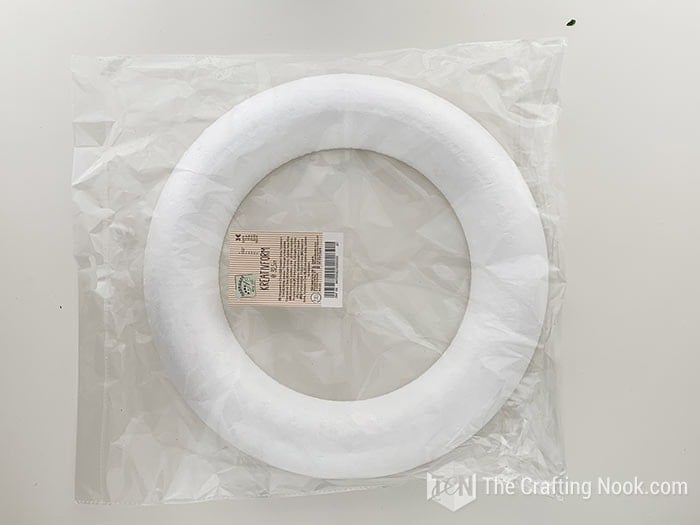 Step 8: Keep moving along the wreath foam making sure you cover the whole thing.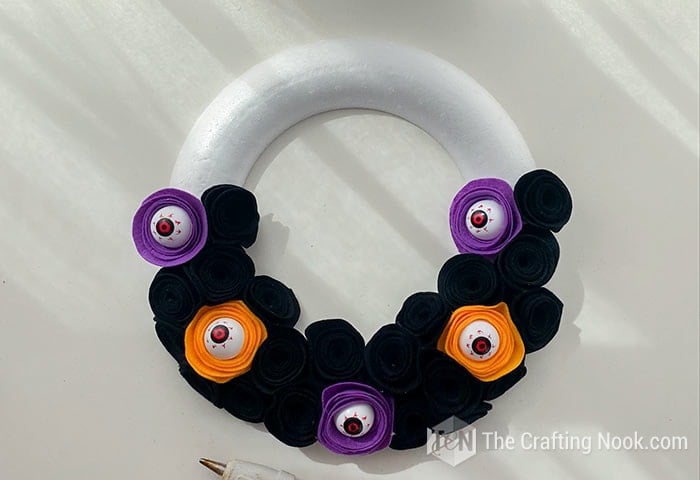 Step 9: If you get empty spaces cut smaller circles of black felt and insert them in the black spaces like in the video.
Step 10: Once you filled the whole wreath it's time to go and hang your awesome spooky Halloween Wreath on your door or mantel.
I hung it to my window frame behind the sofa and I love how it turned out.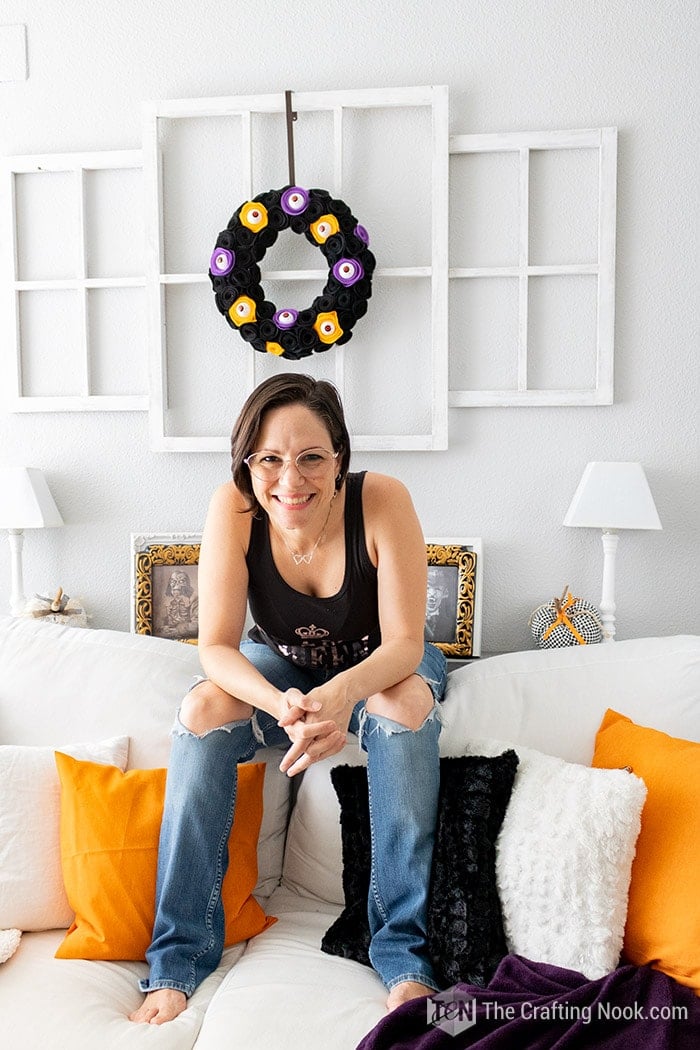 My girl also loved it and actually asked me if she could keep it in her bedroom. I said yes, we shall see how long until she put it away LOL.
Hope you find this spooky Halloween Wreath inspiring and fun to make. If you do, please tag me and let me see it! It always makes my day!
Loving this spooky craft project? Don't forget to PIN and share it with friends!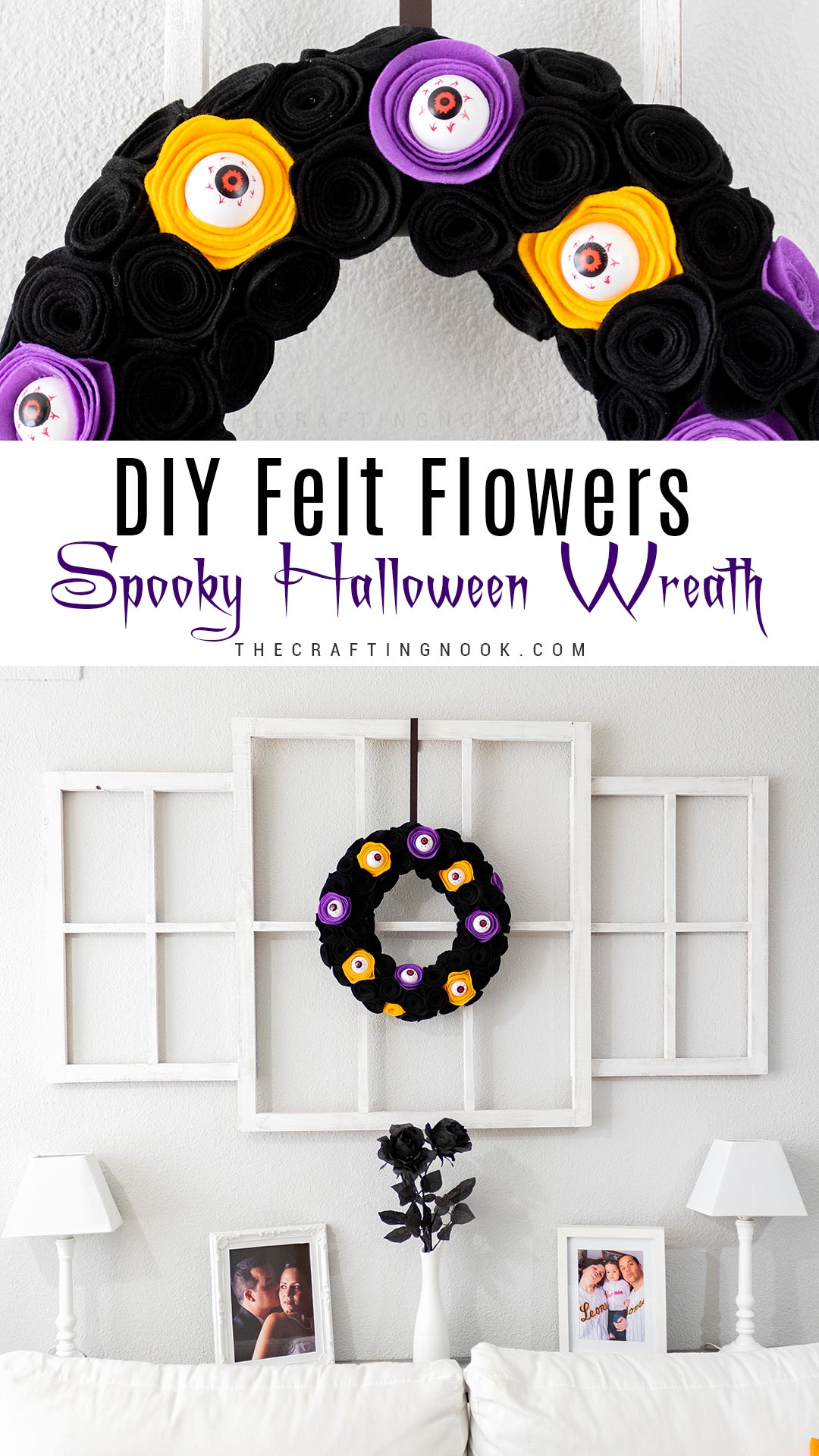 Some spooky Halloween projects from my favorite bloggers:
If you founds this tutorial spooky enough, you might also love these too.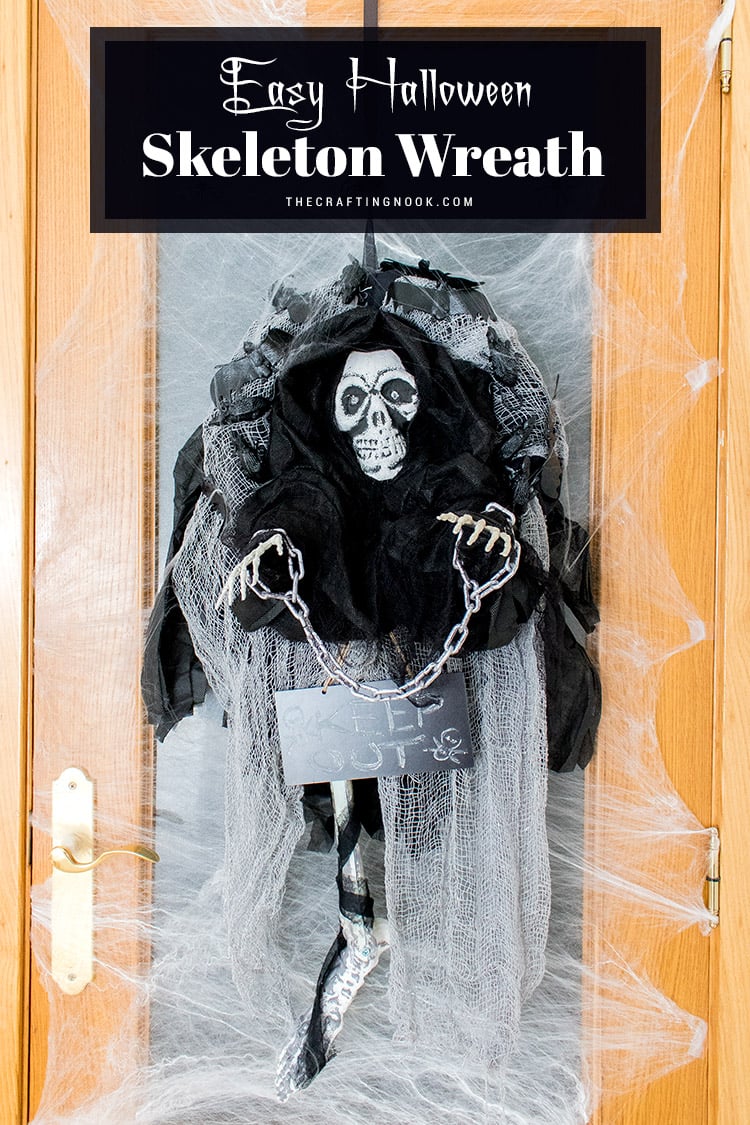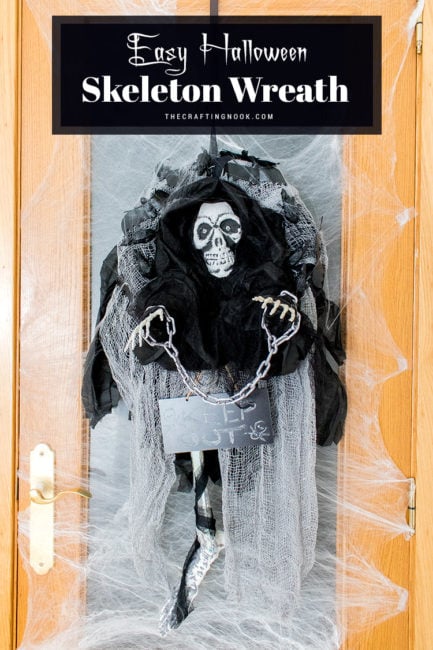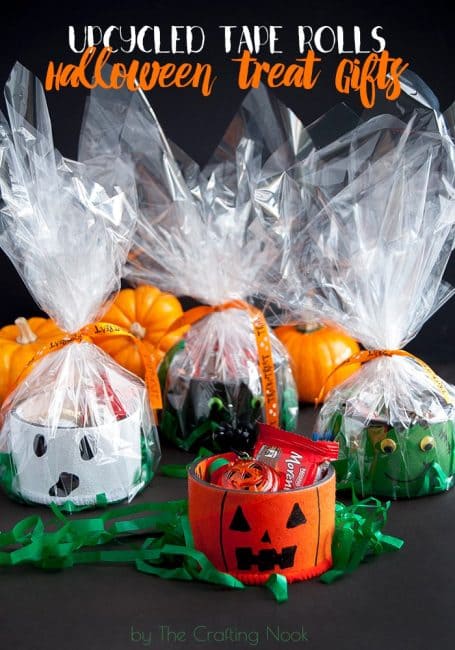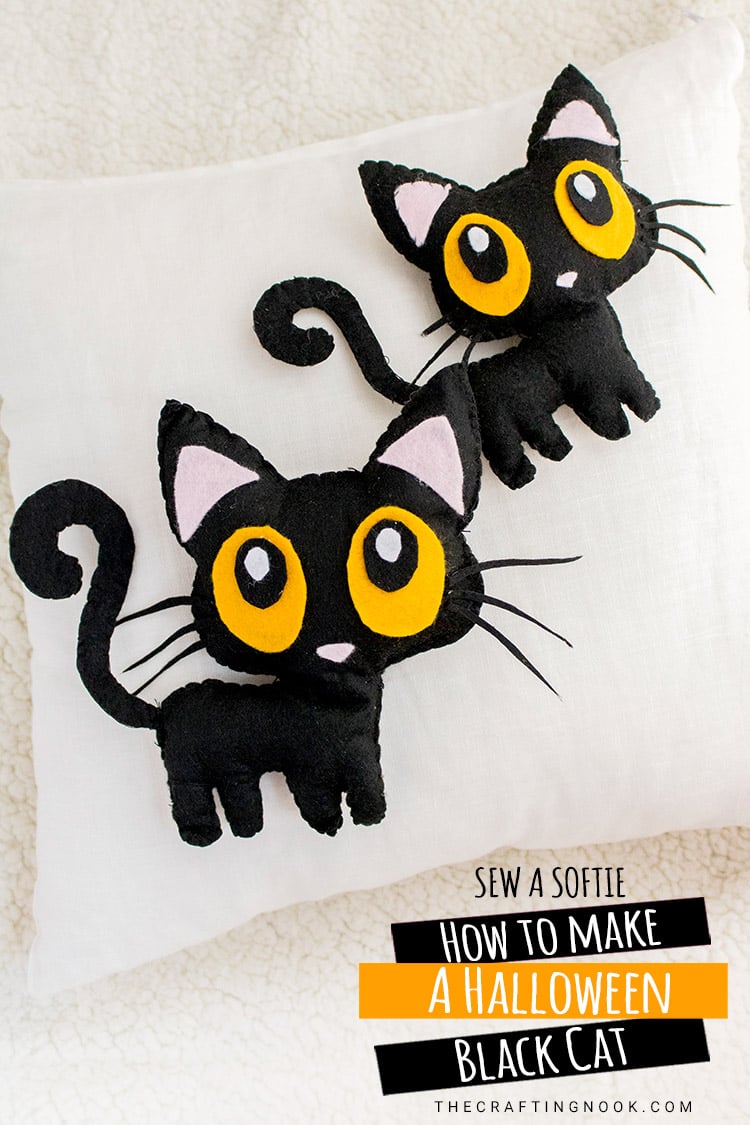 Til' next time...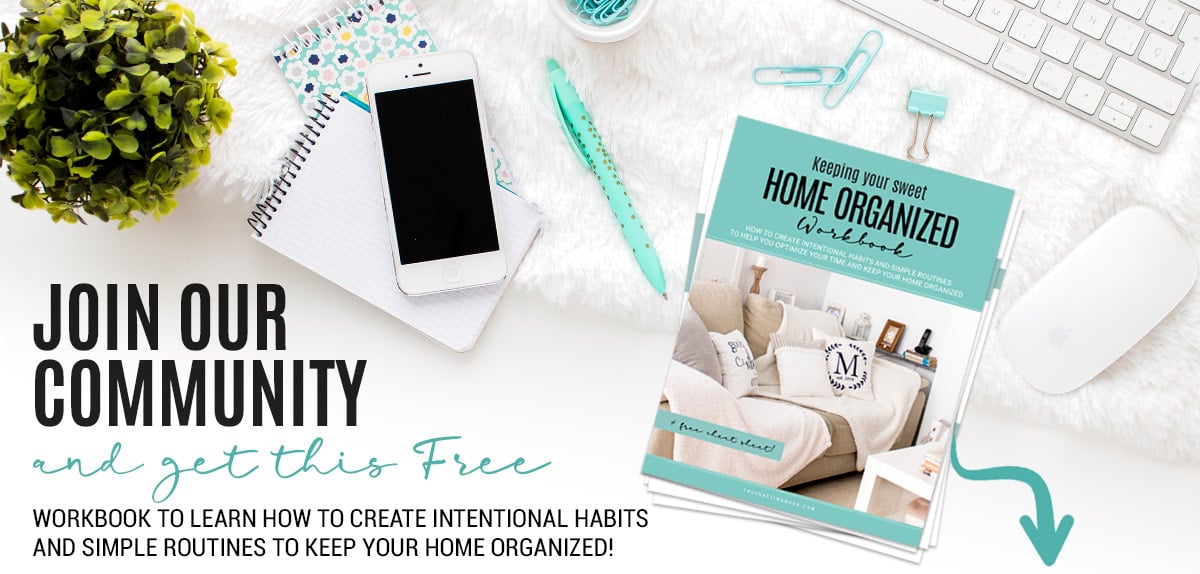 GET INSTANT ACCESS TO THE WORKBOOK
Plus freebies, printables, exclusive content, tips, stay connected, be the first to know great offers and Product Launches!
Disclaimer: By clicking on the "Yes, I want it" button above you are giving me your consent to collect and use your information according to the law and My Policy Privacy and The Cookie Policy. Zero Spam I promise!