Rustic DIY Wall Sconce Light
Looking for an easy and fun Diy project? Try making a wall sconce. Here is an easy step-by-step guide on creating your own DIY wall sconce light.
Another fun project tackled. I have to confess I had all the supplies for this project for over a year but never actually got it done. OMG, reading it here makes me feel even more embarrassed LOL. The most ironic part is that this project is super crazy easy to make.
Sometimes procrastination gets the best of us, right?
But hey! I made it!
You might also love these other wood project ideas for inspiration: DIY Inspirational Farmhouse Wood Signs, DIY Rustic Wooden Sign Electrical Panel Cover, and DIY Reversible Farmhouse Wood Sign.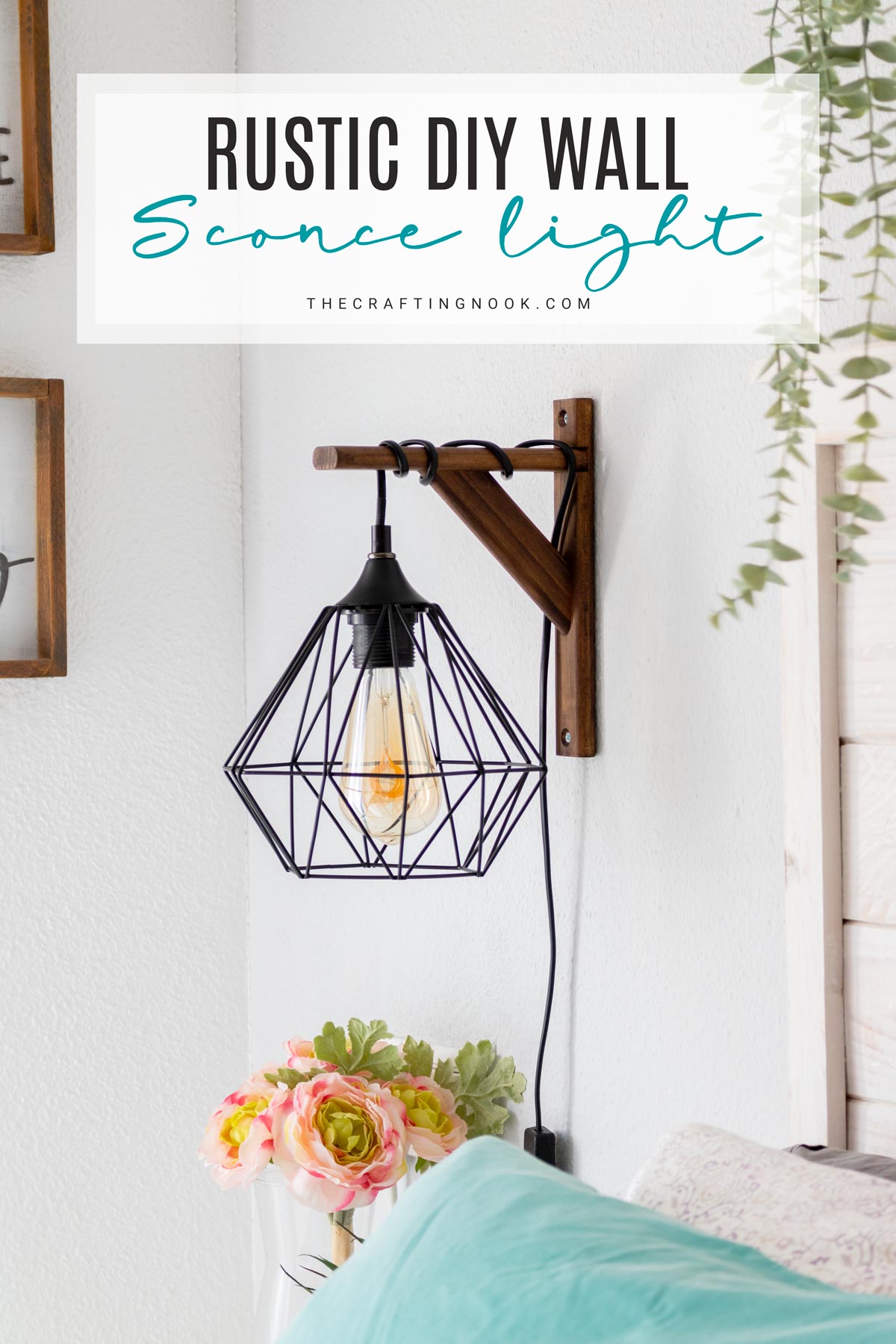 Easy Rustic DIY wall sconce Light Tutorial
I absolutely love how it turned out. It brought a new look to the bedroom and what I love the most, I have more space now on my nightstand table.
This project is, like I said, really, really simple. No fancy expensive item (unless you choose to) and looks so darn cute. It requires only a few supplies, it could happen that you already have most of them at home.
My mission with this project was to make it as easy as possible and under a budget. From here you could go up adding features to fit your style and, of course, your budget.
What is a sconce light?
The word sconce is derived from the late Latin via Old French. It's a lamp-holder – either a candlestick or lantern with a handle, or a lamp fixed to a wall.
What's the difference between a Sconce and a Wall Lamp?
According to the USA FLOS, the terms "wall light" and "wall sconces" are often used interchangeably and essentially mean the same thing: a lamp that is mounted on a wall.
However, if we were to go into the technical details, where a wall light differs from a sconce is in its make – its light source is usually covered, typically by glass. However, lights are rarely categorized based on these technical differences. Today's lighting designers and manufacturers usually club sconces and wall lamps together.
Do you need an electrician for DIY wall sconces?
It depends on your goal for the wall sconce and how complicated that will be. But I would say that anyone with a basic knowledge of electricity (or a good friend who does) can install a sconce light. However, nowadays even lighting manufacturers have taken the hint and started creating sconces that just need to be plugged into an outlet. So you got plenty of options.
Do sconces need to be wired?
Not necessarily. You have 2 options if you don't want to see wires at all.
Hardwire the sconce by installing all the wires through the wall (when possible) or,
Make it battery-powered which is called the Magic light trick.
What is a magic light trick?
The magic light trick refers to using battery-operated lighting, like led puck lighting, in place of using a regular bulb to avoid having to wire electricity to add more light.
How much does it cost to get light sconces installed?
Again that will depend on your wall sconce light. In most cases, you can install it yourself following the manufacturer's instructions. In this case, it's very budget-friendly assuming that you are crafty and resourceful. So basically, installing a sconce light can cost nothing if that's what you want.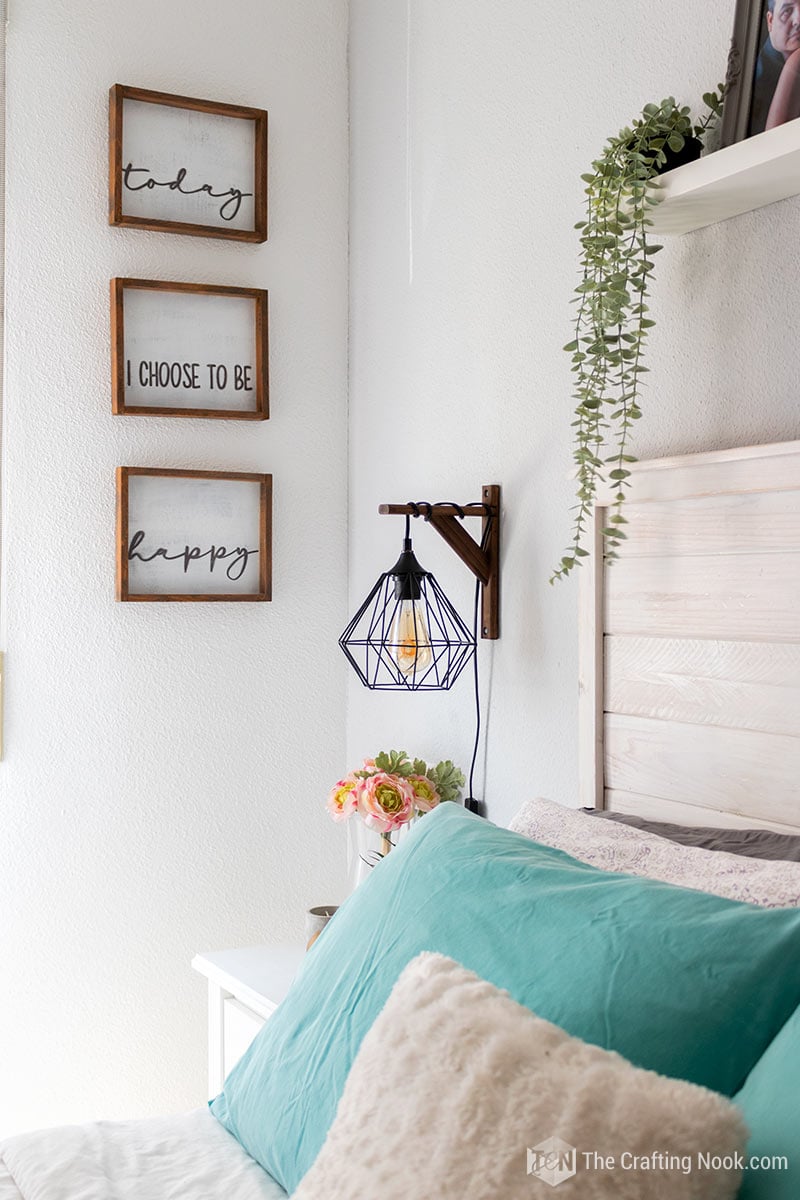 What kind of wire do you use for this sconce light?
I used the one that came with the system. I chose to use it as it is, plastic and all. BUT you can use cloth covered in your desired color, also rope or twine covered for an even more rustic look or you can actually cover it yourself with a little bit of macrame skills.
What type of lampshade do you use for these Wood Wall Sconces?
I used a metal wire cage shade for this particular project but you can use pretty much any lampshade you love, fit your decoration, and the style of your wall sconce light.
Where can these cute Diy sconce lights be used?
I mean anywhere you like. I used them in my bedroom, but you can use them on the dining room, living room, office, and family room. It's so cute and decorative that it could work pretty much anywhere.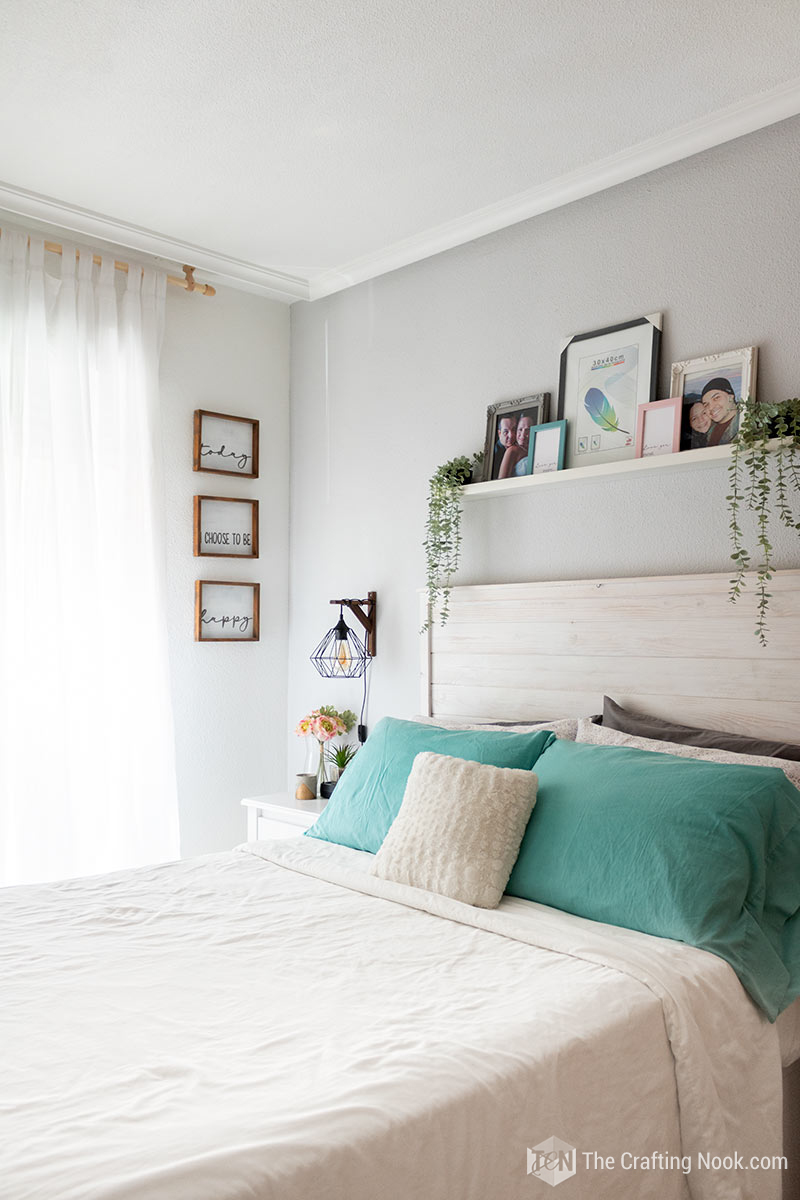 How to Make an Easy DIY Wall Sconce light fixture
Making a DIY wall sconce has been on my long list of projects for over a year now… I just didn't like my standing lamp and wanted a lighting fixture that would save me space on the nightstand and look amazingly good.
Here's how I did it!!!
But first, a little DIY hack I used
Although you can super easily make your own sconce with just 2 or 3 pieces of wood boards (or buy it already made), I decided to just use 2 wooden shelf brackets instead. You can find a pair for around $15 on amazon and I bet you can find them even cheaper either on sale or in shops like Dollar tree.
I just wanted to make it as easy as possible and doable for anyone with or without tools or any crafty skill level.
Supplies:
Pendant light kit (You can find really inexpensive ones on amazon and Ikea)
Switch and plug (if the light kit doesn't include it)
Metal Wire Cage Lamp Guard
A vintage Lightbulb
Wooden Shelf Brackets
Walnut wood stain
Wood sealer
Cheap brushes
Sandpaper (400 gritt)
Protective wear (Plastic apron, latex gloves, and plastic cover)
Cloth
Masking tape
Tools:
Drill
Wood drill bit
Concrete drill bit if it's the case.
Screwdriver
Screws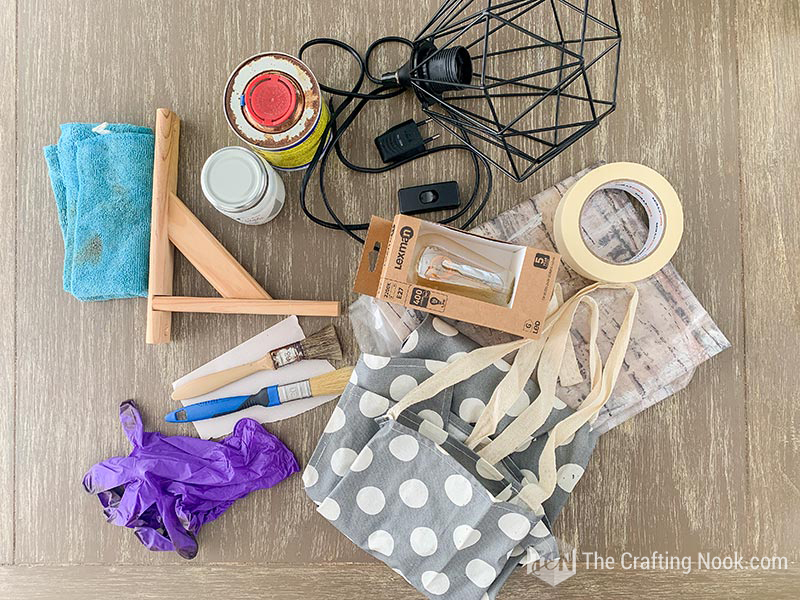 DIY Wall Light Sconce Step-by-step Instructions:
Before we begin, be sure to follow us on Pinterest, Facebook, Instagram, and YouTube, and also sign up for our email list (at the end of this post), so you'll never miss a post!
I created this quick video tutorial to make it easy for you! However, if you are more of a photo step-by-step kind of person just scroll down and keep reading!
Prep Work
Protect your table or wherever you will be working with a plastic cover. Use latex gloves to apply stain and wood sealer.
Keep all your supplies handy.
Drill the wire holes
Since we are using shelf brackets, chances are there's no hole on the top board or it's small. So in the case that there isn't any, mark where the hole should be. I used my wire cage as my reference.
Then use a wood board or cube to use as the base to drill the hole.
If you think the wood might crack if you drill the hole directly, make a pilot hole using a smaller drill bit. when I need to do this, I use a 2mm wood drill bit and then go for the needed size.
Your drill bit size will depend on the size of your wire.
Sand your shelf brackets
Once you make the holes on both brackets, sand your brackets to make sure there are no splinters and smooth the surface and get it ready to stain.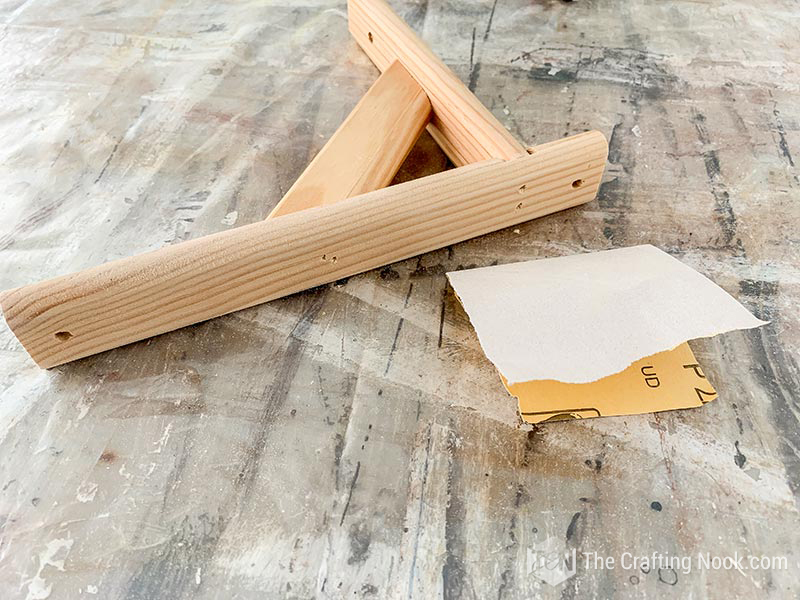 Try your best to reach those hard spaces and especially on edges you should focus on.
Once you finish sanding, clean each bracket well to remove all the dust.
Stain and Seal your brackets.
For this step, I strongly recommend using protective wear like a plastic apron and latex gloves to avoid unpleasant accidents with the stain.
Start staining your brackets. I did 2 coats of walnut wood stain and contrary to what I would normally do I didn't rub a piece of cloth to remove excess of the stain. Instead, I wanted the wood to absorb all the stain.
I let it dry for about an hour or so, maybe 2, I can't remember well. But it didn't stain my hands when I touched it.
Then I applied mate wood sealer. I did this because I've experienced that wood stain tends to fade over time so I started adding an additional coat of sealer, to protect my pieces from weathering, sunlight, and humidity.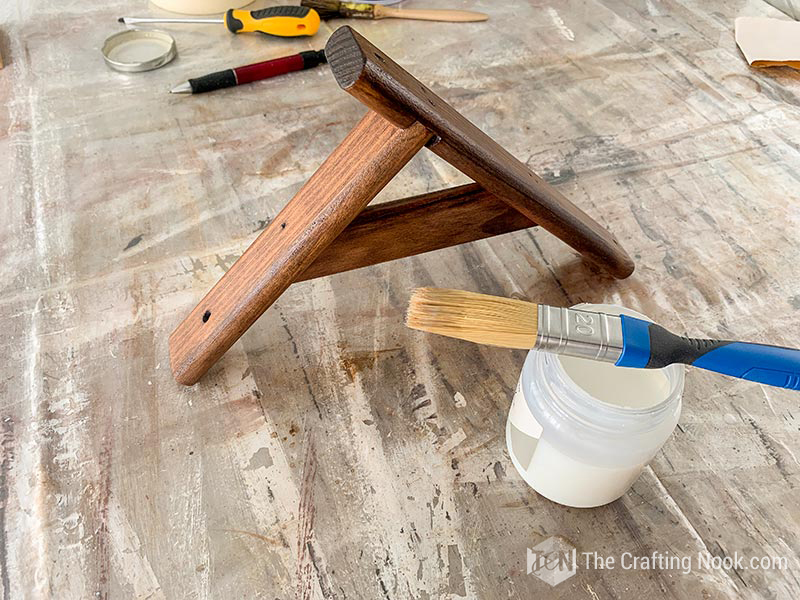 Let the sealer dry for a couple of hours (or for how long your brand suggests) and it's time to assemble the sconce light.
Wiring your sconce
Your lamp kit shouldn't have any plug or switch installed so it fits the hole you made in the shelf bracket.
Install your lampshade on your lamp kit.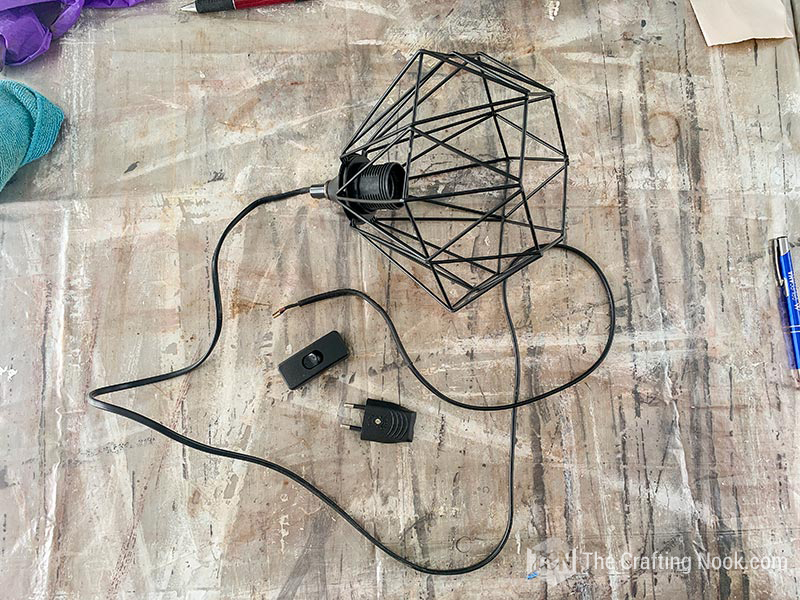 If it does have them, then just separate the wire from the switch that goes to the light socket.
Insert the wire end through the bracket hole you made from the bottom up.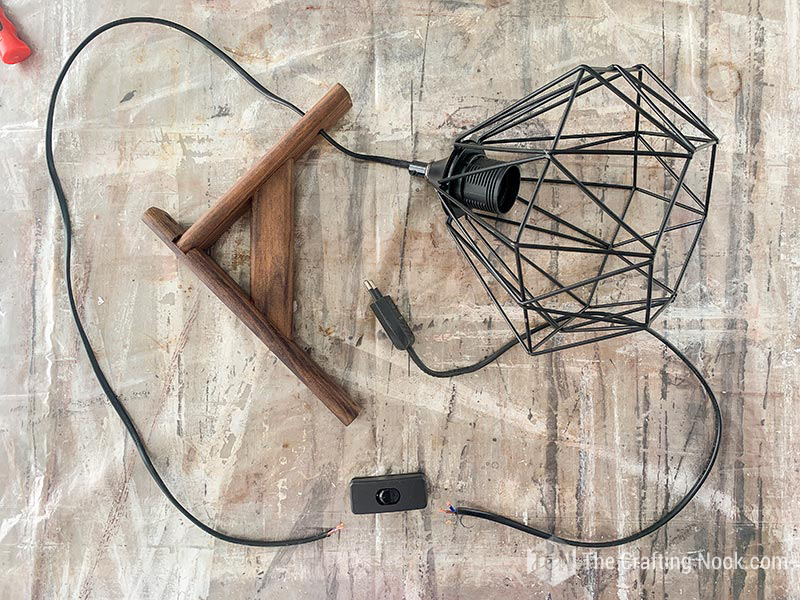 Then install the switch back or both switch and power plug if it's the case like mine.
Follow switch and plug package instructions for installation as each one might be different.
Once this step is done, decide how far from the bracket you want the socket and shade to hang, and wrap the cord around and around as much as you like (or the length allows you).
Mine is a light cage and hangs about an inch away from the bracket.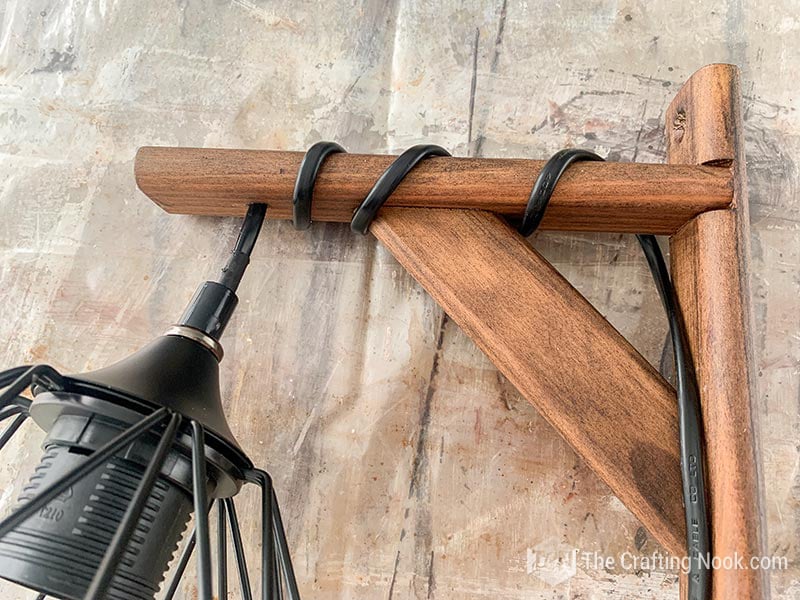 You're almost there now!
Install your sconce light on the wall
You might have your own way to install shelf brackets but to make it easy for me to know exactly where to drill the holes on the wall, I used masking tape on the back of the basket and pinched a hole on the masking tape where the holes are.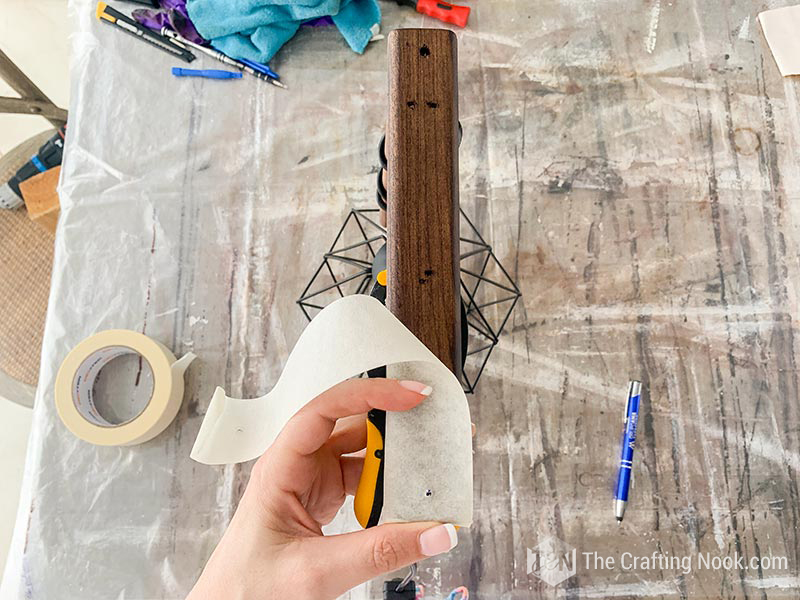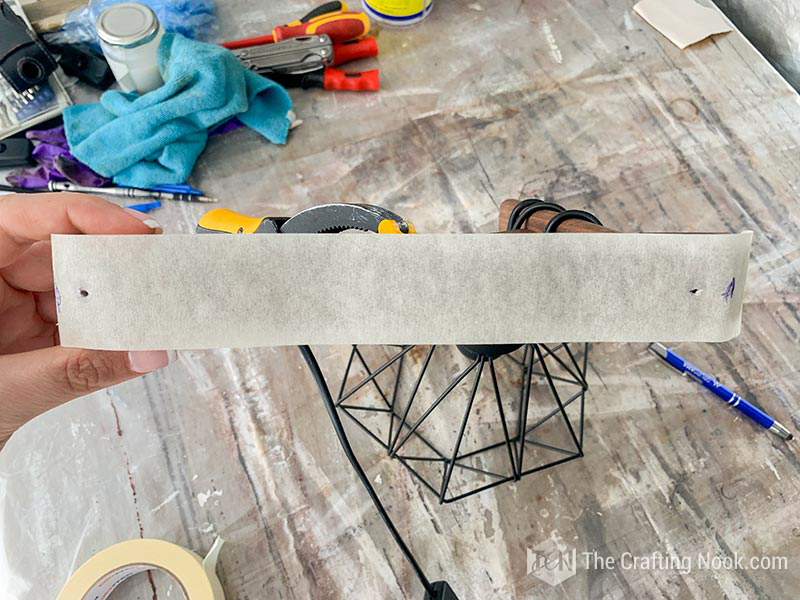 Using a level, I placed the masking tape on the wall making sure both holes were straight and leveled for the brackets.
My wall is concrete, so I drilled the holes using concrete drill bits. Drill your holes using the right drill bits for your type of wall.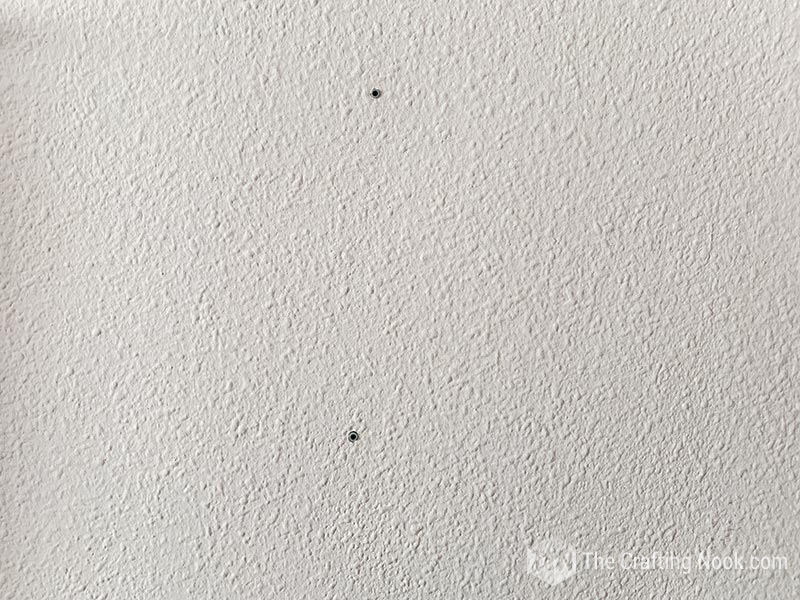 Install the shelf bracket on the wall using a screwdriver or your drill.
The light bulb star
Finally, it's time to install the light bulb (or lightbulb? I never really know which one is).
I used a led vintage light bulb with warm light and low intensity (3.5kW – 35kW of a normal light bulb)
Plug your light and voila!!!!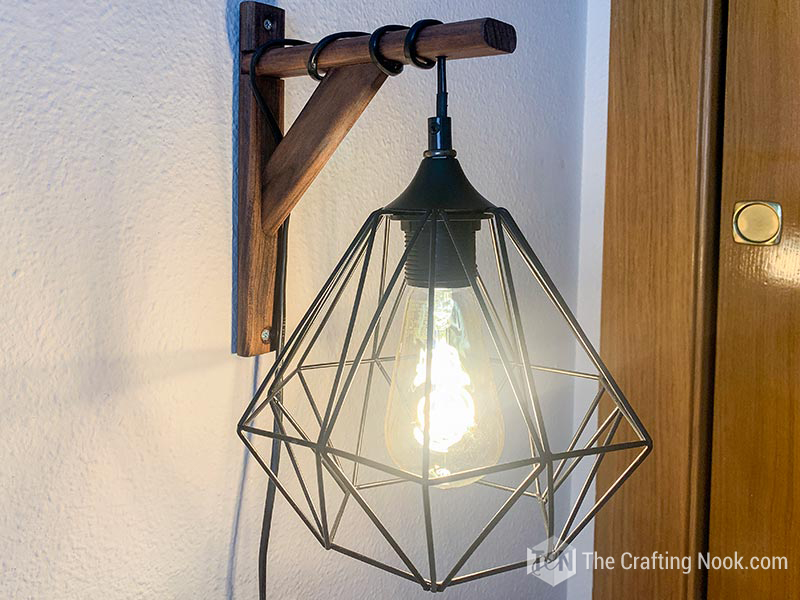 How cute is it????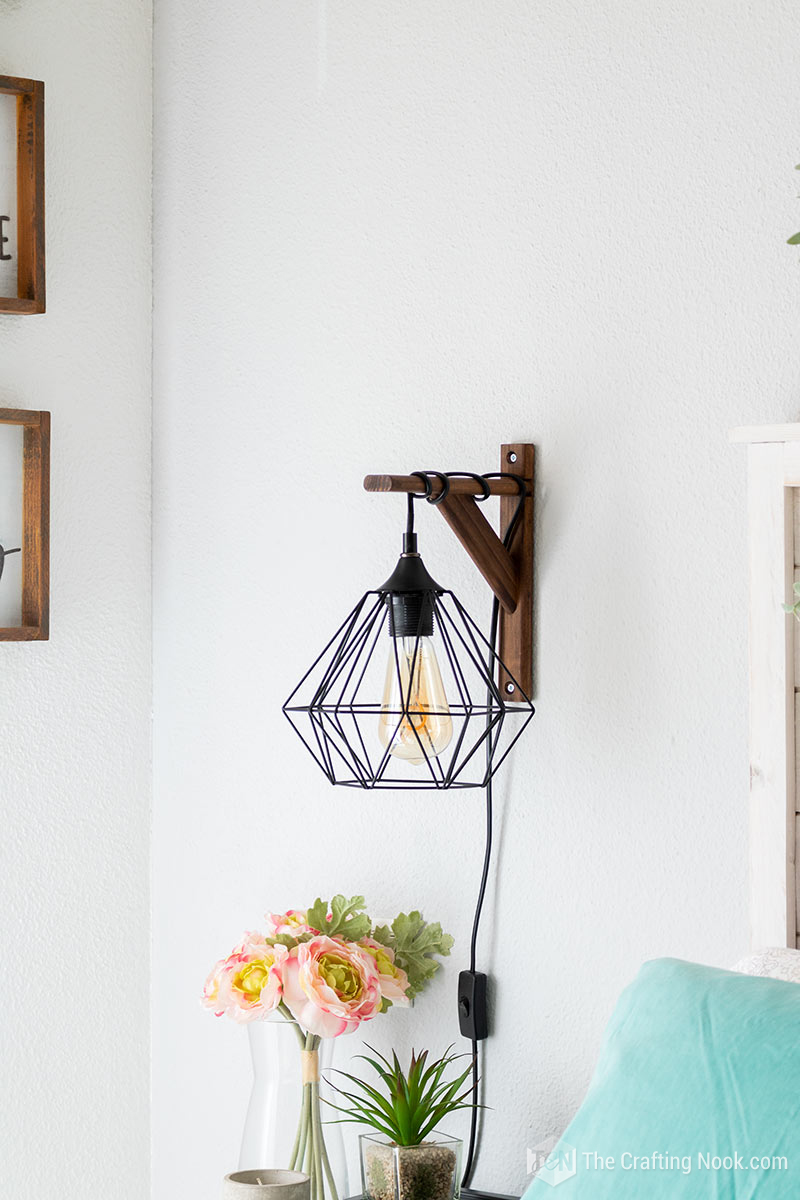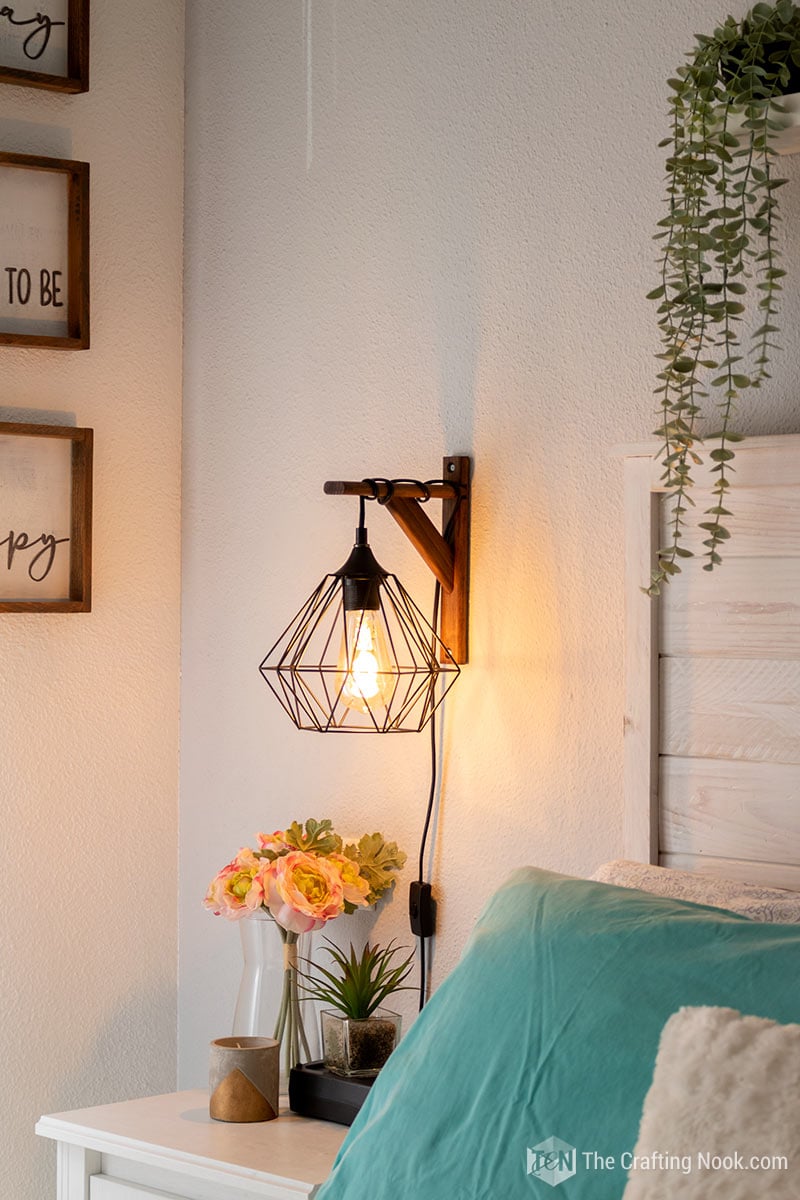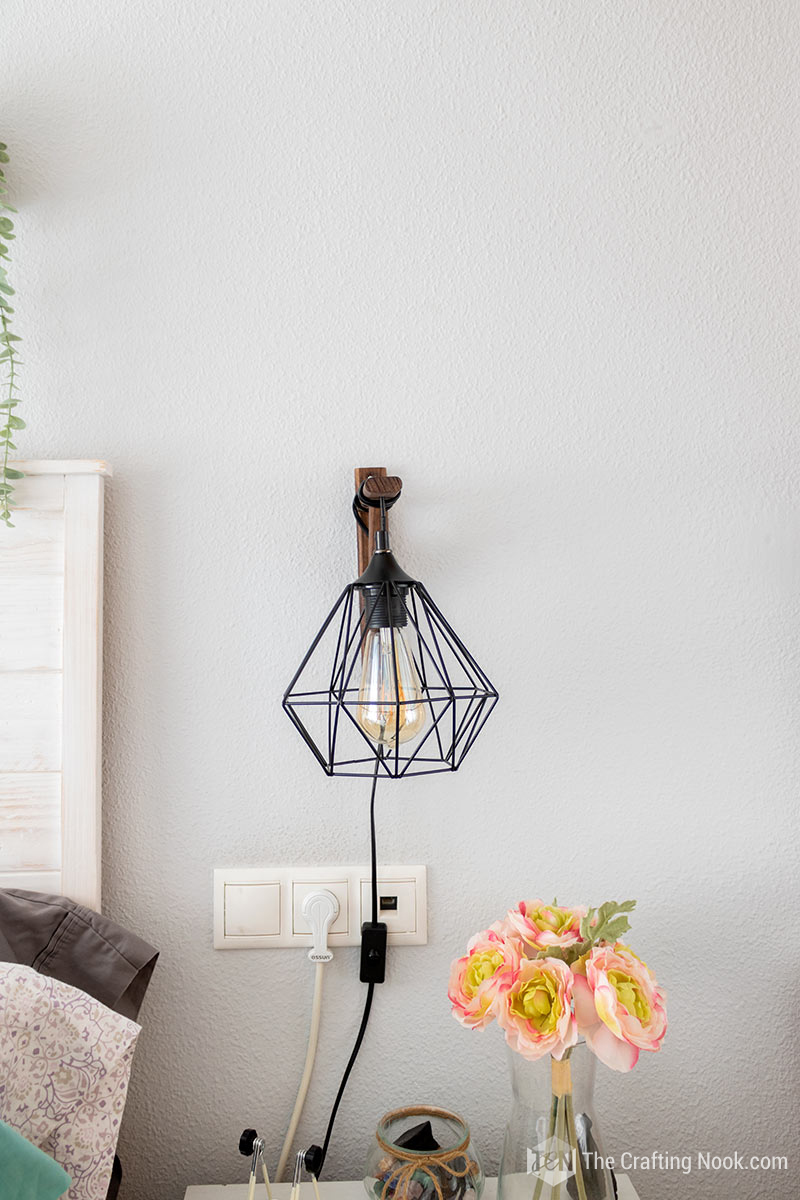 Some other wall lamps and sconces I love from my favorite bloggers:
So…
Make a DIY wall sconce that's easy to make with just a few simple items, that can be found around most homes. This step-by-step tutorial showed you how to make a diy wall sconce light that is both beautiful and functional and can be made in no time at all. This is a very easy-to-understand and follow DIY tutorial, with all of the steps involved, and a picture for every step.
IF YOU LOVED THIS DIAPER STACKER TUTORIAL, DON'T FORGET TO PIN AND SHARE IT WITH FRIENDS!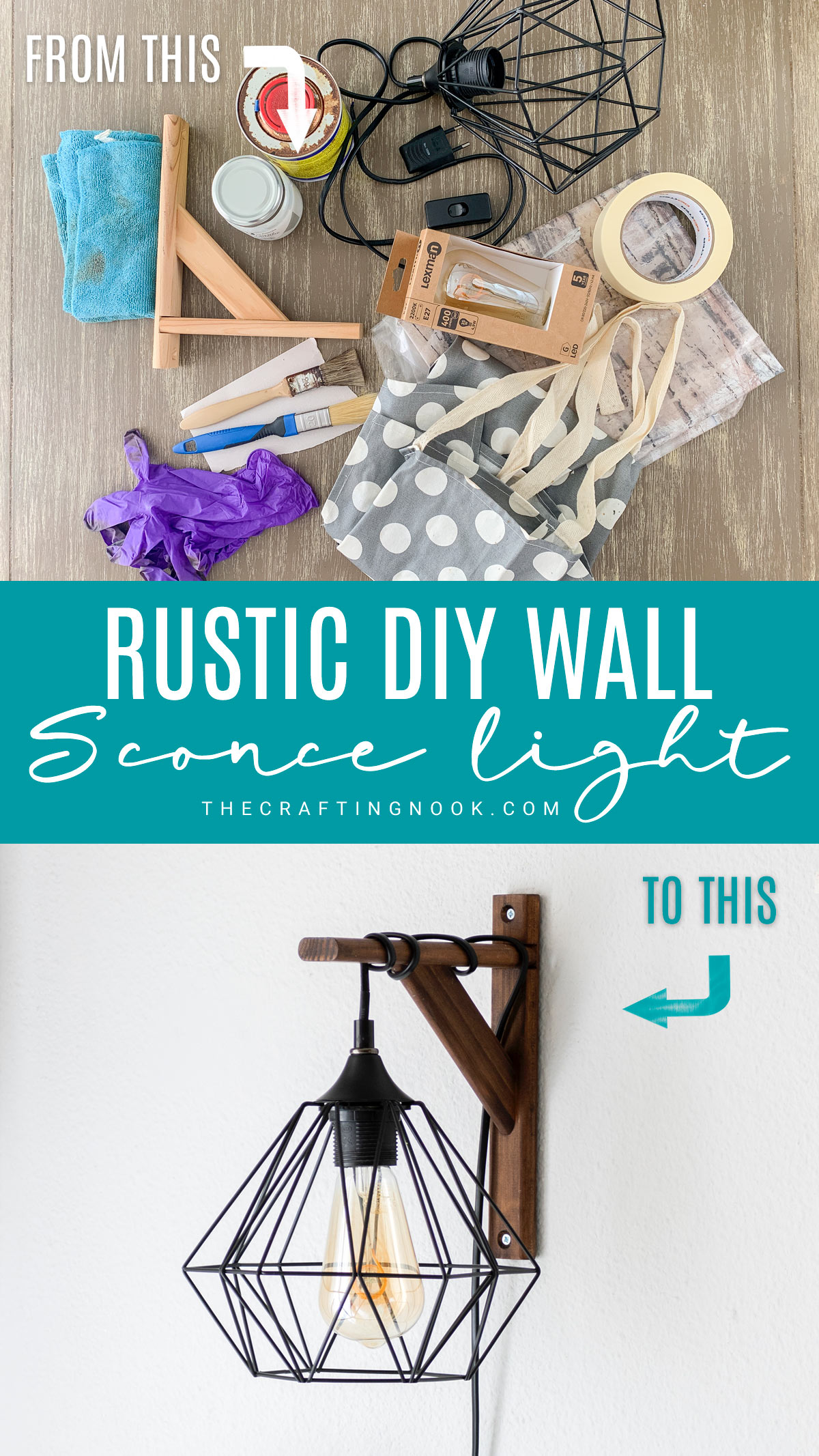 IF YOU ENJOYED THIS CUTE CRAFT, YOU MIGHT ALSO LOVE THESE TOO:
Til' next time...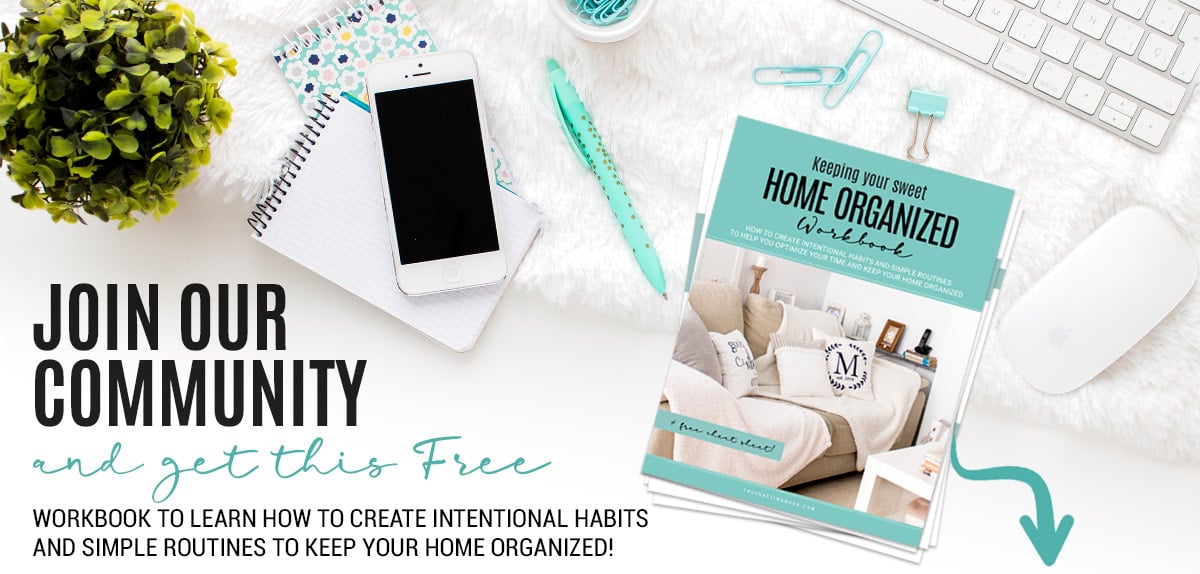 GET INSTANT ACCESS TO THE WORKBOOK
Plus freebies, printables, exclusive content, tips, stay connected, be the first to know great offers and Product Launches!
Disclaimer: By clicking on the "Yes, I want it" button above you are giving me your consent to collect and use your information according to the law and My Policy Privacy and The Cookie Policy. Zero Spam I promise!