Disclaimer: *Just like I do for all my round ups, I get a lot of inspiration from Pinterest. If you are at all familiar with that platform you know there are tons of pictures with no direct links to the original source. Some pictures featured here I found no source for or directed to the wrong one but if you know the source, contact me and I will update this post immediately, thank you so much!
Let's just say I wish I had the space to have that table and create that decor. I could get close but how gorgeous is that table???
This is my dream kitchen. Seriously! Absolutely gorgeous! And, did you notice the huge Coffee sign up there? So pretty!
This lady is limitless when it comes to creativity and decoration. I've been following her for a while now and when I think she reached the top, she surprises me once again. I love her style and all the creative ideas she puts into her farmhouse decor.
I could just sit here and watch this dining room all day long. Gow absolutely gorgeous is that bucket with those bright pretty yellow flowers? And the chairs? LOVE!!!
The mix of old and new here is so pretty. The vintage books make it all prettier. Then the jar filled with greenery and flowers… Perfection!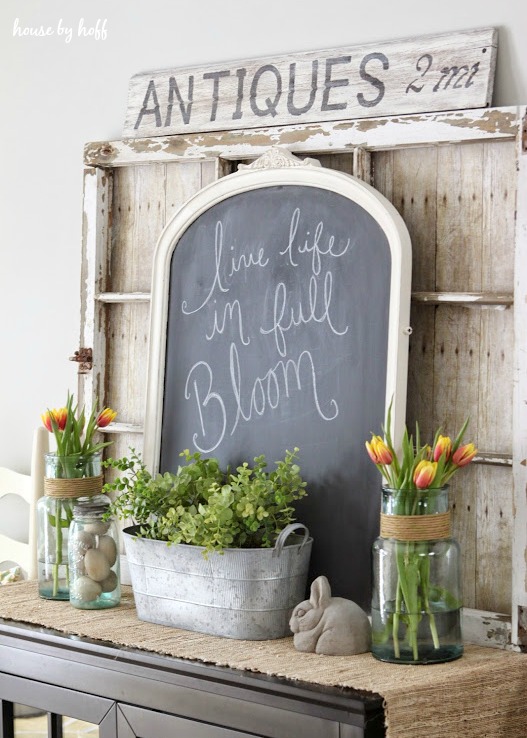 Gorgeous, gorgeous! Everything about this decor makes my heart happy. How adorable is that rustic sign?
Seems like I'm into chalkboard, have you notice already? Yup… I'm loving all the ways to add a chalkboard to the home decor. This is especially one of my favorites!
Idea from Making Home Base
Here again, the books make it all. I mean everything in this mantels os absolutely pretty, check out that wreath! But the books, Oooh that's so pretty!
Find more ideas on the next page…