Rustic Buffalo Plaid Red and White Christmas Tree
Let's sprinkle some holiday magic with our gorgeous Rustic Buffalo Plaid Red and White Christmas Tree! Create a warm and inviting space in your home this season. Perfect for spreading joy and cheer!
Buffalo Plaid is a big trend in winter decorating this year, especially on Christmas and this buffalo check plaid Christmas Tree does not disappoint with its trendy yet classic style.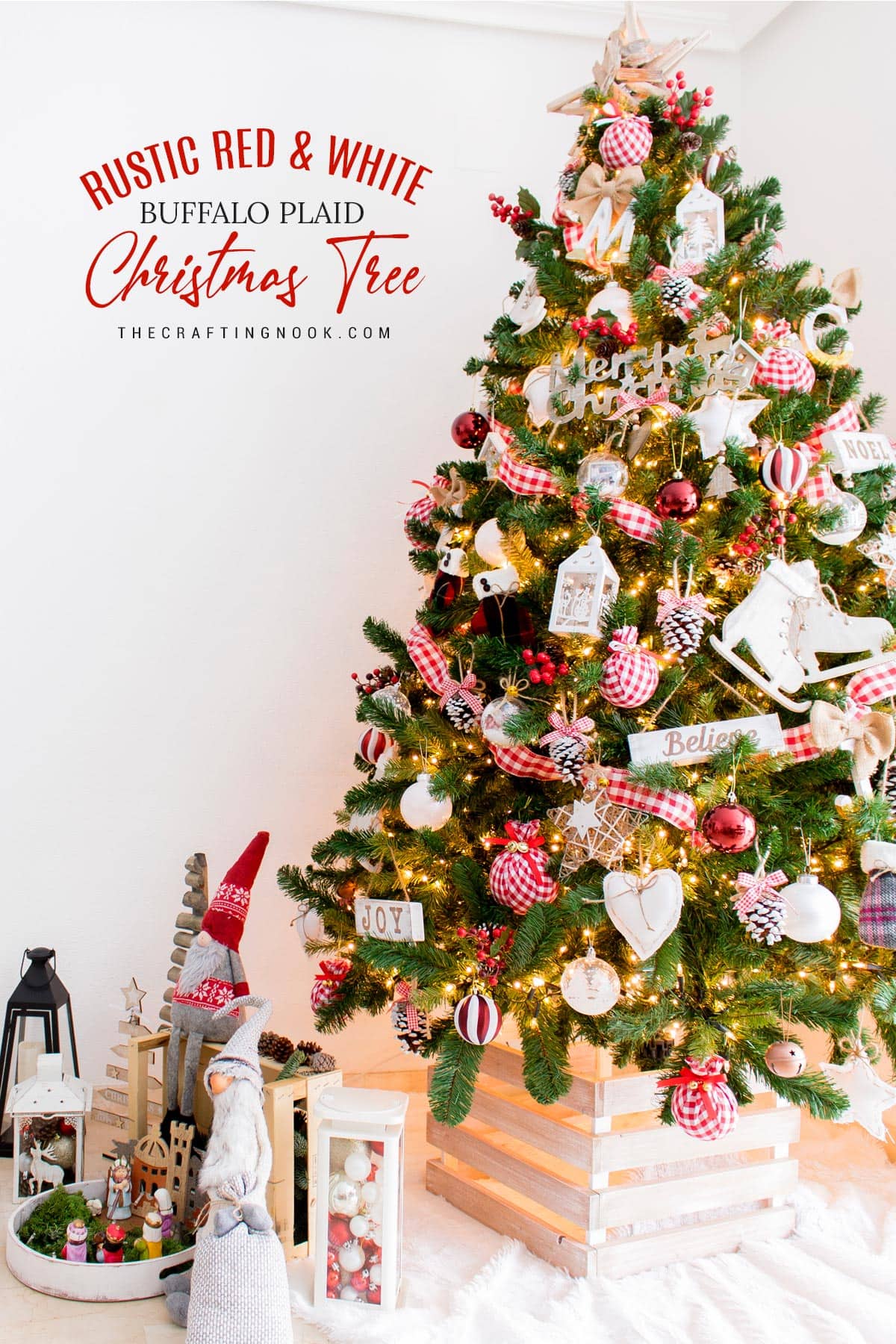 Our Rustic Buffalo Plaid Red and White Christmas Tree Tour
There are so many things to love about this time of year and for me, it all begins by filling our home with the magic of the season and so much love.
There's this incredibly amazing feeling when Christmas gets closer and all the Christmas decorations are up and lightened up. It's hard to explain but I feel like there's an emptiness that gets filled up once we decorate the house for Christmas.
It's not a secret that I absolutely love Christmas. Despite what some people might think about Christmas being a shopping spree season, I see beyond that.
Christmas is a symbol, is a space and time in our messy and busy year to feel love and loved, to reunite with family and friends, and to stop and care for those less fortunate.
Our daughter and I enjoy so much sonding time in our living room during Christmas time.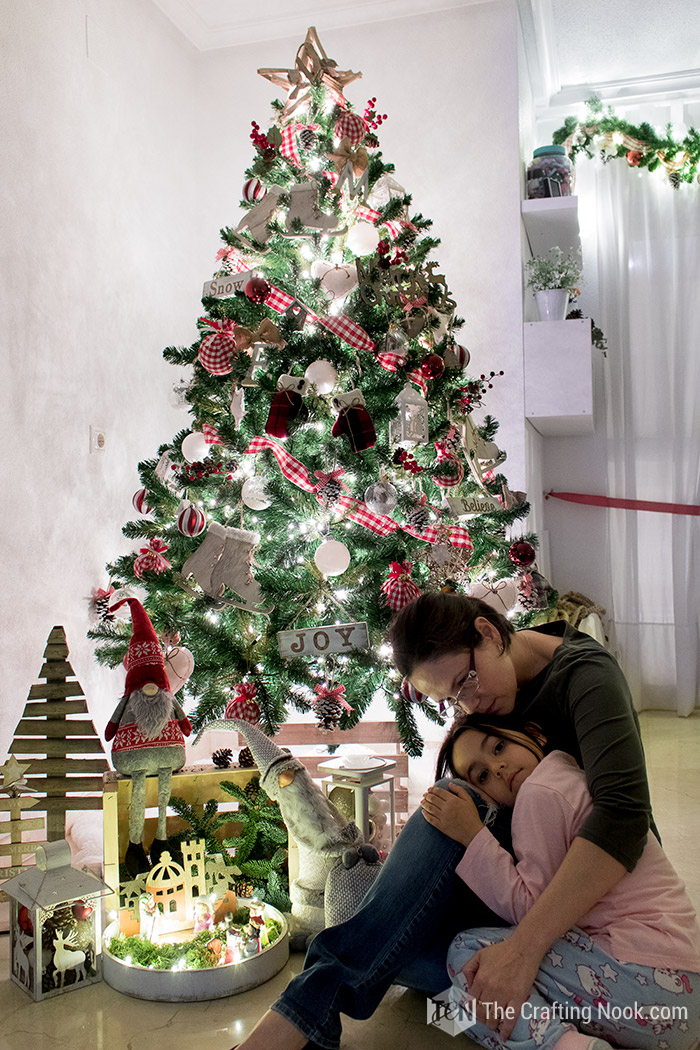 Christmas brings hope and an opportunity to make changes in our lives. It's also true that we can do all that any time but Christmas is like our yearly reminder to be good, better and hopeful.
Our Christmas Tree Theme
This year's Theme for Christmas is a white and red color scheme Buffalo Plaid and I can't be happier with how the decor turned out — especially our Buffalo Plaid Christmas tree.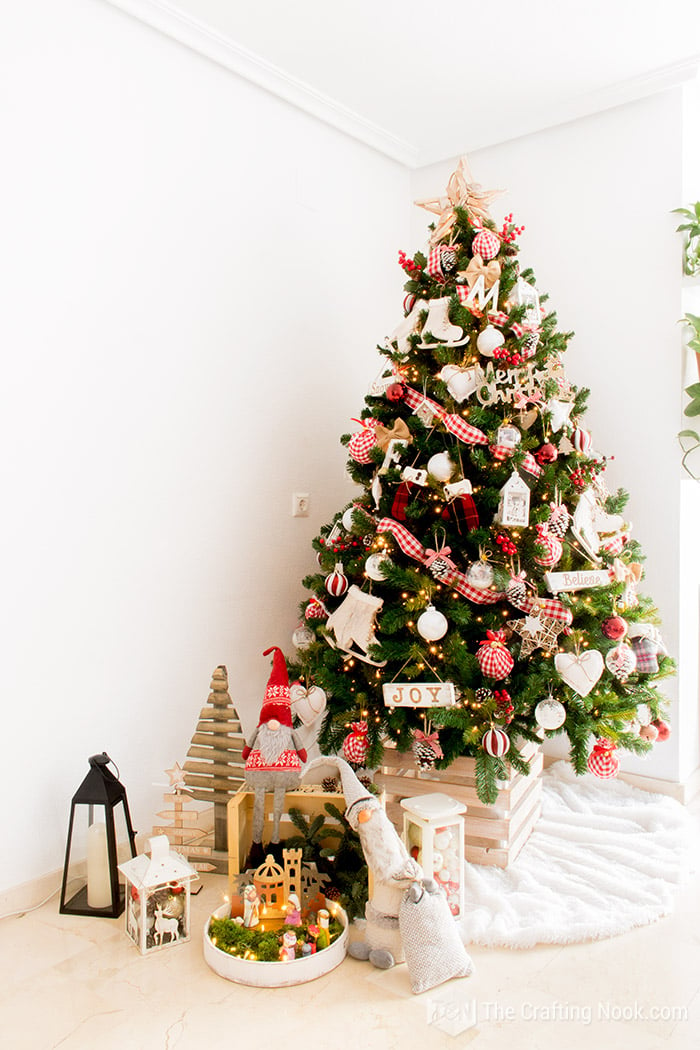 My Christmas trees although they look like I've spent a fortune I really haven't I am very frugal. In fact, I buy many of my ornaments from past seasons on sale and make by myself most of the ornaments.
I also re-use my handmade ornaments either tweaking them a bit or just as they are so I could decorate in a very inexpensive way. There are so many ways to save on your decoration. Don't break the bank on these trees.
The Christmas Ornaments
My Memory Keepsake snow globes are one of my favorites and have used them every year since I made them. A way to keep special moments on the Christmas tree.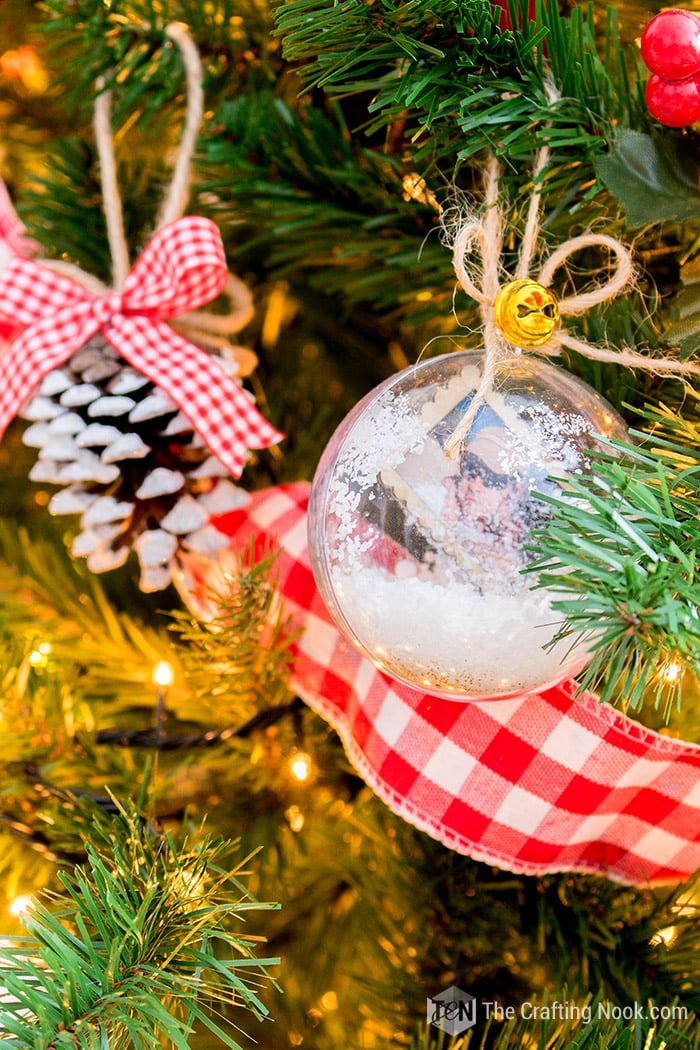 My most popular Christmas post. Rustic flocked pinecones. I switched the twine bow for a cute red and white buffalo plaid ribbon bow and look how pretty it looks!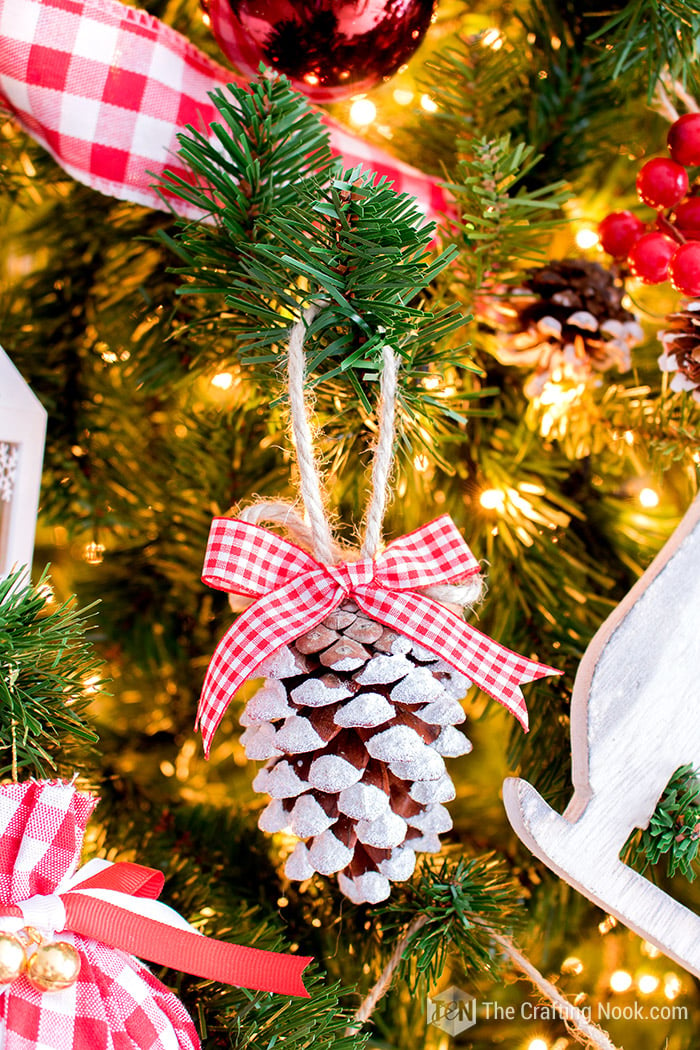 Upcycled some baubles. I wrapped some ugly baubles with buffalo plaid fabric, added some cutered and white ribbon bow, and is as good as new! Love how they turned out!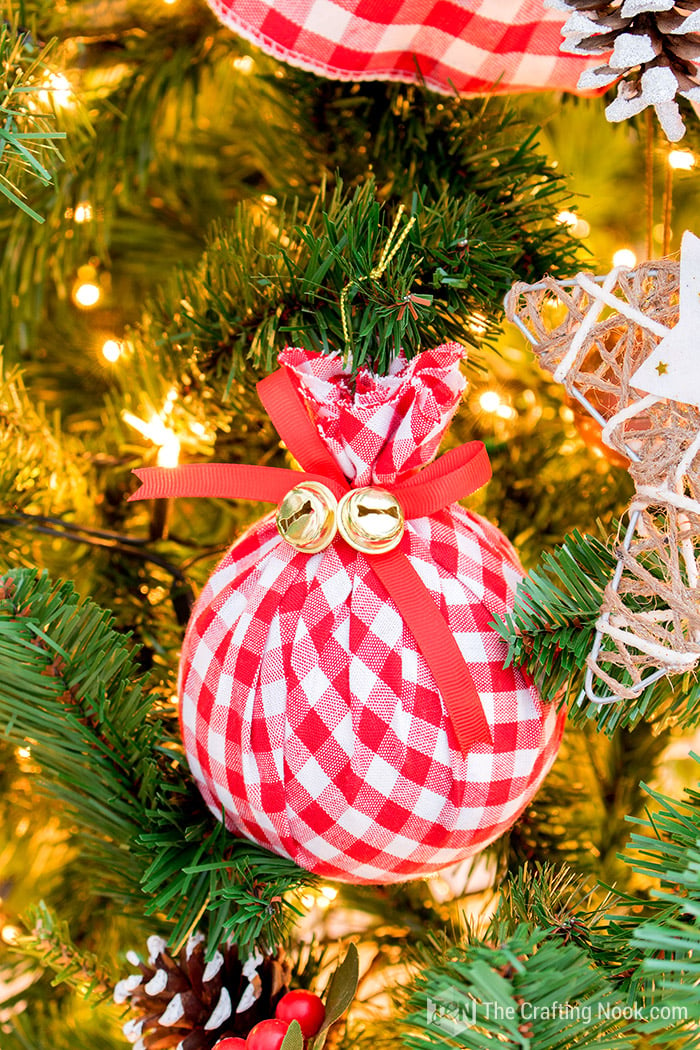 I think these cute buffalo plaid mittens might be my favorite Christmas ornament this year. I made them with leftover fabric from some pillows I made.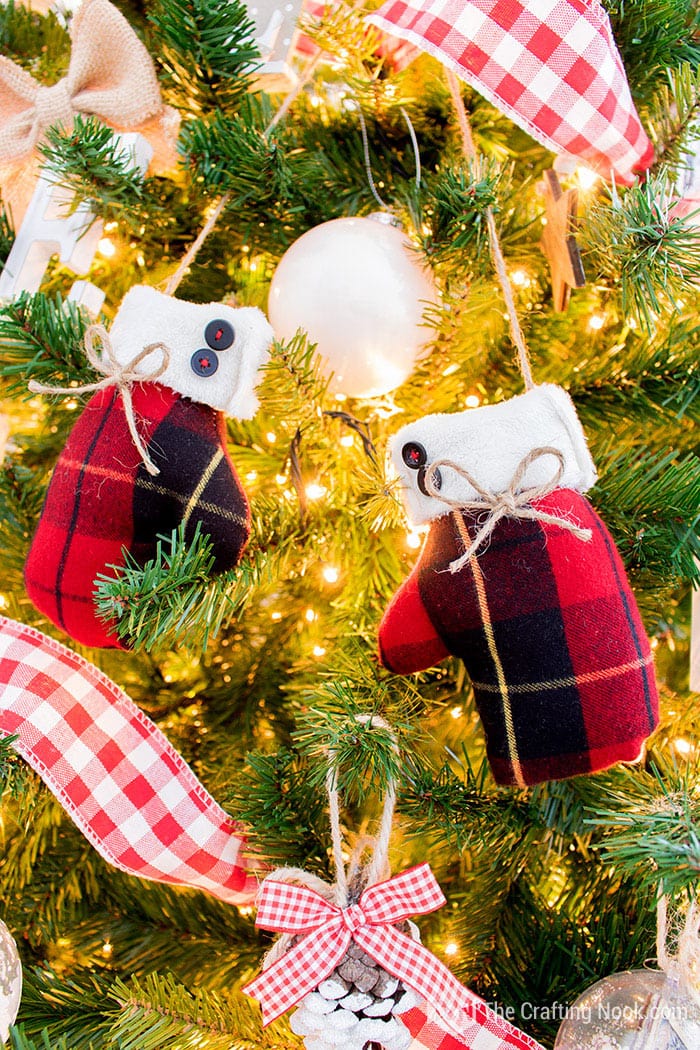 As centered as I could I placed a "Merry Christmas" wood sign.
These cute lanterns have been with me a couple years and I still love them so much! I added them alng with some red ornaments.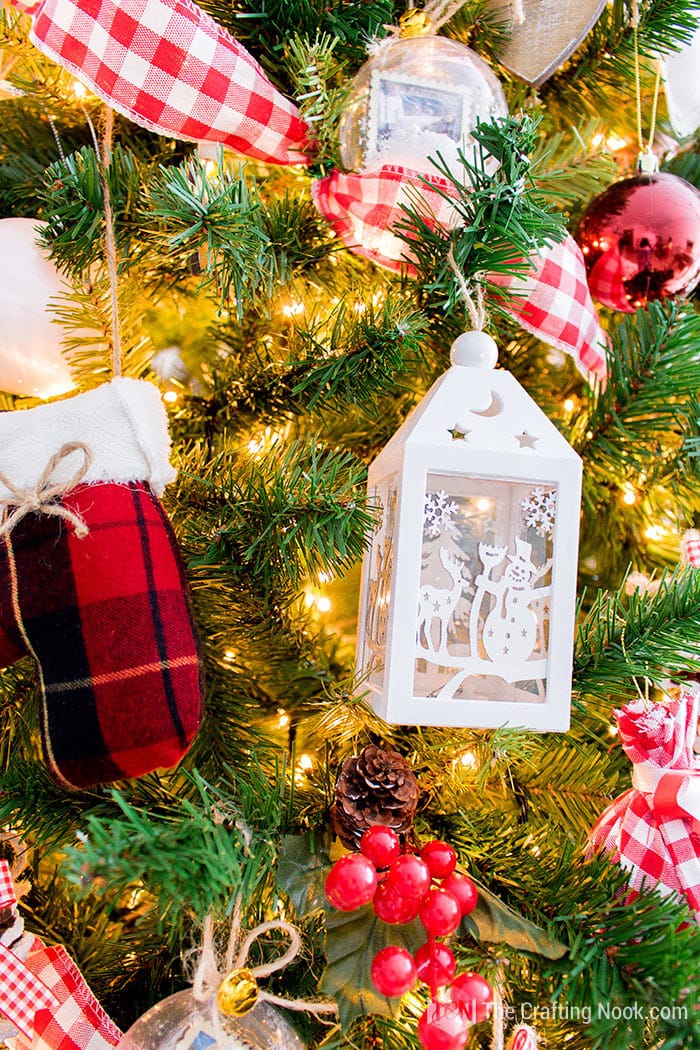 I also used my cute burlap ornaments, Family monogrammed ornaments, my lovely wooden skates, and some red, white, and clear baubles.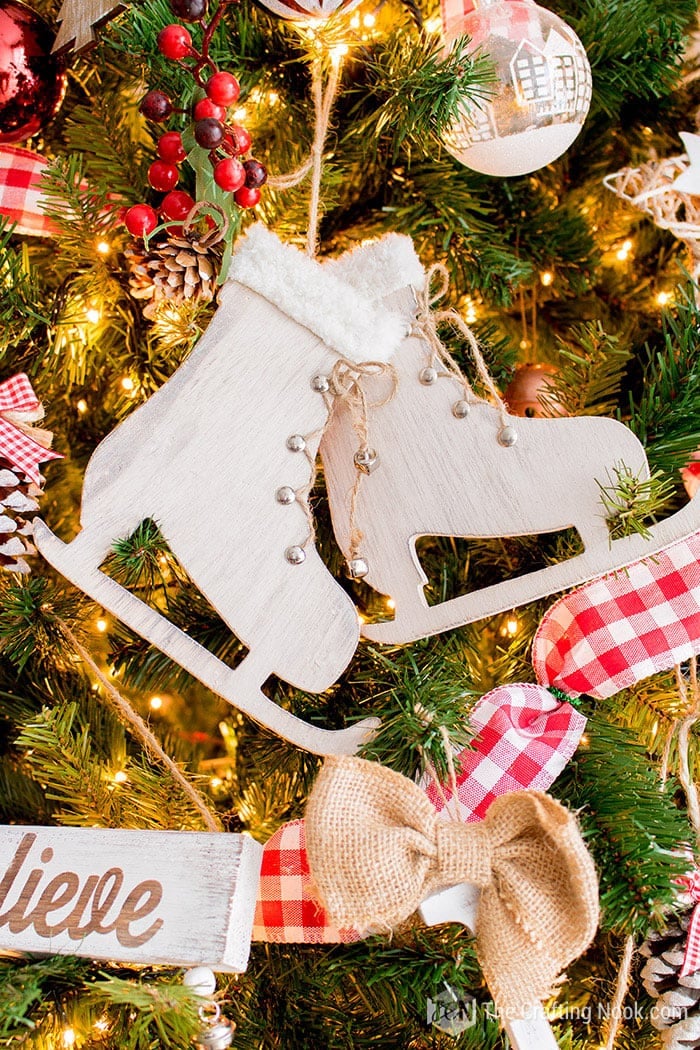 Added a buffalo plaid ribbon garland around the tree.
I could not leave out my mini wooden signs. Especially the "Believe" one.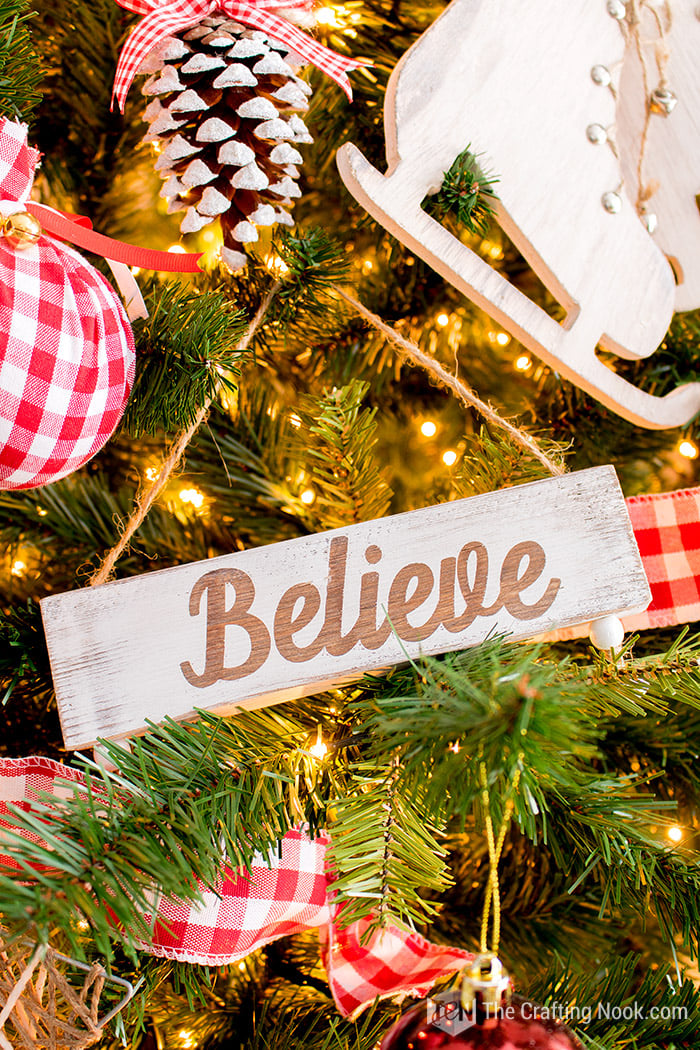 The Christmas tree Base
Around the Christmas tree, I added a couple of fellas that I fell in love with. They might be the only purchase I made that was not on sale LOL.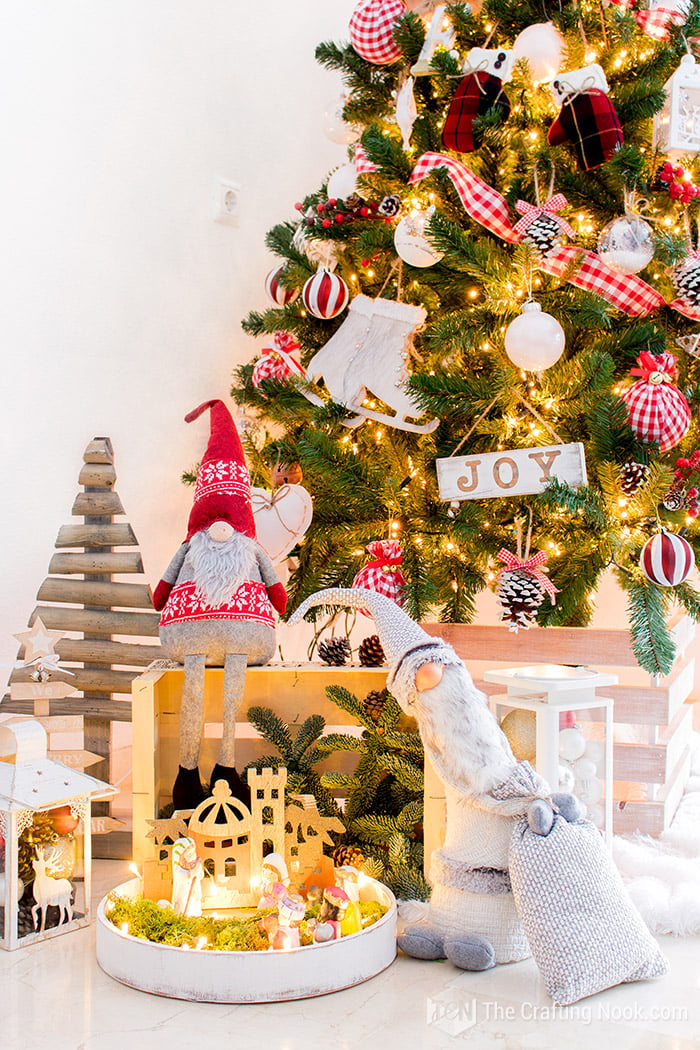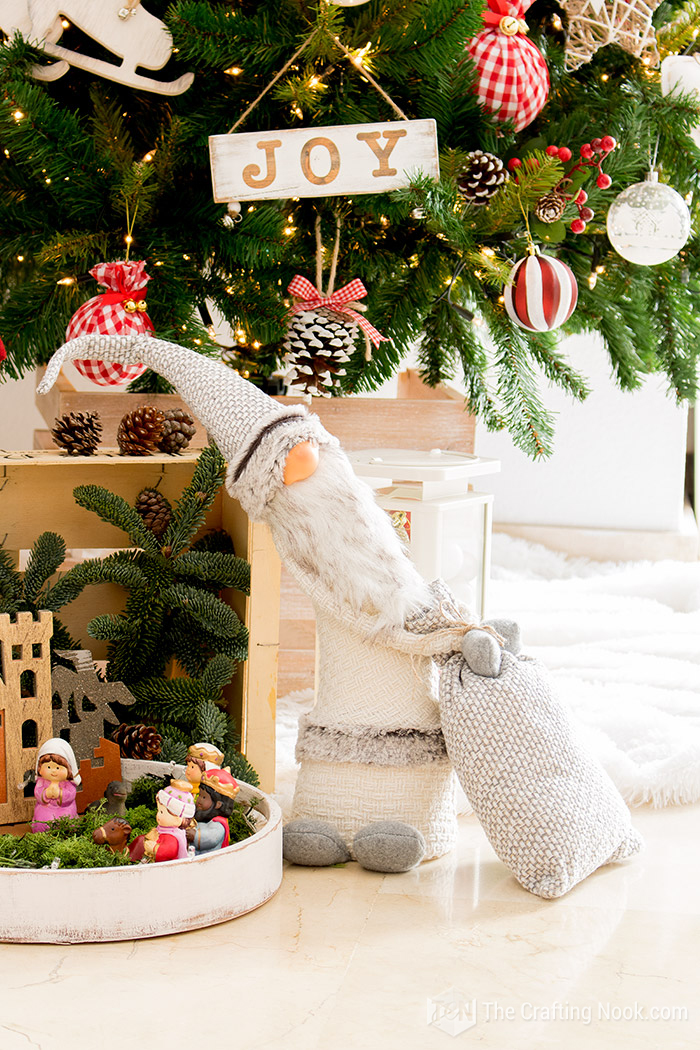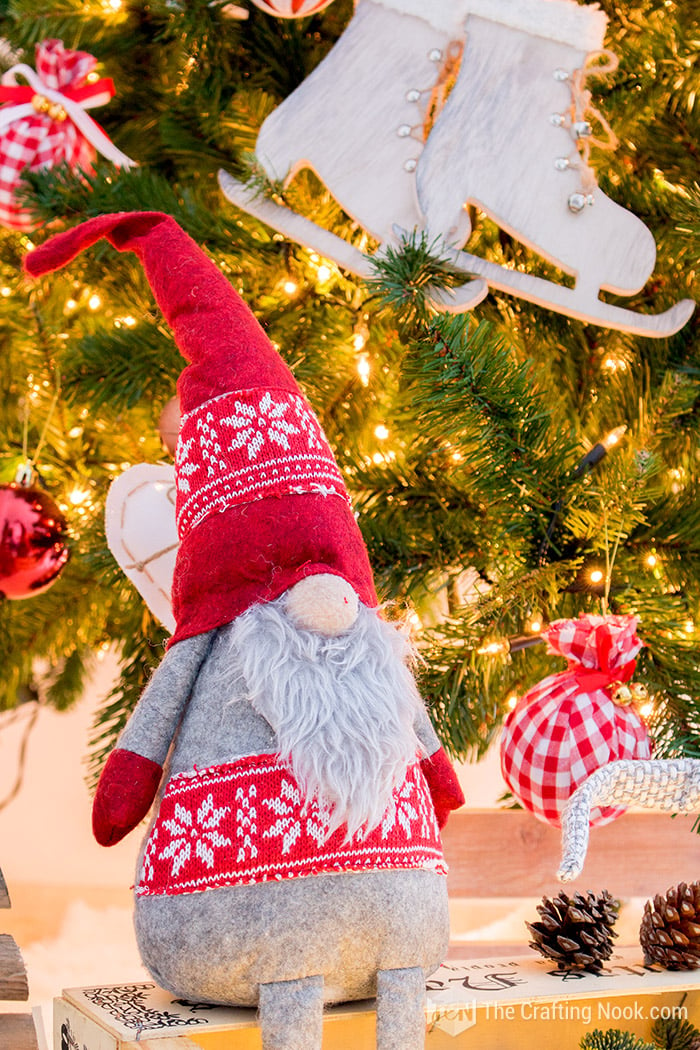 I used a fruit crate to sit on one of the gnomes and decorated it with pinecones and pine branches. I also added a couple of wooden trees and cute lanterns.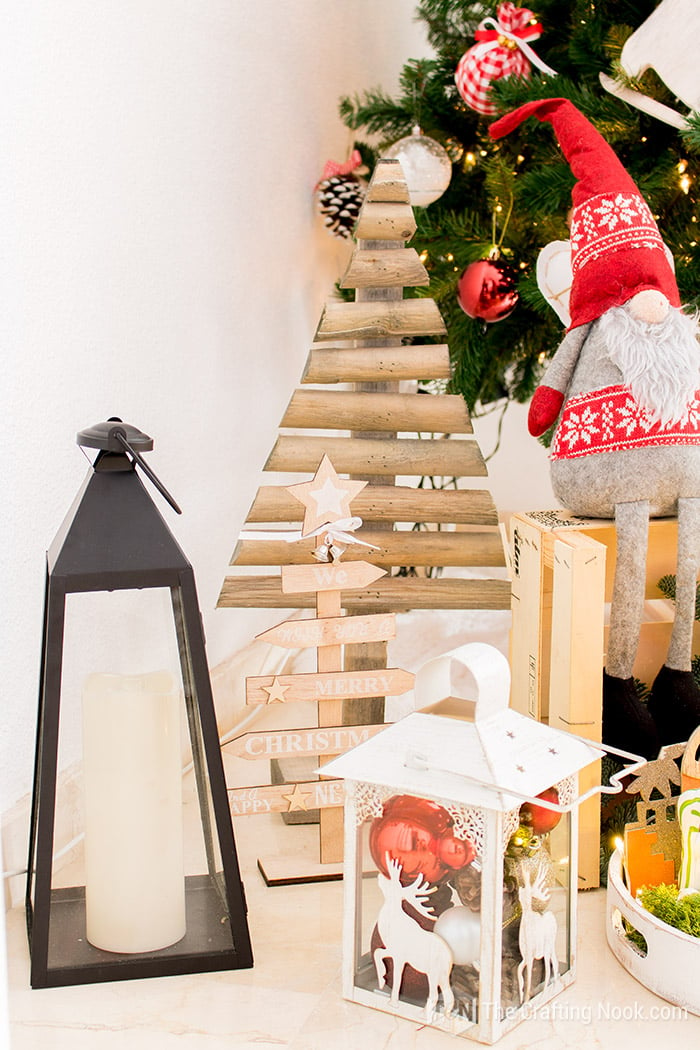 Also, I put my nativity on a tray right between the gnomes.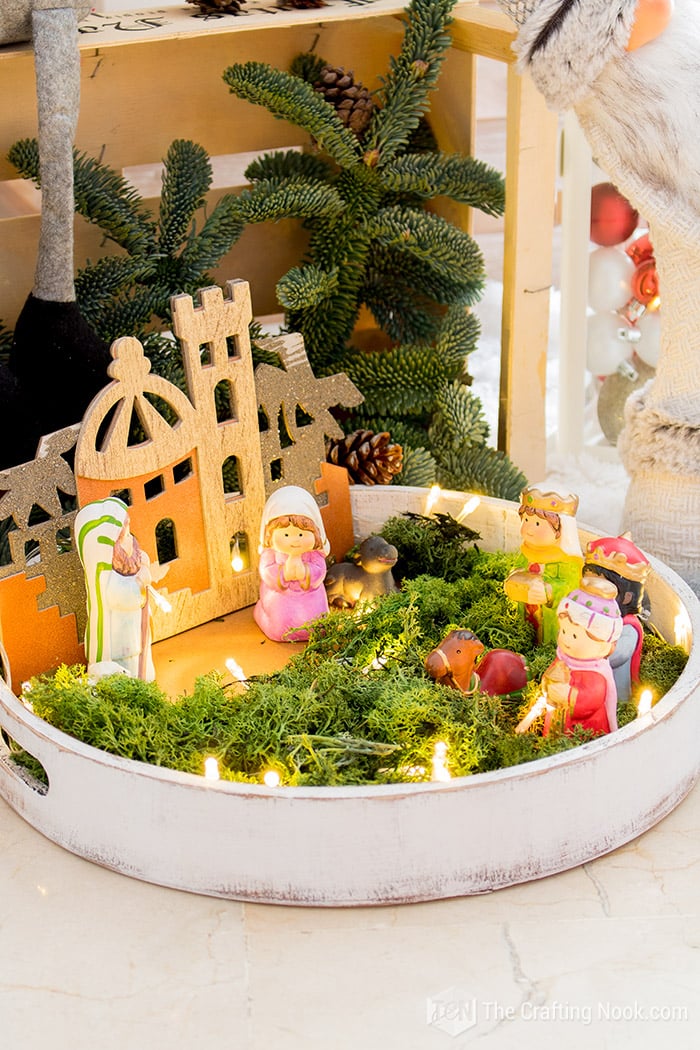 As Christmas tree skin I used a piece of furry fabric. I already had it from last year so what I did was cut on one side to be able to go around the tree's base and used last year's homemade wooden crate to hide the trunk.
For the top of the tree I used my rustic wooden star that I got a couple of years agoI love so much. I just can't not use it.
At night it looks so pretty and sparkling! My girl loved it so much.
Christmas Tree Tips
Use twine as a simple and natural alternative to garland.
Faux Snow Bliss: Get a snowy look by using cheap fake snow spray or cotton balls. Gently tap on the tree's edges to create a feeling of a beautiful winter wonderland.
Choose inexpensive plaid ribbons in white and red to make a buffalo plaid pattern.
Reuse old decorations by giving them a vintage look. You can paint them white and red or wrap them in burlap to give them a unique and affordable appearance.
Buffalo plaid tree skirt: Use an old plaid blanket or flannel fabric to make a tree skirt with a buffalo plaid design. Make it into a round shape and add a white frilly edge to make it look cozy.
Turn mason jars into old-fashioned lanterns by putting battery-powered tea lights inside. Put them on the tree to create a cozy and enchanting atmosphere.
Make special ornaments by using white and red scrapbook paper. Cut circles and fold them in half. Use glue to stick two halves together to make 3D decorations.
Make your own special decorations with the initials of your family on wooden or ceramic discs. Use white and red paint to make them match the theme.
Make bows using burlap or plaid ribbons and tie them onto the tree branches.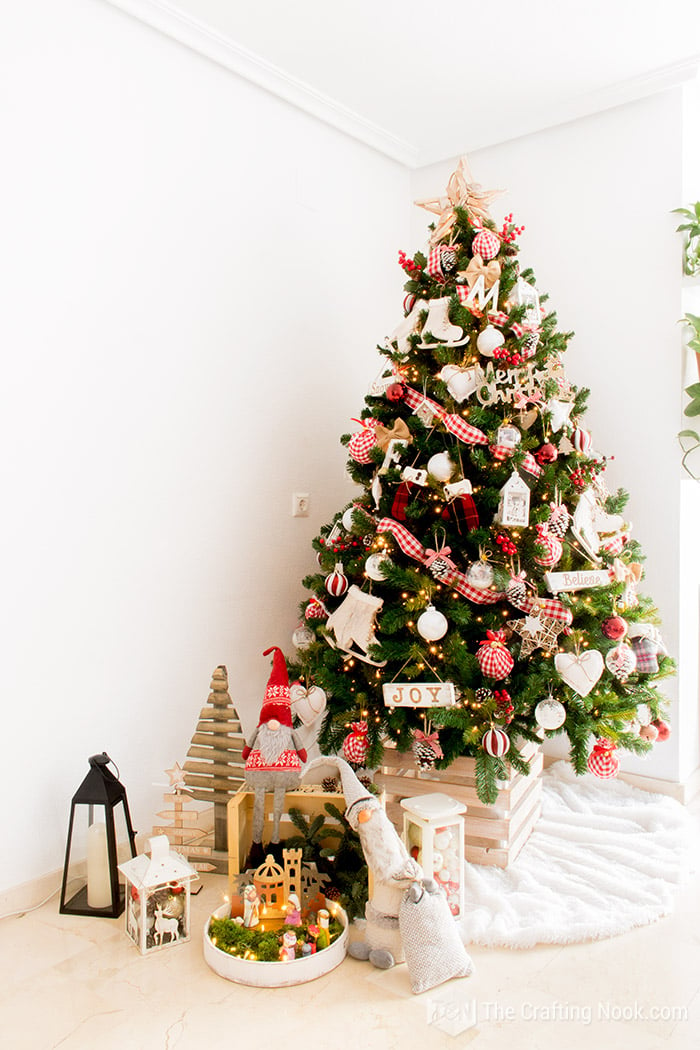 Don't forget, you can make a beautiful Christmas tree with a Rustic White and Red Buffalo Plaid theme in a small apartment without spending a lot of money or making it too difficult. With a bit of imagination and by doing it yourself, you can create a lovely and affordable tree that will make your holiday season feel joyful and cozy.
Hope you enjoyed our Christmas Tree Decor and THANK YOU so much for stopping by and checking it out! I would love to hear your thoughts so feel free to leave some love below in the comments! Hugs!
I'll be sharing more from the Christmas home decor soon so stay tuned!
Frequently Asked Questions
How can I achieve a Rustic White and Red Buffalo Plaid theme on a budget?
You can make a low-cost theme by using inexpensive materials like plaid ribbons, burlap, and reused decorations. Do-it-yourself projects, such as painting decorations and making things out of paper, can also save money.
How can I make my tree look cozy and rustic?
Use things from nature like pinecones, twine, burlap, and wooden decorations. Use gentle and comforting lighting like fairy lights or battery-powered candles to make a warm and cozy atmosphere.
Where can I find affordable buffalo plaid decorations?
Search for affordable choices at second-hand or thrift stores, bargain stores, and online shops. You can make your own decorations using inexpensive materials.
How do I add a touch of fragrance to the tree?
Make small bags with dried cranberries, cloves, and cinnamon inside and put them on the tree to make it smell nice. You can also use nice-scented candles or essential oil diffusers nearby.
more Christmas Tree Ideas To Check out
If you liked this cute Rustic Buffalo Plaid Red and White Christmas Tree inspiration idea, you might also love these other Christmas Projects ideas too:
I also crazily love these Christmas tree decorations from these fellow bloggers:
Share and PIN ME!!!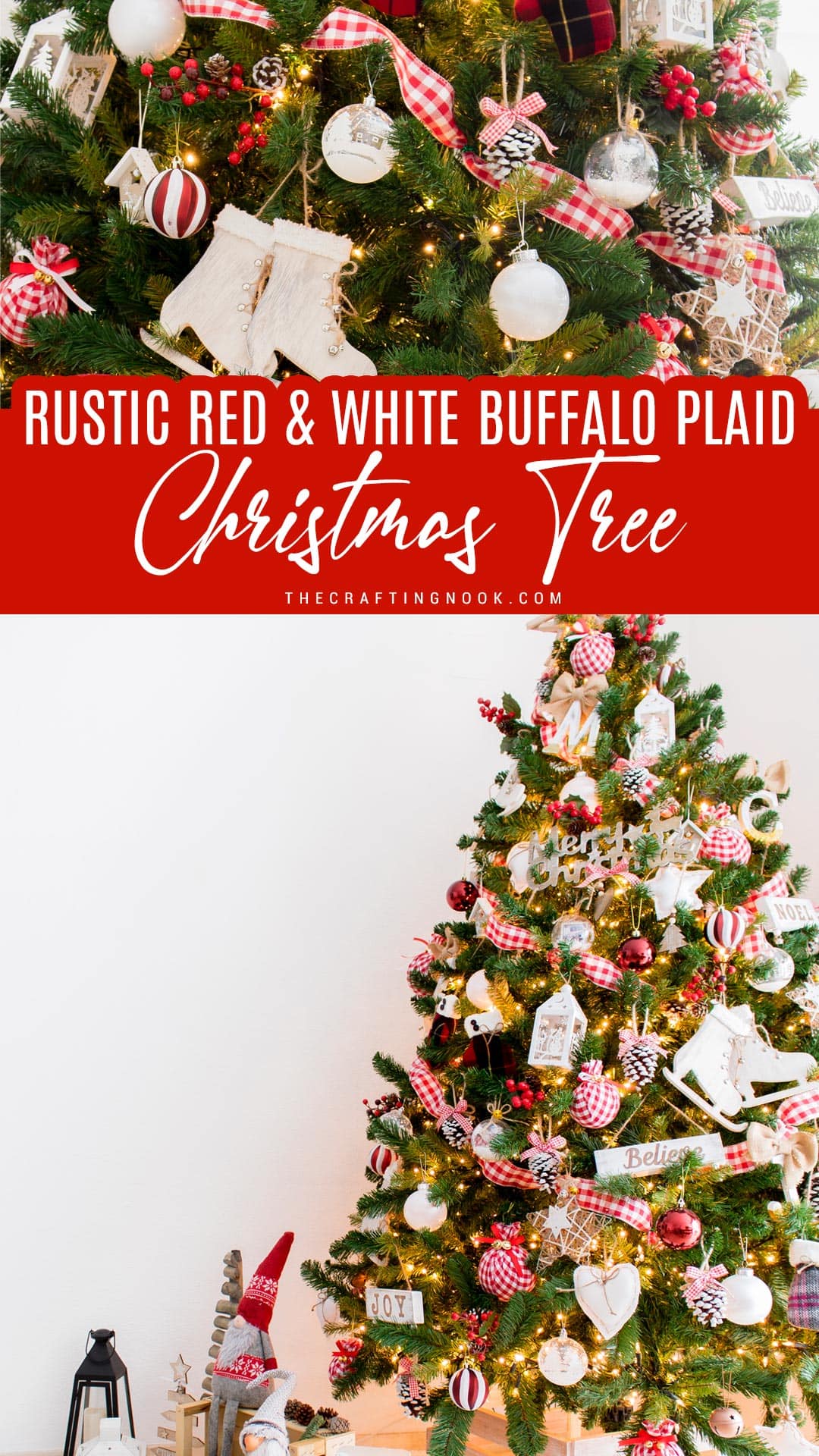 Til' next time...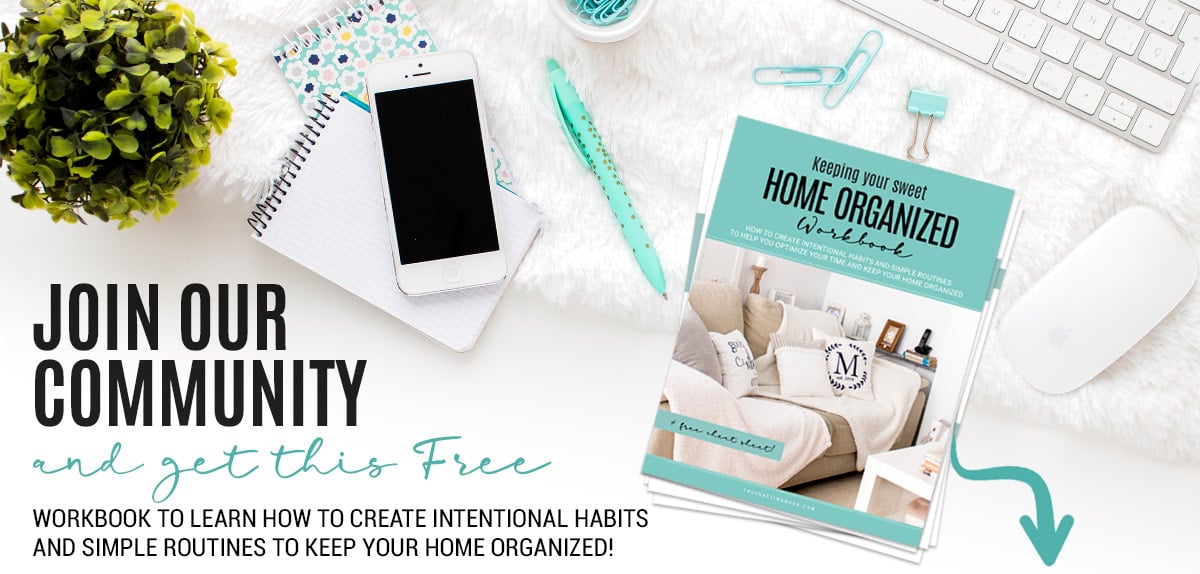 GET INSTANT ACCESS TO THE HOME ORGANIZED WORKBOOK
Plus freebies, printables, exclusive content, tips, stay connected, be the first to know great offers and Product Launches!
Disclaimer: By clicking on the "Yes, I want it" button above you are giving me your consent to collect and use your information according to the law and My Policy Privacy and The Cookie Policy. Zero Spam I promise!