Fourth of July Wooden Sign with Cricut Explore
Hey there! I am so excited to be guest posting here at the Crafting Nook today. My name is Brandi and I blog at the Creative Cutting Classroom. I help Cricut Explore users learn how to use their Cricut machines with simple, step-by-step tutorials that move users from being intimidated to confident. Today I brought this super easy and cute Painted Fourth of July Wooden Sign made with Cricut Explore.
Fourth of July Wooden Sign with Cricut Explore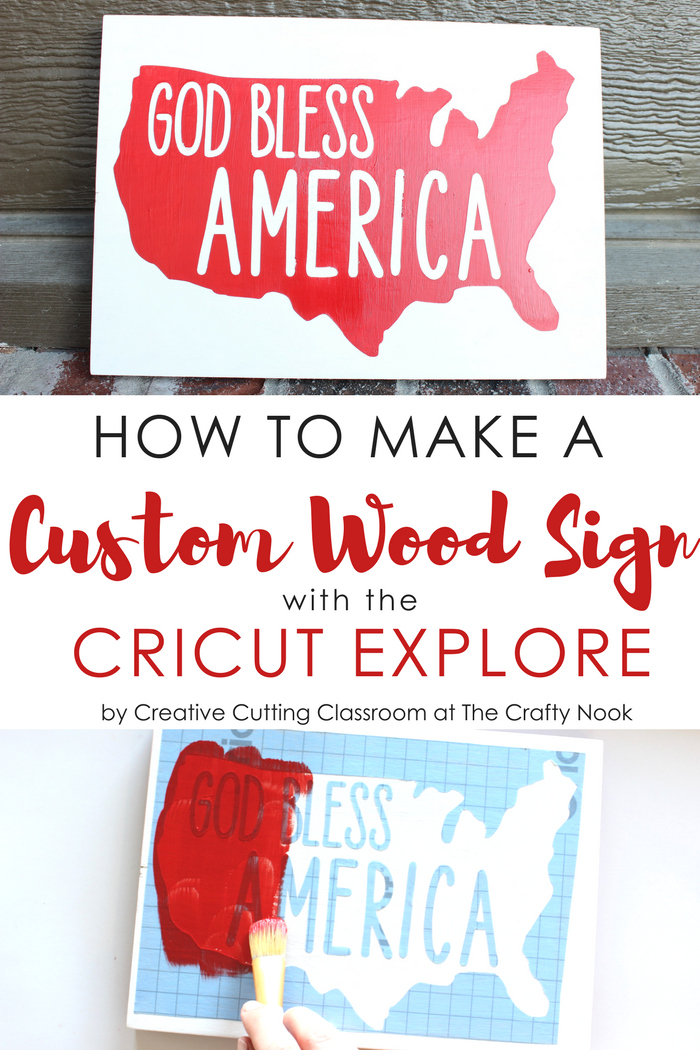 The Cricut Explore is an amazing addition to your crafting and DIY projects. If you have been thinking of getting one but aren't sure what model to choose, check out this guide.
Today we will be making a DIY painted wood sign using the Cricut Explore and Cricut stencil vinyl.
Fourth of July Wooden Sign with Cricut Explore
Materials:
half inch birch plywood 7.75 inches by 11 inches
Cricut stencil vinyl
red and white acrylic paint
transfer tape
fine grit sandpaper
paint brush or sponge
Tools:
Cricut Explore
Cricut cutting mat
Cricut weeding tool
Cricut scraper tool
1. Sand & Paint Wood
Begin by sanding your wood so that the surface is smooth. This makes it easier for the stencil to stick and not have any paint bleed underneath it. Paint the wood with white acrylic paint using a sponge or brush. Set aside to let dry.
If needed, gently sand again and apply a second coat of white paint. It is important to let it dry long enough, even overnight if you are able. If you don't, the stencil will peel parts of the white paint up with it when it is removed.
2. Cut the Stencil
I designed the stencil in Cricut Design Space using a USA shape and the Four Seasons Home Decor font. You can access the cut file by clicking here. The project should open in Design Space and will be ready to cut.
I cut my stencil vinyl at 8 inches tall before I put it on my mat so I didn't have to trim it down after I cut my design.
Apply the stencil vinyl to the cutting mat and go over it with the scraper tool to make sure it is flat and stuck down well. On the Cricut machine turn the dial to custom settings. On the cutting screen in Design Space there is a drop down menu to select the custom material. We want the setting that says "Stencil Vinyl (Cricut)"
Once you have your mat ready and your settings chosen, load the mat and push the cut button. When it is finished unload the mat.
3. Prepare Stencil
Using the weeder tool, peel away the parts of the stencil where the paint will go. Make sure you remove all of the insides of the letters as well.
Next, apply the transfer tape on the top of the stencil and smooth it out with the scraper tool. The tape I had on hand was narrow, but most transfer tape will cover the entire piece at once. If you use the Cricut brand transfer tape, press it against your shirt or put your hands on the sticky side before using it. If you don't the Cricut brand is super sticky!
4. Apply Stencil
Turn the stencil over and pull the backing off. Turn it back over and place it on the wood. Use the scraper tool to make sure it is adhered well and it is completely smooth with no bubbles.
Gently pull the transfer tape off of the stencil. Instead of pulling straight up on it, peel up a corner and lay it flat against the sign and pull, similar to the photo above where I removed the backing. Once the tape is removed, rub it with the scraper again and make sure it is adhered well, especially around the letters.
5. Seal with ModPodge
The worst thing about making a sign is when the paint bleeds under the stencil. You've done all of that work only to have lines that aren't crisp! To make sure this doesn't happen, put a thin layer of modpodge over the stencil where you are going to paint. Make sure you get it completely covered, but not too thick. This will seal the edges so that no paint bleeds through.
6. Paint with Acrylic Paint
Once the modpodge has dried for five or ten minutes, begin painting with the red acrylic paint. Paint a thin layer and let it dry and then paint another.
7. Peel Stencil and Touch Up
I peel the stencil up while the paint is still slightly wet, partly because it has always worked for me and partly because I'm just impatient! Be very careful to not allow the stencil to touch anything as you are peeling it up.
Use the weeder tool to peel up the letters. If anything did bleed, the paint should still be wet enough to scrape some of it off and use a tiny brush to make touch ups.
8. Tada! Show Everyone You Know How Awesome You Are
Once your sign is finished take it across the room and put it on your shelf or mantel. Now back up and look at it. Those little imperfections you keep focusing on? Let them go. Nothing you ever make handmade will be perfect. The more you make, the better you will be, but no sign will ever be perfect-and that is ok.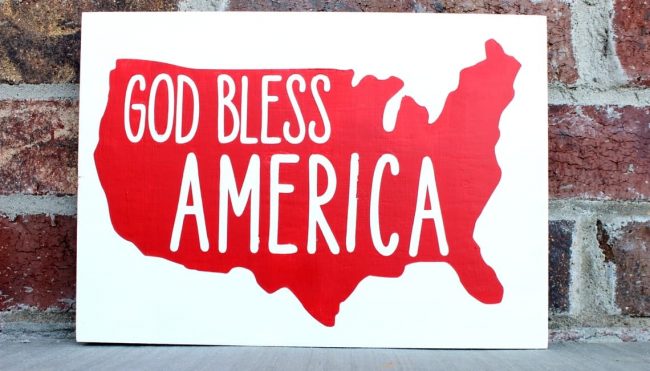 I would love to see the signs you make! Come join our facebook group and share your work…it is so fun to see all the different things everyone makes!
I have created a checklist for you to have when you are making your signs that walks you through step-by-step. Just click the button below to be grab your copy!
Hope you enjoyed this tutorial! See you soon!
Brandi!
And you can also check these as well:
Til' next time...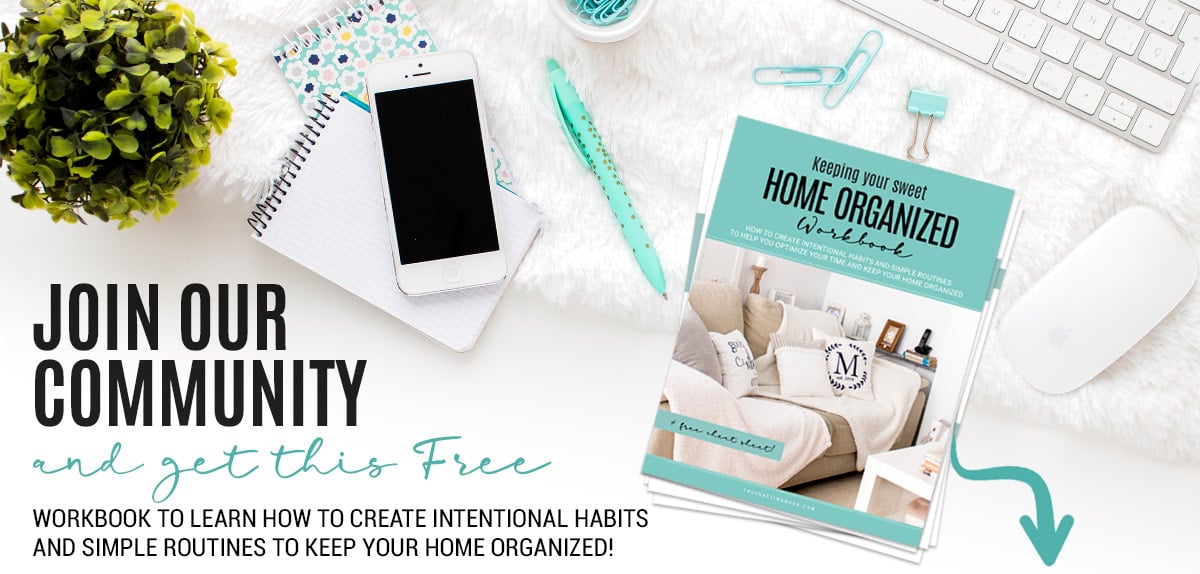 GET INSTANT ACCESS TO THE HOME ORGANIZED WORKBOOK
Plus freebies, printables, exclusive content, tips, stay connected, be the first to know great offers and Product Launches!
Disclaimer: By clicking on the "Yes, I want it" button above you are giving me your consent to collect and use your information according to the law and My Policy Privacy and The Cookie Policy. Zero Spam I promise!