If you are looking for a super easy craft for Valentine's Day, look no more I got you covered! This Valentine's Day Love and Pom pom Garland is not only easy, it's fun, colorful and possibly recycled if you are like and never throw away past handmade decoration. Come check it out!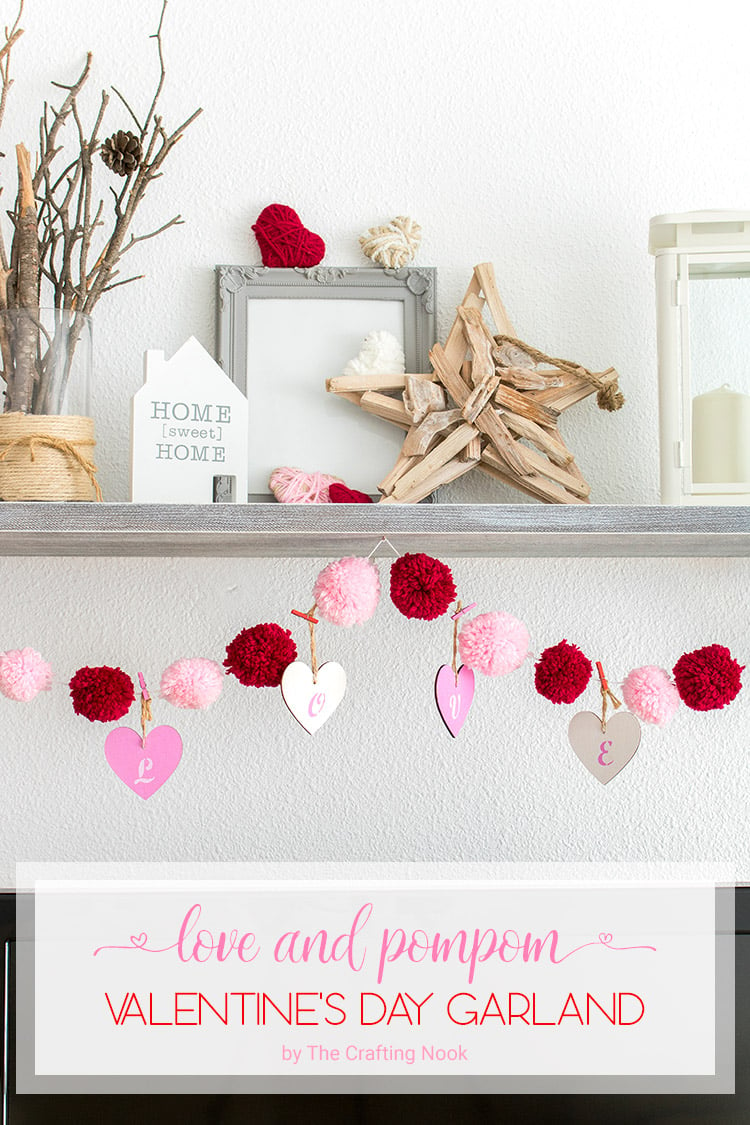 Valentine's Day Love and Pom Pom Garland Tutorial
If my front door can get a wreath then my living room deserves a loving decor too, right? Valentine's Day is a special day even though we celebrate Love every day. Like I said in my previous post, It's the perfect excuse to add some bright colors to our home after Christmas and celebrate Love in an extra special way.
This year I decided to reuse all my elements from last year's V-Day Wreath. So, I made this cute and simple 10-minute garland! Nothing like a Love and Pom Pom Garland to cheer up our Mantel, don't you agree?
I never throw away handmade decor unless it's damaged or way to worn out. After making our cute Rustic valentine's Day wreath last year I stored all the elements and a dear friend of mine reminded me of that and suggested a recycled V-Day decor. Why not?
This garland is seriously the easies ever if you have the elements handy. If not then add a few more minutes to make about 16 pom poms and some cute hearts with L O V E letters.
How to make this
Valentine's Day
Love and Pom Pom Garland?
Woot, let's do this!
Supplies:
White yarn or twine if you want a more rustic look.

16 pompoms (8 pink, 8 red) or more if you prefer.

4 wooden hearts with L O V E letters painted on each (with hangers)

Yarn needle

Mini Clothe pins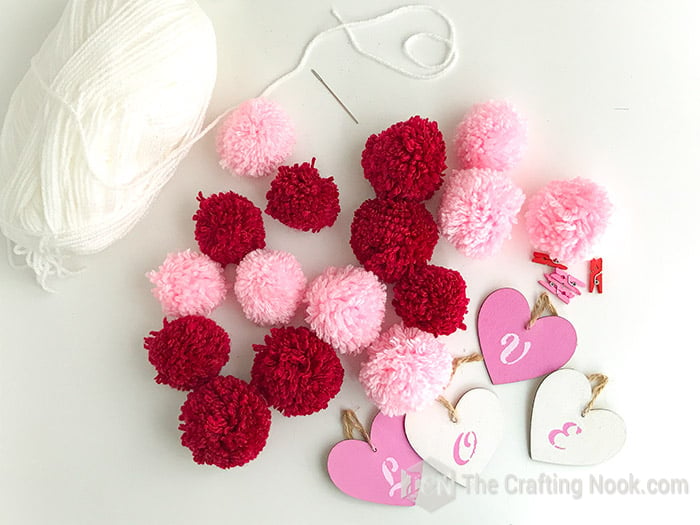 Firstly, cut a long strip of white yarn enough to hang your garland from one end to the other Ron your mantel or preferred place.
Insert the yearn into your needle.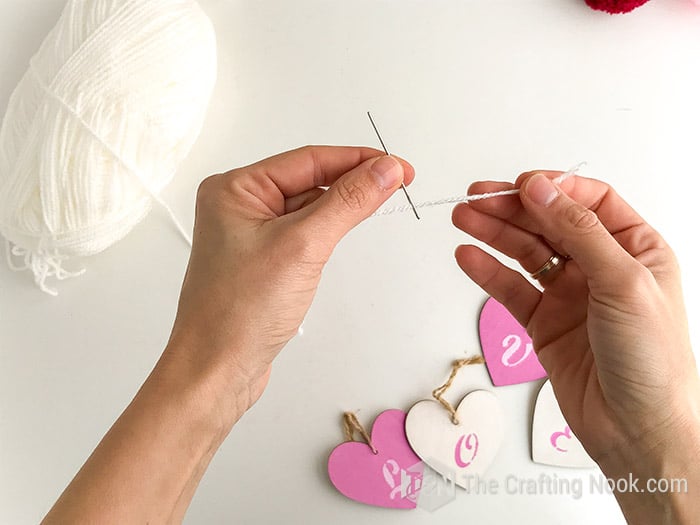 Then insert the needle through the center of your pom-pom.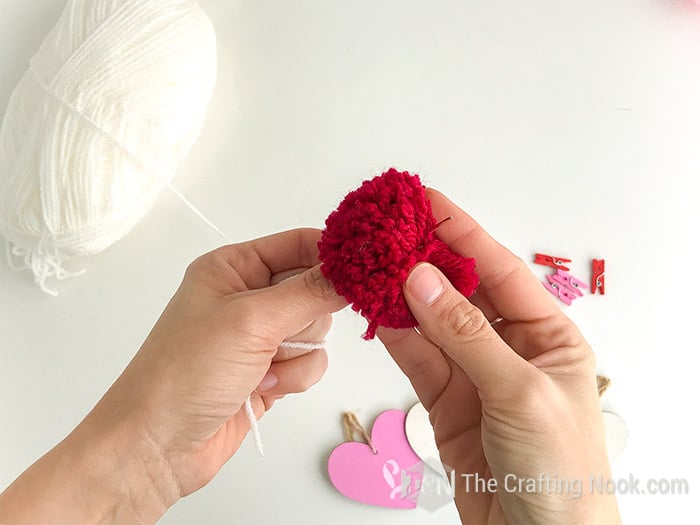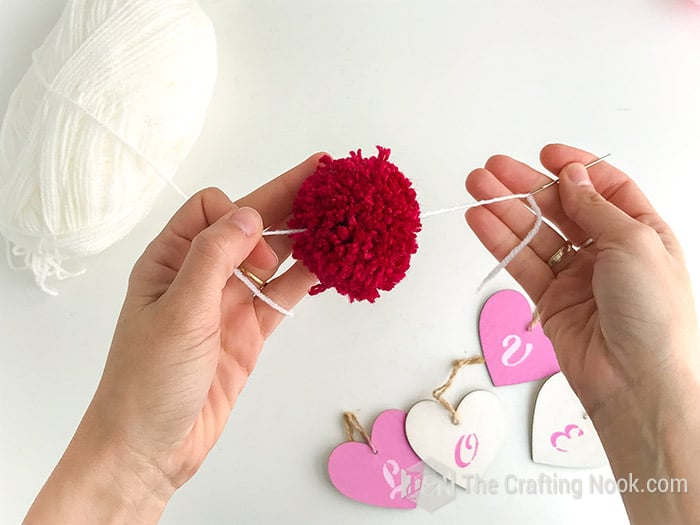 The best way to do this is making sure you find the heart of the pom-pom where you see all the threads converting.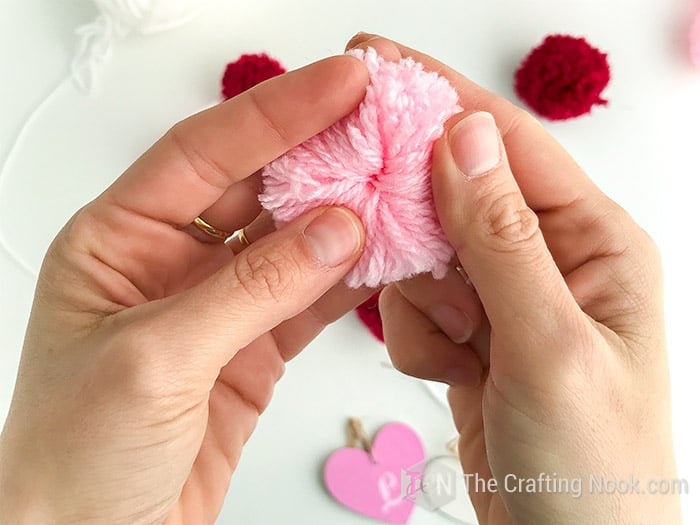 Insert right there your needle and then push it along the yarn.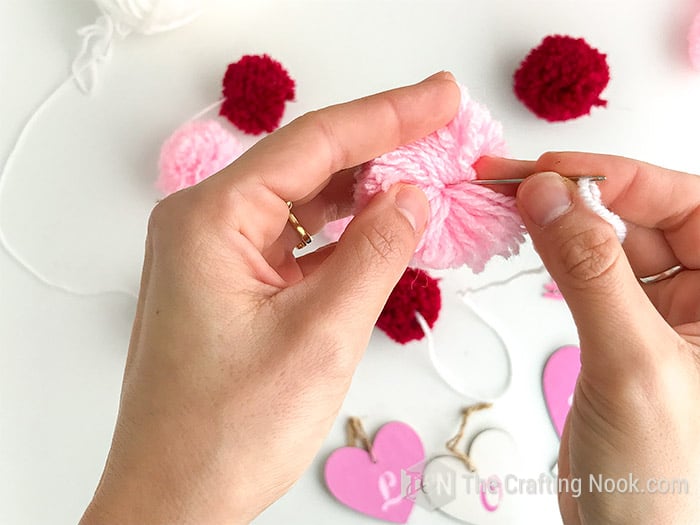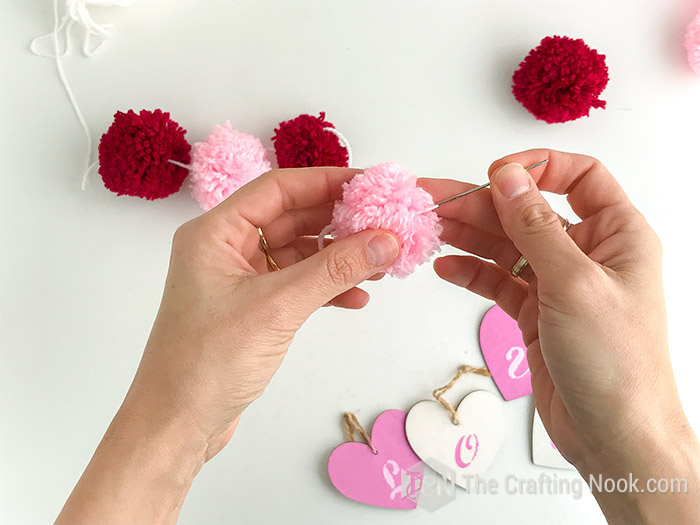 Repeat the process with all your pom-poms alternating colors.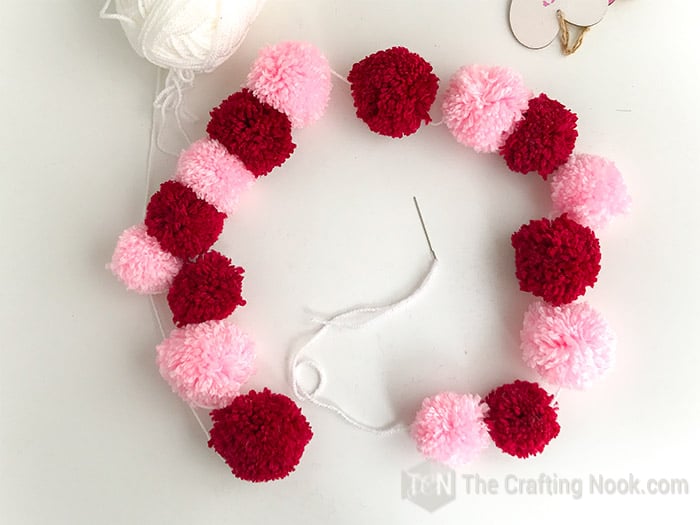 Spread them evenly along your yarn and decide where your hearts will be.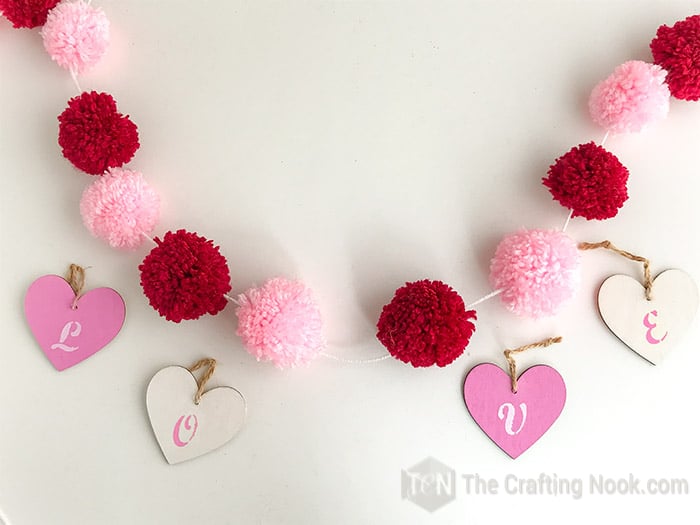 Using your mini clothespins secure your hearts on the yearn between pom-poms.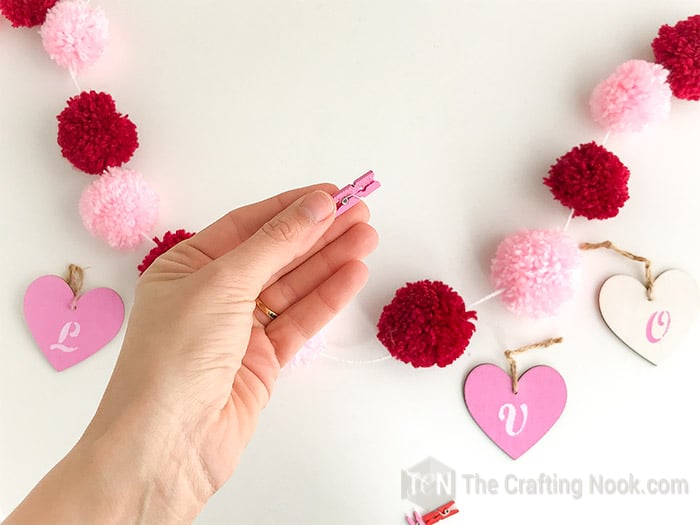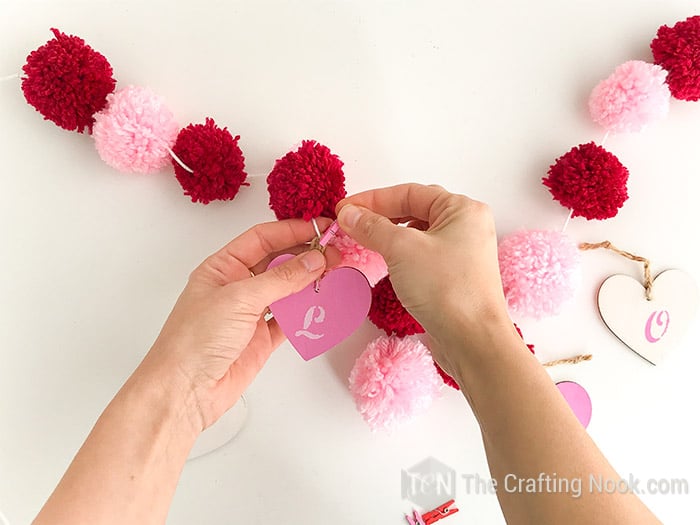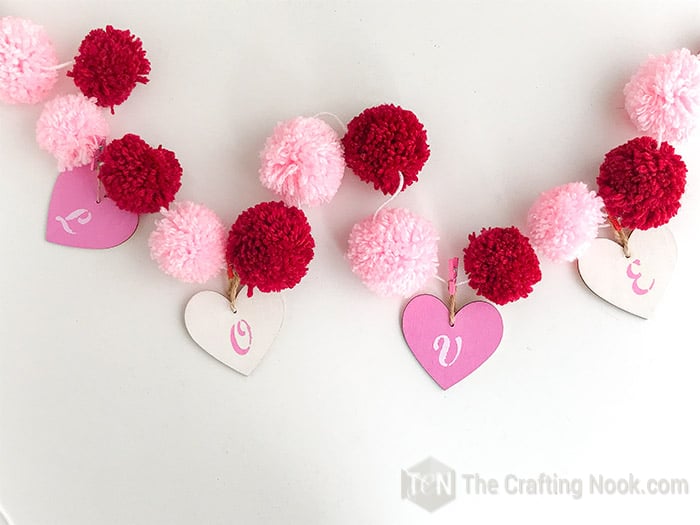 Lastly, hang your garland. Woot!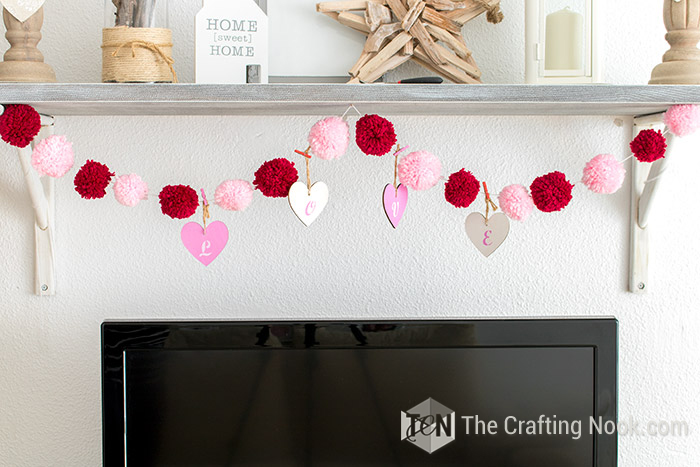 Voila! There you go!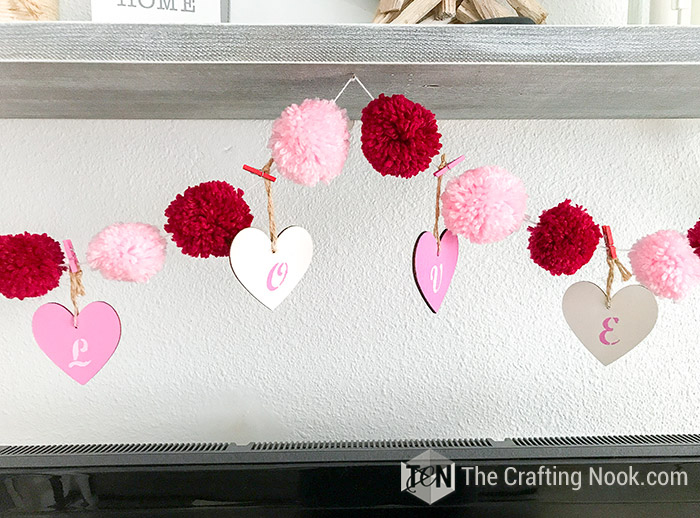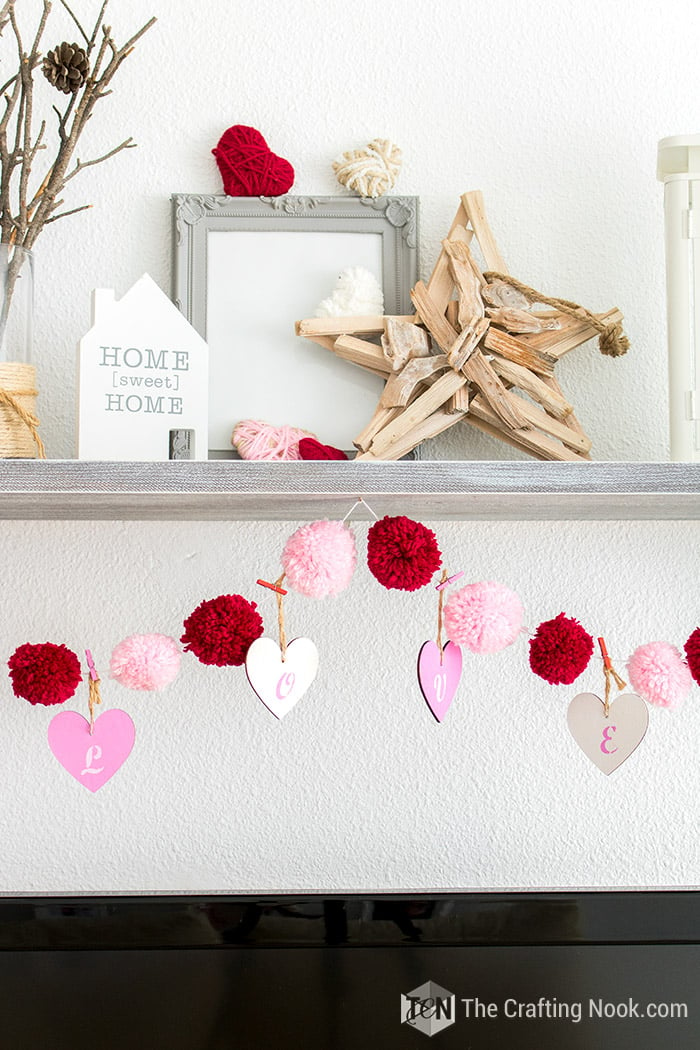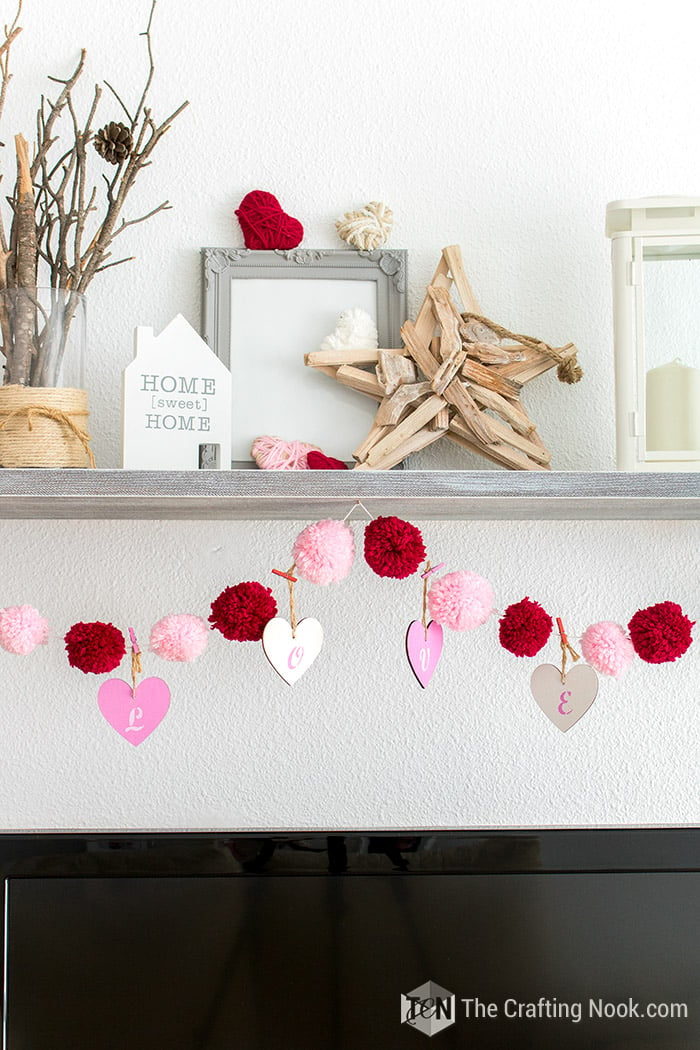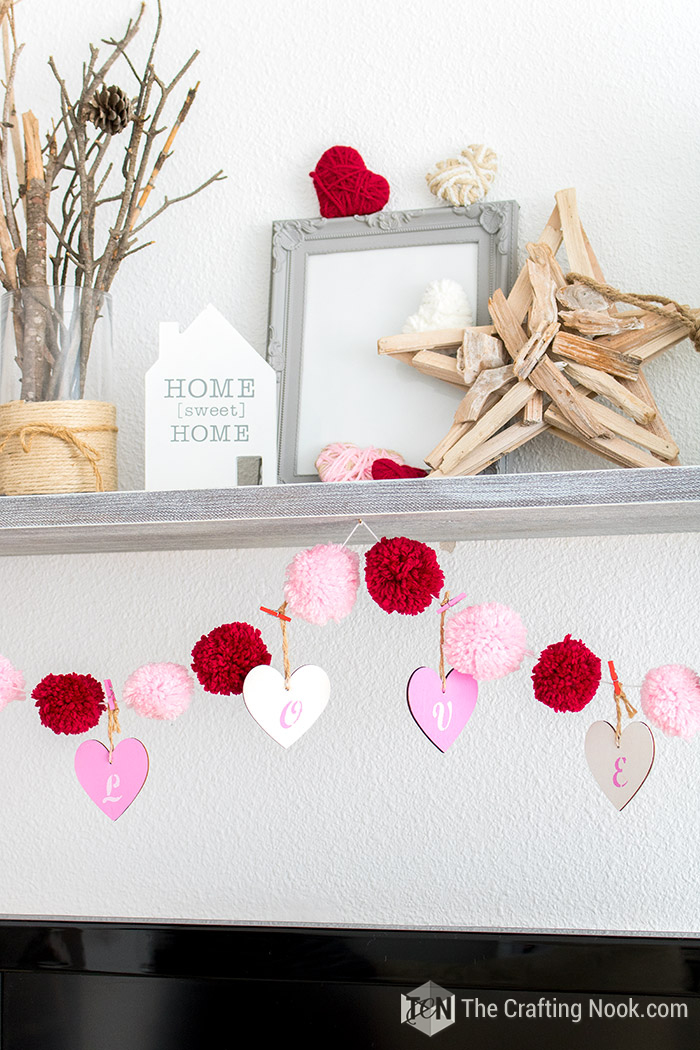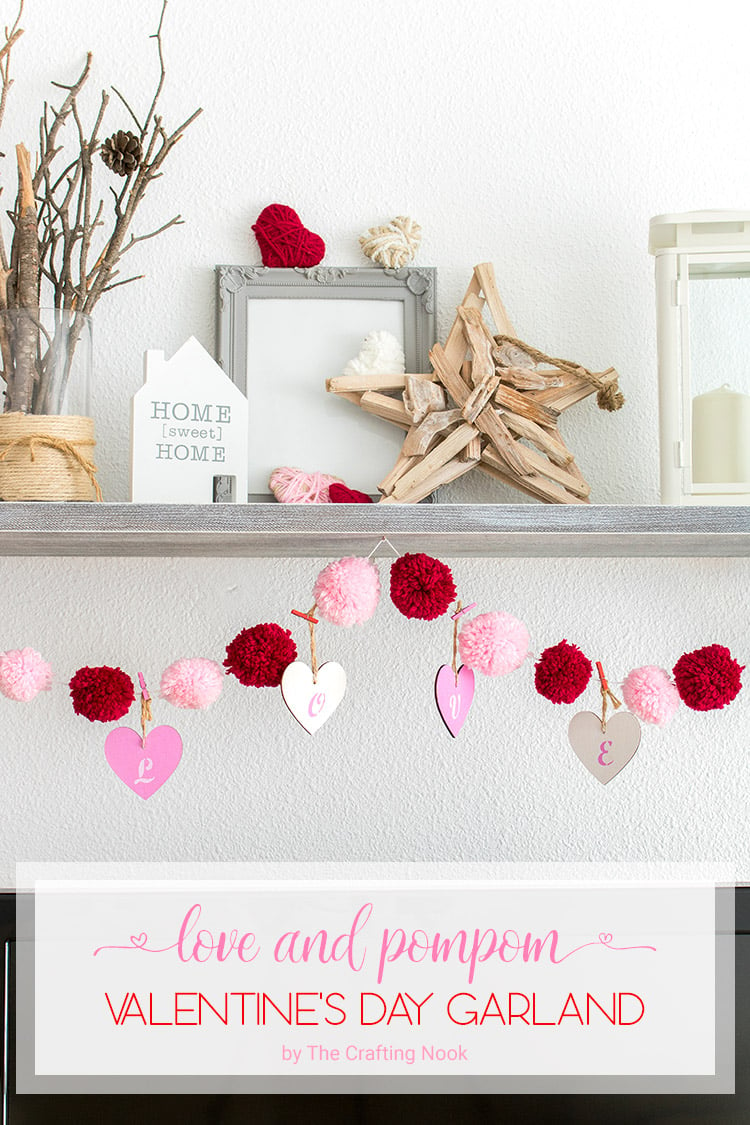 I love how my place looks. Such a cheerful and colorful look.
What other Valentine's day Garland can you make besides pom pom garland?
Oh my! imagination is the limit. You can do so many different styles with different colors and materials. But I can point out a few of my favorite ones:
I'm sure you will go crazy with so many ways you can add Valentine's Day to your decor!
Hope you enjoy this super easy crafts to create Valentine's Day Love and Pom pom Garland.
If you did, don't forget to share with friends!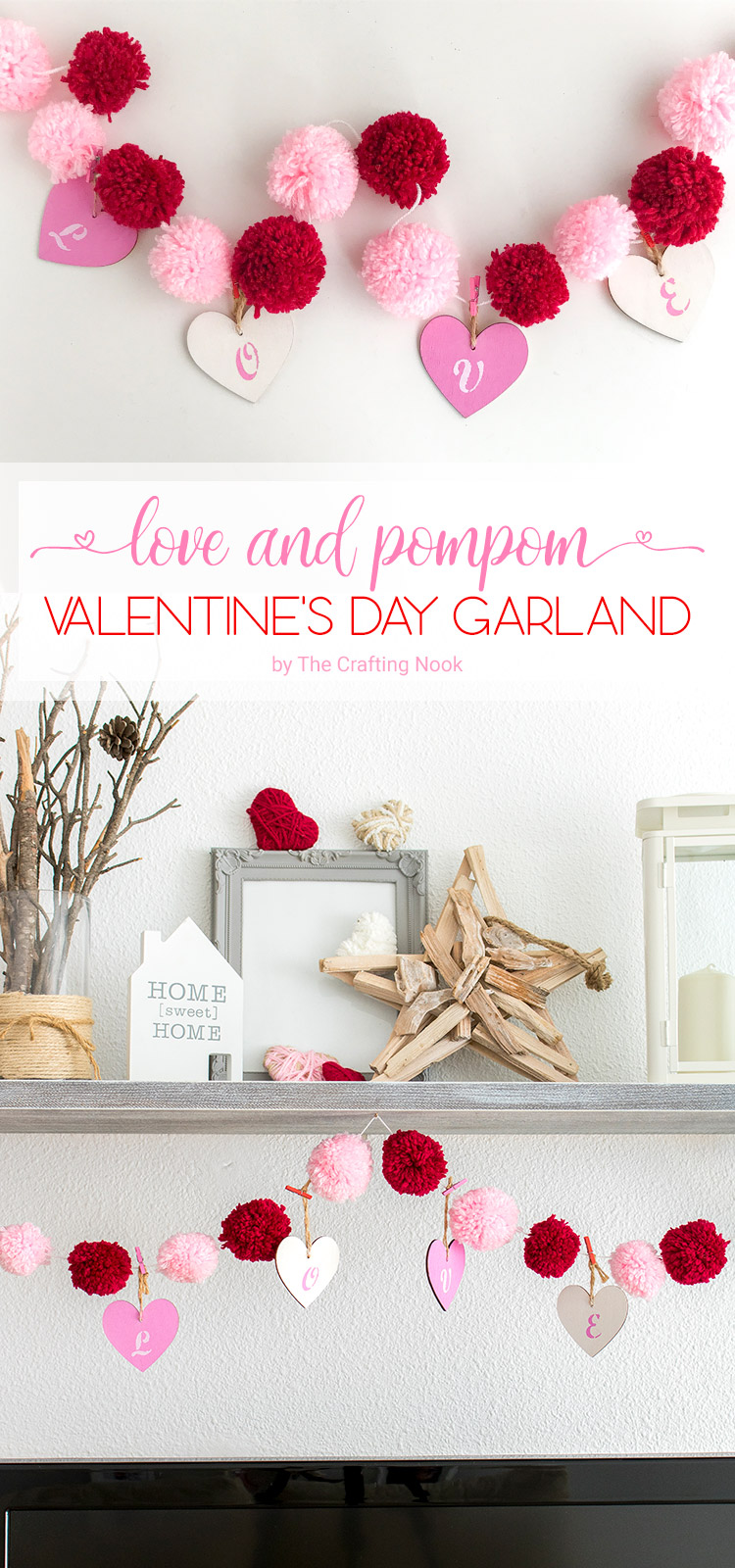 If you like this project you might also love these too: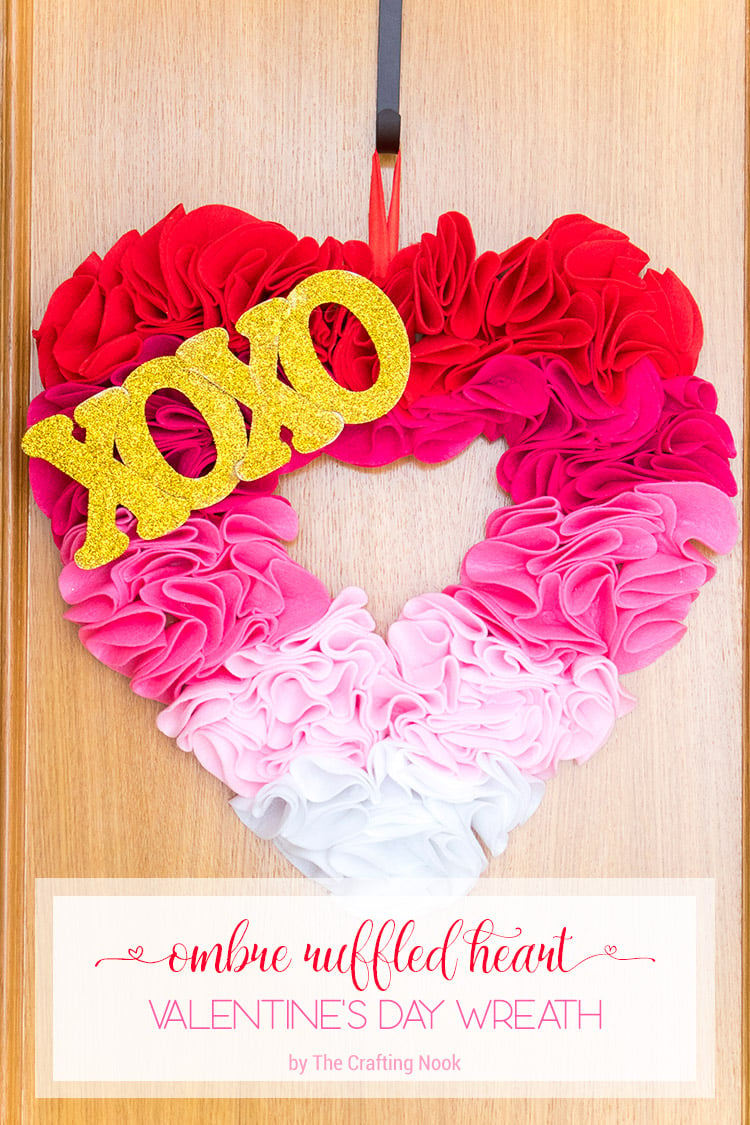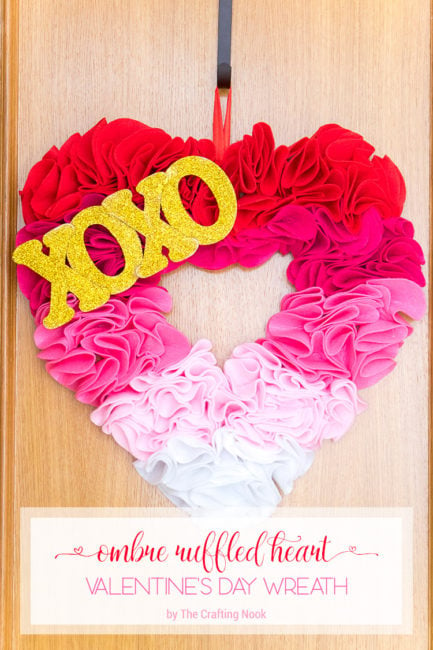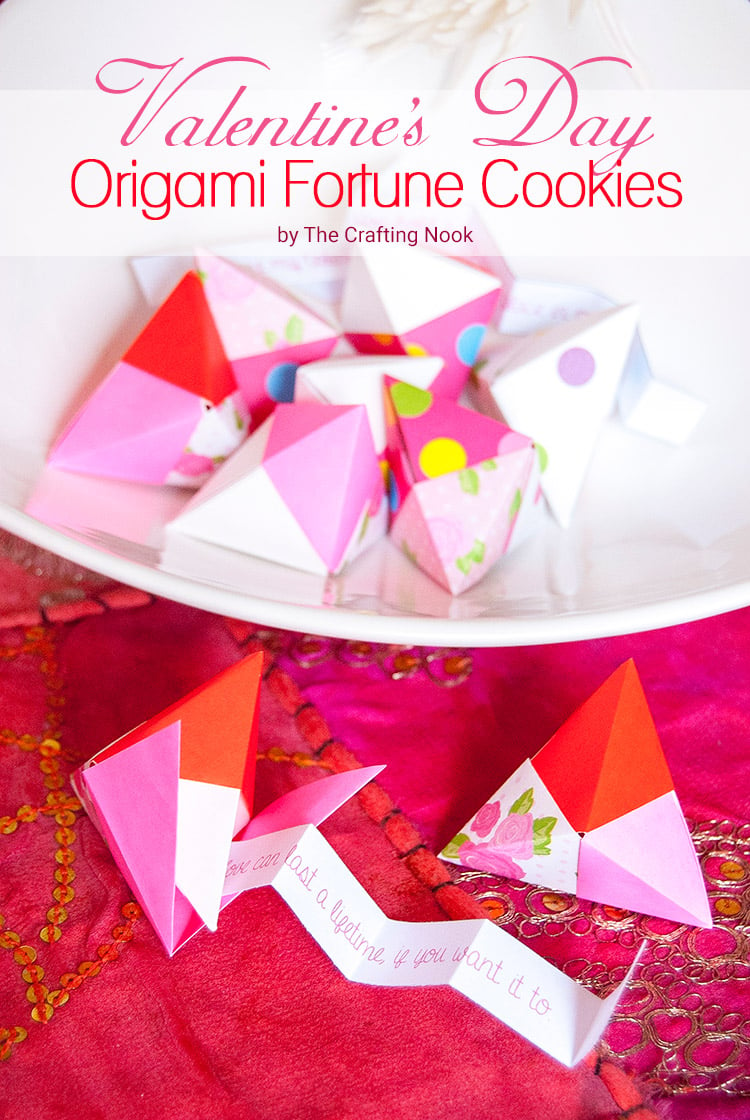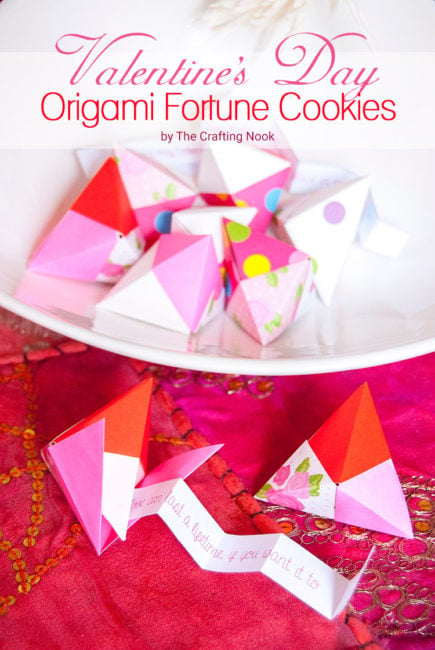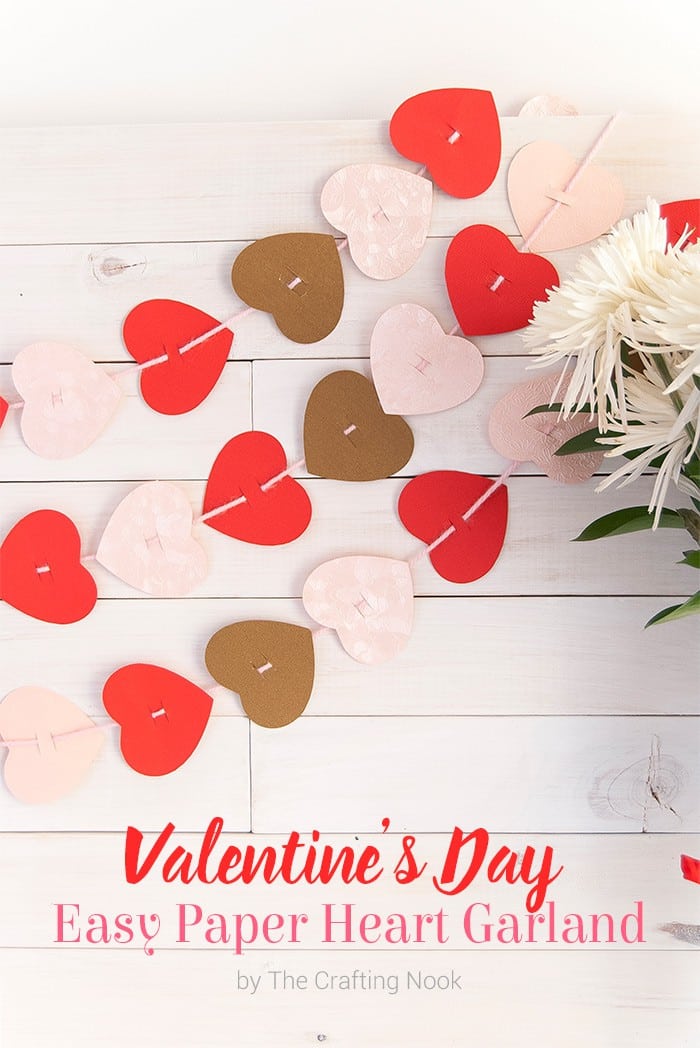 Till Next time!