White, Blue and Gold Christmas Tree Decor 2022
Decorate your Christmas tree with a white, blue, and gold color Scheme! This color combination is perfect for a Christmas tree with shades of blue accents.
My goodness, friend!!! I can't even begin to express my level of excitement. Making a blue decoration for Christmas has been on my mind for years.
And I did!!!!
White, Gold and Blue Christmas Tree Decor
The Inspiration
This year I went a little different and also a little more minimalist in my holiday decorations. I've been wanting to decorate with shades of blue for a long time now but for one reason or another I always ended up with the classics or rustics.
Although I still kept some of the rustic vibes, this year's decorations tend to be a little more delicate and wintery making the focal point to the blue elements.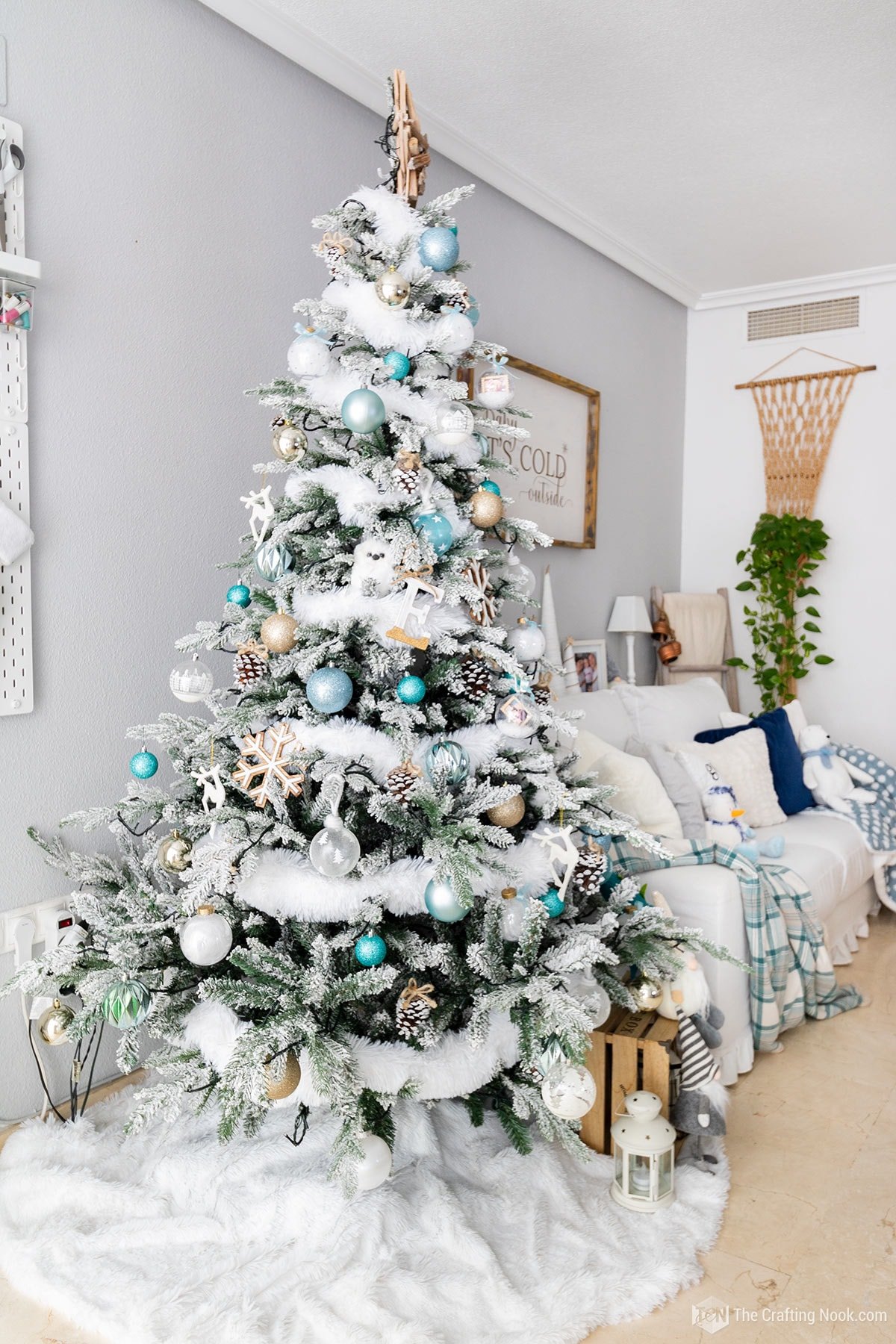 No red was used which was kind of weird to me. But once I finished I was in love.
I decided to go with my flocked tree I got last year because I wanted a very wintery look, kind of a winter wonderland vibe. There's just something about a white tree that makes Christmas so special
There's a lot more coziness and winter wonderland to it and I'm enjoying every minute of it.
The Ornaments
This year I didn't create any new ornament because I wanted to reuse past ones but tweaked them a little bit so they would look like a new one such as my feather ornament and others I just refreshed them like my beloved memory keepsake snow globe ornaments.
For the feather ornaments, I removed all the gold ribbons and added light blue rhinestones all around it, and finished it with a very cute blue ribbon at the top. These added some really lovely glam and charm to it.
For the snow globe ornaments, I just replaced the faux snow which was made out of Styrofoam and it was super annoying because with the static it would cover the photos and the walls of the ornaments. I decided to change the type of faux snow and replace the twine with a blue ribbon bow.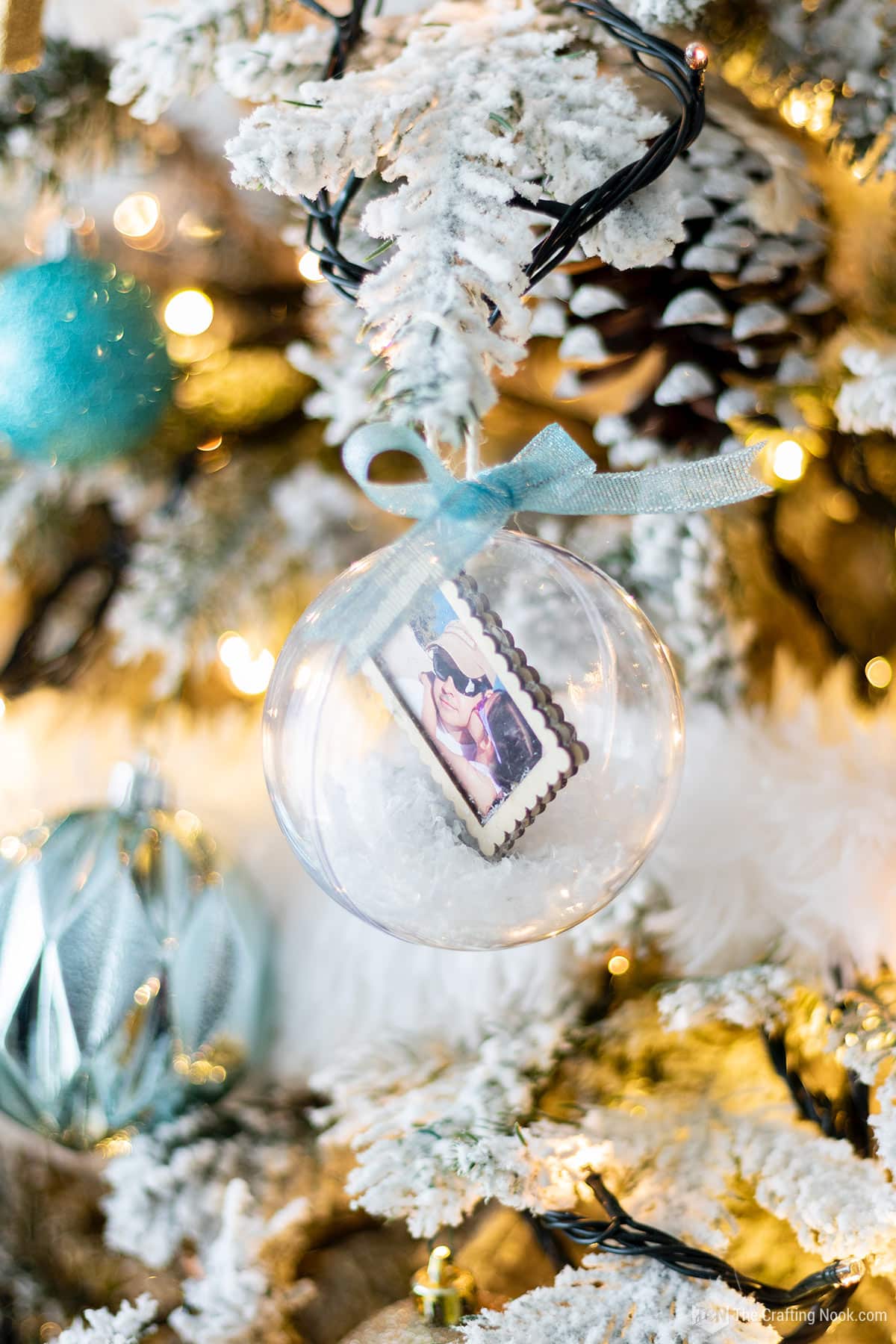 Both ornaments look so pretty now on the flocked Christmas tree.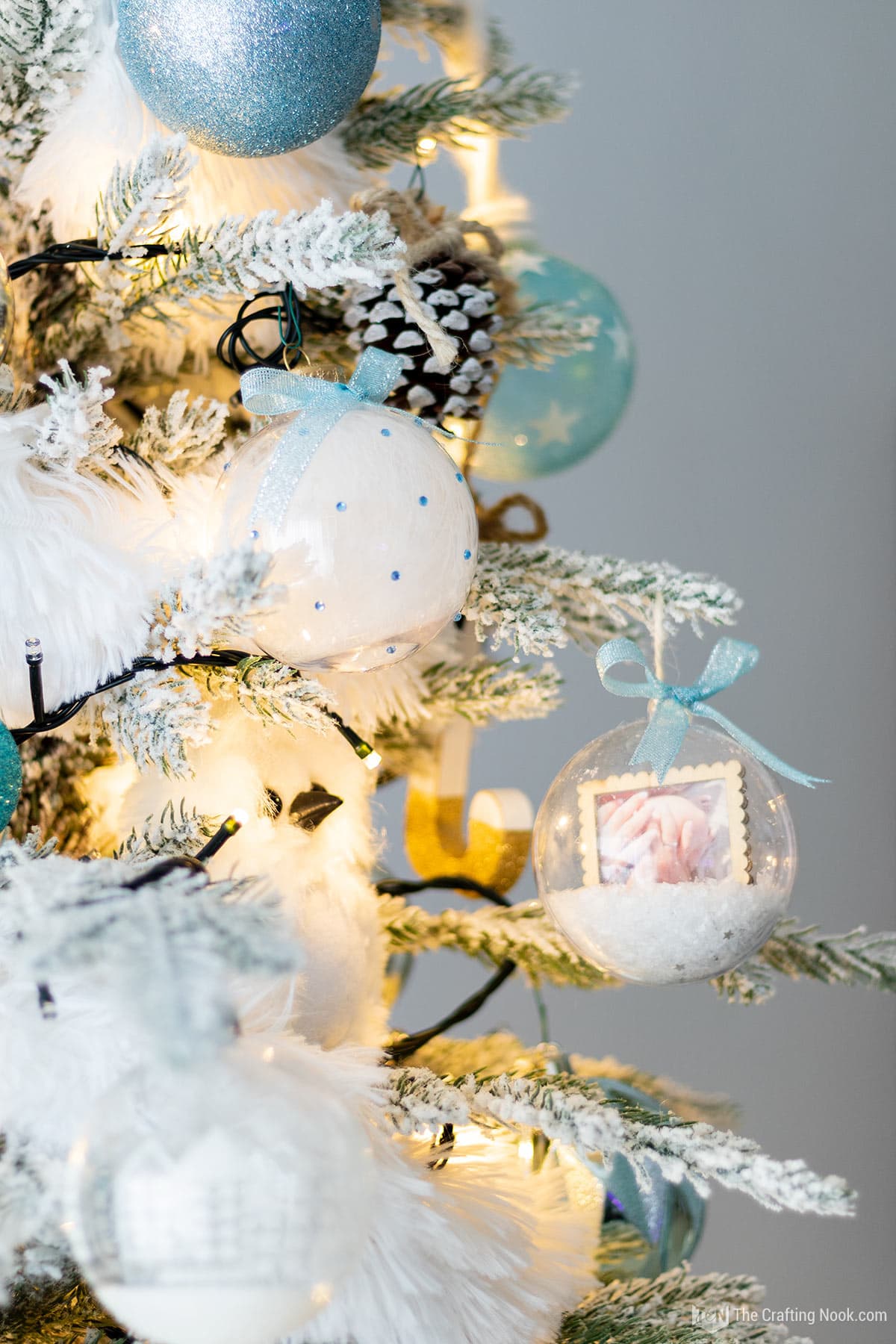 I also used gain the faux fur boa I made last year to add an even more wintery look.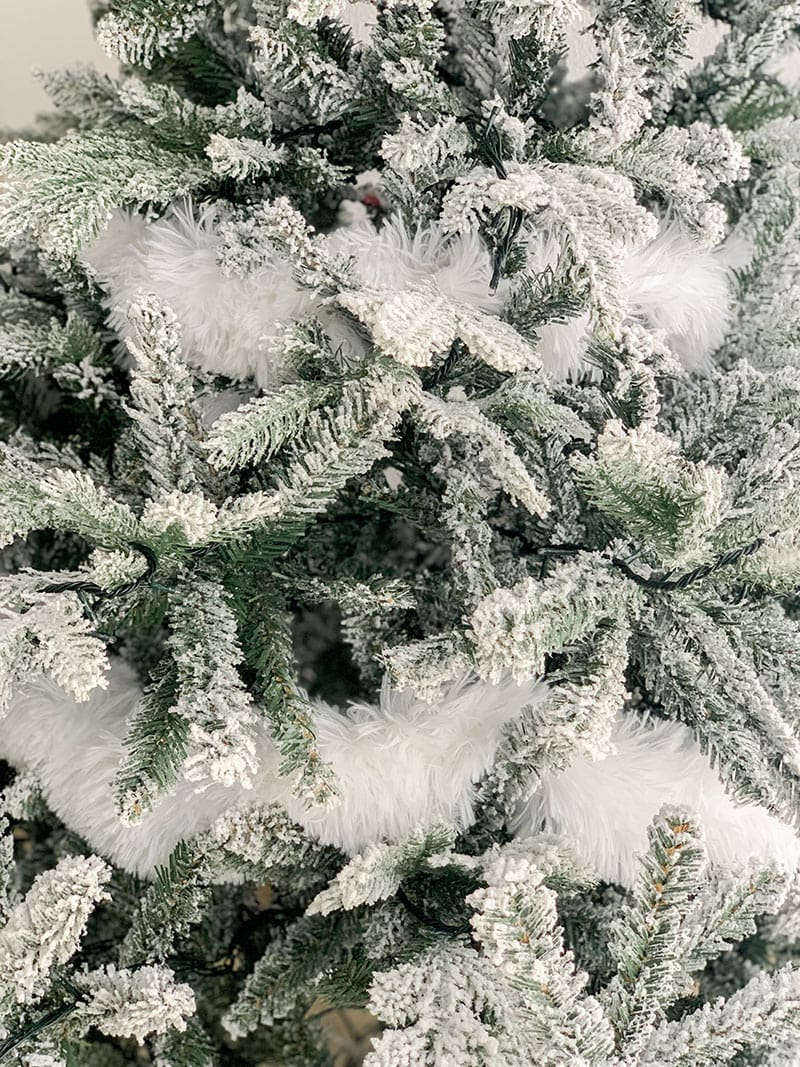 Then I reused my flocked pinecone Christmas ornament and my family monograms.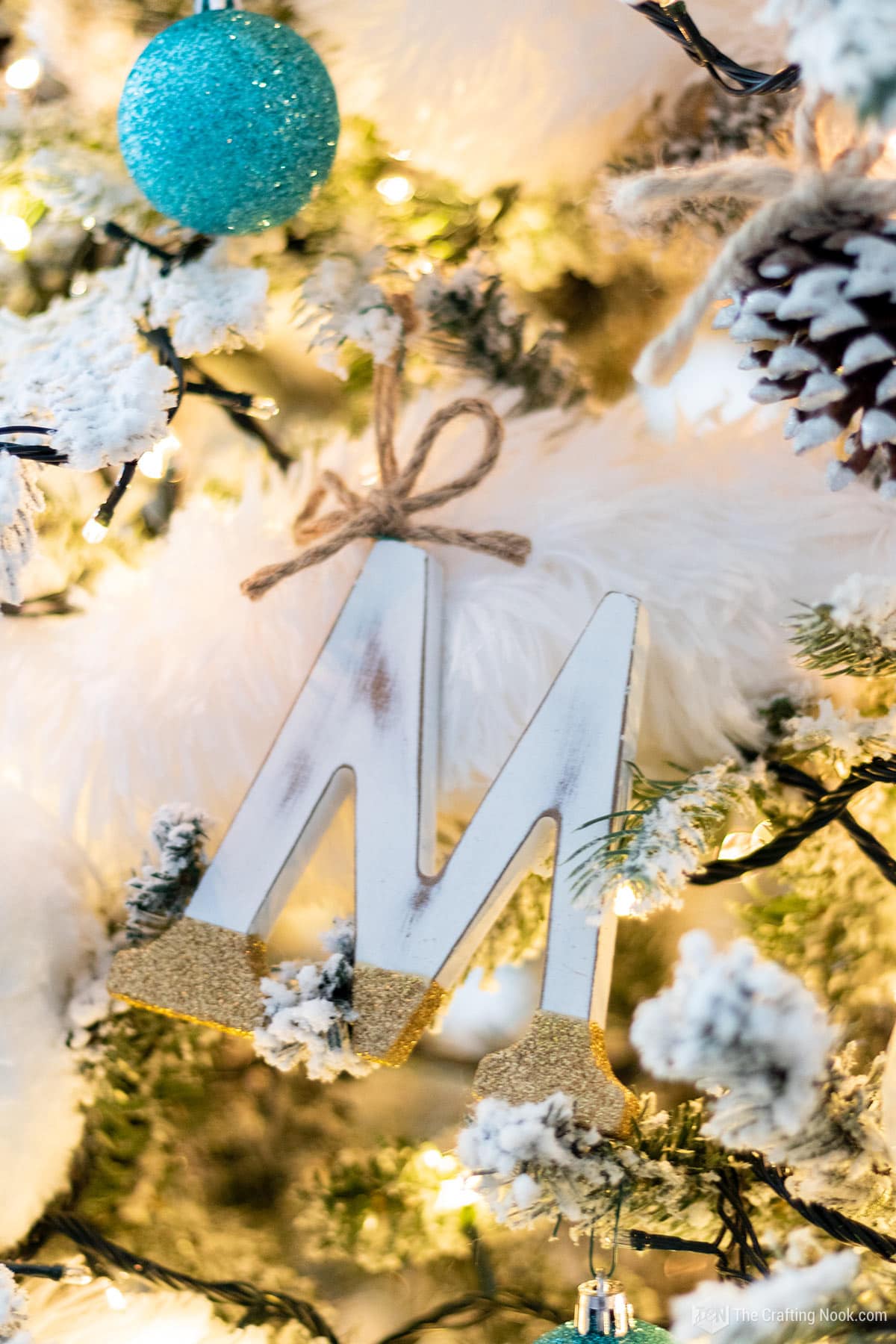 My cute little white owls could not be left out. Then I added some different white ornaments – some translucid, some solids and also added gold baubles and some light shade of blue ornaments too.
I couldn't resist adding a bit more wood to it so I put some wooden snowflakes here and there too.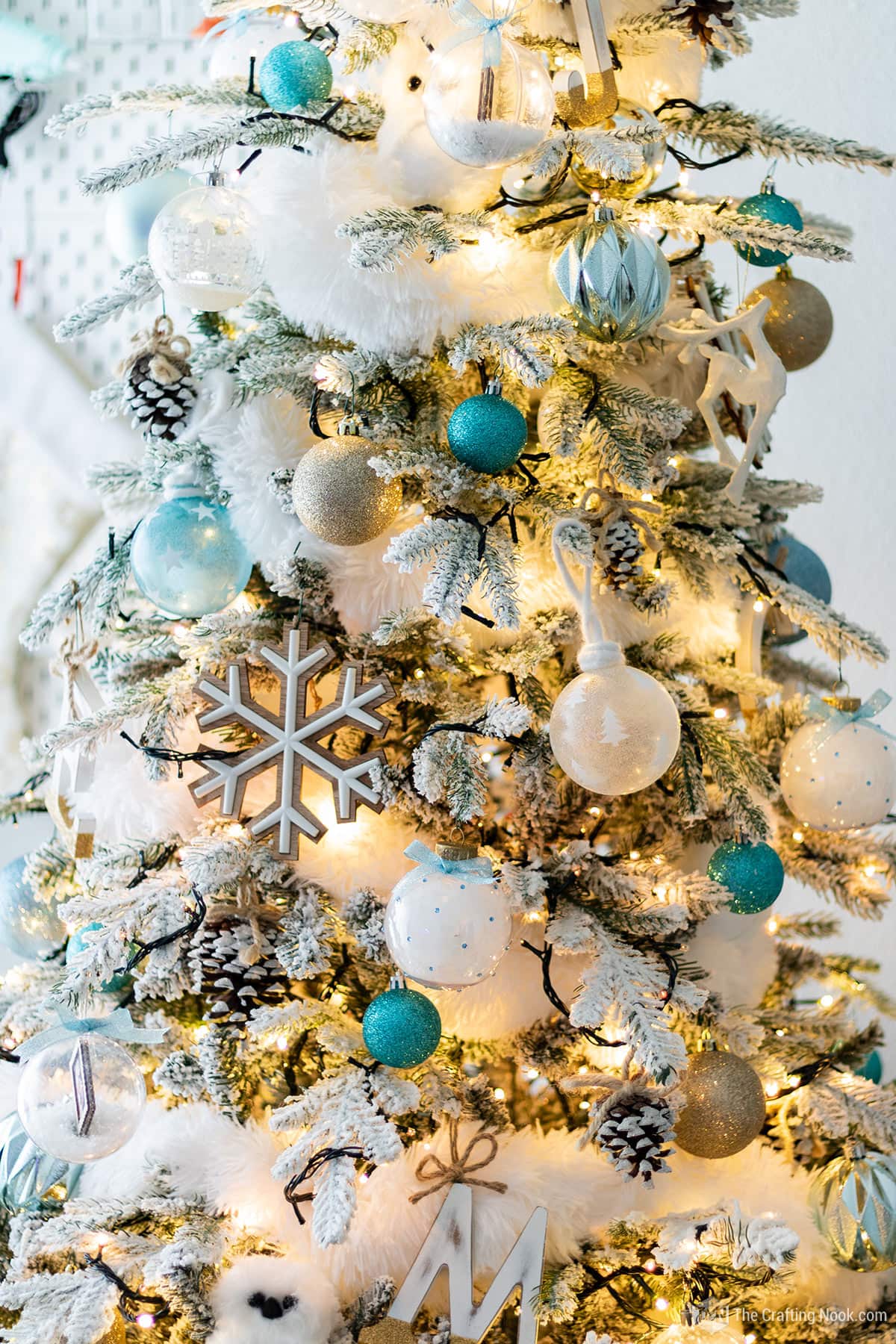 Again, y wooden Christmas star went to the top of the tree. For some reason, I can't find any other Christmas tree topper I love more than this one.
The bottom of the tree
At the bottom of the tree, I decorated it with a faux fur tree skirt that I made myself with 2 yards of fur and made a cut from one side to the center so I could go aoudad the tree foot more easily.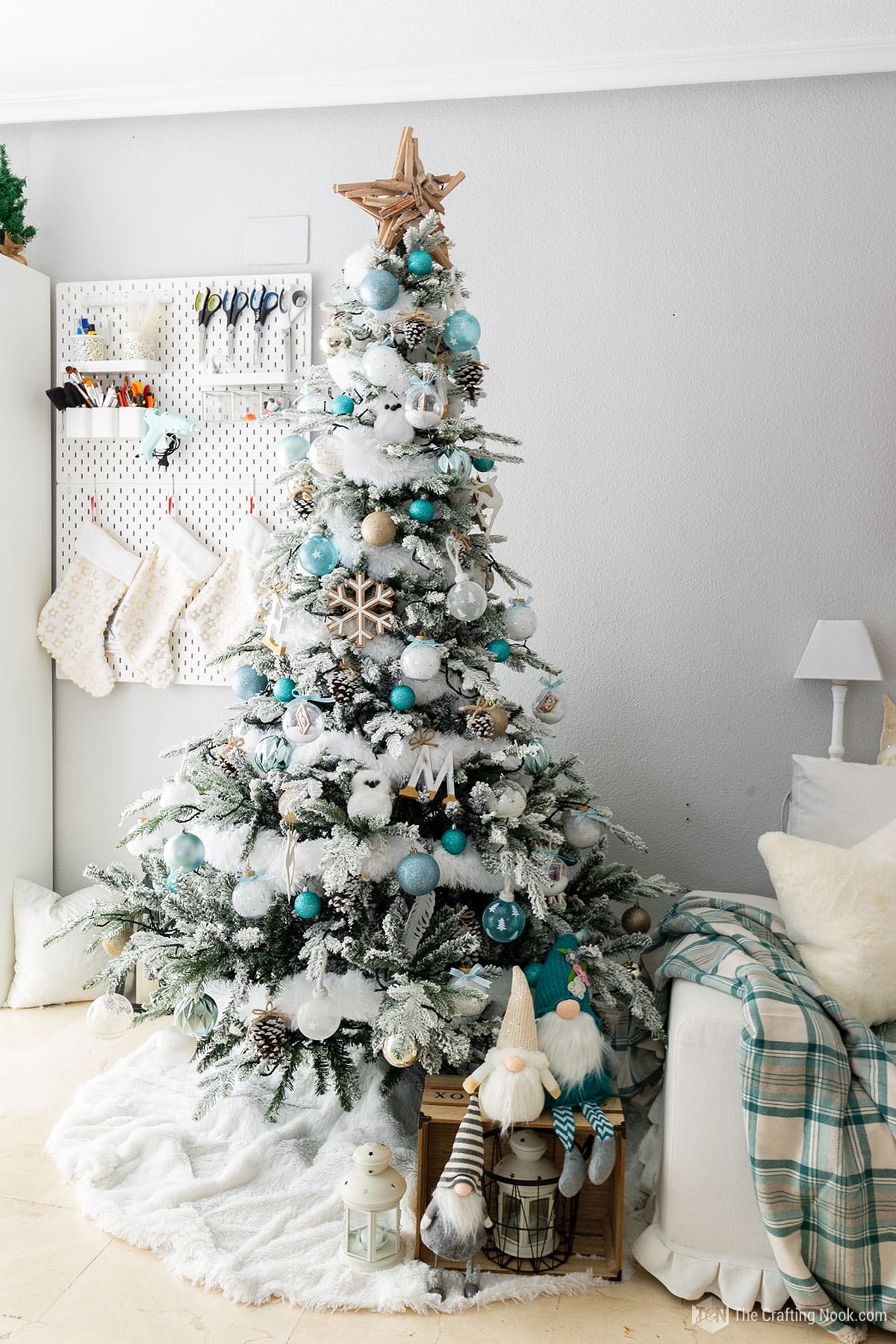 Then I added some cute gnomes on top and side of a rustic crate. And finally put a couple of Ikea lanterns, one inside the crate and another one on the side. (Ultram)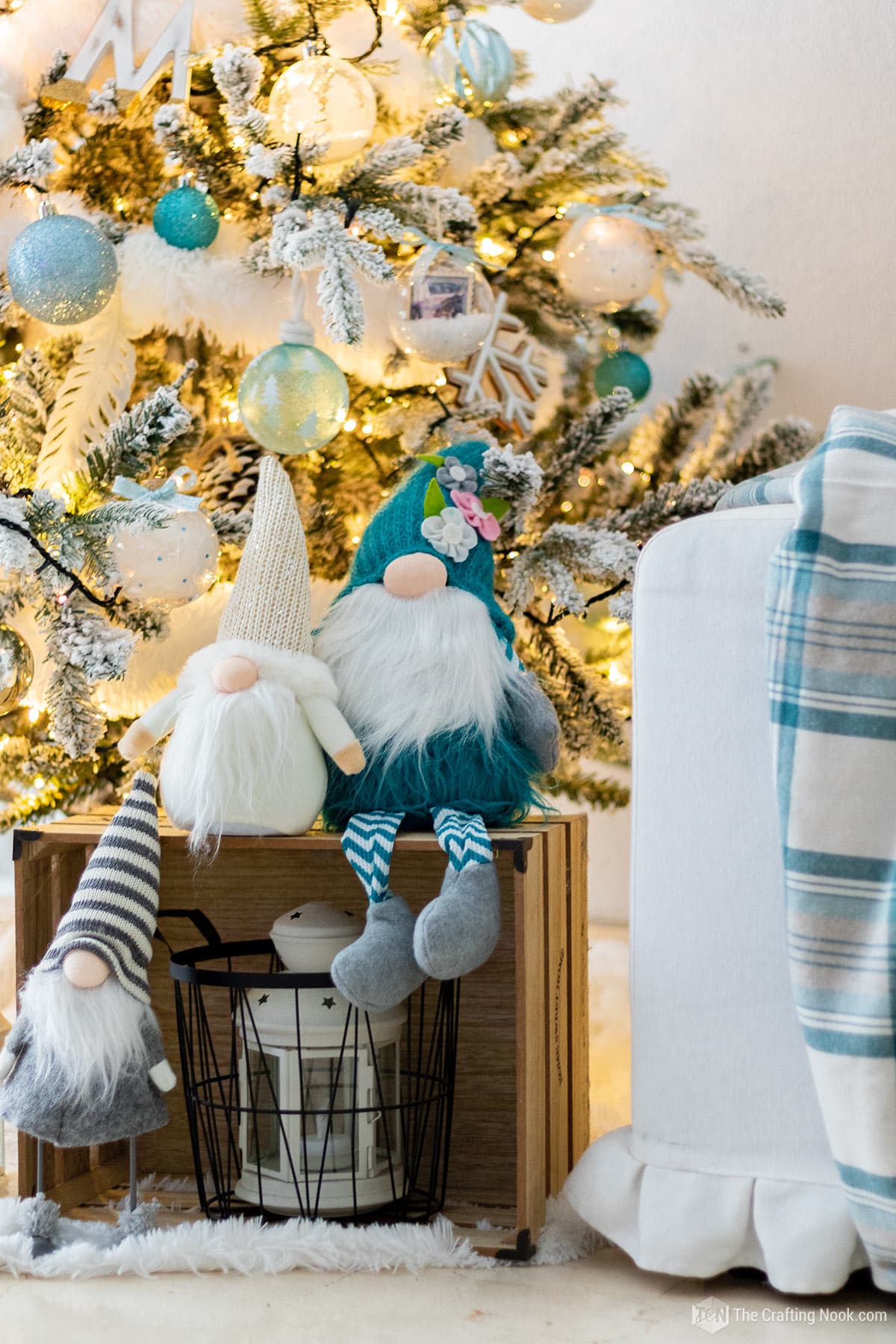 This year I placed the Christmas tree right next to the couch in my living room and I enjoy laying down on it to watch the twinkling light on the tree. A lovely view for sure.
The budget
There's no need to spend a fortune to have a gorgeous Christmas tree. There are so many ways in which you can reuse what you have and buy pretty decorations at a great price if you know where (and when) to look.
I usually set a budget of no more than $200, $300 at the most each year for Christmas decorations.
This year I probably spent a little more than in past years but it was because I had absolutely nothing blue to use in a blue Christmas decor, but still, I manage to reuse lots of the ornaments and decorations I already had.
I hope our pretty wintery White, Gold, and Blue Christmas Tree was inspiring and that you enjoyed the tour.
Crafting Tips
Boas are usually very expensive, especially if they are made with feathers. One easy way to create one is to buy white faux fur and cut it into strips and use them as the boa or garland.
Got clear ornaments? Fill them with things that match your color schemes, such as ribbon, feathers, glitter, fabric scraps, twine, faux flowers, faux snow, mini trees, or reindeer, imagination is the limit (and the size of course).
Frequently Asked Questions
What are the Christmas Colors for 2022?
For Christmas 2022, metallic silver and metallic gold will be used, as well as different shades of green associated with grass and leaves. A lot of space will also be given to pinks and soft blues, which are surprisingly romantic and unusual colors for Christmas décor.
What type of Christmas tree is the prettiest?
Christmas trees, evergreen trees, often pine, spruce, or fir, decorated with lights and ornaments as a part of Christmas festivities are the most common BUT, in my opinion, flocked Christmas trees are the prettiest, especially the Canadian type.
What colors go with a white Christmas tree?
Pink, silver, blue, teal, and gold ornaments pop against white branches and an elegant string of white beads adorns the tree for a classic look. 
More Christmas Tree Ideas to try
If you enjoyed this year's white, blue and gold christmas tree inspiration, you might also love these other Christmas decor project ideas too.
Other Christmas decorations I love from my favorite bloggers:
Share and PIN ME!!!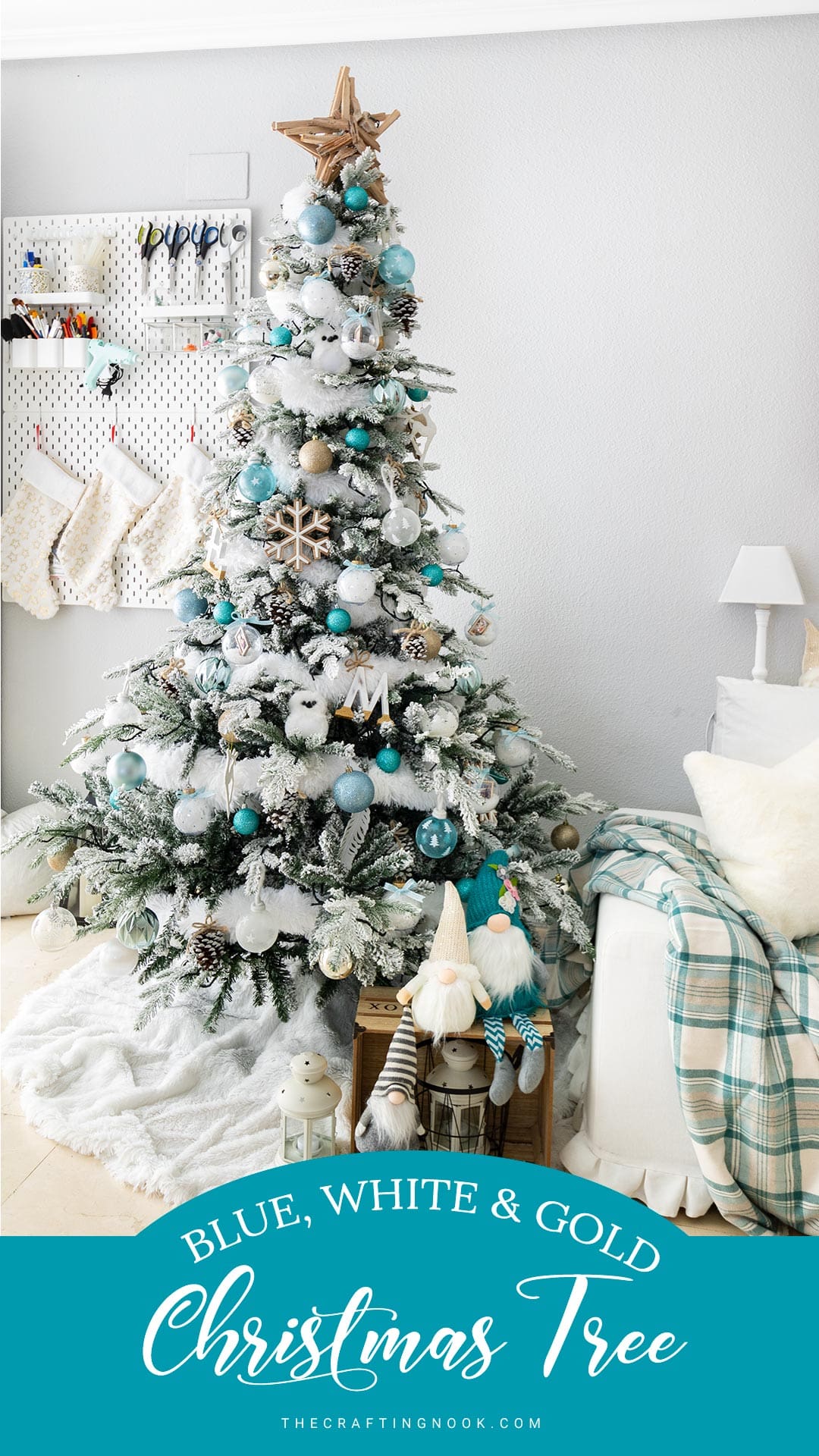 Til' next time...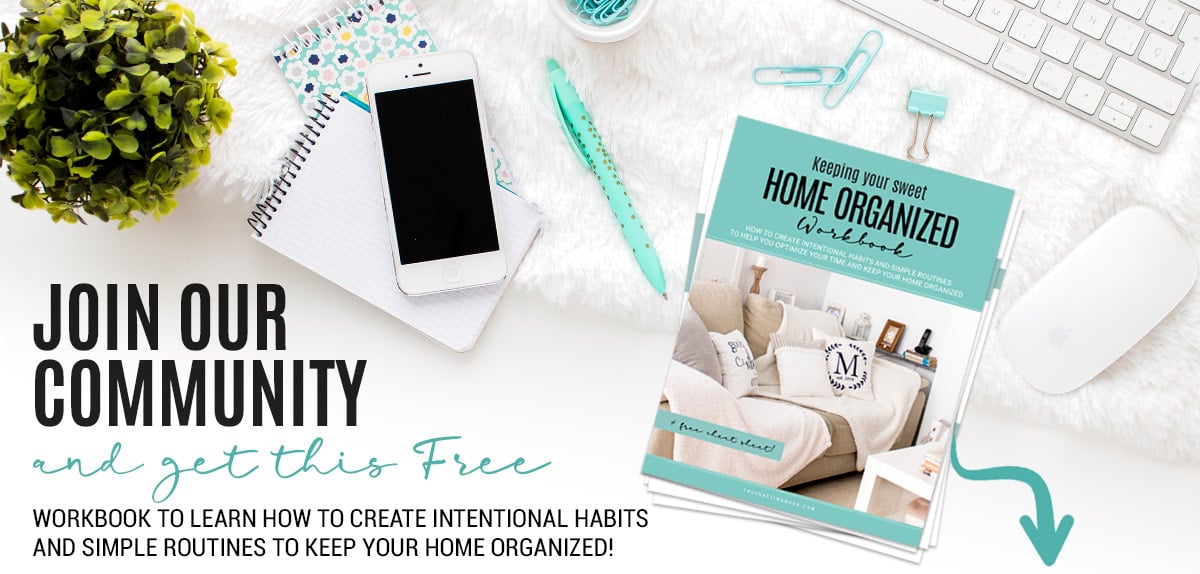 GET INSTANT ACCESS TO THE HOME ORGANIZED WORKBOOK
Plus freebies, printables, exclusive content, tips, stay connected, be the first to know great offers and Product Launches!
Disclaimer: By clicking on the "Yes, I want it" button above you are giving me your consent to collect and use your information according to the law and My Policy Privacy and The Cookie Policy. Zero Spam I promise!