Rustic Red and Gold Christmas Tree 2020
Using mostly past year's ornaments, spray paint and lots of love you can create a gorgeous, elegant, expensive-looking red and gold Christmas tree!
So, here I am today, wearing a cozy fleece pj and fluffy Sweater with a cup of coffee in my hands and writing this exciting post!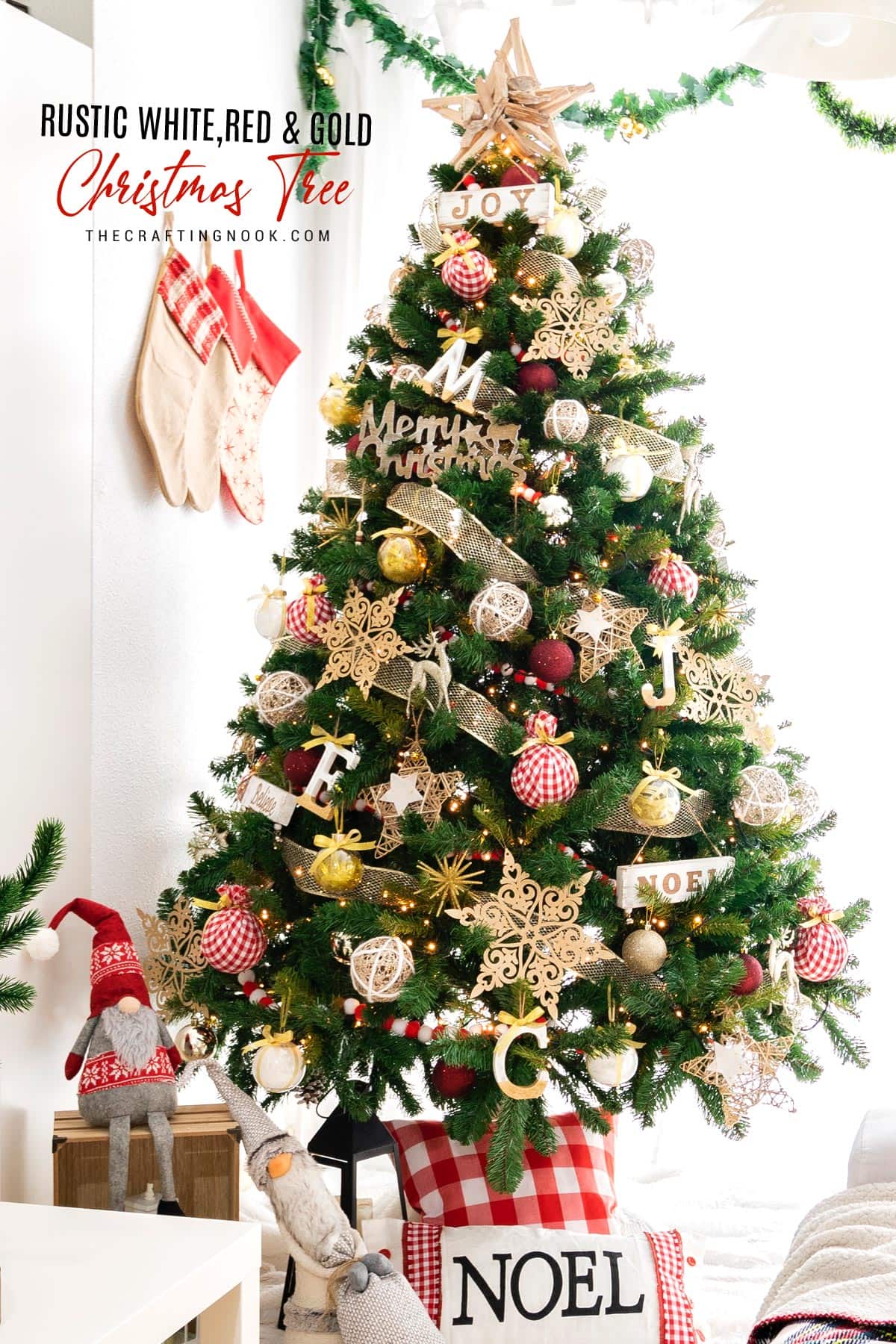 Rustic Red and Gold Christmas Tree
I have a huge confession to make. This year I redecorated my Christmas tree 3 times.
Seriously…
3 times!
I was just not feeling it.
Not sure why but, I wasn't in the flow or connected with my creativity.
Let's face it, this year has not been easy and I think I put way too much pressure on myself and that affected my creative mood.
It was getting frutrating being Christmas my favorite time of the year and not finding my mojo!
The funny thing was that at some point I just decided to let it go.
So, I stepped back, went to do something else, turned off my computer, watch some TV shows and gave myself some time.
A new day a new Christmas mood
The next day I felt like someone new. Cleared my Christmas tree once again and then started over.
Then, I put some really happy music to set the mood…
I felt so much better and with lots of ideas started flowing and I just started adding garlands, ribbons, ornaments and without even noticing it I was done.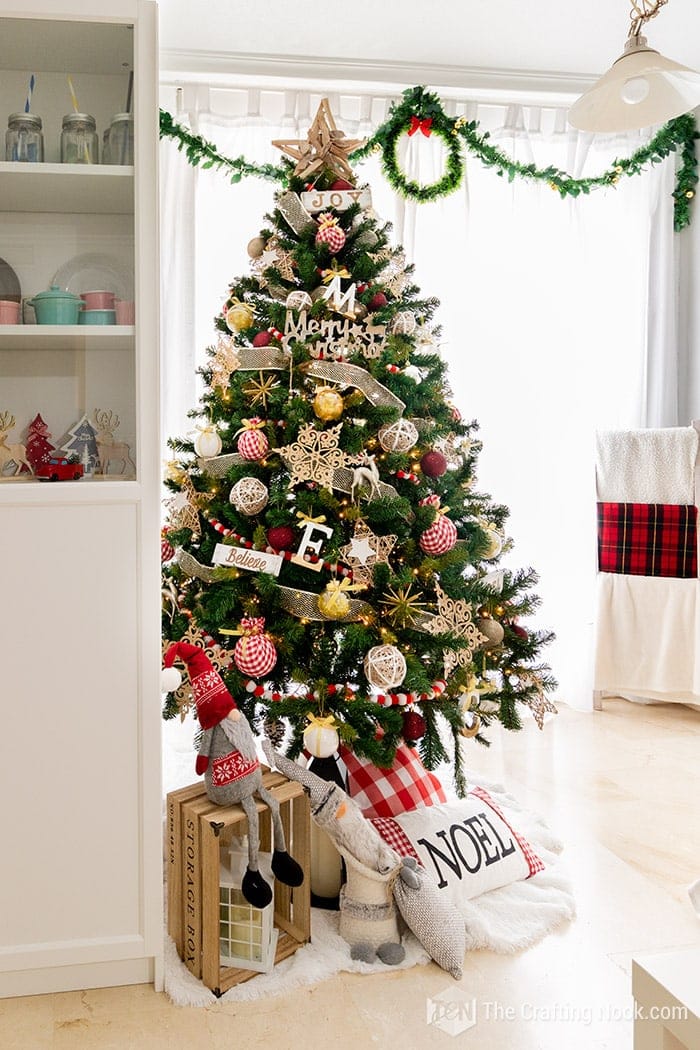 I absolutely loved it.
It turned out just as it should. I achieved a balanced mix tween the rustic look and the glam from the champagne gold.
I re-used most of my ornaments. Some got a revamp and some got just a few tweaks.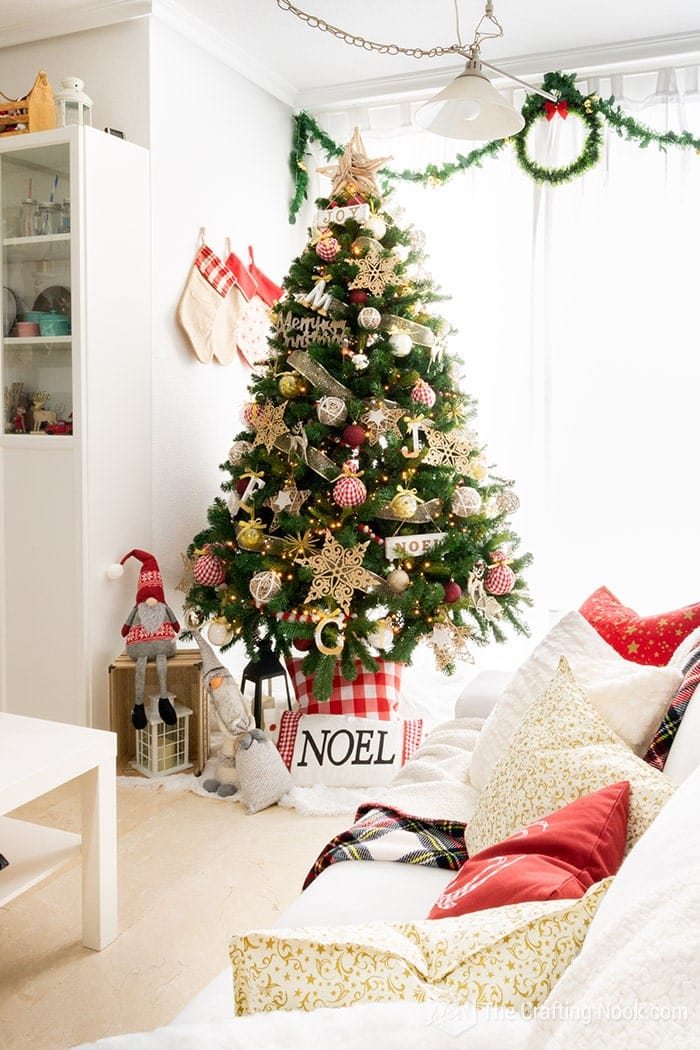 The whole decor turned out so inexpensive since I bought only a few things like the gold mesh ribbon, the pom-poms I used to make the garland, some super cute reindeers, and some champagne gold yarn ornaments.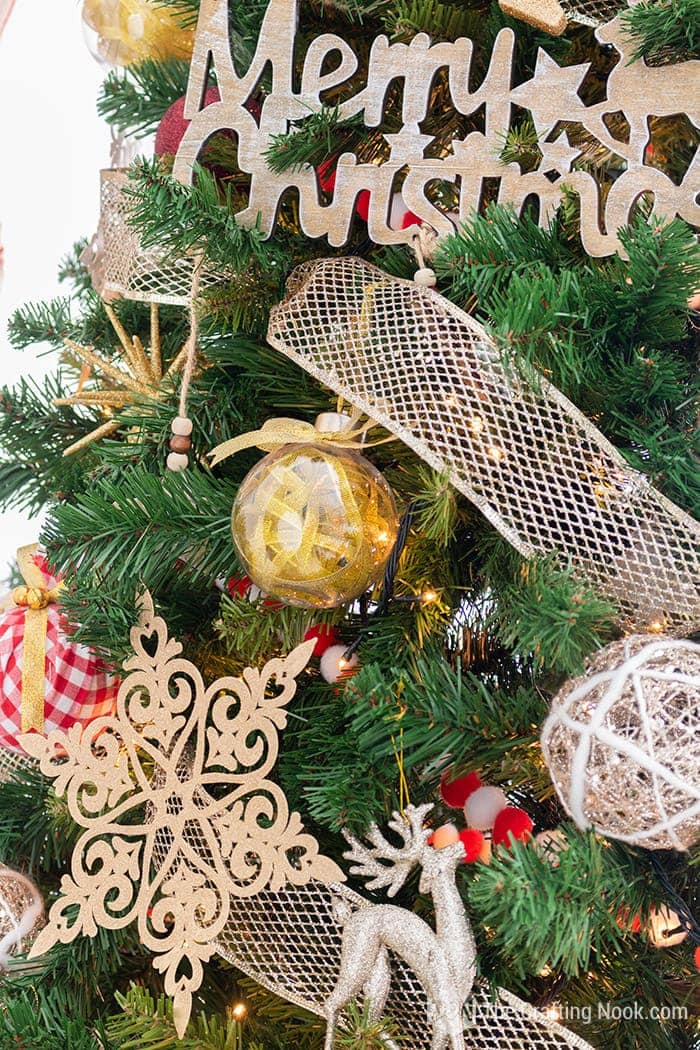 Guess what? I decided to use again my red and white buffalo check ornaments I made a couple of years ago but changed the ribbon color to gold.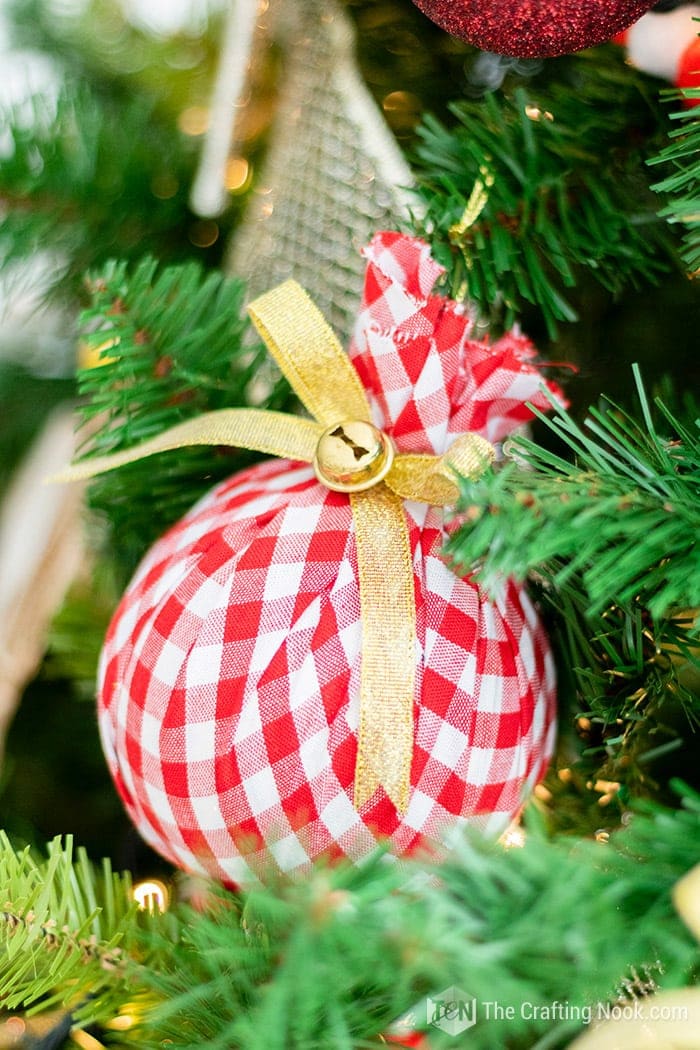 Then, I created 2 new ornaments that I completly love!
I filled clear ornaments with feathers and then decorated with gold ribbon!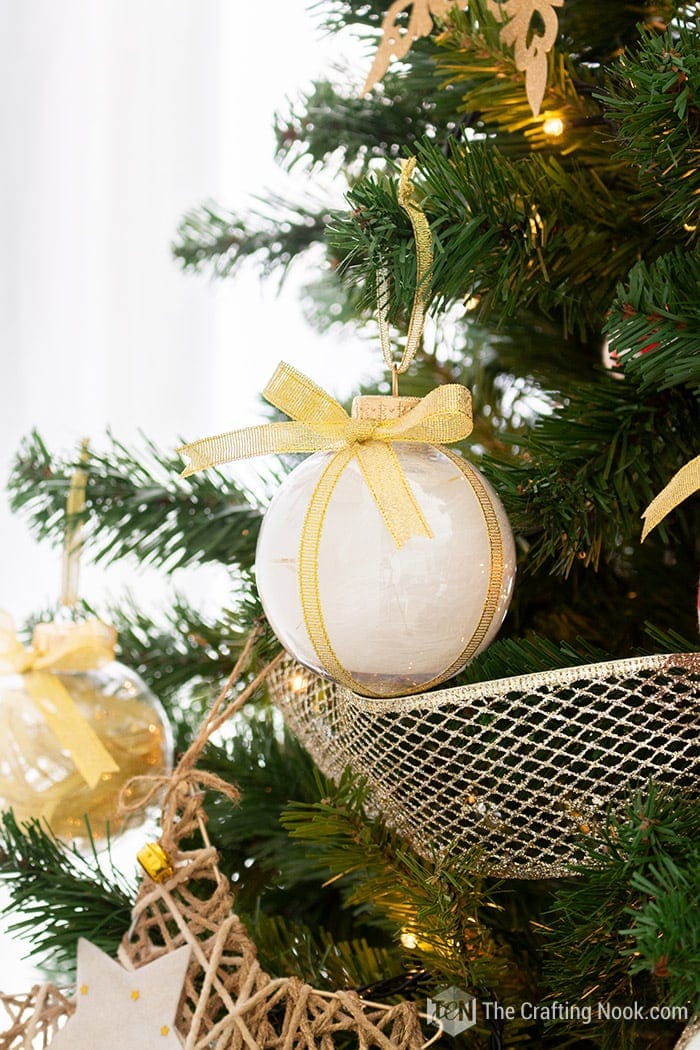 Then I loved the gold ribbon so much that I decided to make some clear ornaments filled with that ribbon and they turned out soooo cute!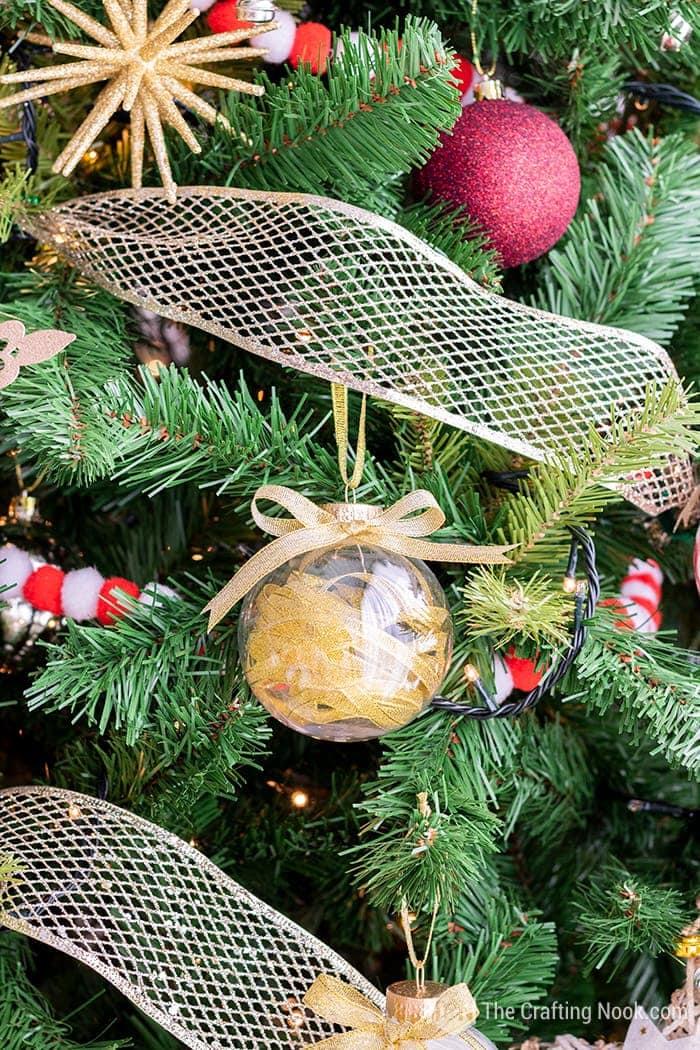 Gold Christmas Tree Spray-paint Frenzy
I hadn't used my glitter Snowflakes in a couple of years and I wanted to use them. But since the white wasn't going to use that much white I experimented with Champagne gold spray paint and voila! How gorgeous they turned out!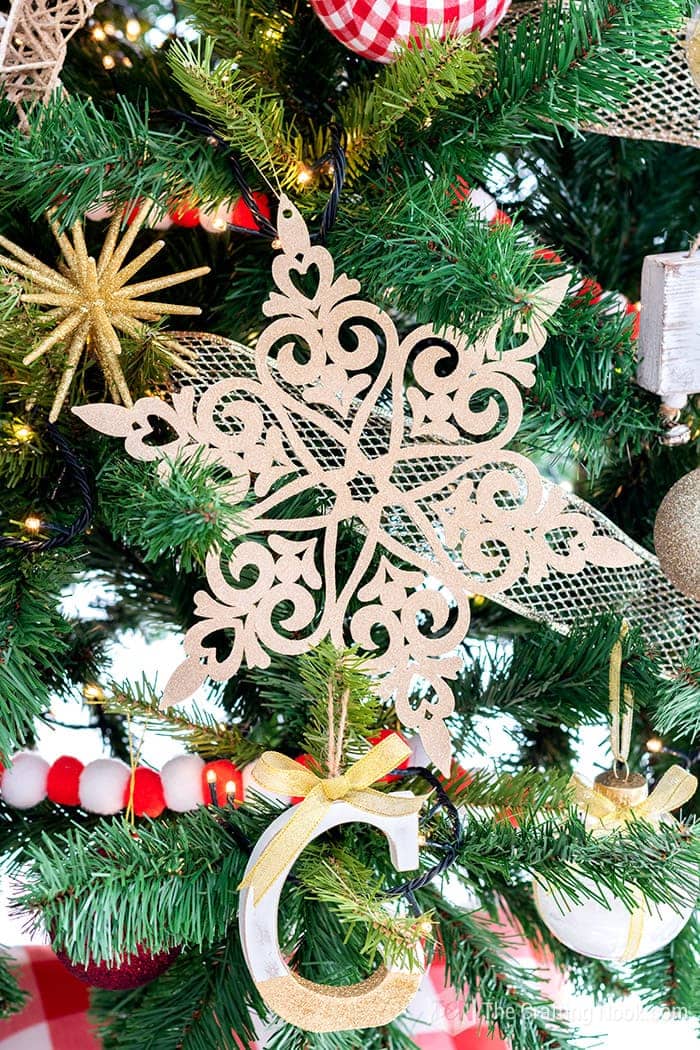 After seeing how nice the spray-painted I decided to give to a try on my Monogram Family Ornaments. I had used gold glitter on the bottom of each, but I wasn't very happy with the bright yellow kind of gold. Using masking tape I protected the white areas leaving just the glitter and sprayed on top.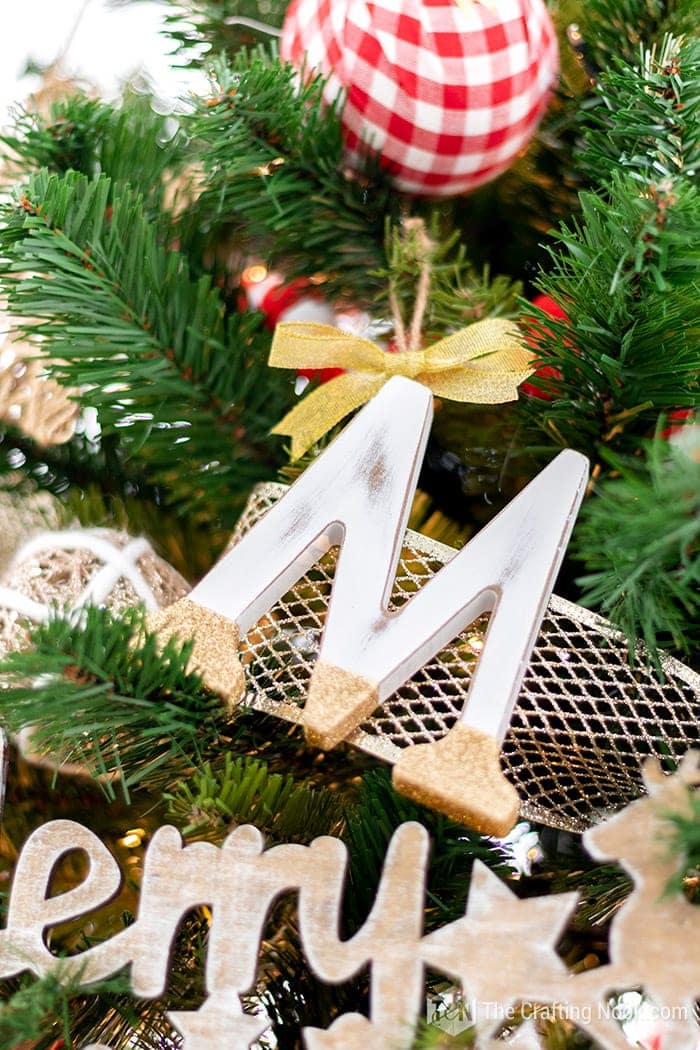 Woot! It turned out amazing!!! I loved it!
Got in a spray frenzy and sprayed a little bit around the edges of my twine stars to cover the raw wire. It worked perfectly.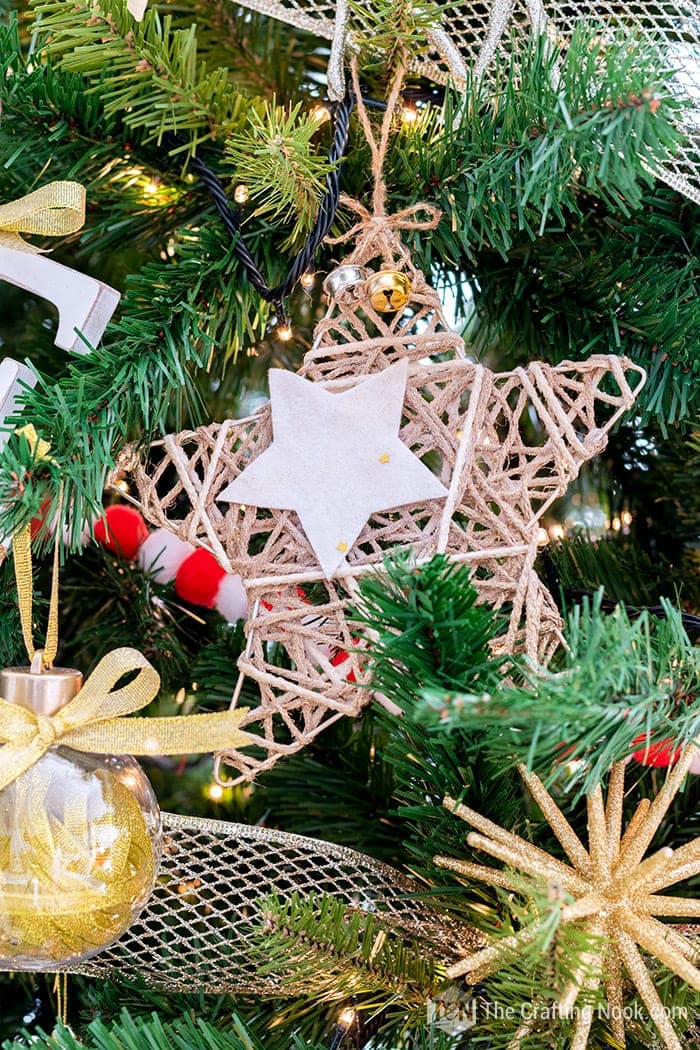 As you can see my main focus this year was on the gold/champagne and red.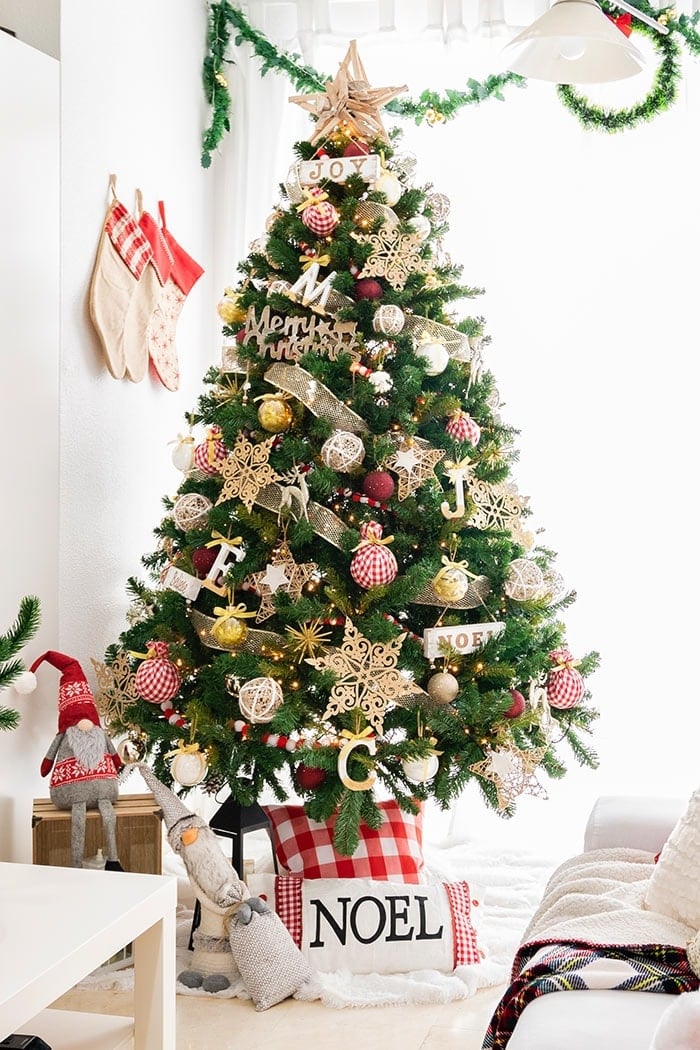 I absolutely love how my 2018 decoration turned out. The red brings so much warmth and happiness. The red truly cheers up and brings the Christmas Sport to the maximum. At least that's how I feel.
Also, I used my lovely and rusti Merry Christmas wood sign! I just love to have those two words in mour Christmas tree.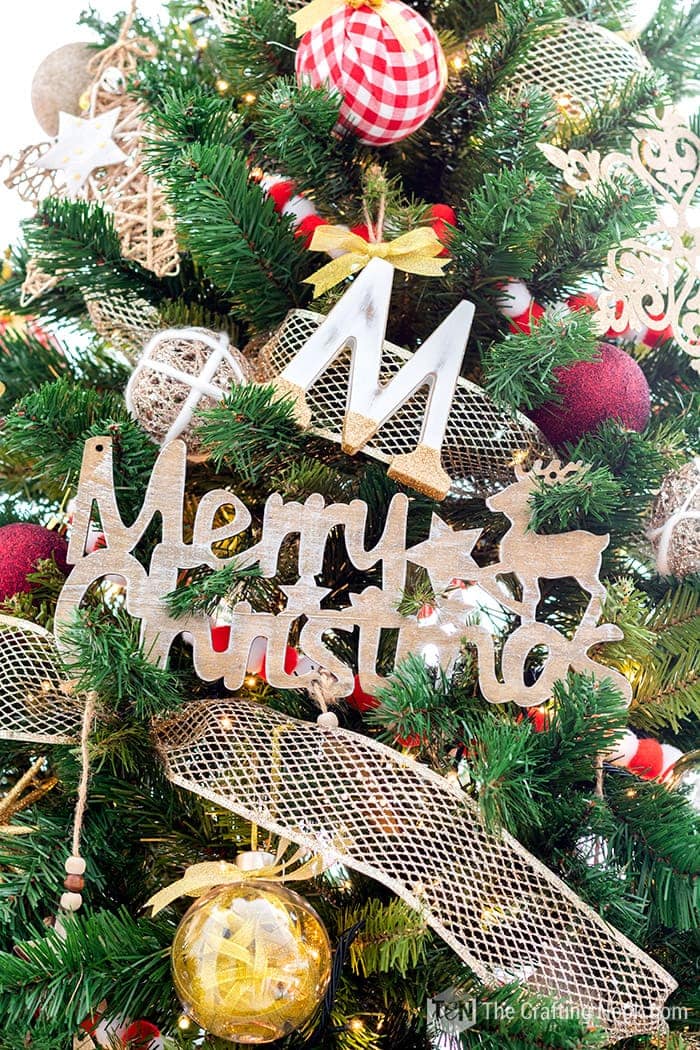 I can never leave out my mini wood signs. These are one of my favorite ornaments and so easy to make!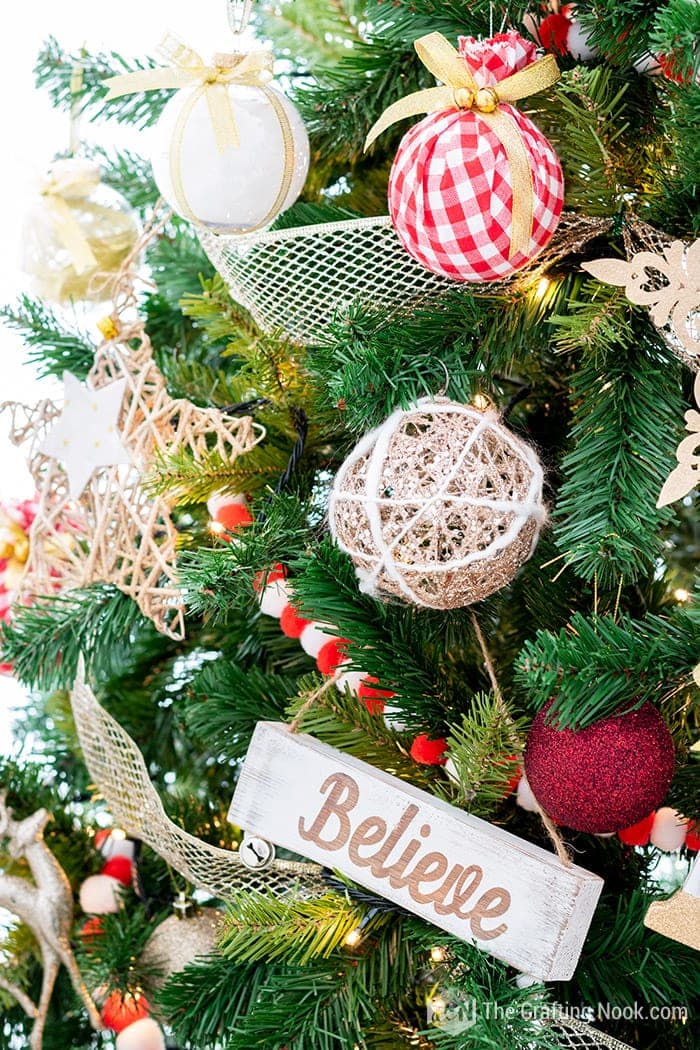 This year since we changed around our living room setting our Christmas tree now is closer to the sofa and our window.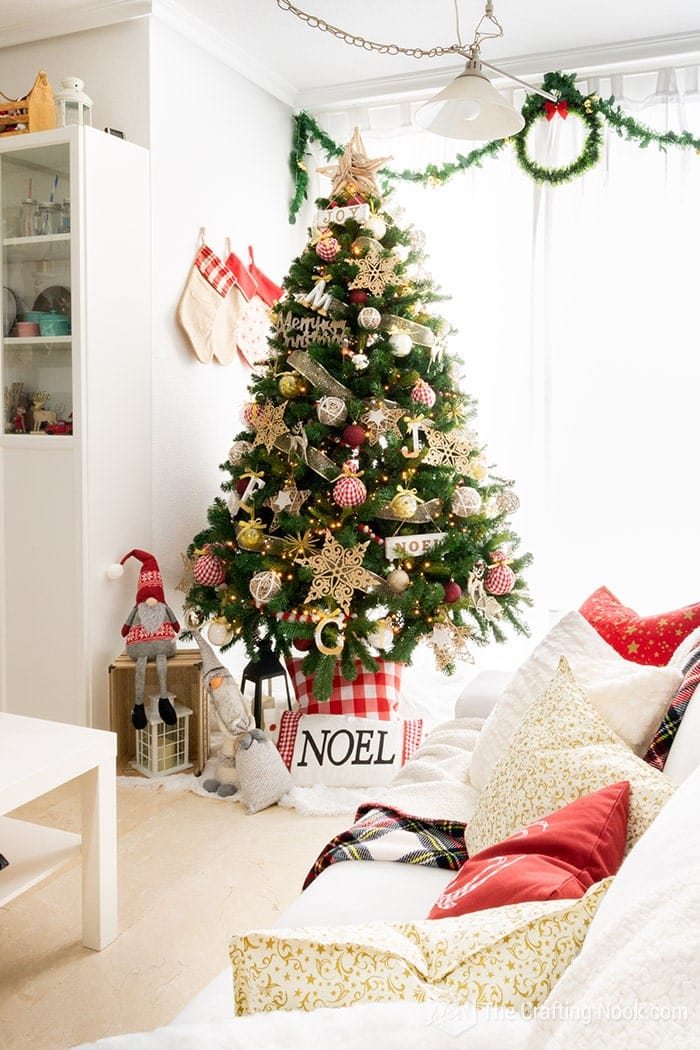 Now, every time I sit on the living room sofa I feel this deep joy and almost can hear the reindeer's jingle bells!
Christmas Tree Skirt
I used faux fur as my Christmas skirt like I do every year and placed some pillows, lanterns, crates and my beloved gnomes!
This is my favorite view right now in my house!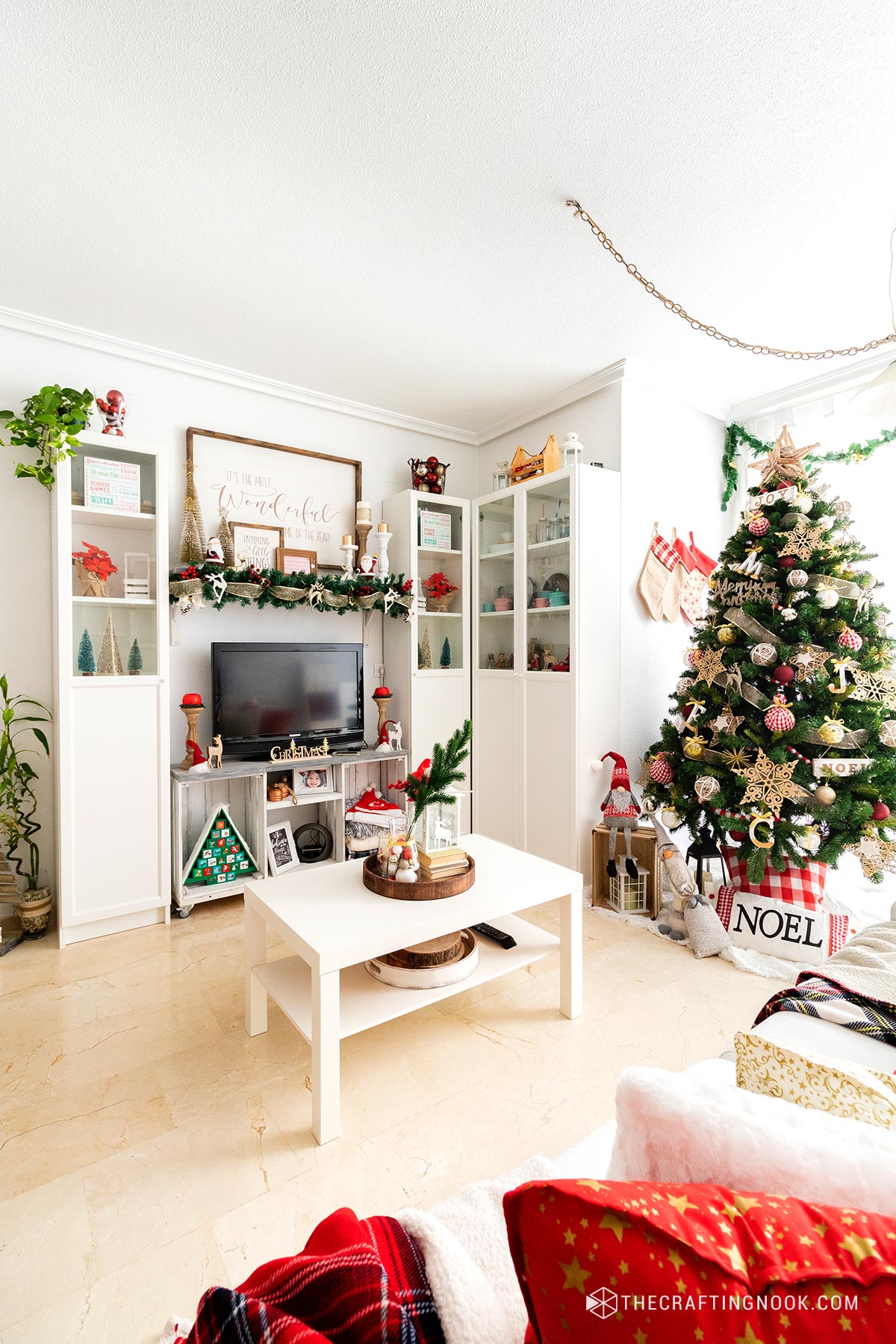 Of course, my rustic wooden start could not miss the party! I still haven't found a prettier star. This one stole my heart.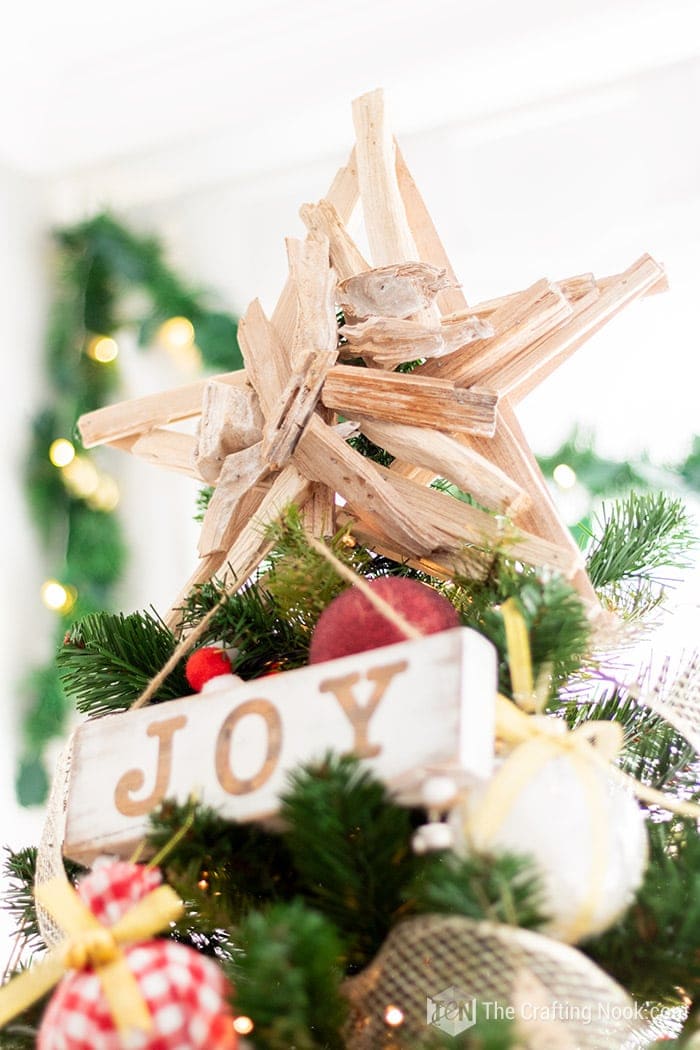 Well my friends, hope you enjoyed this simple and rustic yet elegant Christmas Tree!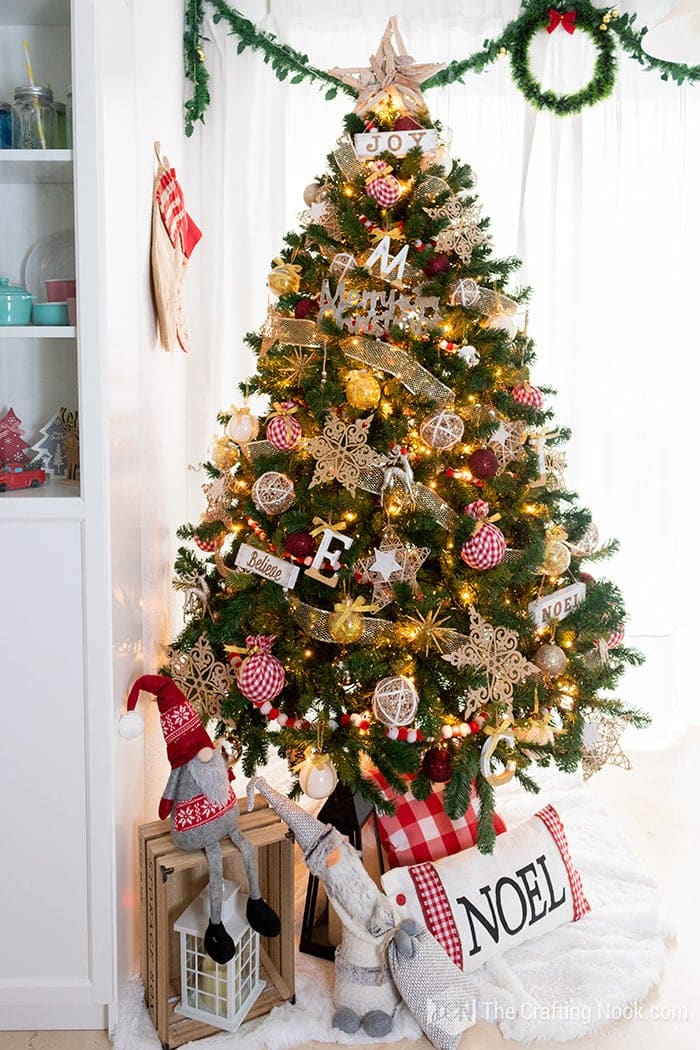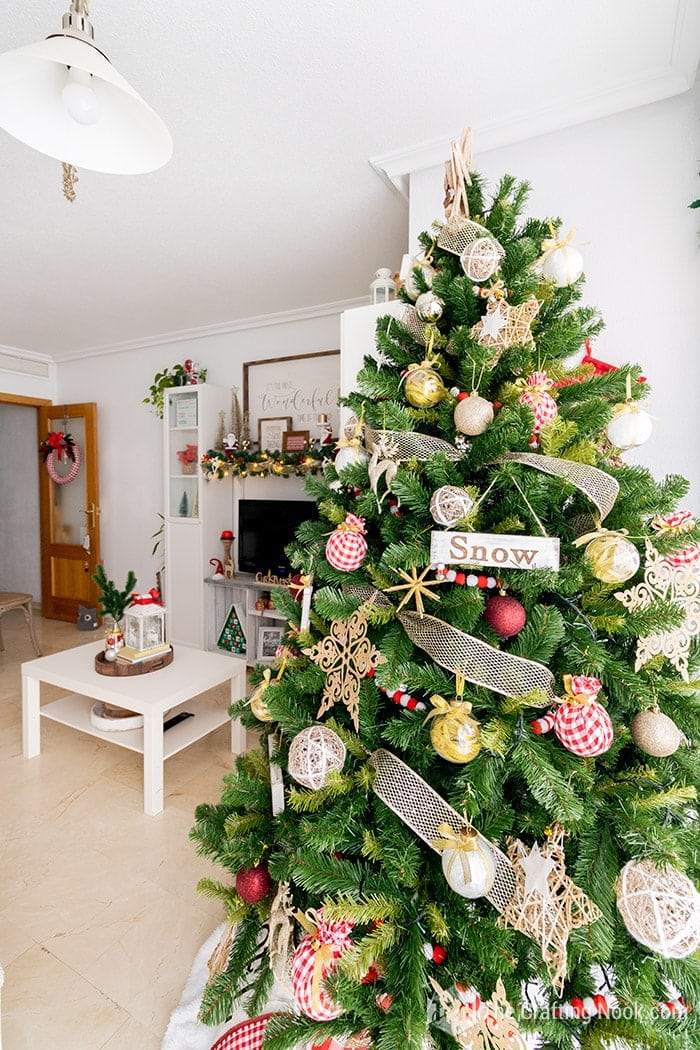 Like I always say, I am a true believer that if I can be crafty in one can.
Some of my favorite Christmas trees from my favorite bloggers:
If you found this Christmas mantel decoration inspiring please don't forget to PIN and share it with friends.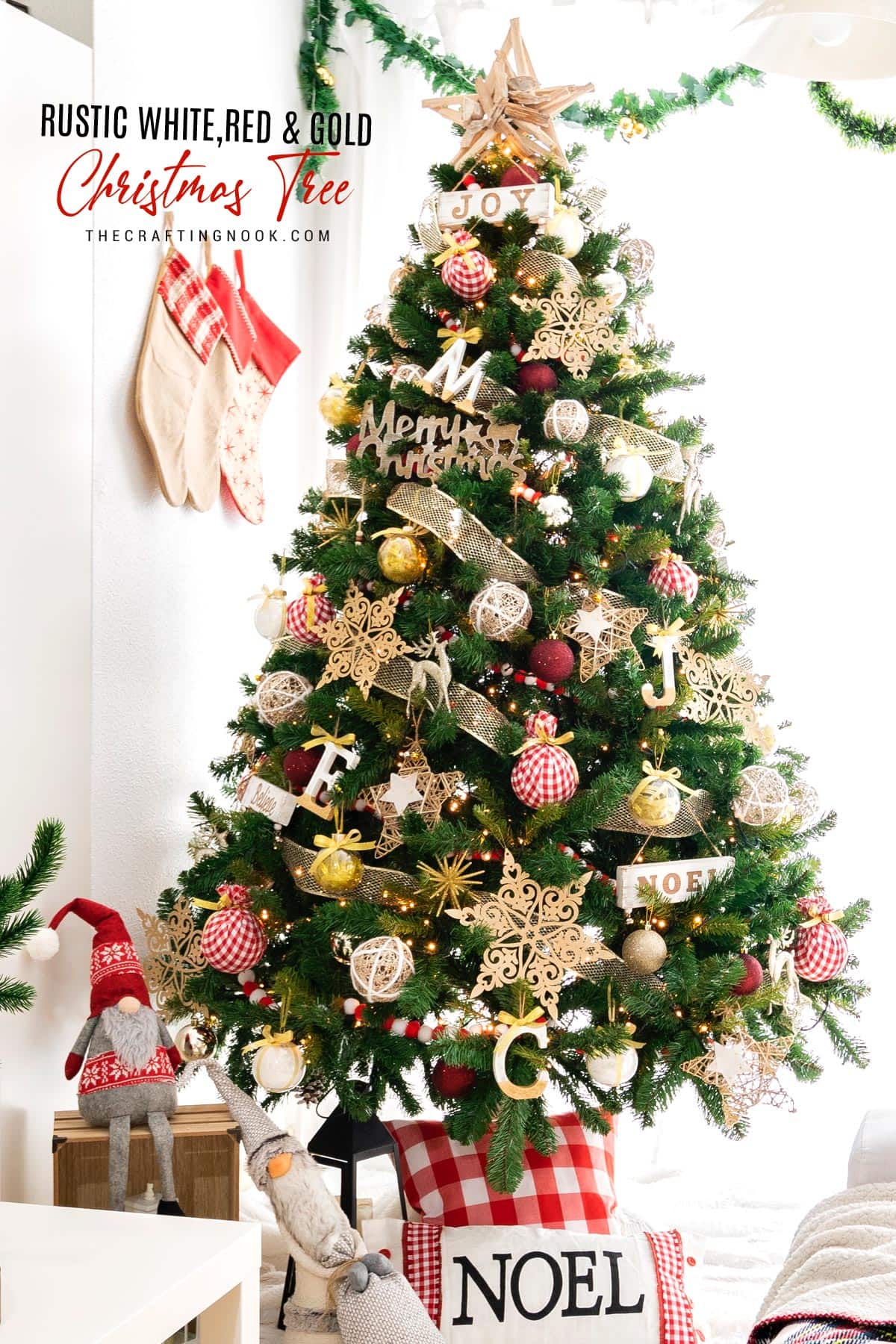 Loving this Christmas decoration idea? I'm sure you might love these too: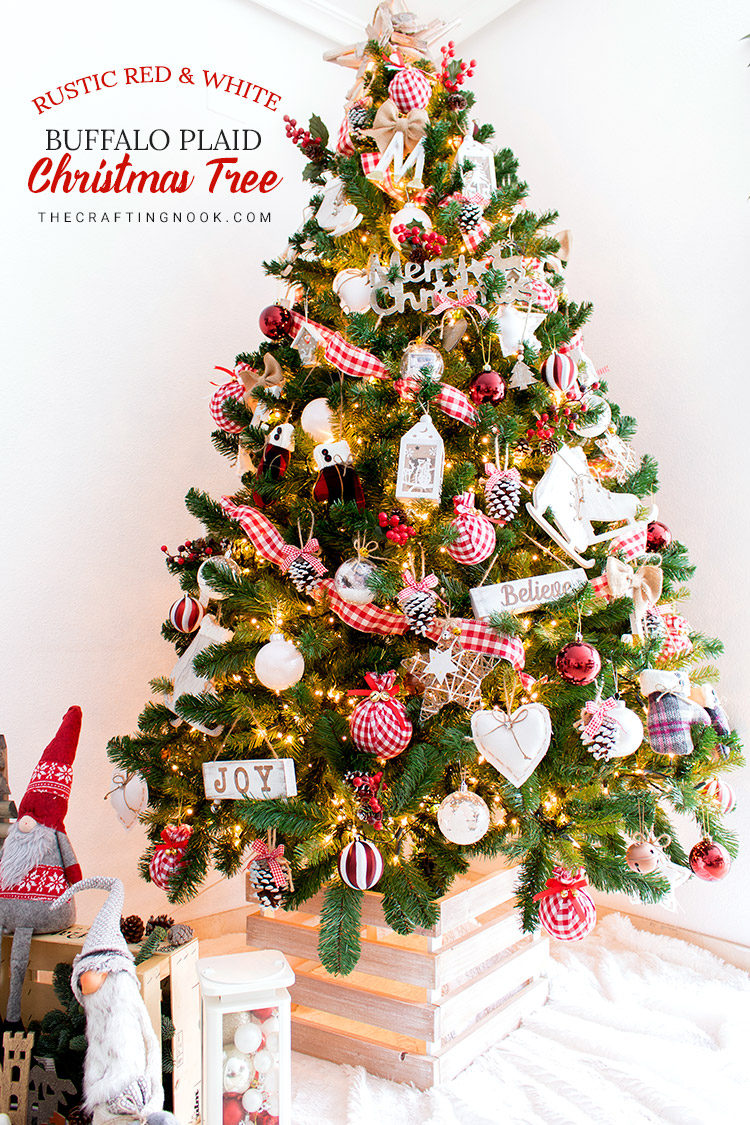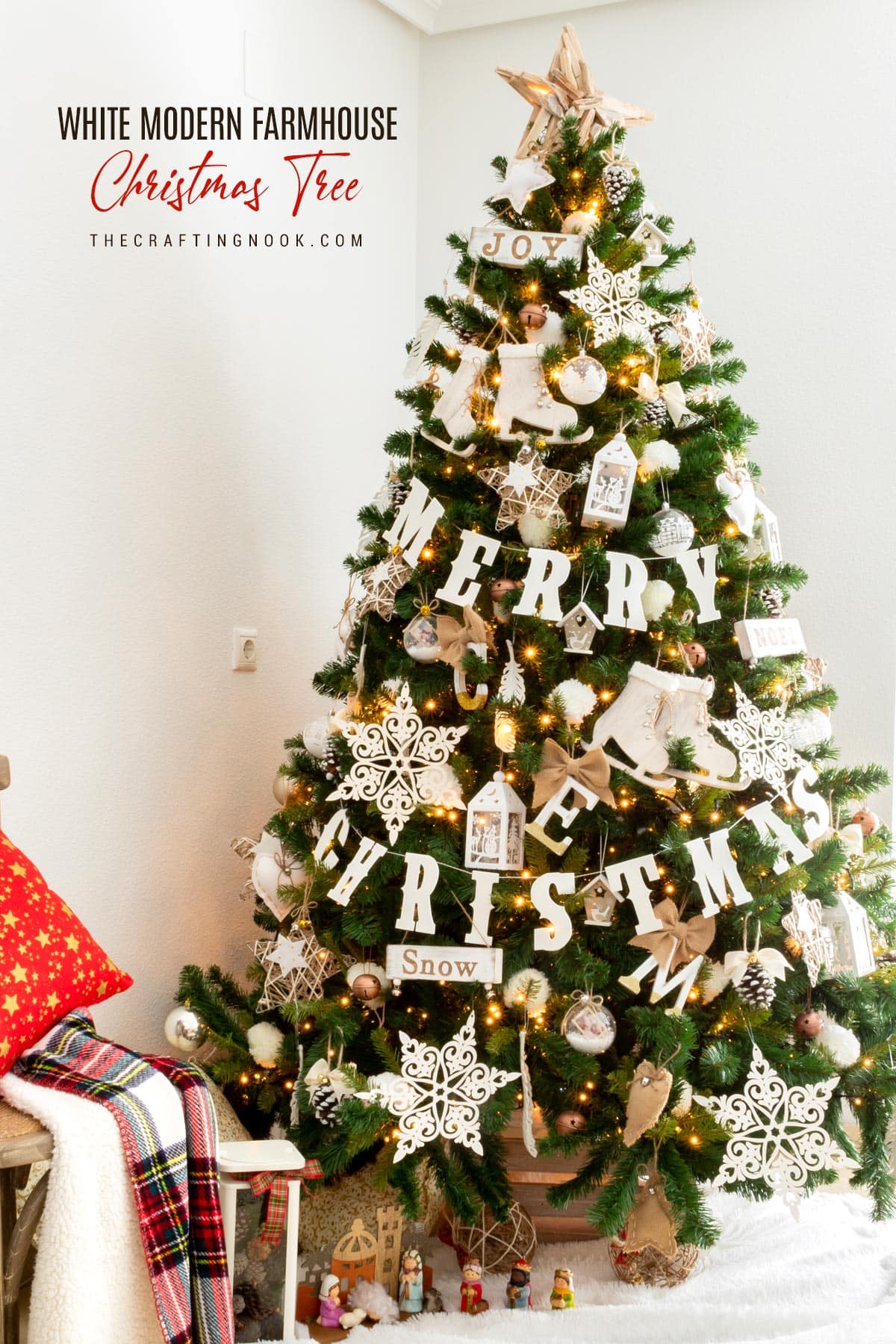 Til' next time...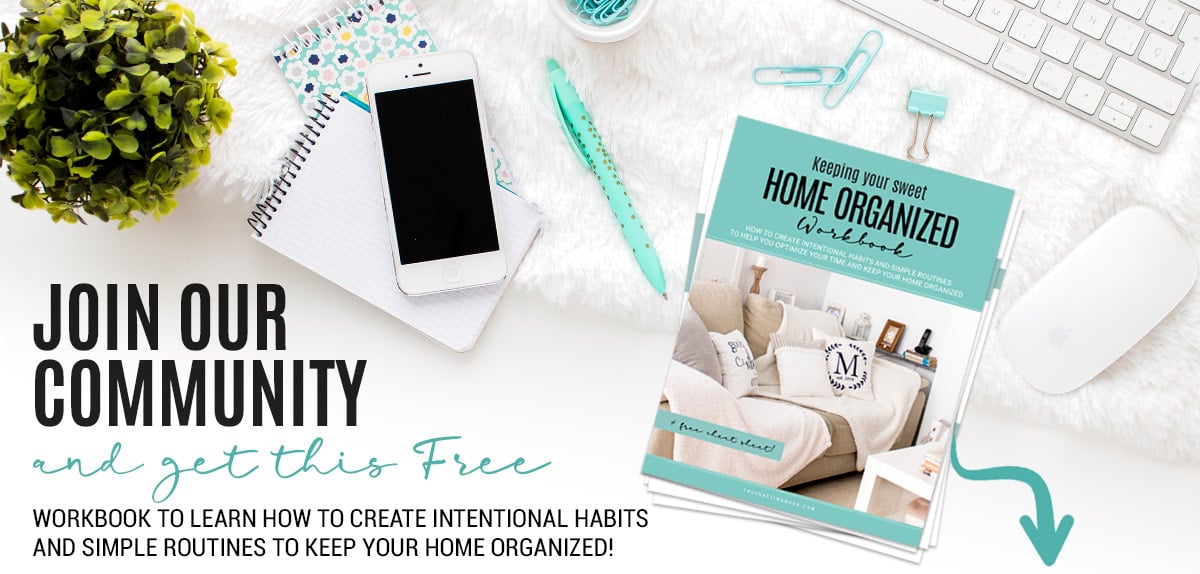 GET INSTANT ACCESS TO THE HOME ORGANIZED WORKBOOK
Plus freebies, printables, exclusive content, tips, stay connected, be the first to know great offers and Product Launches!
Disclaimer: By clicking on the "Yes, I want it" button above you are giving me your consent to collect and use your information according to the law and My Policy Privacy and The Cookie Policy. Zero Spam I promise!